Learn how to deep-fry tofu from scratch! This deep-fried tofu is chewy on the outside and soft and juicy on the inside. It will soak up everything from marinades to soups and is perfect if you are bored of plain white tofu!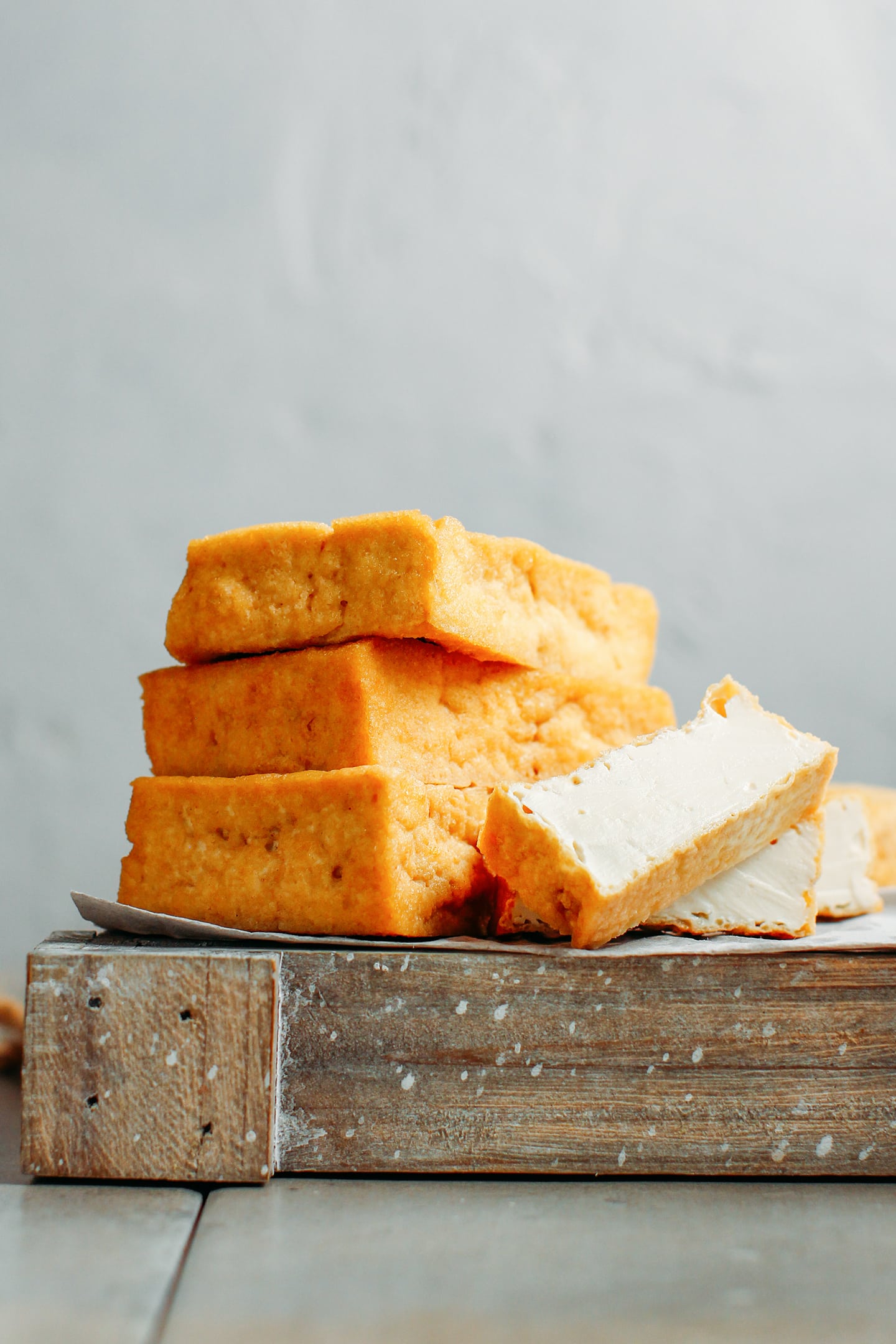 I recently found myself in need of deep-fried tofu, also called yellow tofu or fried bean curd. While it is easy to find in Asian countries, it is not in Europe or in the US, so I decided to make my own!
🥣 How to Deep-Fry Tofu
Frying tofu is very easy but requires following a few steps. First, you want to rinse and drain your firm tofu. There is no need to press it for a long time; just pat it dry and slightly press it between a few sheets of kitchen towel.
I used one big block of tofu that I had to cut into 4 smaller rectangles. If using regular tofu, you can skip this step.
Once this is done, heat about 2 cups of neutral oil in a large saucepan over medium heat. Time to fry!
Working with one block at a time, submerge the tofu in the hot oil and fry it until golden brown.
📔 Tips
There are a couple of things to pay attention to when frying tofu:
The oil must be hot enough. It should sizzle when you put the tofu in. You can test if the oil is hot enough by dipping a wooden spatula or spoon. If you see bubbles forming around it, the oil is hot.
You do not want to fry for too long. As soon as the tofu has a light yellow color, remove it from the oil and place it on a plate lined with a kitchen paper towel to remove the excess oil. If you fry for too long, the skin will become hard and get a bitter flavor. I found 3 minutes to be the perfect time for the tofu to develop a nice yellow color on the outside while remaining soft inside.
Flip it. To get a uniform skin, use a wooden spoon or spatula to flip it at least once halfway through frying.
Drain. Once the tofu is yellow, immediately remove it from the oil and transfer to a plate lined with a kitchen paper towel to remove excess oil.
🍲 How to Use Fried Tofu
Fried tofu can be used in many dishes:
Stir-fries: Simply add it to the skillet once the vegetables are almost cooked, and then sautée for a couple more minutes.
Noodle soups: Cut it into thick slices and then season with salt, pepper, and some sugar. Stir to coat and sautée in a little bit of oil for 2-3 minutes. Then, add it to the soup.
Curries: Perfect to add texture, color, and more protein.
Sandwiches or wraps: Cut the tofu into small strips, then marinate in soy sauce, maple syrup, garlic, and ginger. Sautée for a couple of minutes and use in your wrap or sandwich.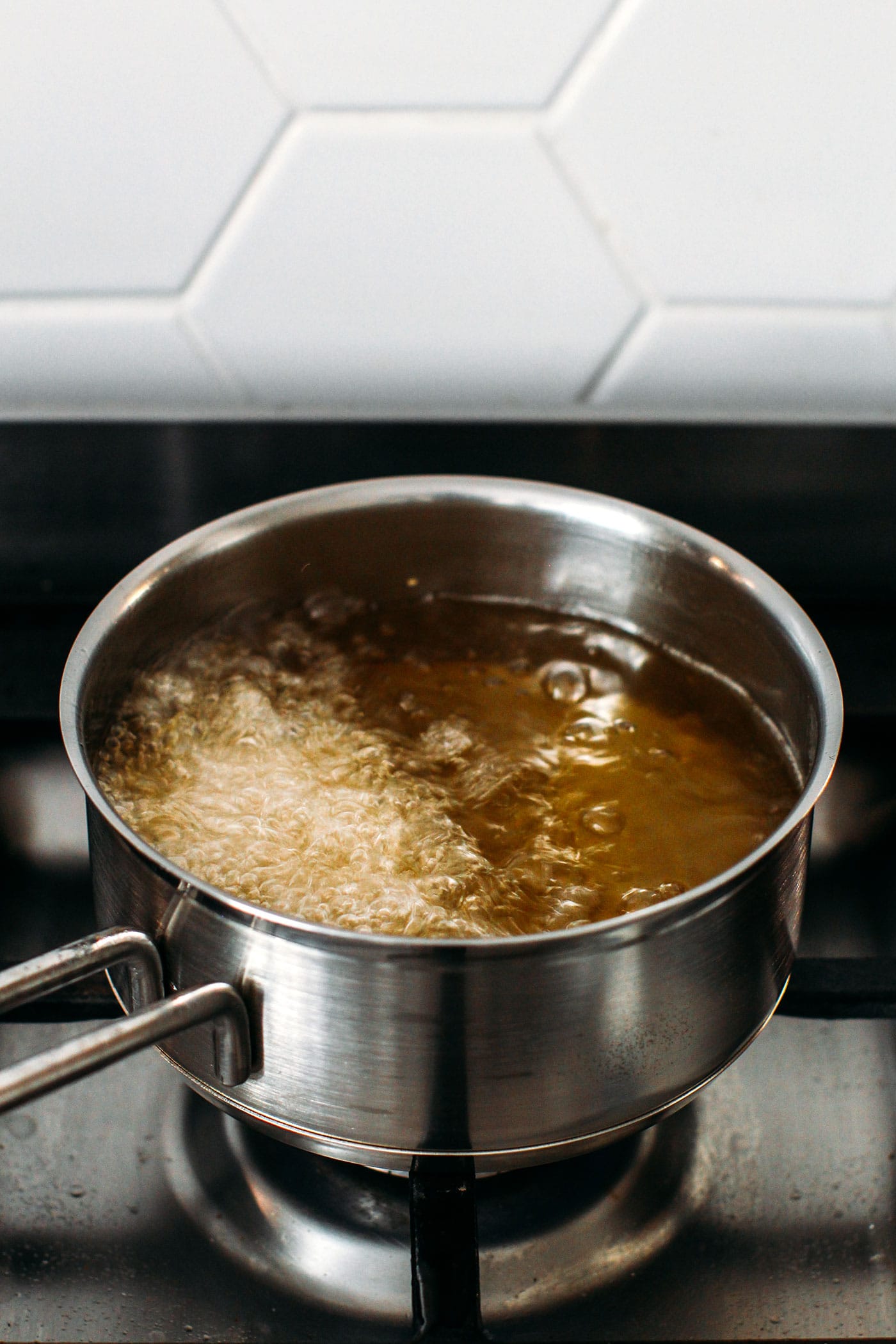 💬 FAQ
Why Deep-Fry Tofu?
Once fried, tofu develops a thin yellow skin that not only makes it easier to cut but also prevents it from crumbling, which is perfect for some types of recipes. It also makes the tofu more appealing with a golden brown color. I found fried tofu to absorb more flavor, especially in soups like Bún Bò Huế or this Lemongrass soup.
Is Deep-Fried Tofu Healthy?
Calories-wise, deep-fried tofu is not as rich as you may believe. Per 100g, it contains around 190 calories with 12g of protein and around 11g of fat. To compare, white tofu contains around 140 calories, 14g of protein, and around 8g of fat. These numbers are just estimates and will depend on the brand of tofu used.

While it is deep-fried, very little oil actually goes inside the tofu, so it doesn't have a greasy mouthfeel.
Which type of tofu works best for this recipe?
Medium to extra firm tofu works best. If using the medium, press it for 5 minutes before frying. Personally, I always use medium tofu. It yields a softer and chewier texture.
Do I need to coat the tofu in cornstarch?
No, there is no need for any starch or breadcrumbs here!
I hope you will enjoy this little guide on frying tofu!
Let me know in the comments if you try this recipe!
Recipe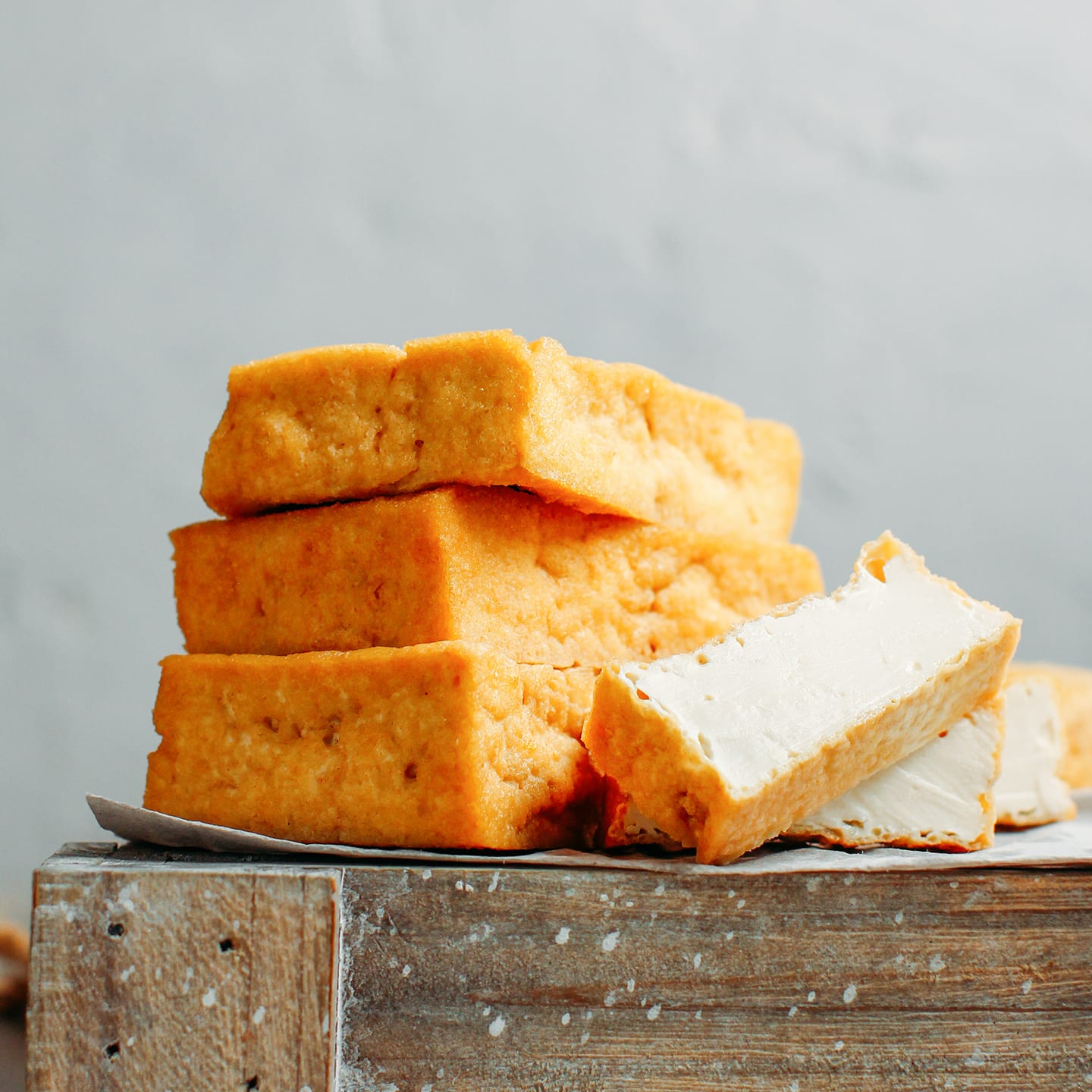 How to Deep-Fry Tofu
Learn how to make perfectly fried tofu! Chewy on the outside, juicy on the inside, this tofu is perfect for adding to stir-fries, soups, salads, sandwiches, and more!
Ingredients
4

blocks

of medium firm tofu

around 4 ounces per block

2

cups

neutral oil
Instructions
Rinse the tofu under cold water. Wrap it in a clean kitchen towel or paper towel, and pat it dry. Slightly press using your hands to remove excess water.

Heat the oil in a medium-sized saucepan, I recommend using a deep one so the oil doesn't spit out. Check if the oil is hot enough by dipping a wooden chopstick or spatula in the oil. If the oil bubbles around it, it is ready for frying.

Carefully transfer one block of tofu to the oil and fry for about 3 minutes or until the tofu is golden. Depending on the type of tofu used, this step might take up to 15 minutes. Flip it once halfway through frying.

Next, using a slotted spoon, transfer the tofu to a plate lined with a kitchen paper towel to remove excess oil.

Repeat with the remaining tofu, frying one at a time.

Fried tofu will keep in the refrigerator for up to 4 days. Use in stir-fries, soups, wraps, salads, etc!
Nutrition
Serving:
1
block of 4 ounces
|
Calories:
214
kcal
|
Carbohydrates:
2.2
g
|
Protein:
13.5
g
|
Fat:
12.4
g
|
Fiber:
0.3
g
Did you make this recipe?
Tag @fullofplants on Instagram and hashtag it #fullofplants