Tofu and green bean curry infused with lemongrass, galangal, and kaffir lime leaves! Finished with chopped cilantro and fried shallots, this Indonesian-inspired curry is flavorful, plant-based, and so creamy!
📘 About this Indonesian Curry
Called "gulai sayuran", which can be translated to vegetable curry, this Indonesian-inspired curry is flavored with a homemade curry paste made of garlic, shallots, chili, and fresh turmeric.
It's deliciously creamy, a bit spicy, and so rich! Plus, it takes just 35 minutes to prepare!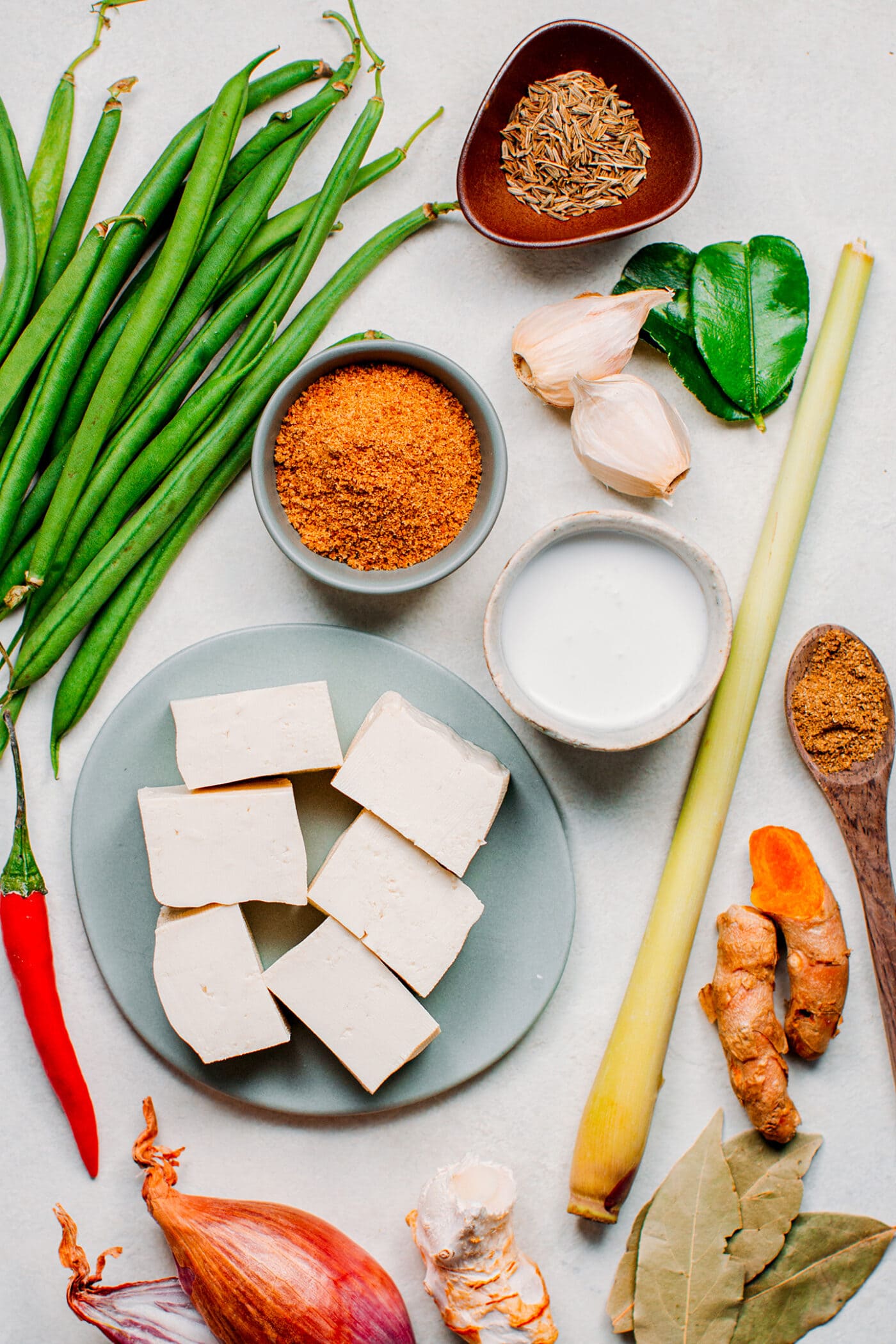 🥣 How to Make Indonesian Curry
As opposed to some other curry recipes, this one relies a lot on fresh aromatics. Here is what you will need:
Shallots and garlic – For a natural sweetness and garlicky aroma.
Fresh turmeric – For a bright orange flavor and very subtle bitterness.
Chili – To spice it up! We are using two kinds of chilies: bird's eye chili and chili pepper.
Galangal – Not to be confused with ginger, galangal has a more peppery and citrusy flavor.
Kaffir lime leaves – Lime leaves bring some freshness and a citrusy flavor to the curry sauce.
Lemongrass – Use one whole fresh lemongrass stalk and slightly crush it with a pestle to release its flavors.
Coconut milk – For the creaminess, use full-fat coconut milk for a richer curry.
Tofu – Use medium or firm tofu. You can also substitute the tofu for tempeh or jackfruit!
Green beans – In authentic Indonesian curries, it is long beans (also called asparagus beans or Chinese long beans) that are used. Since I couldn't find any here, I went with regular green beans. Their flavor and texture are obviously different, but it still makes a good substitute.
Salt and sugar – To season. Sugar also helps balance the spiciness.
Preparing the aromatic paste
First, we start by making the curry paste. It's as easy as adding all of the aromatics to a blender, covering with water, and blending until smooth.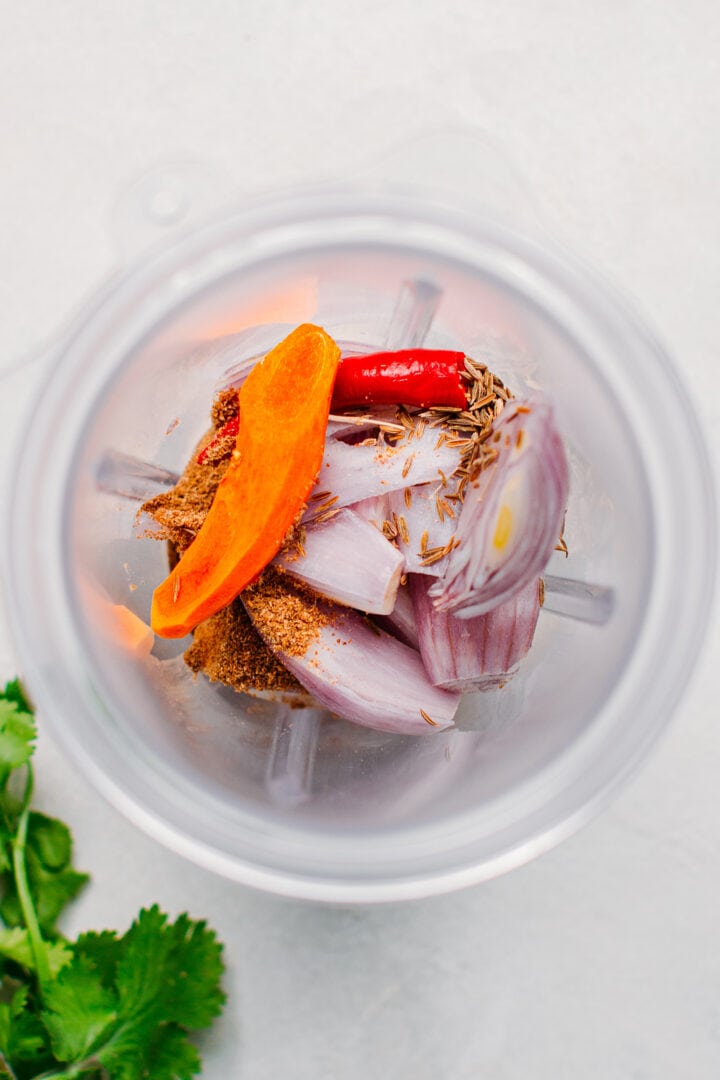 Curry
Now that our curry paste is done. Let's make the curry!
Heat a couple of tablespoons of oil in a deep skillet. Once the oil is hot, add the curry paste and fry it for a few minutes. This step will help release flavors and cook the raw aromatics.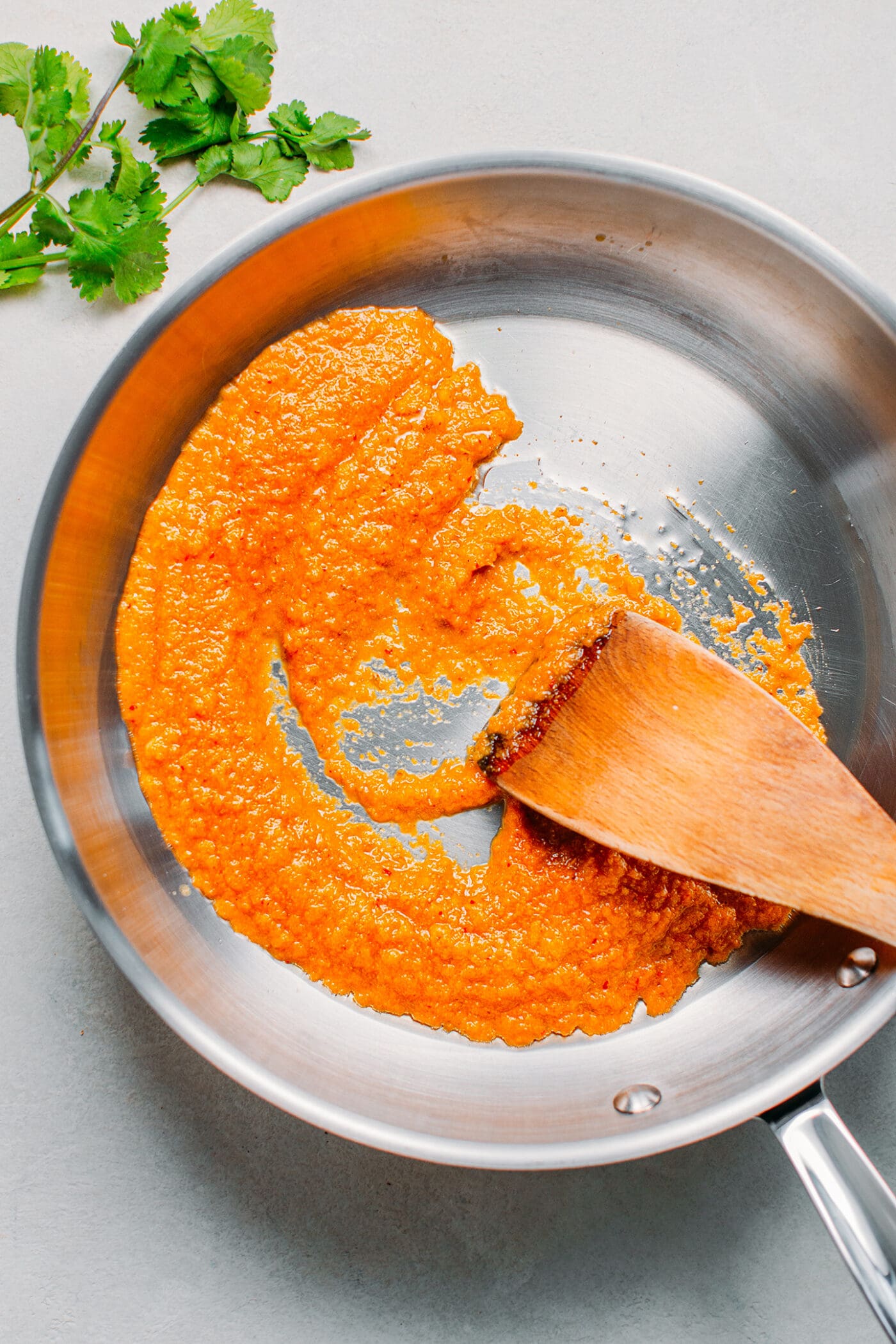 Next, pour in the full-fat coconut milk as well as the kaffir lime leaves, lemongrass stalk, galangal, and bay leaves.
I kept this curry simple by only using a combination of tofu and green beans for the add-ins, but nothing is stopping you from adding extra veggies! I'm thinking carrots, potatoes, or bell peppers would taste delicious in this curry!
Let the curry simmer for about 20 minutes, uncovered. Your kitchen will be filled with a fresh and citrusy smell!
To serve, top with fresh cilantro and crispy fried shallots! You can serve this curry with white rice, quinoa, noodles, or even crusty bread!
💬 FAQ
Can I omit the galangal and lime leaves?
Both are essential to give this curry its specific flavor, so I do not recommend omitting those.
Is this curry spicy?
Obviously, it depends on your spiciness tolerance, but I would say it is mildly spicy. It has some heat, but it's not burning.
How long does this curry keep?
This curry will keep for up to 3 days in the refrigerator.
Is this recipe authentic?
There are many different versions of gulai sayuran, so there is not only one authentic recipe. This recipe is adapted from Indonesian recipes, and I got a few tips from an Indonesian cook.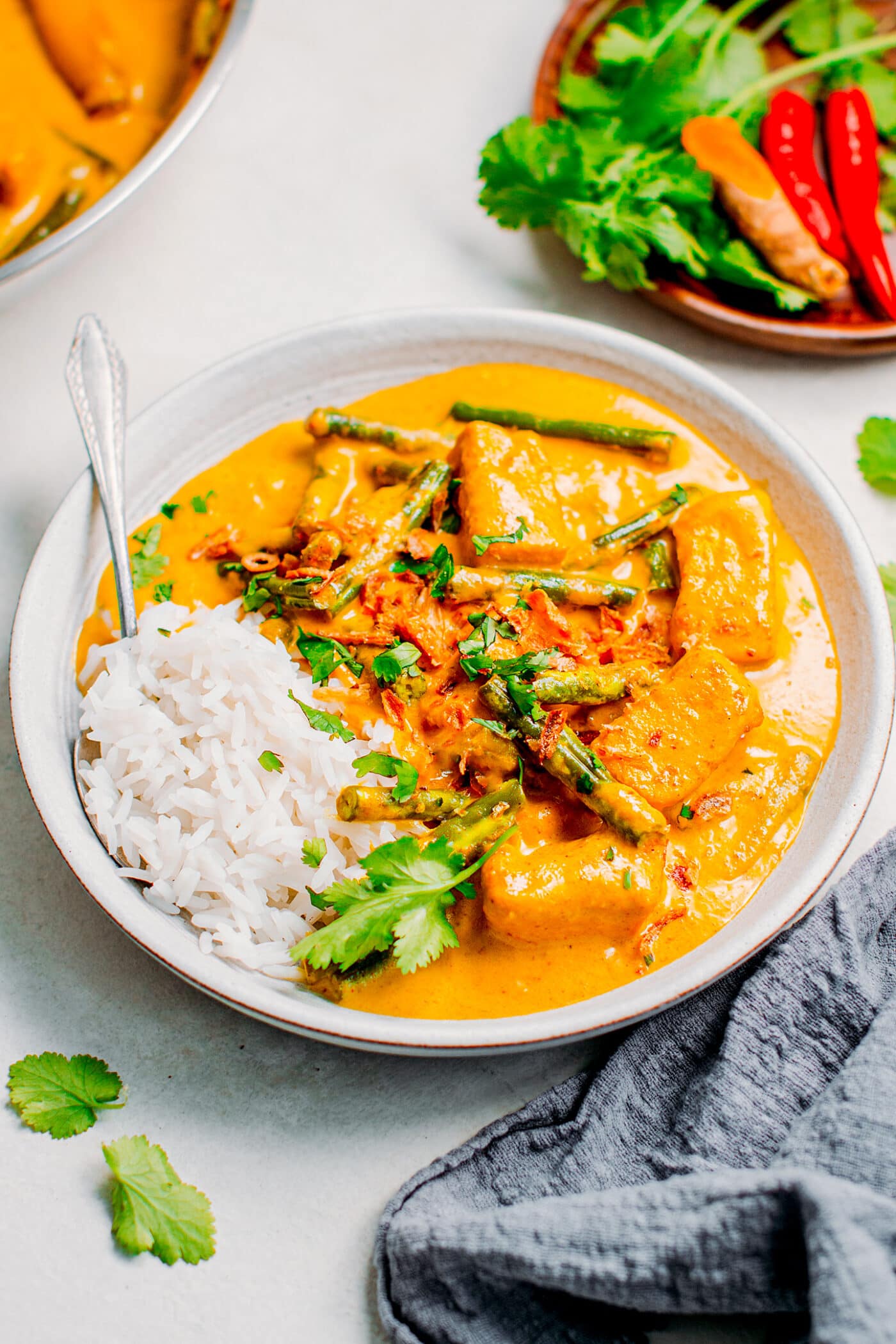 I hope you are going to love this Indonesian-inspired curry! While the process of preparing it is super simple, the result is aromatic, creamy, and so rich!
🍛 More Delicious Curry Recipes
Let me know in the comments if you try this recipe!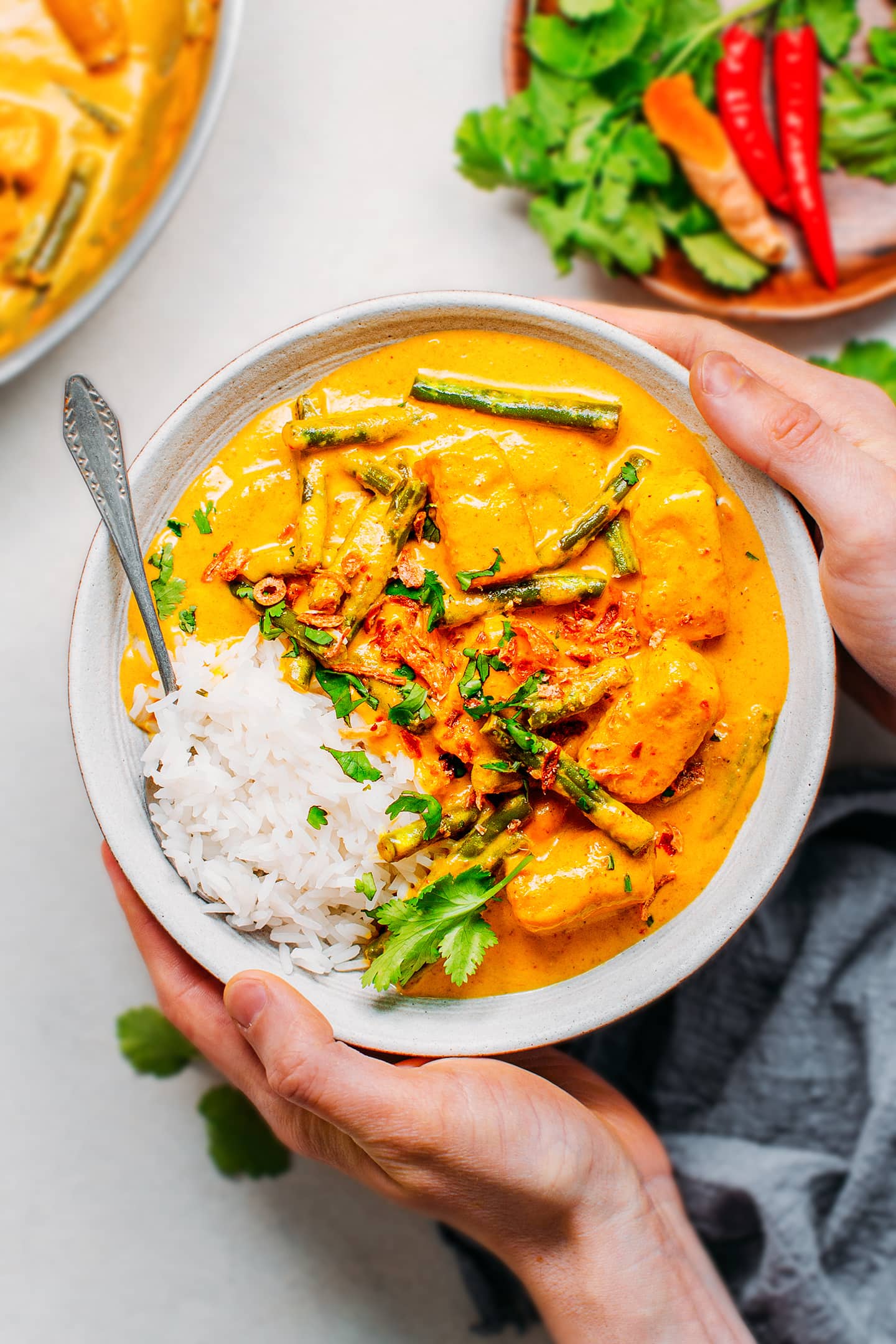 Recipe
Vegan Indonesian Curry
Indonesian-inspired curry with tofu and green beans! Infused with aromatics like lemongrass, galangal, kaffir lime leaves, and turmeric. A creamy and delicious plant-based curry!
Ingredients
Curry Paste
2

shallots

roughly chopped

2

cloves of

garlic

1

Bird's eye chili

1

chili pepper

can be replaced with 2 tsp of sriracha

1

inch

fresh turmeric

1

tsp

ground coriander

1/2

tsp

toasted cumin seeds

1/4

tsp

ground turmeric

1/4

cup

water
Fried Tofu
1

7-ounces block

firm tofu

diced into 1-inch cubes

3

tbsp

oil
Curry
2

tbsp

oil

1

13.5-oz can

full-fat coconut milk

1

lemongrass stalk

slightly crushed

1

inch

fresh galangal

1-3

bay leaves

2-3

lime leaves (Kaffir lime leaves)

1

tsp

sugar

1/2

tsp

salt

adjust to taste

5

ounces

green beans

cut into 2-inch long pieces

1/3

cup

fried shallots

for topping
Instructions
Curry Paste
Add all of the ingredients to a small blender and blend until it forms a paste. Feel free to add a bit more water if the paste is too thick. Set aside.
Fried Tofu
Heat the oil in a non-stick skillet over medium heat. Once hot, add the diced tofu and sauté for 4-5 minutes on each side or until the tofu is golden brown. Remove from heat and set aside. Alternatively, you can air-fry the tofu for about 10 minutes in an air-fryer.
Curry
Heat the oil in a deep skillet or saucepan over medium heat. Once hot, add the curry paste and sauté for 2 minutes, stirring frequently.

Pour in the full-fat coconut milk, and add the lemongrass stalk, fresh galangal, bay leaves, lime leaves, sugar, and salt.

Add the fried tofu and the green beans and bring to a simmer. Let the curry simmer for 20-35 minutes uncovered, stirring regularly, until the green beans are tender. Remove from heat and adjust the saltiness and sweetness to taste.

Top the curry with fresh cilantro, fried shallots, and serve with rice, noodles, or bread! This curry will keep for up to 3 days in the refrigerator.
Did you make this recipe?
Tag @fullofplants on Instagram and hashtag it #fullofplants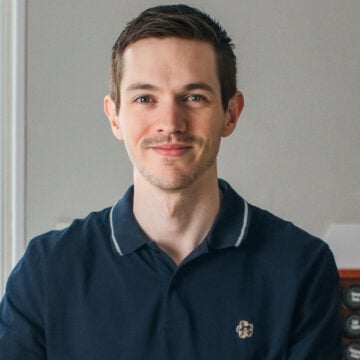 About the Author
Thomas Pagot is the founder, photographer, and recipe developer behind Full of Plants. He created the blog in 2016 as a personal cookbook for vegan recipes. Through years of recipe development, Thomas has successfully grown Full of Plants into a trusted resource for plant-based recipes.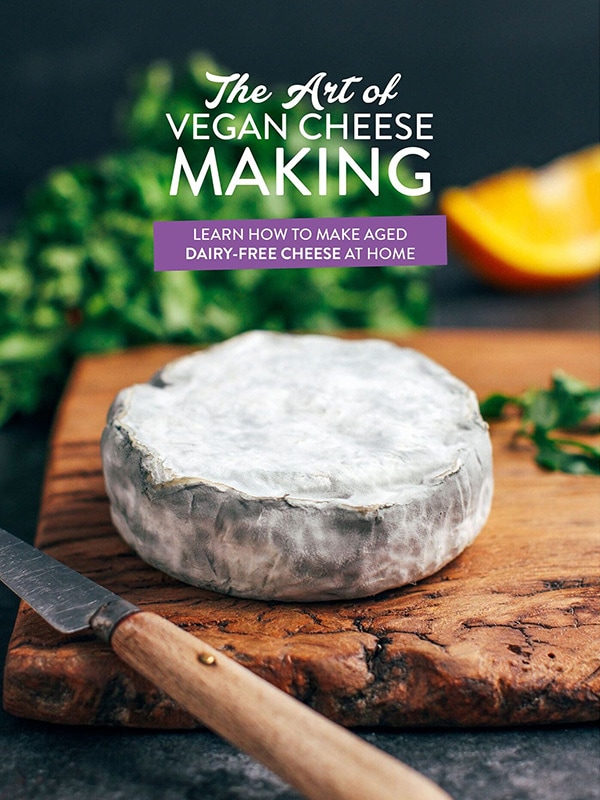 🧀 25 Mind-Blowing Vegan Cheese Recipes!
Sign up for the Full of Plants newsletter and you'll get new recipes delivered by email weekly, PLUS your FREE 100-page printable eBook!