The 4-Week Vegan Meal Plan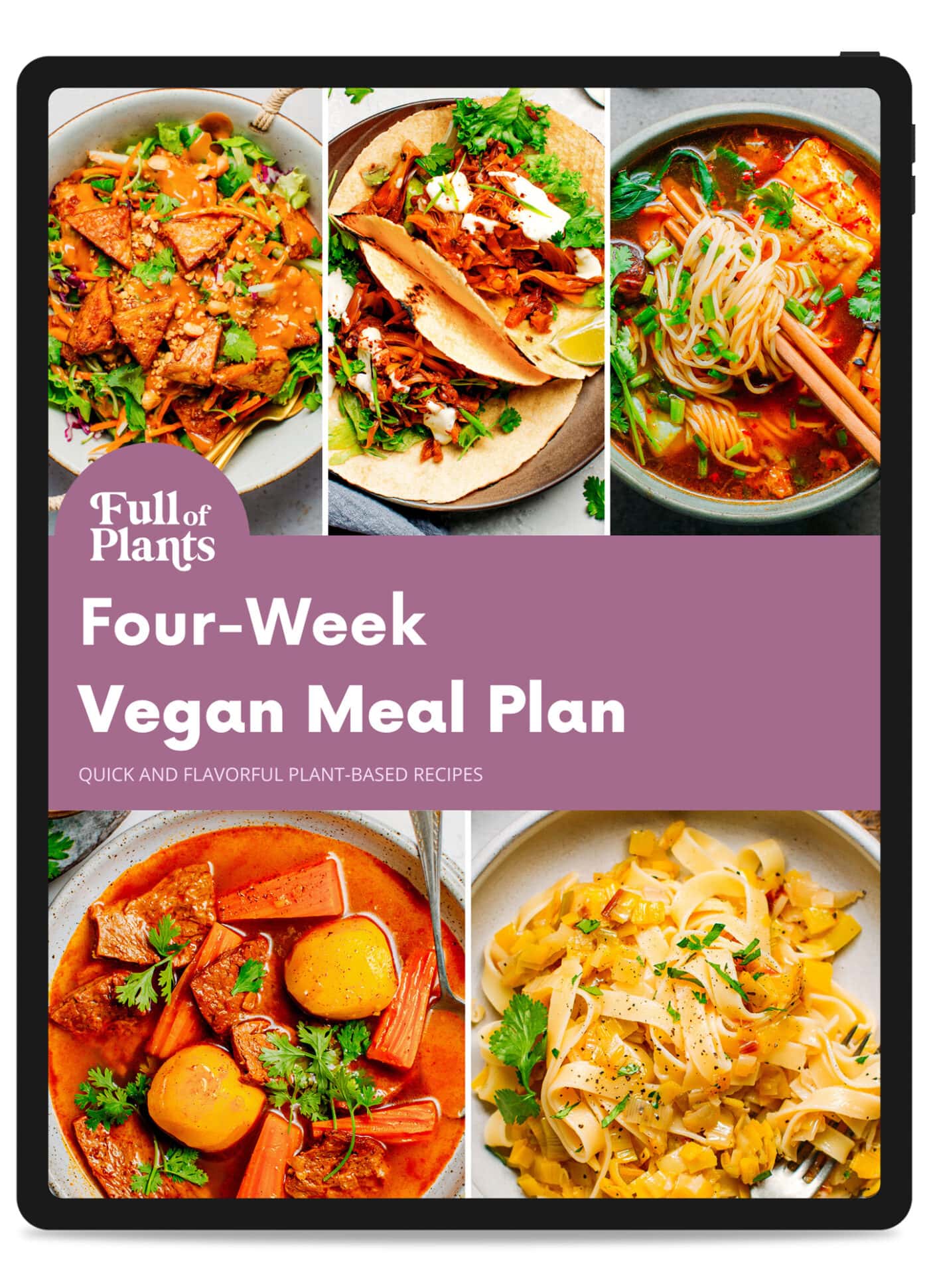 THE 4-WEEK VEGAN MEAL PLAN
Plant-based Cooking, Made Easy.
Planning dinner has never been easier, I'm doing it all for you!
Inside this eBook, you will find 24 budget-friendly plant-based recipes that are flavorful and easy to prepare, weekly shopping lists, useful tips, nutritional values, and a mouthwatering photo for every recipe. That's 89 pages of DELICIOUSNESS!
---
Have you ever asked yourself "What's for dinner?"
I can relate, I have been there. For a long time, this is the question I have asked myself Every. Single. Day.
Dinnertime is hard. You have no idea what to cook, and when you think of something, you are either missing ingredients or short on time.
That's when the 4-Week Meal Plan comes in handy. It gets the stress out of planning.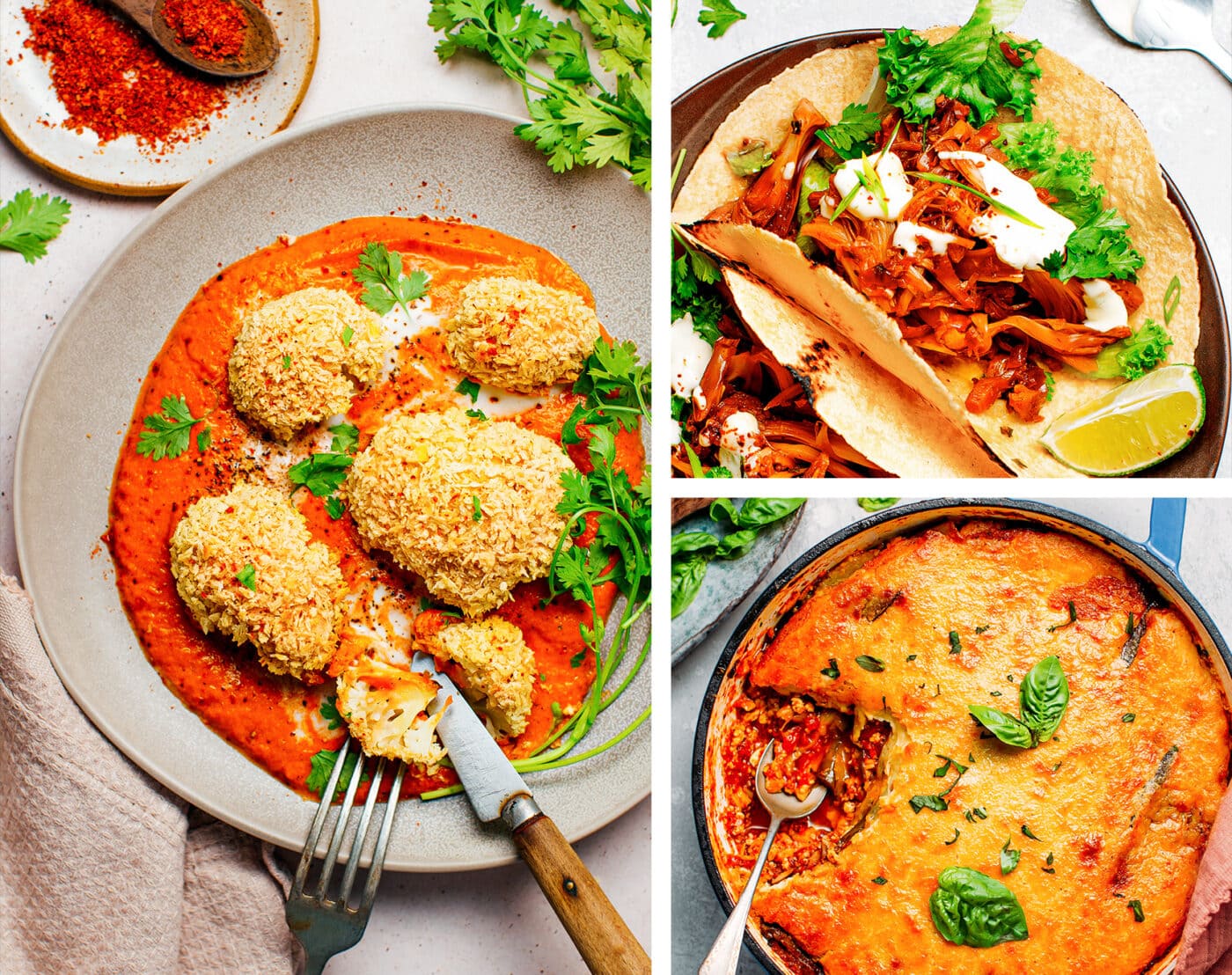 Time to get your planning right.
Go from wondering what to cook every evening to having a SOLID meal plan that you can follow throughout the week.
This is not just a cookbook. It's going to be your favorite meal planner.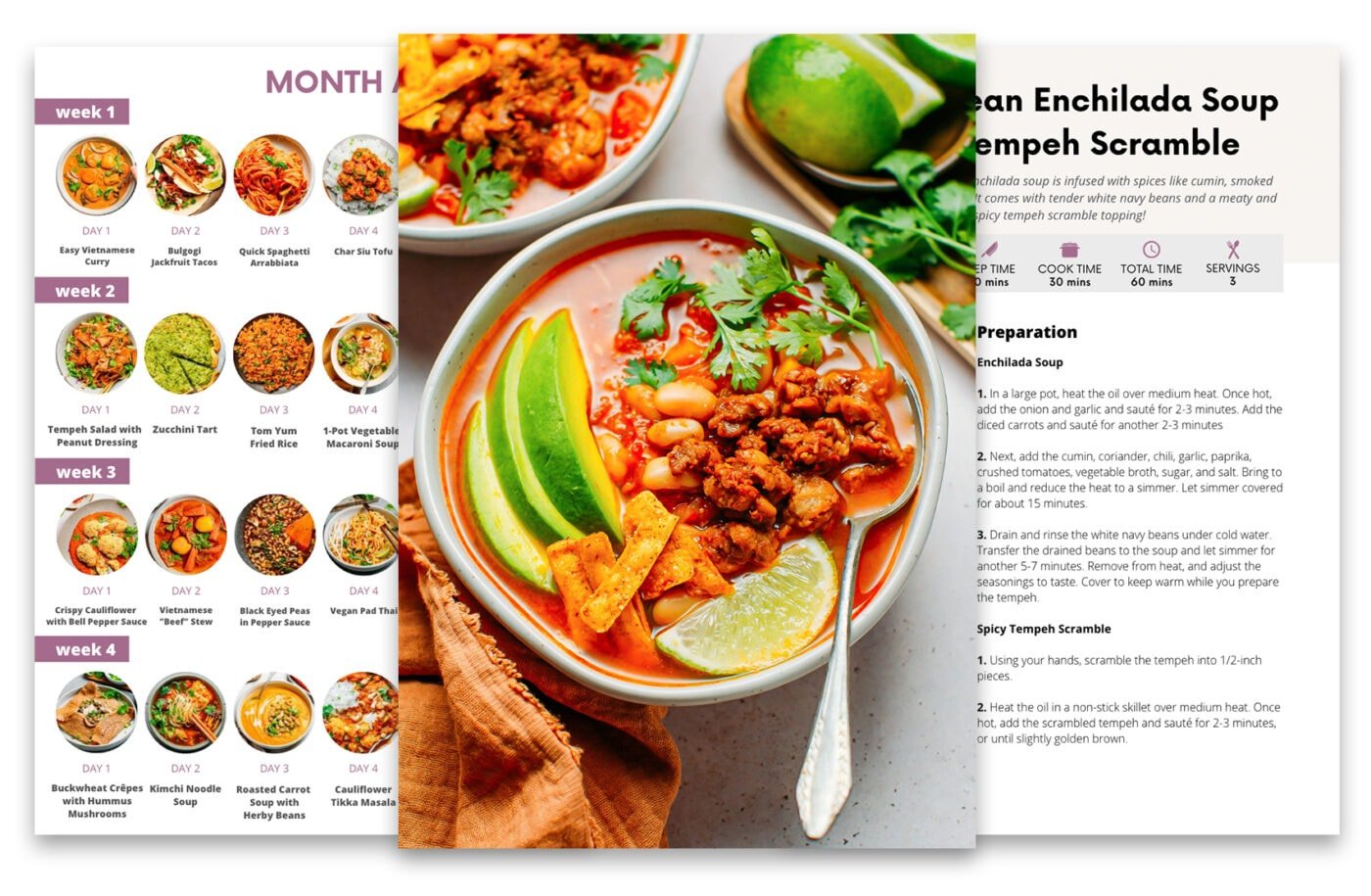 What To Expect
24 flavor-packed vegan recipes including 9 exclusive recipes that have never been published on the blog. That's six dinners per week, Sundays are for leftovers.
Weekly shopping lists – Including printable files to make your shopping easier.
One mouthwatering photo for each recipe.
PDF files that can be viewed on desktops, phones, and tablets.
Macros breakdown given for each recipe, including calories, protein, carbs, fat, and fiber.
What Do They Say
★★★★★
"Just one word about this e-book. Amazing! The table of contents is well structured, the cooking instructions are really easy to follow and the photography is so eye-catching. Ingredients were not hard to find, and the recipes were very enjoyable. I have been following your blog for a while. And just like on your blog, you did a great job on this e-book! "
– Olivia B.
★★★★
"With good photos, nice layouts, and clear instructions, this e-book is worth buying. Moreover, the recipes taste heavenly. The thing I like the most is that I don't have to think about what to prepare for dinner the whole month. So, I have more free time to focus on working on my project. This e-book is definitely necessary for someone "workaholic" like me!"
– Adam H.
★★★★★
"If you get bored of thinking of what to cook for dinner like me, this e-book is for you! The author already thought about that matter for us. I have only made the recipes from the first two weeks, the whole family loved every single one, including my two picky kids. It's totally worth the $12.99 in my opinion."
– Allison R.
Who is The 4-Week Vegan Meal Plan for?
• You are always wondering what to cook or you are in need of inspiration.
• You are tired of avocado toasts and kale salads and want more exciting recipes to try.
• You shop 2-3 times per week because you are always missing an ingredient.
• You always end up with ingredients in your fridge that end up going bad.
• You want to minimize your time in the kitchen while still eating flavorful meals.
If you can relate to any of these, you are going to love this Meal Plan!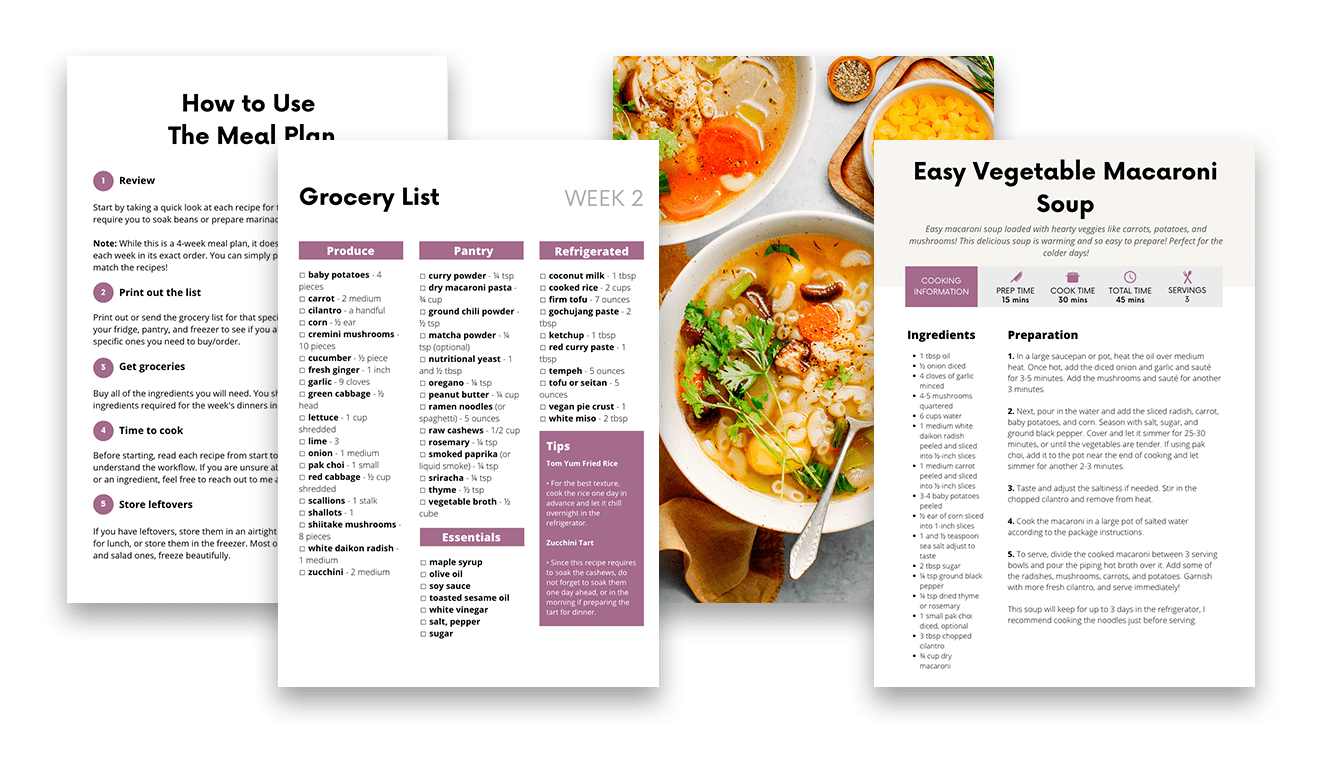 Frequently Asked Questions
Are the recipes gluten-free?
All of the recipes can easily be made gluten-free by swapping a few ingredients. There is a section in the ebook regarding those possible substitutions.
Are the recipes tried and tested?
Each recipe in the ebook has been tested multiple times and offered to a panel of testers (friends and family) to make sure the flavors were on point.
Are the recipes soy-free?
Out of the 24 recipes, 16 can easily be made soy-free by replacing the soy sauce with coconut aminos.
How many servings are the recipes?
Most recipes serve 2-4 people. You can easily double the recipes if you want leftovers for the next day.
Are there a lot of recipes with tofu/tempeh?
8 recipes in the ebook feature tofu or tempeh as an ingredient.
How many recipes are there in the ebook?
There is a total of 24 savory recipes. Nine of those recipes are exclusive to the ebook and have never been published on the blog.
How many pages does the book have?
There are a total of 89 pages. Each recipe includes a photo and nutritional information. There is also a complete section on how to use the meal plan.
What if I'm not satisfied with the ebook?
We have a 15-day money-back guarantee! If you don't like the ebook, simply contact us explaining why you were not satisfied and we will refund you immediately!
Note: This is an instant digital download. Nothing will be shipped and you will receive the ebook instantly in your emails. There are no recurring costs.
As Seen On


Thank you!
Thanks for taking the time to check out The 4-Week Vegan Meal Plan! If you are new here, feel free to check out the recipe index or my about page to learn more about me. You can also subscribe to the newsletter to get your free eBook "The Art of Vegan Cheese Making"! Thanks so much for your support over the years!