If you ever wondered how to make a delicious and convivial hot pot, you are going to love this recipe! This spicy vegan hot pot takes less than 45 minutes to prepare. It has the perfect balance of sweet and salty and is infused with lemongrass, ginger, chili, and tamarind! Serve with tofu, rice noodles, and your favorite veggies!
The weather is cooling down, and if you are like me, you are probably craving comforting recipes.
Say hello to this flavorful, sour, and spicy hot pot! It's the perfect dish to warm you up!
📘 What is a Hot Pot?
A hot pot is a popular dish in Asia that consists of a simmering pot of soup placed in the center of a table. Each person cooks the vegetables, tofu, and greens of their choice at the table. What's great about a hotpot is that it's a meal that must be shared with family or friends. It is healthy, comforting, and, more importantly, delicious!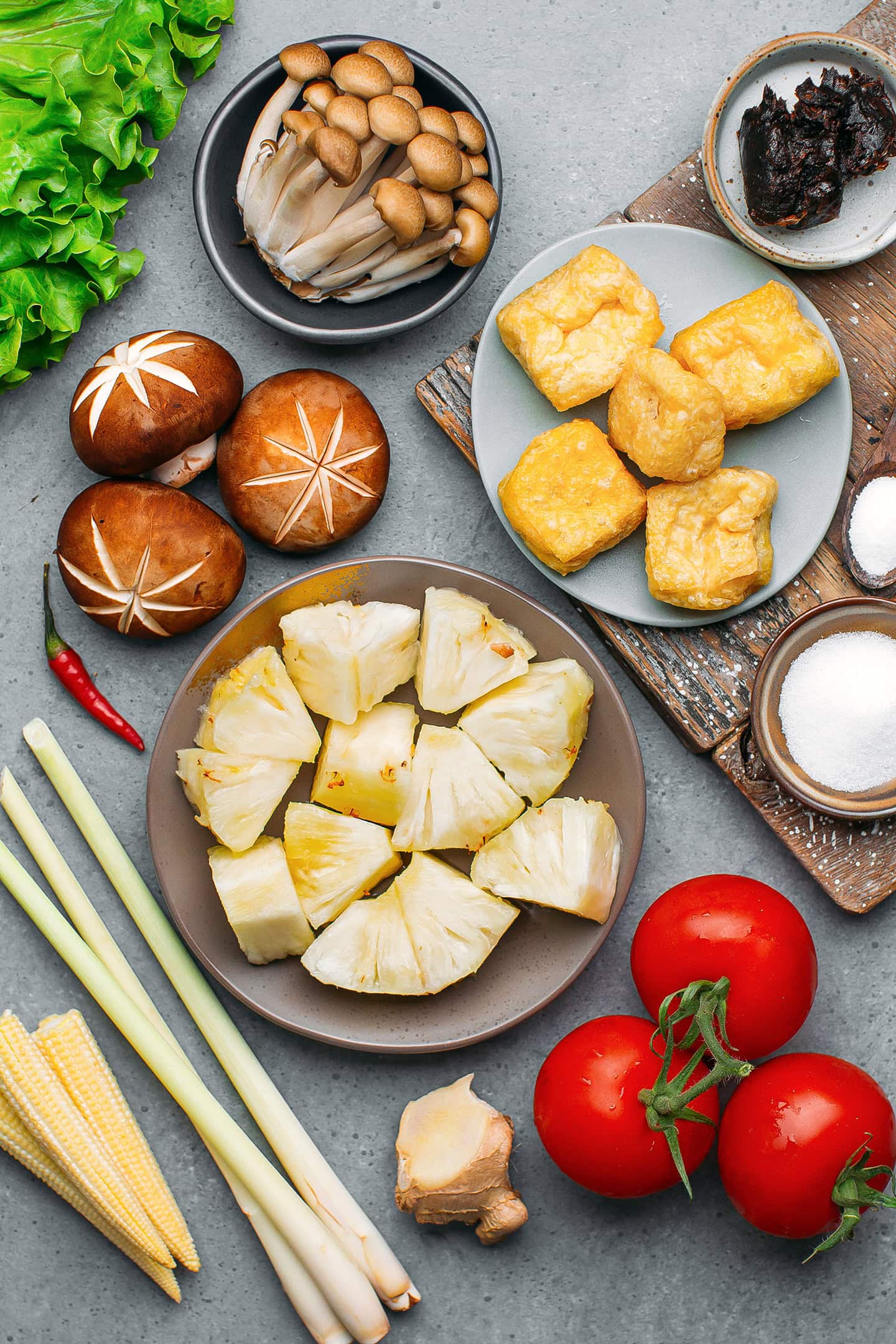 🥣 How to Prepare Hot Pot?
A hot pot is easy to make but requires some preparation. The broth can be made ahead of time and reheated when ready to serve, but the noodles must be cooked, and the greens cut just before serving.
Here are the steps to make this hot pot:
Cook the Broth: Preparing the broth takes around 30 minutes from start to finish. First, sauté aromatics and veggies, cover with water, and let simmer for about 20 minutes.
In the meantime, prepare the add-ins: wash and slice the vegetables and cut your vegan protein of choice. I recommend going with tofu, tempeh, vegan sausages, or even vegan chicken. Make sure everything is cut into bite-size portions.
Cook the noodles: if going with rice noodles like phở, you want to cook them first, then drain and rinse under cold water. This way, people can simply get noodles and pour some hot broth over them to warm them.
Prepare the table: Place a portable gas burner in the center of the table and place the pot with the broth on it. Let it simmer over low heat. Alternatively, you can use an Electric Stainless Steel Hot Pot.
Arrange everything: Place the sliced vegetables, tofu, vegan meat (if using) on different plates around the hot pot so each guest can pick what they want.
Enjoy! Each guest can pick some veggies, add to the hot pot, and let them simmer for a couple of minutes before transferring to their bowls. Add noodles, plant-based protein, pour in some hot broth and enjoy!
What is The Best Way to Serve Hot Pot?
While it is best to heat the pot using a portable burner or an Electric Hot Pot on the table, sit around it, and cook the veggies as you want, this recipe can also be made in 1-pot!
Simply boil the veggies, noodles, and the vegan protein of your choice for a few minutes in the broth, and use a ladle to pour into bowls. A dutch oven is great for this, as it stays hot for a long time.
Let's take a deeper look at the components of this recipe.
Broth
I went with something sweet, sour, and spicy. Pineapple brings the sweetness, tomatoes make it lightly sour, and red chili brings the heat. Then we have some lemongrass, fresh ginger, and corn for a deeper flavor. We also have some sugar to balance the spiciness. Optionally, you can add tamarind for more sourness (highly recommended!). For extra umami, we also add some soy sauce.
The broth is quite spicy, so if you are not used to the heat, use only one chili instead of three.
Add-ins
Now let's talk about the add-ins. First, you want some noodles, which is mandatory. Feel free to use what you have on hand, it can be rice noodles, soba, or even spaghetti.
Next, the vegetables. Greens like bok choy, mushrooms, okra, Chinese broccoli, or even spinach are great as they soak up the flavors of the broth. There is no rule though, so you can use almost any vegetable you want, just be aware root vegetables will take longer to cook.
Finally, we have the protein. Again the kind of plant-based protein you use is completely up to you. Tofu, vegan chick'n, tempeh, TVP, there are many options!
This hotpot is super comforting and makes a great family meal! Not only it comes together quickly, but it is also healthy and so flavorful! It can easily be served as noodle soup if you don't have a hot pot!
🍲 More Plant-Based Soup Recipes
Let me know in the comments if you try this recipe!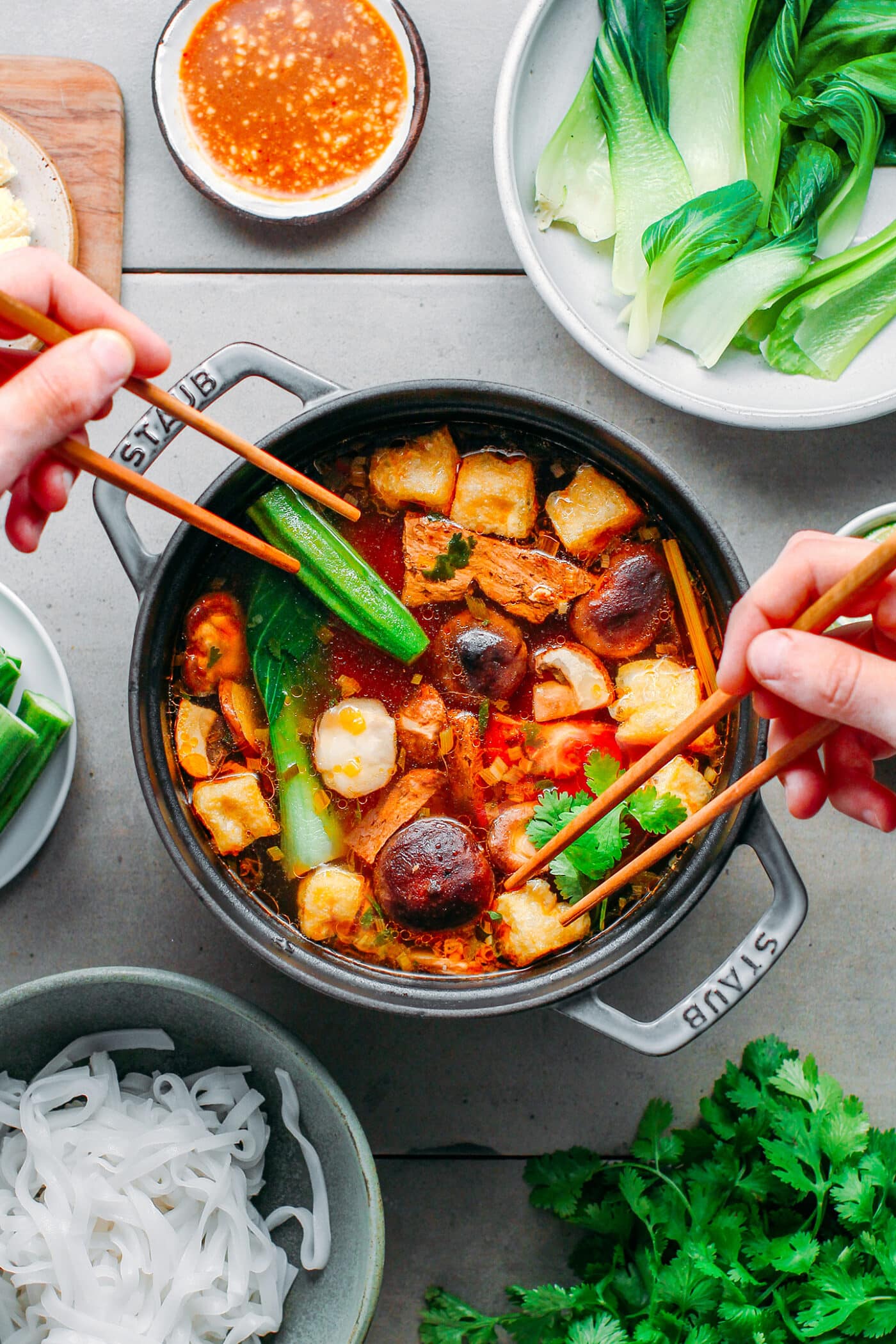 Recipe
Spicy Vegan Hot Pot
Spicy, sour, and a bit sweet hot pot that is super flavorful, comforting, and easy to make! Flavored with lemongrass, ginger, and chilies. Served with your favorite greens, tofu, and noodles!
Ingredients
Broth
1

tbsp

oil

2

lemongrass stalks

halved

1-

inch

ginger

peeled and sliced

1

green onion

thinly sliced

3

small Thai chilis

sliced

1

cup

pineapple

chopped

2

medium tomatoes

finely diced

4

cups

water

1/2

ear

of corn

sliced into 2-inch slices

1

tbsp

coconut sugar

or regular sugar

1 and 1/2

tsp

salt

1

tsp

soy sauce

1

tbsp

tamarind paste

optional
The Rest
5

ounces

dry noodles of your choice

3

cups

mushrooms

sliced

1

block

of tofu

diced

a handful of your favorite greens: spinach, pak choy, okra, etc

vegan chick'n

or TVP slices, optional
Instructions
In a large pot, heat the oil over medium heat. Once hot, add lemongrass stalks, ginger, green onion, and chilis. Fry for about 5 minutes.

Next, add the chopped tomatoes and pineapple, and cook for 5 more minutes, or until the tomatoes have released their juice.

Pour the 4 cups of water into the pot. Add the corn, coconut sugar, salt, and soy sauce. Let simmer for about 20 minutes. If using, dilute the tamarind paste in a couple of tablespoons of warm water and let it sit for 5 minutes. Strain and add to the broth.

In the meantime, cook the noodles, wash and prepare the vegetables, and dice the tofu and/or vegan chicken.

Place the pot on a portable burner on the table and let it simmer. Place the vegetables, noodles, and tofu around it, and enjoy! Each guest can cook the veggies of their choice for a few minutes in the pot. Fill your bowl with noodles, top with tofu, veggies, and pour hot broth over them.
Notes
If serving more than 3 people or if you want leftovers, feel free to double the recipe.
Did you make this recipe?
Tag @fullofplants on Instagram and hashtag it #fullofplants