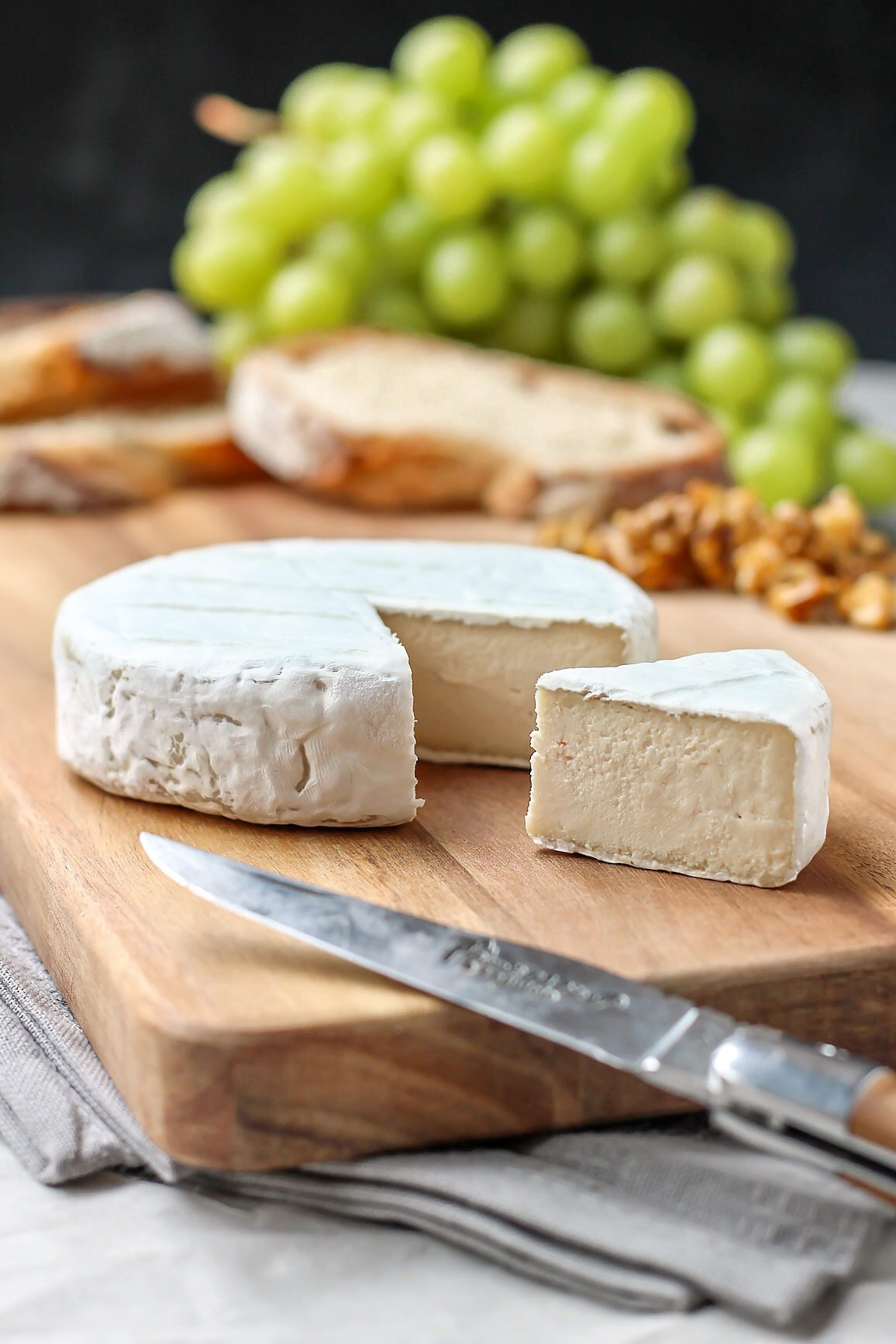 THIS IS IT GUYS! The vegan cheese you have been looking for. Sharp, creamy with a white and flowery rind. Before going any further, be aware this is not a quick recipe, don't expect to have a cheese ready tonight. The whole process will take you about three weeks. BUT: It is totally worth it!
I didn't find any recipe online for achieving camembert-style nut cheese, so it took me a lot of research and testing before finally finding how to make a nut cheese that has the taste and texture of a real camembert. Living in France I ate quite a lot of artisanal cheese before going vegan and I can tell you this one seriously taste like a real one.
This cheese contains only FIVE ingredients: raw cashews, cultures, filtered water, salt and the secret ingredient for the rind: Penicillium Candidum.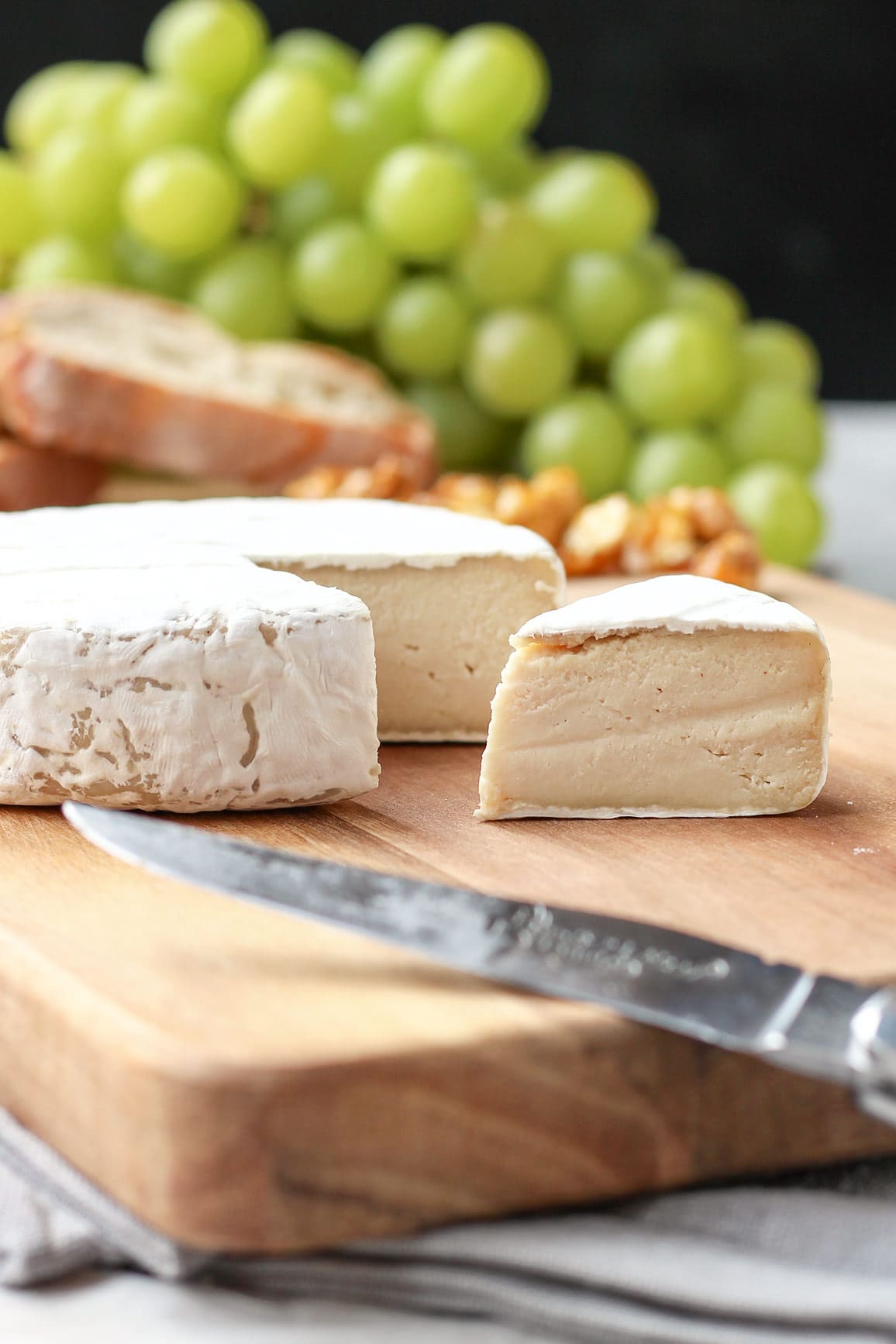 I try to keep my recipes easy, with simple ingredients everyone has in their pantry but unfortunately, to achieve such results you will need to get your hands on some penicillium. You can find it online here, or just ask an artisan cheese maker to sell you some. If you are located in Europe, you can find vegan cultures, supplies and everything you need to make vegan cheeses on Cashewbert.
Penicillium is a mold that grows on camembert/brie and gives it a white, soft crust. It also adds a lot to the taste by giving a mushroom-y flavor. It is usually mixed into the ingredients before being placed into the molds, or sprayed on the outside after the cheeses have been removed from the molds. I used the first method here, which gives the best result in my opinion.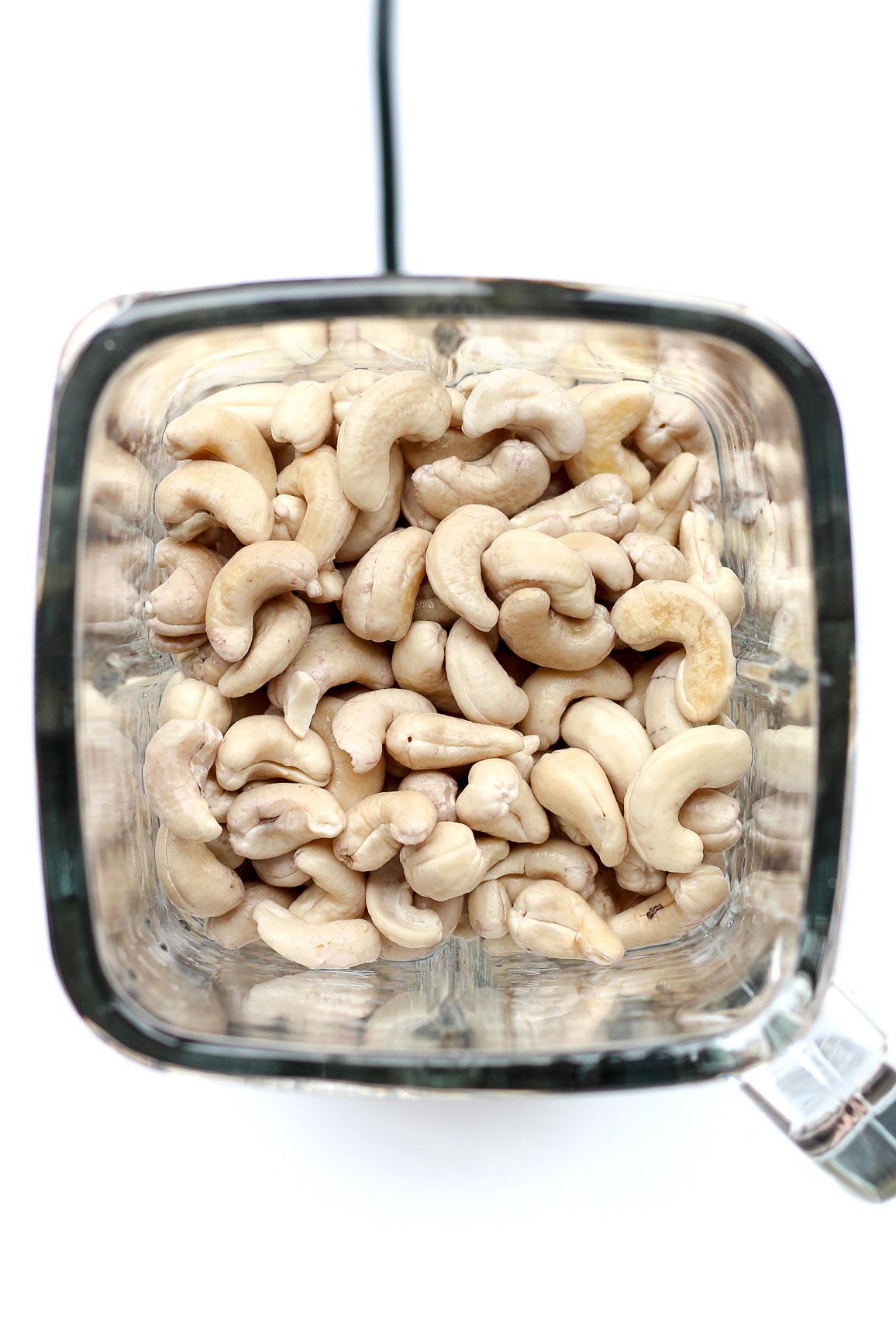 Once the cashews have soaked for at least 5 hours, you place them in a blender with the mold and add just enough water to get a smooth, yet thick consistency. You also need to add the probiotic powder, it will allow the cashew cheese to ferment and will be responsible for the sour/sharp taste.
Your goal is to use as least water as possible, you don't want something too liquid, this is important since the more liquid you use, the longer it will take to firm up. In case you don't have a powerful blender I recommend using your food processor.
As you can see below, the fermentation has started after about 24h. Bubbles will have form and the mixture will be fluffy and airy. That's when you can taste it to see if it's sharp enough for you. In my opinion, one day of fermentation is enough at this stage since it will age for another 3 weeks later. Don't worry if you don't get the air bubbles, it's not always visible. Taste it and if it's slightly sour you are on the right track.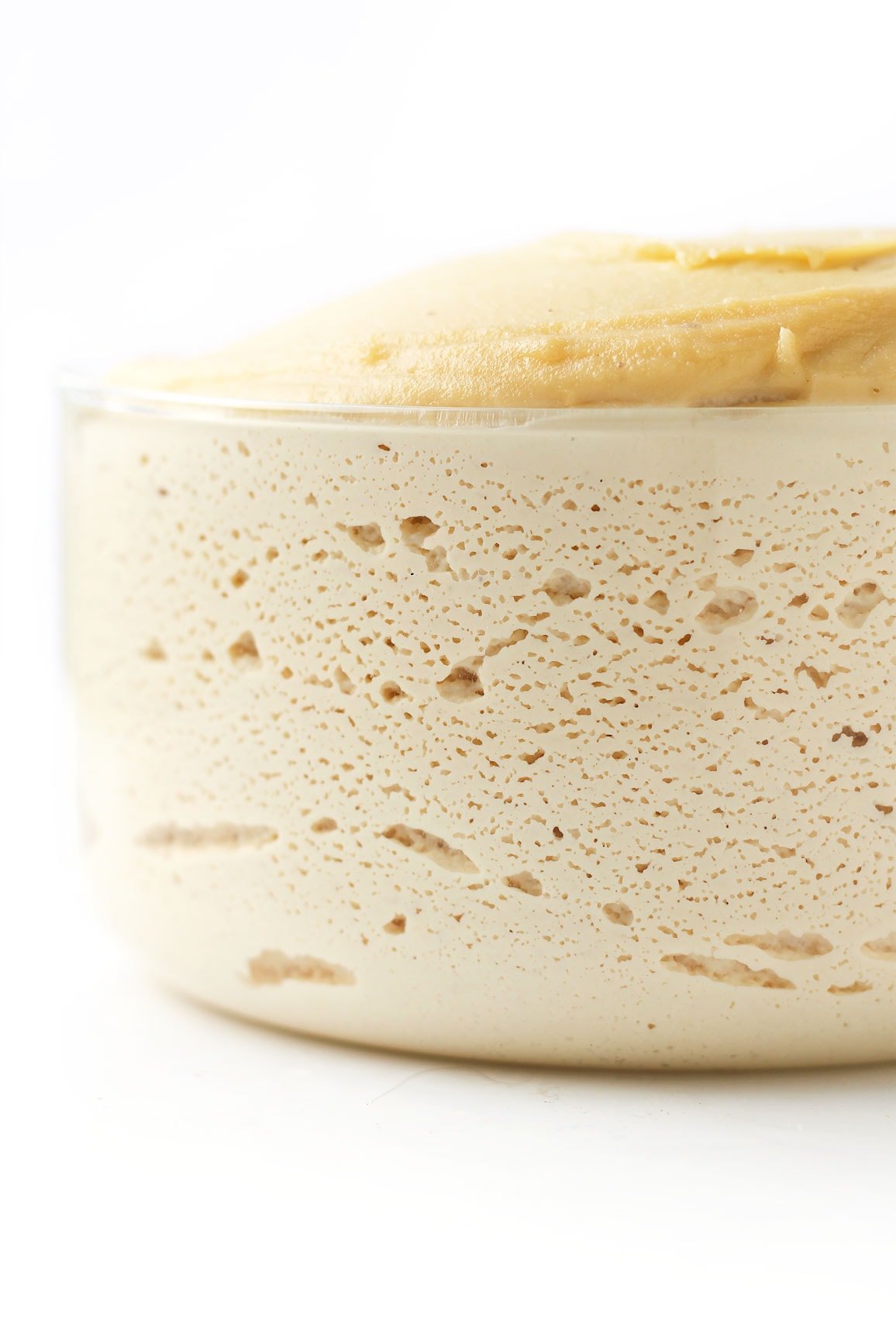 At this point, you can just add some chopped chives and use it as cream cheese if you want. But please don't stop here, stay with me!
The hardest part of the work is done now, it was pretty easy right?. The next step is to put the cashew "dough" in the fridge for at least 4 hours so it firms up a little bit and will be easier to work with. You can now fill 3 small springform pans with the dough. Place in the fridge for 24 hours.
The following morning, unmold the cheeses, and place them on parchment paper on a baking sheet. They will be very soft, almost like a cream cheese.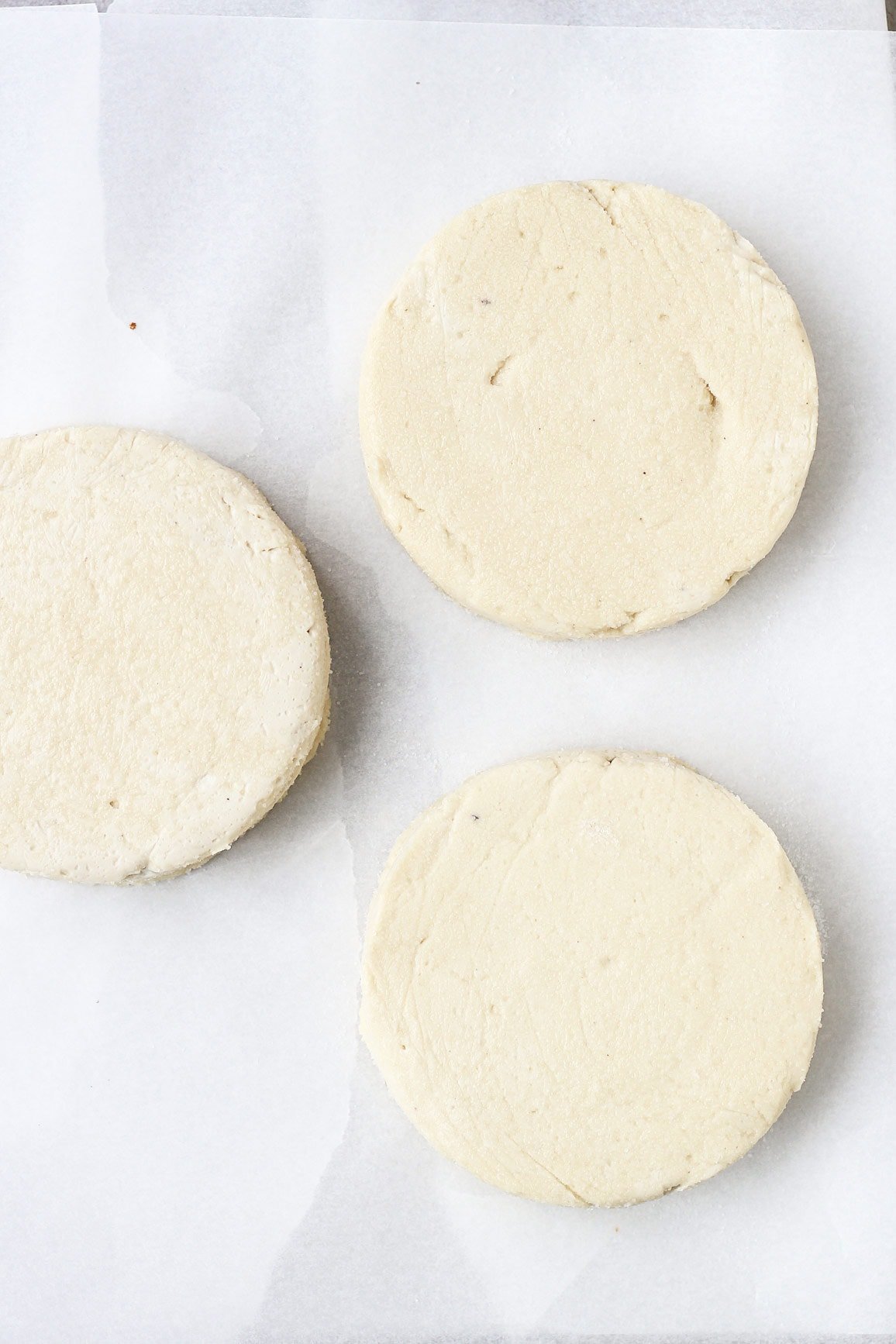 The aging should be done in a room with a temperature of about 52-56 degrees with a little bit of humidity. If you don't have that in your house, you can definitely use your refrigerator, it will just take longer to age. In this case you want to put the cheeses in a box in the warmest area of your refrigerator.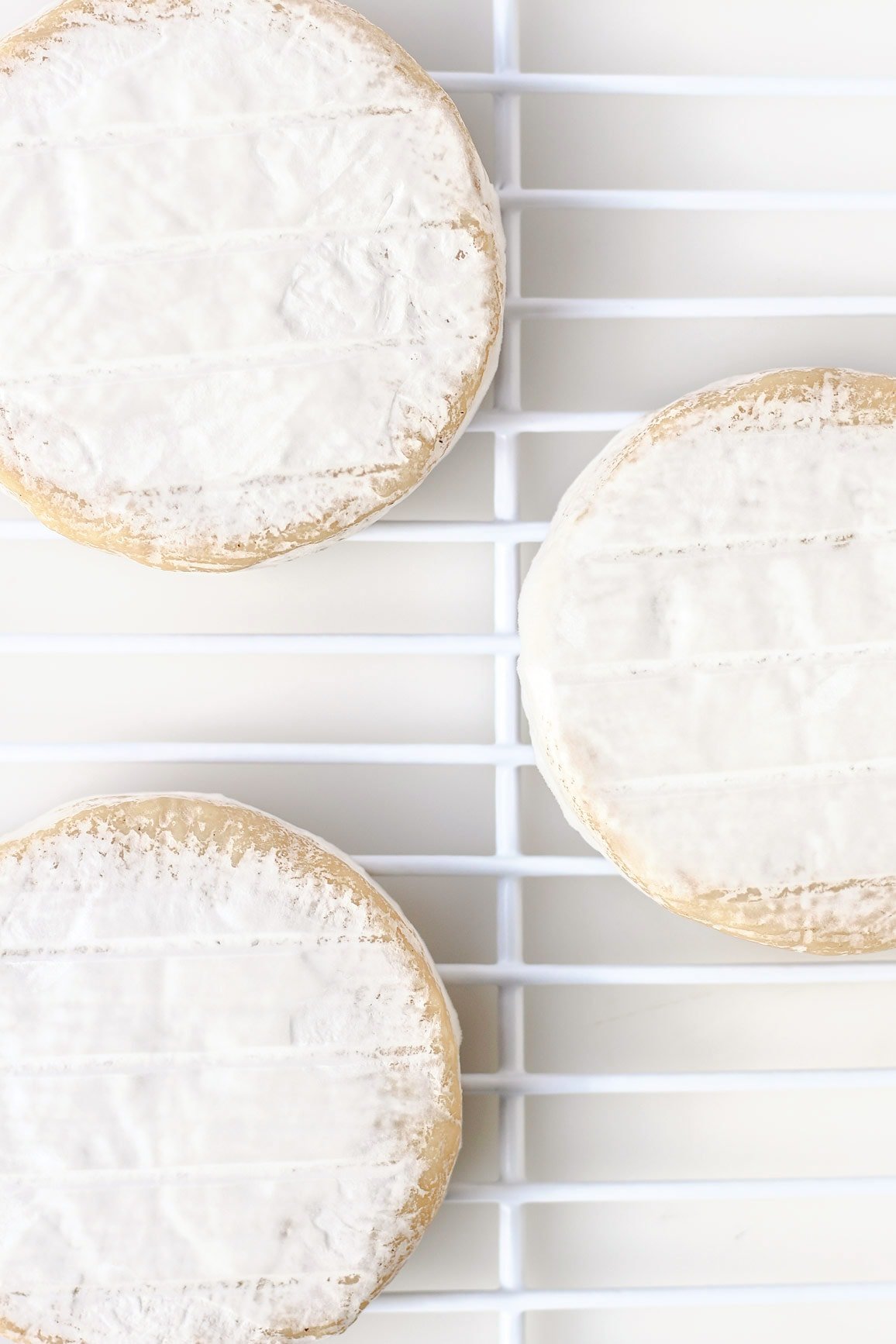 You will have to flip the cheeses daily for the next 3 weeks, the first 3 days it will be pretty tricky since they will be very soft but don't worry they will firm up as time passes. At day 4 you will have to salt the exterior of the cheeses and rub gently the salt with your fingers. Salt is really important to keep bad mold from growing and will obviously improve the taste. Once the cheeses are firmer you can move them to a sushi mat or a clean grid. This is essential to let the mold grow at the bottom of the cheese.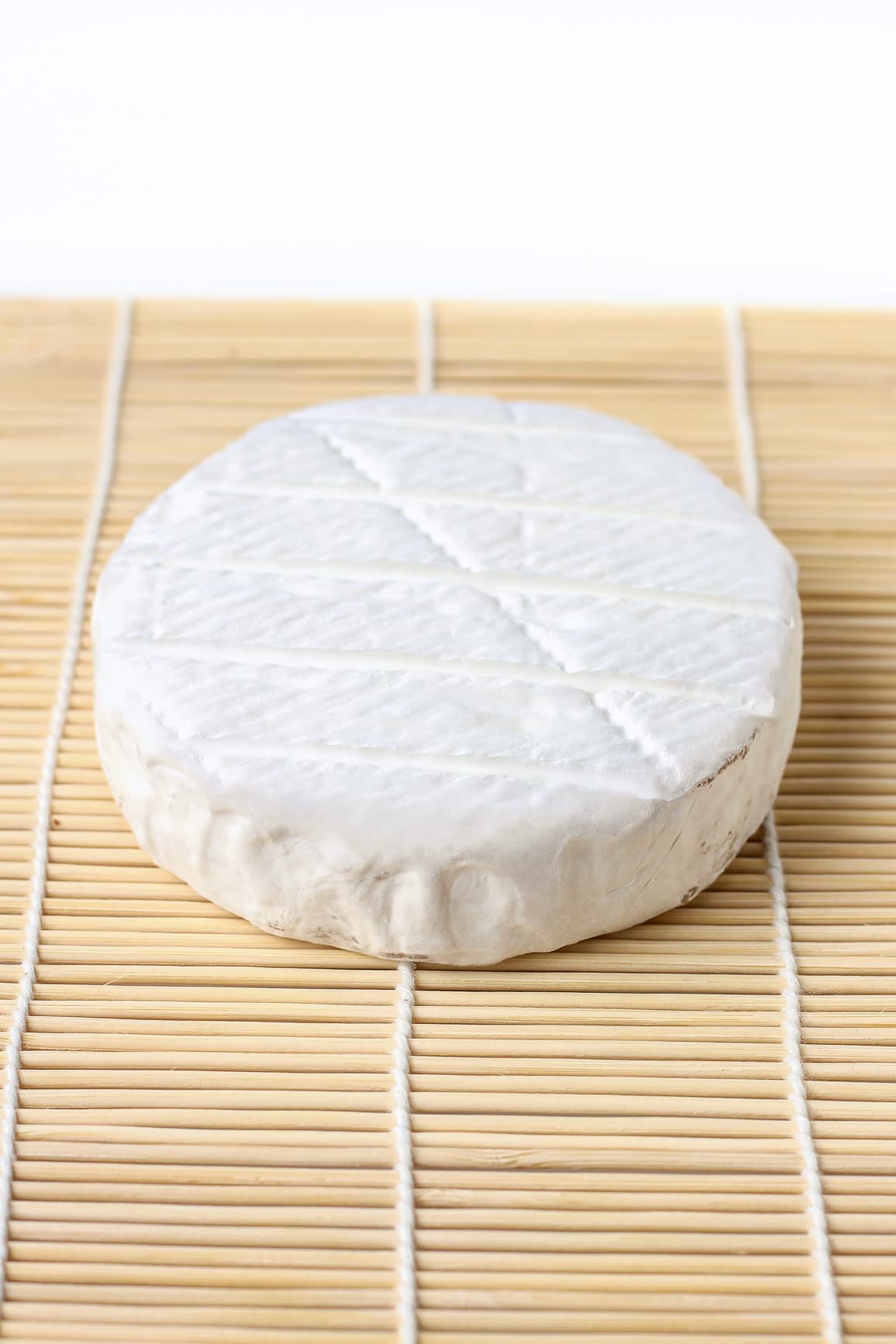 The mold will start to appear after 5 days. After about 14 days, your cheeses should be covered with white mold, now they look like camemberts! Once they are completely covered with mold you can wrap them and place them in the refrigerator for at least three days. The longer you let them age, the stronger the taste. I find that after 4 days they are already really tasty and strong enough.
The cheese is soft on the inside and a little firmer on the edges, just like a real camembert.
This cheese is raw and packed with healthy fats from the cashews.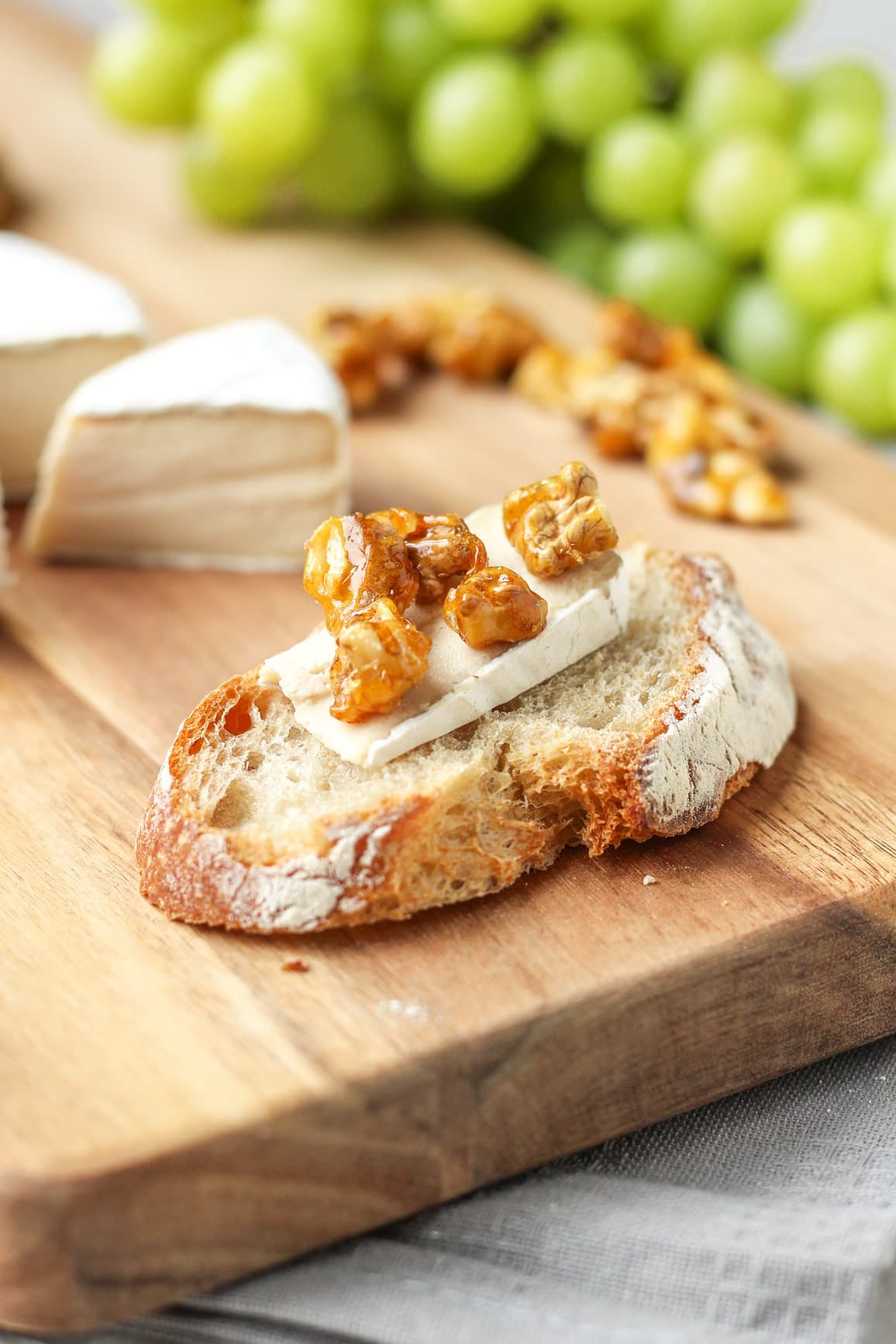 Enjoy with french bread, fig chutney, caramelized walnuts, or even a drizzle of pure maple syrup if you are feeling decadent. This cheese will surely please any cheese lover and impress your non-vegan friends!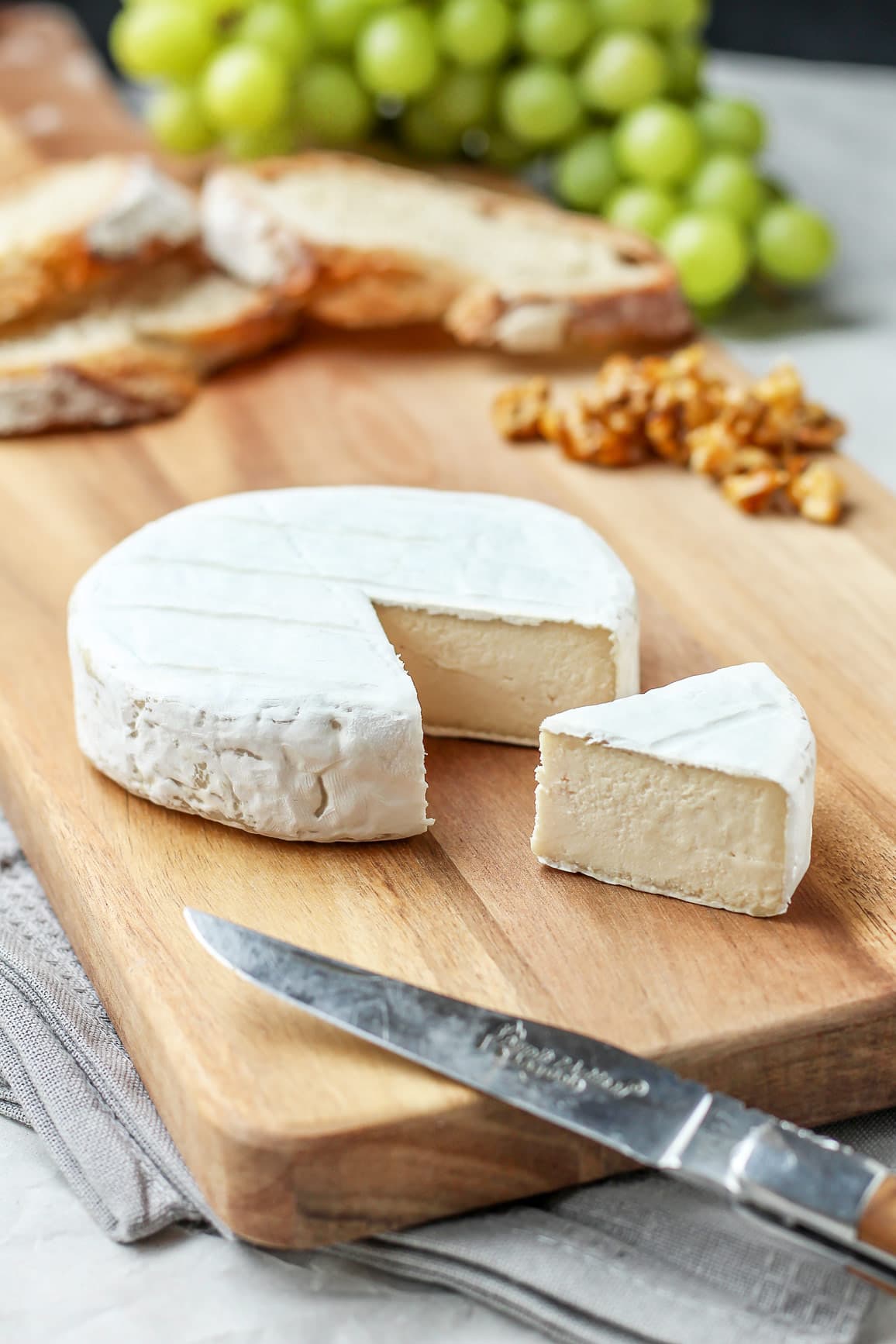 This camembert pairs well with: Cider, champagne, Cabernet Sauvignon, beer or a good apple juice if not drinking alcohol.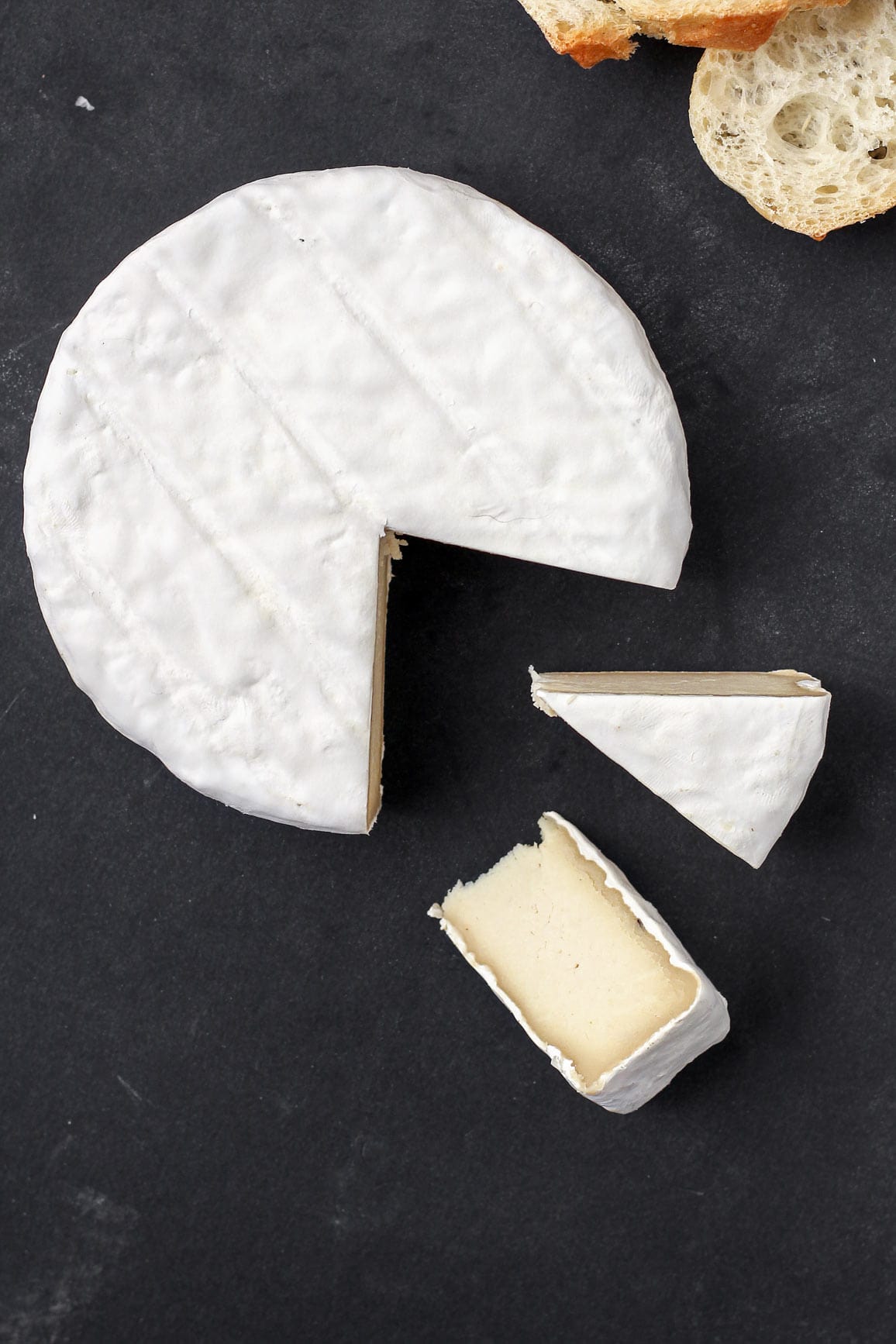 Let me know in the comments if you try the recipe and how it turns out for you! Please don't hesitate to ask if you have questions!
Update: Many people have been making this cheese without giving any credit back and labelling it as their own. I worked really hard to create this recipe and had to make a ton of experiments before releasing it, please give credit by tagging @fullofplants on Instagram or at least linking to this website.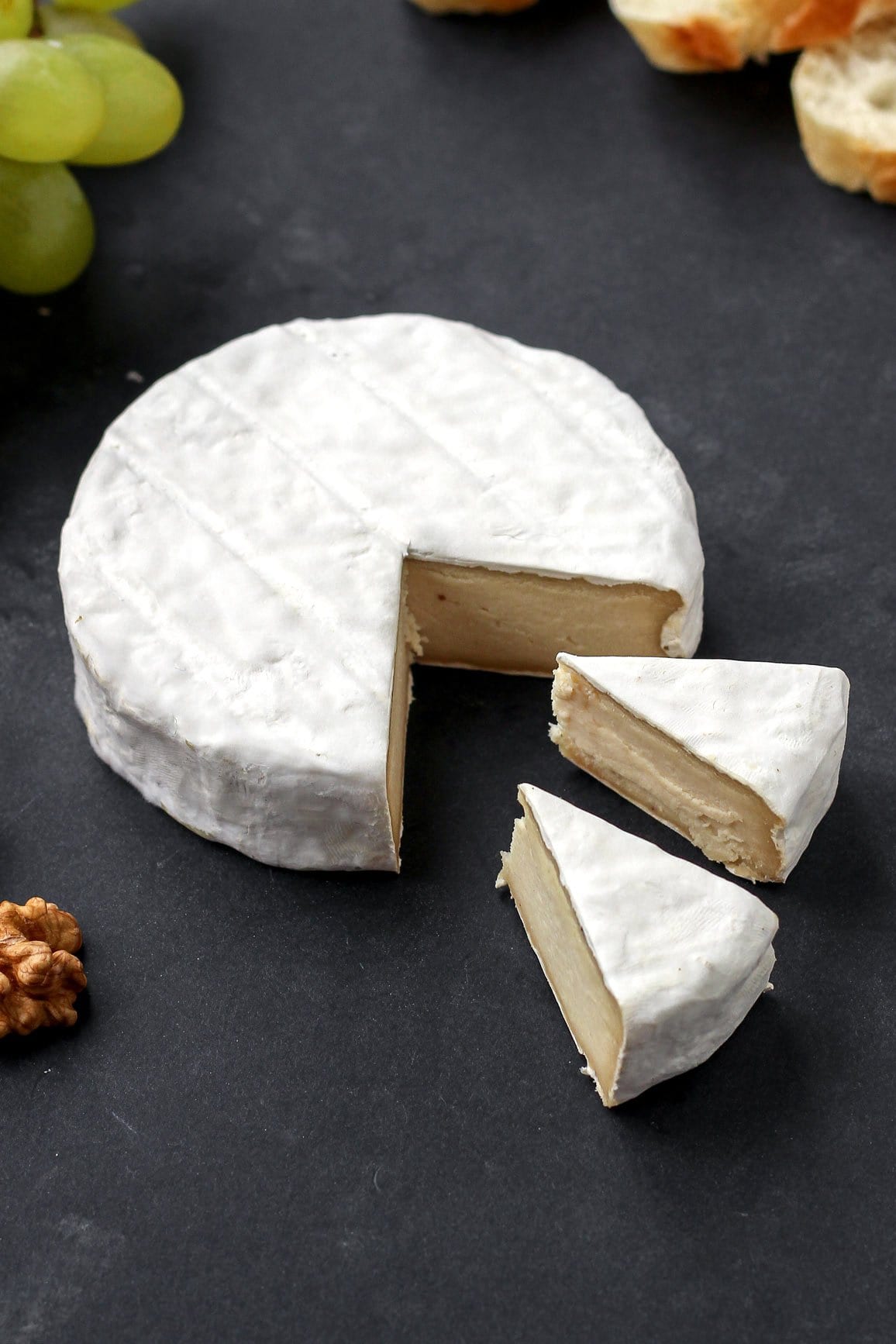 Please note: The links provided here for Penicillium Candidum may not be redirect to a fully vegan product. If you want to find a 100% vegan one, you can get it on cashewbert.com if you are located in Europe. For USA and other countries, I can't give you a link as it seems harder to find, you will have to make your own research to find a vegan one. Be aware that non-vegan ones are grown on lactose, meaning it contains *traces* of lactose. Considering the amount used, you could still consider your cheese 99,99% vegan. It's up to you to choose which one fits your beliefs best.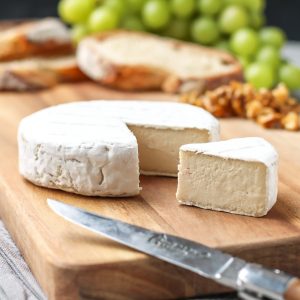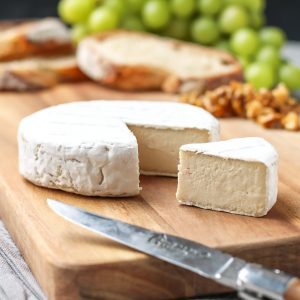 Vegan Aged Camembert Cheese
The best vegan aged cheese. It tastes just like a real camembert and has a white and flowery rind!
Instructions
The day before
Soak the cashews in filtered water for at least 5 hours or overnight.
Forming the cheese
Drain the cashews and place them in a large glass bowl. Bring a large pot of water to a boil. Once boiling, pour the water directly onto the cashews. Let sit 1-2 minutes and drain the cashews again. This step will help kill possible bacterias.

Place the cashews in the bowl of a blender or food processor. Add 8 tablespoons of filtered water. Blend on high speed, scraping down the sides from time to time, until you get a very smooth and thick mixture. This step might take about 10 minutes depending on your blender.

Open the probiotic capsules and add the powder to the bowl.

Add the penicillium candidum, just 4 drops is enough (about ⅛ tsp). If your penicillium candidum is in powdered form, please check the notes.

Blend on high speed for another 10-15 seconds.

The cashew cream should be smooth but quite thick. If needed, add 1 tablespoon of water at a time until smooth. Do not add too much water, or your mixture will be too liquid.

Transfer the cashew cream to a clean glass bowl, cover with plastic film to touch, and let sit at room temperature for one day in a dark place, this step is important to let the cheese ferment.

The following day, place the bowl in the refrigerator for about 4 hours. The cashew cream will firm up a bit and become easier to work with.

After that, line a clean baking sheet or flat plate with parchment paper. Place 3 small springform pans (I used 4-inches pans without the bottom) on the baking sheet.

Cut strips of parchment paper and lay them in the springform pans. You want to cover the sides of the springform pans, you can also use plastic film if you prefer. The goal is to prevent the cheese to touch the metal. Fill each pan with the mixture and press it down using plastic film so it doesn't stick to your hands.
Aging
Cover each cheese with a bowl or plastic box. This is essential to prevent the cheeses from drying. Let sit in a room at a temperature of about 52-56 degrees Fahrenheit (11-13°C). You can also age them in a refrigerator, it might just take a little longer for the mold to grow. Note: You will age the cheeses, covered, at this temperature for the next two weeks. Do not store them at a temperature higher than 56°F (13°C).

The next day, carefully remove the cheeses from the springform pans. Sprinkle the salt over the top of the cheeses. Next, using another plate lined with parchment paper, very carefully flip them. Sprinkle the tops and sides with more salt. The cheeses will still be very soft, like cream cheese. Don't worry they will be easier to work with after 3-4 days as salt will remove some moisture.

Continue to flip the cheeses everyday (do not resalt). Always use clean hands or work with gloves (or plastic film) to make sure you are not touching the cheese.

After 7 days, they should be a little bit harder and you should be able to place them on a bamboo mat or plastic grid.

Flip them everyday for the next week. The mold will appear after 5-7 days and continue to grow until they are fully covered with a white rind.

After 2 weeks, wrap the cheeses in parchment paper or cheese paper and place them in the refrigerator for at least 2 days. The longer you let them age in the refrigerator, the stronger the taste.

Enjoy with french bread, fresh figs or walnuts!

The cheese will keep for at least 1 month in the refrigerator.
Video
Notes
Penicillium Candidum can be found in the powdered and liquid form. Both work the same, I usually use ⅛ teaspoon when liquid, or 1/16 teaspoon when in powder. If you do not own a ⅛ tsp, simply measure the powder using the tip of a fork or knife.
If you don't have a room at a temperature of 52-56 degrees Fahrenheit, feel free to place the cheese in your refrigerator, be aware it will take longer for the mold to grow.
Nutrition
Serving:
1
/8 of a cheese (about 1 oz)
|
Calories:
98
kcal
|
Carbohydrates:
5
g
|
Protein:
3.2
g
|
Fat:
8.5
g
|
Fiber:
0.6
g
|
Sugar:
1
g
DID YOU MAKE THIS RECIPE?
Tag @fullofplants on Instagram and hashtag it #fullofplants