HERE IT IS. The vegan blue cheese recipe is finally here guys!
I'm really, really excited about this recipe. First, because I'm working on it since several months and secondly because it tastes exactly like blue cheese.
The texture is just perfect, it's creamy so you can spread it easily on a slice of bread, but firm enough to cut it into slices. It has that rich and strong aroma. This cheese is actually even stronger in taste than my vegan aged camembert! Non-vegans could not believe it was not "real" blue cheese!
Just like the vegan aged camembert, this blue cheese is made with one 4 ingredients: cashews, probiotics, mold cultures and salt.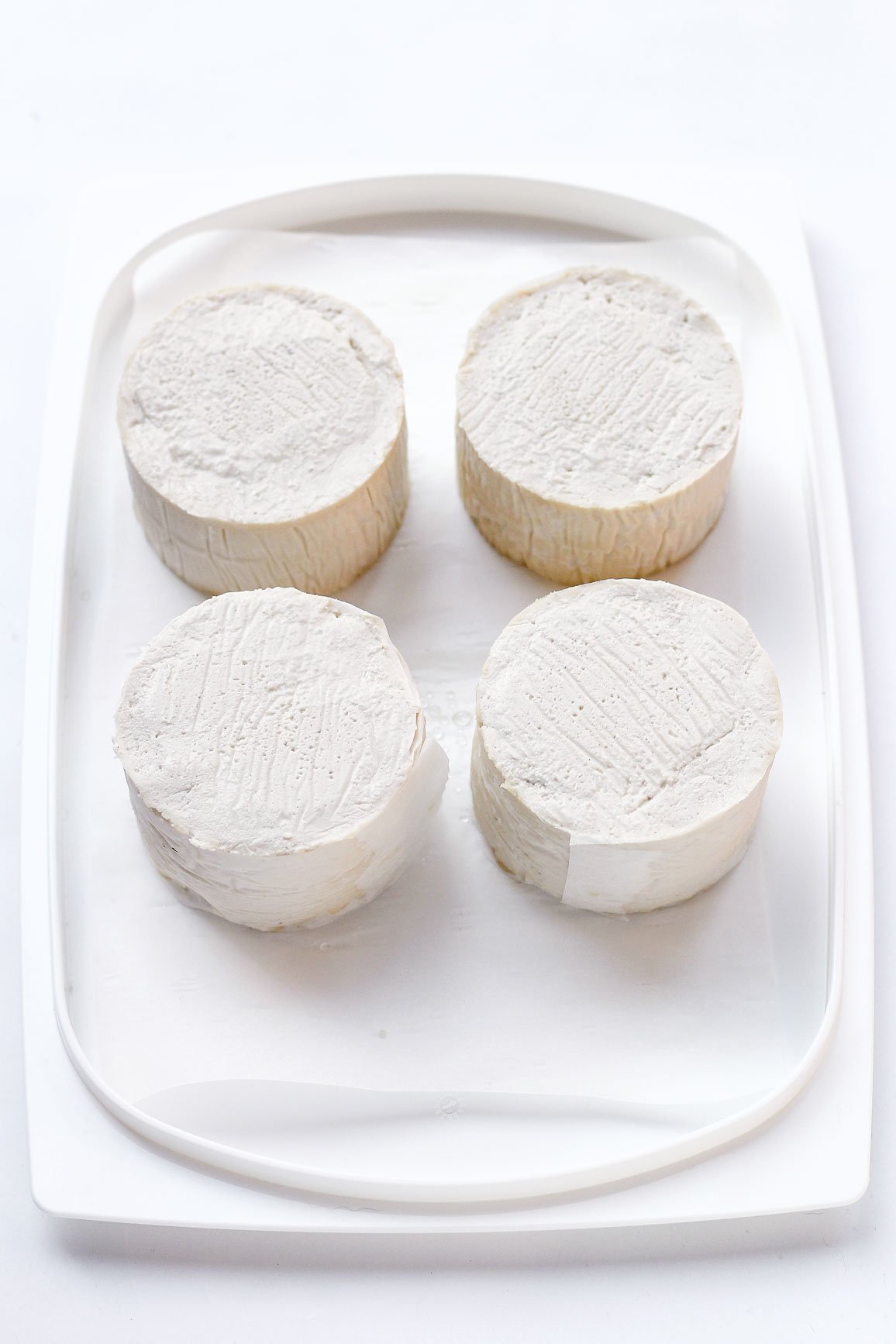 The recipe is actually pretty easy to make, the hardest part is to be patient since the whole process will take over a month. You start by soaking the cashews in water for at least 5 hours or so. Then you blend them with the coconut oil, water, probiotics and penicillium roqueforti until you get a thick and creamy mixture. The probiotics will trigger the fermentation process and the mold will give the cheese it's rich flavor and blue color. The coconut oil is here to add creaminess, it also helps the mold grow since it requires a lot of fat. I recommend refined coconut oil, that has been deodorized. Please do not omit any ingredient.
You can get the penicillium roqueforti mold here. It might seems a little bit expensive for a small bottle but a little goes a long way. For 4 cheeses you will only need ⅛ tsp, which means you will be able to make about 100 batches of 4 cheeses with one bottle. The bottle can be stored in the freezer for a long time. If you are located in Europe, you can find vegan cultures, supplies and everything you need to make vegan cheeses on Cashewbert.
The exterior of this blue cheese is dark blue because I didn't scrape the sides. The rind is edible, but if you prefer the exterior to be white, you can gently scrap the mold using a clean knife every two weeks. I prefer to leave the rind because...well it looks cooler and after about a month it will become a little bit firmer. Creamy inside + firm rind = perfect cheese to me.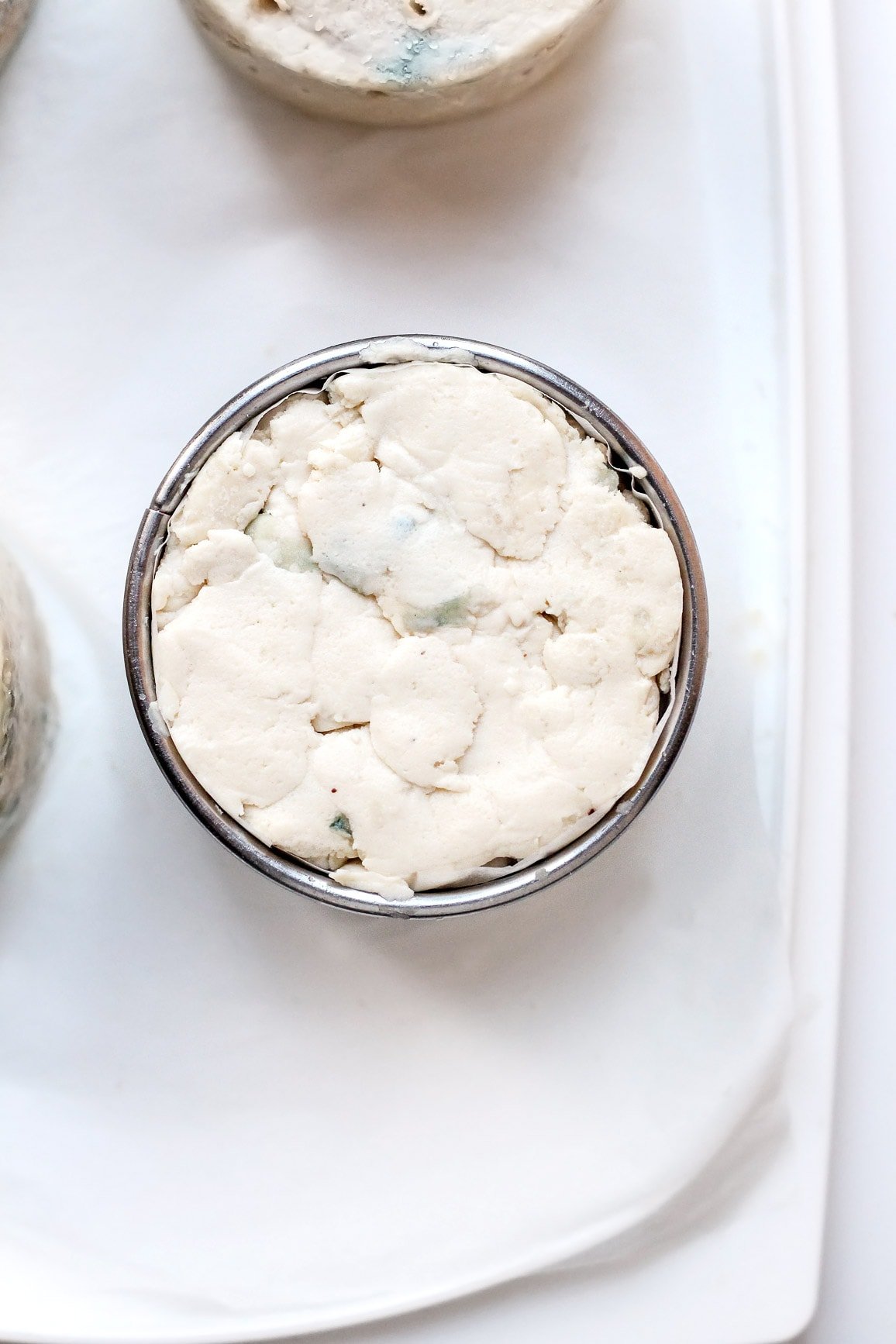 The mixture needs to ferment at room temperature for one day before you place it in springform pans. After 2 days you need to salt the exterior of the cheeses, salt will help the mold grow and make the cheese tastier.
The dark blueish mold is what gives the cheese its characteristic flavor. The problem is the mold needs to be in contact with the air to grow, so you need to have many small openings inside the cheese for better mold growth. Regular blue cheeses are often pierced several times with a skewer to make holes, I tried this way but without success. After severals tries, I thought of scrambling the cheese into little pieces and then forming it again without pressing to much to leave large holes inside it. It changed everything.
This step must be done when the cheese is a little bit firmer, at about 2 weeks. You scramble the cheese with clean hands in a large bowl and re-fill the springform pans without pressing too much to leave large holes.
The next step is to flip the cheeses everyday and wait...This cheese will be ready in about 5 weeks total, but if you are patient enough to wait for another 2 weeks I promess you won't regret it! It will become even stronger and sharper.
I hope this recipe will prove it's possible to make everything with plant-based ingredients. If you are not vegan yet, you don't have to give up on cheese anymore! You can read more at Positive Health Wellness.
Serve this blue cheese alongside vegan camembert, onion chutney, grapes and you have one of the best vegan cheese platter!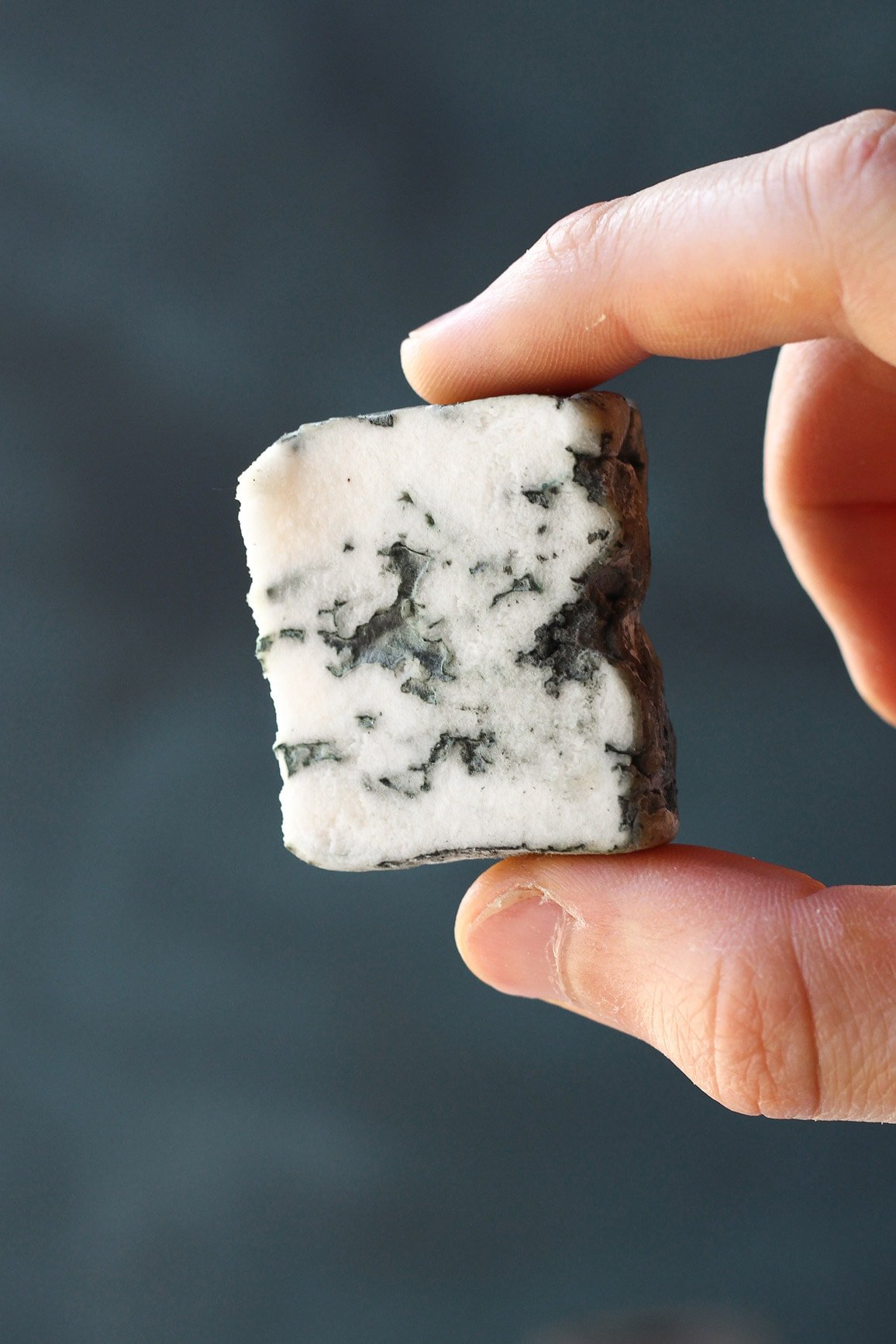 Quick note: If you are making vegan camembert at the same time, I recommend you keep them in two separated boxes.
Please let me know if you try this recipe and feel free to ask if you have questions about the process!
Update: Many people have been making this cheese without giving any credit back and labelling it as their own. I worked really hard to create this recipe and had to make a ton of experiments before releasing it, please give credit by tagging @fullofplants on Instagram or linking to this website.
Please note: The links provided here for Penicillium Roqueforti may not redirect to a fully vegan product. If you want to find a 100% vegan one, you can get it on cashewbert.com if you are located in Europe. For the USA and other countries, I can't give you a link as it seems harder to find, you will have to make your own research to find a vegan one. Be aware that non-vegan ones are grown on lactose, meaning it contains *traces* of lactose. Considering the amount used, you could still consider your cheese 99,99% vegan. It's up to you to choose which one fits your beliefs best.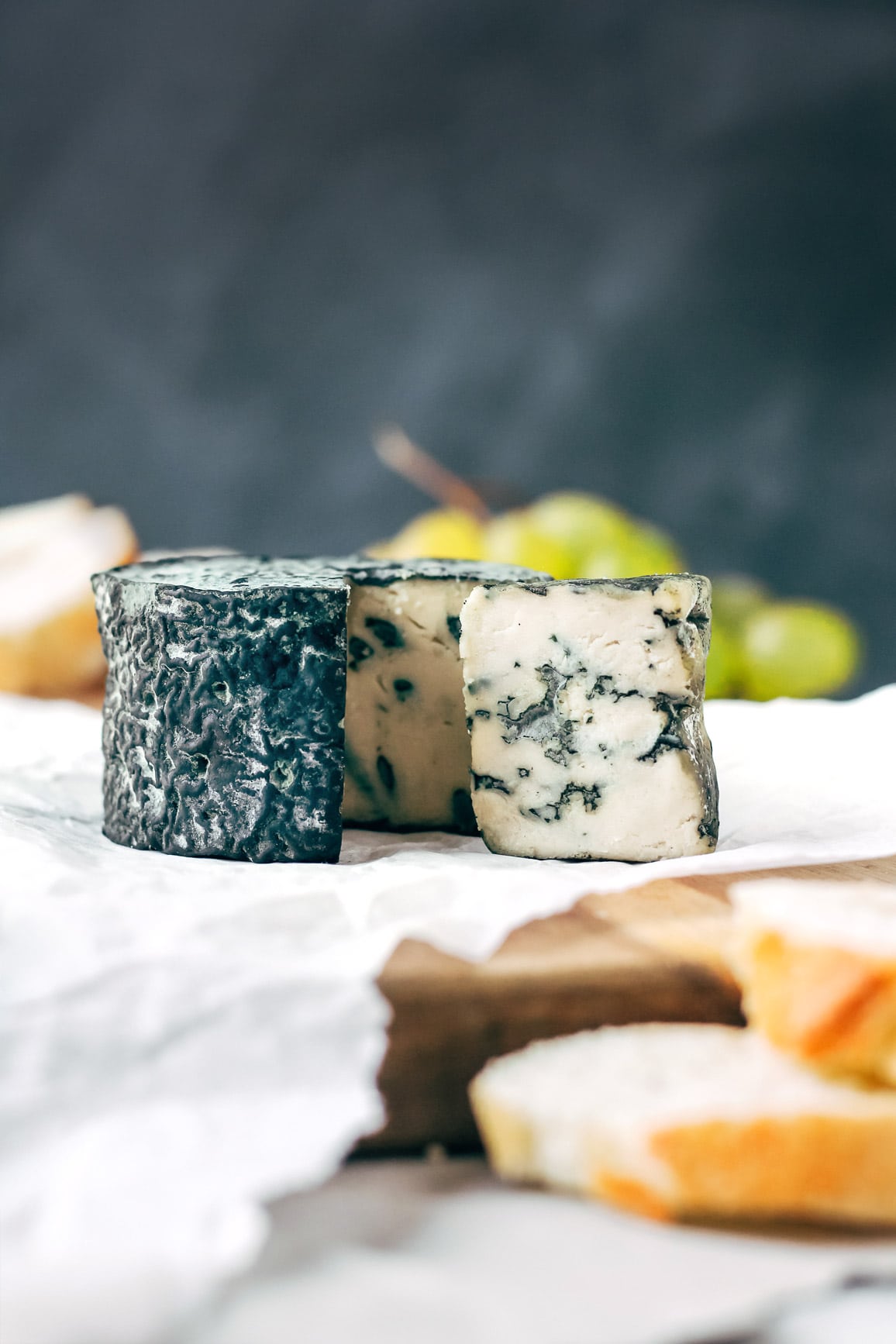 Vegan Blue Cheese
Vegan blue cheese that tastes like the real one! Made using traditional cheese making techniques and only 4 ingredients. A creamy, sharp and strong cheese.
Instructions
The day before
Soak the cashews in filtered water for at least 5 hours or overnight.
Forming the cheese
Drain the cashews and place them in a large glass bowl. Bring a large pot of water to a boil. Once boiling, pour the water directly onto the cashews. Let sit 1-2 minutes and drain the cashews again. This step will help kill possible bacterias.

Transfer the cashews to the bowl of a blender or food processor. Add the coconut oil and 5 tablespoons of filtered water. Blend on high speed, scraping down the sides from time to time, this step might take about 10 minutes depending on your blender. You should get a smooth, thick mixture.

Open the probiotic capsules and add the powder to the blender.

Add the penicillium roqueforti. If your penicillium roqueforti is in powdered form it works the same way as the liquid one.

Blend for another 10-15 seconds.

The mixture should be smooth but thick. If needed, add 1 tablespoon of water at a time until smooth. Do not add too much water otherwise the mixture will be too liquid, you want a thick consistency.

Transfer to a clean bowl, cover with plastic film and let sit at room temperature in a dark place for about 24h, this step is important to let the cheese ferment.

The following day, place the bowl in the refrigerator for about 4 hours to make the mixture easier to work with.

After that, line a baking sheet or flat plate with parchment paper. Place 4 small springform pans on top (for each cheese I used two 3-inch cookie cutter rounds, stacked).

Cut strips of parchment paper and lay them in 4 small springform pans. You want to cover the bottom and sides of the pan. You can also use plastic film if you prefer, the goal is to prevent the cashew mixture from touching the metal. Fill each pan with the cashew mixture and press it down using plastic film so it doesn't stick to your hands.

Place a container upside down on the plate where the cheeses sit. This step is essential to keep some humidity inside, it's important for good mold growth. Place the cheeses in your refrigerator (you will age the cheeses covered if your refrigerator during the whole aging process).
Aging
After 2 days, sprinkle salt over the top of the cheeses, and lightly rub with clean hands. Carefully flip the cheeses using a small plate lined with parchment paper, and remove the springform pan. Sprinkle salt on top and on the sides, rubbing gently. You will only salt once. The cheeses will still be very soft but they will be easier to work with after a few days.

Flip the cheeses every day, always using clean hands. You can use gloves or work with a plastic film to make sure you are not touching the cheeses.

Blue mold should start to appear after about 7 days. The mold will be slightly darker or lighter depending on the humidity and temperature of your fridge.

After 2 weeks, scramble the cheeses into little pieces (just like when you scramble tofu) into a clean bowl. The cashew mixture will still be quite soft, so try to make small pieces. For this step I highly recommend wearing latex gloves.

Lay strips of parchment paper into springform pans and fill each pan with the scrambled cheese, without pressing too much. This step is important to create holes inside the cheese, the mold needs to be in contact with air to grow. You can remove the cheeses from the springform pans right after shaping them. Place the cheeses on the baking sheet or plate, cover with a plastic box or container, and place back in the refrigerator.

Continue to flip the cheeses every day for the next 3 weeks, always using clean hands or gloves. This step only takes a few seconds every day.

After a total of 5 weeks, the inside and the outside of your cheeses will be covered with blue mold. They will be ready to eat soon!

Wrap each cheese in cheese paper, or aluminum foil and wait another 3-7 days. The longer you let them age in the refrigerator, the stronger the taste.

The cheese will keep for about one month in the refrigerator and will become firmer and sharper.
Notes
The size of the pans have no real importance, use what you have on hand.
Nutrition
Serving:
1
/4 of a cheese (about 1 oz)
Calories:
95
kcal
Carbohydrates:
5
g
Protein:
3.2
g
Fat:
8.5
g
Fiber:
0.6
g
Sugar:
1
g
DID YOU MAKE THIS RECIPE?
Tag @fullofplants on Instagram and hashtag it #fullofplants