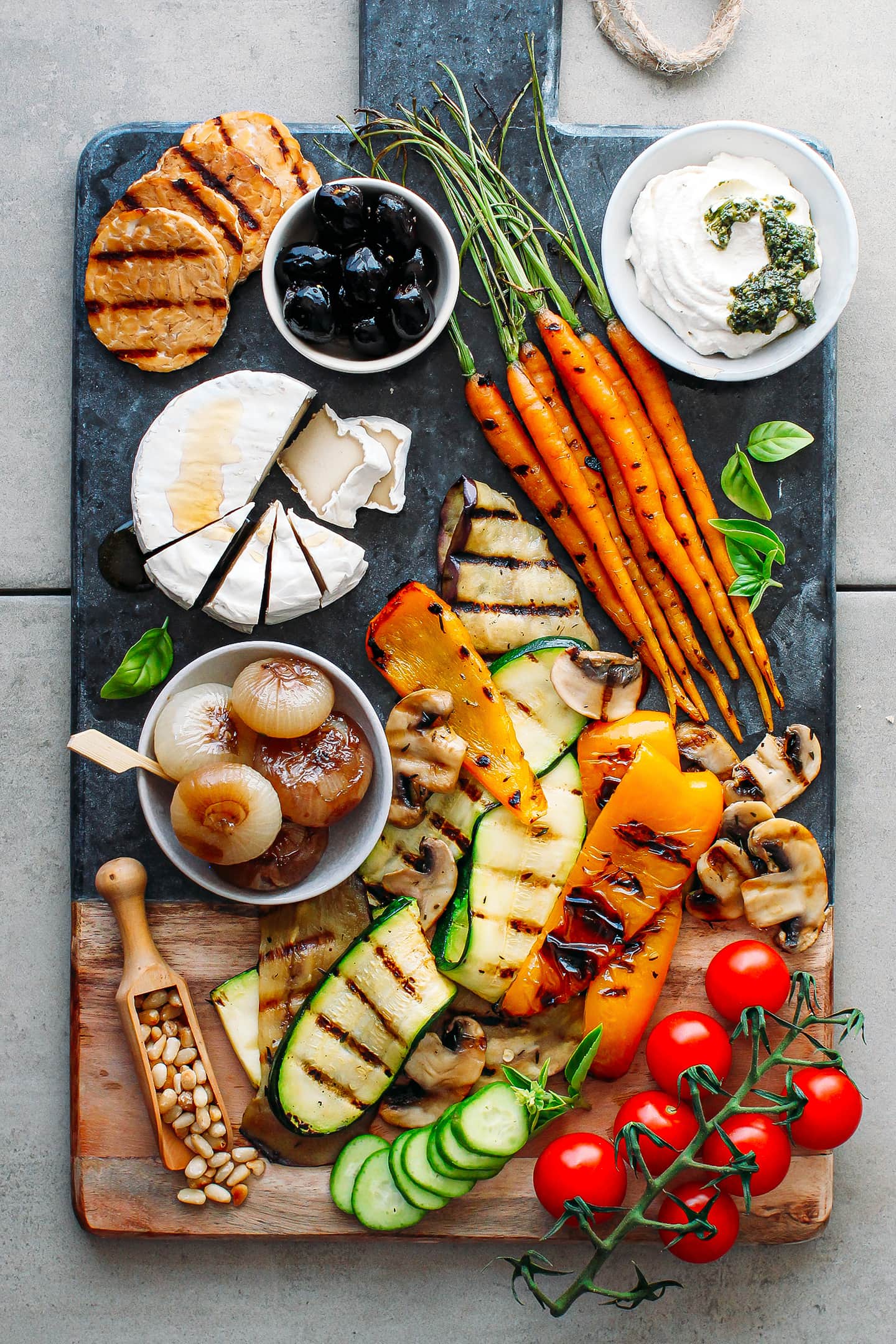 It's party time!
Let's celebrate summer with this amazing antipasto platter friends! This platter features marinated grilled peppers, zucchini, and eggplants, sweet and sour onions, pesto cream cheese, smoky tempeh, and many other goodies.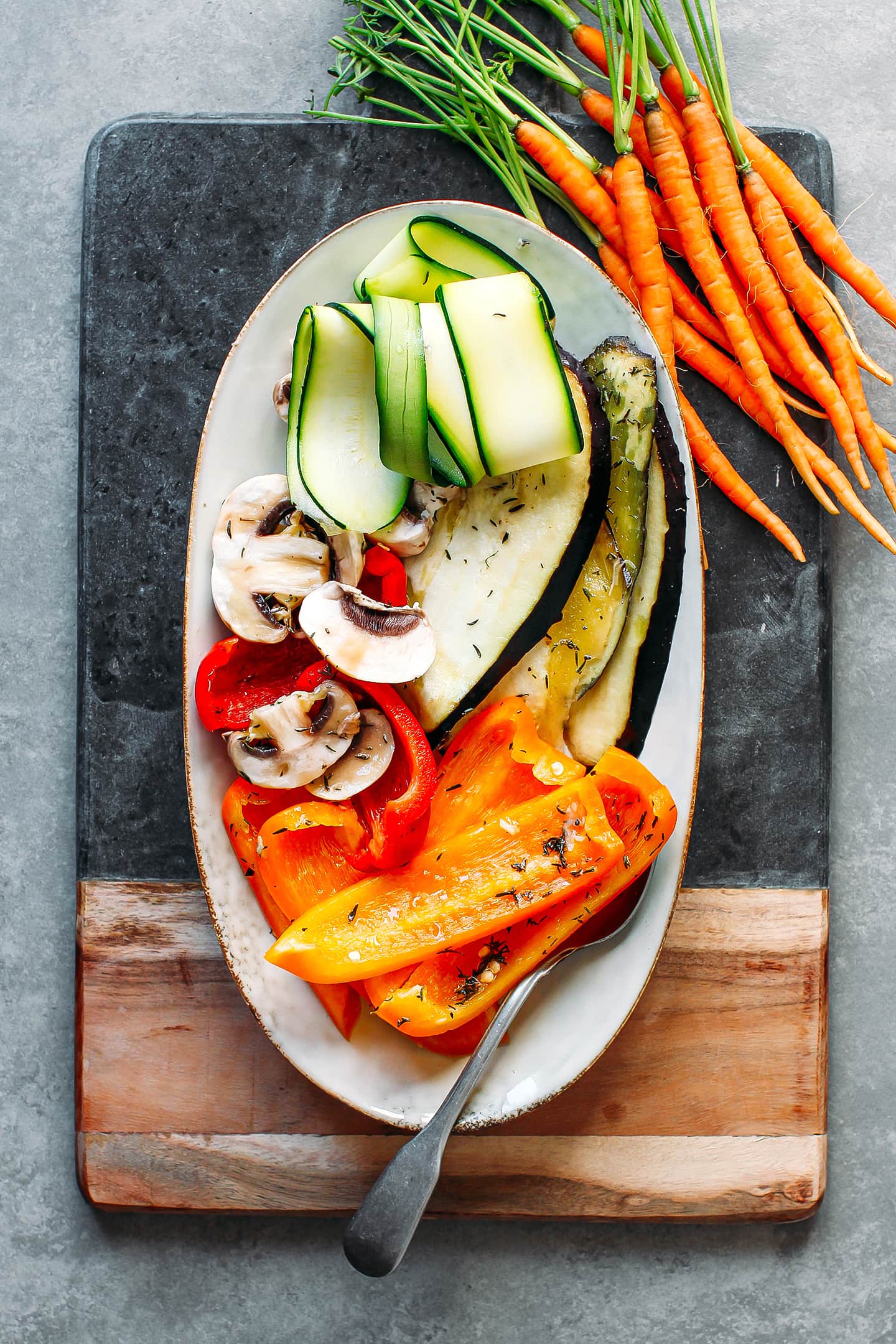 It starts with the veggies, that are thinly sliced and marinated in olive oil, vinegar, thyme, salt, and pepper.
Then you grill them on a cast-iron grill pan until charred and soft. Baby carrots are optional but I like how they get a grilled flavor while still remaining crunchy!
Finally, vegetables are marinated again with some fresh basil leaves for extra flavor. I recommend letting marinate at least 6 hours, or preferably overnight.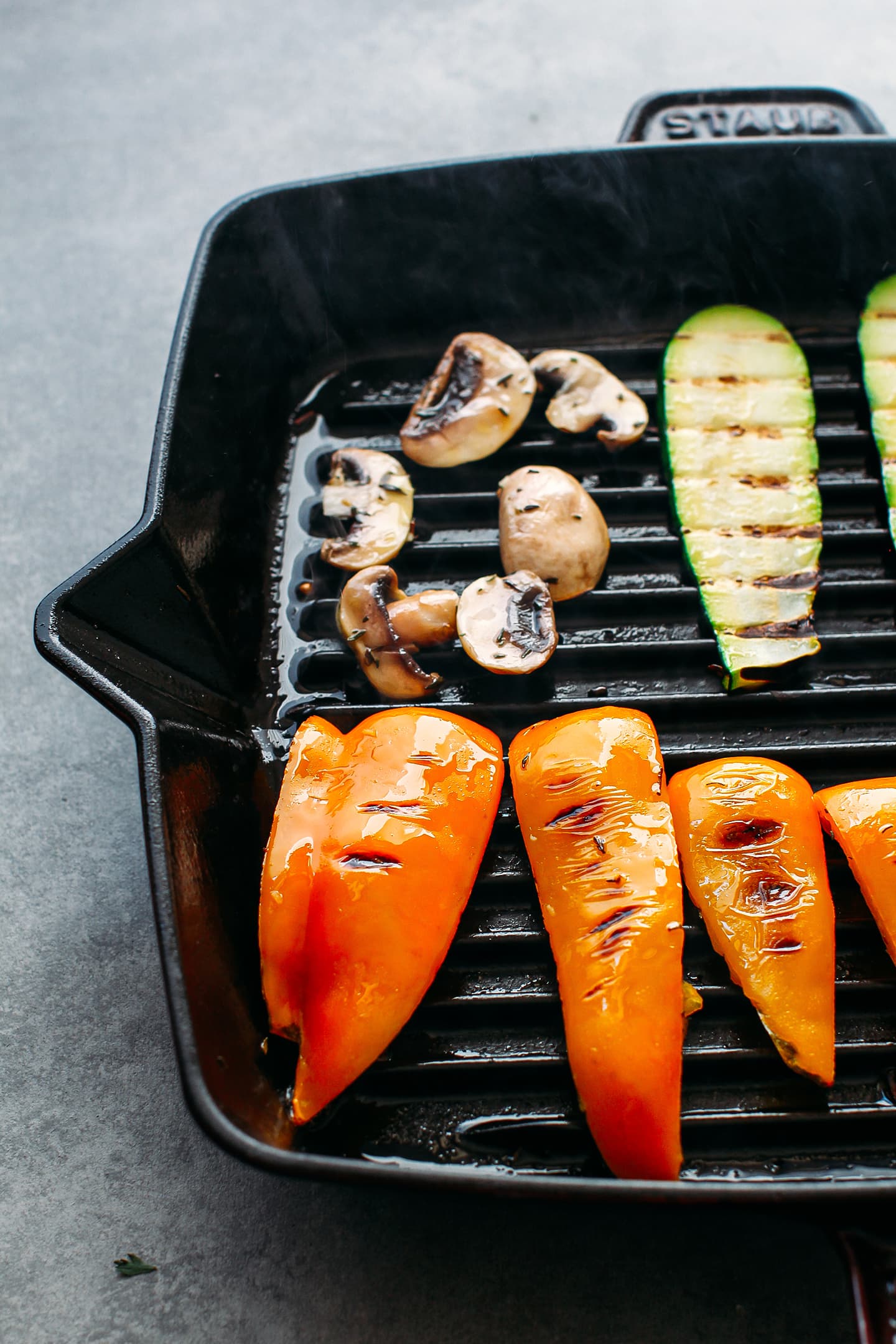 Next, we have smoky tempeh that is also grilled, some black olives, toasted pine nuts, and those delicious sweet and sour baby onions! Also called "Cipolline in agrodolce", these onions are cooked until tender and glazed with balsamic vinegar and maple syrup.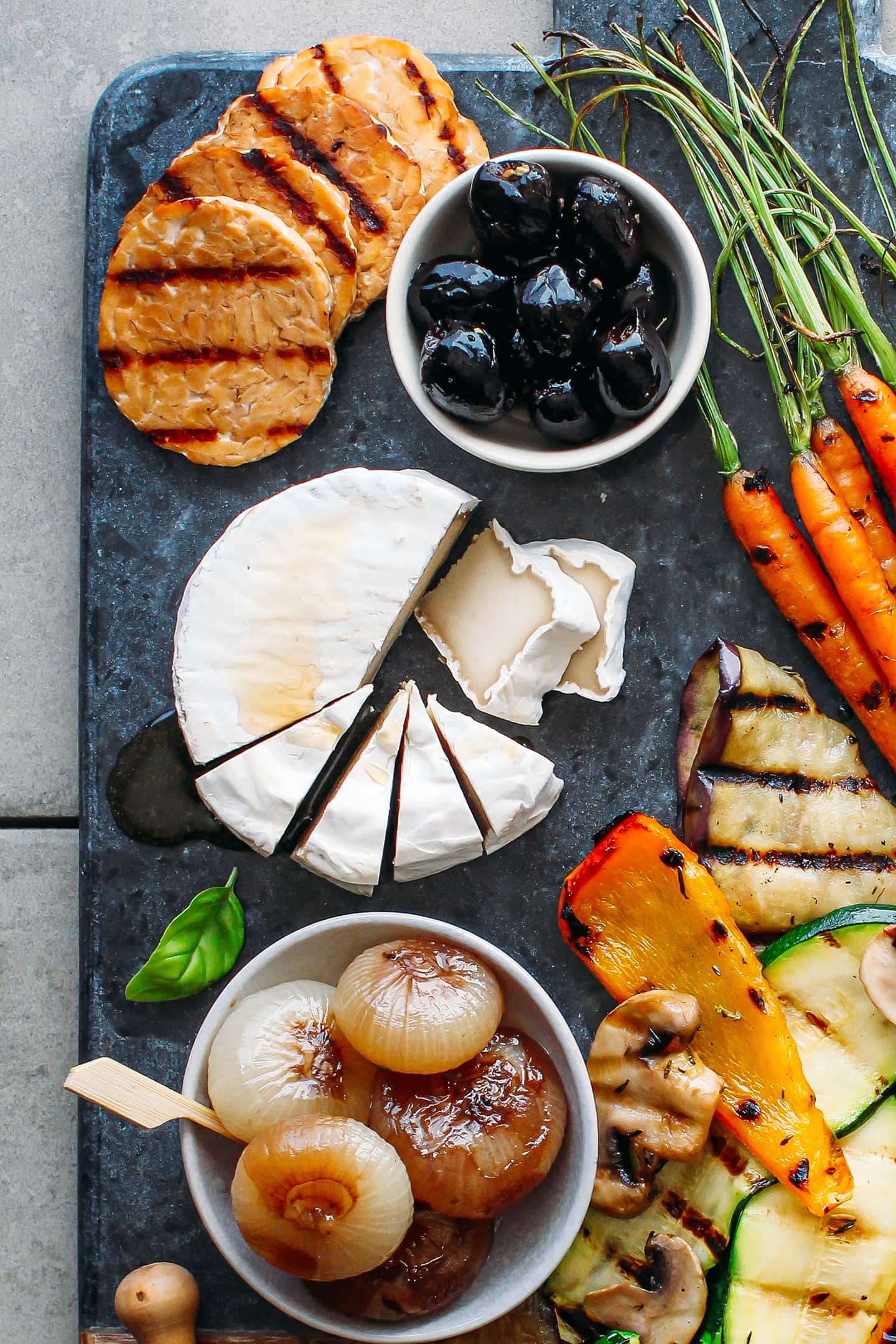 And obviously, we have some vegan cheese! An Aged Camembert drizzled with maple syrup and some Pesto Swirl Cream Cheese! If you have other kinds of vegan cheese on hand, feel free to use. I'm thinking the Hickory Smoked Cheese would be a great fit for this platter. May I recommend a drizzle of maple syrup on top of the camembert?
What's great about this antipasto platter is that it's versatile, you can customize it to your liking. Add raw vegetables, almonds, "foie gras", grapes, hummus, etc.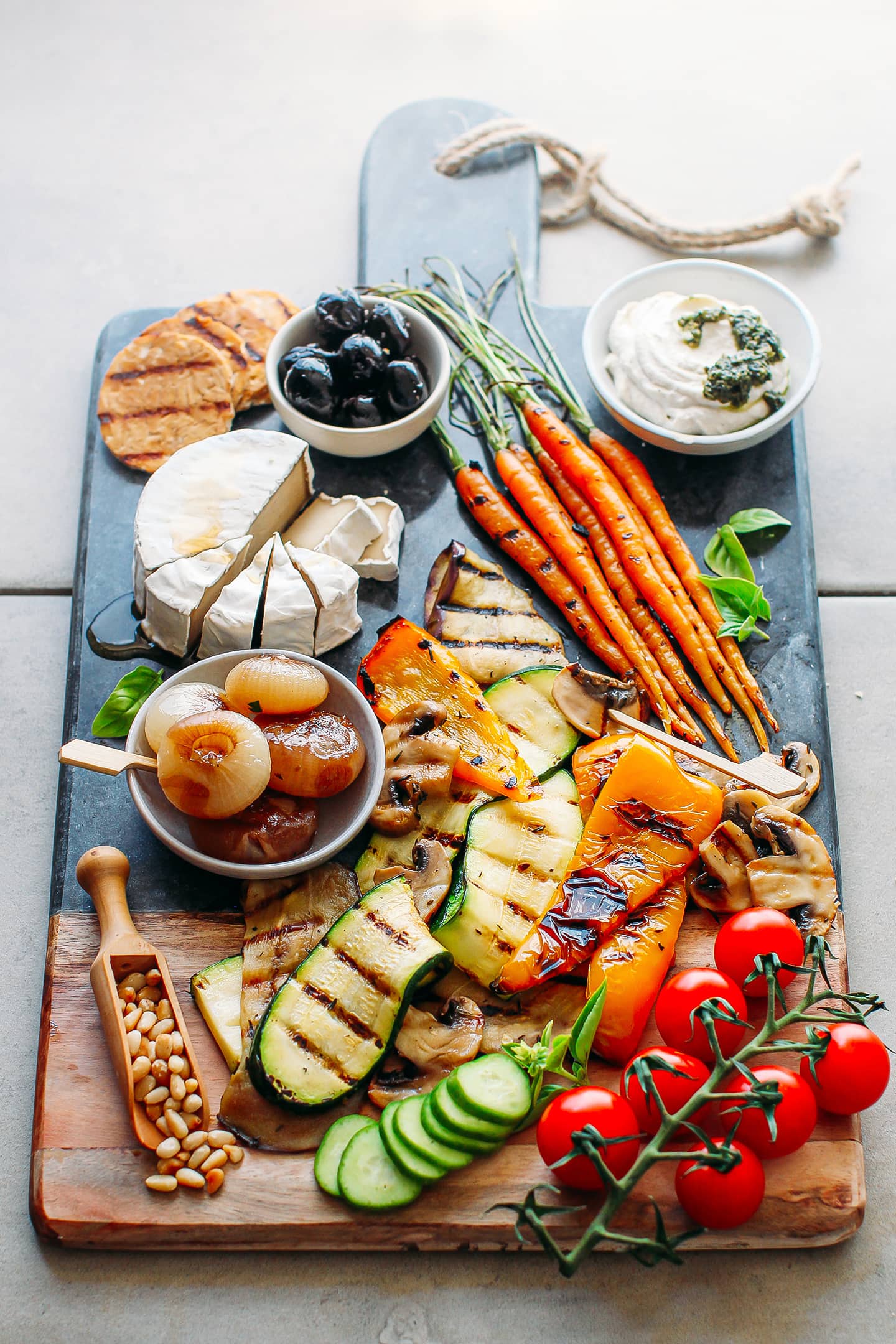 I am in love with this platter and plan to make it again very soon, it's the perfect summer appetizer. It has a rustic feel and a lot of different flavors, plus there is something for everyone! It serves about 4 people as an appetizer, or two if you have this as a full meal.
Let me know in the comments if you try this recipe!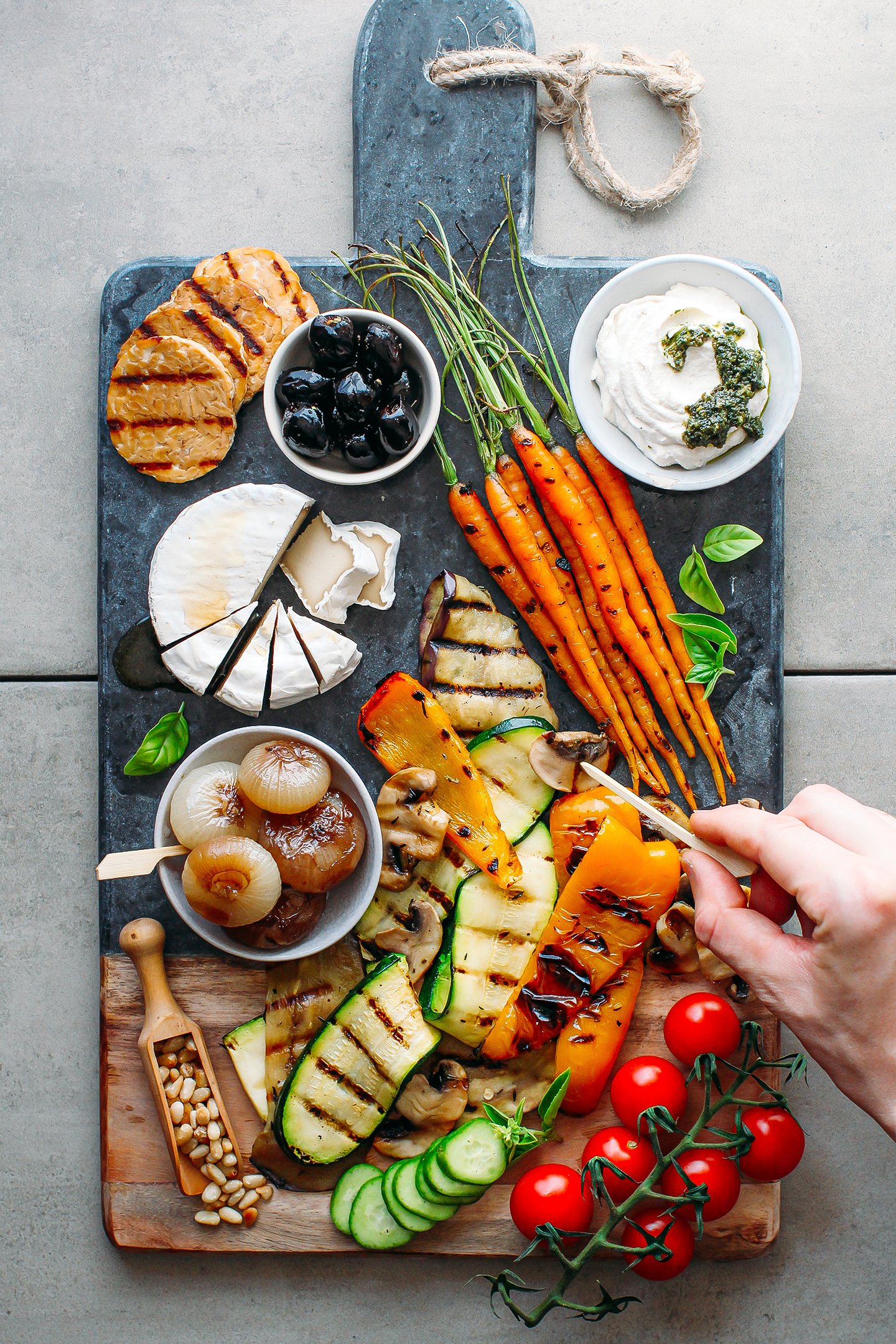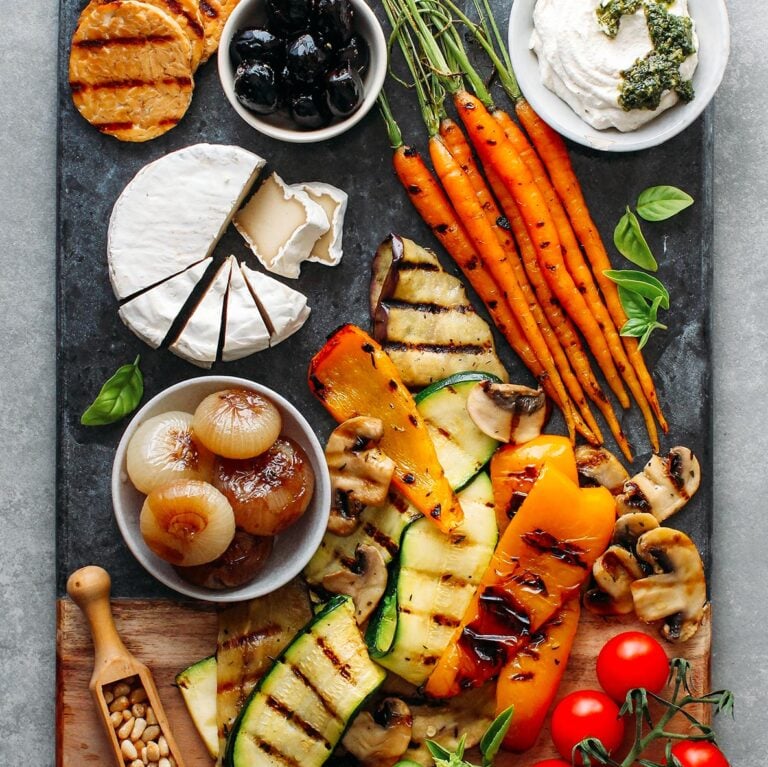 Vegan Antipasto Platter
Amazing vegan antipasto platter with marinated grilled veggies, tempeh, pesto cream cheese, and more! The perfect appetizer platter!
Ingredients
Marinated Grilled Veggies
1/2

medium

100g zucchini

1/2

small

130g eggplant

1

medium

200g orange bell pepper

6-7

baby carrots

optional

5-6

mushrooms

1/4

cup

60ml olive oil

2

tbsp

30ml white vinegar

1

clove

garlic

minced

1/2

tsp

thyme

1/4

tsp

salt

1/8

tsp

ground black pepper

1/4

cup

fresh basil
Smoky Grilled Tempeh
3

ounces

85g tempeh

1

tbsp

15ml soy sauce

1

tsp

5ml maple syrup

1

tsp

5ml white vinegar

1/8

tsp

liquid smoke

a pinch of chili powder
The Rest
1/4

cup

35g olives

2

tbsp

16g pine nuts

6-8

cherry tomatoes
Instructions
Marinated Grilled Veggies
Prepare the vegetables: Thinly slice the zucchini, eggplant, and mushrooms. Remove the stem and seeds from the bell pepper and cut it into 5-6 strips.

In a large bowl, combine the olive oil, white vinegar, minced garlic, thyme, salt, and ground pepper. Add the vegetables to the bowl and stir to coat. Let marinate in the refrigerator for at least 1 hour. If making tempeh, prepare the tempeh now (see below).

Preheat a cast-iron skillet grill over medium-high heat. Once hot, lightly grease it with a tablespoon of oil. Arrange a layer of marinated vegetables on the grill and cook until charred and soft, flipping as needed. Bell peppers will take longer to cook than the other vegetables so add them at the beginning.

Once grilled, transfer to a plate and repeat with the remaining vegetables.

Let the grilled vegetables cool a bit before transferring to a dish. Pour the remaining marinade over the vegetables, add a handful of fresh basil leaves and cover with plastic film. Refrigerate at least 2 hours to let the flavors develop. You can keep the grilled veggies with the marinade in the refrigerator for up to 3 days.
Smoky Grilled Tempeh
Slice the tempeh into 1/4-inch slices. Arrange the slices in a baking dish. Add the soy sauce, maple syrup, white vinegar, liquid smoke, and chili powder. Mix with your hands to coat the tempeh with the marinade. Cover with plastic film and let marinate in the refrigerator for at least 1 hour.

Grill for 2-3 minutes on each side on the preheated grill.
To Make the Platter
Use a large platter, board, or serving plate. Slightly drain the marinated vegetables and arrange them on the serving plate. Place the smoky tempeh slices on the plate.

Cut your cheese into thin slices, place the caramelized onions, olives, and pesto swirl cream cheese in small bowls. Prick a few toothpicks on the cheese, onions, etc. Serve immediately.

This platter can be prepared a few hours before serving, just make sure to cover with plastic film and store in the refrigerator.
Notes
This platter serves 3-4 people as an appetizer or 2 as a full meal.
No nutritional information for this recipe, it's too difficult to calculate and would not be accurate.
DID YOU MAKE THIS RECIPE?
Tag @fullofplants on Instagram and hashtag it #fullofplants