This amazing vegan antipasto platter combines marinated veggies like grilled peppers, zucchini, eggplants, sweet and sour onions, vegan cheese, smoky tempeh, and many other goodies. The perfect appetizer board!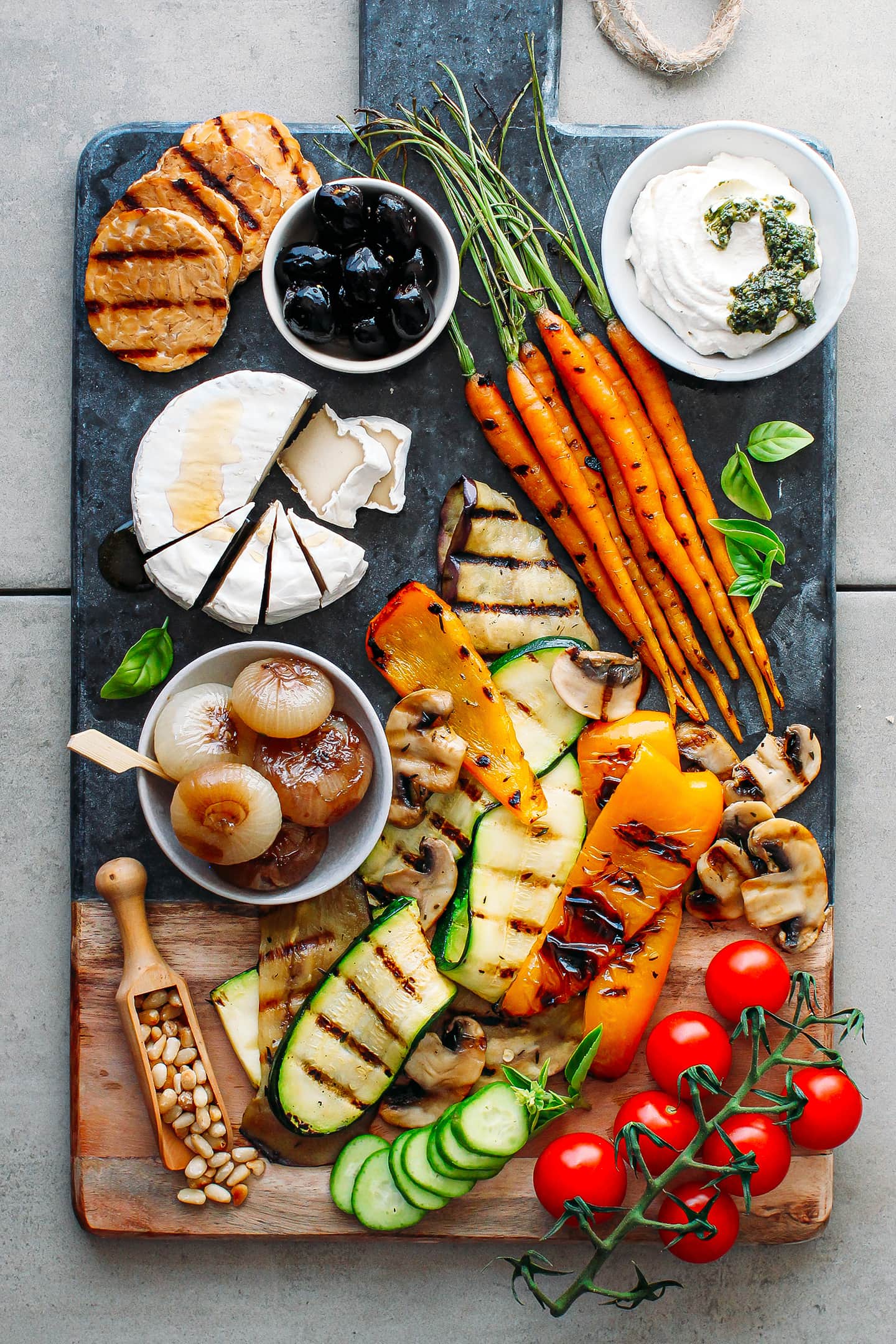 It's party time! Looking for a colorful and flavor-packed vegan platter? I have got you covered!
⭐️ Why You Should Try This Recipe
It's a crowd-pleaser. This platter is just perfect for your parties. Each guest can try different things and pick their favorite.
Packed with flavor. From the marinated and grilled veggies to the vegan cheeses and smoky tempeh, this platter certainly doesn't lack flavor!
It's incredibly versatile. While you can use the exact suggestions I am giving below, you can also make substitutions and use what you have on hand.
📘 What is an Antipasto Platter
Antipasto (antipasti in plural) is the first course of an Italian meal. An antipasto platter usually consists of cured meats, cheeses, pickles, marinated vegetables, nuts, etc, served as an appetizer.
Antipasti vs. Charcuterie Board
There is often confusion when it comes to both terms. While antipasti and charcuterie boards are quite similar, the latter usually doesn't contain any cheese. The term "charcuterie" comes from French and means cold-cooked meat. Hence, a charcuterie board will often only contain cured meats, paté, and sometimes pickles like cornichons.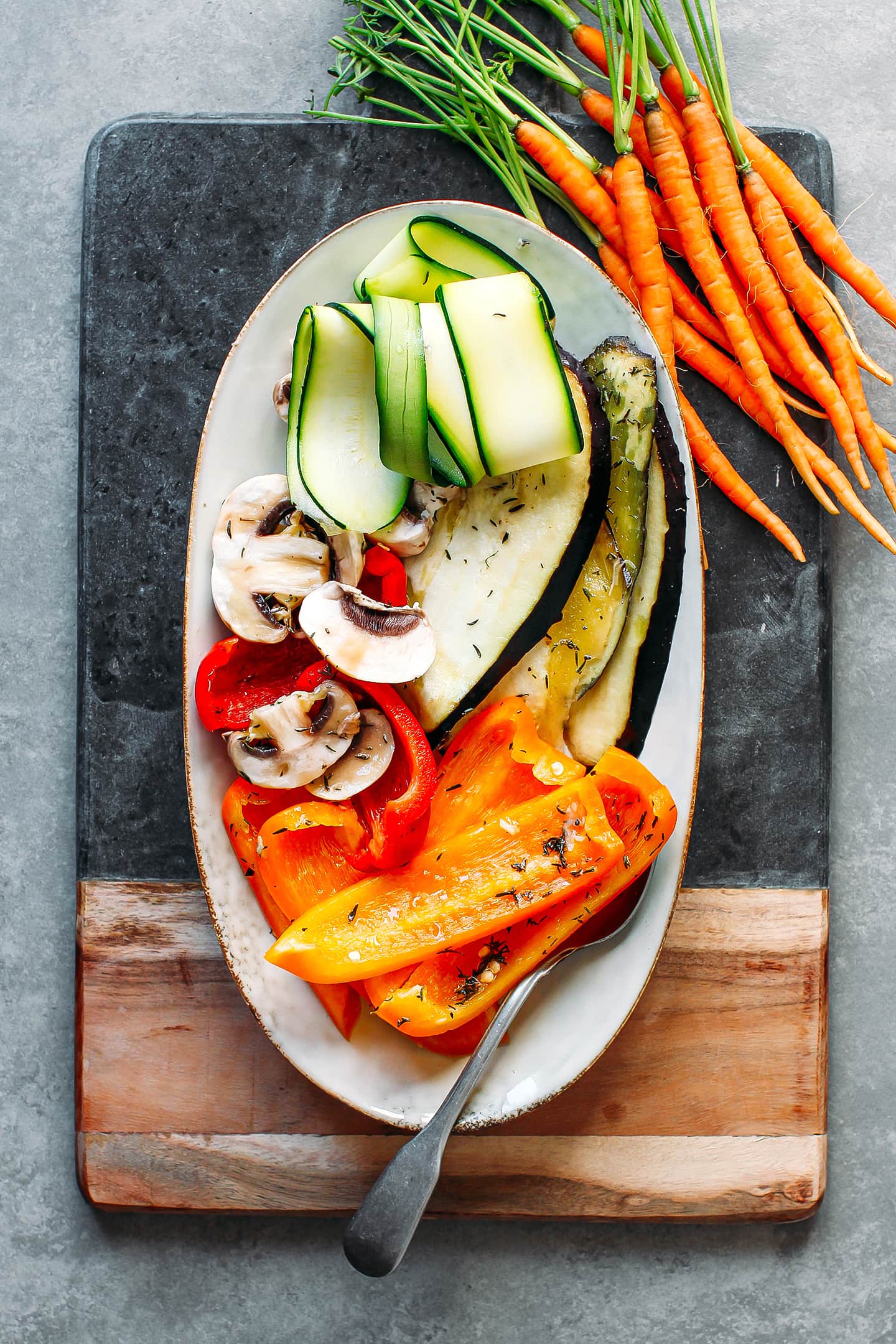 🧀 How to Make Vegetarian Antipasto Platter
Preparing this platter is easy and consists of just 3 steps. 1) Marinate and cook the vegetables. 2) Prepare the "meat" alternatives. 3) Arrange everything on a platter.
Vegetables
You can use all of the suggestions below or simply pick the ones you want:
Grilled vegetables – Here, I went with Mediterranean vegetables like zucchini, eggplants, bell peppers, and carrots. First, marinate the vegetables in olive oil, vinegar, garlic, and thyme for a couple of hours. Then, sauté or grill until charred.
Baby carrots – Optional, but I like how they get a grilled flavor while still remaining crunchy!
Sweet and sour baby onions – Also called "Cipolline in agrodolce", these baby onions are cooked until tender and glazed with balsamic vinegar and maple syrup. You can buy them at the supermarkets or check out this recipe to make Cipolline in Agrodolce.
Olives – Green or black olives.
Cucumber – For extra crunch and freshness.
Feel free to include hummus, baba ganoush, or your favorite dip.
Meat Alternatives
Grilled Tempeh – Slice tempeh (or tofu) into thick slices and marinate it with soy sauce, maple syrup, vinegar, and liquid smoke for a smoky flavor. Then, sauté or grill it.
Vegan sausages – Cocktail sausages make a great addition to this platter and are perfect for snacking.
Vegan paté – If you plan to serve the platter with bread, vegan paté is mandatory.
Vegan chicken nuggets – While it's not very common, you can add some vegan chicken nuggets to this platter. Fry them right before serving, or reheat them for 10-15 minutes in the oven.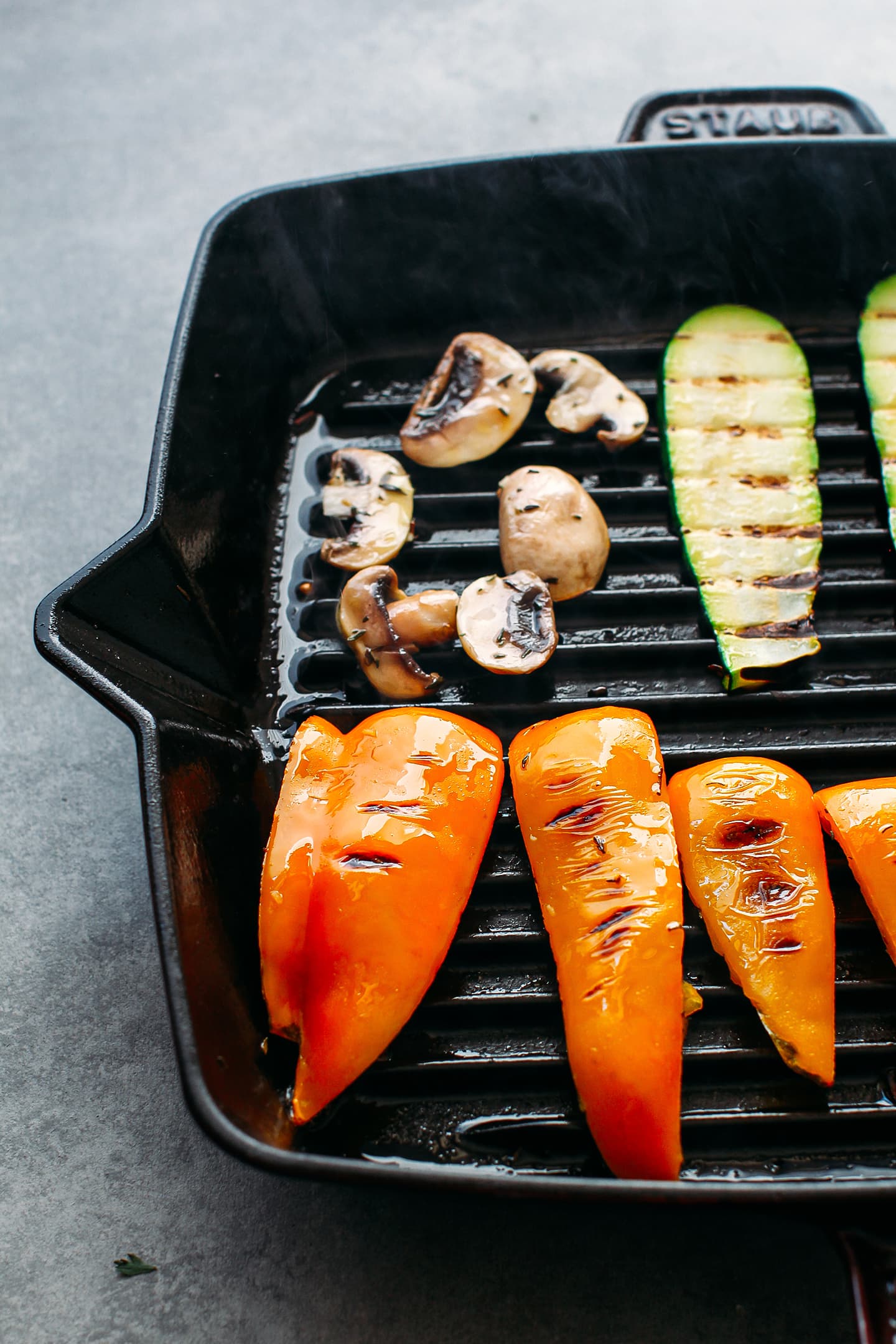 Cheeses
Be aware that most of the cheese recipes below can take a few weeks to prepare, so plan accordingly.
Vegan camembert – If you haven't tried it already, I highly recommend checking out my vegan camembert recipe. It's a great addition to this platter! I personally love to add a drizzle of maple syrup on top of the camembert for a balance of sweet and salty!
Vegan blue cheese – If you want a stronger cheese, vegan blue cheese will definitely do it.
Hickory smoked cheese – Probably one of my favorite vegan cheeses, this hickory-smoked cheese is packed with umami and has a deep smoky flavor.
Cream cheese – Check out this best vegan cream cheese recipe.
If you are only vegetarian, you can obviously use regular dairy cheeses.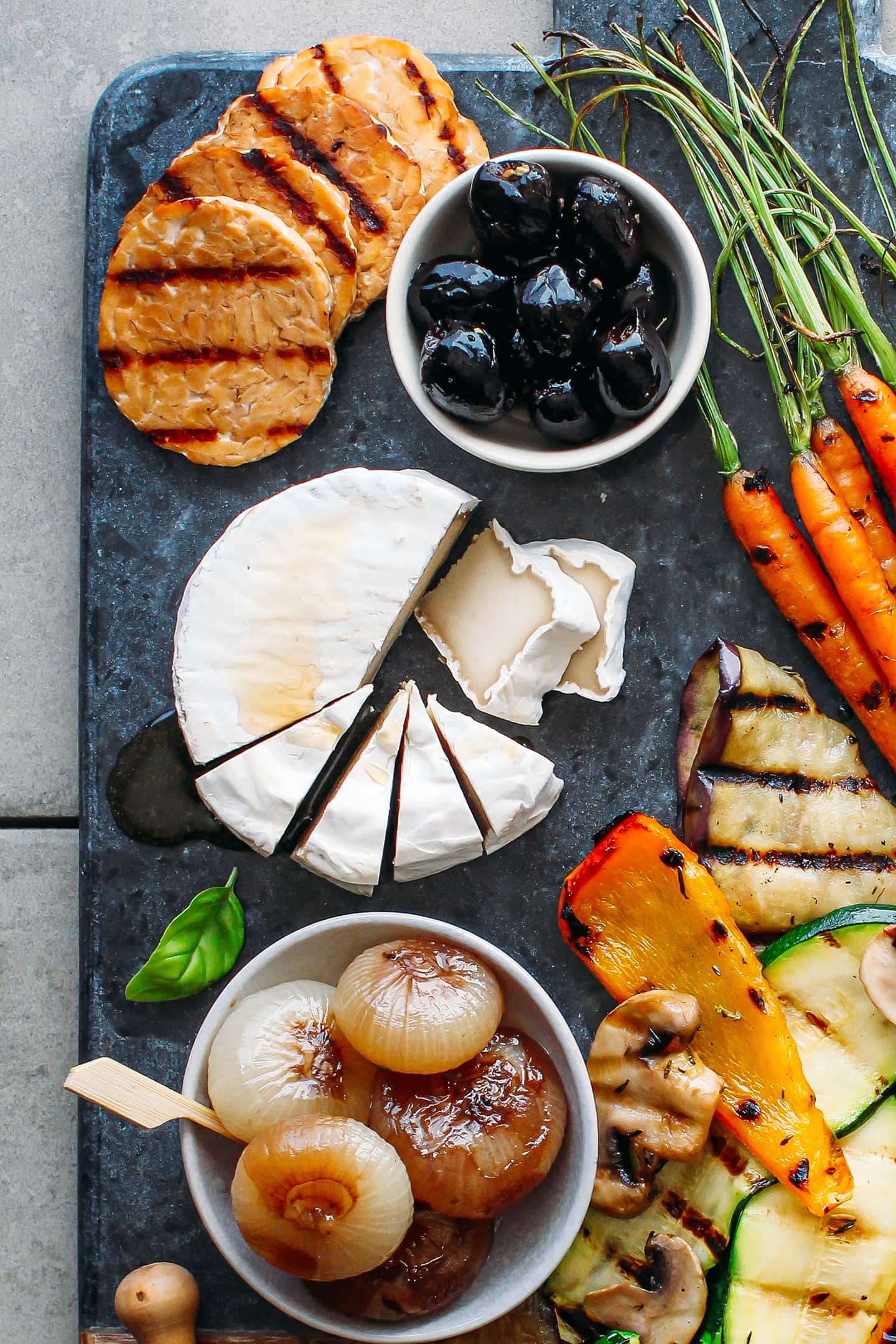 Nuts
Finally, you can add roasted peanuts, cashews, almonds, pine nuts, or even crunchy coated peanuts!
What's great about this vegan antipasto platter is that it's versatile. You can customize it to your liking and serve it with baguettes, crackers, or toast!
📔 Tips
Dress the platter a maximum of 2 hours before serving. For the best flavor, I recommend dressing the platter just before serving. You can grill the veggies and make the cream cheese up to 3 days before using.
Serve this platter with toothpicks or small forks so guests can easily pick what they want.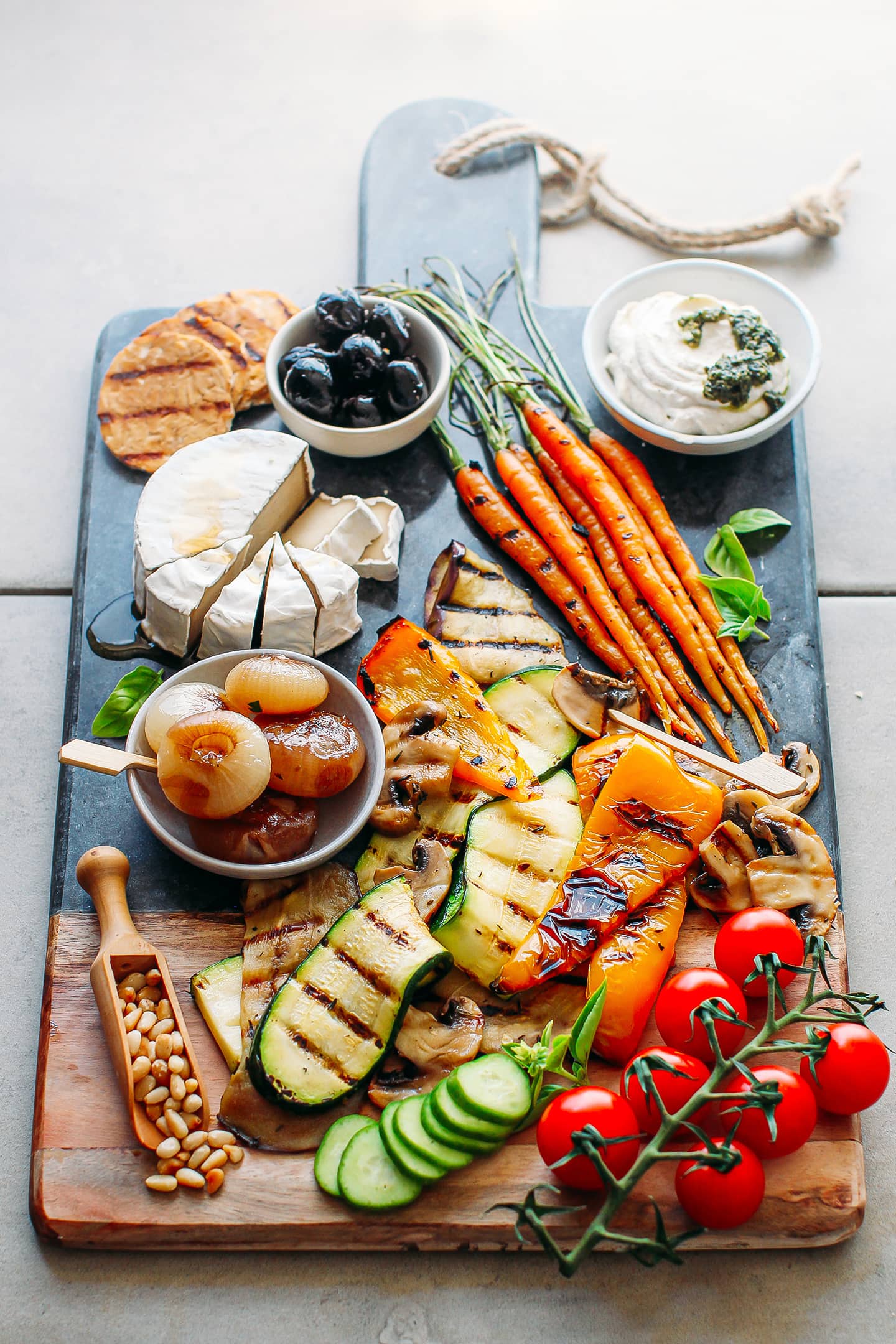 I am in love with this vegan antipasto platter. It's the perfect summer appetizer. It has a rustic feel and a lot of different flavors, plus there is something for everyone! It serves about 4 people as an appetizer or two if you plan to have this as a full meal.
🥯 More Delicious Appetizers
Let me know in the comments if you try this recipe!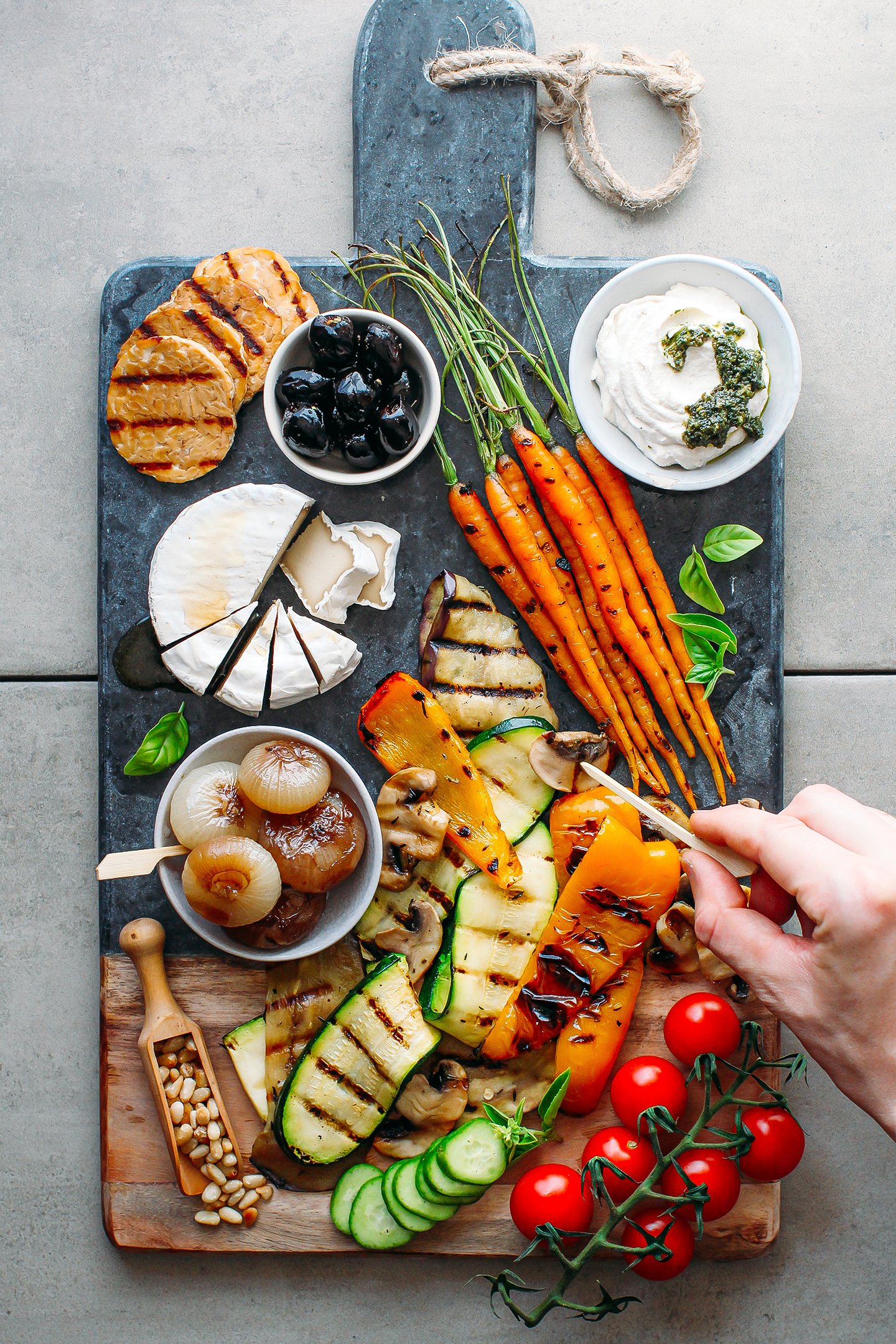 Recipe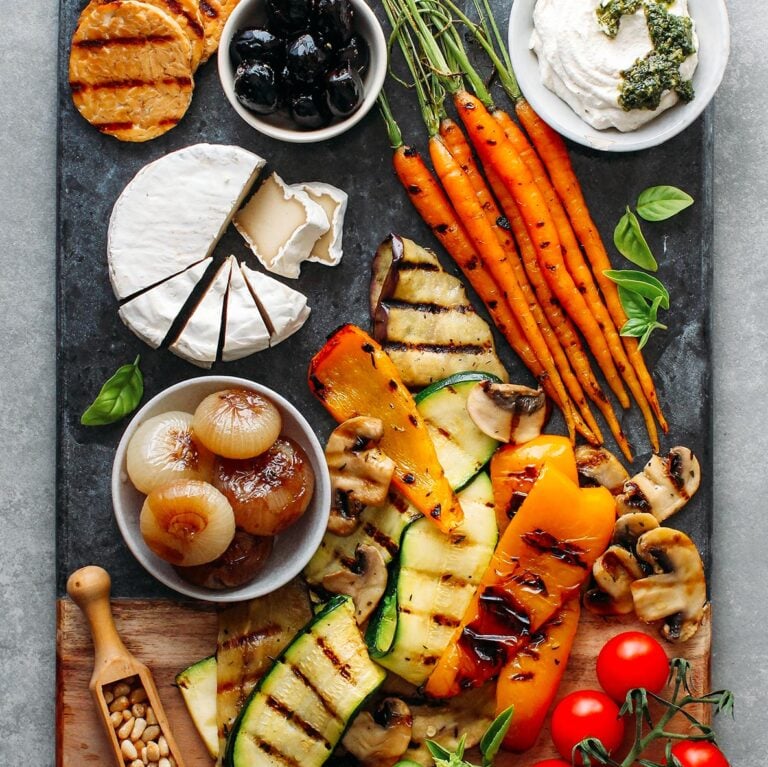 Vegan Antipasto Platter
Amazing vegan antipasto platter with marinated grilled veggies, tempeh, pesto cream cheese, and more! The perfect appetizer platter!
Ingredients
Marinated Grilled Veggies
1/2

medium zucchini

1/2

small eggplant

1

medium orange bell pepper

6-7

baby carrots

optional

5-6

mushrooms

1/4

cup

olive oil

2

tbsp

white vinegar

1

clove

of garlic

minced

1/2

tsp

thyme

1/4

tsp

salt

1/8

tsp

ground black pepper

1/4

cup

fresh basil
The Rest
1/4

cup

olives

2

tbsp

pine nuts

6-8

cherry tomatoes
Instructions
Marinated Grilled Veggies
Prepare the vegetables: Thinly slice the zucchini, eggplant, and mushrooms. Remove the stem and seeds from the bell pepper and cut it into 5-6 strips.

In a large bowl, combine the olive oil, white vinegar, minced garlic, thyme, salt, and ground pepper. Add the vegetables to the bowl and stir to coat. Let marinate in the refrigerator for at least 1 hour. If making tempeh, prepare the tempeh now (see below).

Preheat a cast-iron skillet grill over medium-high heat. Once hot, lightly grease it with a tablespoon of oil. Arrange a layer of marinated vegetables on the grill and cook until charred and soft, flipping as needed. Bell peppers will take longer to cook than the other vegetables, so add them at the beginning.

Once grilled, transfer to a plate and repeat with the remaining vegetables.

Let the grilled vegetables cool a bit before transferring to a dish. Pour the remaining marinade over the vegetables, add a handful of fresh basil leaves, and cover with plastic film. Refrigerate for at least 2 hours to let the flavors develop. You can keep the grilled veggies with the marinade in the refrigerator for up to 3 days.
Smoky Grilled Tempeh
Slice the tempeh into 1/4-inch slices. Arrange the slices in a baking dish. Add the soy sauce, maple syrup, white vinegar, liquid smoke, and chili powder. Mix with your hands to coat the tempeh with the marinade. Cover with plastic film and let marinate in the refrigerator for at least 1 hour.

Grill for 2-3 minutes on each side on the preheated grill.
To Make the Platter
Use a large platter, board, or serving plate. Slightly drain the marinated vegetables and arrange them on the serving plate. Place the smoky tempeh slices on the plate.

Cut your cheese into thin slices, place the caramelized onions, olives, and vegan cream cheese in small bowls. Prick a few toothpicks on the cheese, onions, etc. Serve immediately.

This platter can be prepared a few hours before serving; just make sure to cover it with plastic film and store in the refrigerator.
Notes
This platter serves 3-4 people as an appetizer or 2 as a full meal.
No nutritional information for this recipe. It's too difficult to calculate and would not be accurate.
Did you make this recipe?
Tag @fullofplants on Instagram and hashtag it #fullofplants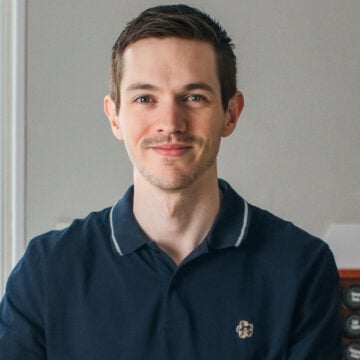 About the Author
Thomas Pagot is the founder, photographer, and recipe developer behind Full of Plants. He created the blog in 2016 as a personal cookbook for vegan recipes. Through years of recipe development, Thomas has successfully grown Full of Plants into a trusted resource for plant-based recipes.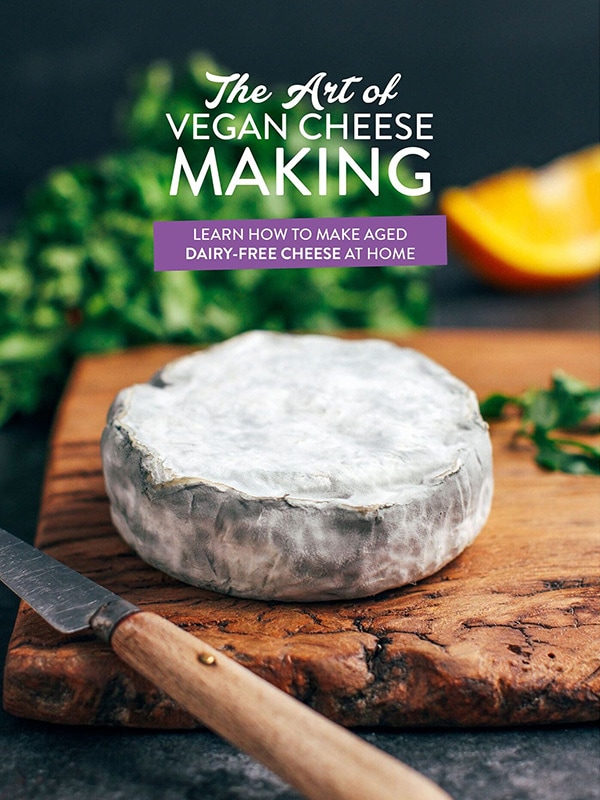 🧀 25 Mind-Blowing Vegan Cheese Recipes!
Sign up for the Full of Plants newsletter and you'll get new recipes delivered by email weekly, PLUS your FREE 100-page printable eBook!