You will never believe how close these vegan sausages (Frankfurter) are to the real ones! Mind-blown! It's smoky, flavorful, and has the perfect texture: super tender and chewy! This recipe is (almost) life-changing!
📔 What Are Frankfurters?
Frankfurters are smoked and seasoned sausages that are named after Frankfurt, the city where the sausages were first created.
Often called hot dogs in the US or knacks in Europe, these sausages are soft and smoky and can be used in various dishes.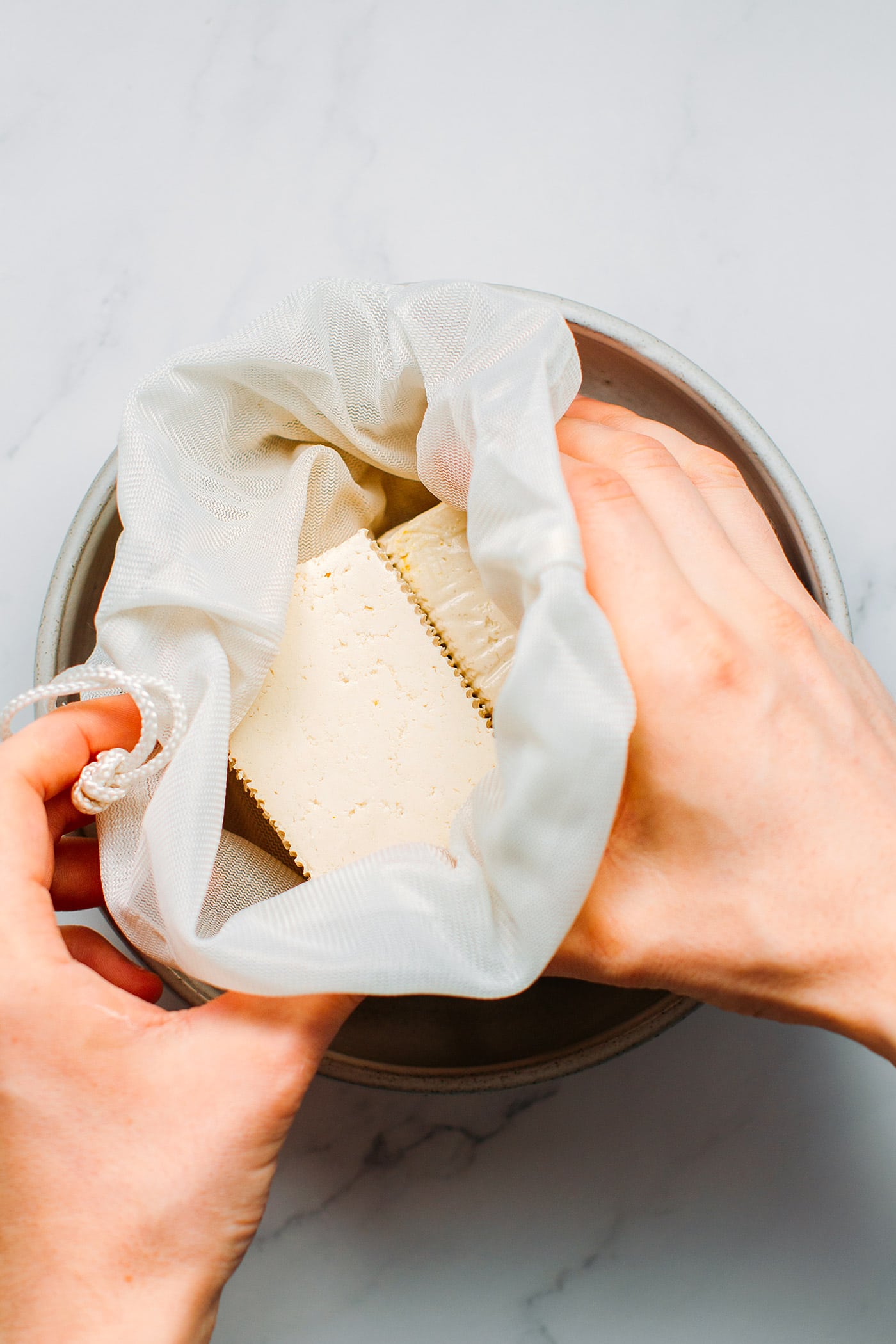 🌭 How To Make Vegan Sausages (Frankfurter)
Many tests and trials went into this recipe, and I'm so happy to share it finally!
First, why make cocktail sausages instead of regular ones? Simply because 1) It's cuter, 2) It's easier to shape small sausages, 3) you can fit more cocktail sausages in a steamer, and 4) it makes the perfect amuse-bouche!
Now that we have made this clear, let's start!
First, you want to squeeze the tofu into a nut milk bag to remove the extra moisture. Start with firm tofu, not the extra-firm one.
After squeezing, you should have removed about 1/3 cup of liquid. Do not try to remove more than that, as you still want the tofu a bit moist.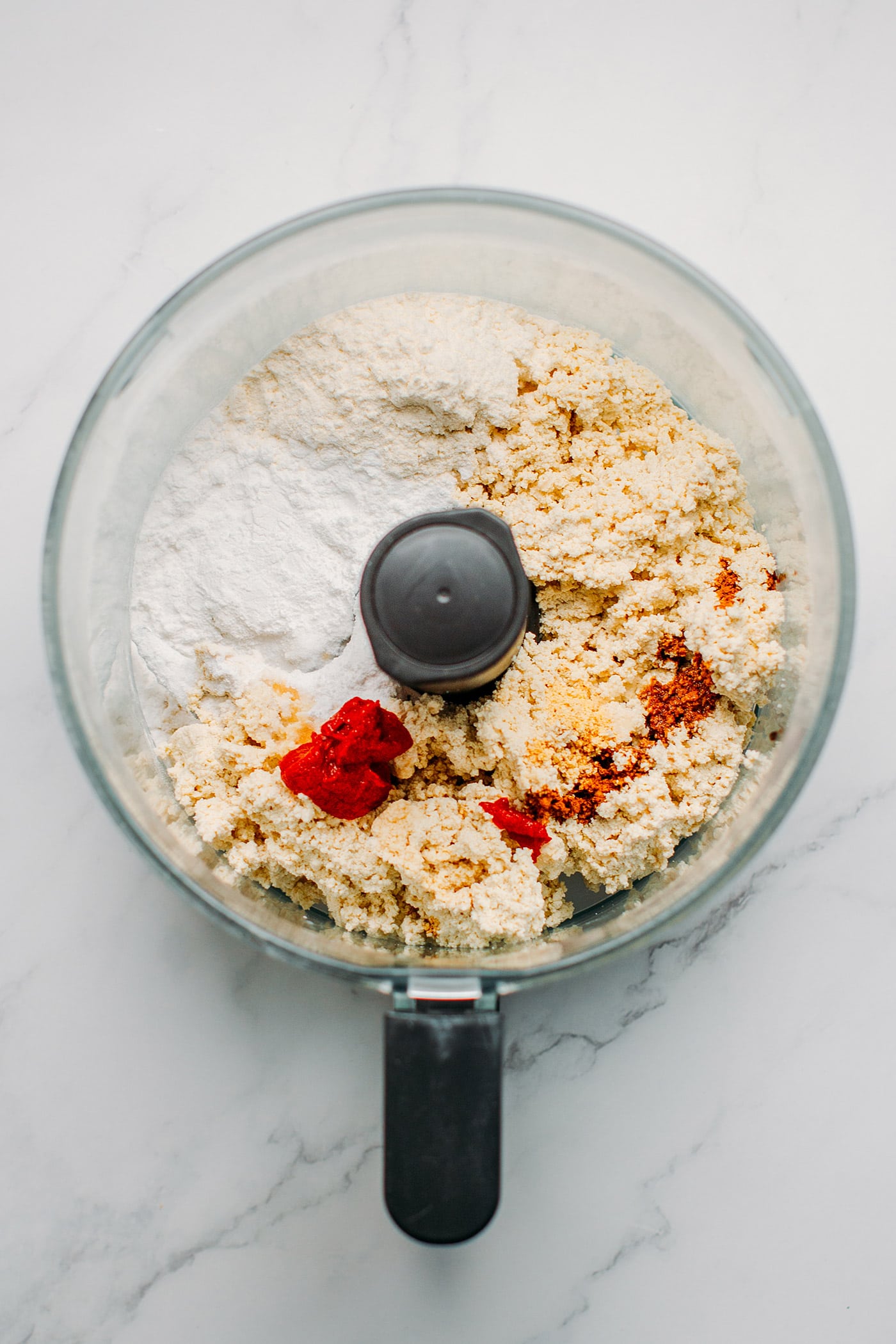 Next, transfer the drained tofu to a food processor and add the rest of the ingredients:
Tapioca starch: To add elasticity and chewiness.
Flour: It helps the sausages hold together and makes them firmer.
Oil: To make the sausages richer and more tender.
Maple Syrup: Frankfurters often have a subtle sweetness that balances with the spices.
Tomato paste: To add color, but also for extra umami.
Soy sauce: Here, we went with dark soy sauce, again it is mostly for color.
Spices: White pepper, coriander, nutmeg, and smoked paprika. Do not omit any of the spices; it's very important to give the sausages an authentic flavor.
Liquid smoke: While optional, it brings a nice smokiness to the sausages.
If you own a stovetop smoker, you can definitely omit the liquid smoke and smoke the sausages with your favorite wood chips in a smoker for about 5 minutes. The flavor will be even better!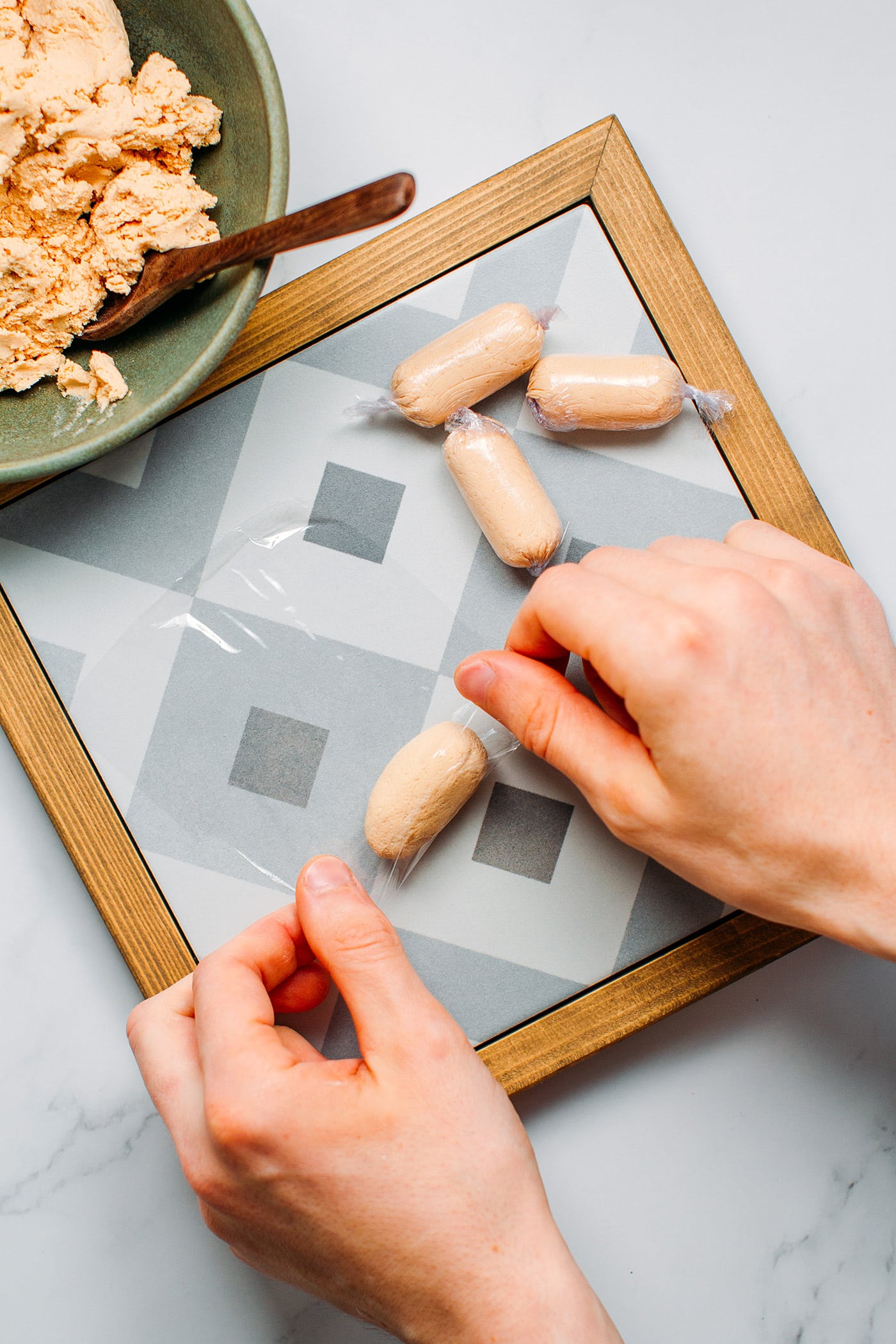 Once you have processed all of the ingredients into a paste, wrap about 1 and 1/2 tablespoons of the mixture in cling film and twist the ends to close.
The texture of the mixture should be quite sticky. You will have to use oiled hands to prevent it from sticking. If the mixture appears too dry or too easy to work with, add a little bit more water. Otherwise, your sausages will not be tender.
Repeat with the remaining mixture, and steam the cocktail sausages for about 12 minutes.
The sausages will appear pale at first but don't worry. They will get a beautiful light brown color after steaming!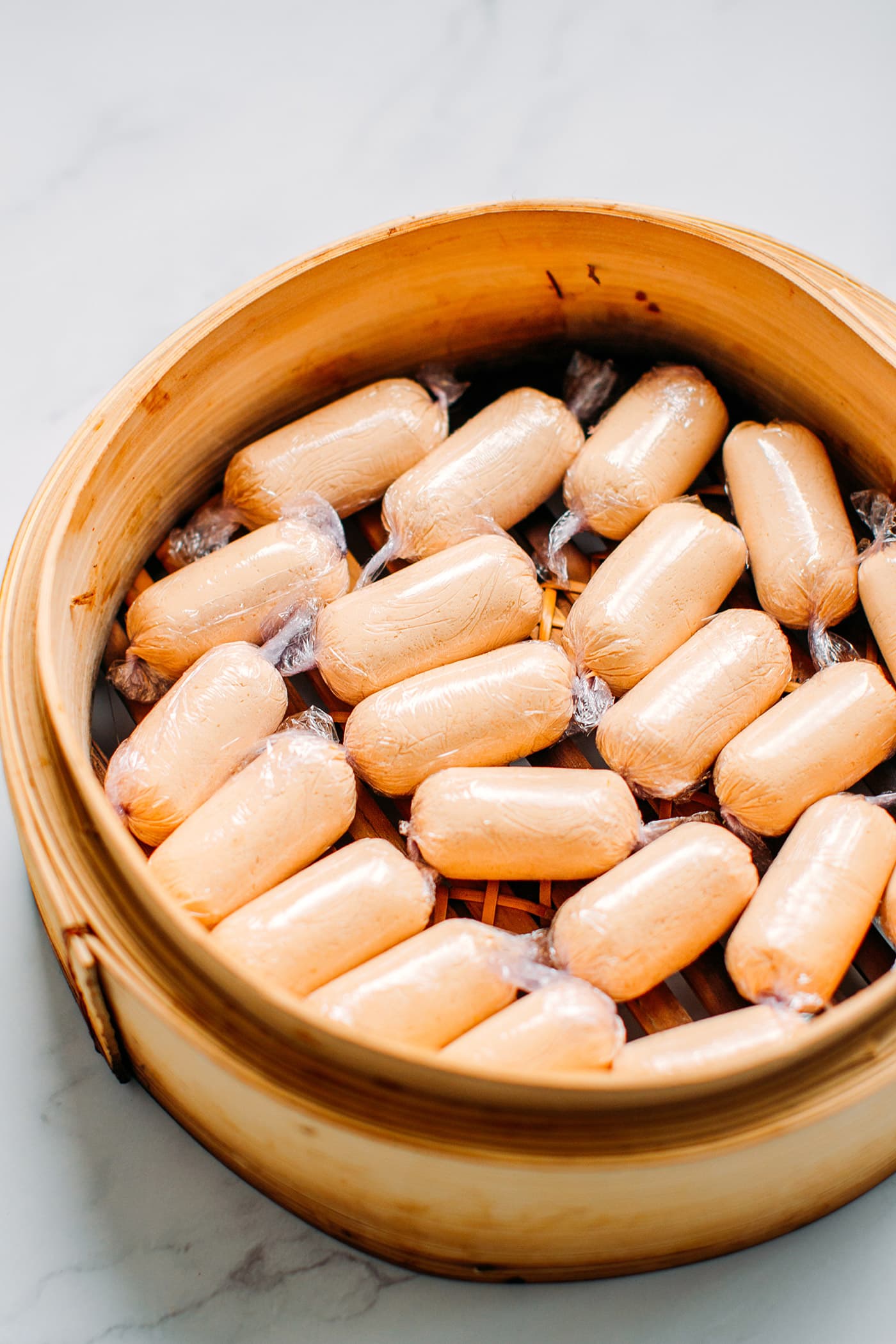 Right after steaming, you might find the sausages too peppery, which is normal. I highly recommend preparing these one day ahead to let spices mellow down a little bit.
Note: Be aware these sausages are missing that thin skin that is present on real Frankfurters. It could probably be done by wrapping each sausage in wet rice paper or tofu skin, but I do not believe it would be worth the effort, especially if planning to use these sausages in recipes like stews, soup, or stir-fries.
🍽 Where to Use Vegan Sausages
These mini sausages are incredibly versatile and can be used in many dishes:
Stews and soups:

I would say that's where these cocktail sausages really shine! The sausages get perfectly tender and juicy in stews!

Hot dogs: Yes, these are also perfect for hot dogs! Use 3-4 cocktail sausages or one large one.
Stir-fries: Cut into thick slices and stir-fried with veggies.
Amuse-bouche: Reheat the sausages in a hot pot of water and serve warm with drinks on the side!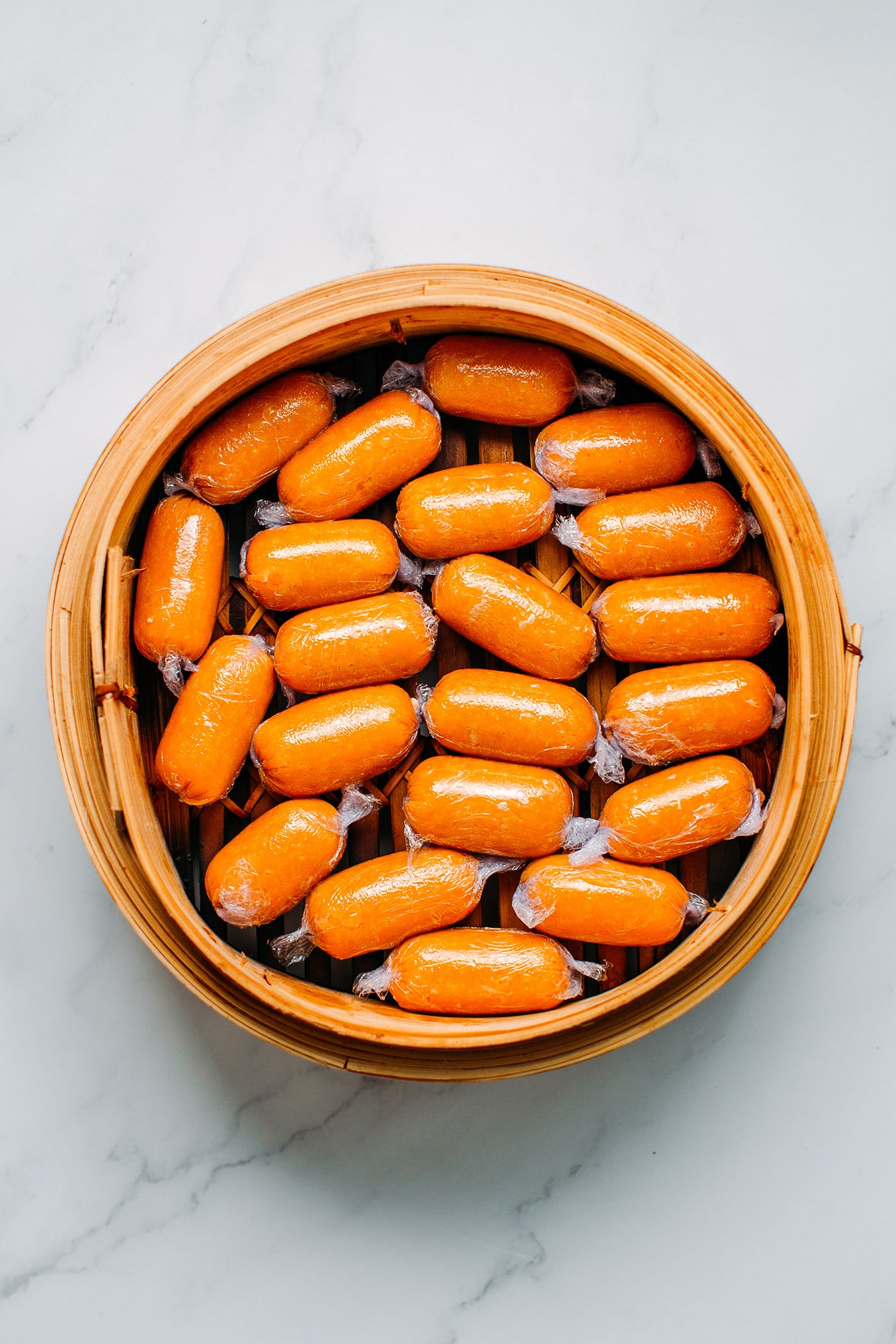 💬 FAQ
Can I substitute the tapioca starch?
I would not recommend it. Tapioca starch brings elasticity and gives the sausages the perfect texture. Other starches will not yield the same result.
The mixture is very sticky. Is this normal?
Yes, the mixture is supposed to be sticky. That's why you must use oiled hands to scoop out the mixture before wrapping it in plastic film. Once steamed, the mixture will firm up.
What can I use instead of plastic wrap?
While I haven't tried, I believe you could wrap the sausages in parchment paper. It won't be as easy, but it should work.
Can I make regular-size sausages to use in hot dogs?
Yes! However, you might only be able to fit 3-4 sausages depending on the size of your steamer, so you will have to steam in two or three batches. Steaming time stays the same. Be aware that shaping longer sausages is a little bit more difficult.
Sausages are too peppery. What went wrong?
For the best flavor, you should let the sausages rest overnight in the refrigerator (after steaming). Spices will mellow down and merge together. If you are planning to use it the same day, feel free to reduce the amount of white pepper.
I don't have a steamer. Can I bake the vegan sausages?
Unfortunately no. Baking the sausages will not only make them dry but also won't give you the same texture.
Can I sauté the sausages?
Definitely! Just like regular Frankfurter sausages, you can even grill them!
Will these sausages crumble in soups or stews?
Nope! The sausages will keep their shape and won't disintegrate in soups.
How do I reheat sausages?
If you plan to serve these as an appetizer or amuse-bouche, reheat the sausages in a pot of water over the stove.
I can safely say that you won't find a better vegan Frankfurter sausage recipe! Yes, it's THAT good. Shaping each sausage takes some time, but the result is definitely worth it!
These vegan Frankfurters are super tender, perfectly spiced, and so meaty!
Let me know in the comments if you try this recipe!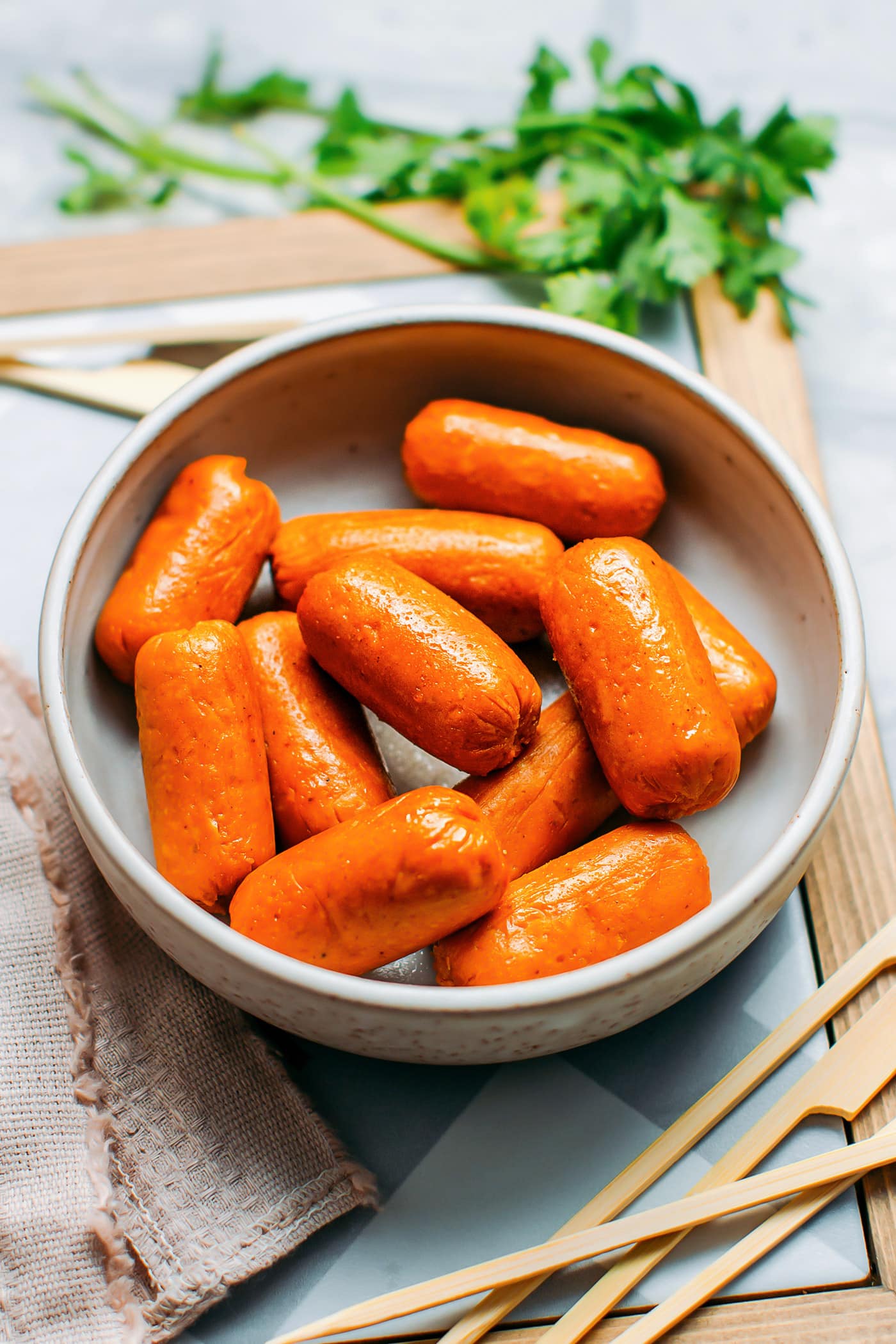 Recipe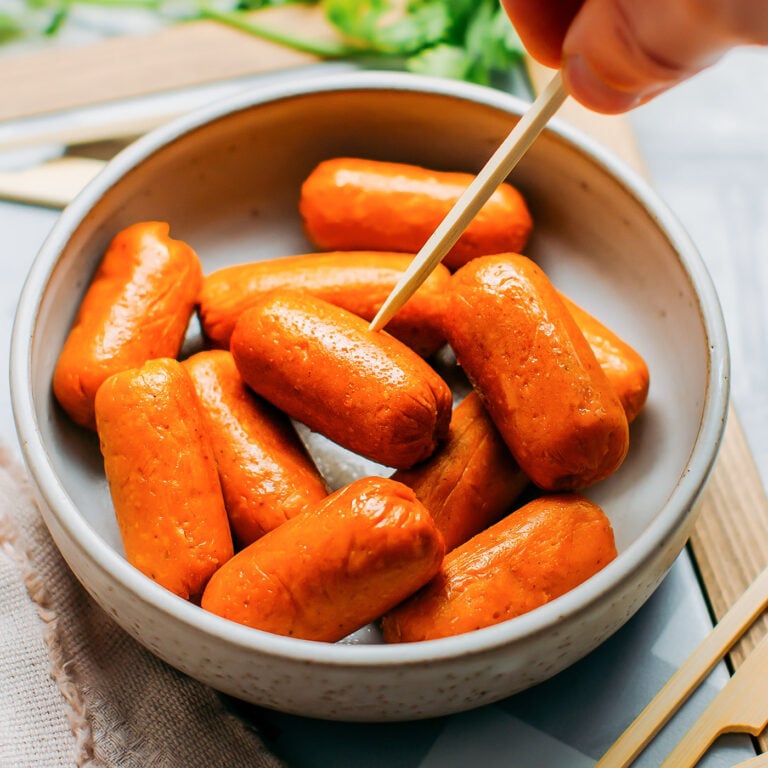 Vegan Sausages (Frankfurter)
The BEST vegan Frankfurter sausages! Perfectly spiced, smoky, tender, high-protein, and so versatile!
Instructions
Place the tofu in a nut milk bag and squeeze with your hands to remove the moisture. You should remove 1/4 to 1/3 cup of liquid, depending on the brand of tofu used.

Transfer the drained tofu to a food processor and add the tapioca starch, flour, oil, maple syrup, tomato paste, dark soy sauce, salt, spices, and liquid smoke if using. Process for about 10 seconds, or until it forms a smooth and sticky paste.

Cut four 3.5×3-inch squares of cling film and place them on your counter. Scoop out about 1 and 1/2 tablespoons of the mixture and roll it gently into a ball using slightly oiled hands. Place the ball on one of the cling film squares. Repeat with 3 more balls. Wrap each ball tightly in the cling film, slightly pressing with your fingers to create a short log. Twist the ends of the cling film tightly to enclose the mixture. Place the 4 cocktail sausages in a bamboo steamer basket and repeat this step until you have used all of the mixture. You should end up with 25-27 cocktail sausages and fill the basket.

Bring a medium pot of water to a boil (the pot should be slightly smaller than your bamboo steamer basket). Once boiling, place the bamboo steamer basket on top of the pot and steam for 12 minutes. Do not open the lid.

Remove from heat, open the lid, and let cool for 3-5 minutes. Unwrap each sausage while still warm, and transfer to a plate.

Use the sausages in stews, soups, stir-fries, or as an amuse-bouche!

These sausages will keep for up to 5 days in the refrigerator. Sausages are best served warm. If planning to serve as an amuse-bouche, reheat in a pot of water.
Notes
If you want a more glossy look, lightly coat the sausages with oil after cooking.
Nutrition
Serving:
1
sausage
|
Calories:
43
kcal
|
Carbohydrates:
3
g
|
Protein:
2.6
g
|
Fat:
2.5
g
|
Fiber:
0.4
g
|
Sugar:
0.6
g
Did you make this recipe?
Tag @fullofplants on Instagram and hashtag it #fullofplants