Learn how to make your own vegan meat floss! This light and cottony condiment is delicious on top of rice, congee, silken tofu, and more!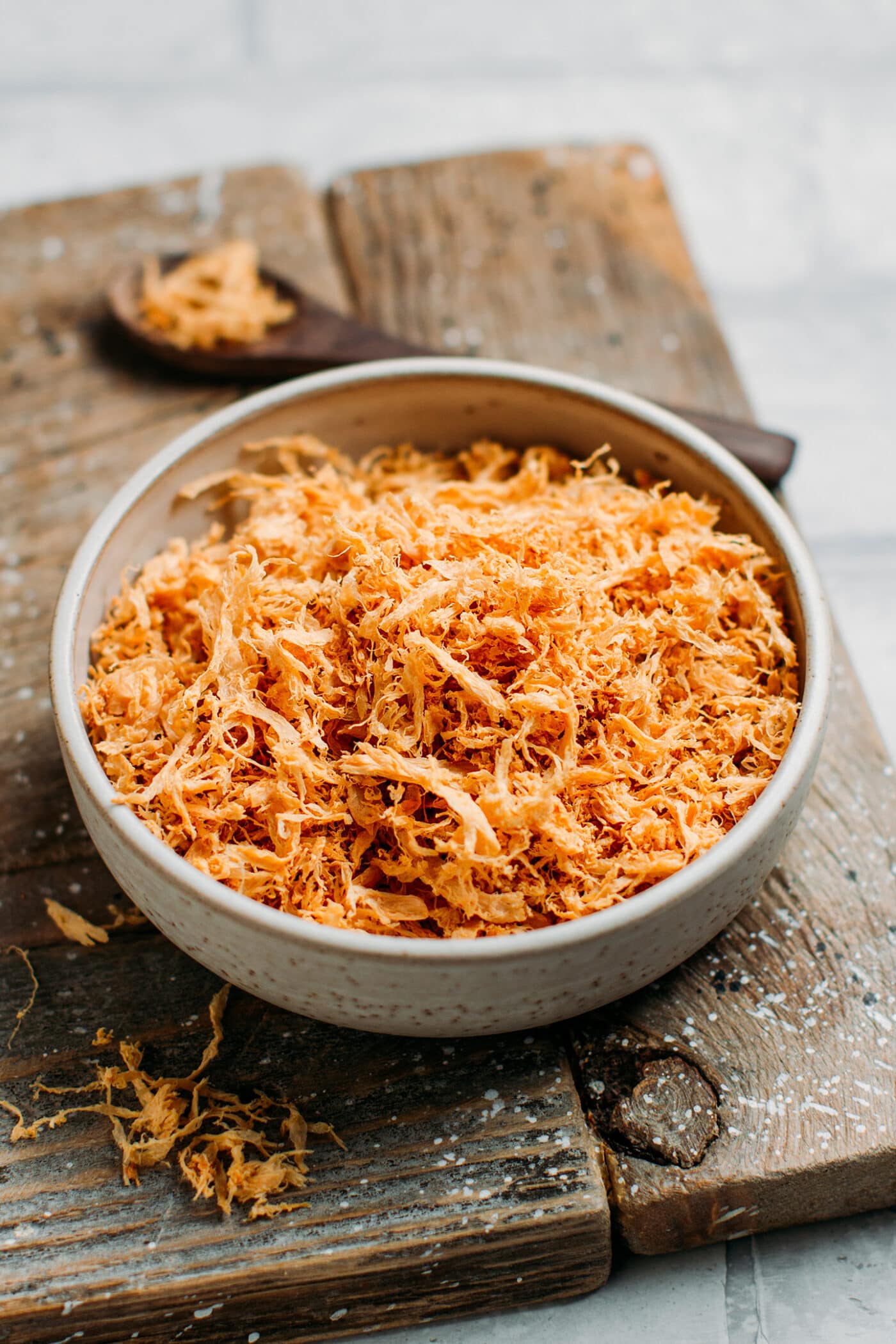 I'm so glad to share a recipe for vegan meat floss finally! Vegan versions of this condiment can be found quite easily in Asian countries. However, it's incredibly hard to find here!
As one of my favorite toppings for rice, I had to make my own. And let me say the result is incredibly close to the store-bought one!
📘 What is Meat Floss?
Meat floss (肉鬆), or Rousong in Chinese, is an Asian condiment that consists of finely shredded meat (pork, chicken, or sometimes fish) that is seasoned and then cooked until dried. It has a very light and fluffy texture.
It is used as a topping for rice, congee, silken tofu, as well as baked goods like buns. It's perfect to add texture and extra saltiness to many dishes!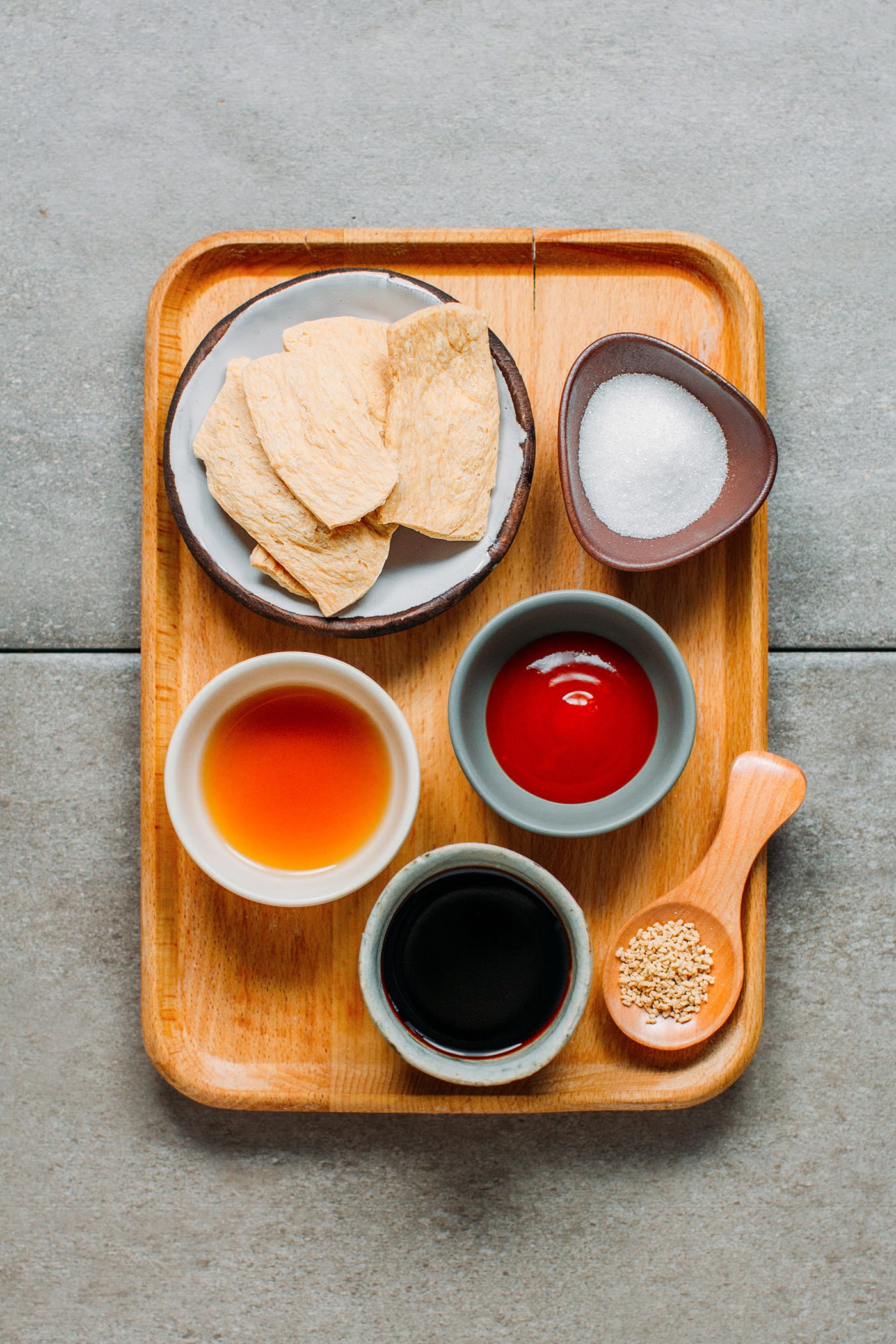 🥣 How to Make Vegan Meat Floss
This recipe takes about 30 minutes to prepare, from start to finish, and requires just 5 ingredients. Here is what you will need:
TVP – The base of this vegan meat floss is textured vegetable protein. You want to use the kind that comes in thin slices. It is sometimes called "chicken" or "beef" imitation slices.
Soy sauce – For saltiness.
Vegan fish sauce – Optional. It brings more umami and a deeper flavor. You can substitute it for more soy sauce.
Sugar – Just a teaspoon to balance a little bit with the saltiness.
Chili sauce – For color and flavor. It doesn't really add any spiciness.
Preparing vegan meat floss is a 4-step process:
1. Soak TVP and Process the TVP
Soak TVP slices in hot water for 30 minutes or until soft. Next, drain and squeeze to remove as much liquid as possible. Rinse a few times and squeeze again. Rinsing helps get rid of the soy flavor.
Transfer to a food processor and process for 20-30 seconds with the kneader blade (the plastic one). Do not use the steel blade, or you will process the TVP into a paste instead of simply shredding it.
2. Pound in a Mortar and Pestle
Transfer the shredded TVP to a mortar and pestle and pound for 3-5 minutes. This step is essential to break it down into thinner fibers. The longer you pound, the thinner and lighter the texture. If there are larger stripes, use your fingers to separate them into thinner threads.
3. Combine with the Seasonings
Once you have very thin threads of TVP, transfer them to a bowl and add the seasonings. Stir to coat well.
4. Dry on the Stove
Finally, all you need to do now is to dry the TVP. Add it to a skillet and cook over low-medium heat for 12-15 minutes, stirring constantly with chopsticks. As it dries, the "meat" floss will become thinner and lighter.
I recommend using chopsticks to stir as it will help get an even thinner texture.
📔 Tips
Be patient when drying the meat floss. It will take up to 15 minutes before being very dry. You want to stop cooking as soon as the floss is not sticking to the skillet anymore and has a light texture.
The floss should be dry but not to a point where it is crispy (otherwise, it might crumble into a powder). It should retain a slightly chewy texture.
If you want the meat floss to have a more orange color (like real meat floss), add 1/4 of a teaspoon of annatto oil. For information, I didn't use any here.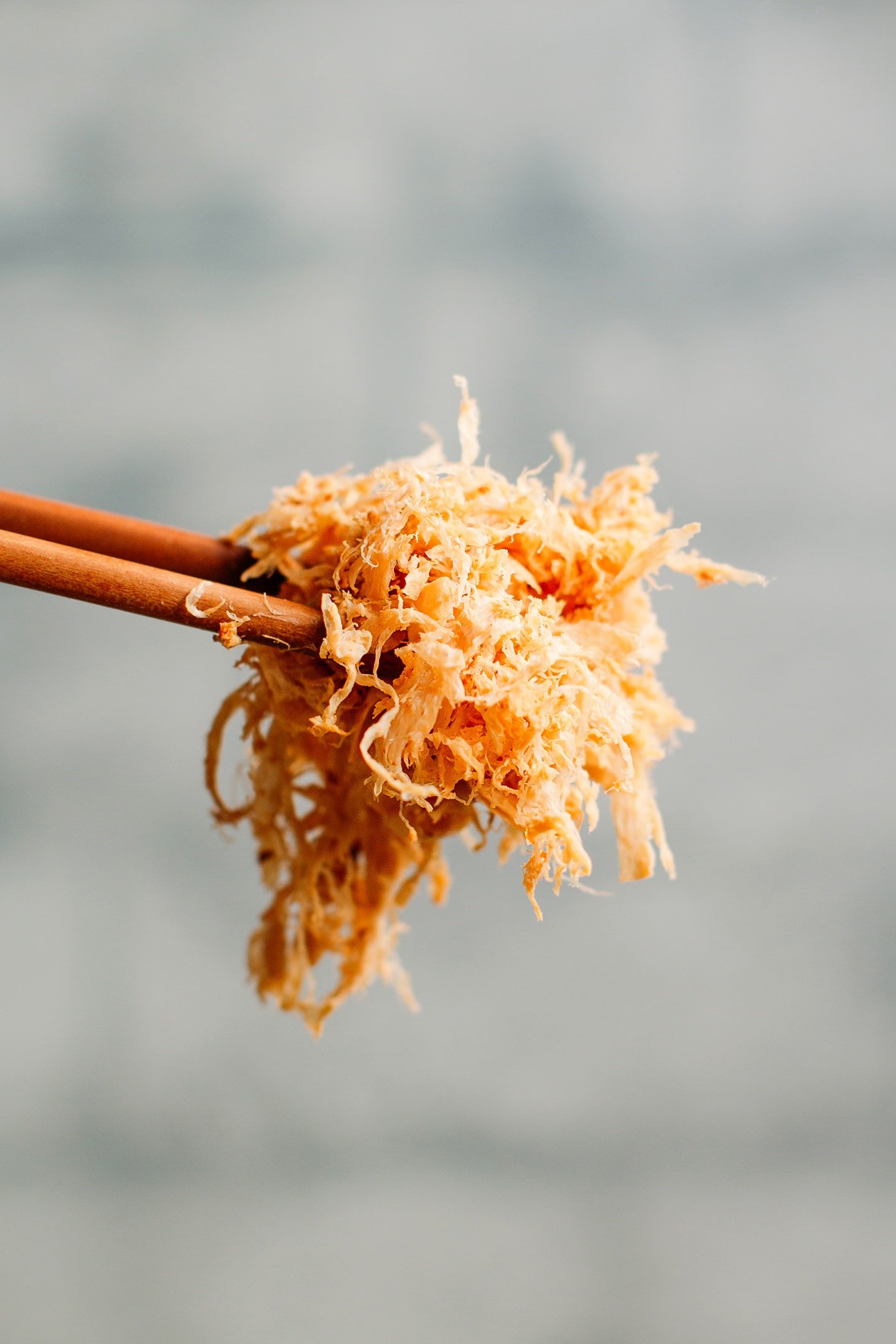 💬 FAQ
What can I substitute for TVP?
That's a tough question. I tried with jackfruit and mushrooms but didn't get satisfying results (too moist, too chewy). While I haven't tried it, I believe this recipe might work with vegan chick'n.
How long does vegan meat floss keep?
Vegan meat floss will keep for up to 1 month stored in an airtight container at room temperature.
Can I dry the meat floss in the oven?
I tried drying in the oven, but the result was not as good as the stovetop method. It became crispy and not as thin.
Can I use soy curls instead of slices?
Unfortunately, soy curls don't have the same texture as slices, so while it might work, you won't get the same cottony result.
What does meat floss taste like?
It's savory, umami-packed, with a hint of sweetness. The texture is very fluffy, and it almost melts in your mouth.
🍲 Where to Use Vegan Meat Floss
Meat floss is a great condiment that adds texture and saltiness to many dishes! It can be used as a topping for:
Rice and congee: Sprinkle on top of rice porridge, or use as a topping for Xôi mặn (Vietnamese Sticky Rice).
Silken tofu: Top silken tofu with a drizzle of soy sauce, green onions, sesame seeds, and meat floss!
Buns: Also called "Pork Floss Buns," these Chinese buns are brushed with mayo (use vegan mayo) and coated with meat floss.
Sushi: Use it as a filling or as a topping!
I hope you are going to love this vegan meat floss! It's perfectly salty, umami-packed, and so good sprinkled on top of rice!
Note: This meat floss is not as cottony as the real one, but it definitely makes an amazing plant-based alternative!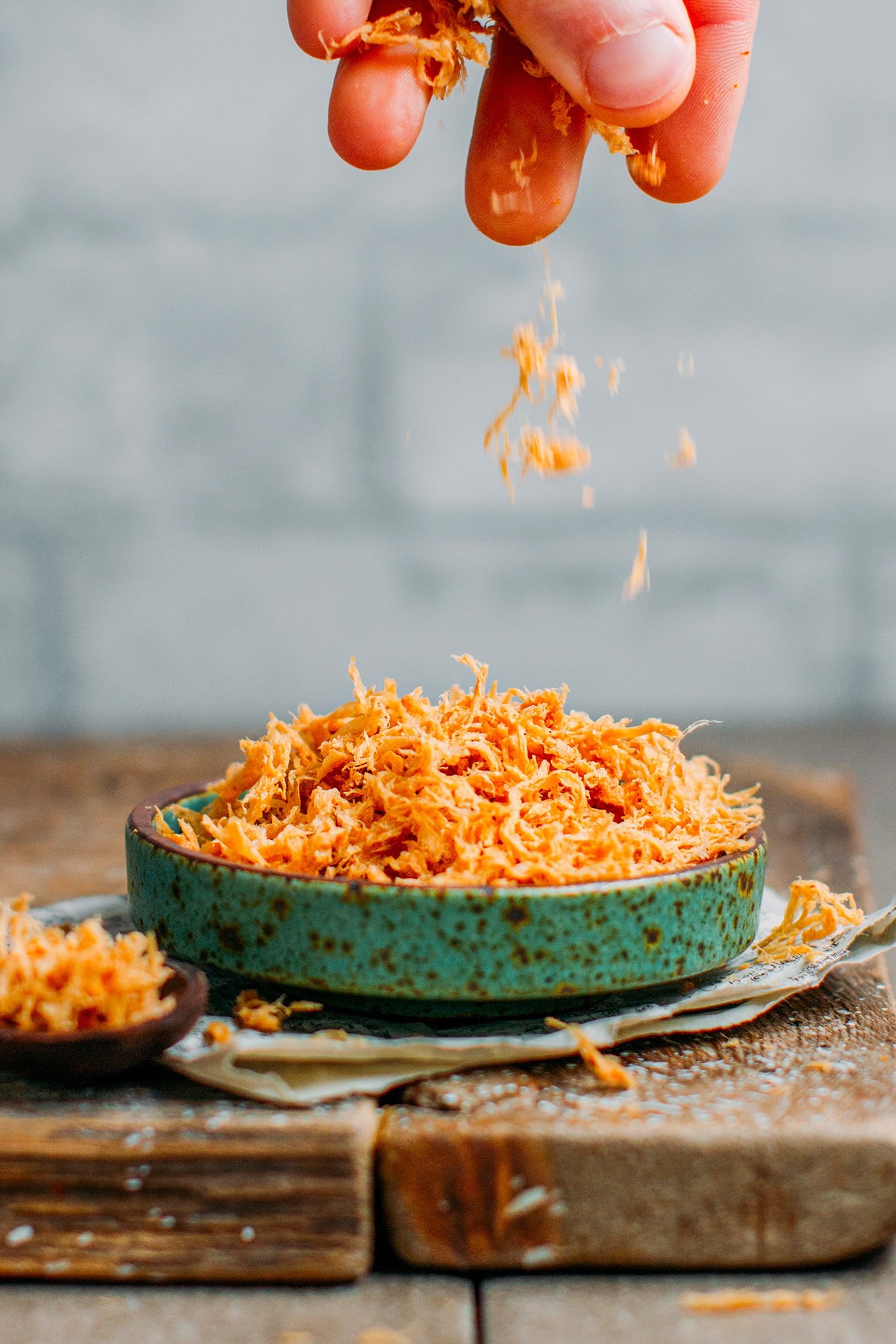 🍗 More Plant-Based Meat Alternatives
Let me know in the comments if you try this recipe!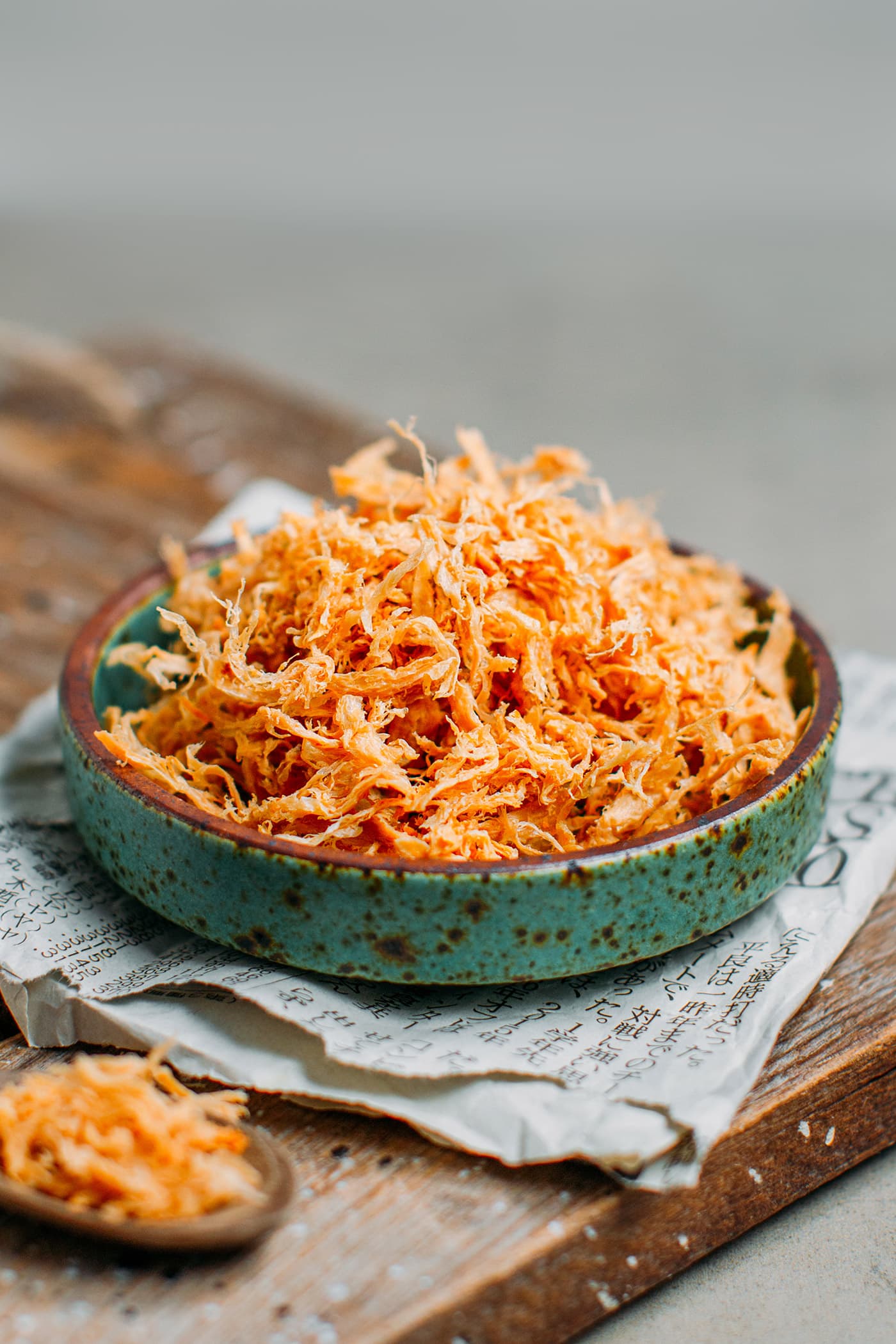 Recipe
Vegan Meat Floss
Make your own vegan meat floss! This fluffy and cottony plant-based condiment is deliciously sprinkled on top of rice, congee, or silken tofu!
Instructions
Soaking: Add the textured vegetable protein slices to a large bowl and cover with boiling water. Let it sit for about 30 minutes or until soft.

Drain the slices and squeeze them between your hands to remove excess water. Rinse under cold water and squeeze them again to remove as much water as possible.

Shredding: Transfer the TVP slices to a food processor fitted with the kneader blade (the plastic one). Process for about 30 seconds.

Next, transfer the shredded TVP to a mortar and pestle and pound it for 3-5 minutes, or until you get very thin strips. You can also use your fingers to shred the slices into thin threads. The goal is to have the thinnest texture possible.

Seasoning: In a small bowl, combine the soy sauce, vegan fish sauce, sugar, sweet chili sauce, and mushroom seasoning if using. Pour the sauce over the TVP threads and stir to coat.

Drying: Transfer the TVP to a non-stick skillet and heat over low-medium heat. Using chopsticks, stir constantly for 12-15 minutes or until the TVP is thinner and lighter. Stop drying as soon as the threads are not sticking together anymore.

Remove from heat and let it cool at room temperature for 15-20 minutes before transferring it to a clean container. Meat floss will keep for up to one month stored at room temperature. Enjoy on top of rice, congee, silken tofu, and more!
Nutrition
Serving:
4
tbsp
|
Calories:
25
kcal
|
Carbohydrates:
2.8
g
|
Protein:
3.3
g
|
Fiber:
2.4
g
|
Sugar:
1
g
Did you make this recipe?
Tag @fullofplants on Instagram and hashtag it #fullofplants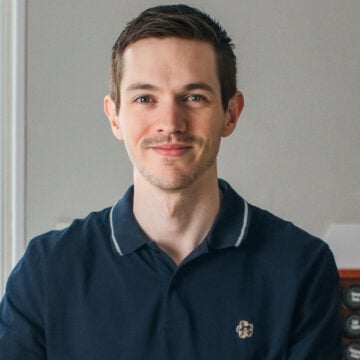 About the Author
Thomas Pagot is the founder, photographer, and recipe developer behind Full of Plants. He created the blog in 2016 as a personal cookbook for vegan recipes. Through years of recipe development, Thomas has successfully grown Full of Plants into a trusted resource for plant-based recipes.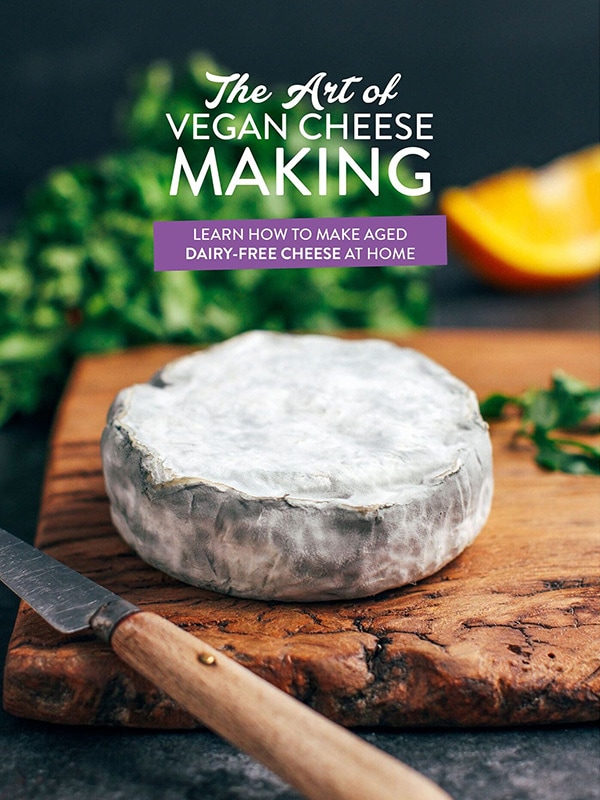 🧀 25 Mind-Blowing Vegan Cheese Recipes!
Sign up for the Full of Plants newsletter and you'll get new recipes delivered by email weekly, PLUS your FREE 100-page printable eBook!