I'm so excited to share this recipe! Introducing vegan fish fillets!
These fish, or should I say feesh, fillets have a super tender and flaky "flesh", and a crispy skin! It's high-protein (26g per serving!) and takes just 15 minutes to prepare! It's definitely one of the closest fish-alternative I have ever tried!
HOW TO MAKE FISH FILLETS
The base of this recipe is TVP. If you have never heard of TVP, it means Textured Vegetable Protein. It is a dry product that comes in many different shapes like cutlets, chunks, etc. It first needs to be rehydrated before being used as a meat substitute.
You absolutely need TVP slices for this recipe, preferably the large ones (if you can only find small ones, check the metric measurements in the recipe to make sure you are using the correct amount). You can see below two of the brands I usually use.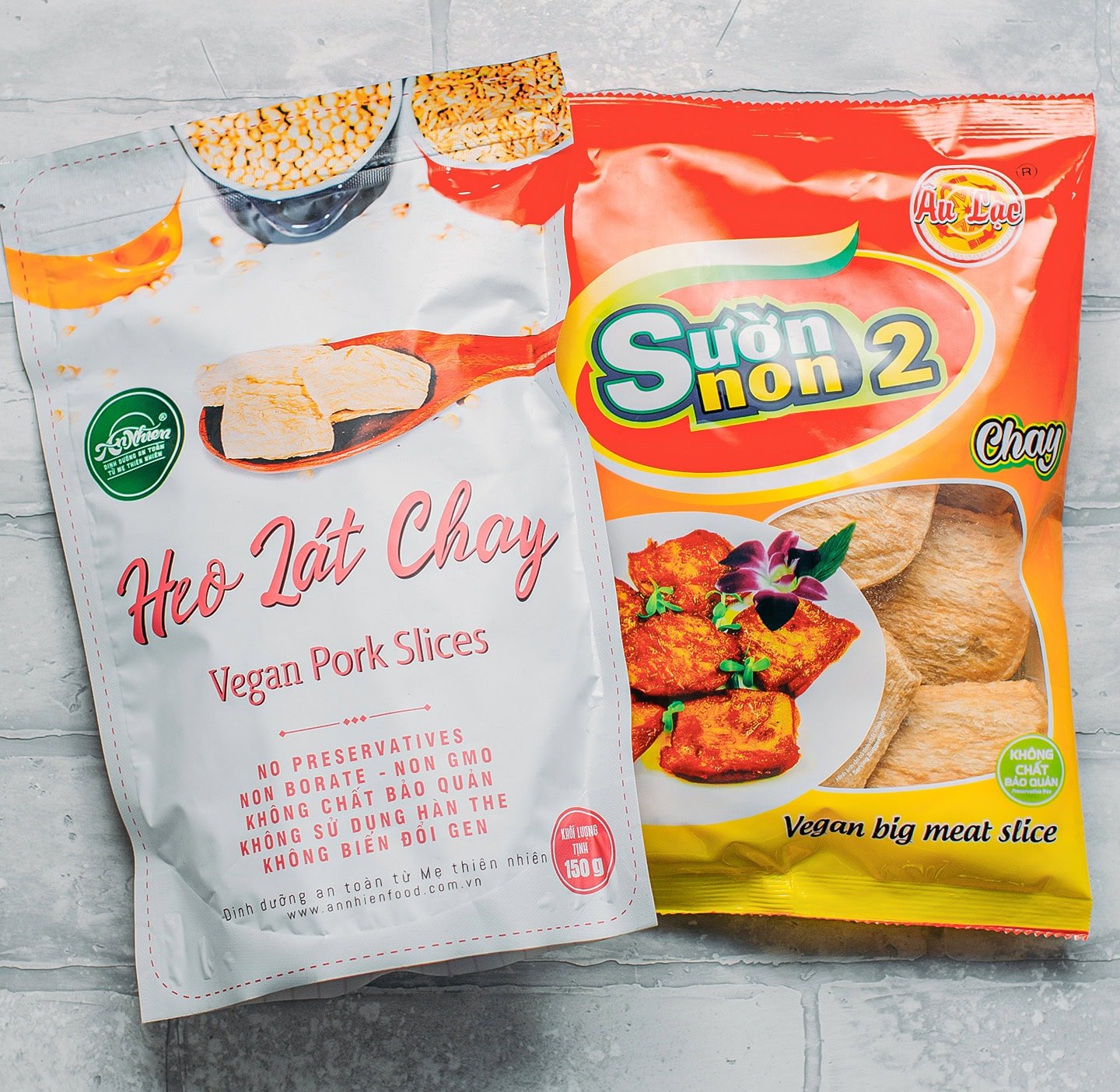 Be aware there are many different names for it, from "Pork slices" to "Chicken slices" or "TVP slices", just try to get the ones that are similar to the photo above, all of them are basically the same thing. I found two products online that seem to be similar to the ones I use, you can check this one or this one. Otherwise, it can sometimes be found in the dry section of Asian stores.
Note: Do not substitute with soy curls, chunks, or beef TVP as you won't get the same texture. This one has fibrous layers you would not get with the other kinds.
Soak your TVP slices in hot water for 30 minutes, or until soft. Depending on the brand, some slices can take longer to rehydrate. Then drain, rinse, and squeeze to remove the excess water. I usually soak it with a few pieces of nori overnight. Soaking the TVP with the seaweed won't affect the flavor a lot, but it does add a little bit of extra "sea" flavor.
Next, drain and squeeze the TVP slices to remove the excess water. Add to a food processor and add the flavorings:
Vegan Fish Sauce: While it doesn't add a fish flavor, I find that vegan fish sauce brings umami, saltiness, and a much deeper flavor. Vegan fish sauce can be found in Asian stores or you can get it here. If you do not have fish sauce on hand, you could try using soy sauce. It's not the best substitute but it should work.
Garlic, onion powder, and black pepper: I went with basic aromatics here, but feel free to add your favorite spices.
Dill: As dill is often associated with fish, I do find it helps create the illusion of a fish flavor.
Sugar: To balance with the saltiness.
Dulse: Add a teaspoon or two of rehydrated dulse flakes if you are looking for extra ocean flavor. This is optional though.
Another optional ingredient is mushroom seasoning, it's an healthier alternative to MSG, and it helps enhance the flavors. Simply omit if you don't have it on hand.
Add all the ingredients to a food processor and process until it almost forms a paste. Do not over process or you might lose the flaky texture. It should hold together when you squeeze the mixture between your hands but still have a flaked tuna texture. Once you have reached the texture below, process a bit more.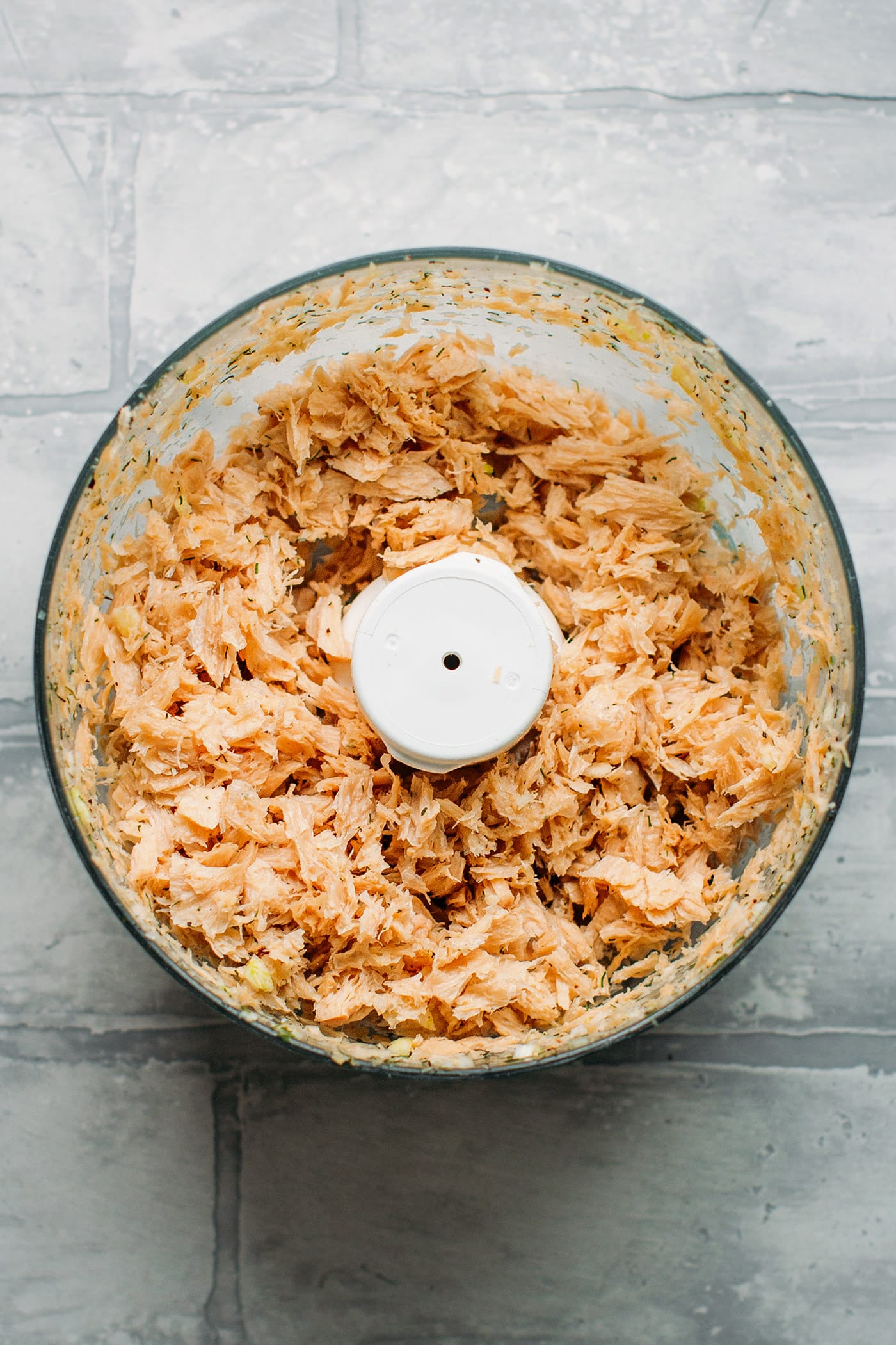 When it comes to shaping, there are two ways. You can either:
Make fillets: Obviously this one will look more like a real fish fillet, it's best if you want to serve it with a sauce on top (a garlic butter or lemon parsley sauce for example). To make fillets, simply press down the mixture on a sheet of nori. You can make a simple rectangle shape or cut your sheet of nori in shape of a fish!
Make rolls: Rolls are great for braised dishes as they hold up better than a fillet (recipe coming soon!). To make rolls, cut rectangles of about 2.5x4-inch, place about 2 tablespoons of the mixture on the bottom, and roll it out into a roll. Mix a tablespoon of cornstarch with a tablespoon of water and slightly wet the end of the nori sheet before closing it. This way the nori sheet will stick and your rolls won't "unroll" during cooking.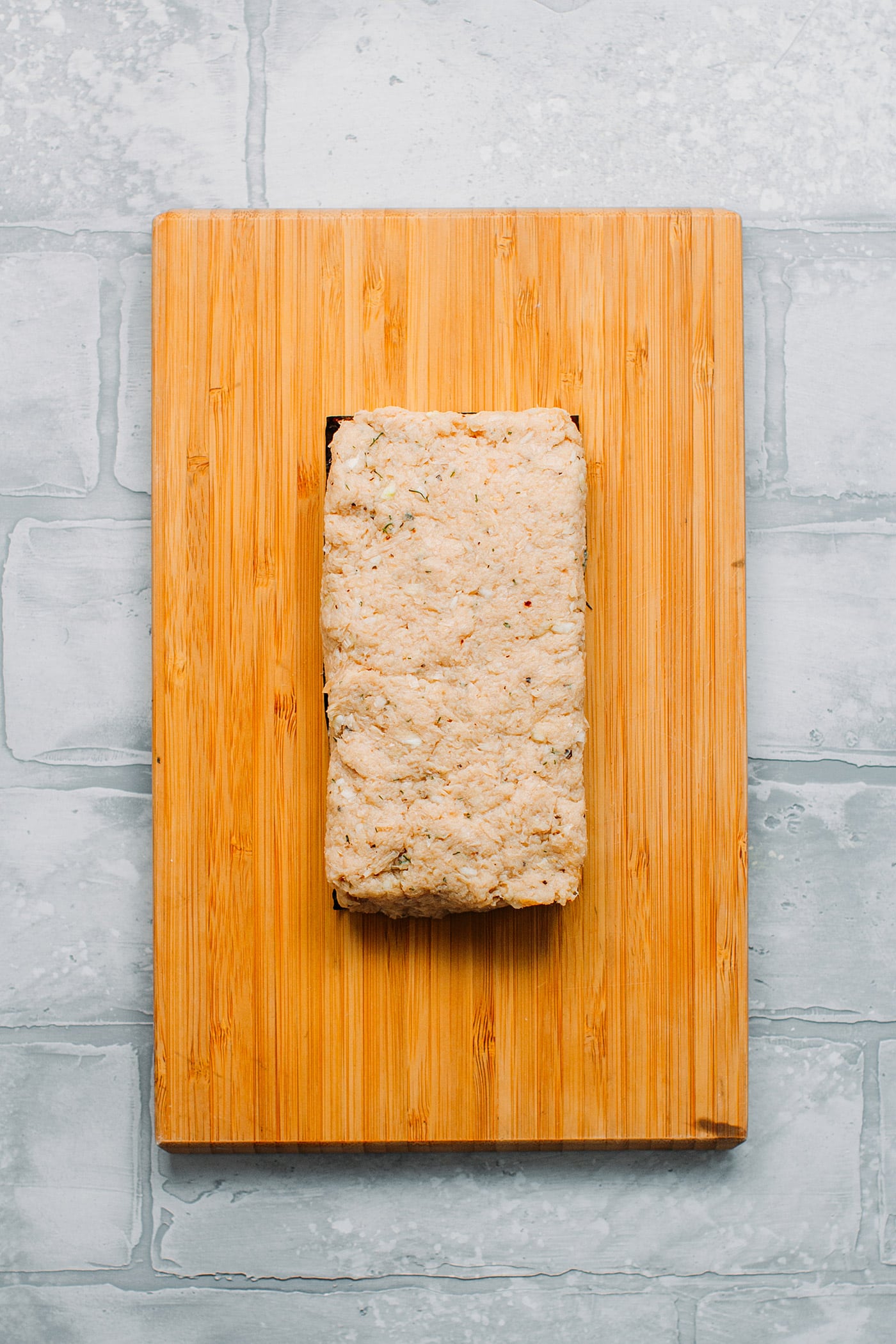 Finally, pan fry your fish fillets on both side until golden brown! The nori sheet will crisp up while the flesh will stay tender.
Note: Do not expect this to taste exactly like a fish fillet on its own, it does however have a very nice flaky texture and it's amazing when served with a sauce or braised! To compare, I would say the texture is quite similar to flaked tuna. If you have made "tofu fish fillets" before, these are far superior in term of texture!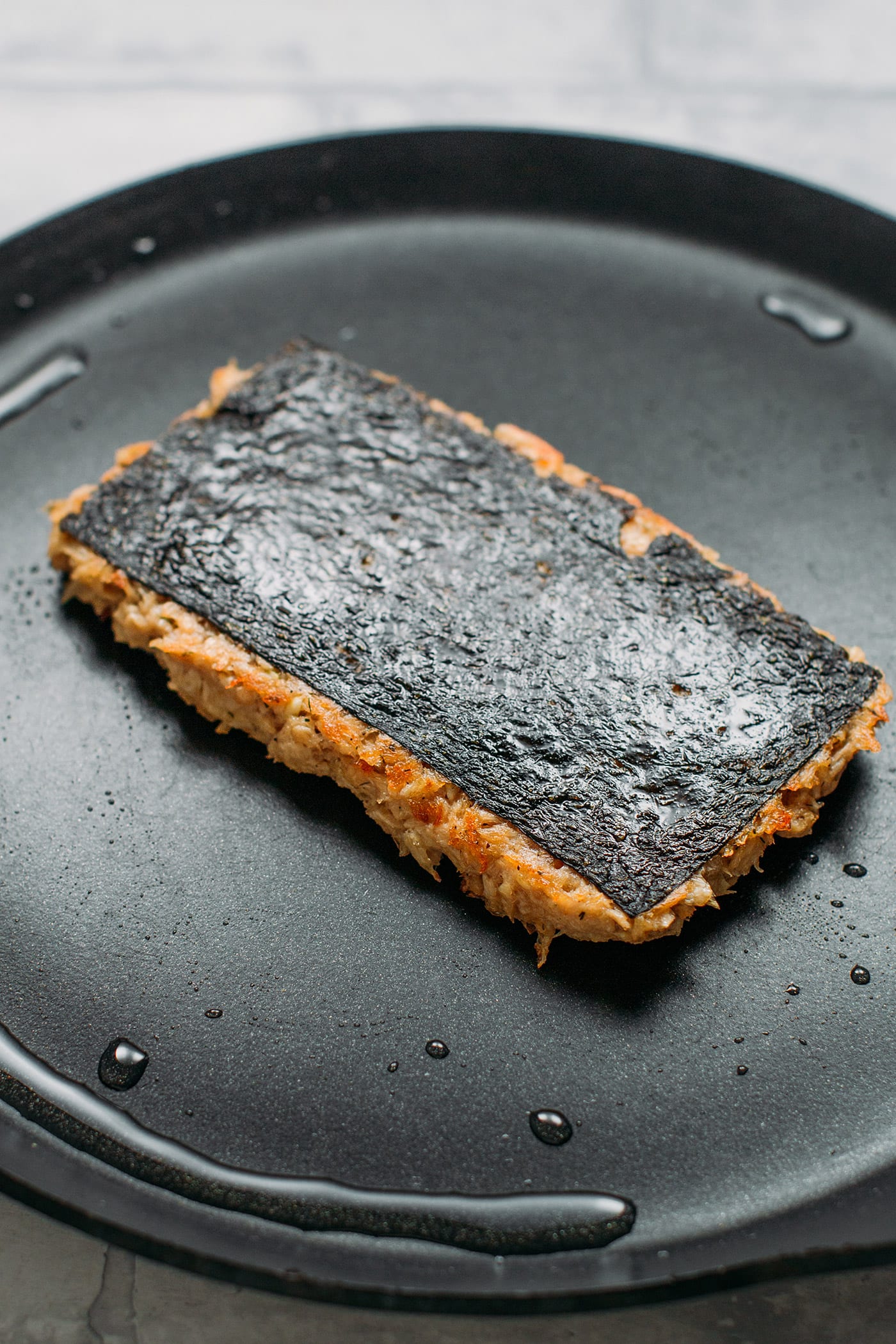 HOW TO COOK VEGAN FISH FILLETS
Once your fillets are pan-fried, you can serve as is and top with your favorite sauce, or braise them.
One of my favorite ways to cook these fish fillets is to sauté garlic and shallots until golden brown, then deglaze with a couple of tablespoons of soy sauce, a tablespoon of sugar and plenty of black pepper. Pour in a few tablespoons of water to dilute the sauce and add your fillets. Cook for a few minutes and serve with rice or veggies. The fillets will soak up the sauce and become so juicy!
I hope you will love this vegan "fish"! It is tender, flaky, has a delicate texture, and a super crispy nori skin!
Looking for more meat alternatives? Check out this Vegan Roast Pork, Vegan Chick'n, or these High-Protein Vegan Burgers!
Let me know in the comments if you try this recipe!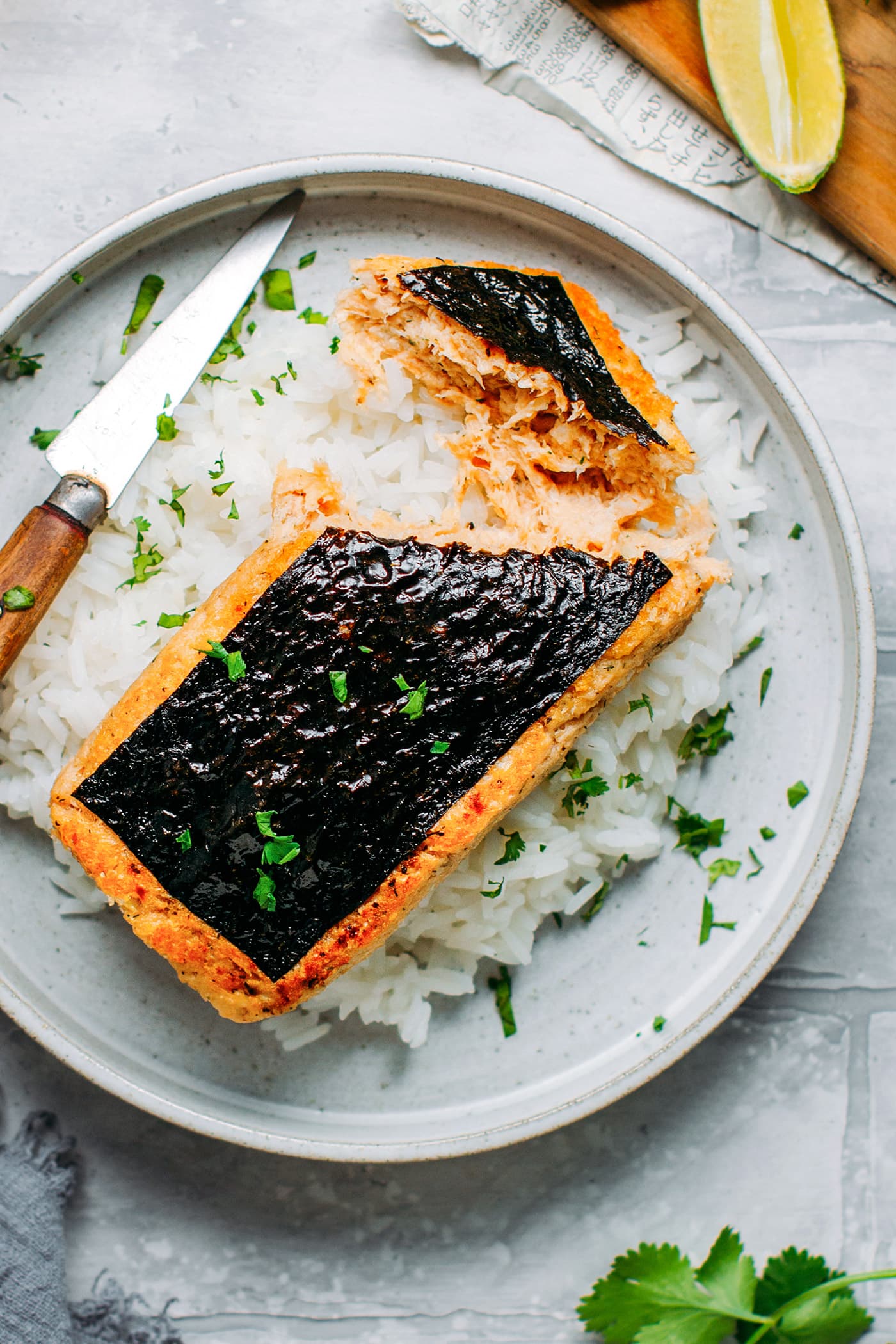 📖 Recipe
Vegan Fish Fillets
Flaky and tender vegan fish fillets! It's definitely one of the closest fish-alternative I have ever tried!
Instructions
Add the TVP slices to a large bowl or plate and cover with boiling water. Let it sit for about 20 minutes, or until the TVP is tender. You can soak the TVP slices overnight in the refrigerator as well.

Drain the TVP slices and squeeze them to remove as much water as possible. Transfer to a food processor and add the vegan nuoc mam, sugar, onion powder, ground black pepper, dried dill, garlic, vinegar, dulse flakes and mushroom seasoning if using.

Process for 15-30 seconds, or until it forms a flaky paste (a bit like flaked tuna). Add the cornstarch and process a few more seconds. You want the mixture to hold together when you squeeze it between your hands, but it should still be slightly crumbly.

Cut your nori sheet in two rectangles of about 5x2.5-inch. Press down half of the mixture onto each nori sheet into a ½-inch thickness. Press it down firmly.

Heat 2 tablespoons of oil in a non-stick skillet. Once hot, use a spatula to transfer your fish fillets to the skillet, with the nori sheet facing down. Shallow-fry for 3-4 minutes, or until the nori sheet is crispy. Flip the fillets and cook for another 3-4 minutes on the other side.

Serve immediately with your favorite sauce on top of steamed rice and/or with sautéed vegetables on the side. For extra flavor, I recommend cooking your fish fillets a couple of minutes in your sauce.
Notes
Calories may be a little bit higher since the fillets are pan-fried with oil.
This recipe is inspired by how vegan fish is made in Viet Nam and some other Asian countries.
Nutrition
Serving:
1
fillet
|
Calories:
178
kcal
|
Carbohydrates:
11.5
g
|
Protein:
26.2
g
|
Fat:
2
g
|
Fiber:
2
g
|
Sugar:
2
g
Did you make this recipe?
Tag @fullofplants on Instagram and hashtag it #fullofplants