The classic Vietnamese sandwich is made vegan! Learn how to make rich and flavorful vegan bánh mì with this in-depth guide! Filled with carrot and radish pickles, vegan sausage, tofu, paté, and plenty of fresh herbs, you are going to love this popular Vietnamese sandwich!
Introduction
After trying countless types of bánh mì from different parts of Vietnam and dissecting most of them, I wanted to share a guide on how to make the best bánh mì. This article will not only be a recipe but also an in-depth guide on which type of bread to use, what are the best fillings, how to assemble it, etc.
There are many recipes available online for vegan bánh mì. Unfortunately, most are Westernized and incredibly far from the authentic Vietnamese ones. In this guide, I will share the basics to create delicious and flavorful bánh mì, along with a few tips.
📘 What is Bánh Mì
Bánh mì is a type of Vietnamese sandwich that is said to have appeared during the French colonization, around 1880. French colonists brought baguettes as well as paté, coffee, crème caramel, yogurt, and more, influencing Vietnamese cuisine. Vietnamese then tweaked the sandwich to their taste by adding pickles, fresh herbs, paté, grilled meat, etc.
"Bánh" could be translated to cake, while "Mì" simply means wheat.
Bánh mì is one of the most popular Vietnamese food and is now considered one of the best sandwiches in the world. It is usually consumed for breakfast but can be found sold as a street food at any time of the day.
🥣 How to Make Vegan Bánh Mì
Making bánh mì from scratch requires many different types of preparations, from the paté and mayo to the filling, but most can be prepared ahead of time and kept very well in the refrigerator.
Examples of Vietnamese Bánh Mì
Before assembling our own bánh mì, let's take a look at what "authentic" bánh mì looks like. What you can see below are 2 types of vegan bánh mì from Viet Nam (more particularly from Ho Chi Minh City).
From left to right: 1) Bánh mì filled with vegan mortadella, pickles, cucumber, vegan meat floss, cucumber, and croutons. 2) Bánh mì filled with fresh tomatoes, red cabbage, vegan mortadella, cucumber, and pickles.
🥖 Bread
It all starts with the bread, and that's where many get it wrong. The type of bread used to prepare bánh mì is extremely important. It's one of the main components of this dish.
Vietnamese bread is very far from the French baguette. It is much lighter with a lot less crumb. It is usually around 8 inches long and weighs approximately 55 grams. If you were about to weigh a similar size of French bread, it would probably be around 1.5 to 1.8x the weight.
Preparing bánh mì with a regular baguette would yield a much heavier sandwich, and the ratio of filling to bread would be completely off. So please, do not use regular bread to make bánh mì!
You can learn how to make your own Vietnamese baguette by checking the recipe below, it's one that took me way too many trials to get right, but I can assure you the results are totally worth it! The crust and crumb are totally on point when compared to the baguettes from Vietnamese bakeries.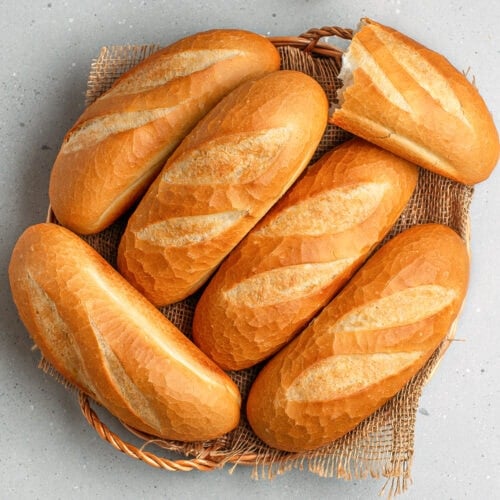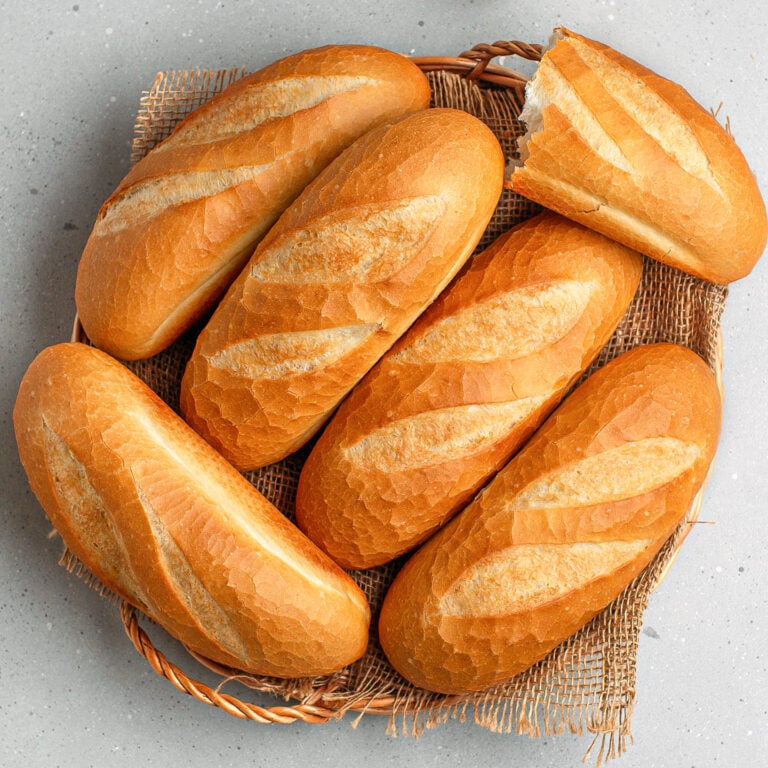 How To Make Bánh Mì (Vietnamese Baguette)
Make your own Vietnamese baguettes! These Bánh Mì have a light and cottony crumb with a super thin and crispy crust! This is the closest recipe to Vietnamese Bánh Mì!
Make This Recipe
🧈 Condiments
Next comes the condiments. It usually consists of paté, mayo, and/or some kind of sauce. Sometimes, the paté is mixed with some vegan mayo. Sometimes, there is just a sauce. It really depends on the cook. In my opinion, the addition of paté really takes bánh mì to the next level by adding richness and creaminess.
Vegan Pâté
Crafted from a base of mushrooms, cashews, and dried herbs, this vegan pâté is incredibly meaty, buttery, and so rustic! Enjoy it as a spread on French bread, toast, or as an addition to your sandwiches!
Make This Recipe
5-Minute Vegan Mayonnaise
Delicious and creamy vegan mayo that tastes like the real thing! Just 5 ingredients and 5 minutes are required. Use in sandwiches, salads, or as a base for sauces!
Make This Recipe
Then, we have the sauce that not only brings a ton of flavor but also makes the sandwich juicier.
I highly recommend trying to make your own from the recipe below, but if you are short on time, simply add a drizzle of Maggi soy sauce and store-bought sweet chili sauce (or sriracha) for some spiciness. Sometimes, saté is also used to add a citrusy lemongrass flavor.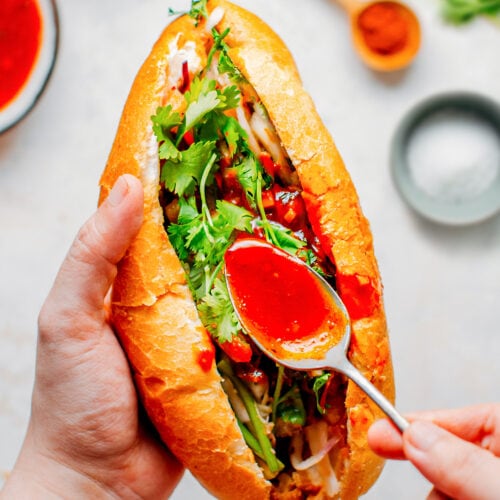 Bánh Mì Sauce
A sweet and spicy tomato sauce that is perfect for adding a ton of flavor to your Bánh Mì sandwiches! Infused with garlic, five-spice, chili sauce, and green onions!
Make This Recipe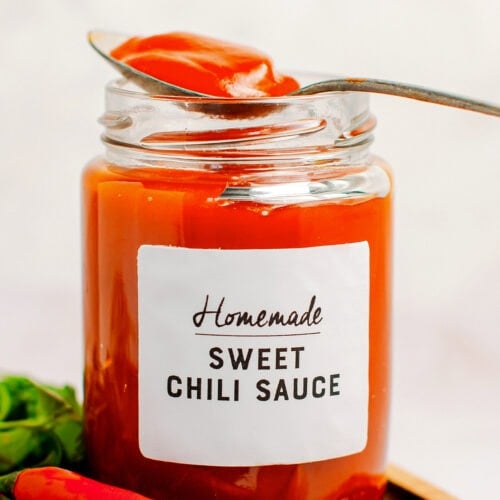 Easy Sweet Chili Sauce
Super easy, 8-ingredient, and naturally sweetened chili sauce that is great to spice up your dishes! Sweet, garlicky, and perfectly spicy!
Make This Recipe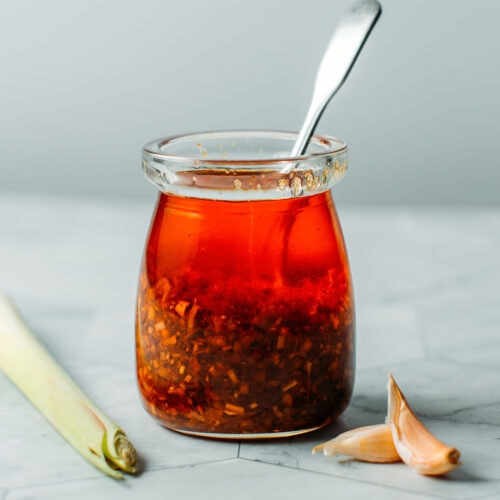 How to Make Vegan Sate
Vietnamese-inspired sate infused with lemongrass, shallots, garlic, and chili! A delicious condiment to take your dishes to another level!
Make This Recipe
🥬 Filling
Now that we have built the foundation of our bánh mì, it's time to fill it!
1. Protein
Most bánh mì will include some kind of protein. You can use fried tofu slices, vegan sausage, TVP slices, or even vegan roast pork. I recommend going with about 2-3 different types of protein for a mix of textures and flavors.
If using tofu, I recommend you first marinate it with some chopped garlic, shallots, soy sauce, and some sugar before sautéeing it until it has absorbed most of the marinade.
You can find below some recipes for plant-based meats that are perfect additions to bánh mì!
2. Vegetables
Cucumber – Preferably Persian cucumbers, since this variety has almost no bitterness and a very thin skin. Usually, cucumbers are sliced lengthwise into thick matchsticks.
Mushrooms – I personally love using oyster mushrooms for their tender and meaty texture. You can also use shredded king oyster mushrooms like in this Pulled Mushroom Bánh Mì. Simply sauté sliced mushrooms for a few minutes and deglaze with a drizzle of soy sauce.
Jicama – Jicama, called "củ sắn" in Vietnamese, is a vegetable that is very often used as a filling. It is usually shredded and pan-fried until golden brown. It brings a natural sweetness and a subtle crunch. If you have access to it, I highly recommend trying it!
Tomatoes – Not very common, but you can add a few tomato slices for some juiciness.
Chili – If you like your food spicy, add finely chopped Thai chili to taste.
Carrot and daikon pickles – Last but not least, the pickles! Carrot and daikon pickles are a must for freshness and tanginess. You can learn how to make your own Vietnamese pickles here.
3. Fresh Herbs
Cilantro – Mandatory! Use whole fresh cilantro, including the stems.
Thai basil – Optional, but it's the second most used herb in bánh mì.
Green onions – While less common, you can add sautéed green onions for extra flavor.
🥣 Assembling Bánh Mì
I am sharing below my favorite way to make bánh mì. Feel free to tweak it to your taste. Bánh mì is super versatile!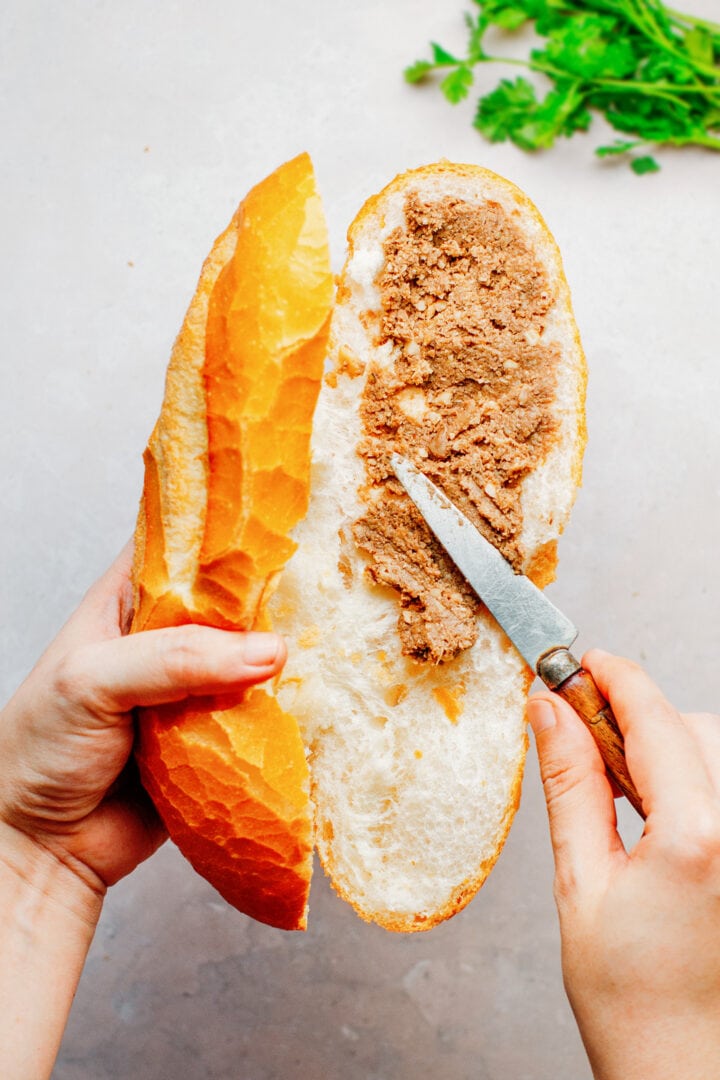 Start by cutting the baguette. Use a dented knife or a pair of scissors to slice the bread lengthwise.
Spread a generous amount of paté mixed with mayo on the bottom on the bread (or start with the paté and then top with mayo). I usually go with 2-3 tablespoons of paté and one tablespoon of mayo.
Drizzle 3-4 tablespoons of the bánh mì sauce (or sweet chili sauce and Maggi soy sauce) on the other open side of the bread.
Add the protein of your choice. Here I went with some fried tofu and meat floss.
Next, add the vegetables: carrot and daikon pickles, cucumber, sautéed oyster mushrooms, and/or sautéed jicama if using.
Garnish with fresh cilantro, Thai basil leaves, and a few slices of chili if you want more heat, and enjoy!
And there you have it! A delicious, flavor-packed bánh mì that has nothing to envy the authentic ones!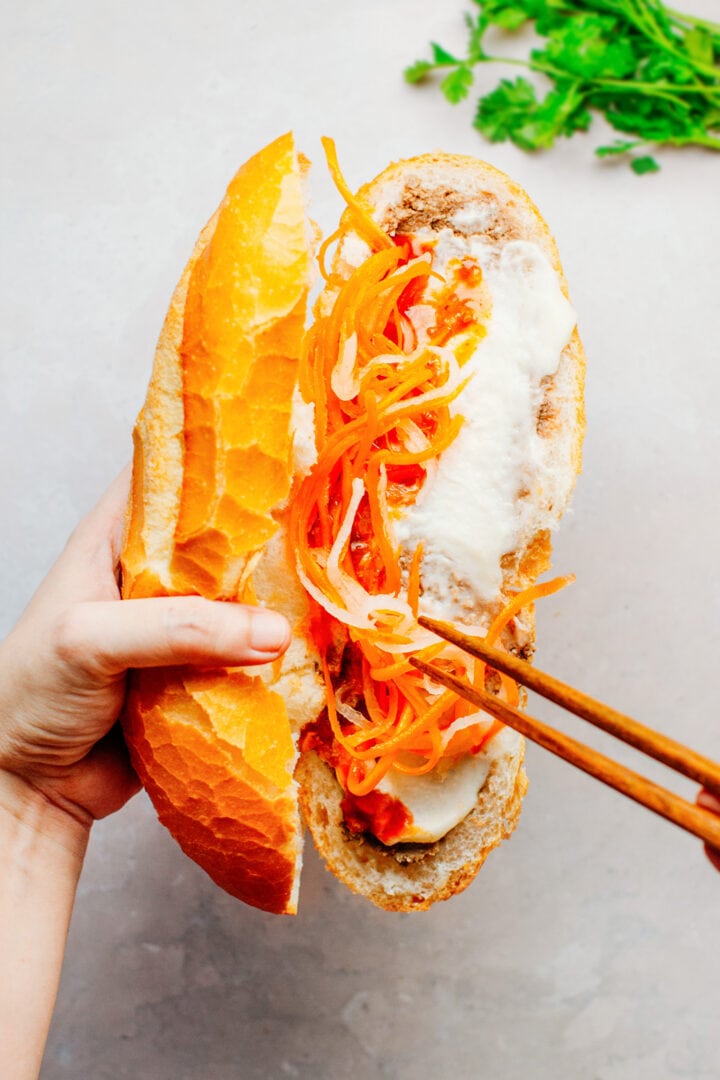 📔 Tips
Do not overfill: We are not making a Subway sandwich here, bánh mì contains many different add-ins, but each one is used sparingly.
Prepare bánh mì just before serving: For the best texture, serve bánh mì immediately after assembling.
Use fresh bread: No one wants stale bread that is either too hard or too soft. Use fresh loaves of bread for a crispy crust and tender crumb!
Use room temperature ingredients: I recommend taking the paté, sauce, and pickles out of the refrigerator at least 30 minutes before using. Bánh mì is always served with room temperature ingredients.
💬 FAQ
Can I use a French baguette to make bánh mì?
As mentioned above, if you want the true bánh mì experience, I will advise against using regular baguettes. It is much heavier and has more crumb than bánh mì bread.
Where to find Vietnamese baguettes?
I'm not going to lie. It's not an easy task, and that's why I recommend making your own. A few options would be to check the Vietnamese restaurants around you to see if they have some to sell or check your local bakery or supermarket and try to find light and hollow bread.
Is this recipe authentic?
There is not one authentic bánh mì recipe. However, this recipe is based on the many vegan bánh mì I tried in Vietnam. So I would say it's probably one of the most authentic recipes for a vegetarian bánh mì you will find!
How long does bánh mì keep?
Bánh mì is best served immediately. It will stay good for 3-4 hours, but after that, the texture won't be as good.
I hope you enjoyed this guide on how to make delicious vegan bánh mì! It's loaded with flavor and textures and has the perfect balance of sweet-salty-spicy! Definitely my favorite sandwich!
🇻🇳 More Vegan Vietnamese-Inspired Recipes
Let me know in the comments if you try this recipe!
Recipe
How to Make The Best Vegan Bánh Mì
Super rich and flavorful vegan banh mi made with carrot and daikon pickles, vegan sausage, sautéed mushrooms, vegan paté, cucumber, and plenty of fresh herbs!
Ingredients
Instructions
Start by slicing the bread. Use a dented knife or a pair of scissors to slice the bread in half lengthwise.

Add the condiments. Spread the paté on one half of the bread, followed by the vegan mayo. Drizzle the banh mi sauce on the other half of the bread.

Add the filling. Arrange the carrot and daikon radish pickles inside the bread. Add the sliced fried tofu and the sautéed mushrooms. If using, add the sausage slices, shredded jicama, and meat floss as well.

Garnish with the cucumber strips, fresh cilantro, and a few leaves of Thai basil. Add some finely chopped chili if you want some heat. Close the sandwich and serve immediately!
Notes
*To sauté oyster mushrooms: slice 3-4 mushrooms in half lengthwise. Heat a teaspoon of oil in a non-stick skillet over medium heat. Once hot, add the mushrooms and sauté for 3-4 minutes or until golden brown. Deglaze with a teaspoon of soy sauce and sauté for another 15-30 seconds.
Did you make this recipe?
Tag @fullofplants on Instagram and hashtag it #fullofplants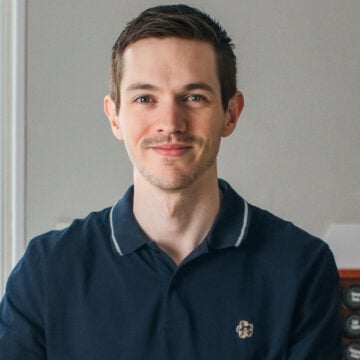 About the Author
Thomas Pagot is the founder, photographer, and recipe developer behind Full of Plants. He created the blog in 2016 as a personal cookbook for vegan recipes. Through years of recipe development, Thomas has successfully grown Full of Plants into a trusted resource for plant-based recipes.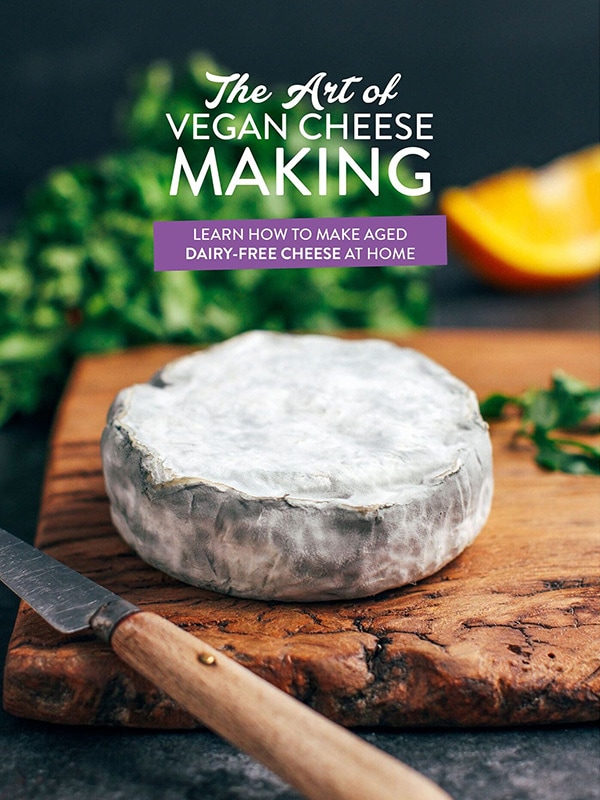 🧀 25 Mind-Blowing Vegan Cheese Recipes!
Sign up for the Full of Plants newsletter and you'll get new recipes delivered by email weekly, PLUS your FREE 100-page printable eBook!