These savory Vietnamese crepes are thin and crispy on the edges and filled with crunchy veggies and protein-rich tofu! Served with a sweet, sour, and spicy dipping sauce. This classic Vietnamese Bánh Xèo is a must-try!
📘 What is Bánh Xèo
Bánh Xèo is a Vietnamese crêpe filled with a variety of vegetables, meat, and/or seafood and served with a dipping sauce called "nước chấm."
The name "bánh xèo" can be translated to cracking cake, which comes from the sound the batter makes when it hits the piping hot skillet.
These crêpes are super crispy on the edges and prepared with a combination of rice flour and coconut milk.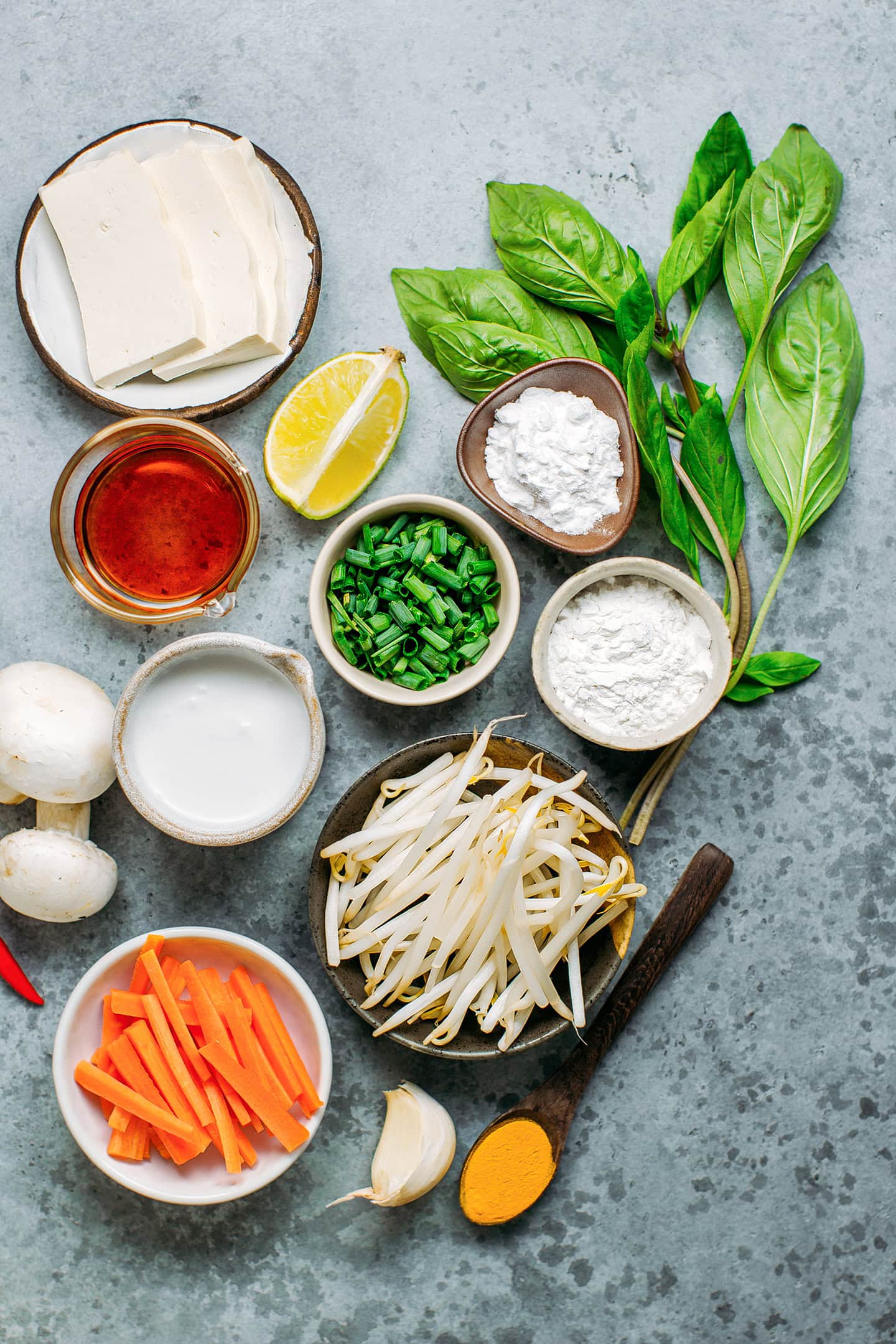 🥣 How to Make Bánh Xèo
Batter
It starts with the crêpe batter that needs to rest for a few minutes. It is super easy to make and requires just 5 ingredients you most probably already have on hand. Here is what you will need:
Rice flour – It makes the base of the batter, giving the crêpes a crispy texture. Make sure you are using white rice flour here.
Tapioca starch – The addition of starch helps the crêpes hold together better. If you do not have tapioca starch, feel free to use cornstarch.
Coconut milk – It doesn't add a lot of flavors but brings some fat that is also essential to get a crispy crêpe.
Green onions – For flavor and freshness.
Turmeric – Without turmeric, the crêpes would be pale. Turmeric gives them a vibrant yellow color.
Add all of the ingredients to a bowl and whisk until smooth. Then, let it sit for at least 15 minutes before use.
Filling
Next, we have the filling: mushrooms (I recommend using a mix of different ones), tofu, carrots, and mung bean sprouts. Feel free to be creative and use red bell pepper, zucchini, tempeh, smoked tofu, or even Vegan Chick'n for something meaty! The possibilities are endless!
Start by frying the tofu until golden brown, and then add the rest of the vegetables. Cook for 5-6 minutes or until tender. Set aside.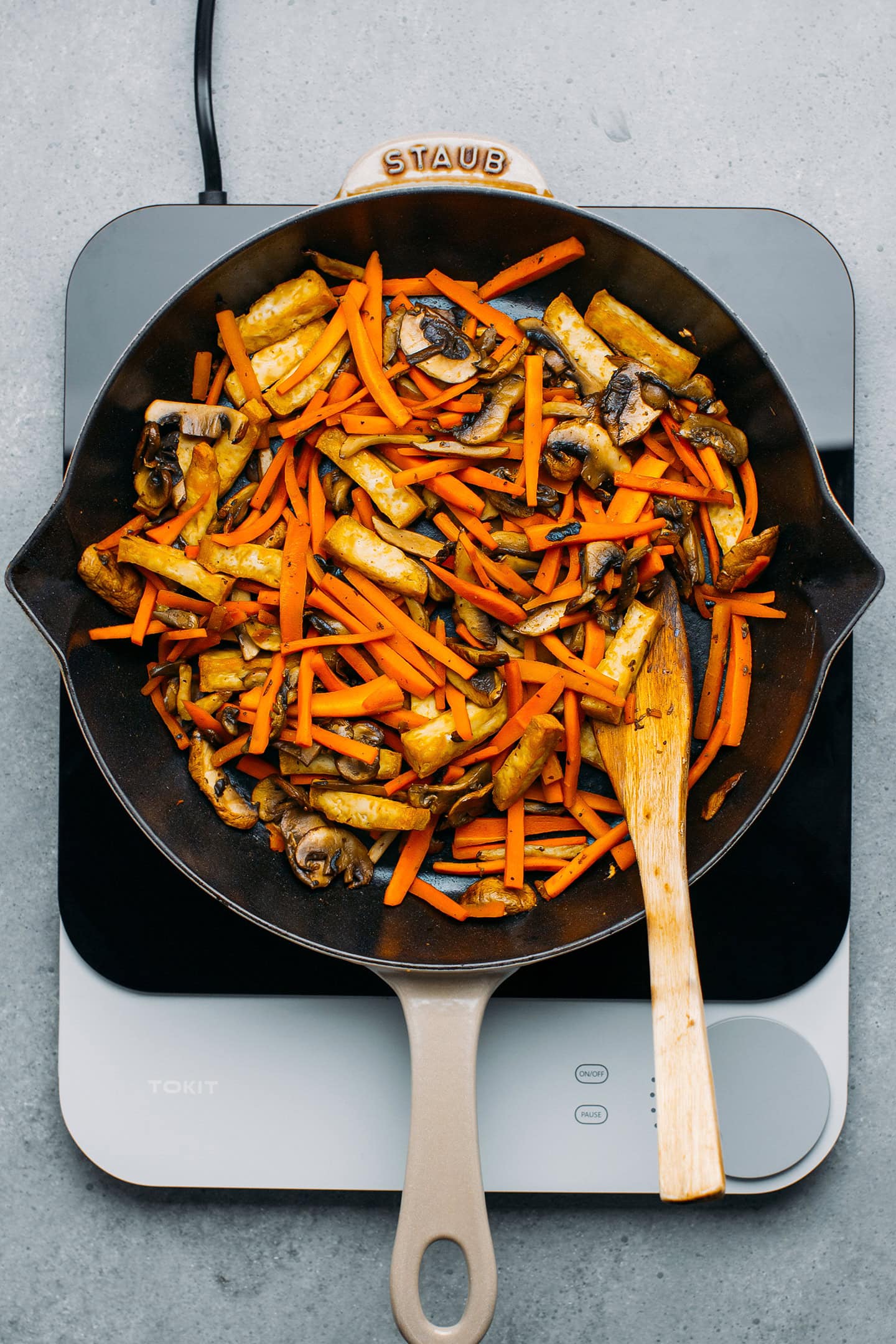 Cooking the Bánh Xèo
Heat a skillet over medium-high heat, add a tablespoon of oil, and tilt the skillet to spread the oil evenly.
Pour in the batter. Add about 1/3 cup of the batter to the hot skillet and tilt to spread it into a thin layer.
Top with the filling. Top one-half of the crêpe with some of the cooked mushrooms, tofu, carrots, and a handful of bean sprouts. Do not go overboard with the amount of filling.
Cook for 3-5 minutes or until golden brown and crispy on the edges. Ultimately, the perfect bánh xèo should have very thin and crumbly edges.
Fold in half and transfer to a serving plate. Enjoy!
Dipping Sauce
Called "nước chấm" in Vietnamese, the dipping sauce is a key component of this dish! The sauce has the perfect balance of sweet, salty, sour, and spicy! To prepare the sauce, you will need:
Vegan fish sauce – While you could substitute it for soy sauce, I highly recommend getting your hands on a bottle of vegan fish sauce. The flavor will be unmatched! You can also check your local Asian store; they sometimes carry it as well.
Lime juice – For a subtle tanginess and citrusy flavor.
Sugar – You can use white or brown sugar. Maple or agave syrup will also work.
Water – Since fish sauce is very salty, you want to dilute it with water.
Minced garlic and chili – For spiciness and flavor.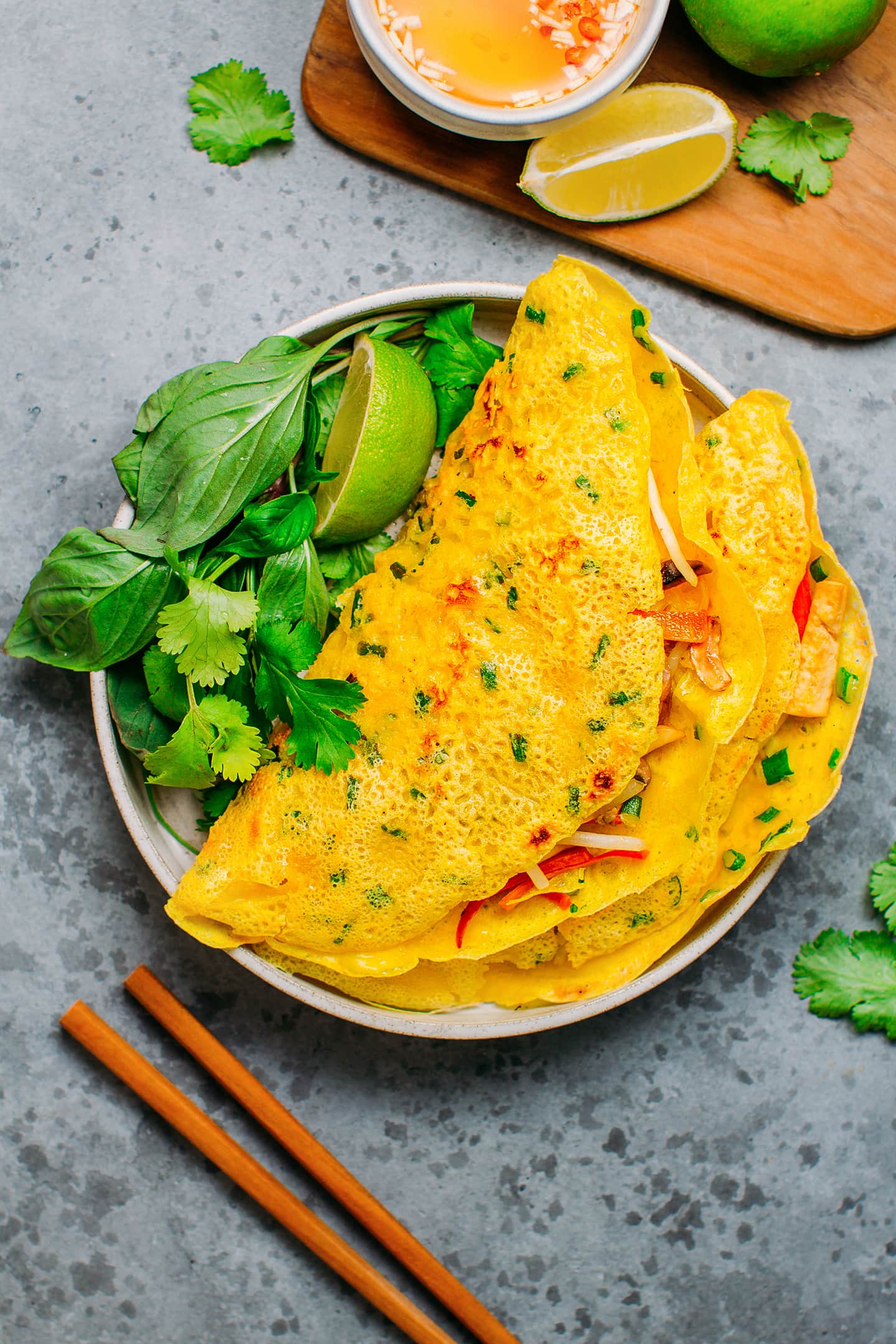 🥢 How to Eat It
There are different ways to eat bánh xèo; however, the most common way to enjoy this dish is to make rolls:
Take a small leaf of lettuce, add some of the crêpe and filling, and a few fresh herbs (Thai basil, perilla leaves, and mint), and roll it tightly into a roll. Then, dip into the fish sauce!
💬 FAQ
Is this recipe authentic?
I tried to make it as authentic as possible and as close to the ones I tried in Viet Nam. There are hundreds of different ways to make bánh xèo, so there is not one authentic recipe.
Can I use pre-made bánh xèo flour mix?
Yes, however, you have to be aware these mixes usually contain wheat flour, so avoid them if you are gluten-free.
Which type of skillet works best for bánh xèo?
Preferably, a non-stick wok. It also works with a very well-seasoned carbon steel wok (you will have to use a bit more oil). Stay away from cast-iron or stainless steel skillets; the crêpe would stick to it.
How long does bánh xèo keep?
This dish is best served immediately while it's still crispy. You can keep the batter for up to 2 days in the refrigerator, but it's best to cook the crêpes just before serving.
I hope you will love this bánh xèo recipe! This Vietnamese classic is incredibly flavorful and loaded with different textures.
🇻🇳 More Vegan Vietnamese Recipes
Let me know in the comments, and leave a rating if you try this recipe!
Update January 2021: Post has been updated with new photos, a more comprehensive recipe, and extra tips!
Recipe
Vegan Bánh Xèo
Crispy Vietnamese crepes made with rice flour and coconut milk. Filled with sautéed mushrooms, mung bean sprouts, carrots, and tofu! Versatile, easy to make, and delicious!
Ingredients
Filling
Dipping Sauce
3

tbsp

water

1

tbsp

vegan fish sauce

1

tbsp

sugar

or maple syrup

1

tsp

lime juice

1/2

clove

of garlic

finely minced

1/4

Thai chili

finely chopped
Instructions
Batter: In a large mixing bowl, whisk together the white rice flour, tapioca starch, salt, sugar, and turmeric.

Add the coconut milk, water, and green onions, and whisk until you get a smooth batter. Cover and set aside for at least 15 minutes.

Filling: Heat the tablespoon of oil in a non-stick skillet. Once hot, add the tofu and sauté for about 5 minutes or until golden brown.

Next, add mushrooms and carrots, and sauté for another 5 minutes. You still want the carrots to be slightly crunchy. Remove from heat and set aside.

To make the Bánh Xèo: heat a teaspoon of oil in a non-stick wok over medium-high heat. Use a kitchen paper towel to spread the oil evenly. Pour about 1/3 cup (or less if using a small wok) of the batter into the skillet and quickly tilt to spread it into an even thin layer.

Arrange about 1/4 cup of the sautéed mushrooms, tofu, and carrots on one half of the crepe. Top with some mung bean sprouts and cook uncovered for 3-4 minutes or until the crepe is golden brown and crispy.

Fold the Bánh Xèo in half and transfer to a serving plate. Repeat with the remaining batter and vegetables.

Serve the Bánh Xèo warm with the dipping sauce and fresh herbs on the side!
Dipping Sauce
Combine all of the ingredients in a small bowl and stir to dissolve the sugar.
Nutrition
Serving:
1
small
|
Calories:
184
kcal
|
Carbohydrates:
23.5
g
|
Protein:
6.3
g
|
Fat:
8.4
g
|
Fiber:
1.4
g
|
Sugar:
2.9
g
Did you make this recipe?
Tag @fullofplants on Instagram and hashtag it #fullofplants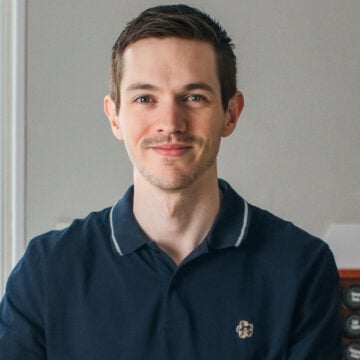 About the Author
Thomas Pagot is the founder, photographer, and recipe developer behind Full of Plants. He created the blog in 2016 as a personal cookbook for vegan recipes. Through years of recipe development, Thomas has successfully grown Full of Plants into a trusted resource for plant-based recipes.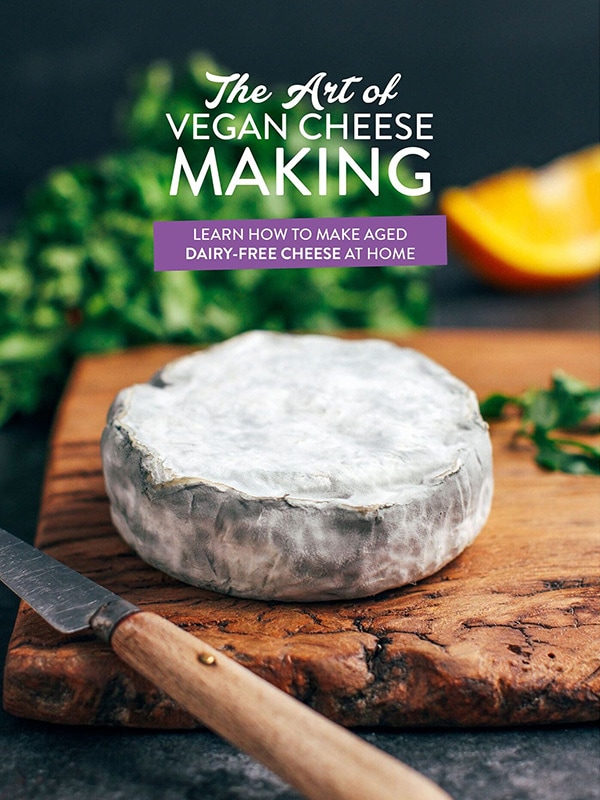 🧀 25 Mind-Blowing Vegan Cheese Recipes!
Sign up for the Full of Plants newsletter and you'll get new recipes delivered by email weekly, PLUS your FREE 100-page printable eBook!