These Vietnamese-inspired egg rolls are filled with mushrooms, carrots, and taro, and come with a sweet and spicy dipping sauce. Tender on the inside, extra crispy on the outside, and very easy to make. It's the best vegan egg rolls!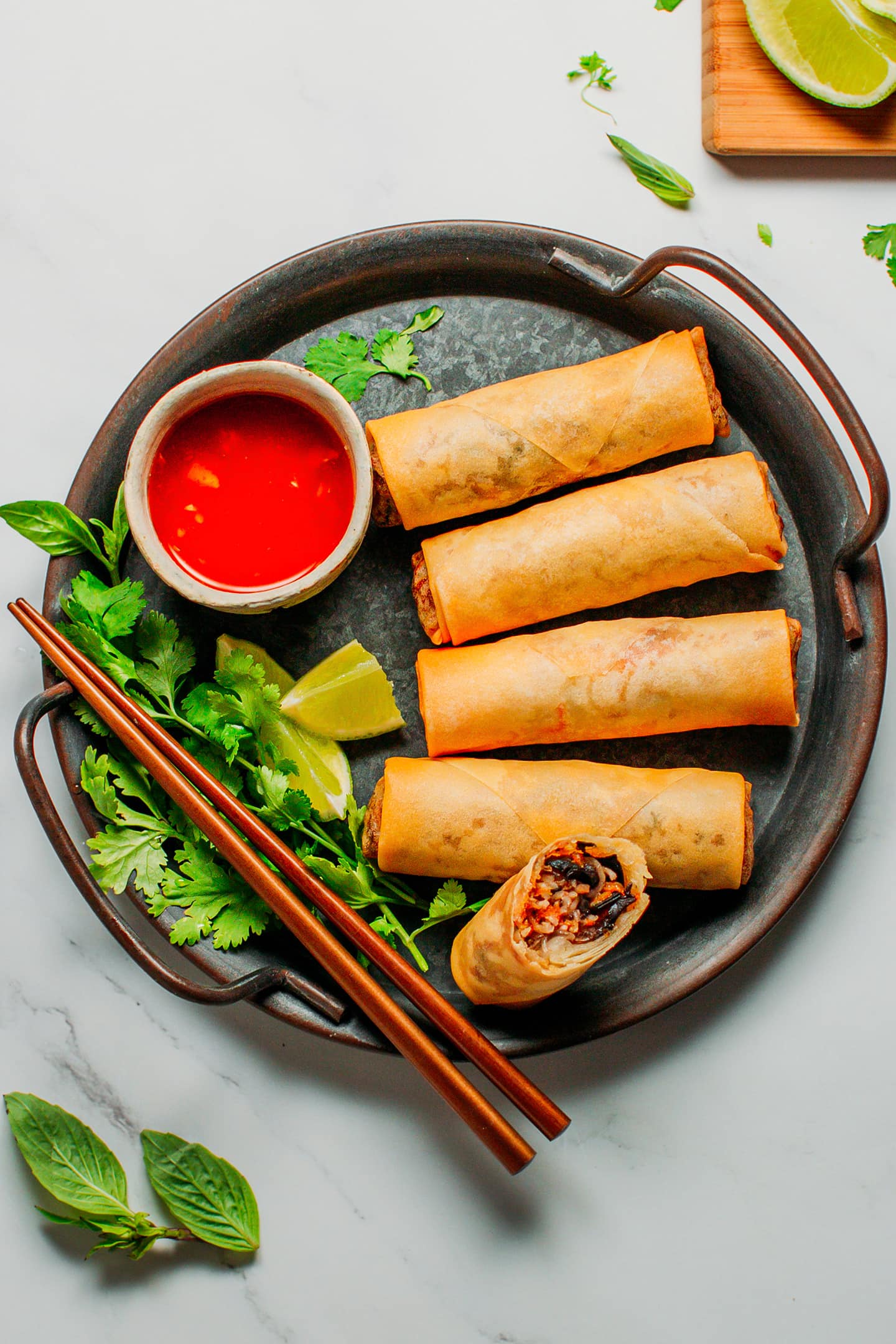 If you ever wondered how to make your own egg rolls, you came to the right place!
⭐️ Why You Should Try This Recipe
Get a taste of Vietnam. Travel from the comfort of your home! This recipe is based on authentic Vietnamese recipes and tastes just like the egg rolls you would find in Vietnam!
Simple preparation. There is no stir-frying required to make the filling. Shred all ingredients, combine and season them, and wrap them in the wrappers. Then all that's left to do is fry them until golden brown!
Andrea said: ★★★★★ "The end result was amazing! First time doing any spring rolls whatsoever, and I loved them! Thank you!"
🥡 What are Egg Rolls
Egg rolls are deep-fried rolls prepared with thin wheat flour wrappers and filled with many different vegetables and/or meat. Egg rolls are popular across many countries in Asia. Here, we are preparing a Vietnamese-inspired version.
There are as many recipes as the people who make them, so they are versatile and can be adapted to your taste. Here, I'm sharing my favorite version that I tweaked many times until I was satisfied with it.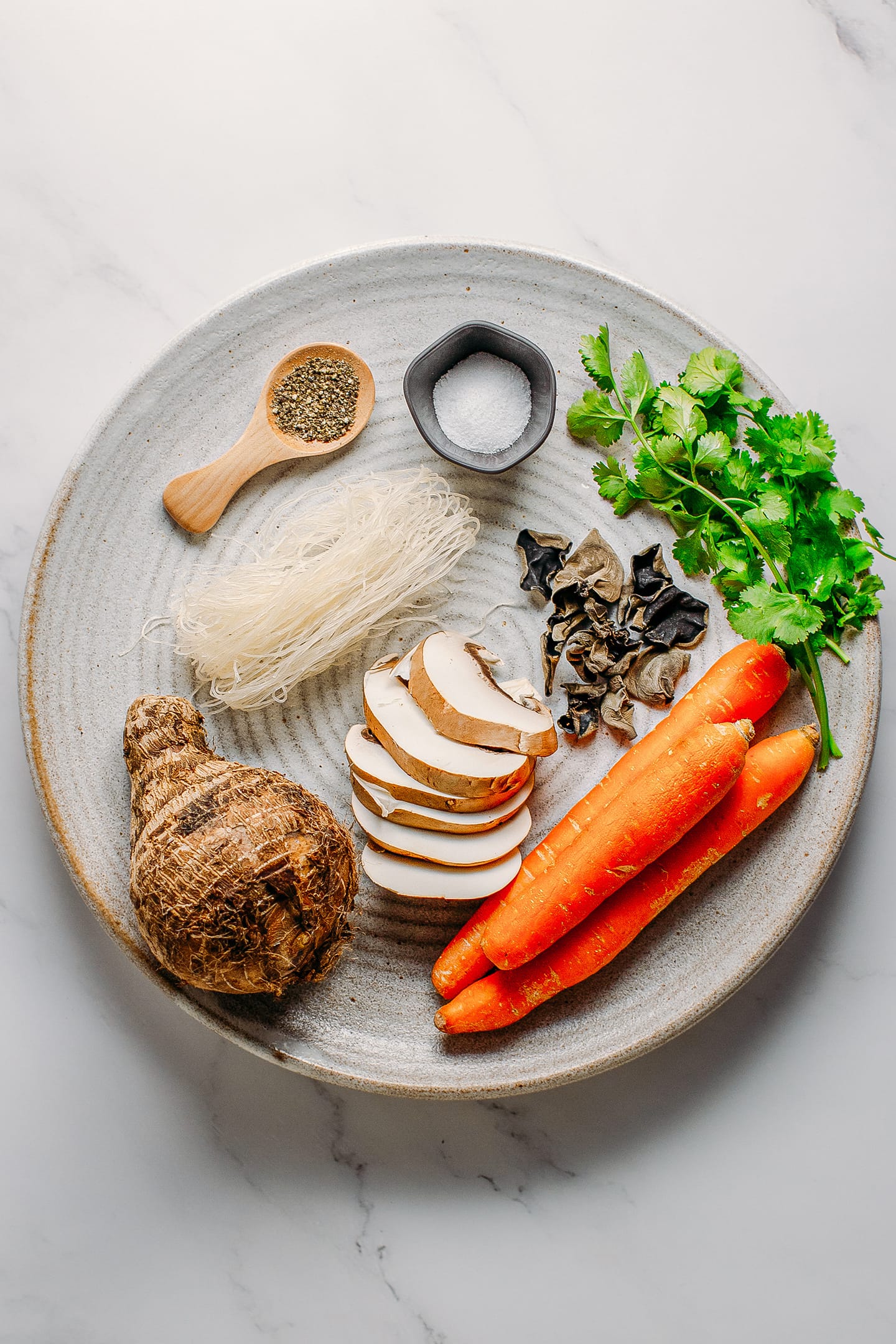 🥕 Ingredient Notes
Here is what you will need to prepare vegan egg rolls:
Taro – The base of the filling consists of taro and carrots. Taro is a root vegetable very popular in Viet Nam. You can find it fresh or frozen in Asian stores or sometimes at the market. If you cannot find taro, feel free to use white sweet potato or regular potato; both make a great substitute.
Carrots – For color, texture, and natural sweetness.
Black mushrooms – Also called wood ear mushrooms, this type of mushroom is sold dried and must be rehydrated. It adds a chewy texture to the filling.
Glass noodles – Adding glass noodles helps the filling stick together slightly. This way, the filling doesn't crumble when you bite into the rolls.
Sugar – To balance with the saltiness.
Salt and pepper
Mushroom seasoning – Mushroom seasoning is a healthier alternative to glutamate. It increases the flavors. It's totally optional, though, and can be replaced with an extra 1/4 tsp of salt.
Green onions – If you want to add extra flavor, feel free to add a couple of tablespoons of chopped green onions!
Note: As opposed to many other recipes you can find online, this one does not rely on cabbage as the main ingredient for the filling. I have never seen any egg roll with cabbage in Vietnam. Taro is always used instead.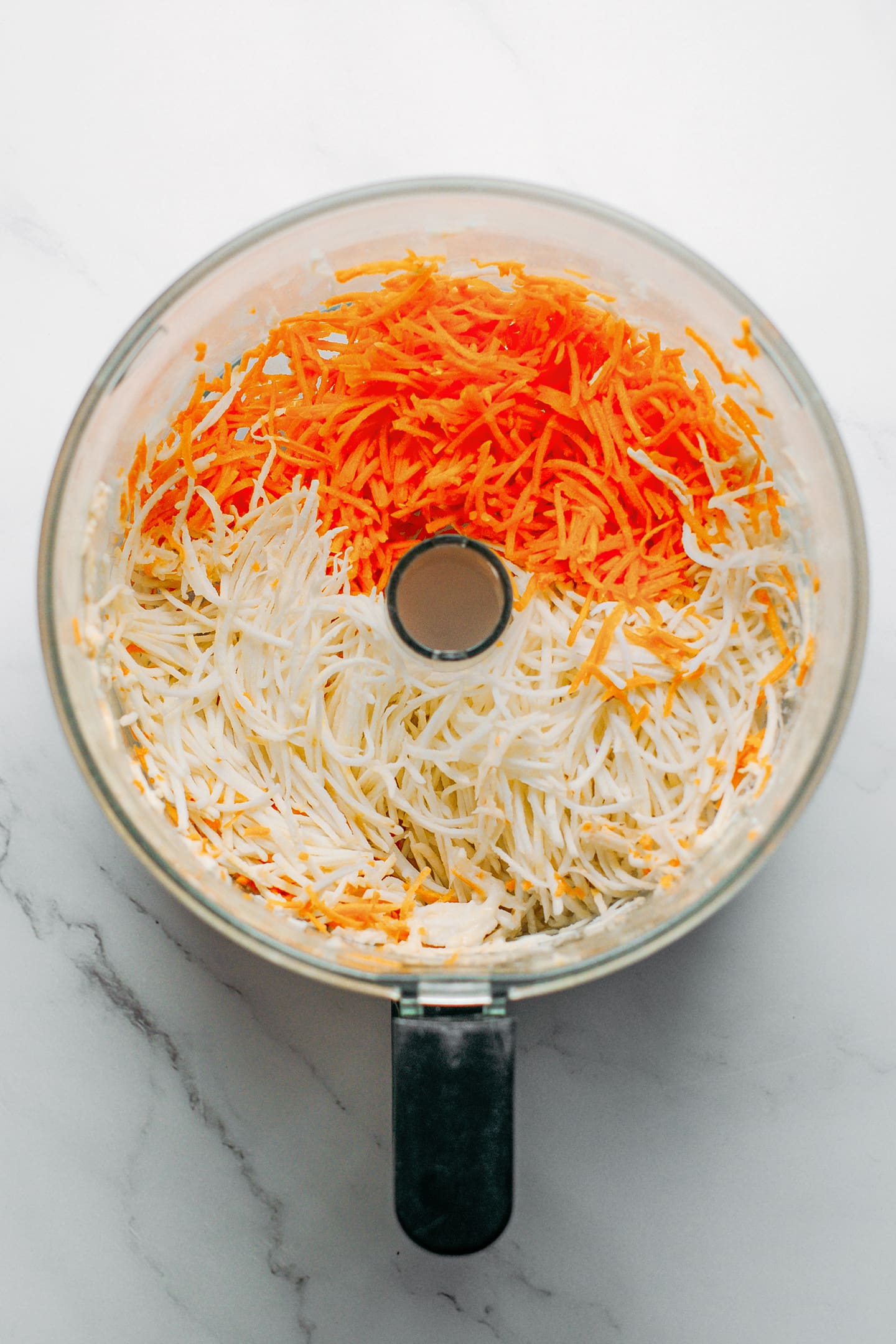 🥣 How to Make Vegan Egg Rolls
Prepare the filling
To make things easier, we are not cooking the filling, which also saves time. To prepare the filling:
Shred the taro and carrots using a vegetable grater or a food processor fitted with the grating blade. Transfer to a mixing bowl.
Rehydrate the dried mushrooms and glass noodles in hot water for 5-10 minutes. Drain and slice them into 2-inch pieces.
Transfer to the bowl and coat with the seasonings. Stir to combine everything.
The filling is now ready to be wrapped!
Choosing the right wrapper
While rice paper can be used as the wrapper, it doesn't yield the best results in terms of flavor, texture, and look.
Use wheat flour wrappers for smooth, golden brown, and super crispy rolls. You can find them in the frozen section of any Asian store. While most do not contain eggs, check the ingredients just in case. If you want to make your own wrappers, check out my Homemade Egg Roll Wrappers recipe! It takes just 15 minutes and 3 ingredients.
How to wrap egg rolls:
Prepare a slurry: Dissolve 1 tablespoon of cornstarch in 2 tablespoons of water. Set aside.
Lay a wrapper on a clean working surface or chopping board.
Place 2-3 tablespoons of the filling at the bottom of a wrapper.
Fold the bottom corner above the filling, followed by the right and left sides. Roll it up very tightly.
Dip your finger into the cornstarch slurry and slightly wet the top corner. This will help the egg roll to stay closed. Finish rolling and transfer to a plate.
Repeat with the remaining filling and wrappers!
Quick Tip: I like to double-wrap my egg rolls for a crunchier shell. Instead of using just one egg roll wrapper, lay two of them before adding your filling and rolling it. It is optional, but I found that using two wrappers instead of one not only gives the egg rolls a better texture but also gives them a better look as you can't see the filling through the wrapper.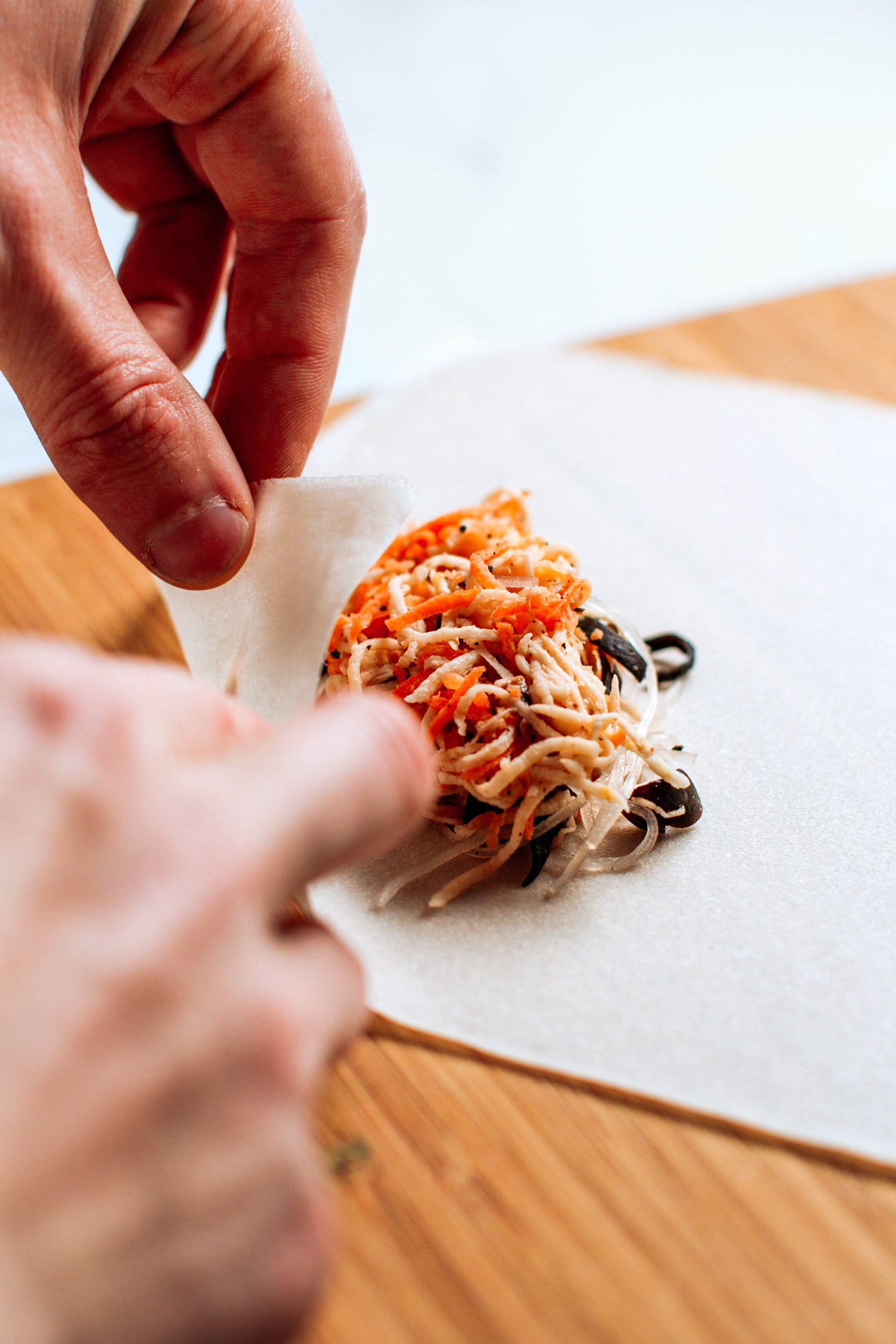 🌶 Dipping Sauce
The sauce is almost as important as the egg rolls themselves. It definitely takes the egg rolls to another level and is, in my opinion, essential.
Egg rolls are often served with a nước mắm-based dipping sauce called "Nước chấm" or a sweet and spicy chili sauce.
For an authentic flavor, I recommend getting your hands on vegan fish sauce, it has a very pungent smell, but once combined with some sugar, garlic, chili, and water to dilute, it makes the most amazing dipping sauce!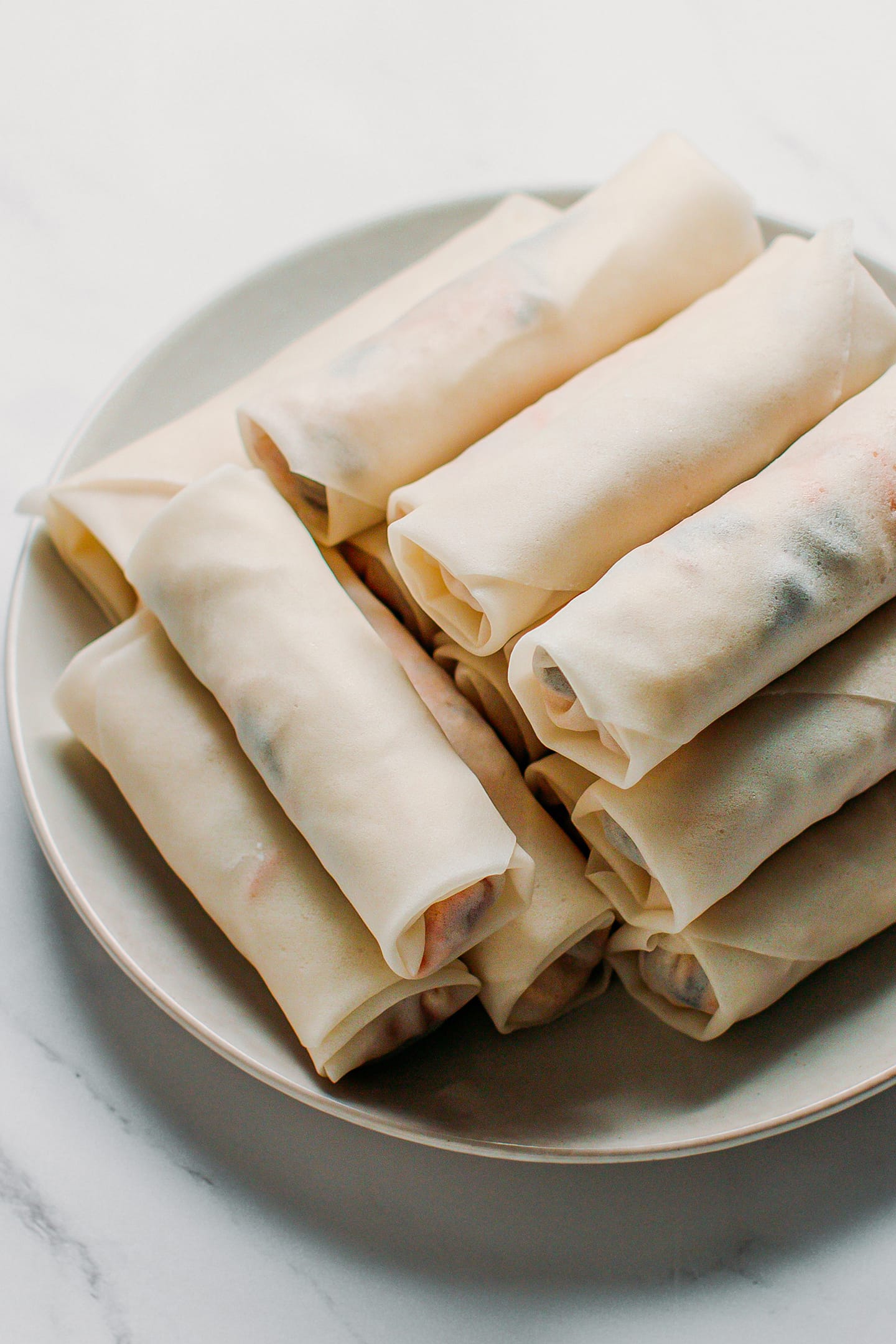 💬 FAQ
Where can I buy taro?
You can find taro in Asian markets (fresh or frozen) or in many vegetable markets. It is usually located near the cassava roots.
What can I substitute for taro?
A good alternative would be white sweet potatoes. If you can't find any of these, shredded cabbage or regular white potatoes can be an alternative, but be aware the flavor and texture will be quite different.
Are vegan egg roll wrappers egg-free?
The short answer is yes. Most egg roll wrapper brands are vegan and made with wheat flour, water, coconut oil, and salt. I still recommend checking the ingredients on the package to make sure.
Can these vegan egg rolls be baked?
Yes, however, I do have a preference for fried ones. If you want to bake these, brush each egg roll with oil and bake for 35 minutes in a 350°F (175°C) preheated oven.
Is this recipe authentic?
I tried to make it as authentic as possible to Vietnamese vegetarian egg rolls. However, there are hundreds of different versions, so there is not one exact recipe.
❄️ Freezing Tip
These vegan egg rolls freeze very well. Once wrapped, arrange the unfried egg rolls in a freezer-safe container. Egg rolls will keep for up to 3 months in the freezer. Thaw on the counter for 3-4 hours before frying.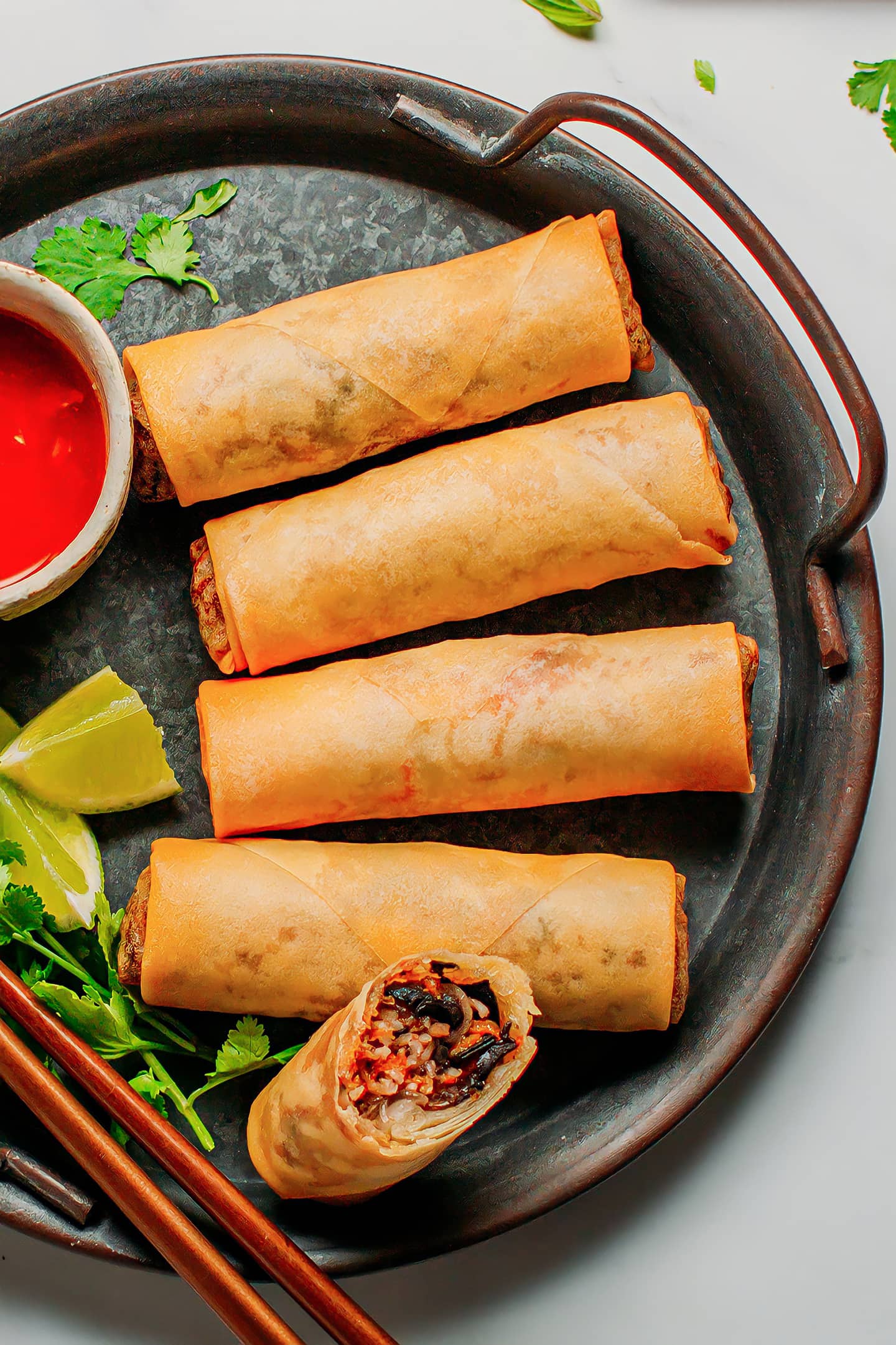 These vegan egg rolls (Chả giò chay) make a delicious appetizer but can also be eaten as an entrée with some vegetables or greens. Wrap your egg roll, some Thai basil, perilla leaves, and cilantro with a leave of lettuce. Dip into the sauce, and enjoy!
I hope you will all like this Vietnamese-approved vegan egg roll recipe!
🇻🇳 More Vietnamese-Inspired Vegan Recipes
Let me know in the comments if you try this recipe!
Recipe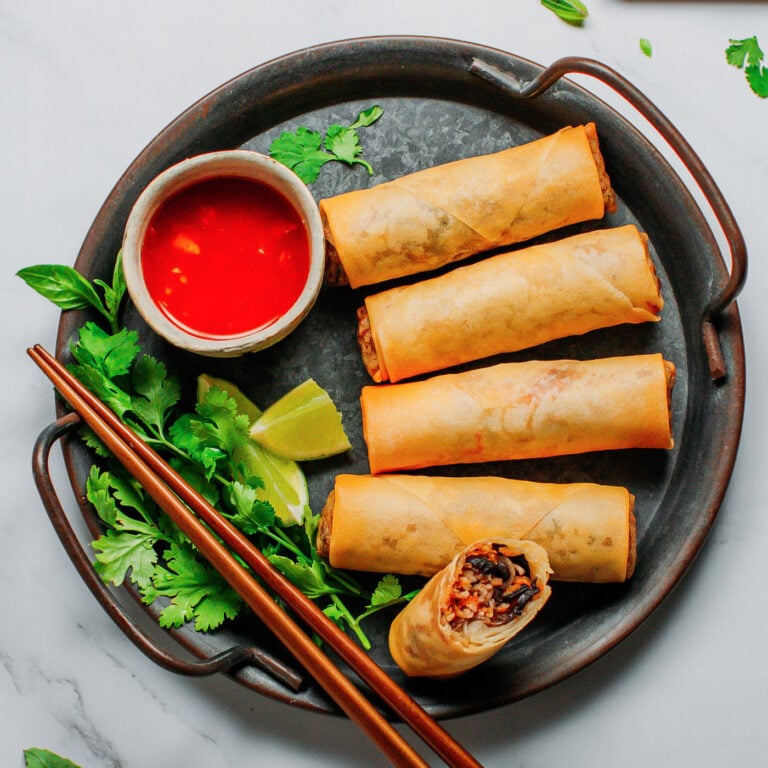 Easy Vegan Egg Rolls
Easy vegan egg rolls that are super crispy on the outside and tender on the inside. Served with a spicy and garlicky dipping sauce! Better than takeout!
Ingredients
9

ounces

taro

or one small white sweet potato

1

medium

carrot

2

tbsp

shredded wood ear mushrooms

soaked in warm water for at least 15 minutes

2-3

cremini mushrooms

1/3

cup

dry glass noodles

1

tsp

sugar

3/4

tsp

ground black pepper

1/2

tsp

salt

optional: 1 tsp vegan fish sauce and 1 tsp mushroom seasoning

2

cups

vegetable oil

for frying
Dipping Sauce
1

tbsp

vegan fish sauce

or use soy sauce

1/4

cup

water

1

tbsp

sugar

1/2

tsp

lime juice

2

cloves

of garlic

minced

1

small chili

finely chopped
Instructions
Peel the taro and carrot and rinse them under cold water. Finely shred them using a box grater, or a food processor fitted with the grating attachment. Transfer to a large mixing bowl.

Drain the dry black mushrooms and finely mince them. Add to the bowl. Mince the fresh cremini mushrooms and add them to the bowl as well.

Place the glass noodles in a small bowl. Boil a small pot of water, once boiling, pour over the noodles and let it sit for about 5 minutes, or until tender. Drain the noodles, rinse them under cold water, and chop them into 2-inch pieces. Add to the bowl.

Next, add the seasonings: sugar, black pepper, salt, nước mắm, and mushroom seasoning if using. Mix until everything is well combined. I usually use my hands to mix. At this point, you can tweak the seasonings to your liking by adding spices like five-spice, ginger, or even a drizzle of sesame oil for extra flavor. Personally, I didn't add any extras as I prefer to keep it simple and more traditional.

In a small bowl, whisk together 1 tablespoon of cornstarch with 2 tablespoons of water. Set aside.

Lay one egg roll wrapper on a clean cutting board, one corner facing you. Place about 1/4 cup of the filling at the bottom of the wrapper and shape it into a log. Fold the bottom corner of the wrapper over the filling. Next, fold the right and left corners to enclose it. Continue rolling up tightly. Dip your finger into the cornstarch mixture and lightly wet the top corner, then finish rolling. This will allow you to securely close the egg roll and prevent it from unrolling.

Transfer to a clean plate and repeat with the remaining wrappers and filling. You can wrap the plate with plastic film and keep them in the refrigerator for up to two days, and fry them just before serving.

Heat the vegetable oil in a deep skillet (or large saucepan) over low-medium heat. Once hot, fry 4-5 egg rolls at a time, until golden brown on each side, 7-10 minutes. Transfer to a plate lined with a kitchen paper towel to remove excess oil. Serve hot or at room temperature with the spicy dipping sauce!
Dipping Sauce
In a small bowl, combine the vegan fish sauce (or soy sauce), water, lime juice, garlic, chili, and sugar. Mix to combine. Taste and adjust saltiness and sweetness to your liking.
Notes
Nutritional information for this recipe is an estimate, since it is fried it is hard to calculate exactly.
Nutrition
Serving:
1
Egg Roll
|
Calories:
133
kcal
|
Carbohydrates:
20.8
g
|
Protein:
2.5
g
|
Fat:
4.6
g
|
Fiber:
1.1
g
|
Sugar:
1
g
Did you make this recipe?
Tag @fullofplants on Instagram and hashtag it #fullofplants