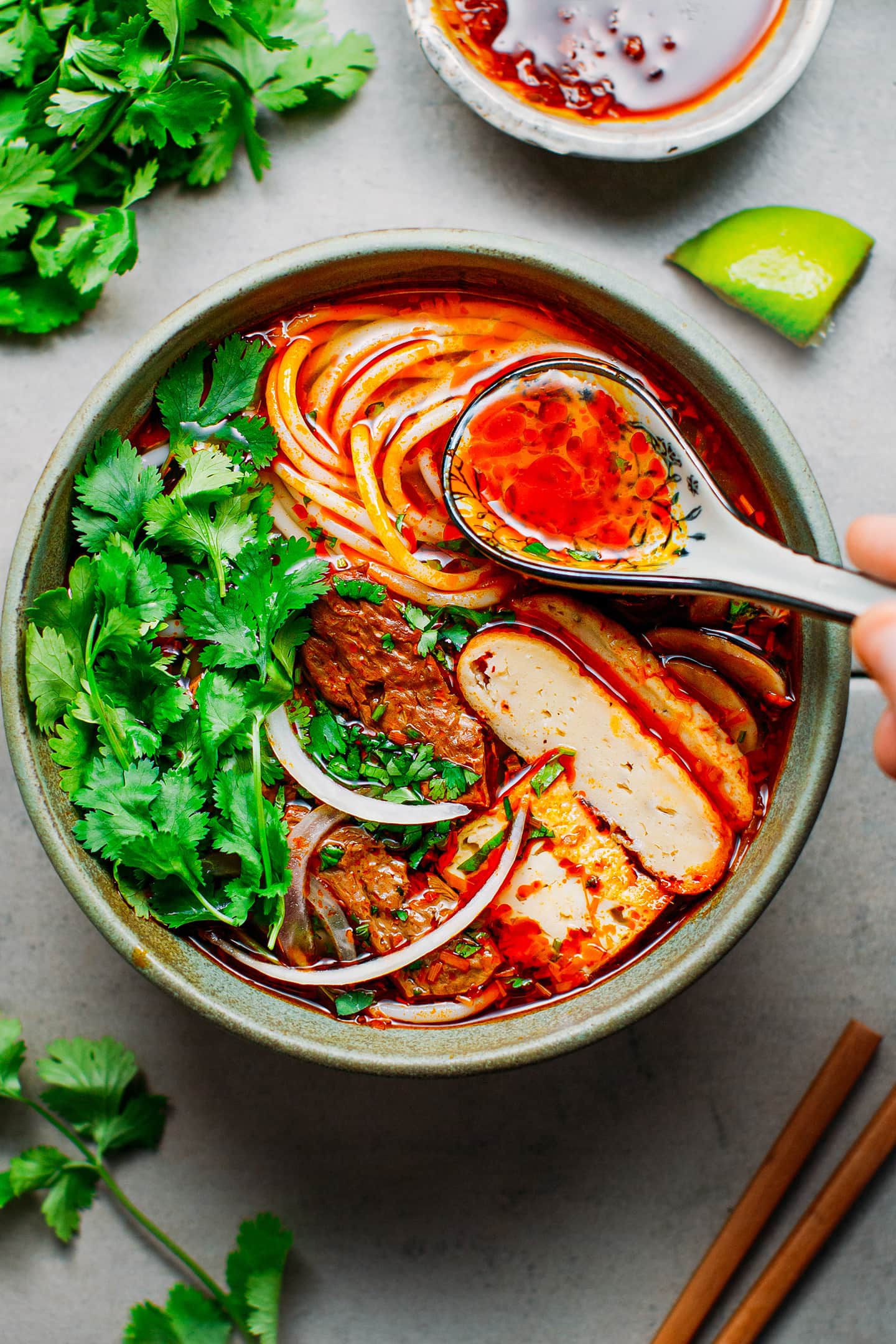 Update January 2021: This recipe has been updated with new photos, improved flavor, and tips, as I thought this soup was not getting the love it deserved.
One of my favorite Vietnamese dish: Bún Bò Huế! This noodle soup is not as famous as Phở and I really wonder why, because it's insanely good!
Thick round noodles are served in a vibrant, spicy and flavorful broth with fried tofu, vegan beef, sautéed mushrooms, onions, and many other toppings. It's filling, delicious, and makes a complete and healthy meal!
I tried a ton of different vegan bún bò huế in Viet Nam, some were good, some just okay and one was delicious. I had to recreate my favorite version at home!
WHAT IS BÚN BÒ HUẾ
Bún bò huế is a Vietnamese noodle soup that originated from the city of Huế, the old capital of Vietnam. The authentic version consists of a rich broth infused with lemongrass, beef, salt, sugar, and a chili paste called saté. One of the unique aspect of this noodle soup is that it's served with thick round noodles (called bún). Bún is also the Vietnamese name of thinner round noodles used in many other dishes, but when talking about Bún bò huế, the noodles are always thicker.
The soup is often topped with a variety of toppings like sausage (called Chả), fresh cilantro, raw onion slices, mushrooms, banana blossom, mung bean sprouts, Thai basil, and more.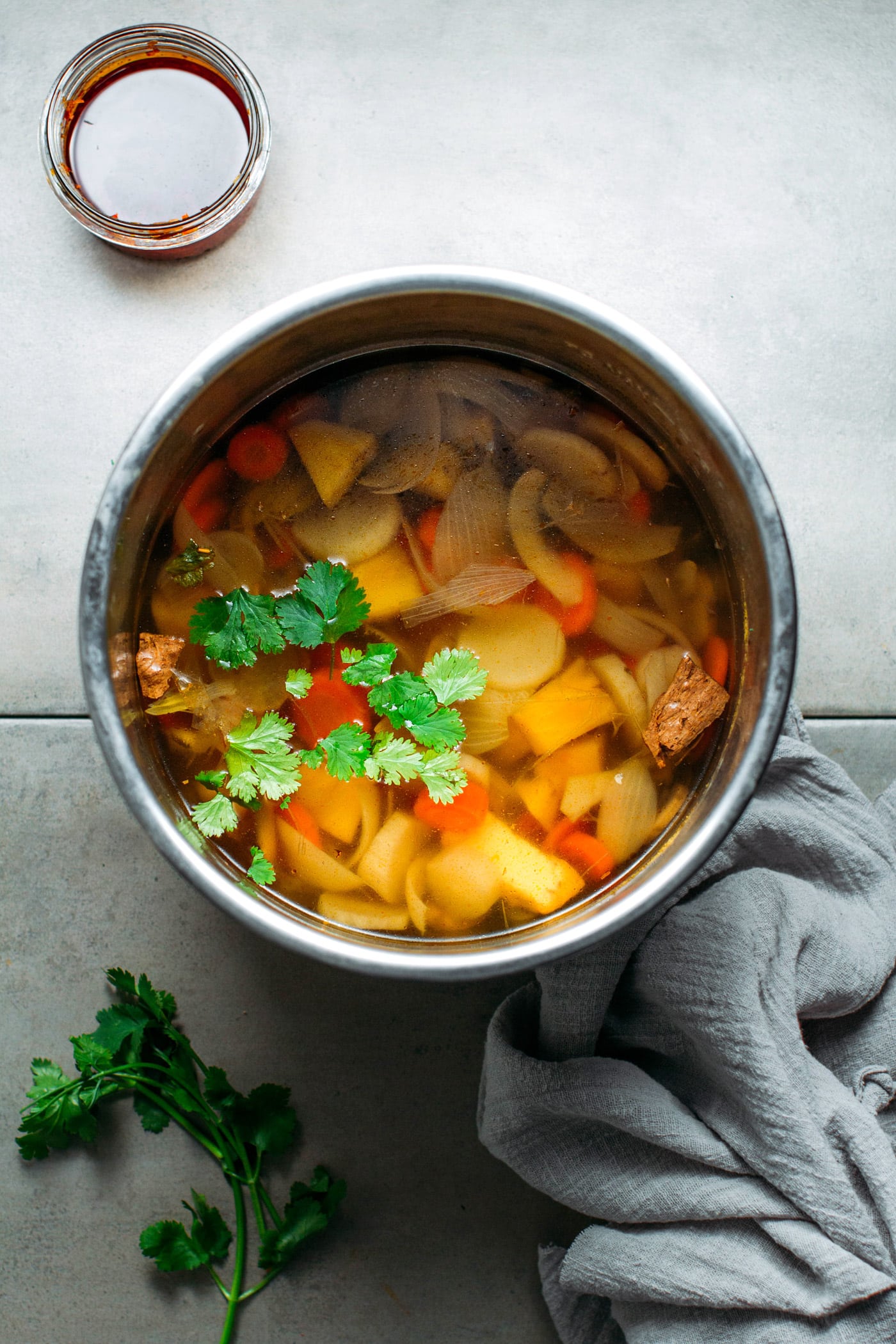 HOW TO MAKE BÚN BÒ HUẾ
Getting the broth right is one of the most important part as it's really what makes this dish. The broth itself is usually (every cook has its own way to make it) not spicy but very flavorful. The spiciness comes from the saté paste that is stirred into the broth later.
Making the broth is easy, you cut all the vegetables into thick slices, add to a pot and fill with water. Add some salt, sugar, and let it simmer for about 2 hours. I went with a mix of carrot, radish, lemongrass, mushrooms, and pineapple for a natural sweetness. This broth is actually a good base for many other Vietnamese noodle soups. For extra flavor, I recommend adding some mushroom seasoning, as well as a teaspoon of vegan fish sauce.
While the broth tastes good the first day, I found it to taste even better the next day, so feel free to prepare it ahead of time.
The secret ingredient to that deep red/orange color! Saté is a paste that consists of lemongrass, chili, garlic, and shallots that are sautéed until fragrant. The oil is first colored with anatto seeds that are fried for a couple minutes and then strained. You can find my Saté recipe here.
Once your saté is ready and while the broth is simmering, prepare the noodles and toppings:
Noodles: I recommend using thick round rice noodles. Let them soak in cold water for at least 1 hour, or up to 3 hours to reduce cooking time.
Vegan beef: While optional, beef slices makes this dish more "authentic". I went with Imitation Beef Slices.
Tofu: Fried tofu is best, but you could substitute with white tofu, vegan chick'n, or your favorite plant-based meat.
Vegan sausage: Cut into thin slices, it adds texture and protein.
Sliced onions: Raw, for some crunch.
Fresh herbs: Cilantro is mandatory. Thai basil adds extra flavor if you have it on hand.
Extras: This noodle soup is also usually topped with mung bean sprouts and banana blossom. Totally optional.
Sautéed Mushrooms: In addition of the mushrooms used in the broth, I like to sautée extra mushrooms and deglaze with soy sauce. It's just a bonus topping.
I personally like to add the vegan beef, tofu, and vegan sausage to the broth and cook for another 5 minutes, this way they get time to soak up the flavors of the broth and become super juicy, so good!
To serve, you want to add about a tablespoon of saté into each bowl before pouring in the hot broth. As opposed to some other recipes, I prefer to add the saté individually so everyone can adjust the spiciness to taste. Start with about 2 teaspoons and add more to your liking.
Add the cooked rice noodles, sautéed vegan beef slices, tofu, sausage, raw onions, and top with a ton of fresh herbs! Enjoy!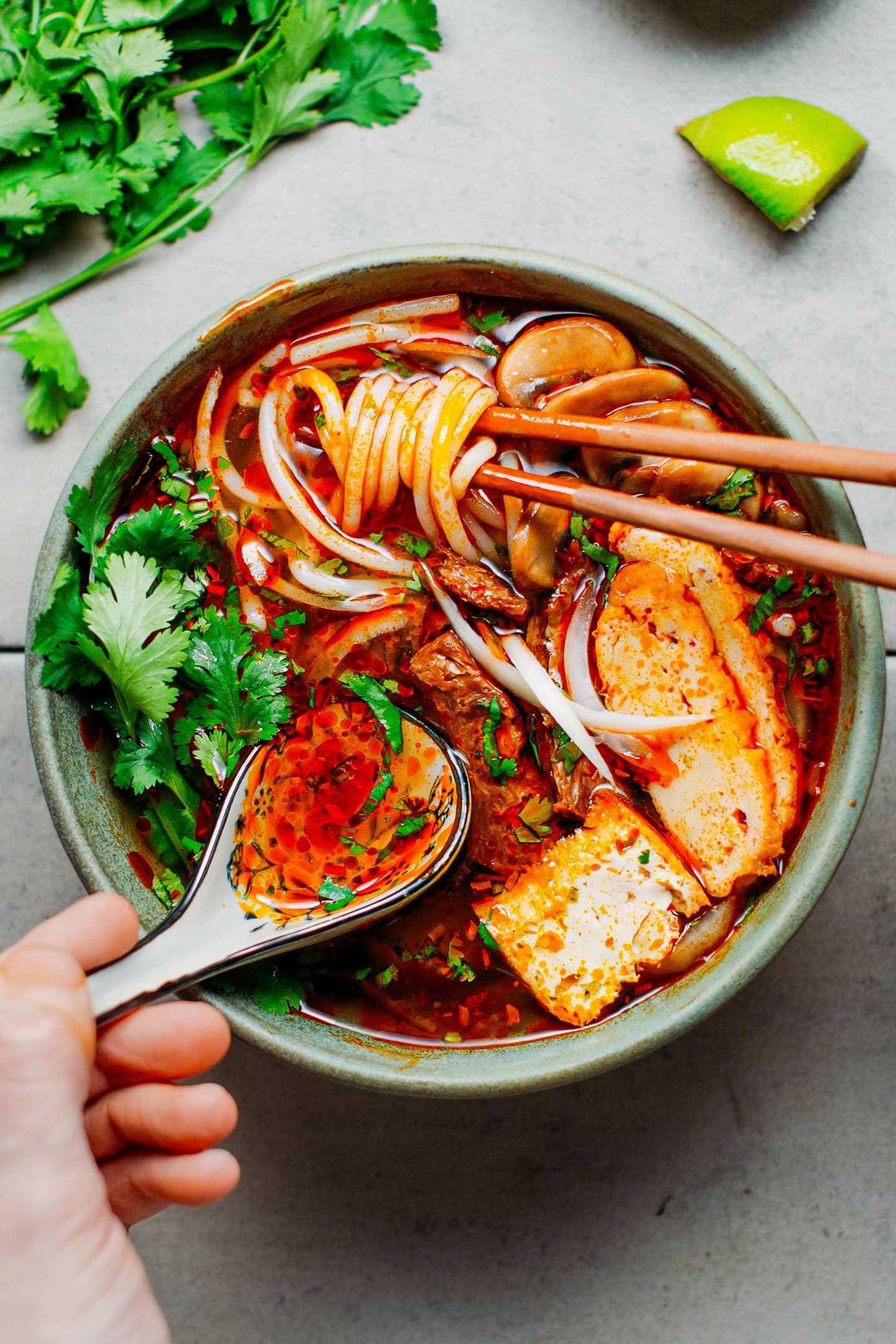 This spicy Vietnamese noodle soup is one of my favorites! The broth is so rich and spicy, with a light lemongrass aroma. It's perfectly salty, a bit sweet, quite spicy, and a bit sour if you add a squeeze of lime. The perfect combination! Plus the toppings absorb all the flavors from the broth. A must-try!
If you like noodle soups, check out this Lemongrass Soup with Fermented Tofu or this Hot & Sour Jackfruit Wonton Soup!
Let me know in the comments if you try this recipe!
📖 Recipe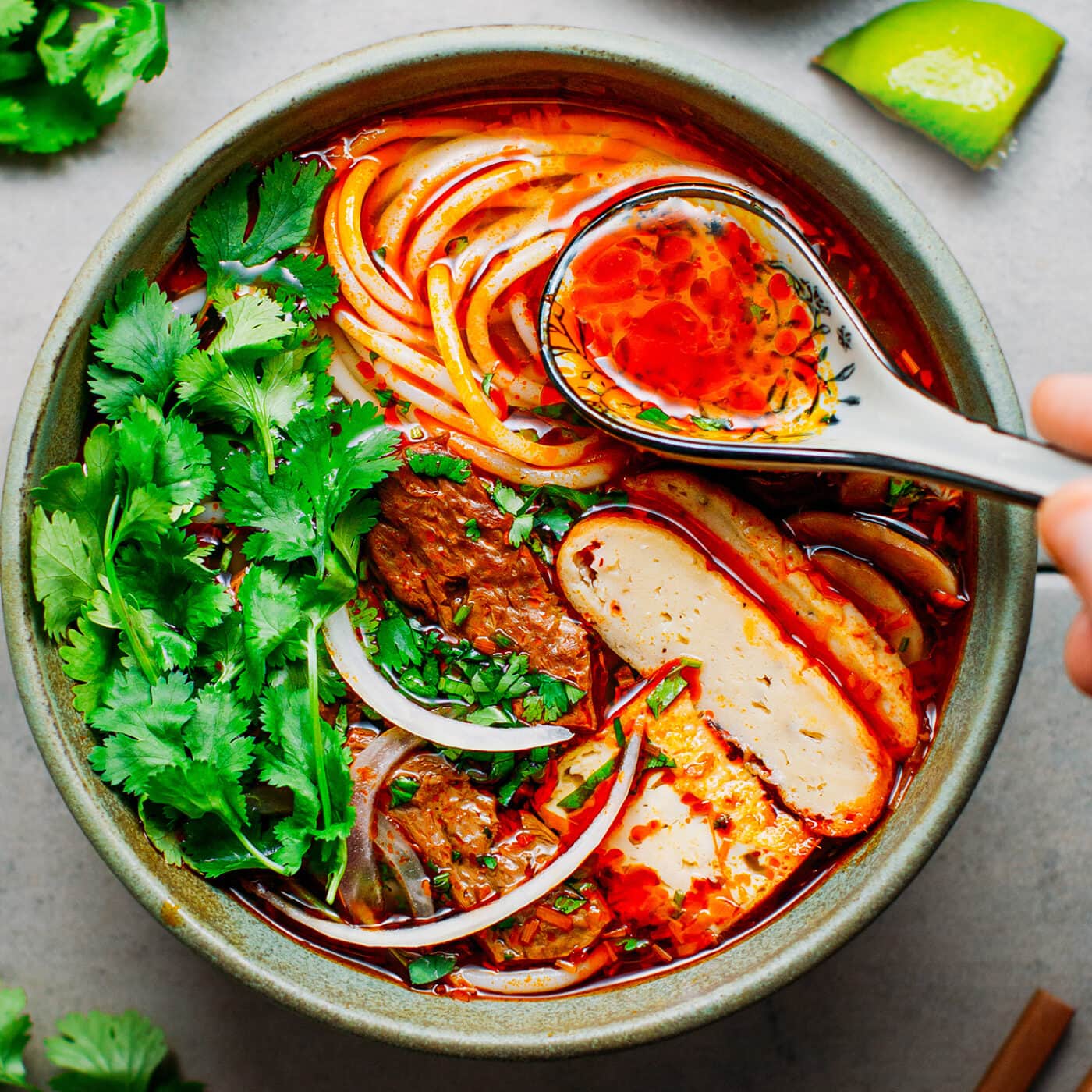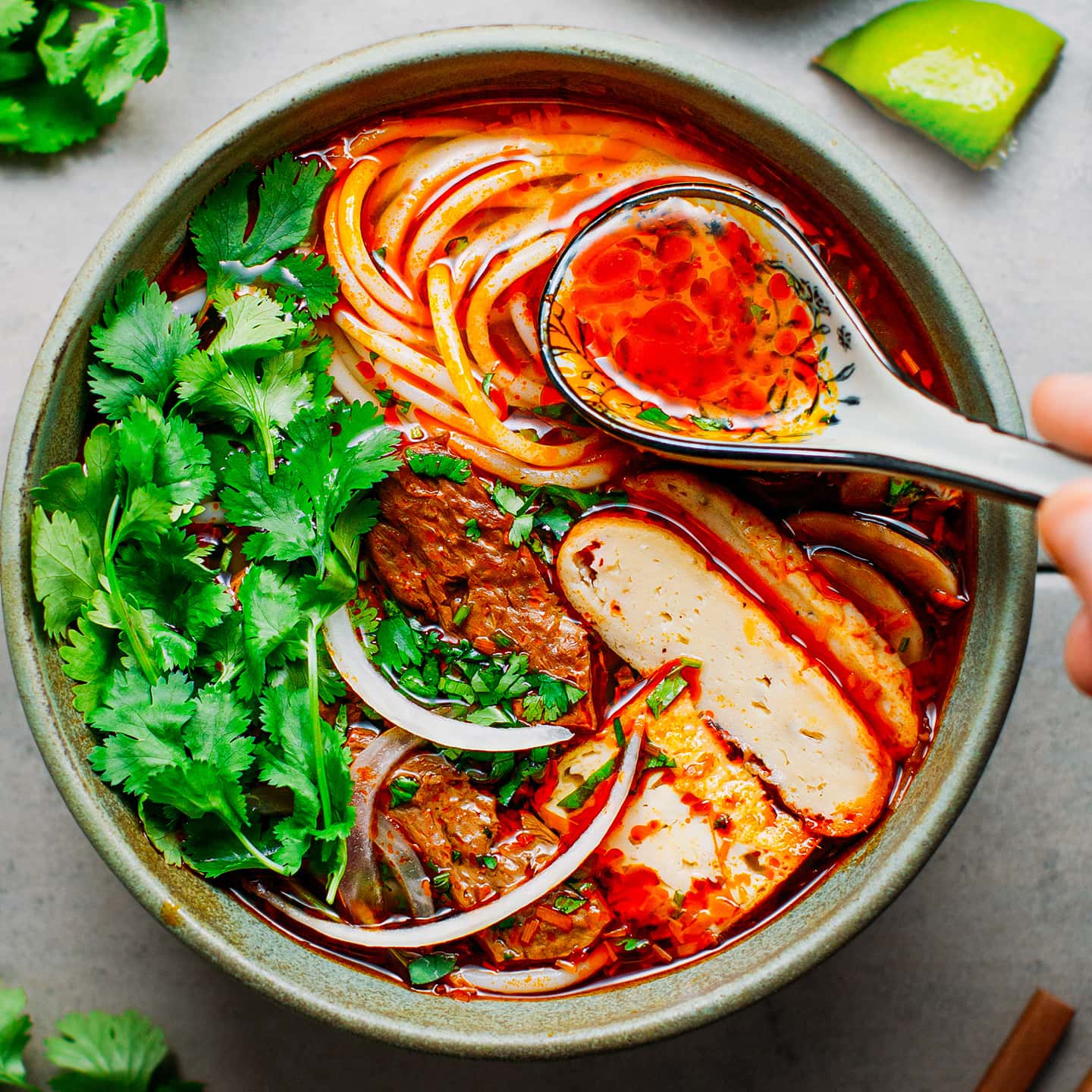 Vegan Bún Bò Huế
Incredibly flavorful Vietnamese noodle soup infused with chili, lemongrass, and topped with vegan beef, fried tofu, sautéed mushrooms, and fresh cilantro. One of my favorites!
Ingredients
Broth
10

cups

water

2

medium carrots

1

medium daikon radish

1

cup

chopped pineapple

2

lemongrass stalks

slightly smashed

1

cup

mushrooms

sliced

1

tablespoon

sea salt

1

tablespoon

rock sugar

or regular sugar

1

teaspoon

vegan fish sauce

optional

1

teaspoon

mushroom seasonning

optional

¼

cup

freshly chopped cilantro

or sawtooth coriander

3

tablespoon

saté
The Rest
About 5

ounces

dry bun noodles

1

block

of fried tofu

cut into ½-inch slices

½

onion

thinly sliced

1

piece

vegan sausage

cut into slices, optional

For serving: Thai basil, cilantro, lime juice
Instructions
Broth
Peel and cut the carrot and radish into 1-inch slices. Add to a large pot with the chopped pineapple, lemongrass stalks, mushrooms, salt, sugar, and fish sauce if using. Cover with the 10 cups of water.

Bring to a boil over medium heat, then lower the heat and let simmer (on low-medium) uncovered for about 2 hours. In the meantime, if you haven't already, prepare the saté.
The Rest
If using, soak the vegan beef in water for at least 25 minutes. Then drain and squeeze to press out excess water. Transfer to a small mixing bowl and season with about ¼ teaspoon salt, ½ teaspoon sugar, and a pinch of ground black pepper. Stir to coat.

Heat a tablespoon of oil in a large skillet over medium heat. Once hot, add the vegan beef and sautée for 3-5 minutes, or until slightly golden. Remove from heat and set aside.

Cook the rice noodles according to the package instructions. Drain the noodles and divide into serving bowls. Add about 1 tablespoon of saté (more or less depending on how spicy you want it) to each bowl. Pour in the hot broth and stir to dissolve the saté. Top with vegan beef slices, tofu, vegan sausage, sliced onions, a squeeze of lime, and more fresh cilantro. You can also add mung bean sprouts and/or banana blossom for extra texture. Enjoy immediately!

The broth will keep for up to 4 days in the refrigerator.
Notes
No nutritional information for this recipe as it is very hard to calculate.
Did you make this recipe?
Tag @fullofplants on Instagram and hashtag it #fullofplants