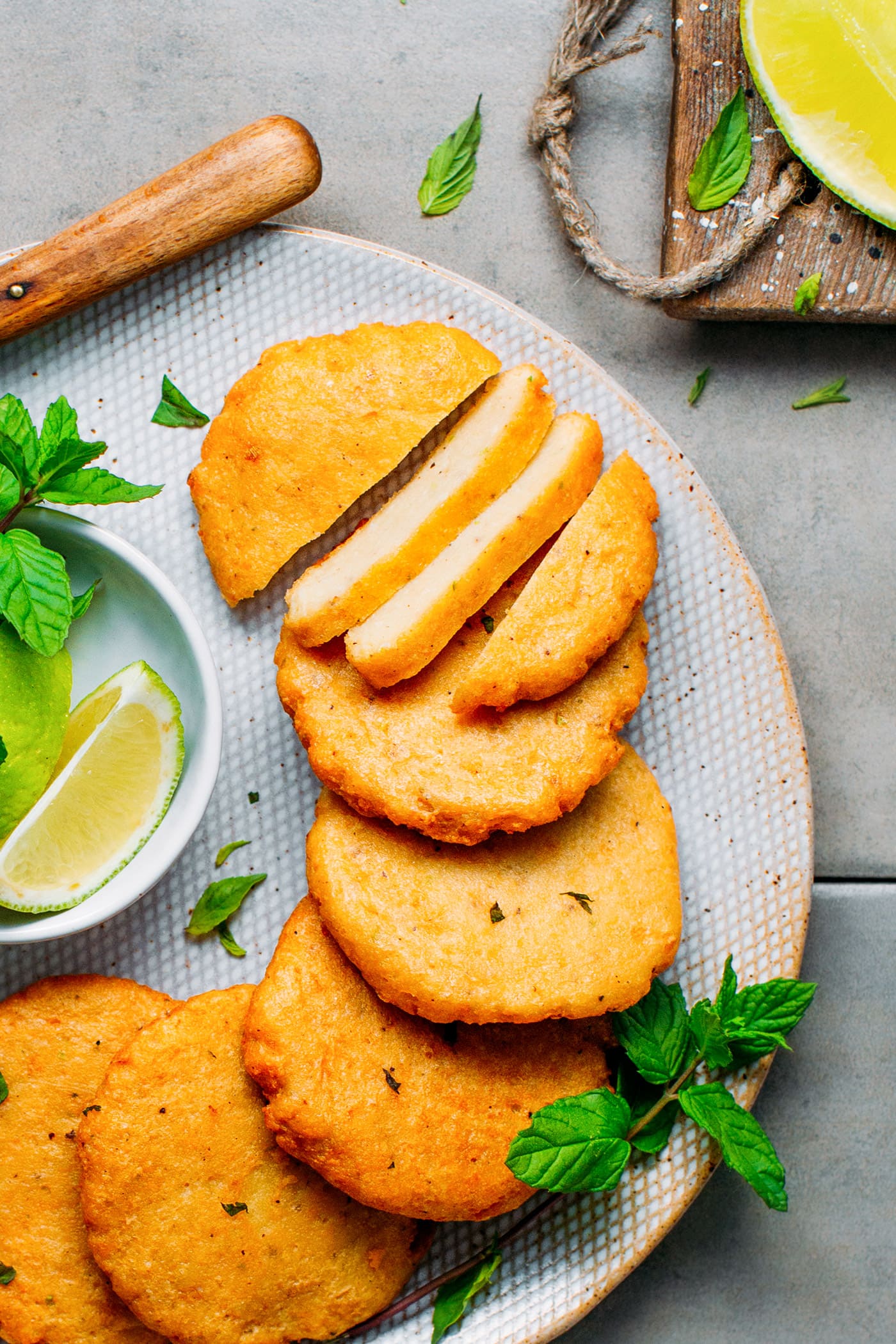 Introducing vegan sausage patties!
I'm super excited to finally share this recipe with you guys! These vegan sausage patties that are perfectly tender, meaty, high in protein, and incredibly versatile. Let's make vegan sausage!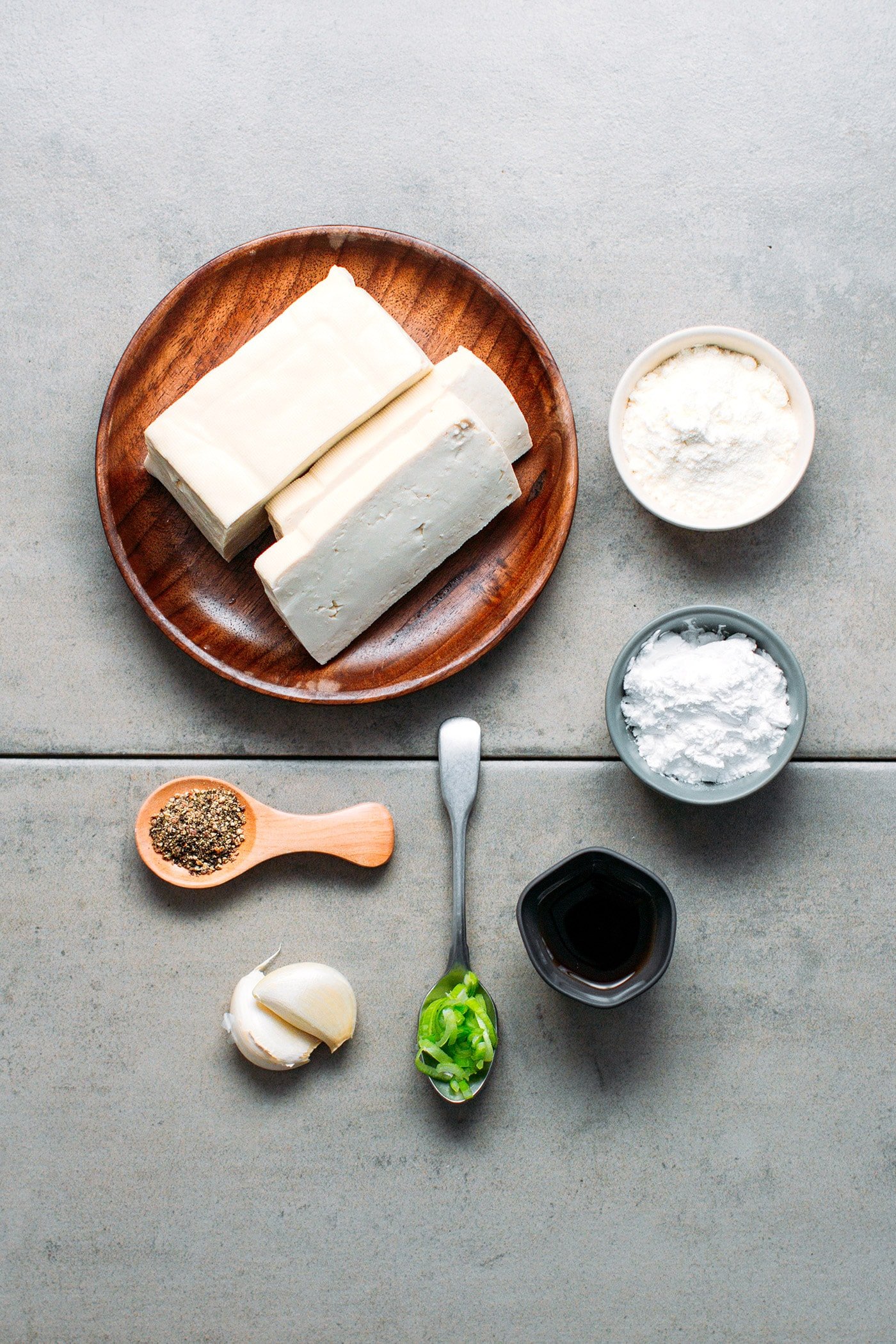 These patties are inspired by Vietnamese fish cakes, called "chả cá". I used to love the vegan version sold at the local market, unfortunately because of the language barrier I could never figure out how they made it. Plus they would probably not share their secret recipe.
After many failed attempts, I can finally say I nailed it!
These patties have a super tender texture, are very slightly chewy, and can be prepared and cooked in an unlimited number of ways!
HOW TO MAKE VEGAN SAUSAGES
We start with firm tofu (if you are not a tofu lover, trust me you will never guess these are made with tofu!) that we squeeze in a nut milk bag to drain as much water as possible. To give you an idea, I started with a block of about 400g and drained about 80g of water. Depending on the brand of tofu used, this ratio can vary.
Once our tofu is drained, transfer to a food processor and add the rest of the ingredients. We are using:
All purpose flour: Essential to give the sausage structure. Without it the patties are crumbly, oily, and too soft. I haven't tried with a gluten-free blend yet, if you do I would love to hear your results!
Tapioca starch: It adds some elasticity to the texture without making it chewy.
Garlic and green onions: Fresh aromatics to add some flavor.
Salt, sugar, pepper: Seasonings are important here if we don't want a bland flavor.
Vegan fish sauce (optional but recommended): It really adds a deeper flavor and some umami, don't worry it doesn't add a "fish" flavor. You can substitute with soy sauce but I would highly recommend sticking with vegan fish sauce if you can.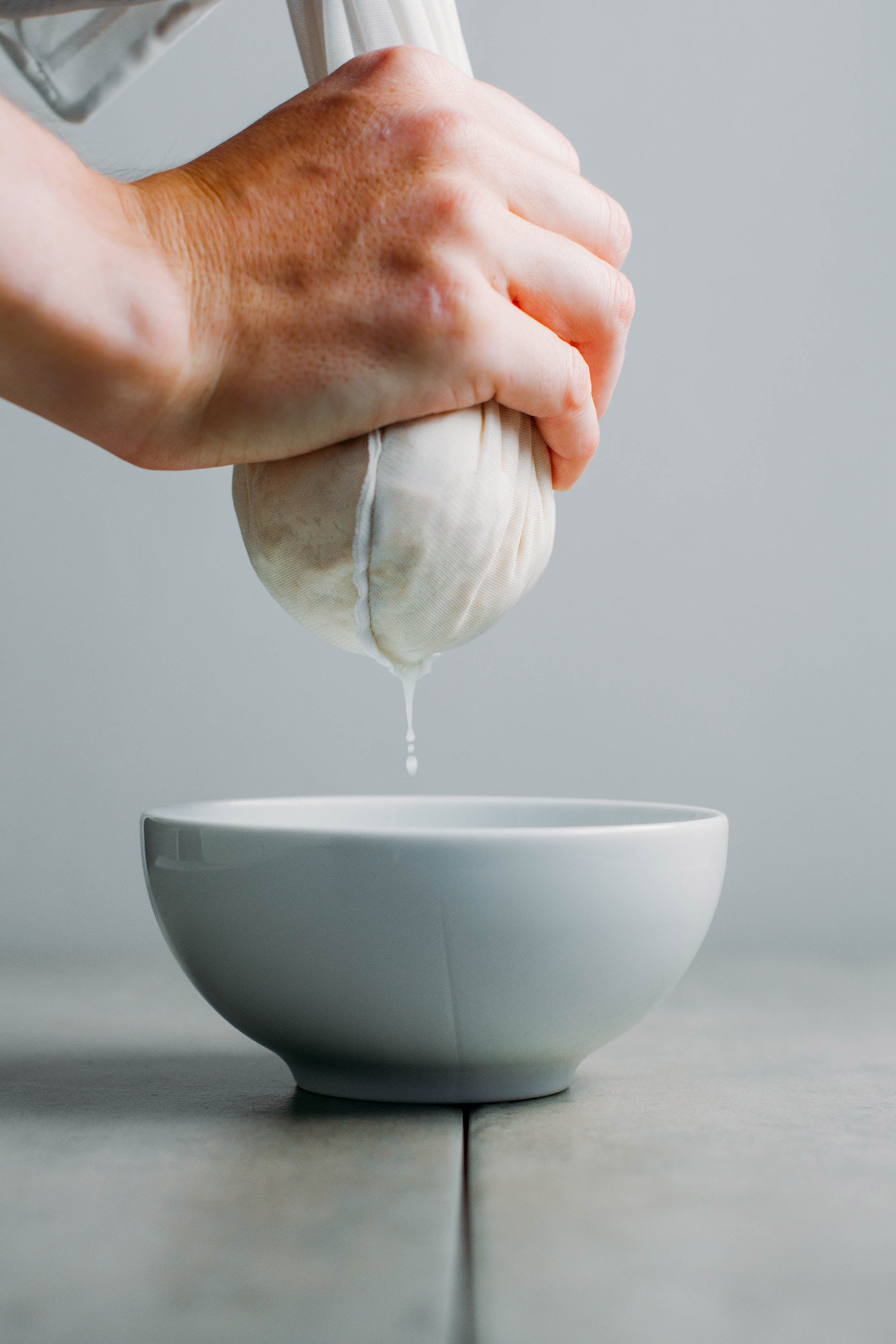 FLAVOR IDEAS
The main recipe I'm sharing here yields sausages that have a subtle flavor, to be incorporated in many dishes without overpowering the other ingredients. However, there are many ways to customize these sausages to your taste. Here are 4 different flavors for you to try!
Pepperoni: Add 2 tablespoons of tomato paste, 2 teaspoons smoked paprika, 2 teaspoons crushed chili flakes, and 1 extra garlic clove before processing.
Fish Cakes: Soak 3 tablespoons of dried seaweed for 30 minutes, then drain and process with the rest of the ingredients.
Smokey: Add ¼ teaspoon of liquid smoke, or smoke the finished patties in a stovetop smoker for about 10 minutes.
Garlic & Herbs: Add ½ teaspoon of dried oregano, parsley, and thyme, and one extra garlic clove.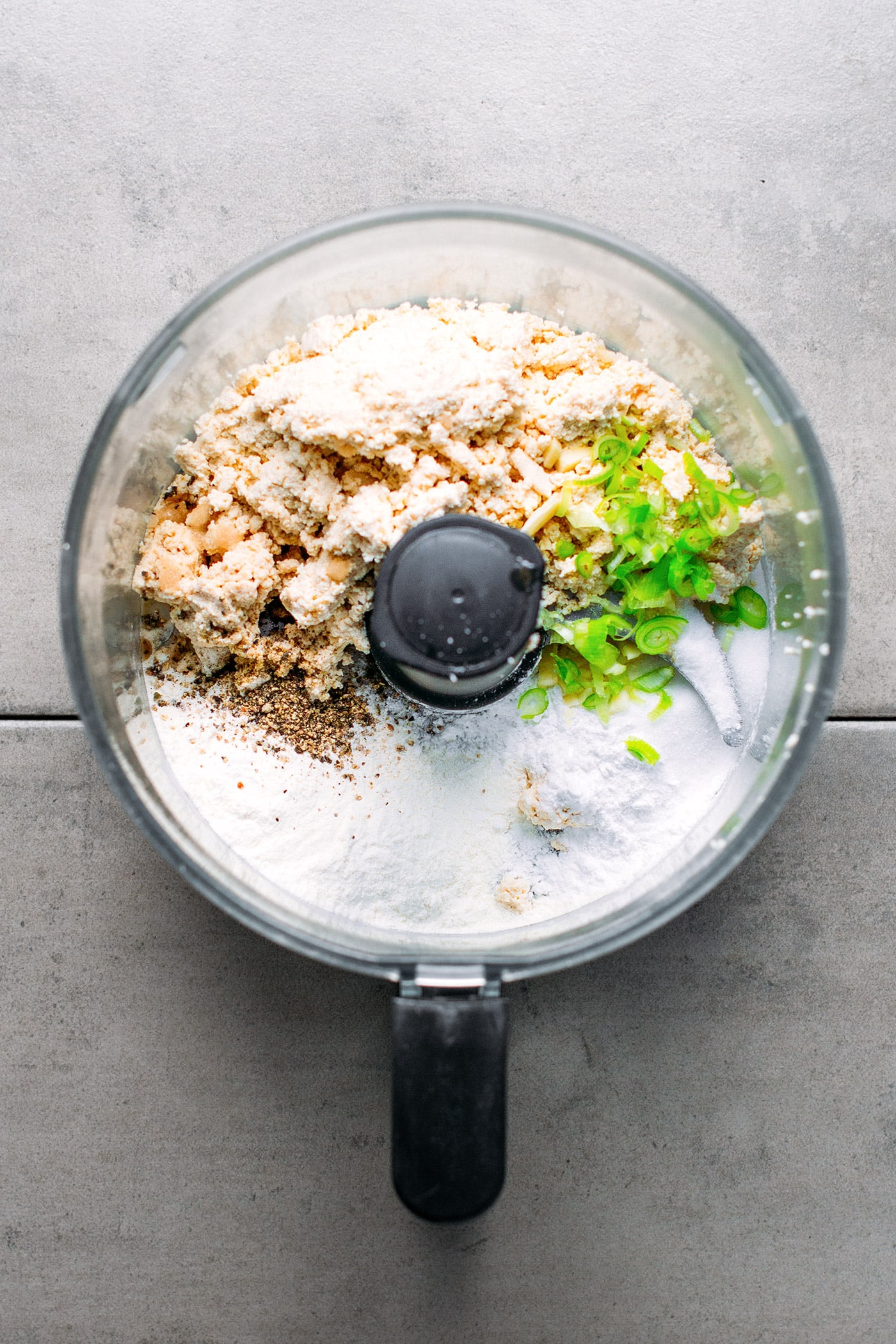 Process all the ingredients together in a food processor for a few seconds, or until it forms a sticky "dough". Once this is done, it's time to shape into patties and deep-fry. Why deep-fry? Well, deep frying not only quickly cooks the patties, but it also gives them a beautiful golden color. At first the crust is crispy but will soften as the patties cool.
Can these sausage patties be baked instead of fried? I would not recommend it as you won't get the same texture and the end result won't look as appetizing.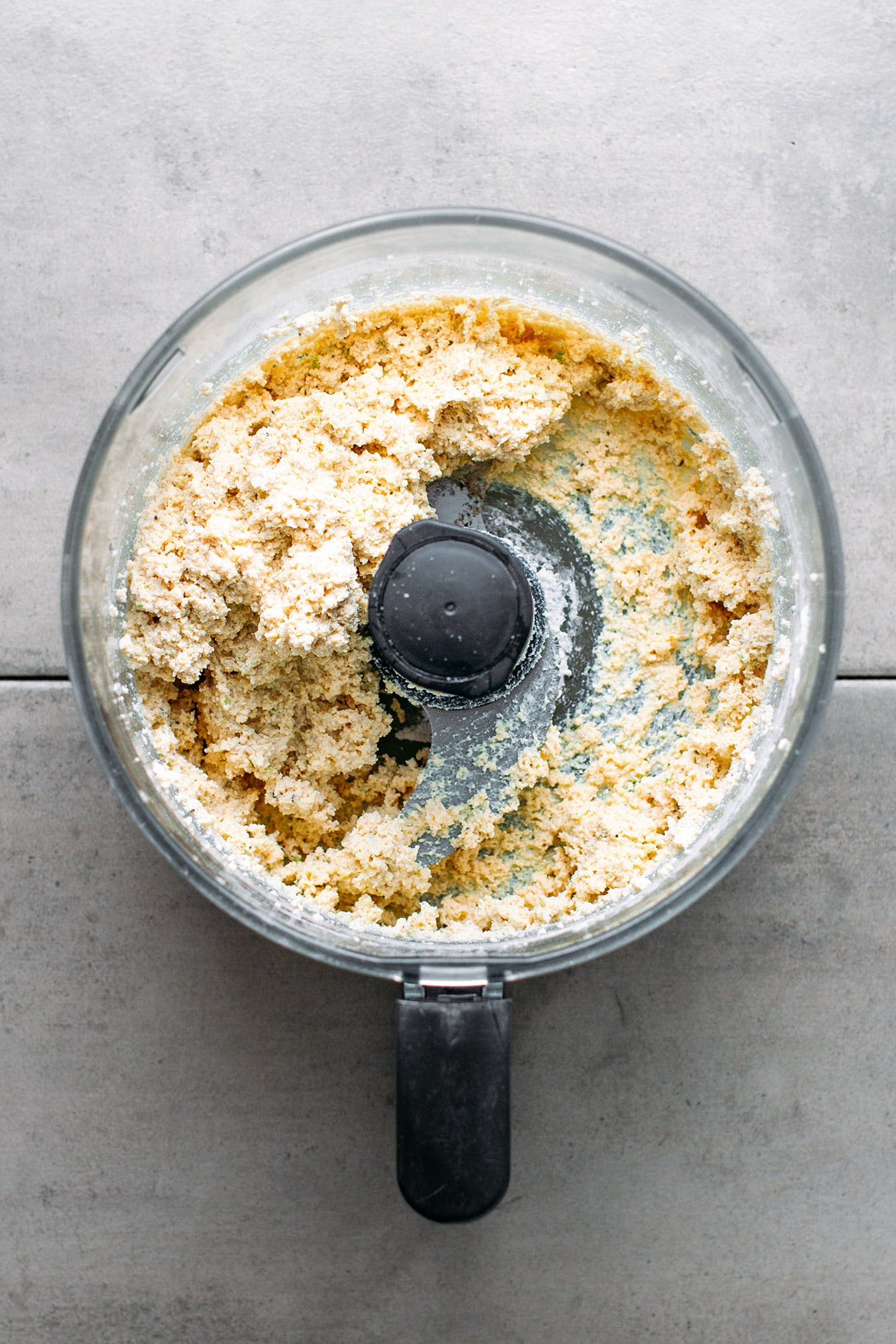 HOW AND WHERE TO USE VEGAN SAUSAGES
These sausages are incredibly versatile, here are a few ideas on where to use it:
Braised: Sautée garlic and onions, add your diced vegan sausages, and braise for a few minutes. Next add some water, soy sauce, sugar, black pepper, and simmer for 5-10 minutes.
In stir-fries: Simply slice your sausages into thick slices and add to your vegetable stir-fries.
With noodles: Thinly sliced, perfect to add texture and protein to your noodle dishes.
In sandwiches or bánh mì: These sausages make great addition to bánh mì, avocado toasts, and more.
In salads, spring rolls, wraps, and more!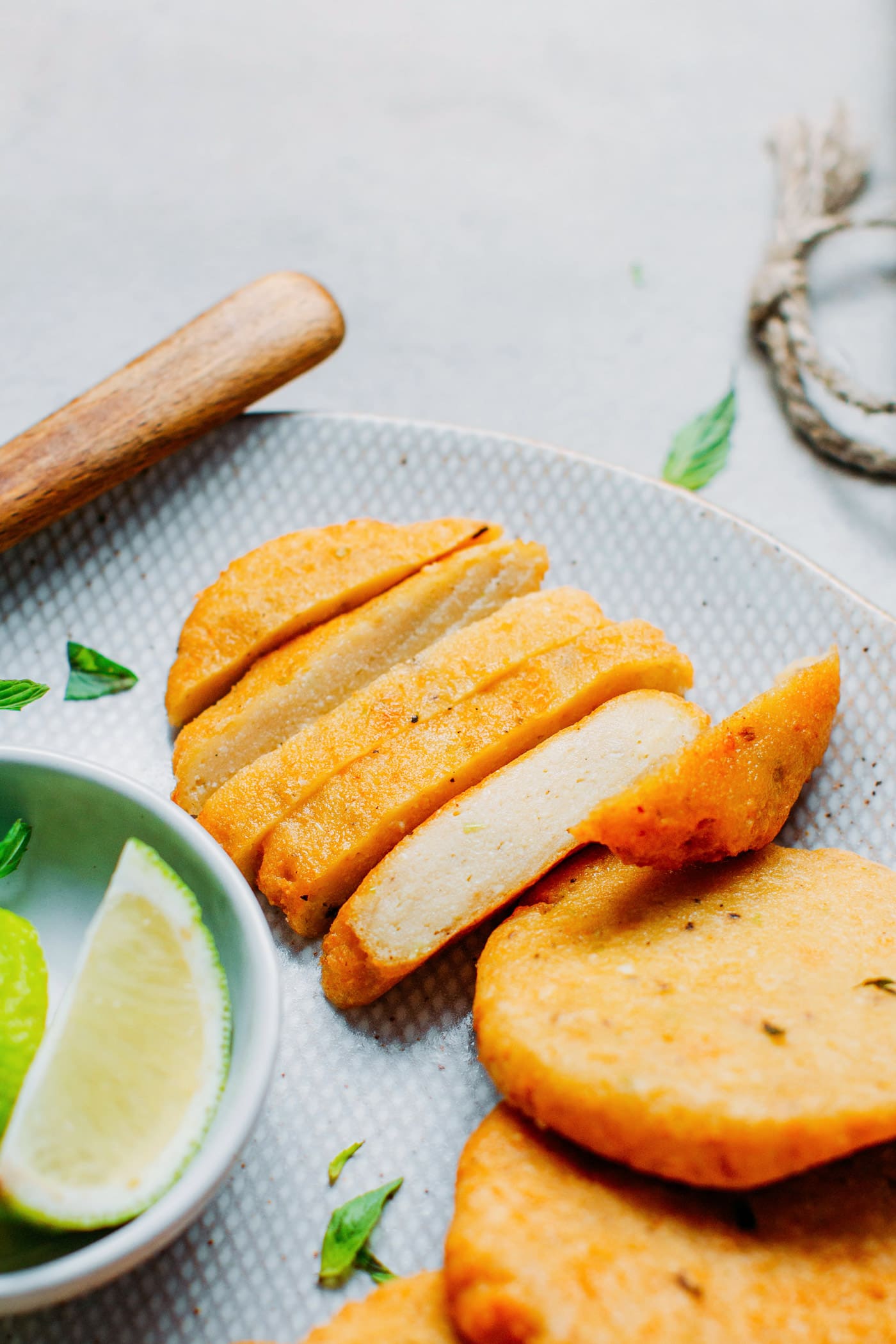 I hope you will love these sausage patties! They are easy and quick to prepare, customizable, and incredibly versatile! The texture is between ham and sausage, it's meaty, tender, and so GOOD! This recipe is a favorite here!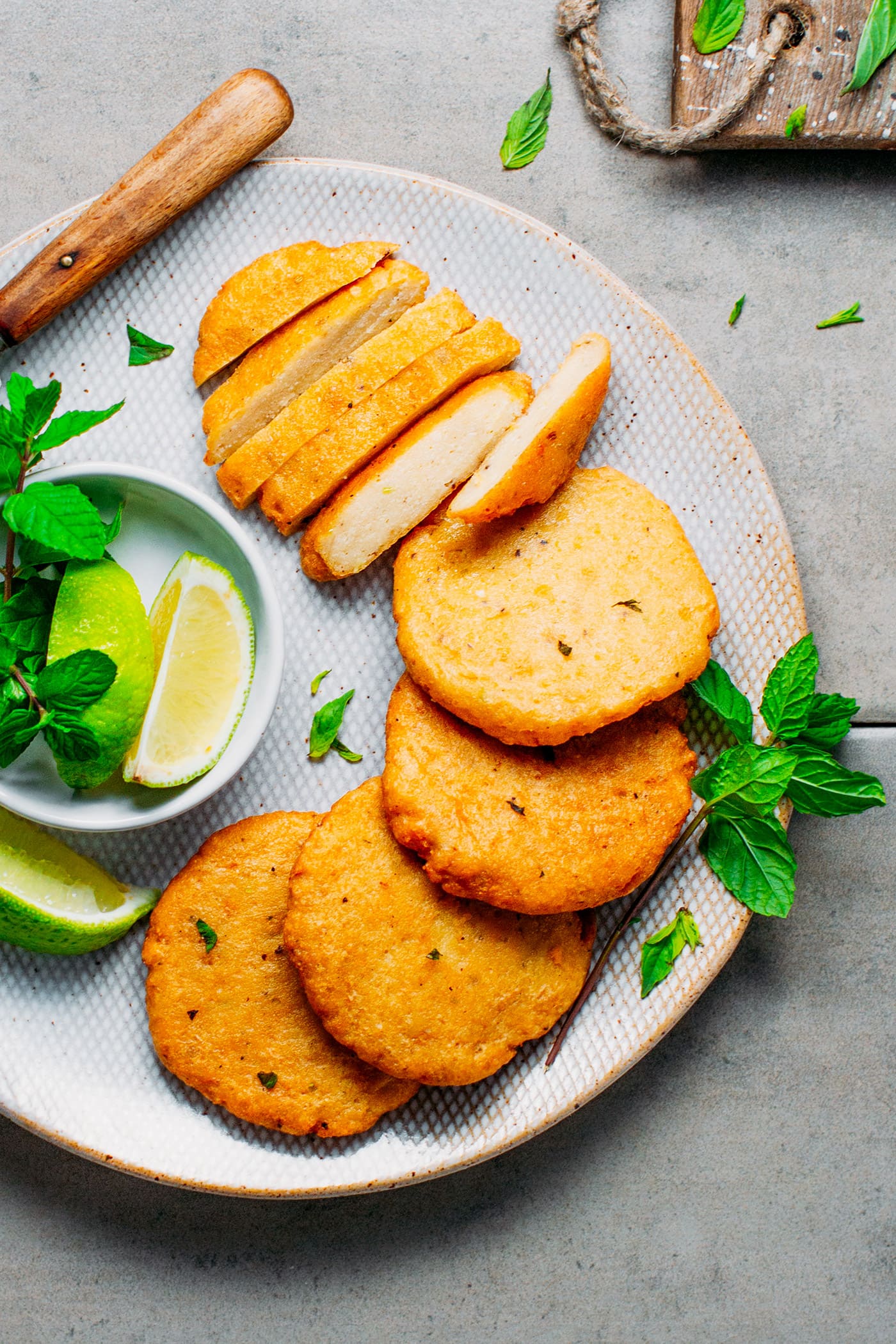 Looking for more meaty dishes? Check out our Best Vegan Chick'n, High-Protein Vegan Burger, or this Vegan Roast Pork!
Let me know in the comments if you try this recipe!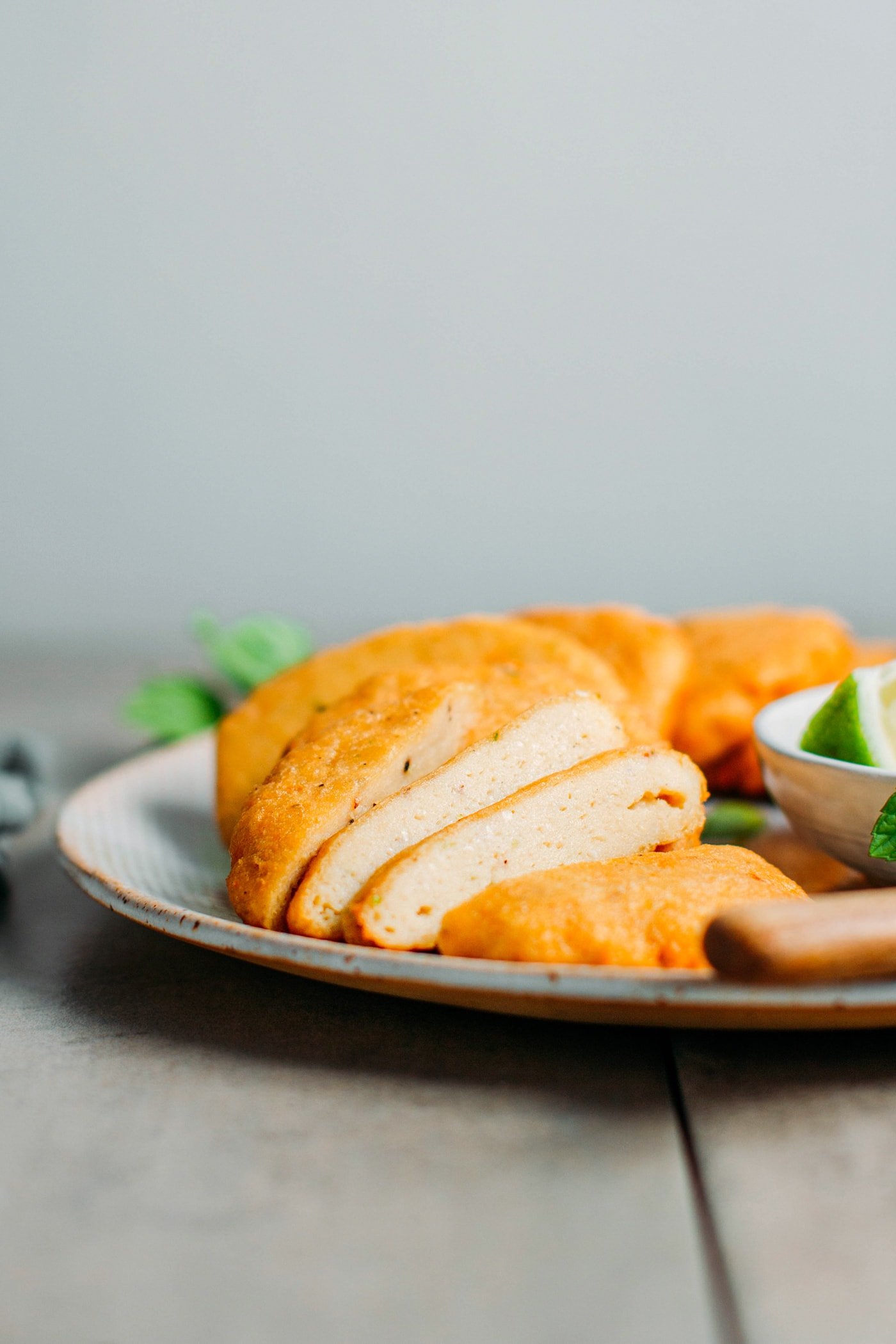 📖 Recipe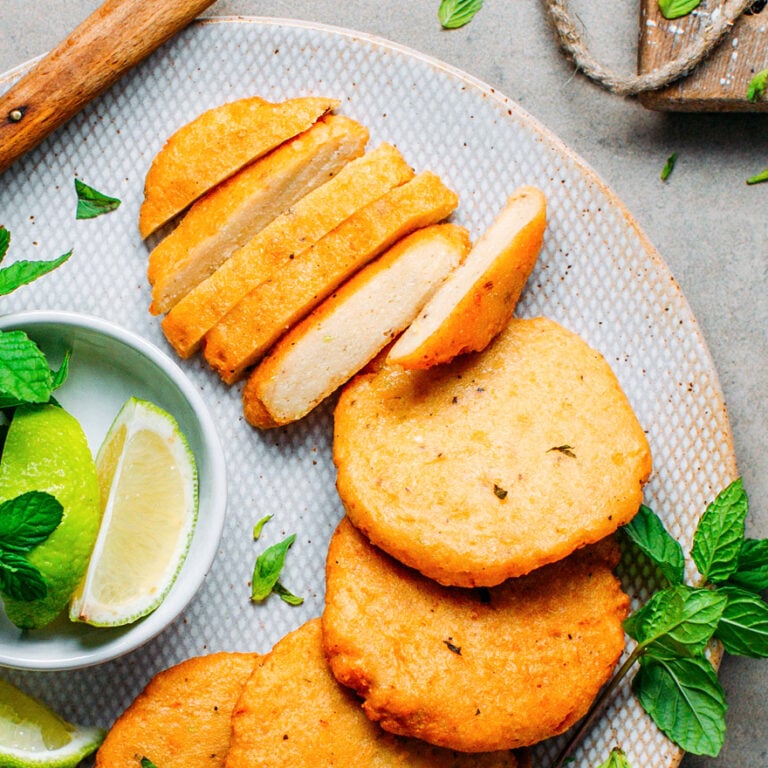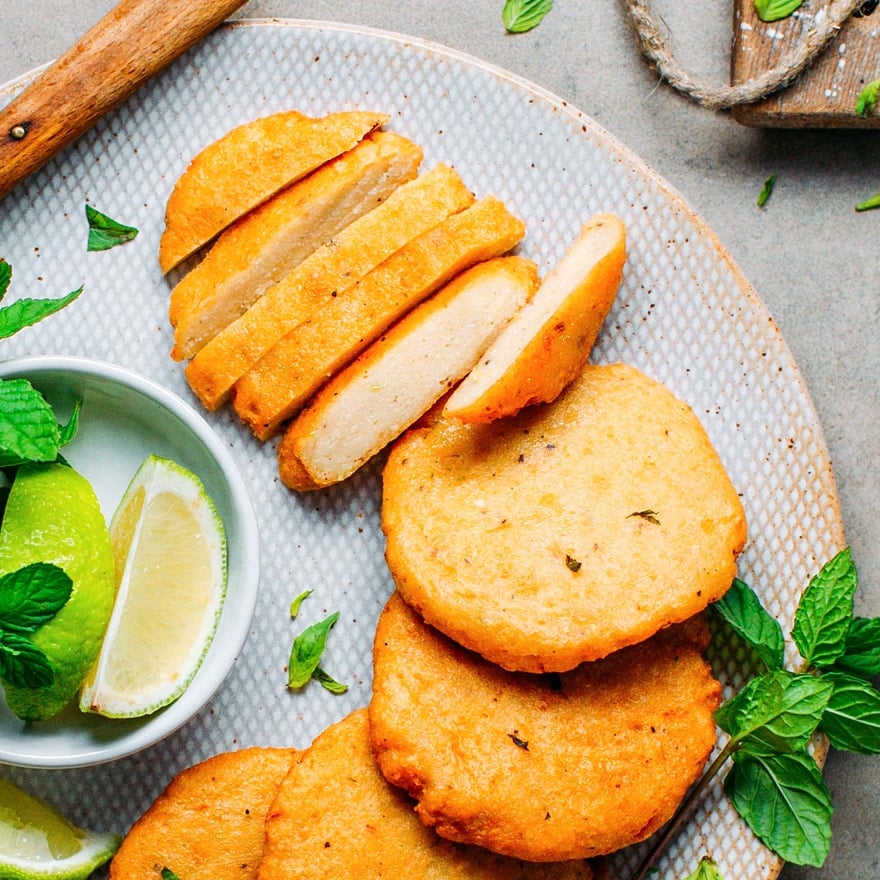 Vegan Sausage Patties
These vegan sausages are tender, meaty, high-protein, and can be used in a handful of ways! A MUST-TRY!
Ingredients
14

ounces

firm tofu

½

teaspoon

salt

1

tablespoon

vegan fish sauce

or 1 teaspoon soy sauce

¾

teaspoon

ground black pepper

1

clove

of garlic

3

tablespoon

chopped green onion

2

teaspoon

sugar

5

tablespoon

all-purpose flour

2

tablespoon

tapioca starch

2

cups

of oil

for frying
Instructions
Place the tofu in a nut milk bag and squeeze to remove as much liquid as possible. You should remove between ¼ cup to ⅓ cup of liquid depending on how moist your tofu was.

Transfer the drained tofu to the bowl of a food processor. Add the salt, vegan fish sauce, black pepper, garlic, green onions, and sugar. Process for about 5 seconds, or until everything is mixed. Taste and adjust seasonings if needed. Next, add the flour and tapioca starch, and process for another 5-7 seconds.

Heat about 2 cups of oil in a medium-size saucepan.

In the meantime, scoop out about ¼ cup of the mixture and place it on a sheet of cling film. Wrap to shape the mixture into a ball, then unwrap the ball. Place another layer of cling film on top and press it down to flatten the ball into a circular shape of about ½-inch thick. If you don't want to use cling film, oil your hands and shape the patties with your hands as the mixture is quite sticky.

Once the oil is hot, carefully submerge one patty into it. Depending on how large your saucepan is, you may be able to fry two at a time. Fry for 4-5 minutes, flipping once, or until the patties are light golden brown. Don't fry for longer than that otherwise the "crust" will be too thick.

Transfer the patties to a plate lined with kitchen paper towel to remove excess oil. Repeat with the remaining mixture.

Let the sausage patties cool for at least 30 minutes. Use in stir-fries, curries, sandwiches, salads, and more! These sausages will keep for up to 5 days in the refrigerator.
Notes
Nutritional information is an estimate.
Nutrition
Serving:
1
Sausage patty
|
Calories:
196
kcal
|
Carbohydrates:
13.7
g
|
Protein:
10.1
g
|
Fat:
11
g
|
Fiber:
0.9
g
|
Sugar:
1.8
g
Did you make this recipe?
Tag @fullofplants on Instagram and hashtag it #fullofplants