Introducing vegan roast "pork"! I'm so excited to share this recipe!
It is super meaty, with layers of fat that melt-in-your-mouth, and a thin crispy crust, you guys definitely have to try this one!
Once again, this is a dish that I discovered in Vietnam, I am blown away by how creative Vietnamese cuisine can be when it comes to making vegetarian dishes. Called "Heo quay chay" there, "heo quay" meaning pork belly and "chay" vegetarian, it consists of two layers of vegan meat and coconut "fat" topped with a crust that is made of bread! Let's take a look at how to make it!
It starts with the "meat" part that consists of my Vegan Chick'n that is marinated in soy sauce, five-spice powder, pepper, maple syrup, and some fermented tofu (also called chao or fermented bean curd). If you don't have or don't want to make vegan chick'n, feel free to use store-bought one, or large textured soy protein (usually sold dried, these need to be rehydrated for about one hour).
While I haven't tried, I think this should work with tempeh slices too. I would not recommend tofu though as I doubt the coconut fat would stick to it.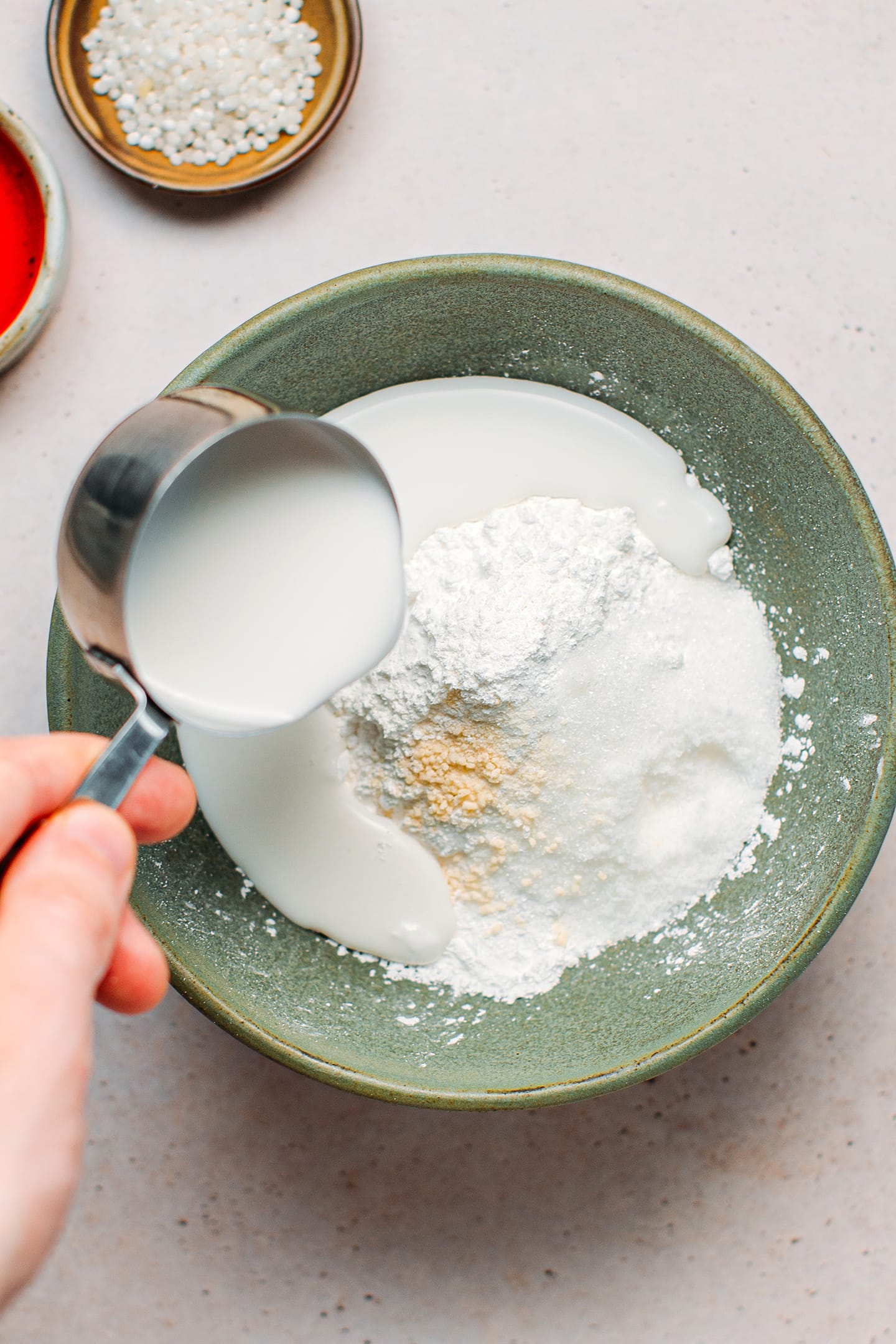 Next, we prepare the "crust". Slice a piece of bread in half lengthwise and remove as much bread crumbs as possible, leaving a thin crust. While it is usually made with Bánh mì bread, it works great with regular bread too!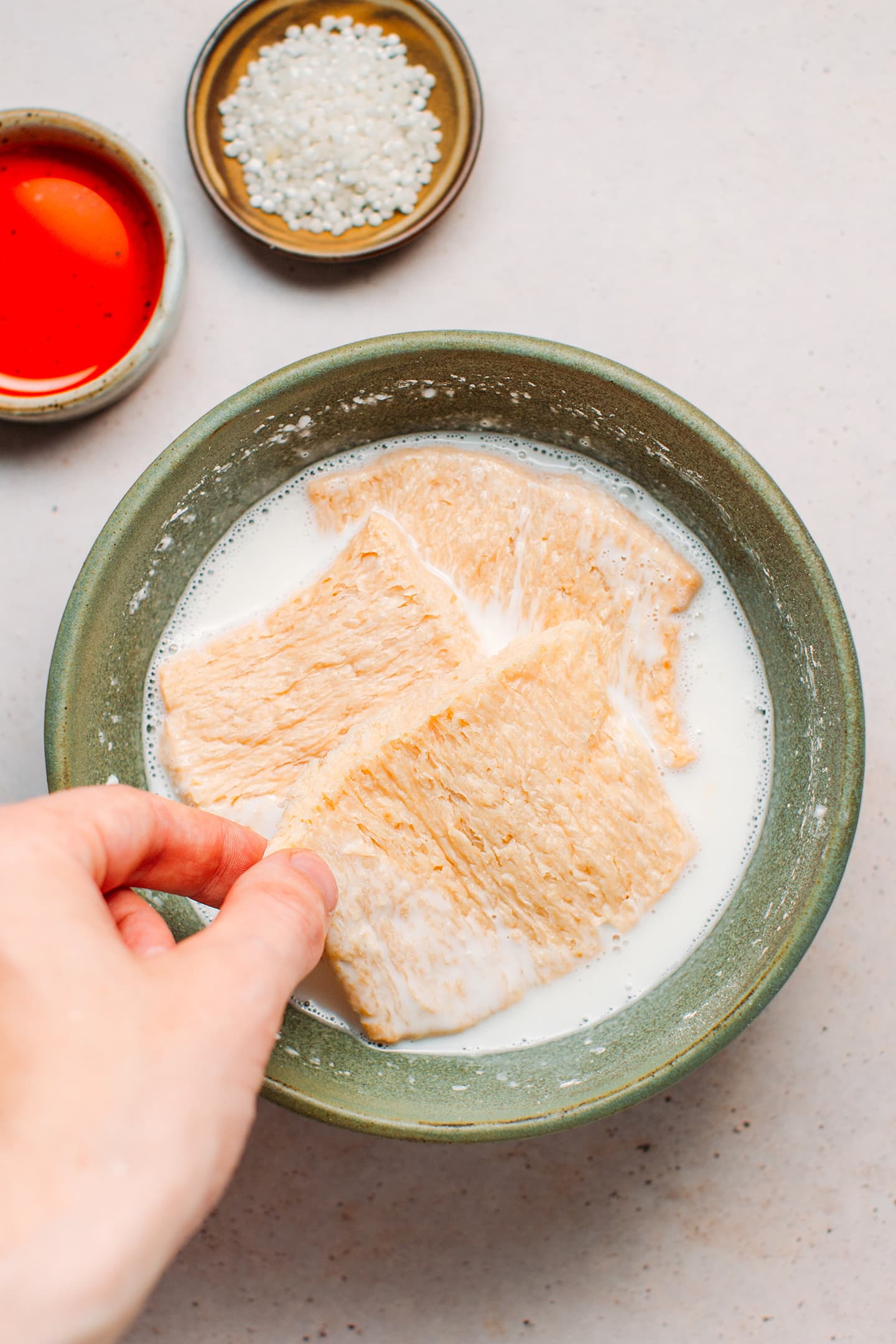 Then we have the coconut "fat" layer that not only holds everything together but also brings a meaty, fatty texture. It consists of coconut milk thickened with rice flour and tapioca starch.
You start by spreading a thick layer of coconut fat on one halve of bread, then top with a layer of vegan chick'n, and repeat once to get two layers. Quick tip: you want to remove excess marinade from the vegan meat before placing on the coconut layer otherwise it will not stick to it.
The next step is to wrap very tightly in aluminum and steam for about 30 minutes. Feel free to use a regular pressure cooker or an Instant Pot, both work.
One extra optional step is to brush the bread side with a mix of annatto oil and soy sauce to give it a more orange color. This is just for the look and won't affect the flavor or texture.
Finally, you want to fry it on the bread side until golden brown and crispy. Cut into thick squares and it's ready to eat! Serve with noodles or rice, green veggies, and your favorite dipping sauce!
Depending on which fake meat you use, the texture will be slightly different. As an example, I used soy protein slices in the photo below, resulting in a different look and a chewier texture.
This vegan meat alternative is so good! You will be surprised by how meaty it tastes, the crust adds a nice crunch (or should I say crisp!), and the fat layer brings richness.
Let me know in the comments if you try this recipe!
Vegan "Roast Pork"
Learn how to make vegan "Roast Pork" that is crispy on the outside, chewy on the inside and with layers of (coconut) fat. You will be surprised by how meaty and real it looks and tastes!
Ingredients
7

ounces

200g vegan chick'n*(or 8 pieces of "vegan pork", soaked for at least 1 hour)

2

cubes of fermented tofu

1

tablespoon

15ml soy sauce

1

teaspoon

5ml maple syrup

¼

teaspoon

five spice

¼

teaspoon

black pepper

1 8-

inch

long

about 20cm piece of bread*

optional: 1 teaspoon annatto oil mixed with 1 tablespoon soy sauce
Instructions
Start by slicing the vegan chick'n into about ⅓-inch thick slices. The width should have the same width as your piece of bread. If using "vegan pork tvp", let it soak in water for 1 hour, drain and squeeze it to remove excess moisture. Place the slices on a large plate.

In a small bowl, mash the fermented tofu using a fork. Add the soy sauce, maple syrup, five spice, and black pepper, and mix until well combined.

Brush the vegan chick'n slices with the marinade on each side. Let it marinate for at least 30 minutes.

In the meantime, slice the piece of bread in half, lengthwise. Remove as much bread crumbs as you can, leaving two thin crusts. Discard the breadcrumbs and set the bread crusts aside.

To a medium saucepan, add the white rice flour, tapioca starch, coconut milk, water, salt, and mushroom seasoning if using. Whisk until the flours are dissolved.

Heat over medium heat and stir constantly using a wooden spoon until it thickens. At first, it will look messy and grainy, but after some time it will form a smooth sticky paste. Remove from heat once thick and smooth.

Spread half of the coconut paste on each piece of bread crust into an even layer.

Using a kitchen paper towel, remove the excess marinade from the chick'n slices (if your slices are too wet the coconut fat won't stick to it). Place one slice, or two if needed, of chick'n on top of the coconut fat layers. See photo for more detail. Slightly press it down.

Spread the remaining coconut cream evenly on top of the chick'n. Finally, place another layer of chick'n on top of the second coconut fat layer.

Tightly wrap the two loaves separately in two layers of aluminum foil. Steam for 30 minutes in a pressure cooker or Instant Pot.

After 30 minutes, release the pressure and remove the loaves from the pressure cooker. Let it cool completely.

Optional: to add an orange color to the crust, brush the bread side with the mix of annatto oil and soy sauce.

Heat two tablespoons of oil in a large non-stick skillet. Once hot, fry each loaf on the bread side for about 1 minute, or until crispy. Transfer to a plate lined with kitchen paper towel to remove excess oil.

You can now cut it into thick squares and serve with your favorite dipping sauce, and rice or noodles on the side! This vegan "pork" can also be sautéed, fried, or baked!

If the loaf is too soft to be cut, refrigerate overnight. The coconut layer will slightly harden and it will be easier to cut.

Vegan "pork" will keep for up to 3 days in the refrigerator.
Notes
*If you don't have vegan chick'n, you can use store-bought vegan steaks (make sure they are thin), or use tempeh slices.
*I recommend getting a light bread with a thin crust. Fresh bread is recommend as it will be easier to remove the bread crumbs.
No nutrition information for this recipe as it can differ depending on ingredients used.
DID YOU MAKE THIS RECIPE?
Tag @fullofplants on Instagram and hashtag it #fullofplants