I have made Gua Bao before with these Crispy Mushroom & Chick'n Gua Bao, and while they were awesome I wanted baos with a different flavor profile. Hey, you never have too many bao recipes in your collection. And more to come!
These gua bao feature chewy tofu cooked in a saucy lemongrass, chili, and garlic sauce. Then we have a rich kale pesto, sautéed soy-glazed mushrooms, and carrot pickles. Everything served in a pillowy bun. I'm in love with these!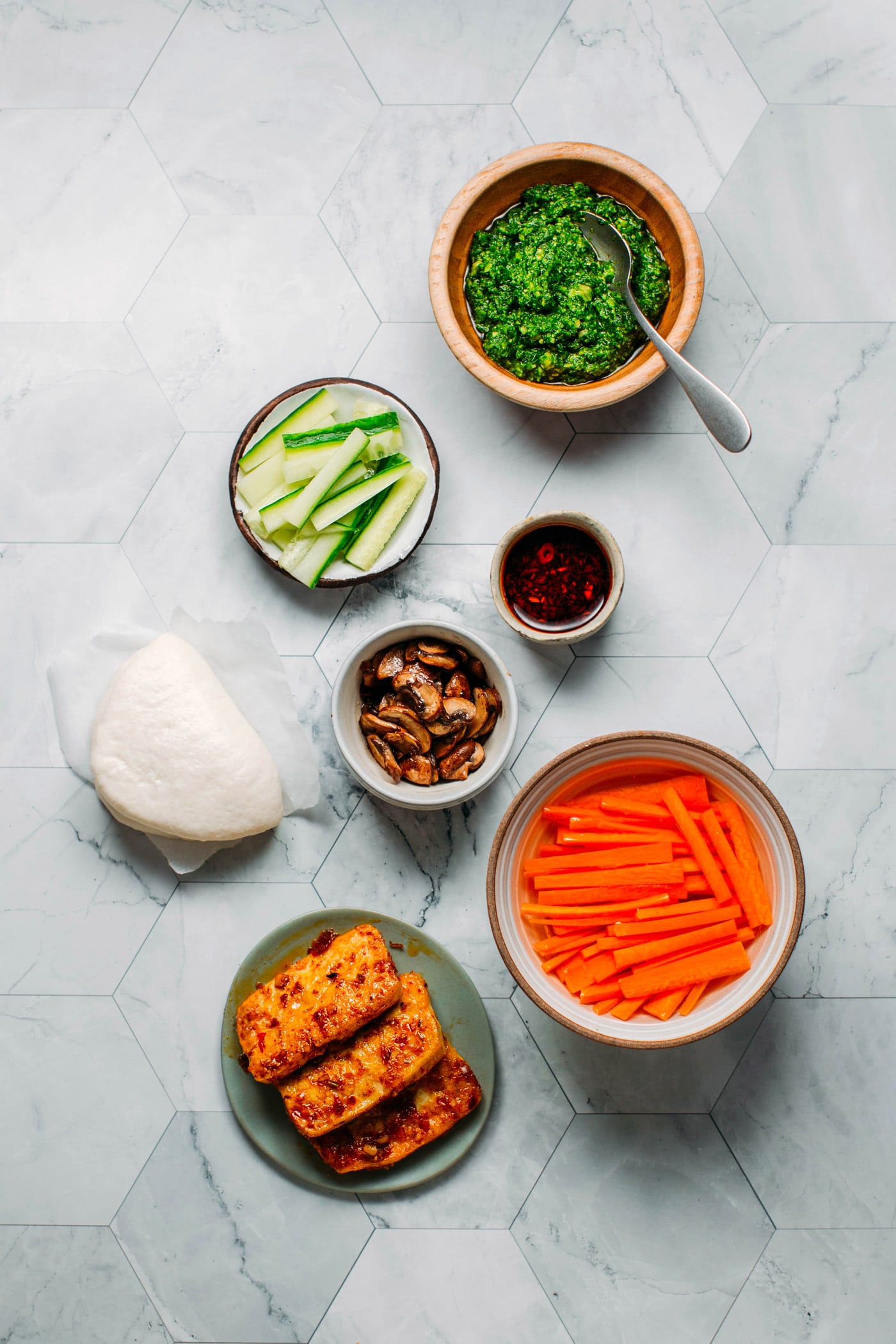 HOW TO MAKE GUA BAO
Preparing these gua bao require some preparation, but most of it can be made ahead of time, or while the dough is rising.
Here is a recap of what we have:
The dough: For the best texture and color, I highly recommend using Bao flour. This flour consists of all-purpose flour that has been bleached and combined with tapioca starch. Compared to all-purpose flour, bao flour yields a fluffier texture and a whiter color.
Pickled carrots: Very easy to prepare, cut your carrots into matchsticks and let them marinate in white vinegar, sugar, and water.
Kale Pesto: This pesto is rich, earthy, and takes our bao to another level. I went with kale instead of basil for a little twist, and to use what was in season. Now if you don't have kale on hand, and want to save time, feel free to use store-bought vegan pesto, I won't judge. Flavor will be a bit different but it will still taste great.
Sautéed Mushrooms: Simple mushrooms sautéed with a drizzle of soy sauce.
Saté Tofu: First coated with cornstarch and shallow-fried, the tofu is then glazed with a sweet and spicy saté sauce.
Extras: Toasted pine nuts for extra crunch and nuttiness, onion slices, cucumber, and fresh cilantro.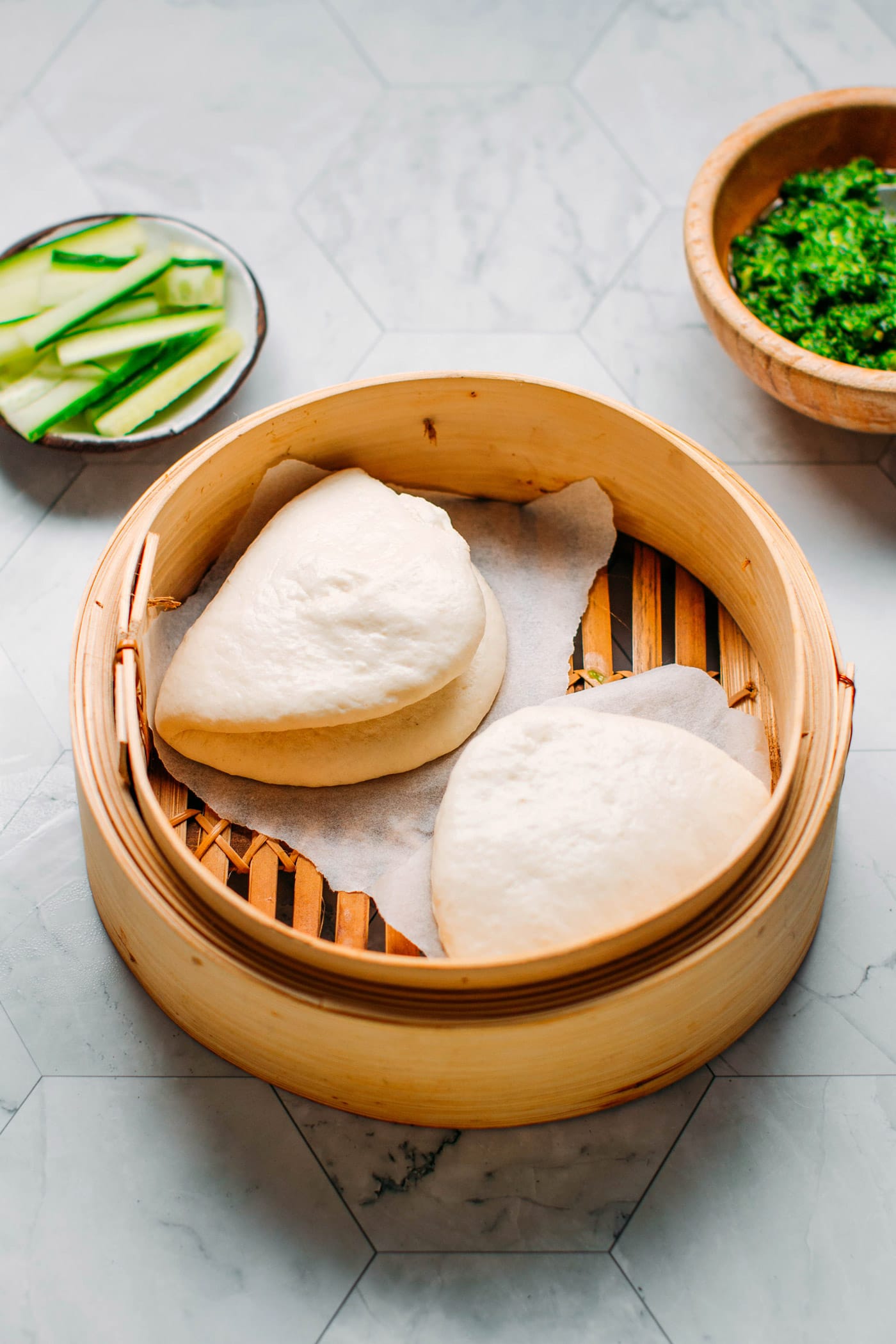 First, you want to prepare the dough as it needs to rise for 1-2 hours.
Once the dough has risen, divide into 4 balls and roll them out into a thin oval shape. Brush with oil and fold in half. The oil will prevent the buns from closing, this way we can open them later to add the filling.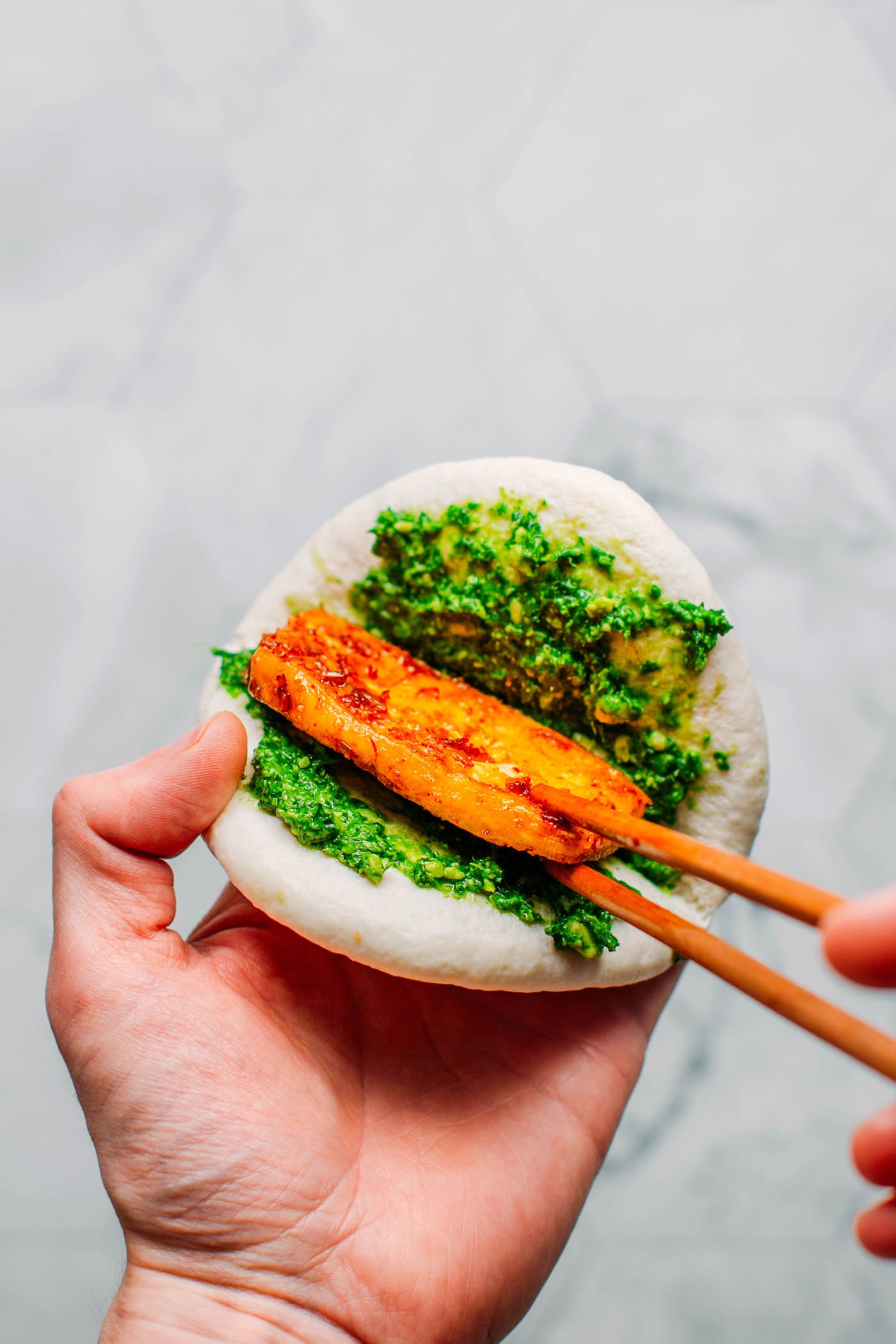 Speaking of filling, while the dough is rising we prepare the kale pesto.
Add all the ingredients to a blender and blend until the kale is finely minced and combined with the oil, garlic, nutritional yeast, and cashews. You will have extra pesto after making the gua bao, use it on toast, marinades, or in pasta.
Now let's talk about the tofu!
Start with firm tofu and coat it with a thin layer of cornstarch. Next, shallow-fry until golden on both sides. Add the sauce that consists of soy sauce, maple syrup, and saté, and cook until the tofu has soaked up the flavors.
To assemble, open a bun, spread a generous amount of kale pesto, add a slice of tofu, sautéed mushrooms, a few pickles, cucumber, fresh cilantro, and serve!
These gua bao are insanely good and loaded with flavor! Saucy, chewy, herby, and so tender! You definitely won't stop at one!
If you are looking for more street food-inspired recipes, check out this Pulled Mushroom Banh Mi, Vegan Egg Rolls, or these 10-Minute Chili Almond Butter Noodles!
Let me know in the comments if you try this recipe!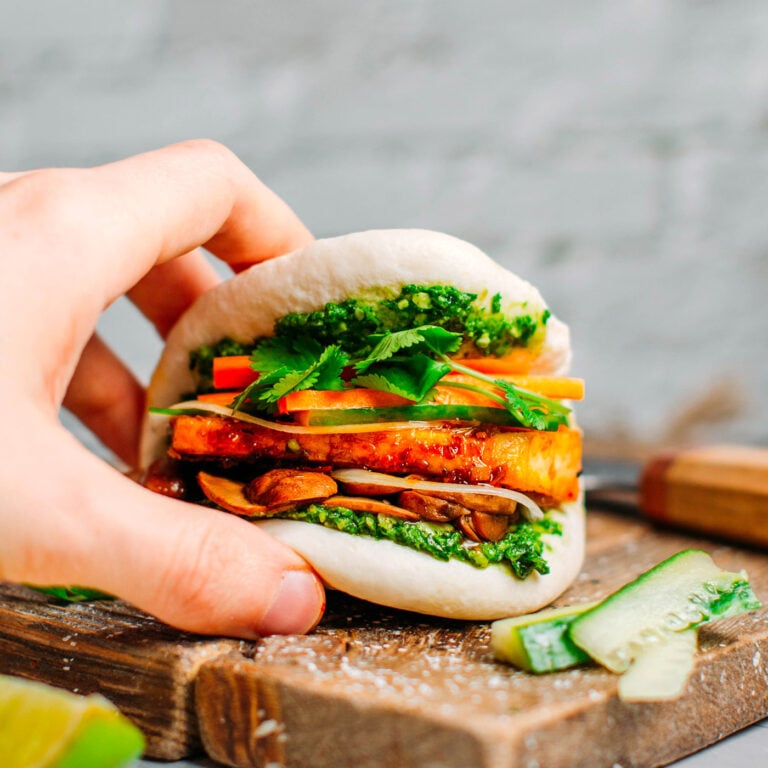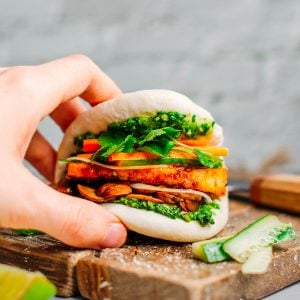 Sate Tofu Bao with Kale Pesto
Pillowy buns loaded with sautéed saté tofu, soy-glazed mushrooms, kale pesto, and pickles! Super flavorful, healthy, and filling!
Ingredients
Bao Dough
1

cup

bao flour

1

tablespoon

sugar

⅓

cup

warm water

½

teaspoon

dry yeast

1

teaspoon

oil
Kale Pesto
2

cups

kale

6

tablespoon

olive oil

¼

cup

raw cashews

or pine nuts

2

tablespoon

lime juice

1 and ½

tablespoon

nutritional yeast

2

cloves

garlic

¼

teaspoon

salt
Carrot Pickles
1

small

carrot

cut into matchsticks

1

tablespoon

sugar

¼

cup

white vinegar

¼

cup

water

¼

teaspoon

salt
Sautéed Mushrooms
1

teaspoon

oil

5-6

mushrooms

sliced

2

teaspoon

soy sauce

⅛

teaspoon

ground black pepper

(optional)
Extras
a

handful of

cilantro

¼

cucumber

cut into matchsticks

1

tablespoon

toasted pine nuts

a few slices of onion
Instructions
Bao Dough
In a large mixing bowl, whisk together the bao flour and sugar. Dissolve the dry yeast in 3 tablespoon of the warm water and add to the bowl with the oil. Add the remaining water and knead for about 5 minutes, or until you get a smooth dough. It should have the texture of pizza dough and be very slightly sticky. Place in a bowl, cover with a wet kitchen towel and let it proof for about 90 minutes in a warm place.

Once the dough has almost doubled in size, transfer to a silpat or working surface slightly floured. Knead again and then divide into 4 balls. Flatten each ball using a rolling pin into an oval shape of a bit less than ¼-inch. Brush each oval with oil and then fold in half. Place each one on a small piece of parchment paper. Let rise for another 20 minutes.

Bring a pot of water to a boil. Depending on the size of your bamboo steamer basket, place 2 or 4 buns inside. Be aware they will expand, so leave about 2-inch between each one.

Close your bamboo steamer basked with the lid and place it on top of the pot of boiling water. Steam for about 20 minutes. Remove from heat and let cool for 10 minutes.
Kale Pesto
Wash and rinse the kale. Add it to a blender with the rest of the ingredients. Blend on high-speed for about 30 seconds, or until everything is finely chopped and combined. Taste and adjust saltiness and sourness if needed. Transfer to a bowl and set aside.
Carrot Pickles
To a small bowl, add the white vinegar, water, sugar, and salt. Stir to combine. Add the carrot sticks and let marinate for at least 1 hour. You can prepare it up to 3 days ahead and keep in the refrigerator.
Sate Tofu
Slice your tofu into 4 thin slices (about ½-inch). Add the cornstarch to a plate and coat each slice with cornstarch. Shake to remove excess.

Heat the oil in a non-stick pan over medium heat. Once hot, add the tofu slices and fry for about 5 minutes on each side, or until golden brown. Remove from heat and transfer to a plate lined with a kitchen paper towel to absorb excess oil.

Clean your pan with a kitchen paper towel, leaving about 1 teaspoon of oil. Heat over medium heat and add the tofu back to the pan with the soy sauce, maple syrup, and saté. Cook for about 3 minutes, stirring regularly to make sure the tofu absorbs the sauce. Remove from heat.
Sautéed Mushrooms
Heat the oil in a skillet over medium heat. Once hot, add the sliced mushrooms and sautée for about 5 minutes, or until cooked. Deglaze with soy sauce, add the ground black pepper and cook for another 1-2 minutes. Remove from heat and transfer to a small bowl.
To Assemble
Take one bun and open it to the ¾. Spread about 2 tablespoon of the kale pesto on the inside. Add a slice of saté tofu, a few slices of mushrooms, carrots, cucumber, and some cilantro. You can also add some slices of raw onions and toasted pine nuts. Transfer to a plate and repeat with the remaining buns. If your buns don't stay open, use a toothpick to keep everything in place. Serve immediately!

For warm bao, you can steam for about 1 minute in the bamboo steamer basket. These are best served the same day, but can be kept in the refrigerator for another day and reheated in a steamer.
DID YOU MAKE THIS RECIPE?
Tag @fullofplants on Instagram and hashtag it #fullofplants