I have used sate in a few recipes lately (in Bun Bo Hue, Stir-fry Udon Noodles, etc.), so I thought it would be more practical to have a go-to page for the recipe.
Making sate is easy, and it keeps for a long time, plus there is no blender/food processor needed. Just one pan!
WHAT IS SATE?
Sate is a spicy Asian condiment. There are many different types of sate. Some include peanuts as the main ingredient, and some come in powder form, while others are more liquid.
Here I'm sharing a Vietnamese-inspired sate recipe. I would say it is closer to a flavored oil rather than a paste. It can be used in noodle soups to add spiciness and richness to the broth, in marinades for tofu/tempeh/seitan, or even as a base for a dipping sauce. It's versatile, and it quickly became one of my favorite condiments to add flavor to dishes!
INGREDIENTS
This recipe requires just 8 ingredients plus one that is totally optional.
Vegetable oil: Use a neutral oil like canola or grapeseed oil that has little to no flavor. You don't want to use coconut oil, or it will harden at room temperature. For extra flavor, feel free to add a teaspoon of toasted sesame oil.
Annatto seeds: While totally optional, the addition of annatto seeds gives the sate a nice red/orange hue.
Lemongrass: This is the aromatic that gives the sate its main flavor. It's citrusy, with hints of ginger.
Chili: There is no sate without some spiciness!
Garlic: While this sate is not super garlicky, it does add extra flavor.
Shallots: I went with shallots as they are less pungent than onions, plus they give the sate a natural sweetness.
Ground chili: For extra spiciness.
Salt and sugar: You can use white sugar or coconut sugar, although I had the best results with maple syrup as it tends to mix better with the oil.
HOW TO MAKE SATE
To give the saté its bright red color, you want to fry annatto seeds in oil for a couple of minutes. Annatto seeds are a natural red food coloring and have a subtle peppery aroma.
Then, slice the lemongrass, chili, garlic, and shallots very finely. If you want to save time, put everything in a food processor and process until finely minced.
Next, heat the oil in a saucepan over medium heat. Once hot, add the minced aromatics and fry for about 2 minutes. Remove from heat, stir in the ground chili, salt, and maple syrup, and let it cool completely before transferring to a jar. Done!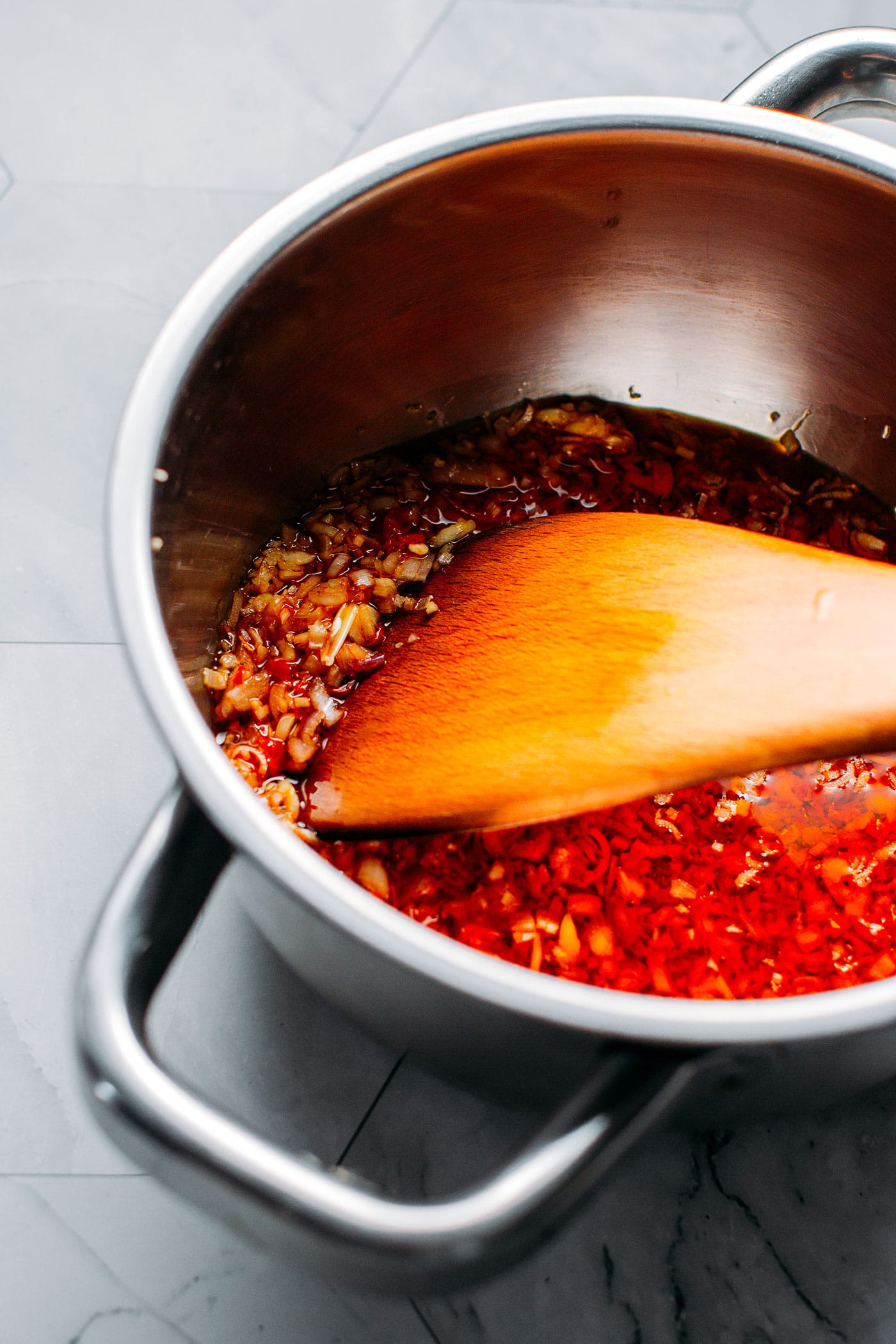 HOW TO USE SATE
Before using, make sure to give it a good stir unless you just want to use only the flavored oil.
Soups: Stir in a tablespoon of sate in soups to add a nice kick of flavor!
Vegetable Stir-Fries: Use the oil to fry veggies and add spiciness as well as a subtle citrusy flavor.
Marinades: Combined with peanut or almond butter and soy sauce, it makes a great marinade for tofu, tempeh, or even seitan.
Dipping sauce: Dilute with a little bit of water, maple syrup, soy sauce, and lime juice for a delicious spring roll dipping sauce.
Noodles: Mix into noodles for spicy lemongrass noodles!
Hummus? I have yet to try this one, but I'm thinking stirring a tablespoon or two of sate into hummus might take it to another level.
Sate is a great condiment to use when you want to add spiciness as well as more flavor to almost any dish! If you are looking for more spicy condiments, you might like this chili paste or this fermented tofu!
Let me know in the comments if you try this recipe!
Recipe
How to Make Vegan Sate
Vietnamese-inspired sate infused with lemongrass, shallots, garlic, and chili! A delicious condiment to take your dishes to another level!
Ingredients
1/2

cup

vegetable oil

3

tbsp

annatto seeds

4

stalks

of lemongrass

about 1/4 cup minced

4

small chili

2

shallots

2

cloves

of garlic

1 and 1/2

tsp

ground chili

I used Korean chili powder

1/2

tsp

salt

1

tsp

maple syrup

or coconut/white sugar
Instructions
In a medium saucepan, heat the vegetable oil over low-medium heat. Once hot, add the annatto seeds and fry for about 2 minutes or until the oil has turned red. Strain the seeds and discard them, keeping the oil. Add the oil back to the saucepan.

Slice very finely the lemongrass stalks (only the white parts, discard the greens), chilis, shallots, and garlic. To save time, you can process everything in a food processor until finely minced. Add the minced aromatics to the saucepan and fry for about 2 minutes. You don't want to fry them too long, or the aromatics might burn, so keep an eye on it.

Remove from heat, add the ground chili, salt, and maple syrup, and stir to combine. Let it cool completely at room temperature before transferring to a clean jar.

Store in the refrigerator for up to 3 weeks. Use in soups, marinades, stir-fries, noodles, etc. Make sure to give it a good stir before using.
Nutrition
Serving:
1
tbsp
|
Calories:
118
kcal
|
Carbohydrates:
2
g
|
Protein:
0.2
g
|
Fat:
12.5
g
|
Fiber:
0.1
g
|
Sugar:
0.6
g
Did you make this recipe?
Tag @fullofplants on Instagram and hashtag it #fullofplants