This famous French dessert consists of a vanilla custard with a texture similar to flan, and a delicious salted caramel on top. It's super smooth, perfectly sweet, and so light! This flan is vegan, dairy-free, and gluten-free! SO GOOD!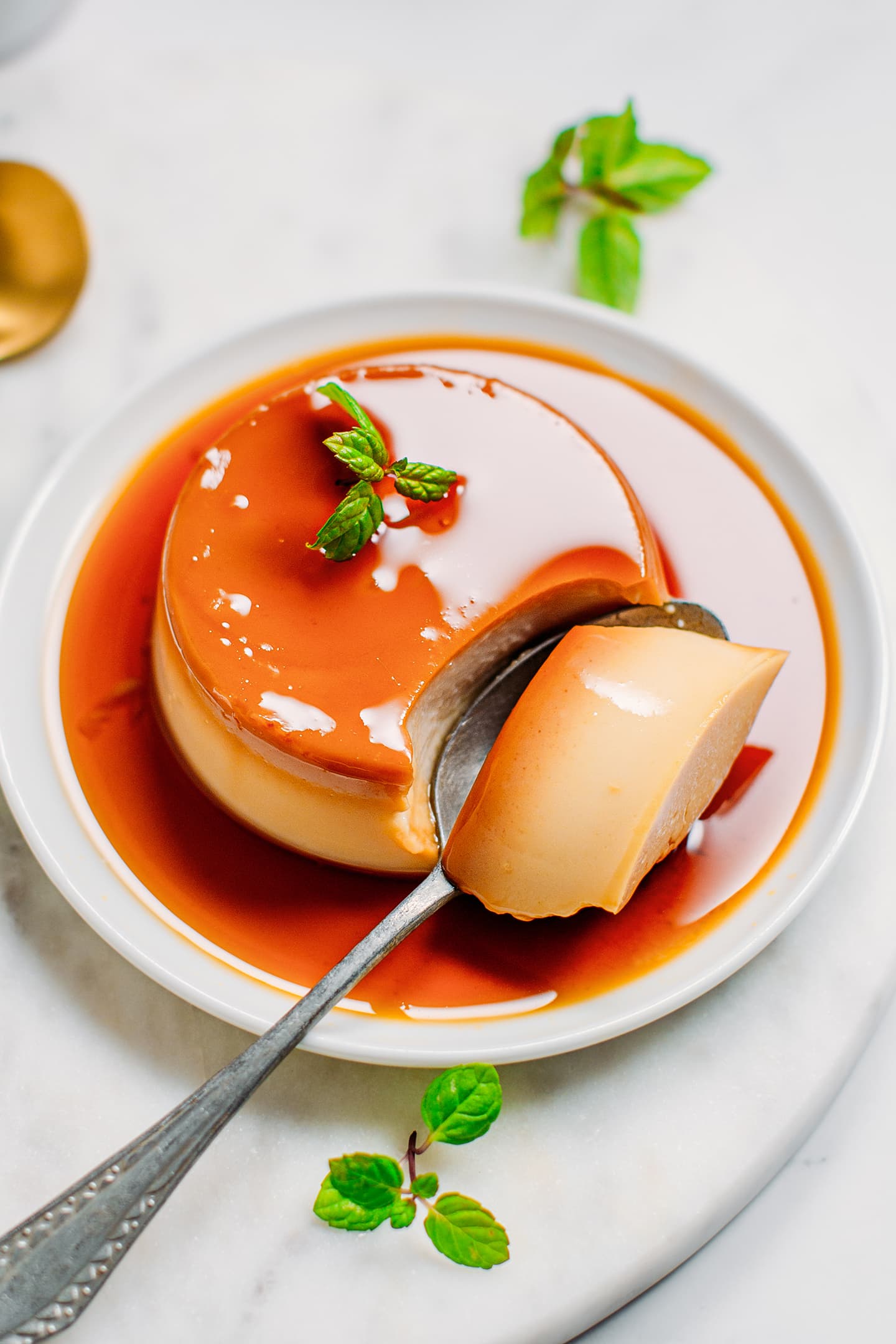 Jump to:
📘 What is Creme Caramel
Creme caramel, also called Flan, is a dessert that first appeared in France during the middle ages, around 1400. It consists of a custard creme that is infused with vanilla and topped with a layer of caramel.
It is now popular all around the world, from Latin America (Milk Flan) to the Philippines (Leche Flan), and Viet Nam (Bánh Flan). Each version has slightly different ingredients and processes.
Most recipes usually call for eggs to firm up the creme, but here we are going with a combination of coconut milk and agar to get a rich and creamy consistency with a firm texture.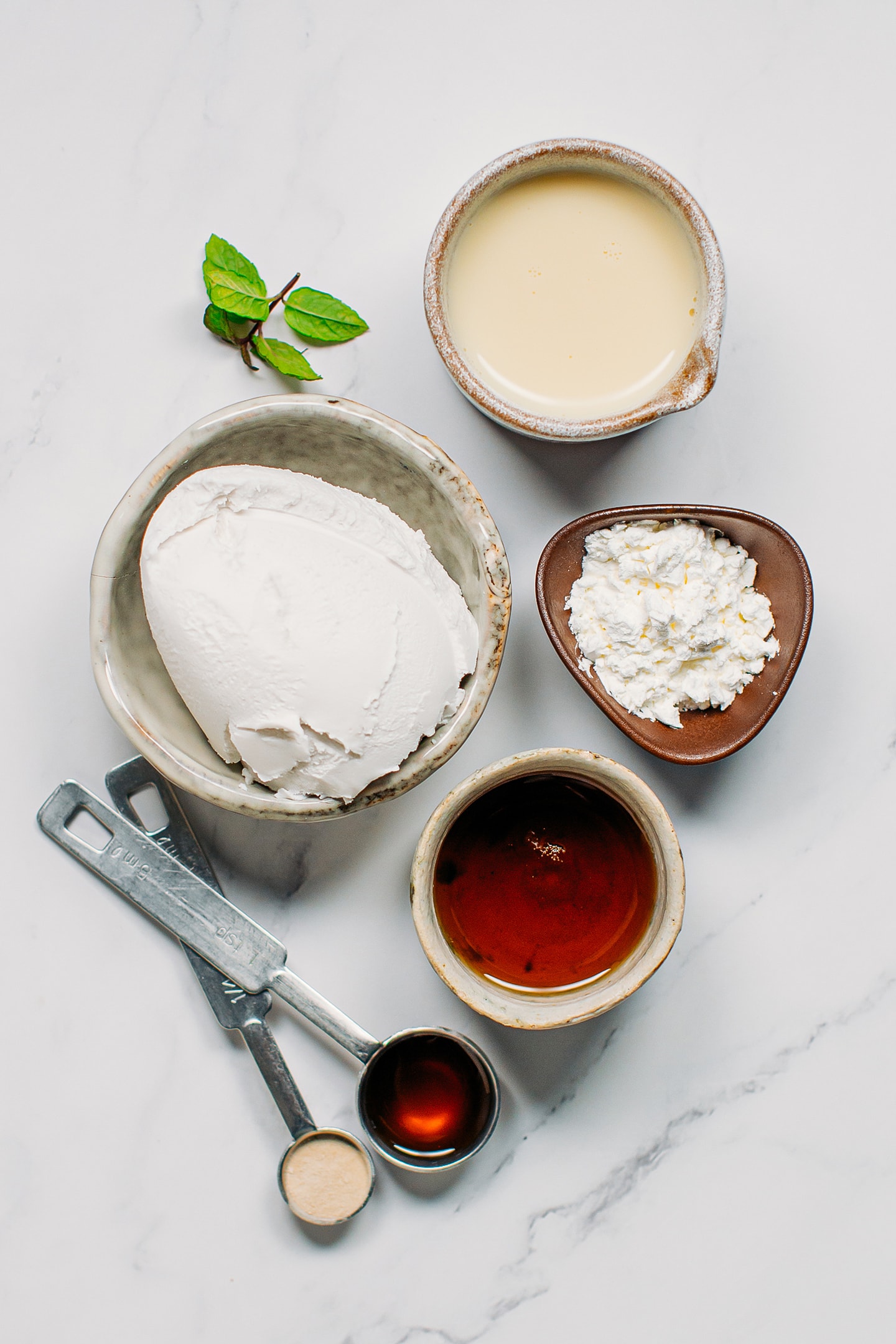 🥣 How to Make Vegan Creme Caramel
1. The Caramel
We start by preparing the caramel. To keep it refined-sugar free, I went with a combination of maple syrup and coconut sugar. You combine them in a small saucepan and bring to a boil to dissolve the sugar and let it caramelize a bit.
I'm also sharing another way to make a more traditional caramel in the recipe notes if you don't want to use maple syrup and coconut sugar. The latter version is a bit simpler and yields a slightly better caramel flavor, but makes use of white sugar. The choice is yours!
Next, divide the caramel into 4 small ramequins and let it harden at room temperature.
2. The Vanilla Custard
In the meantime, you prepare the vanilla custard. Almond milk is combined with coconut cream for richness, maple syrup for a delicate sweetness, and vanilla for flavor. Then we have cornstarch and agar that will help the creme firm up once cooled.
For the vanilla, you can use vanilla extract, or the seeds from a fresh vanilla bean if you are looking for a deeper flavor.
Here is a quick tip if you want your creme caramel to look good: let the vanilla custard cool down a bit (2-3 minutes) before pouring it into the ramequins. I found out that if you pour it while still very hot, the creme tends to crack a bit on top.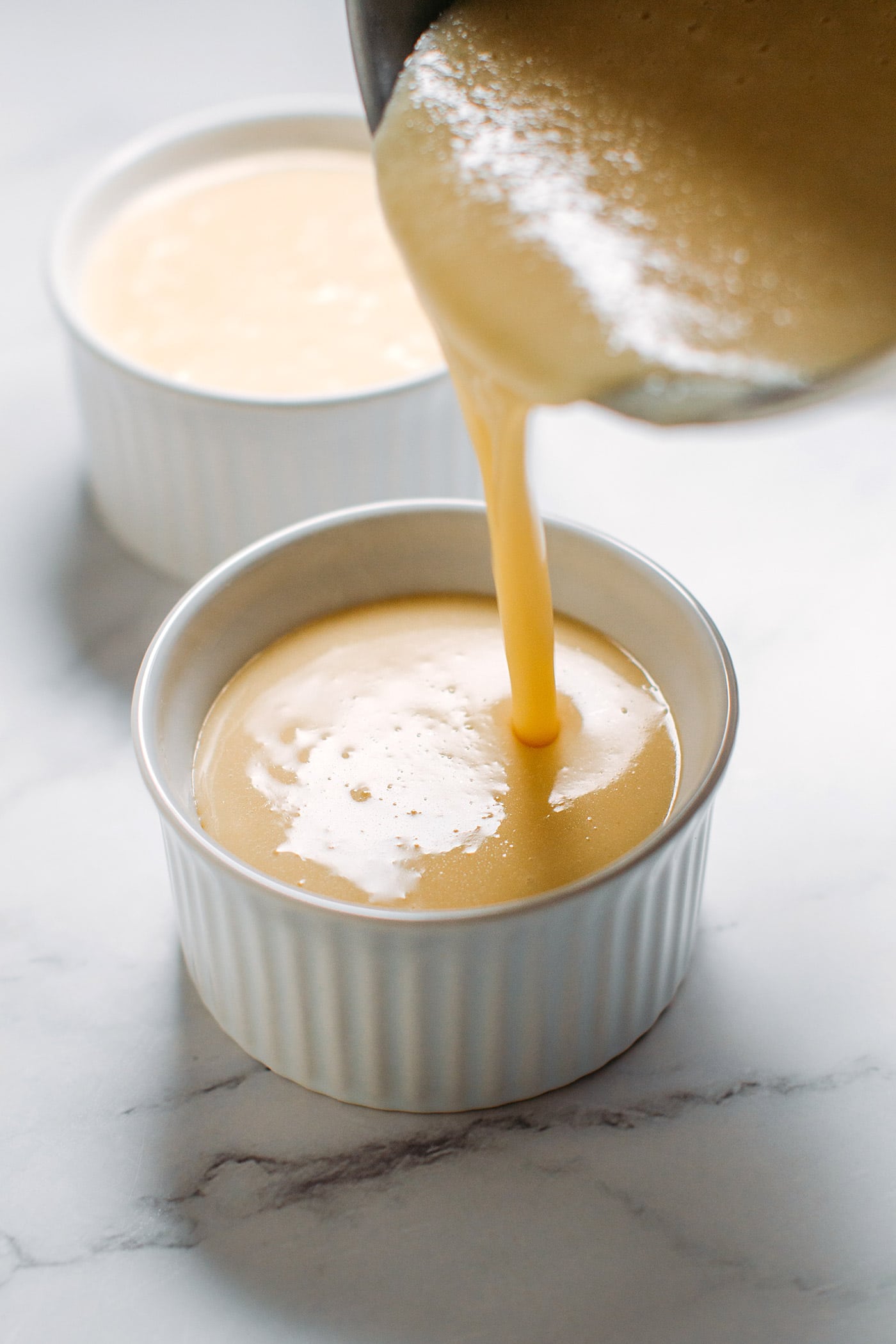 Finally, refrigerate for at least 8 hours before flipping over a plate. The caramel will "melt" over the creme caramel! It is sweet, a bit salty, and so creamy!
If you want to make this creme caramel fancier, I highly recommend making the salted coconut topping! It consists of shredded coconut and coconut flakes combined with maple syrup and salt that are toasted until golden brown and crunchy.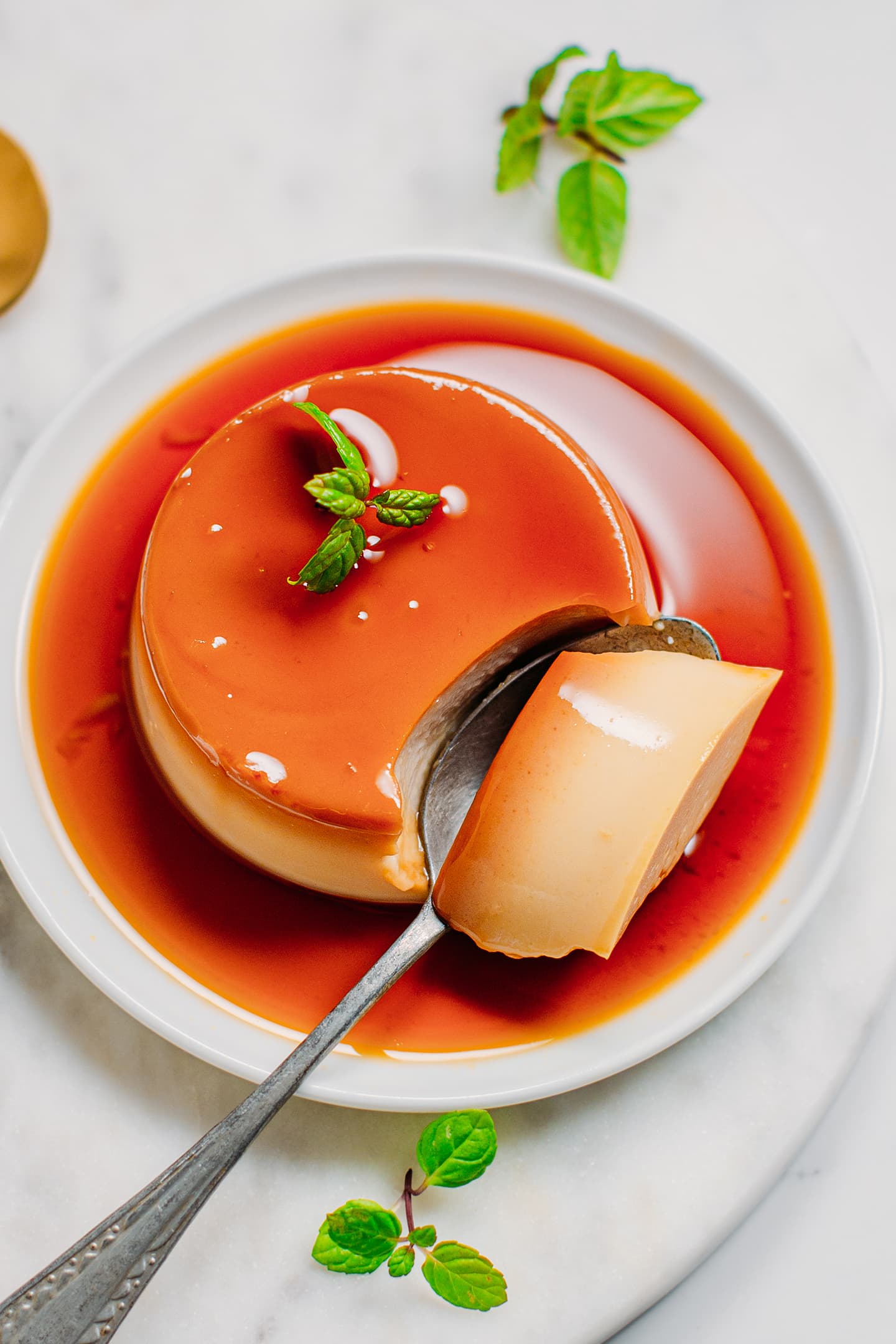 I hope you will all love this creme caramel! They are full of vanilla flavor, rich, and melt in your mouth! The caramel on top goes perfectly with the vanilla creme.
💬 FAQ
Are flan and creme caramel the same? Basically yes, it is the same dessert. The denomination changes depending on the country.
How do you eat caramel flan? There are two ways to enjoy this delicious dessert: Flip on a plate and let the caramel coat the vanilla pudding, or simply dig with a spoon in the ramekin.
Which is best, vanilla extract or a vanilla bean? Both yield great results! Seeds from a vanilla bean give the pudding a deeper, fresher flavor, however, it is more expensive than vanilla extract.
How long does creme caramel keep? Creme caramel will keep for up to 3 days in the refrigerator.
More Plant-Based Dessert Recipes
Let me know in the comments if you try this recipe!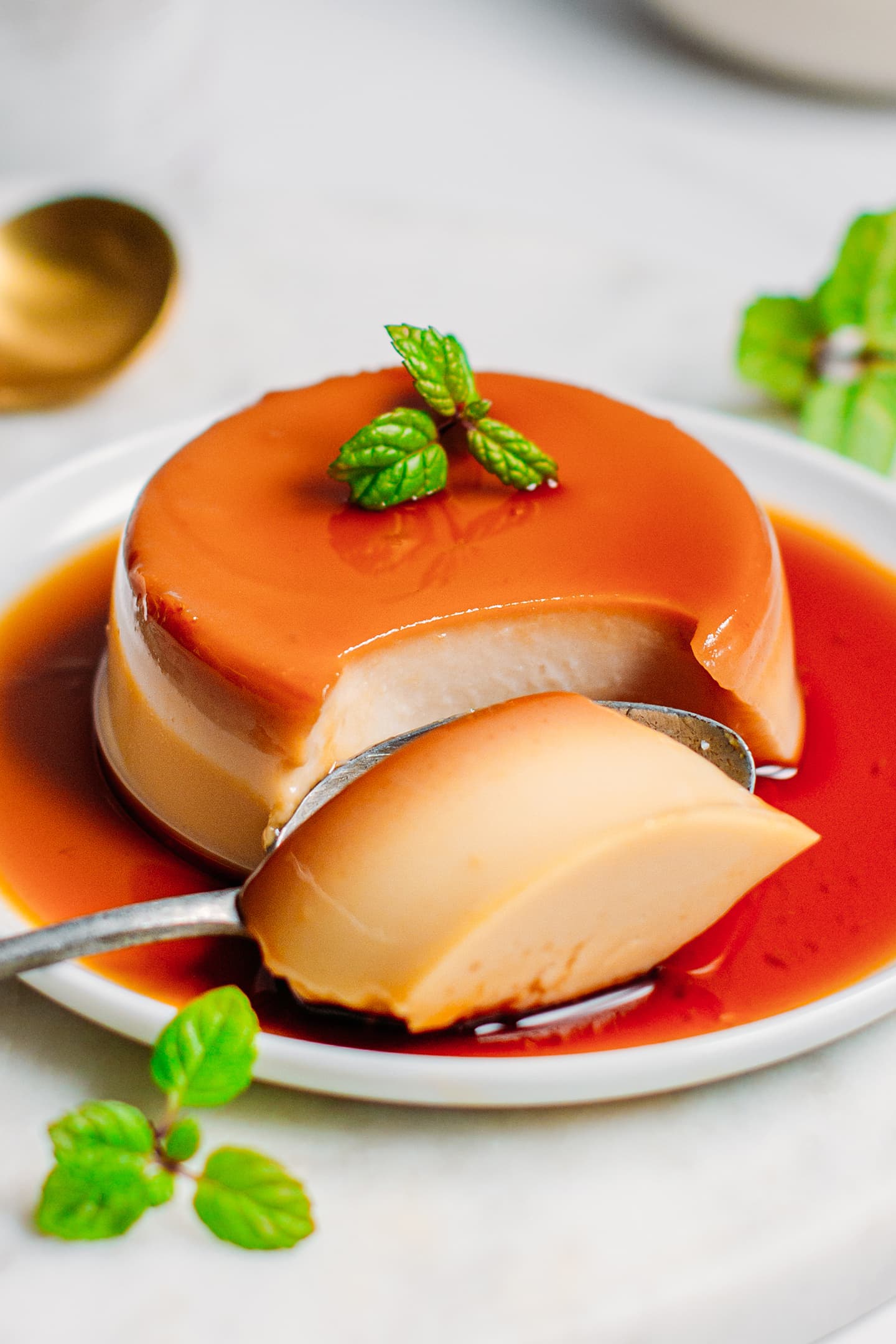 📖 Recipe
Vegan Creme Caramel (Flan)
Super creamy vanilla creme caramel topped with a rich salted caramel sauce. It melts in your mouth and is perfectly sweet! Eggless, dairy-free, and vegan!
Ingredients
Salted Coconut Crumble (optional)
2

tablespoon

shredded coconut

2

tablespoon

large coconut flakes

1

teaspoon

maple syrup

⅛

teaspoon

salt
Instructions
Start by preparing the caramel. Add the maple syrup, coconut sugar, salt, and white vinegar to a small saucepan. Heat over medium heat, stirring regularly until it starts to boil. Once boiling, let it boil for about 30 seconds, keeping an eye on it to make sure it doesn't burn.

Immediately remove from heat and divide the caramel into 4 small ramequins. Tilt each ramequin to spread the caramel in the bottom. Set aside and let it cool for at least 20 minutes.

In a medium-sized saucepan, combine the almond milk, coconut cream, and maple syrup. Add the cornstarch and agar and whisk to dissolve.

Heat over medium heat, whisking constantly until it thickens (usually just before boiling). Once it has thickened, remove it from heat, stir in the vanilla extract, and whisk again.

Cover the saucepan with a lid and let it cool for about 5 minutes before pouring it into the ramequins over the caramel. I recommend letting it cool a bit because if you pour it immediately over the caramel it will make it melt and it won't result in good-looking creme caramel.

Let the creme caramel cool a bit at room temperature before transferring it to the refrigerator. Refrigerate for at least 8 hours or overnight, the creme caramel will set and the caramel will melt.

To serve, run a knife along the edges of each ramequin, cover with a plate, and flip it. The caramel sauce will be on top and coat the creme. Serve fresh, topped with the salted coconut crumble!
Salted Coconut Crumble (optional)
Preheat oven to 300°F (150°C) and line a baking sheet with parchment paper.

In a small bowl, mix the shredded coconut, coconut flakes, maple syrup, and salt.

Spread the coconut on the prepared baking sheet and bake for about 10 minutes, or until golden brown. Let it cool completely before using.
Notes
For a more traditional caramel: place ¼ cup sugar in a medium saucepan. Add 1 tablespoon of water and a pinch of salt. Heat over medium heat for about 5 minutes, or until the sugar is dissolved and starts boiling. After another 1-2 minutes, it will get nice golden brown color. At this point, remove from heat immediately as you don't want the caramel to burn, and divide into the ramequins.
Nutrition
Serving:
1
Creme Caramel (without topping)
|
Calories:
158
kcal
|
Carbohydrates:
26
g
|
Protein:
0.9
g
|
Fat:
5.9
g
|
Fiber:
0.4
g
|
Sugar:
19.3
g
DID YOU MAKE THIS RECIPE?
Tag @fullofplants on Instagram and hashtag it #fullofplants