What's up guys? I know it's been almost a week since I posted a recipe but I'm still here and back to my posting schedule!
I didn't have much time to work on a recipe lately since I spent the weekend in Rotterdam. What a nice city! As soon as I arrived at the airport I started to smell cinnamon, probably coming from the few bakeries selling stroopwafels, apple pies and other dutch specialties. There are many nice places to visit, my favorite was definitely the Market Hall, which is a huge indoor market full of restaurants and food shops. Fresh bread, exotic fruits, vegan desserts, vegetables and a lot more, it's basically food heaven. Vegan options are also available at many places, so if you are thinking of visiting Holland anytime soon, do not think twice! I discovered a few specialties that I plan to "veganize" soon, stay tuned!
Back to this recipe, Baba au rhum is a famous French dessert that consists of a soft round cake soaked in a rhum flavored syrup. It is very moist and usually served with whipped cream or custard. This dessert is very popular around the Christmas or Easter season in France.
These baba au rhum are gluten-free, incredibly moist and make the perfect dessert for a fall evening! Let's warm up with some rhum!
The cakes are made with a mix of different gluten-free flours, the addition on almond meal makes them very soft and moist. I used this wilton donut baking pan but you can also bake them in a regular muffin baking pan if you prefer. I like to make them in a donut pan to have a big whole I can fill with A LOT of whipped coconut cream 😉
While the texture of these gluten-free baba au rhum is a little more dense than the regular ones, they are incredibly moist and melt in your mouth.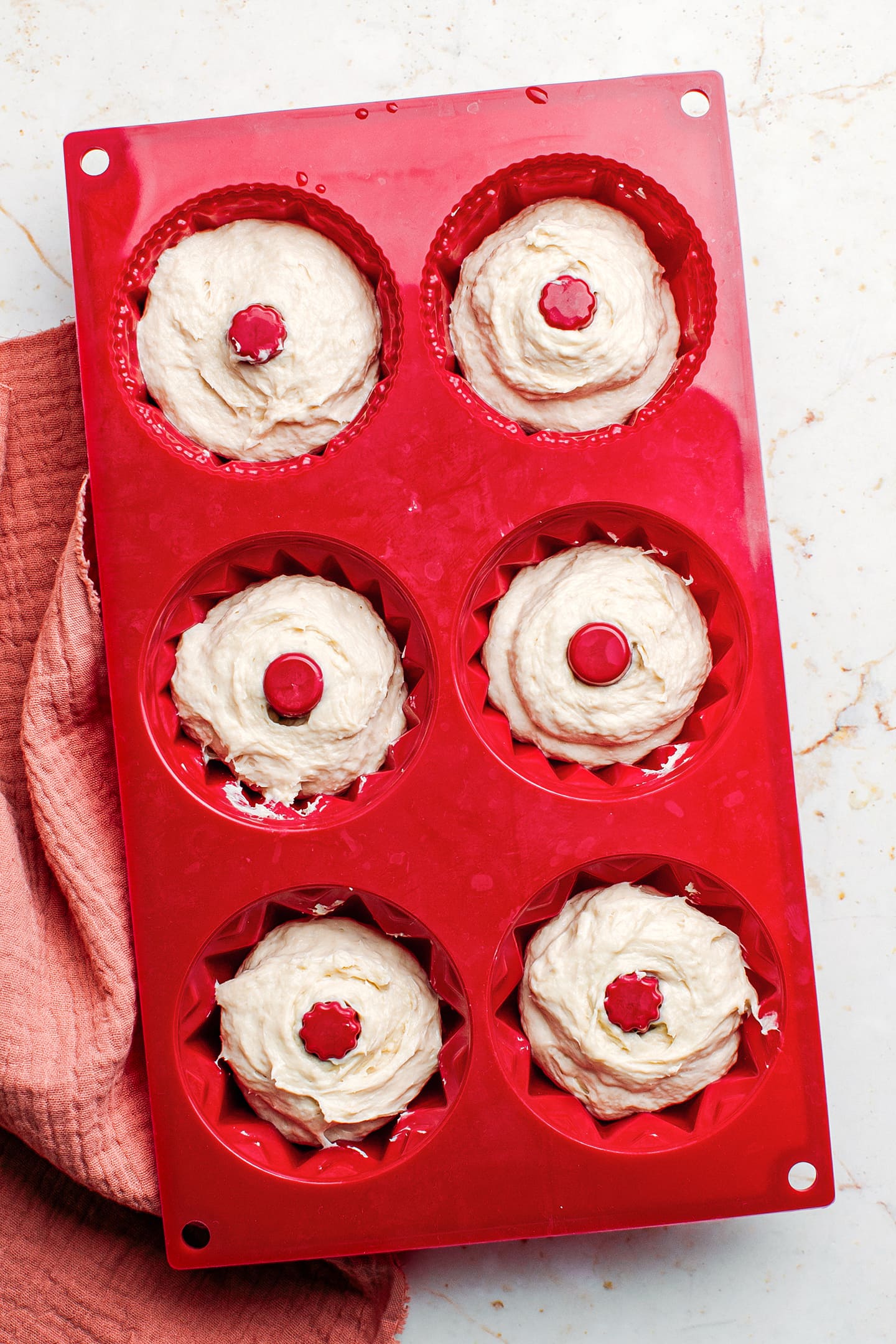 The syrup is the magical ingredient that adds the specific flavor of baba au rhum. It is a mix of water, coconut sugar and rhum. Since the babas au rhum are just soaked, they do not contain a lot of alcohol.
It is suitable for kids who don't mind the rhum taste, just don't give them 3 in a row!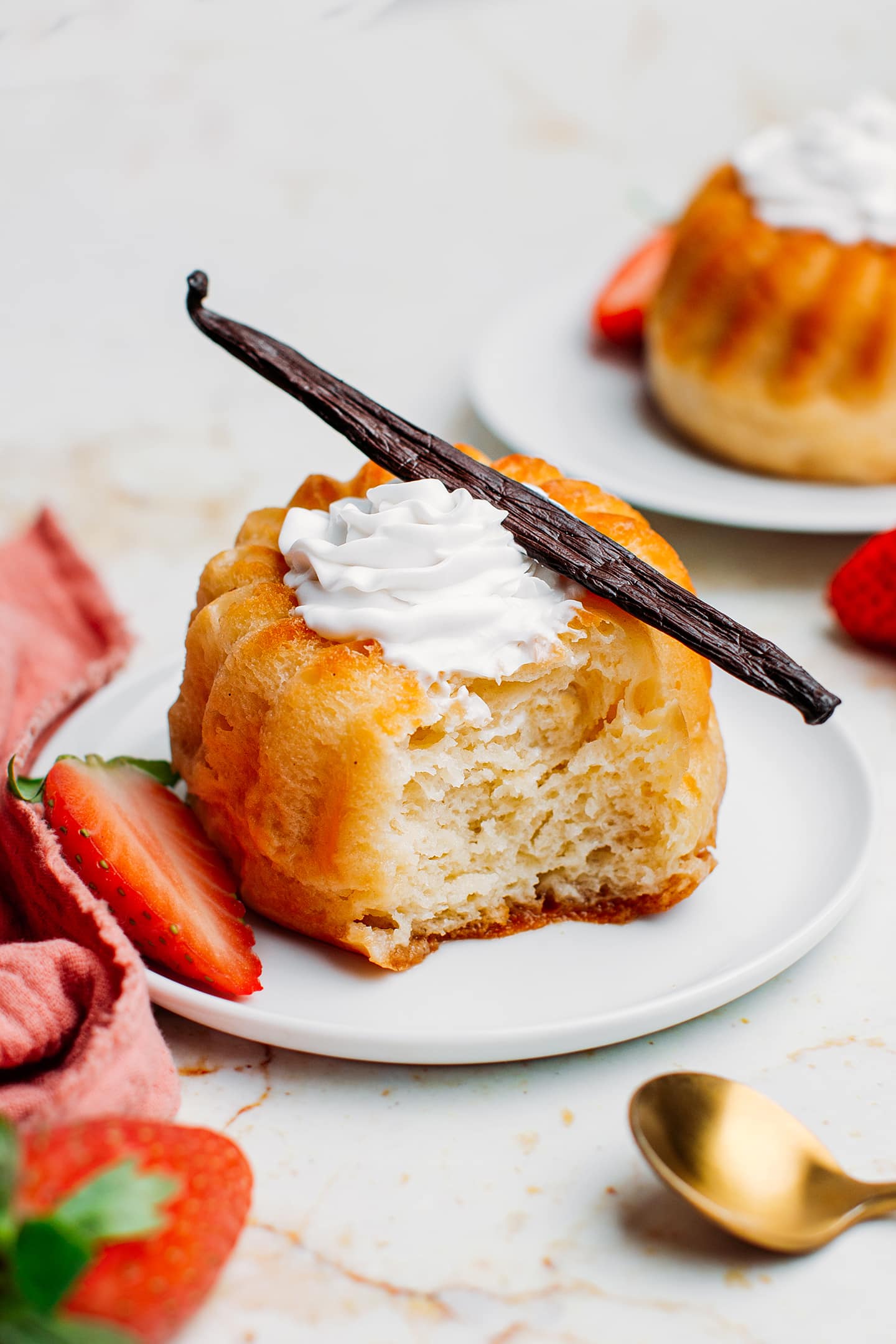 If you have never tried Baba au rhum, I urge you to do so. It's incredibly flavorful, moist, and if you like rhum, there is no chance you are not going to like this dessert!
Let me know if you try this recipe in the comments!
Easy Vegan Baba au Rhum
Moist and soft cakes that are soaked in a rhum flavored syrup. This famous French dessert is vegan and gluten-free! An easy and delicious fall dessert!
Ingredients
Cakes
1

cup

and 2 tablespoon white rice flour

½

cup

almond flour

2

tablespoon

potato starch

2

tablespoon

coconut oil

melted

2

tablespoon

agave syrup

¼

teaspoon

baking soda

1

teaspoon

baking powder

½

teaspoon

xanthan gum

2

teaspoon

apple cider vinegar

½

cup

and ⅓ cup almond milk
Toppings (optional)
more rhum syrup

whipped coconut cream or custard

strawberries
Instructions
Cakes
Preheat oven to 350°F and lightly grease a donut baking pan.

In a large bowl, combine the white rice flour, almond meal, potato starch, baking soda, baking powder and xanthan gum.

Slowly pour in the almond milk and mix with a wooden spoon until well combined. Add the coconut oil, agave syrup and apple cider vinegar and mix again until everything is incorporated.

Spoon the batter into the donut pan, filling the cavities to the top. If you have a piping bag, feel free to use it, it will be easier.

Bake for about 15 minutes, or until golden brown. The cakes will be soft but will harden a little bit once they are cool. Wait at least 30 minutes before trying to remove the donuts from the pan.
Rhum syrup
While the cakes are baking, combine the water and coconut sugar in a medium sauce pan.

Bring to a boil and let simmer for about 7-8 minutes, the sugar must be fully dissolved.

Remove from heat, let sit 5 minutes and stir in the rhum.

Dip each cake completely in the warm rhum syrup and let it soak the syrup for about 30 seconds. Remove from the syrup using a spatula and place each baba on a small plate. Place the babas au rhum in the fridge for at least 2 hours, or until completely cool. Transfer the syrup into a small bowl and place it in the fridge too.

Drizzle with more rhum syrup before serving and top with whipped coconut cream, fresh fruits or custard. The babas au rhum taste better the same day but will keep for 2 days in the fridge.
Notes
You can omit the xanthan gum, just be aware the cakes will be more fragile.
If you don't plan to serve the baba au rhum the same day, I recommend you place each in a small soup plate and add enough syrup so they are half immersed. This will keep them from drying out too quickly.
Generously drizzle with more rhum syrup before serving.
Nutritional information is for one cake without syrup. The rhum syrup adds extra calories but since half is water it's not worth counting.
Nutrition
Serving:
1
(without syrup)
Calories:
219
kcal
Carbohydrates:
28.7
g
Protein:
3.5
g
Fat:
10
g
Fiber:
2
g
Sugar:
5.8
g
DID YOU MAKE THIS RECIPE?
Tag @fullofplants on Instagram and hashtag it #fullofplants