Learn how to make perfect vegan crêpes! Thin, light, and stretchy with crispy edges, these crêpes are easy to make and require just 5 ingredients! Ready for a crêpe party?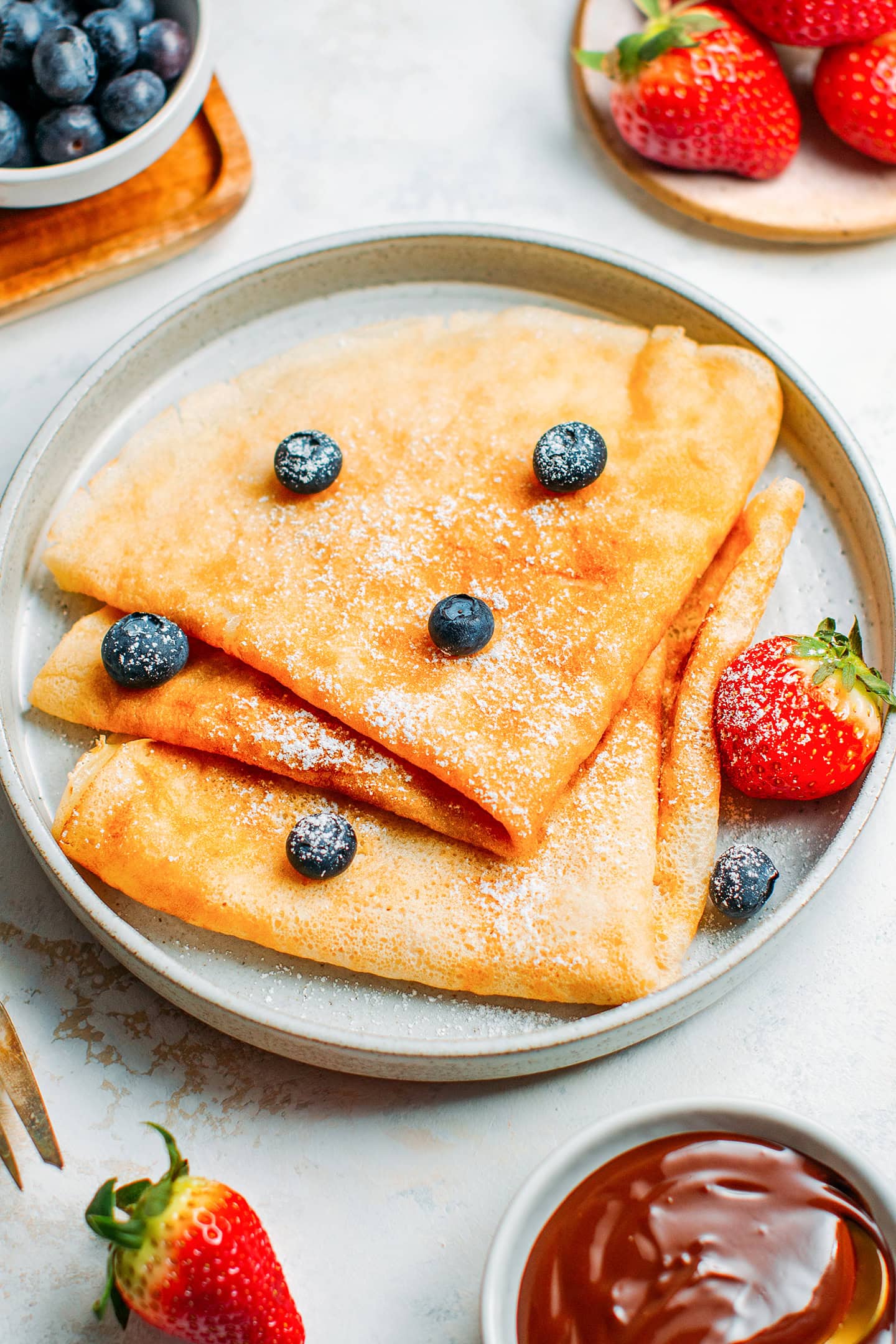 Jump to:
Crepes always make a hearty and easy breakfast since you can make the batter the day before and just cook them in the morning. Topped with fresh fruits or jam in the summer, peanut butter, maple syrup or chocolate in winter, or filled with stir-fry vegetables for dinner, you can use them in many ways!
As a French, I have been eating crêpes during all of my childhood, and I can tell you these eggless crêpes taste just like the ones I used to love!
⭐️ Why You Will Love this Recipe
Very easy to prepare: Simple ingredients, simple process.
Perfect for breakfast: The batter can be prepared one day ahead, so you just have to cook the crêpes in the morning. It also makes a great afternoon snack.
Spot-on texture: Super thin with the right amount of elasticity, so you can fold or roll them easily.
🥞 What are Crêpes
Crêpes are very thin pancakes that originated in Brittany, a region of France. It is often served sweet, filled with sugar, chocolate spread, or jam, and enjoyed as an afternoon snack.
Traditionally, crêpes are prepared using flour, eggs, milk, and butter. Here, I am sharing a version that is eggless and prepared using plant-based milk.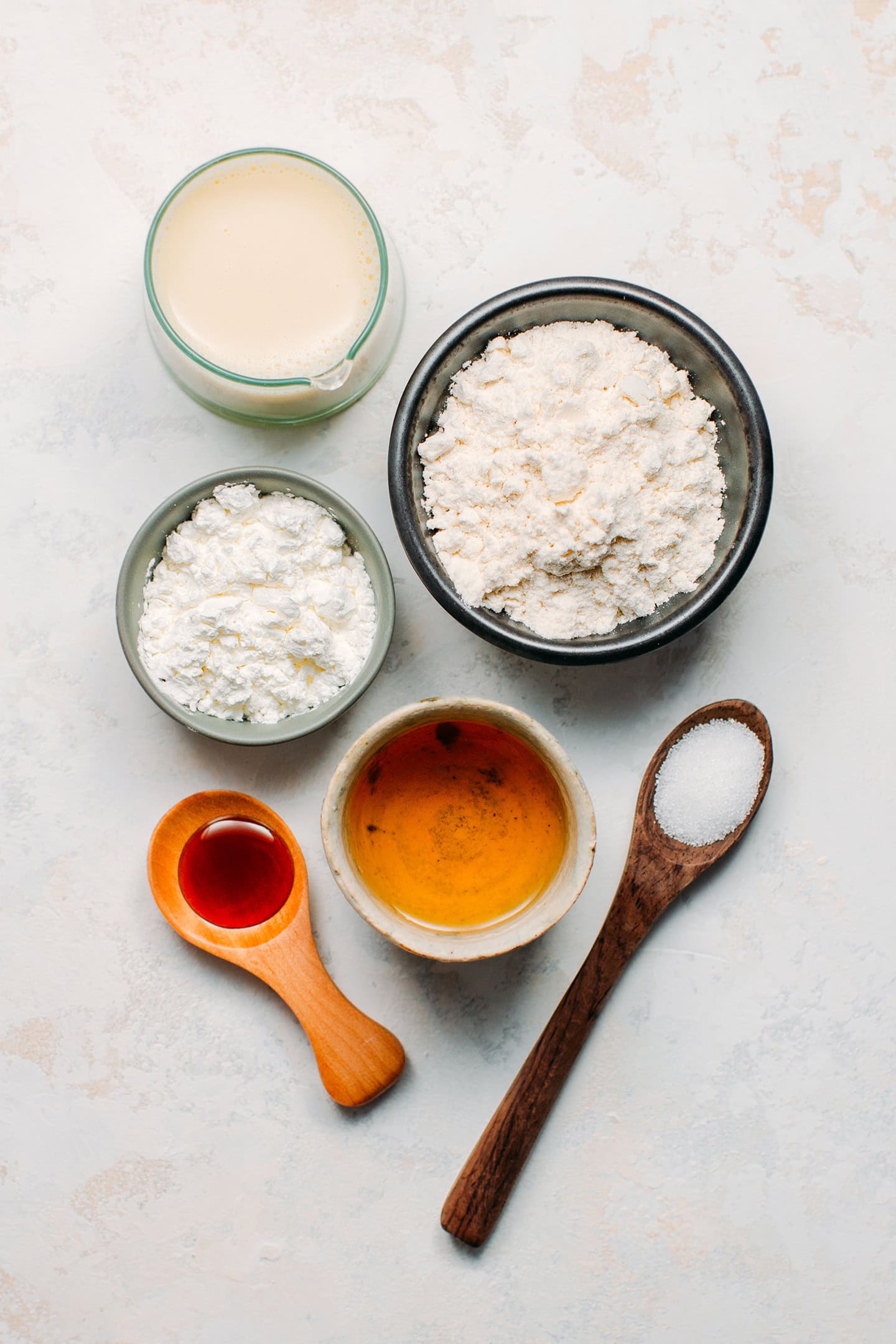 🥛 Ingredients to Make Vegan Crêpes
Here is everything you will need to make the best vegan crêpes:
Flour - If you are making the classic non-gluten-free version, use all-purpose flour. For instructions on how to make gluten-free crêpes, check the FAQ.
Cornstarch - Cornstarch makes the crêpes lighter and gives them a little bit more elasticity.
Unsweetened almond milk - Or your favorite plant-based milk.
Oil - For richness and texture.
Sugar - You can use regular white sugar, a sweetener, or a refined sugar-free alternative like coconut sugar or maple syrup. Sugar helps with the caramelization, giving the crêpes a golden brown color.
Salt - Just a pinch, for taste.
Vanilla extract - While optional, vanilla extract makes the crêpes even tastier! Omit if planning to serve these crêpes with a savory filling.
Rum - Optional as well, add a splash of rum to add a wonderful flavor to your crêpes! You can also use orange blossom water for a more floral aroma.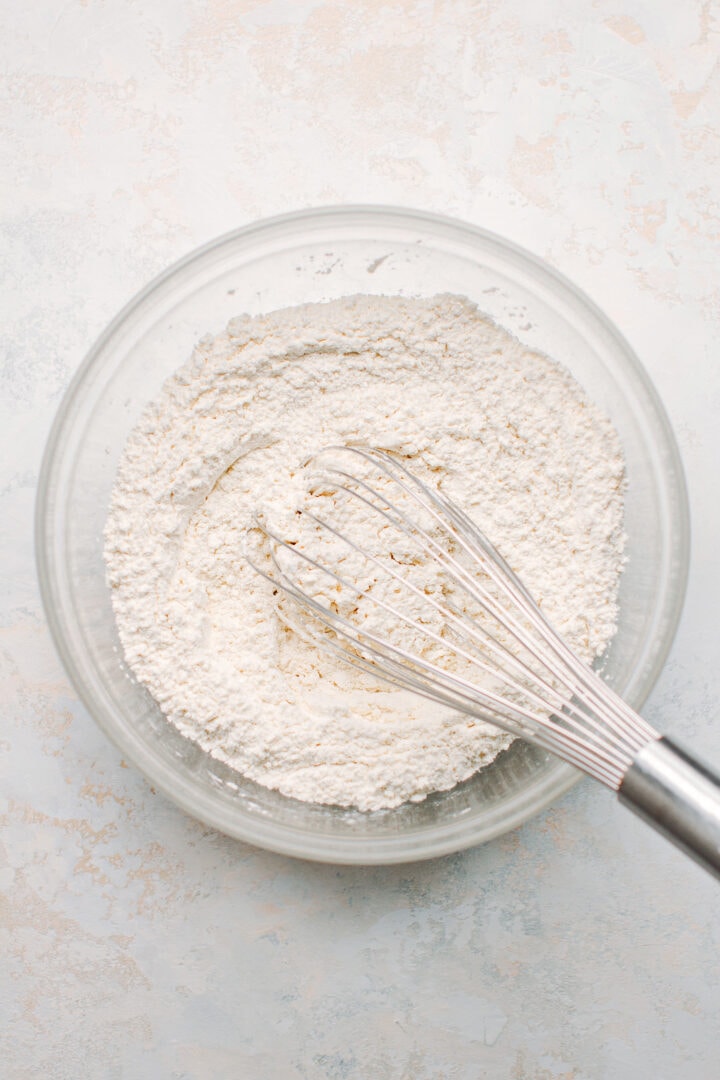 🥣 How to Make Vegan Crêpes
Whisk the dry ingredients. In a large bowl, whisk together the flour, cornstarch, sugar, and salt.
Add the wet ingredients. Slowly pour in the milk and whisk to get a smooth batter. I used a combination of milk and water here (for a lighter result), but you can use only milk if you prefer.
Let the batter rest. Cover the bowl and let the batter rest for at least 2 hours. It will allow the crêpes to be more tender and hold up better.
Cook in a non-stick skillet. Pour in ⅓ to ½ cup of the batter, depending on the size of your pan, and tilt the pan to spread it into a thin and even layer. Cook until golden brown, flip, and cook for another 30-60 seconds.
Garnish!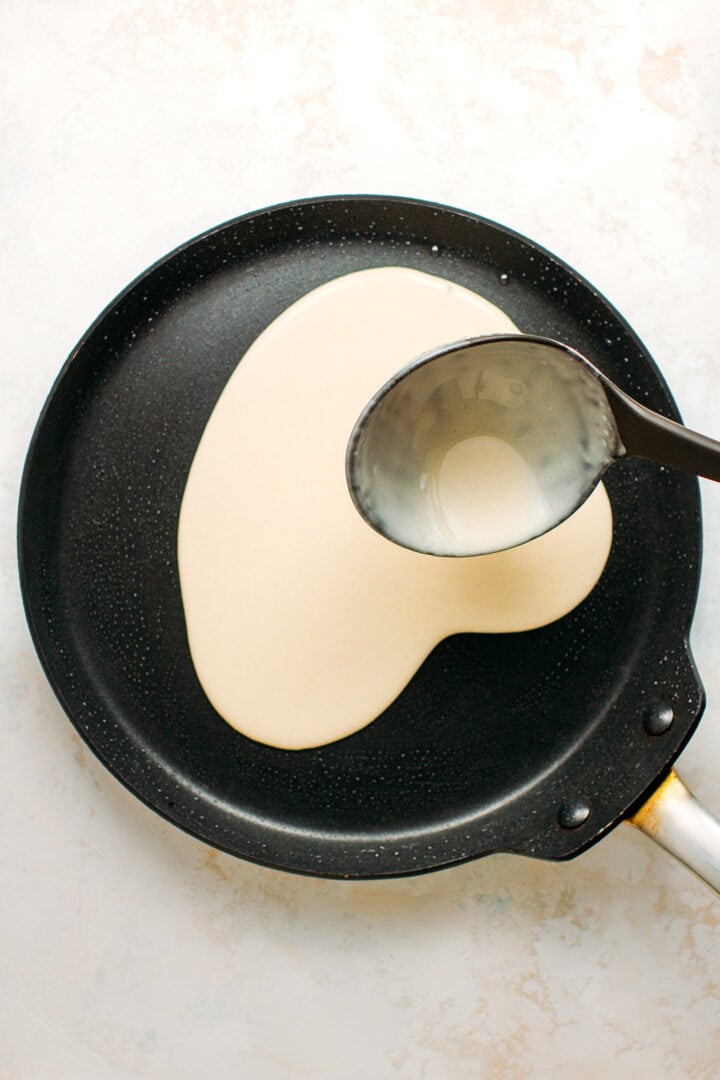 Thin and crispy edges is exactly what you want!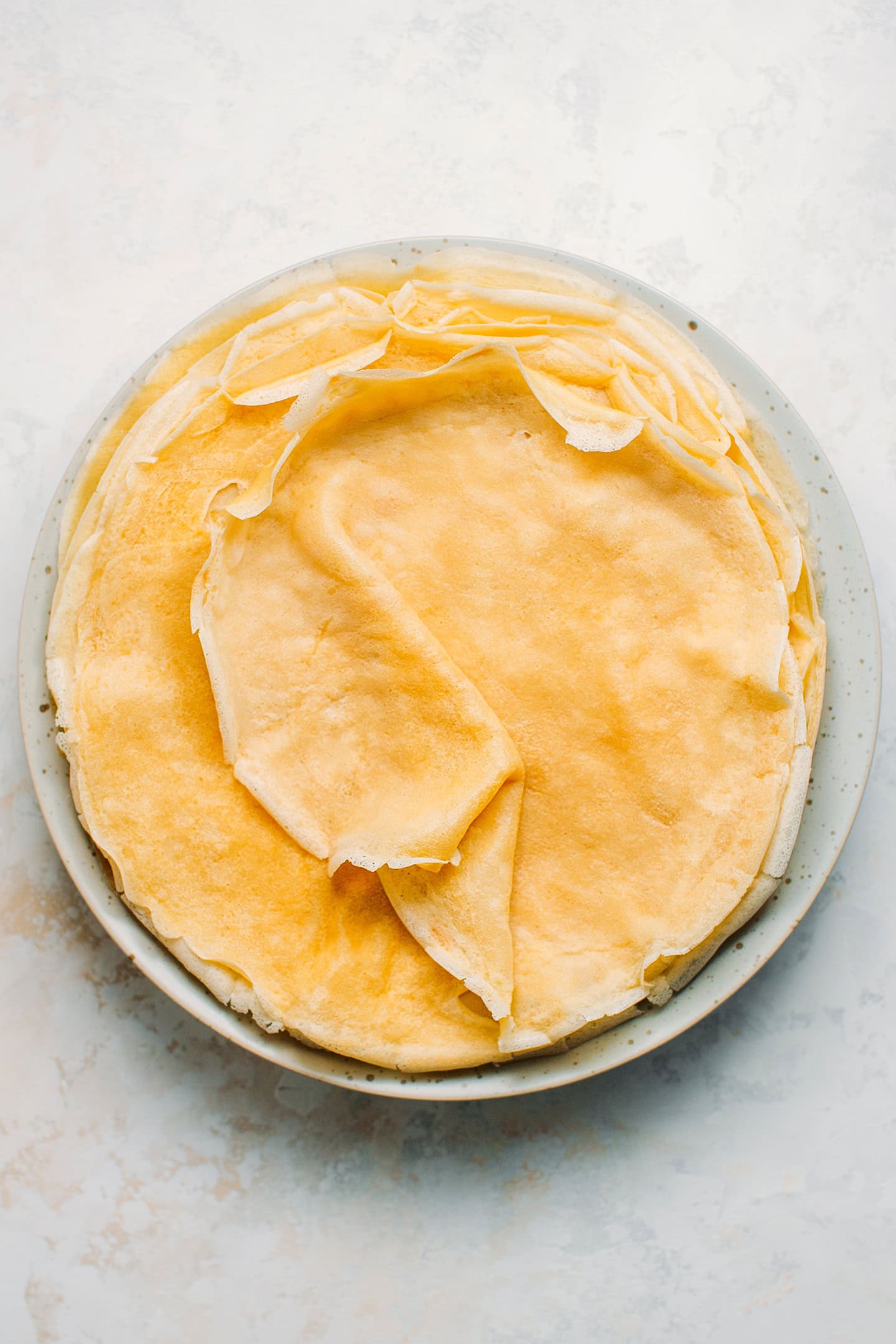 🍫 What to Serve with Crêpes
Vegan Nutella - Or your favorite nut butter. I personally love it with praline paste! It would also be delicious with this Vanilla Chocolate Spread!
Sugar - Sprinkle with white or brown sugar.
Fruit jam - Strawberry, blueberry, or even peach jam!
Chestnut spread - French crêpes are sometimes filled with sweet chestnut spread, which is a spread made from candied chestnuts.
Pastry cream - Fill the crêpes with vanilla pastry cream and some raspberries for a fresh and fruity dessert!
Once filled, you can fold the crêpe in 4, or simply roll it. Personally, I prefer it rolled, but that is up to you!
If you are more into savory crêpes, I highly recommend trying these Buckwheat Crêpes with Creamy Mushrooms!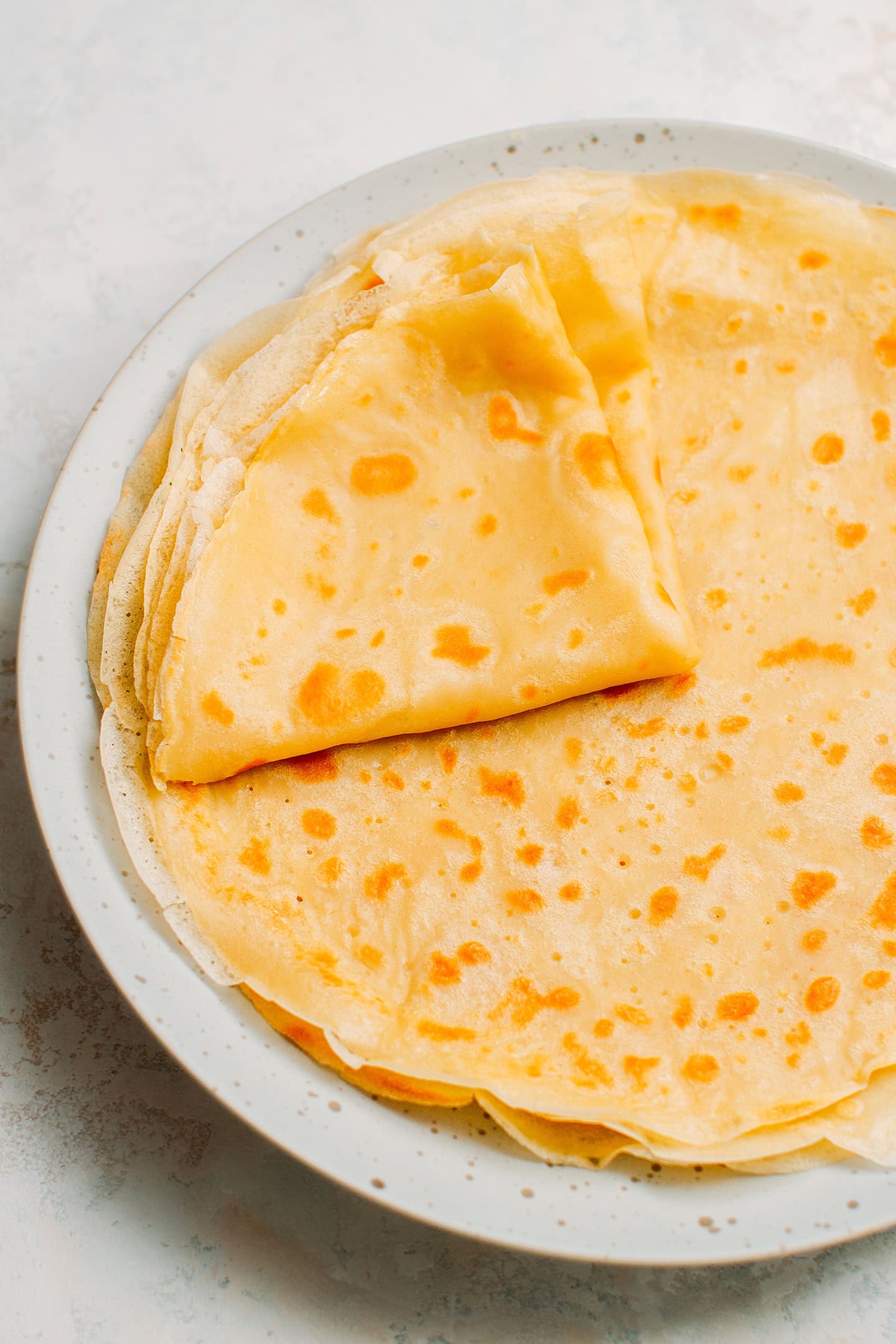 📗 Tips
If your batter is grainy: Pass it through a fine-sieve mesh or blend it until smooth.
Do not skip the resting time: The batter needs to rest in order to get the good consistency. You can prepare the batter the day before and keep it in the refrigerator. Quick tip: transfer the batter to a clean plastic or glass bottle, it will take up less space in your fridge!
Use a non-stick crêpe skillet: For the best results, I highly recommend using a Non-Stick Crêpe Pan. Not only it will be easier to cook the crêpes, but it will allow you to get them thinner and more evenly cooked.
Make sure the skillet is hot enough: Medium heat works best. If the skillet is not hot enough, your crêpes will be pale and doughy.
Check the consistency of the batter: The batter should be thin enough to spread evenly into a thin layer as you tilt the pan. If it's too thick, dilute it with more milk or water, you don't want pancakes!
The color of your crêpes will depend on: the heat of your skillet, the type of skillet used, and how long you cook the crêpes. French crêpes are usually golden brown, while for example, Japanese crêpes are more pale as they are cooked for a shorter period of time.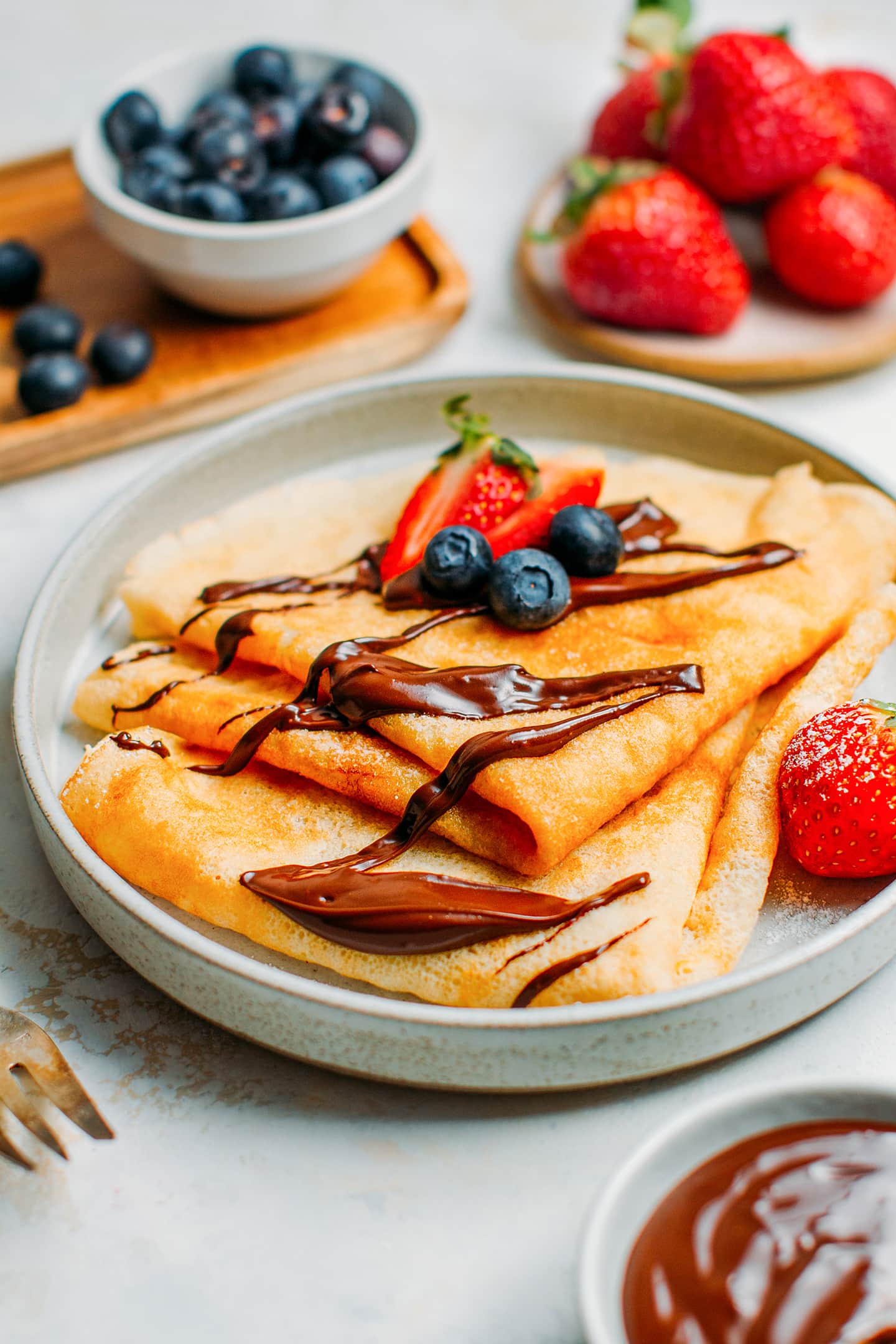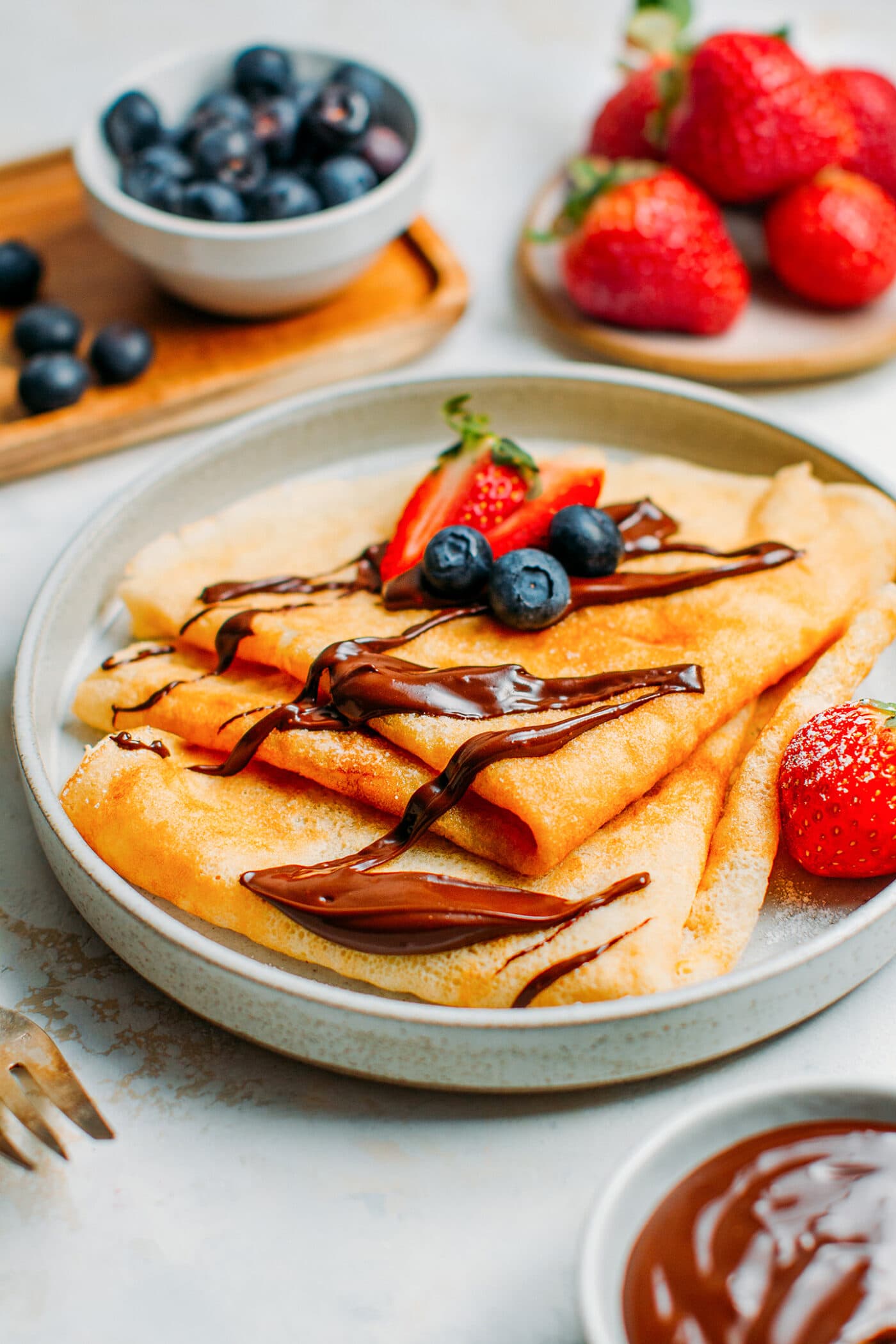 💬 FAQ
How Can I Make These Gluten-Free?
You have two options:
Use a store-bought gluten-free flour blend: Depending on the brand used, you might have to adjust a little bit the amount of liquid.
Make your own gluten-free blend: Check out the recipe notes to read how to make gluten-free crêpes from oat flour and cornstarch. Be aware this version is a little bit more fragile to handle, especially during the flipping. However, it will result in golden brown crêpes that are just as thin and delicious!
Note: the crêpes pictured here are not the gluten-free version.
How Can I Flavor Crêpes?
You can add spices like cinnamon, cardamon, orange blossom water, or your favorite spirit.
My Crêpes Have Holes, is This Normal?
Crêpes should have a smooth texture with no holes. If holes are forming when cooking the crêpes, it's probably because you didn't let the batter rest long enough and/or your pan is too hot.
How to Reheat Crêpes?
You can reheat crêpes in the microwave for 15-20 seconds, or in a pan over low-medium heat.
What is The Best Way to Store Crêpes?
First, stack your crêpes right after cooking and cover with a clean kitchen towel. This will prevent the crêpes from drying and keep them moist.
To store the crêpes, cover the plate with aluminum foil or plastic film once they have cooled down. You can keep it at room temperature for the day, or store in the refrigerator for up to 2 days. Be aware crêpes are always best served the same day though.
If you ever wanted to make authentic French crêpes, look no further! You are going to love this recipe! Plus it's perfect to serve to kids for breakfast, or as an after school snack!
🍮 More French-Inspired Dessert Recipes
Let me know in the comments if you try this recipe!
Update February 2022: Recipe has been completely revamped with new photos, tips and instructions.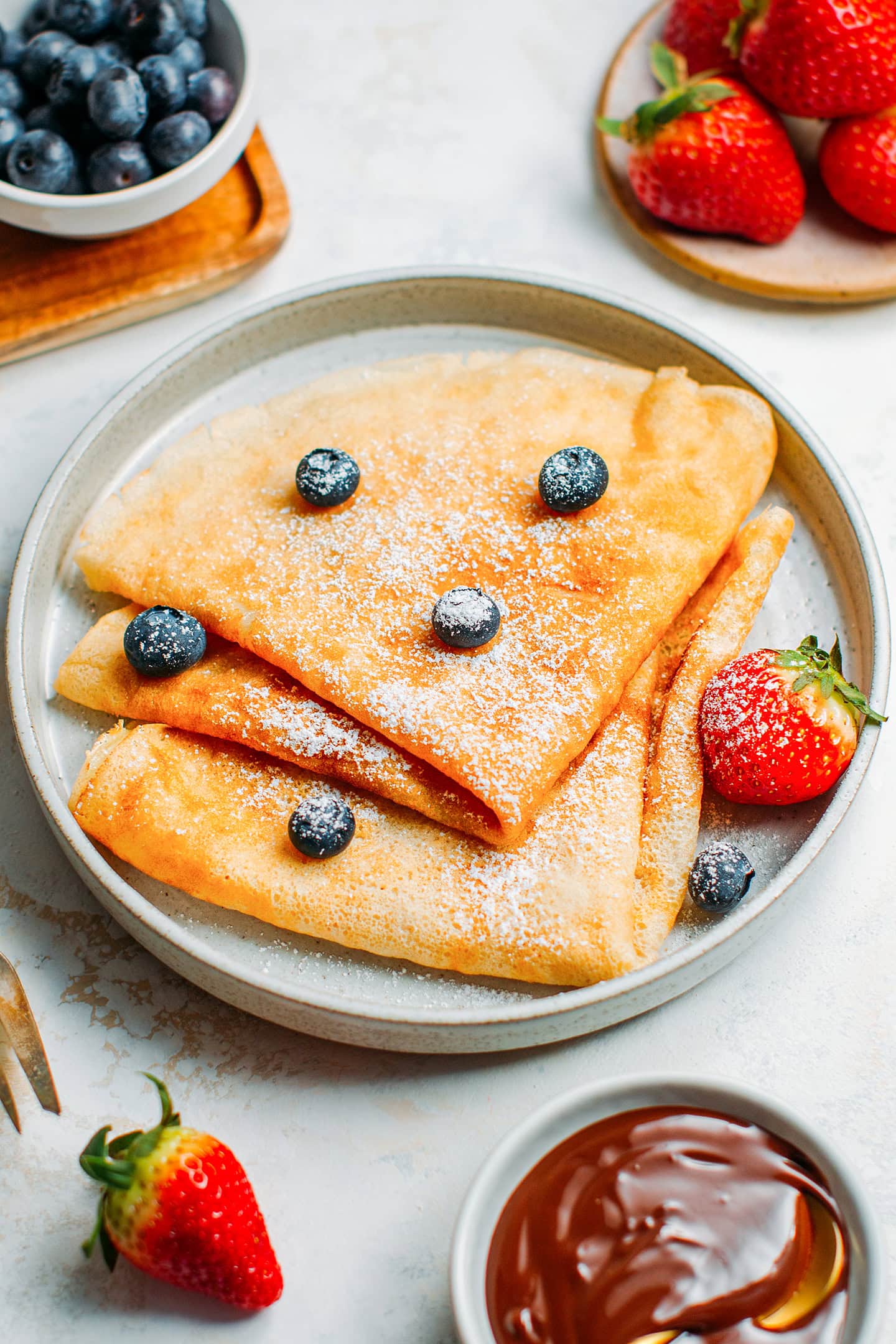 📖 Recipe
The Best Vegan Crêpes (with Gluten-Free Option!)
These delicious vegan French crepes are easy to make and great for breakfast or dessert! Thin, chewy, and so tender! With gluten-free option!
Ingredients
2

cups

all-purpose flour

½

cup

cornstarch

3

tablespoon

sugar

or coconut sugar

¼

teaspoon

salt

2

cups

unsweetened almond milk

or your favorite plant-based milk

1 and ¼

cup

water

2

tablespoon

oil

1

teaspoon

vanilla extract

optional

1

tablespoon

rum

optional
Instructions
In a large bowl, whisk together the flour, cornstarch, sugar, and salt. Pour in the almond milk and whisk until smooth. Next, add the water, oil, vanilla extract, and rum if using. Whisk until well combined. Cover with plastic film and let it rest for at least 2 hours at room temperature, or overnight in the refrigerator.

Heat a teaspoon of oil in a large non-stick skillet over medium heat. Use a kitchen paper towel to remove excess oil in the skillet.

Once the skillet is hot, pour about ½ cup of batter into skillet and tilt the pan with a circular motion to spread the batter evenly into a thin layer.

Cook the crepe for about 2 minutes, until just golden brown. Loosen with a spatula, flip and cook the other side for 30-50 seconds.

Stack the crepes on a plate to keep them warm. You can also cover them with a clean damp kitchen towel to keep the crepes moist and tender.

Serve warm or at room temperature filled with melted chocolate, nut butter, etc.
Notes
For the Gluten-Free Version:
Replace the all-purpose flour and cornstarch in the recipe with:
1 and ½ cup oat flour
¾ cup cornstarch
Cook the crêpes on one side for 2-3 minutes, then carefully flip and cook for another 1-2 minute on the other side. Crêpes will be a little bit more fragile during cooking, but will have the perfect texture and elasticity after cooling down for a few minutes.
Tips
Temperature: Your skillet should be hot enough when you pour the batter. If it's just warm, the crepes won't cook properly and will be difficult to flip. If the skillet is too hot, you won't have the time to rotate the pan to spread the batter evenly. I always cook my crepes on medium heat and wait 2-3 minutes to make sure the pan is hot enough.
Skillet: For even browning and easy to flip crepes, I recommend using a non-stick skillet, a cast iron skillet is definitely not recommended for this recipe.
Amount of batter: This will depend on the size of your skillet. If you add too much the crepes will be thick, heavy and have a gummy texture. You want thin crepes, not pancakes!
Nutrition
Serving:
1
Crepe
Calories:
115
kcal
Carbohydrates:
20.7
g
Protein:
2
g
Fat:
2.6
g
Fiber:
0.7
g
Sugar:
2.6
g
DID YOU MAKE THIS RECIPE?
Tag @fullofplants on Instagram and hashtag it #fullofplants