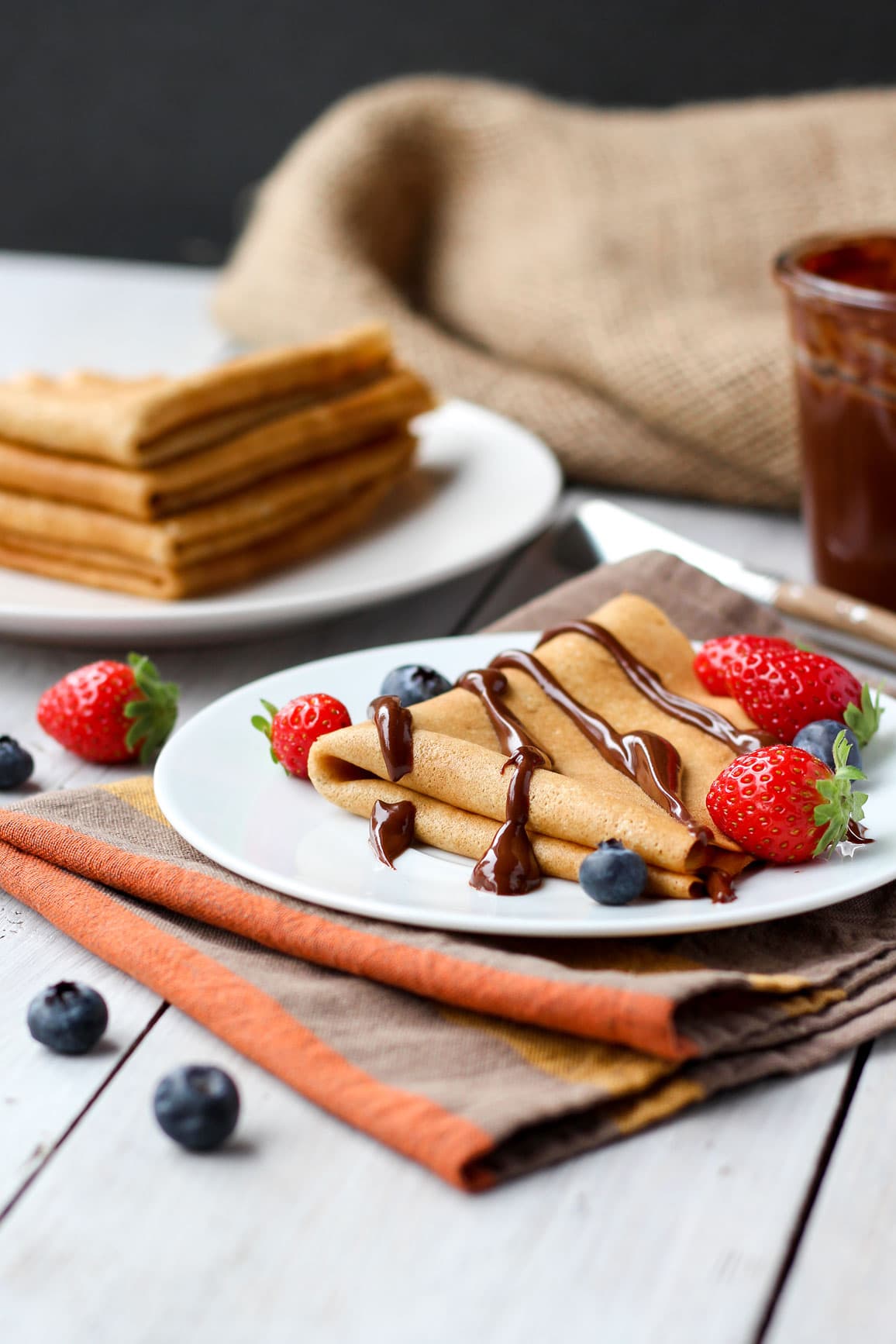 Update February 2019: The recipe has been completely reworked, the crepes are now gluten-free with a much better texture and flavor. In fact, the gluten-free version tastes even better than the previous one. I also added some extra tips at the end of the recipe to make perfect crepes! Now you don't have any excuses not to make delicious and thin crepes!
Crepes party? Here I come! Don't get me started on how much I love crepes, they are so thin, soft, and delicious with just about anything.
Crepes always make a hearty and easy breakfast since you can make them a day ahead and just reheat them in the morning. Topped with fresh fruits or jam in the summer, peanut butter, maple syrup or chocolate in winter, or filled with stir-fry vegetables for dinner, you can use them in many ways.
Regularly, my mom used to make us crepes when we were back from school. I would eat at least three at 4 pm and another two for dinner filled with bechamel and ham, plus another one with sugar for dessert. Six crepes...yes I was a real glutton at the time.
At least these crepes are refined sugar-free, vegan, gluten-free, and only require 30 minutes to make!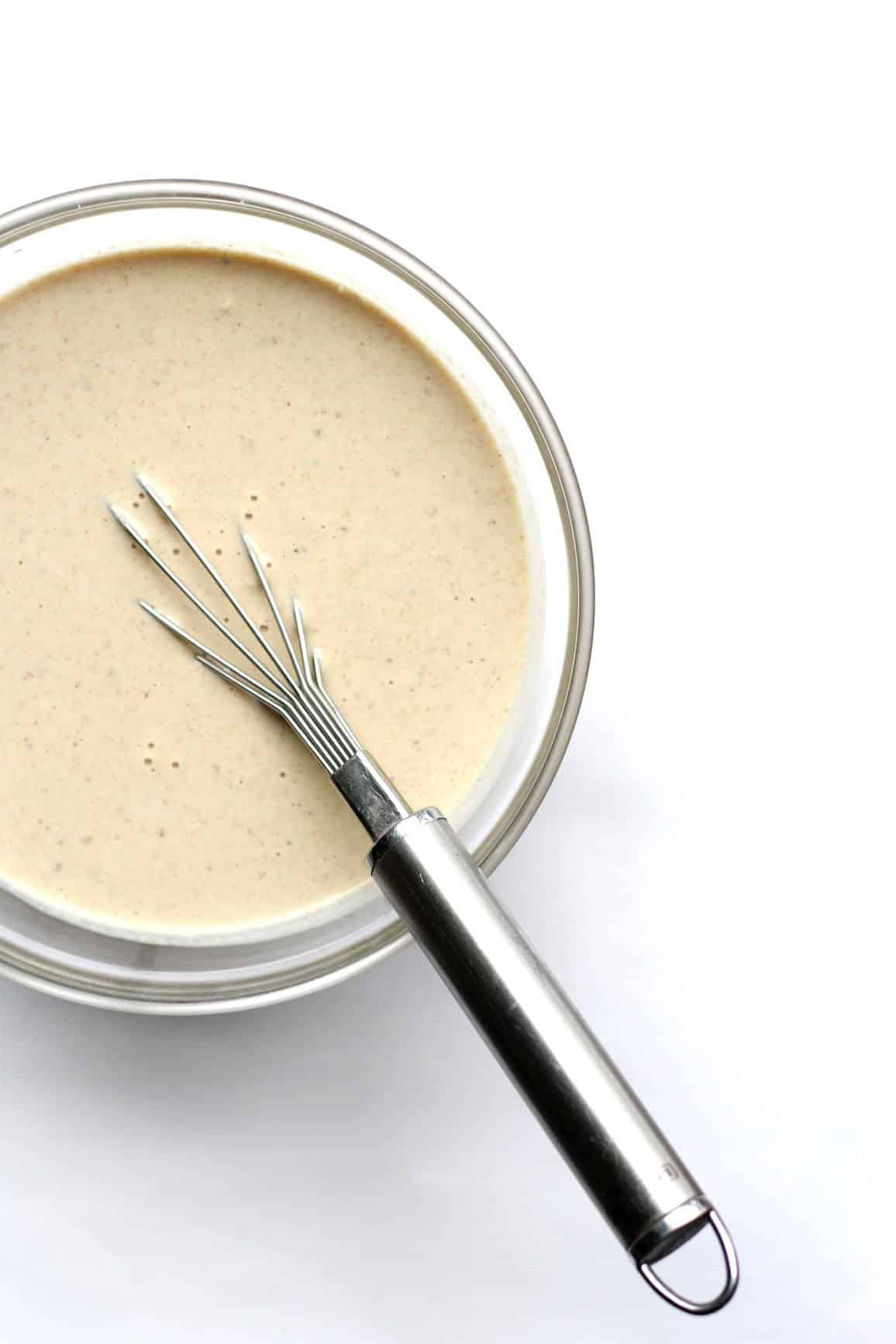 This recipe is really easy to prepare, all you have to do is mix all the ingredients and let the dough rest for about ½ hour. Heat skillet. Cook. Garnish. Eat.
I went with a mix of buckwheat flour, oat flour, and a bit of cornstarch to keep these crepes gluten-free, and healthy. Can you see how these crepes look like a pile of soft fluffy towels?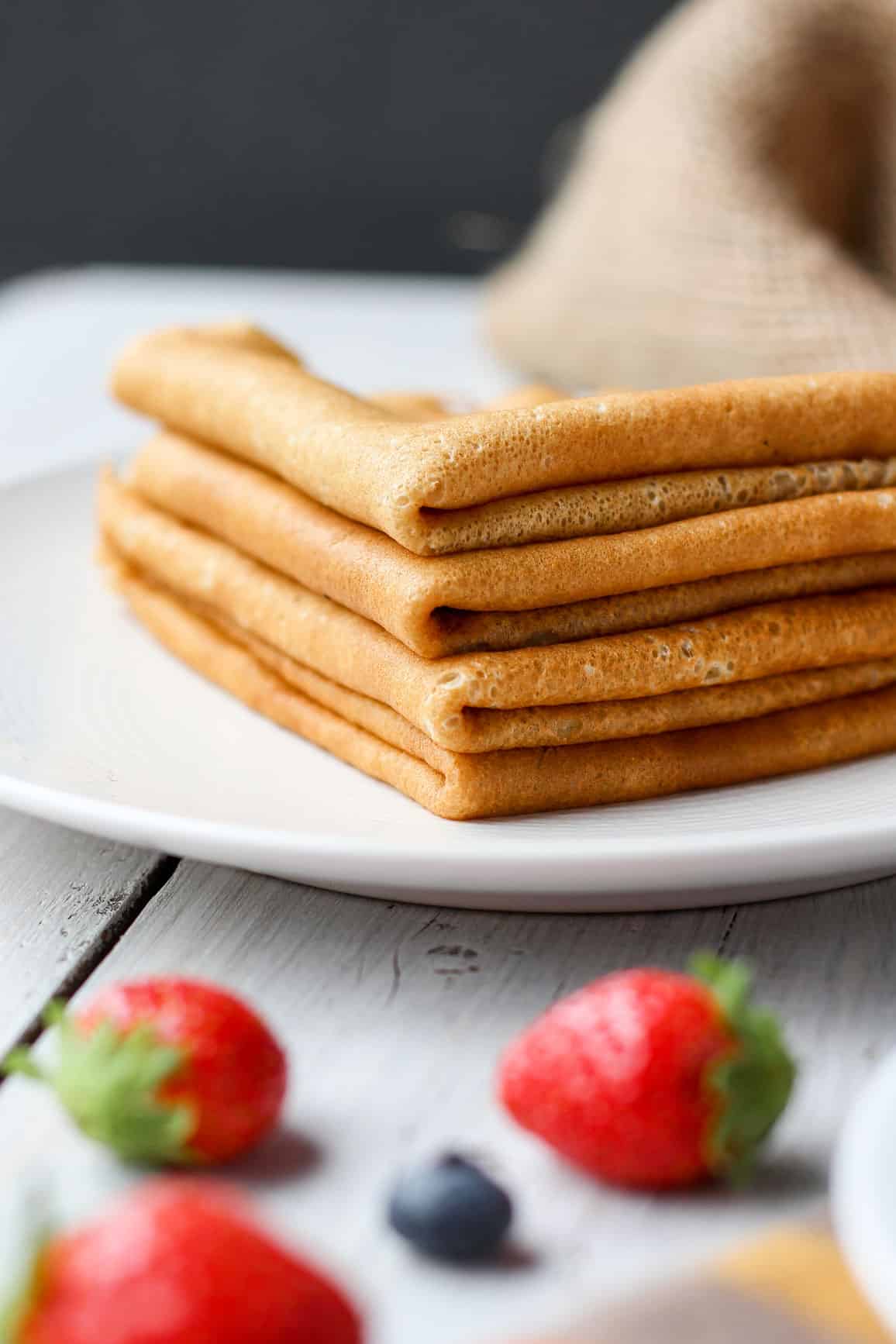 The crepes have the perfect texture and a little bit of elasticity so you can fold or roll them easily. They can be infused with a little amount of rum, which combined with the vanilla gives them a wonderful flavor.
I like my crepes still warm, generously filled with chocolate spread or peanut butter, or when I am feeling fancy, both. Feel free to share what are your favorite fillings or toppings! Peanut butter and jelly? Apple sauce and cinnamon? Or maybe just drizzled with some maple syrup, the combinations are endless.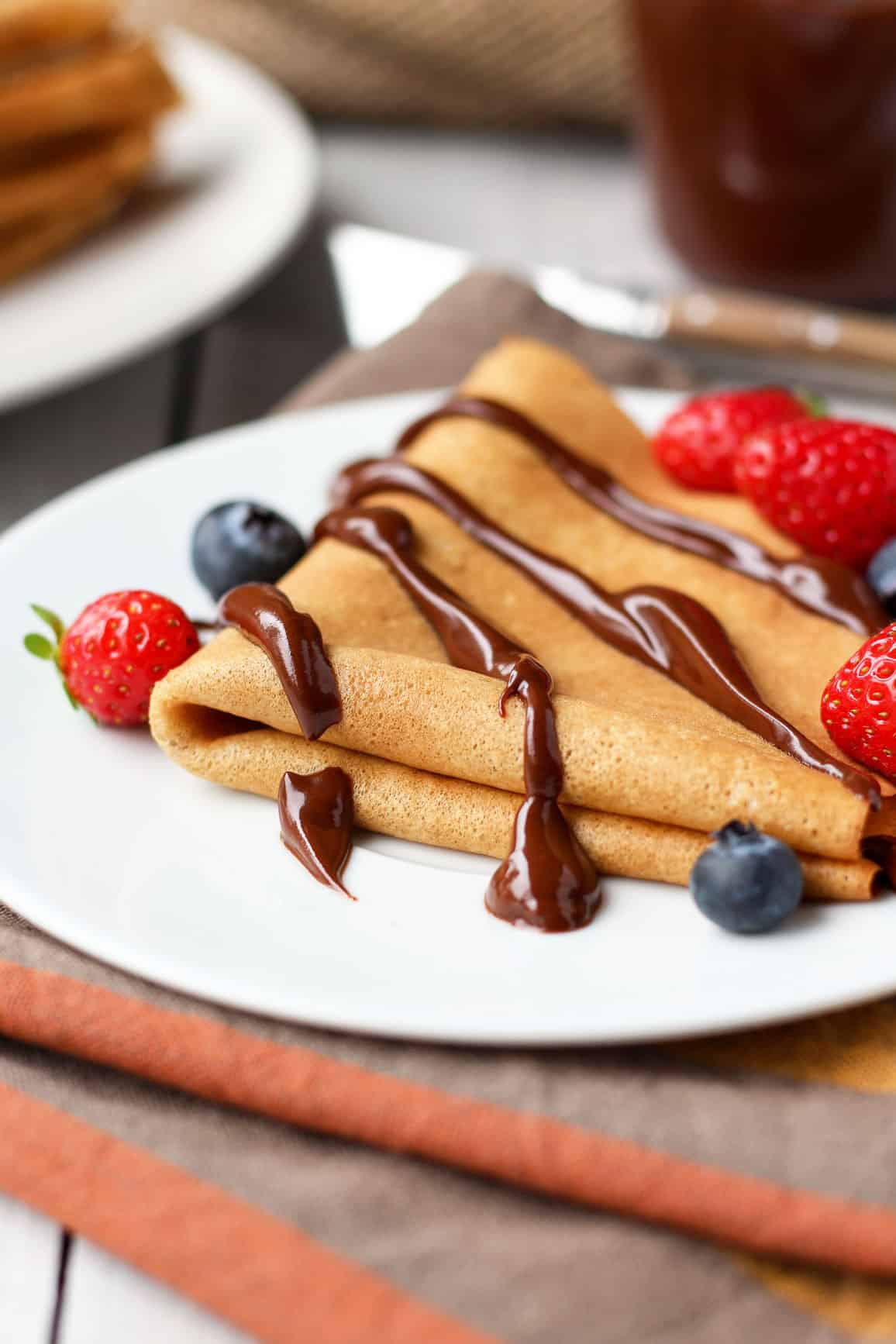 Easy Vegan French Crepes (Gluten-Free)
These delicious, vegan, gluten-free, and refined sugar-free crepes are easy to make and great for breakfast or dessert!
Instructions
In a large bowl, whisk together the buckwheat flour, oat flour, and cornstarch. Pour in the almond milk, maple syrup, coconut sugar, oil, vanilla, and rum if using.

Whisk until everything is well combined. The batter should be very thin. Let it sit 5 minutes while you heat the skillet.

Heat some oil in a large non-stick skillet over medium heat. Use a kitchen paper towel to remove excess oil in the skillet.

Once the skillet is hot, pour about ⅓ cup of batter into skillet and tilt the pan with a circular motion to spread the batter evenly.

Cook the crepe for about 1 minute, until golden brown. Loosen with a spatula, turn and cook the other side for about 30 seconds.

Stack the crepes on a plate to keep them warm. You can also cover them with a clean damp kitchen towel to keep the crepes from drying too fast.

Serve warm or at room temperature filled with melted chocolate, nut butter, etc.
Notes
For lighter crepes, use half almond milk and half sparkling water.
Temperature: Your skillet should be hot enough when you pour the batter. If it's just warm, the crepes won't cook properly and will be difficult to flip. If the skillet is too hot, you won't have the time to rotate the pan to spread the batter evenly. I always cook my crepes on medium heat and wait 2-3 minutes to make sure the pan is hot enough.
Skillet: For even browning and easy to flip crepes, I recommend using a non-stick skillet, a cast iron skillet is definitely not recommended for this recipe.
Amount of batter: This will depend on the size of your skillet. If you add too much the crepes will be thick, heavy and have a gummy texture. You want thin crepes, not pancakes!
Nutrition
Serving:
1
Crepe
Calories:
116
kcal
Carbohydrates:
22.4
g
Protein:
3.3
g
Fat:
1.8
g
Fiber:
1.8
g
Sugar:
2.4
g
DID YOU MAKE THIS RECIPE?
Tag @fullofplants on Instagram and hashtag it #fullofplants