Learn how to make your own vegan butter at home! This vegan butter smells and tastes exactly like real dairy butter! It is spreadable, melts, and is perfect for baking. Plus it's cheaper than store-bought, and you know exactly what is inside!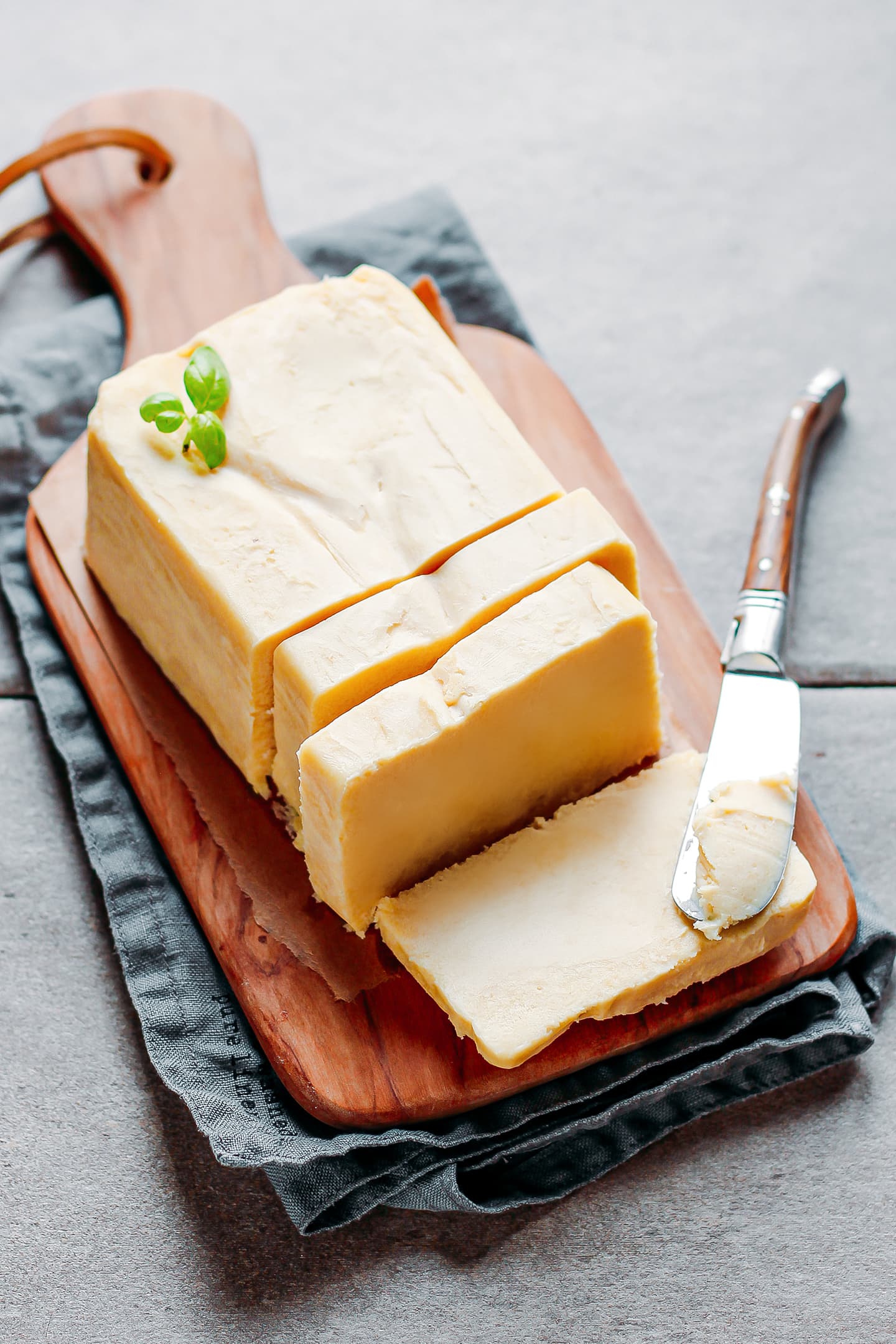 Jump to:
The recipe was supposed to be released a long time ago, but I kept tweaking it because I was not fully satisfied with the texture.
I tried many recipes for vegan butter but couldn't find one that smells, tastes, and spreads like real dairy butter. So I had to make my own version. I don't claim to have created cultured butter though since there are already recipes that rely on yogurt to give the butter a tangy flavor. Anyway, this butter is flavorful, has the perfect texture, and is soy-free, dairy-free, and palm oil-free. Did I mention it also melts like real butter?
After some research on how butter is made, I found out it's actually a fermented product, did you know that? I didn't. But we know making fermented food is easy, right? So, ready to make your own butter?
📘 Why Make Your Own Butter?
There are several advantages of making your own vegan butter from scratch:
Ingredient control: Did you know that over 80% of vegan butter available in supermarkets contains palm oil and flavorings? By making your own butter, you know exactly what you put inside, meaning no palm oil, no flavorings, and no preservatives. AND you can flavor it! Add chives and garlic for a savory spread, or cinnamon and raisins for a sweet treat.
It's a fun process! Don't be scared to try it, this recipe is very easy, the only thing is that it requires some patience. Like any fermented recipe.
Save money: Vegan butter alternatives can be quite expensive, and not available everywhere, especially if you live in a small town. With just a few ingredients from your pantry, you can make your own butter anytime. I made a quick calculation and the cost for 16 ounces of butter comes to around $5,8. This is over half the price of store-bought vegan butter!
🥣 How to Make Vegan Cultured Butter
Before starting, you will need a few specific ingredients:
Cashew Milk
It starts with the cashew milk that we will let ferment to get a tangy flavor.
Start by blending soaked raw cashews with water and cultures. Then let the cashew milk ferment at room temperature for 24-48h, depending on the temperature of your house. Culturing the cashew milk gives the butter a tangier taste, a more complex body, and a richer texture. It's the secret to making it smell and taste like real dairy butter!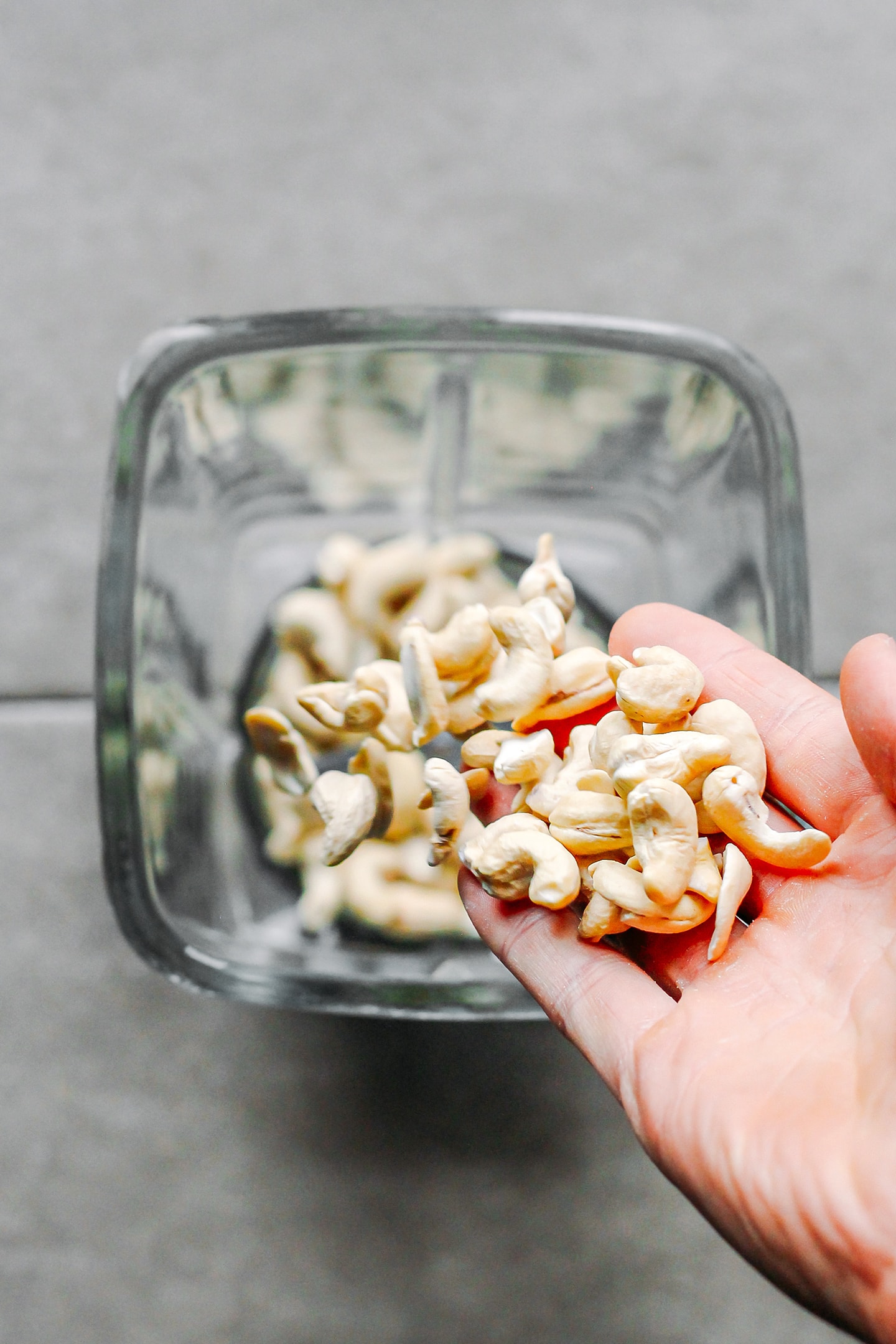 After about 24 hours you should see some air bubbles in your cashew milk, this means the fermentation worked and it's now ready to use. I usually let ferment mine at room temperature for 36 hours, then cover it, place it in the refrigerator and use it within the next 4 days to make the butter.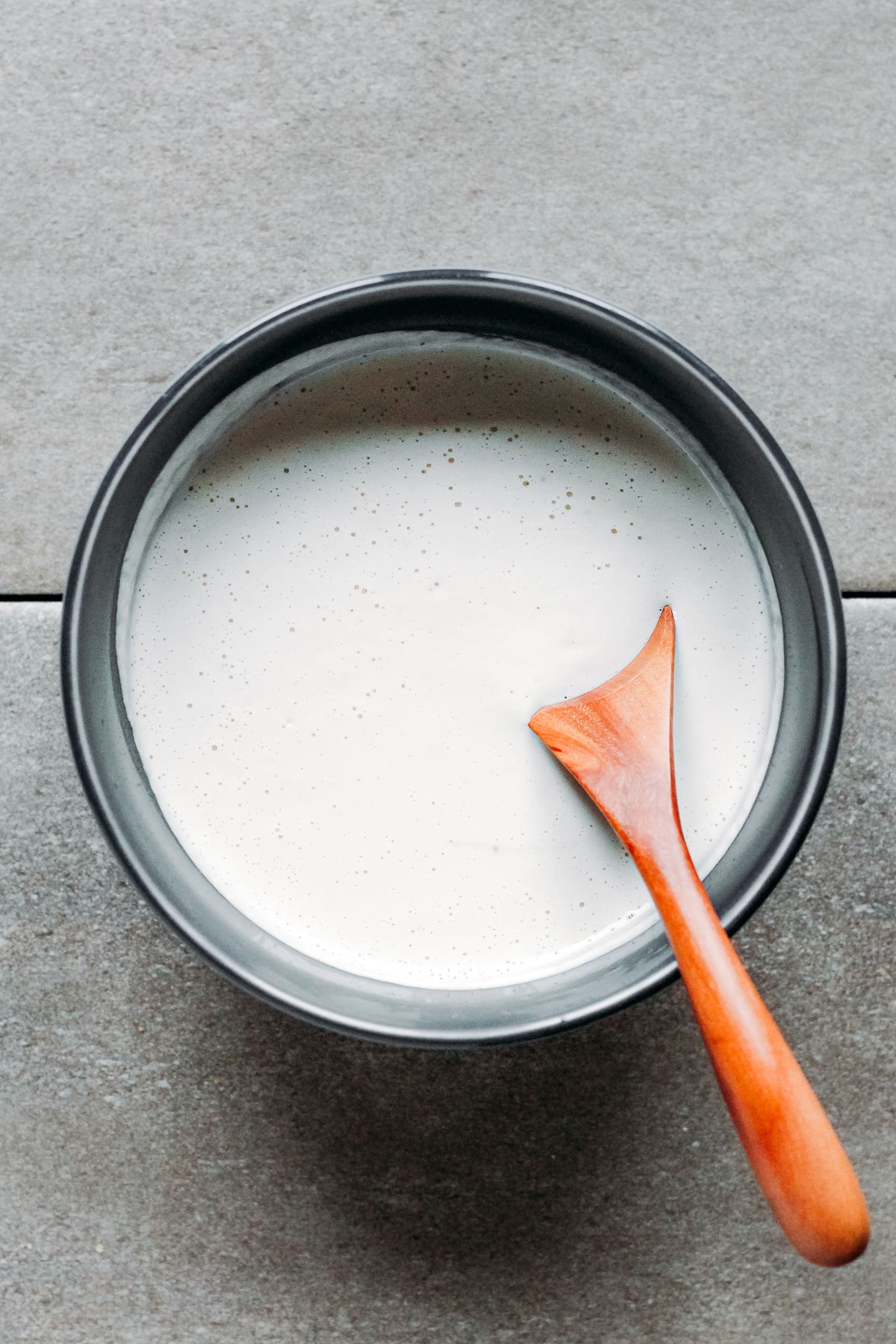 Making the Butter
Once the milk has thickened a bit and has a sour, lemony smell, it's time to blend it with the remaining ingredients. We will be using:
Refined coconut oil - Do not use regular coconut oil, the flavor would be overpowering. Coconut oil will help the butter firm up in the fridge.
Grapeseed oil - You can also use sunflower or canola oil.
Sunflower lecithin - The lecithin is mandatory, without it the cashew cream will separate from the coconut oil and you will end up with two different layers. Definitely not what you want! You can also use soy lecithin if you prefer, both work.
Salt - In my opinion, ¼ teaspoon of salt is the perfect amount, it's not too salty but enhances the flavor of the butter.
Carrot juice - For the color. I first tried using turmeric to give it a yellow color but it didn't look natural, too yellowy. So I went back to testing and I found out carrot juice gives it a nice beige color, don't worry you can't taste the carrot! Note: You can use half of a teaspoon of annatto oil instead of carrot juice to give your butter a nice beige/yellow color.
Blend everything until smooth and fully combined.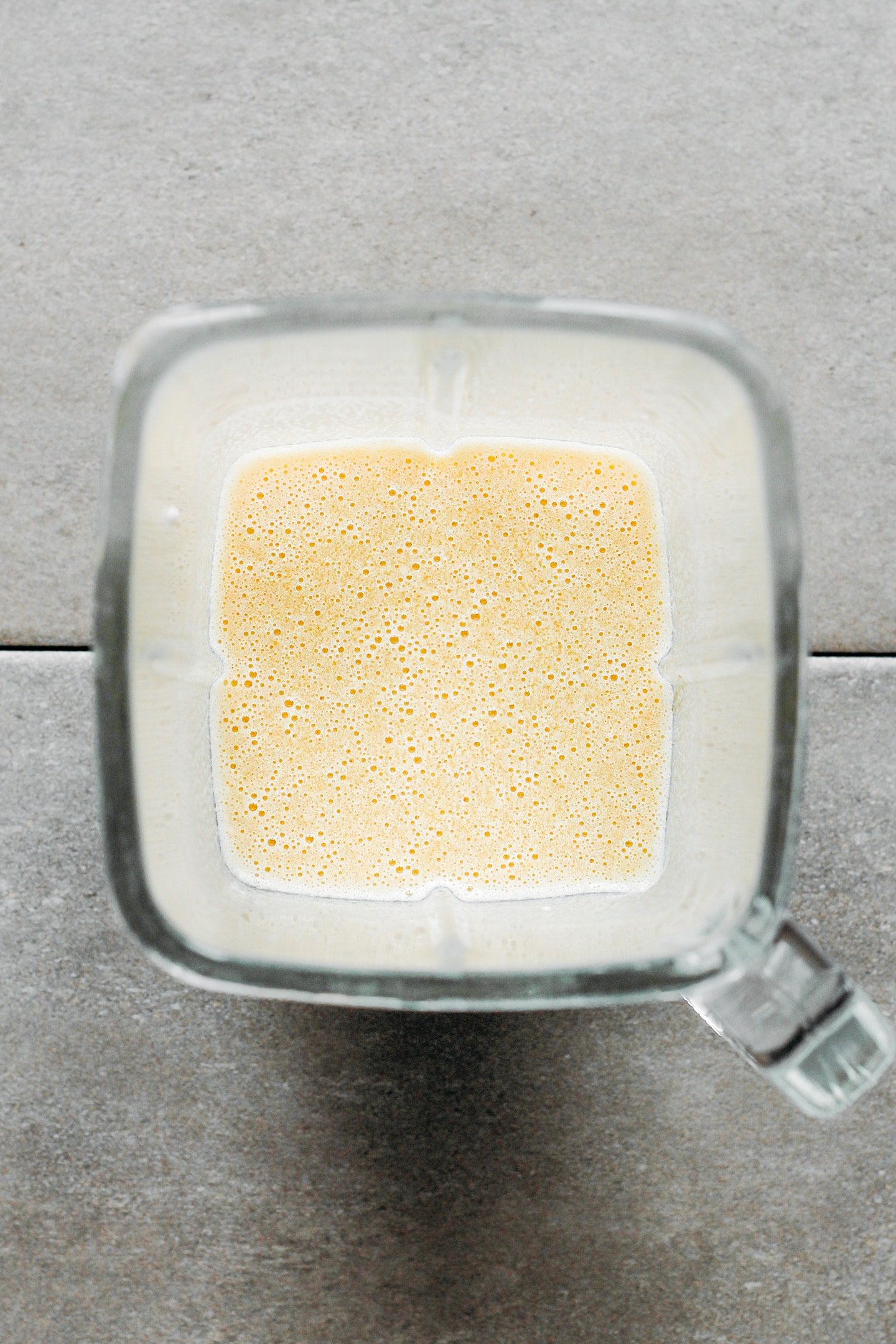 Once this is done, transfer to a container and let harden in the freezer. After chilling in the freezer for a few hours, transfer to the refrigerator.
Since this butter is traditionally cultured, it won't keep as long as margarine. You can keep the butter for up to 7 days in a fridge.
Freezing Tip
You can keep this vegan butter for up to 2 months in the freezer. I recommend cutting it into small cubes so you can thaw just what you need.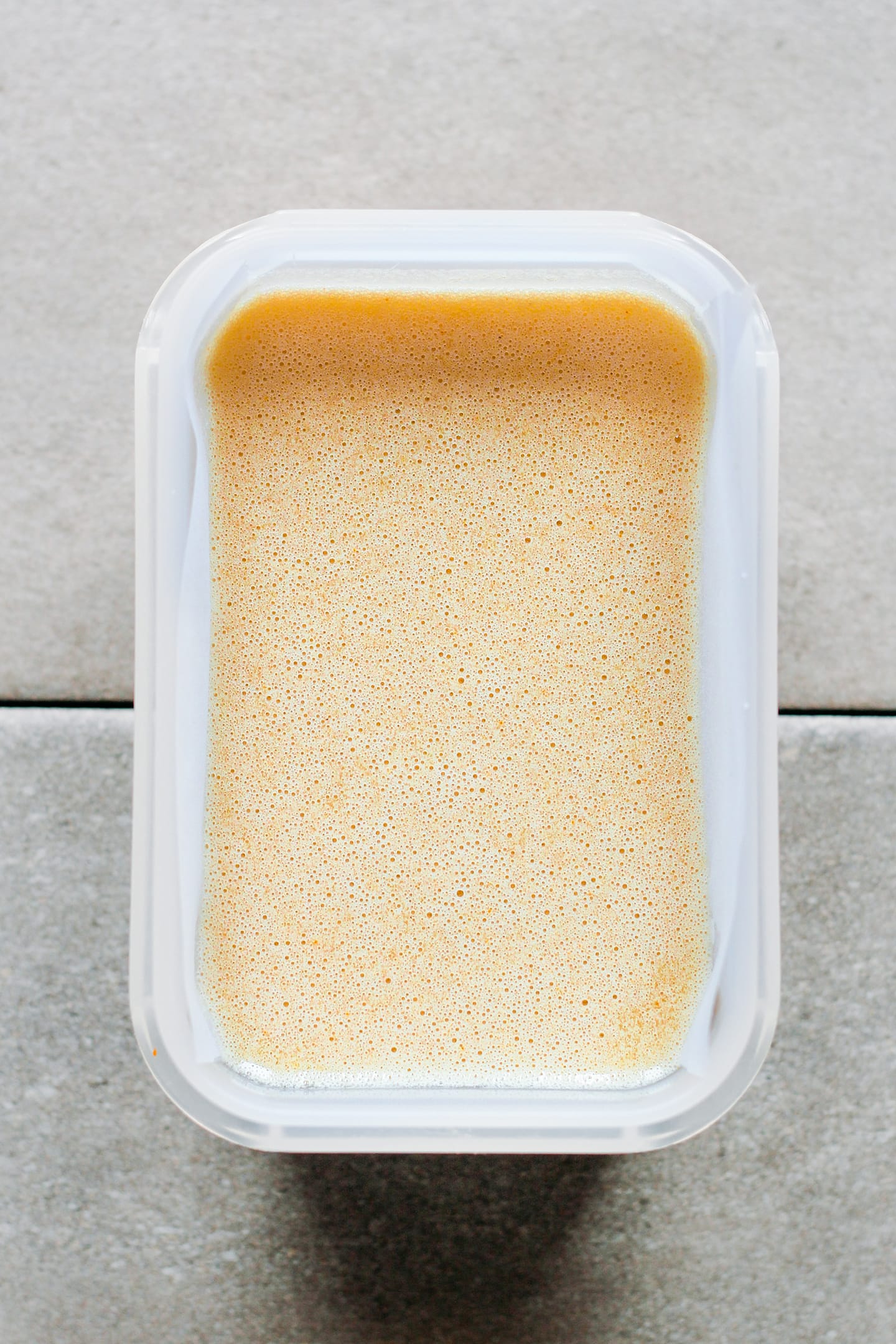 🥞 How to Use Vegan Butter
You all know where to use butter, but here are a few ideas of what you can do with it:
Breakfast: Spread on warm toast, and sandwiches, top your pancakes or even stir into oatmeal. Breakfast will never be the same!
Use in baked goods: Cookies! Banana bread, cupcakes, pies, the possibilities are endless. Oh, and what about puff pastry?
Make the frosting: Yep, you can use this butter to make buttercream frosting the traditional way, it will be soft and fluffy.
Brown: I successfully made brown butter from it, you have to be careful not to burn it though. Then use it in cookies, sauces, etc.
Add a flavor: Stir in risotto before serving, add to sauces, or melt on vegetables, a knob of butter will take your meal to the next level.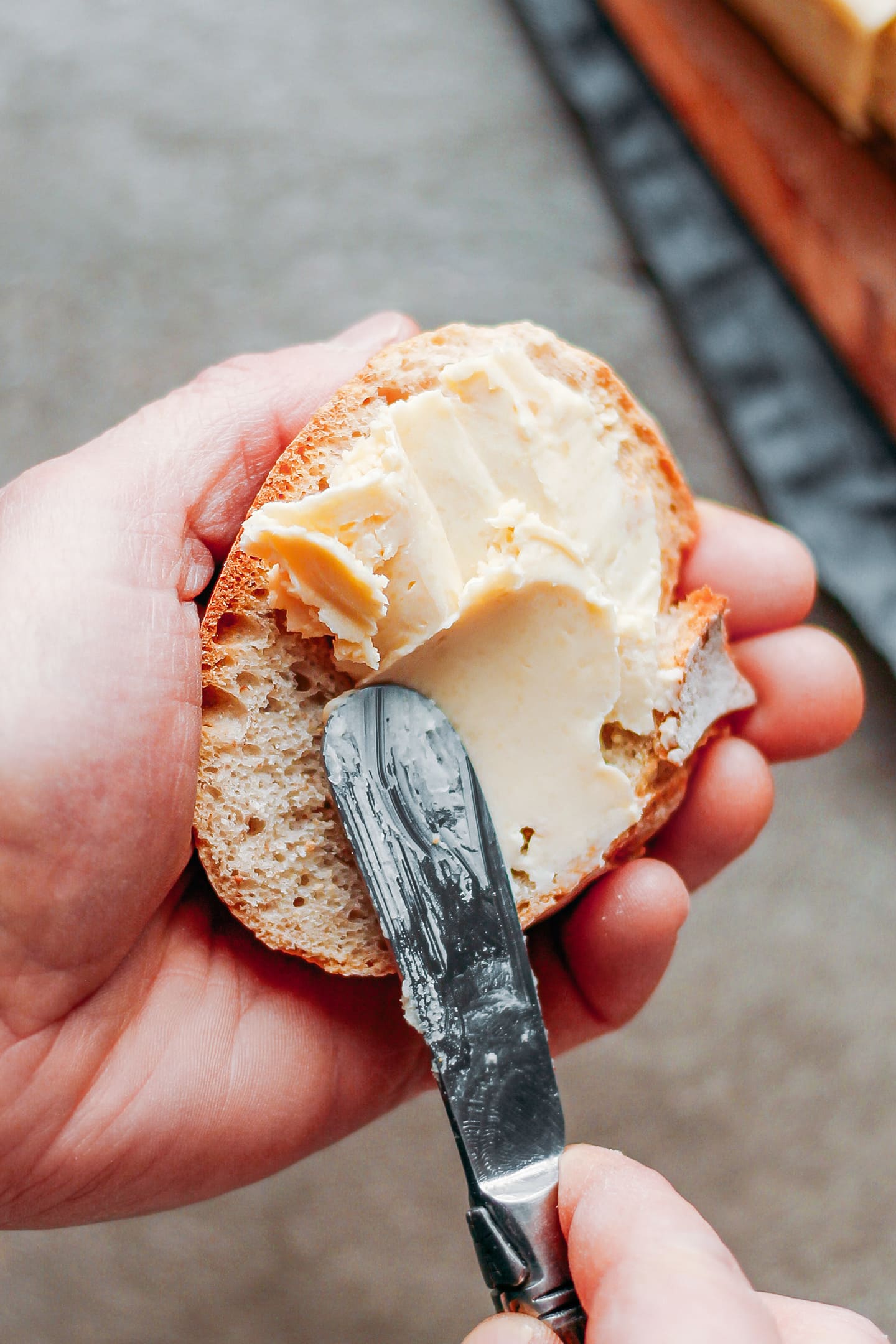 💬 FAQ
Can I omit the lecithin? Unfortunately no, lecithin is essential to emulsify the oils and the cashew milk. It prevents it from separating.
Does this vegan butter melt?

Yes! It melts just like real butter, so you can use it to make sauces or

stir-fry veggies.
Can I use this vegan butter to make puff pastry? While I haven't personally tried it, I have no doubt it will work just like regular butter!
How long does vegan butter keep? It will keep for about one week in the refrigerator, after that, I find it a bit too tangy.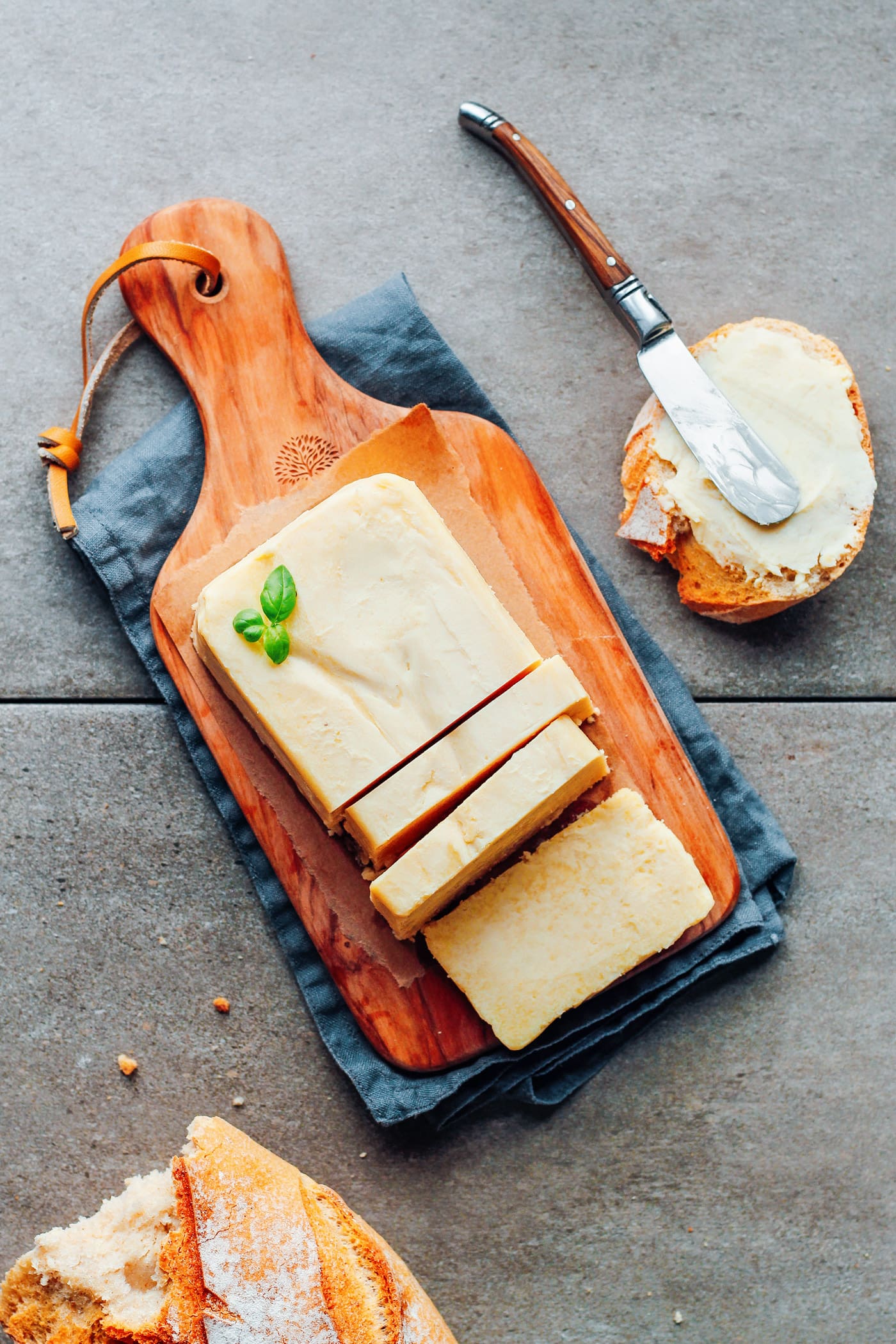 I hope you are going to love this plant-based butter! With over 75 ★★★★★ ratings, it's definitely a must-try!
Thick, creamy, and soft, this vegan butter has the perfect texture. It's spreadable right from the fridge and works so well in baked goods!
Let me know in the comments if you try this recipe!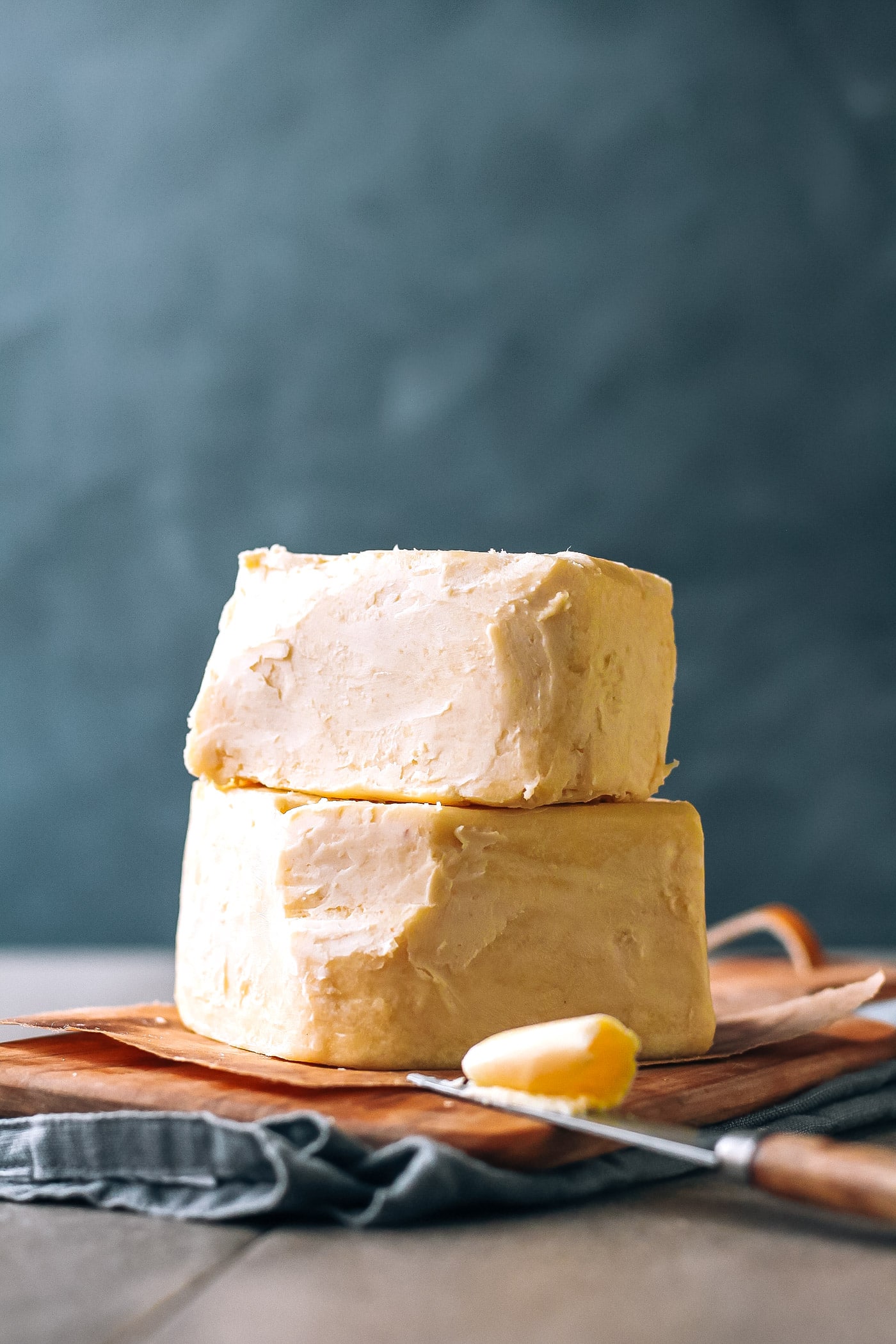 📖 Recipe
Cultured Vegan Butter
Creamy and spreadable cultured vegan butter that smells and tastes like real butter! Palm oil-free, soy-free, and dairy-free!
Ingredients
Cultured Butter
½

cup

cultured cashew milk

1 and ¼

cup

refined coconut oil

⅓

cup

grapeseed oil

or other neutral oil

1

teaspoon

liquid sunflower lecithin

or 2 teaspoon powdered lecithin

2

teaspoon

carrot juice

for color, optional

¼

teaspoon

salt
Instructions
Place the raw cashews in a bowl. Cover and let soak overnight, or for at least 8 hours.

Drain the cashews and put them back in the bowl. Bring a pot of water to a boil. Once boiling, pour the water over the cashews. This step will kill possible bacteria. Drain the cashews.

Add them to a blender with ⅔ cup of water and blend on high speed until smooth and creamy. Scrape down the sides from time to time until everything is smooth.

Transfer to a small bowl or container and stir in the acidophilus powder. Cover with a clean towel and let sit at room temperature for at least 24 hours. The cashew cream should have a light sour taste, and you should see some air bubbles.

Melt the coconut oil over low-medium heat. Measure 1 and ¼ cups of melted coconut oil and put it in a blender. Add ½ cup of cultured cashew milk, neutral oil, sunflower lecithin, salt, and carrot juice. Blend on high speed for about 1 minute.

Line a 6x4-inch container with parchment paper. Transfer the mixture to the container and place in the freezer for at least 1 hour, or until firm. Once firm, transfer to the refrigerator. It will become softer after a few hours.

This vegan butter will keep for up to 7 days in the refrigerator. Since this butter contains live cultures it might get stronger in taste/smell as time passes. If the smell is too strong, trash it. It will keep in the freezer for up to two months.
Notes
Recipe adapted/inspired by Vegan Baking, Miyoko's VeganButter, and Nutcrafter's Bettah than Buttah, as well as traditional butter-making techniques.
If using mesophilic instead of acidophilus, just use a tip of a fork, or a pinch. If there are too many bacterias the cashew milk will turn bad.
To make flavored butter: follow the recipe as stated. Once firm, let the butter on the counter for 1-2 hours, or until soft. Stir in your add-ins (herbs, garlic, or raisins, cinnamon, or chocolate for a sweet version), and transfer to a container. Place in the refrigerator until firm again.
Nutritional information is an estimate.
Soy lecithin can be used as a substitute for sunflower lecithin.
Nutrition
Serving:
1
tablespoon
|
Calories:
96
kcal
|
Carbohydrates:
0.5
g
|
Protein:
0.3
g
|
Fat:
10.5
g
|
Fiber:
0.1
g
DID YOU MAKE THIS RECIPE?
Tag @fullofplants on Instagram and hashtag it #fullofplants