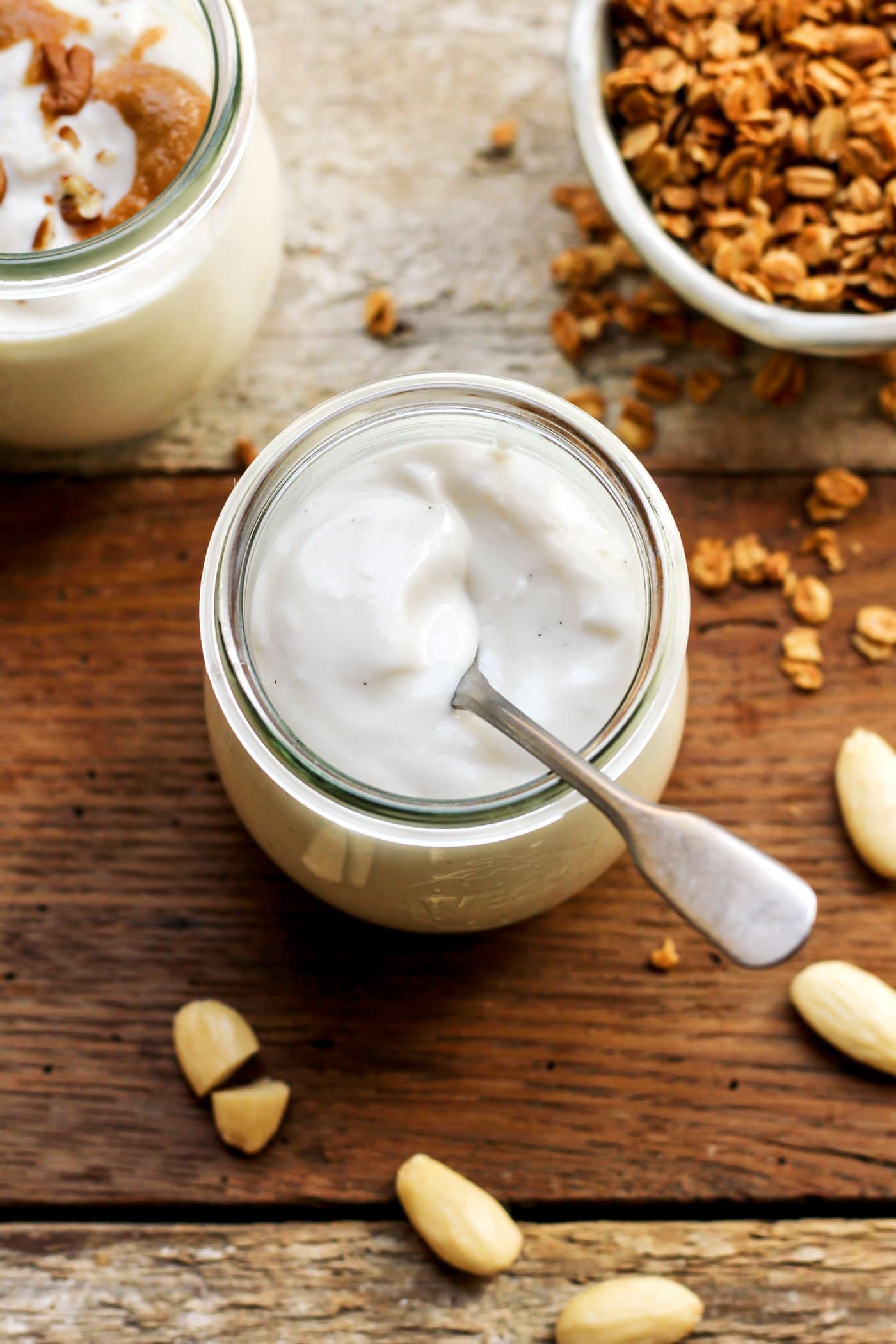 Many of you have been asking for soy and coconut-free yogurt recipe. After using 6 pounds of almonds for testing, here it is!
This yogurt is thick, creamy, slightly tart and made with 100% homemade almond milk! I didn't want to go with cashews here simply because it would have made the yogurts too heavy, and I wanted something light. Almonds are great but there was one problem, when making yogurt from almond milk, it never thickens.
So after checking the ingredient list of tens of vegan yogurts and reading reviews about it, I started to work with thickeners.
I first went with pectin, but it's a bit messy to work with and I was not getting a satisfying texture. In the end, I went with a mix of three thickeners: locust bean gum also known as carob bean gum, xanthan gum and a pinch of agar-agar. When combined together, they form a gel, it's science so don't ask me how it works exactly! The main point is that it results in thick and creamy yogurt. Xanthan gum helps thicken everything a bit more and improves the mouthfeel while agar prevents the yogurts from having a slimy texture.
I use a very small amount of agar here (1/32 tsp) because it's very powerful and you don't want to get a flan or jelly yogurt texture!
HEALTH BENEFITS
Yogurts are packed with good live bacterias, known as probiotics. They help boost the immune system and improve digestion. Since these yogurts are made from 100% almonds, they are naturally soy-free, refined sugar-free, dairy-free and gluten-free!
HOW TO MAKE VEGAN ALMOND MILK YOGURT
Before starting: Please don't try to substitute or omit any ingredient here, it took a lot of tests to get this recipe right and just a small change will affect the texture of the yogurt. For example, when using cornstarch or arrowroot, the yogurts have a slimy texture, so stick to locust bean gum. If using too much xanthan gum, the yogurts tend to be gelatinous, etc... Don't be scared by this recipe, it's actually very easy!
You will need 5 ingredients to make your own almond milk yogurts:
Almonds
Yogurt Starter (or non-dairy yogurt)
Optional: vanilla bean or vanilla extract, maple syrup
Alright, let's do it! We will first prepare the almond milk because we are going to do everything from scratch. Start by soaking the almonds for at least 6 hours, preferably overnight. I tried with roasted almonds but the flavor was bitter, so only use raw almonds. You can use blanched or whole almonds, it doesn't really matter.
Once your almonds have soaked for several hours, drain them and place in a blender with the filtered water. Blend on high speed until smooth, about 30-40 seconds. For exact quantities please check the recipe at the end of this post. You can then strain the almond milk using a nut milk bag, just squeeze the bag to release the milk. Almond pulp can be discarded or saved for other recipes. Your milk is ready to use, now comes the easiest part, making the yogurts!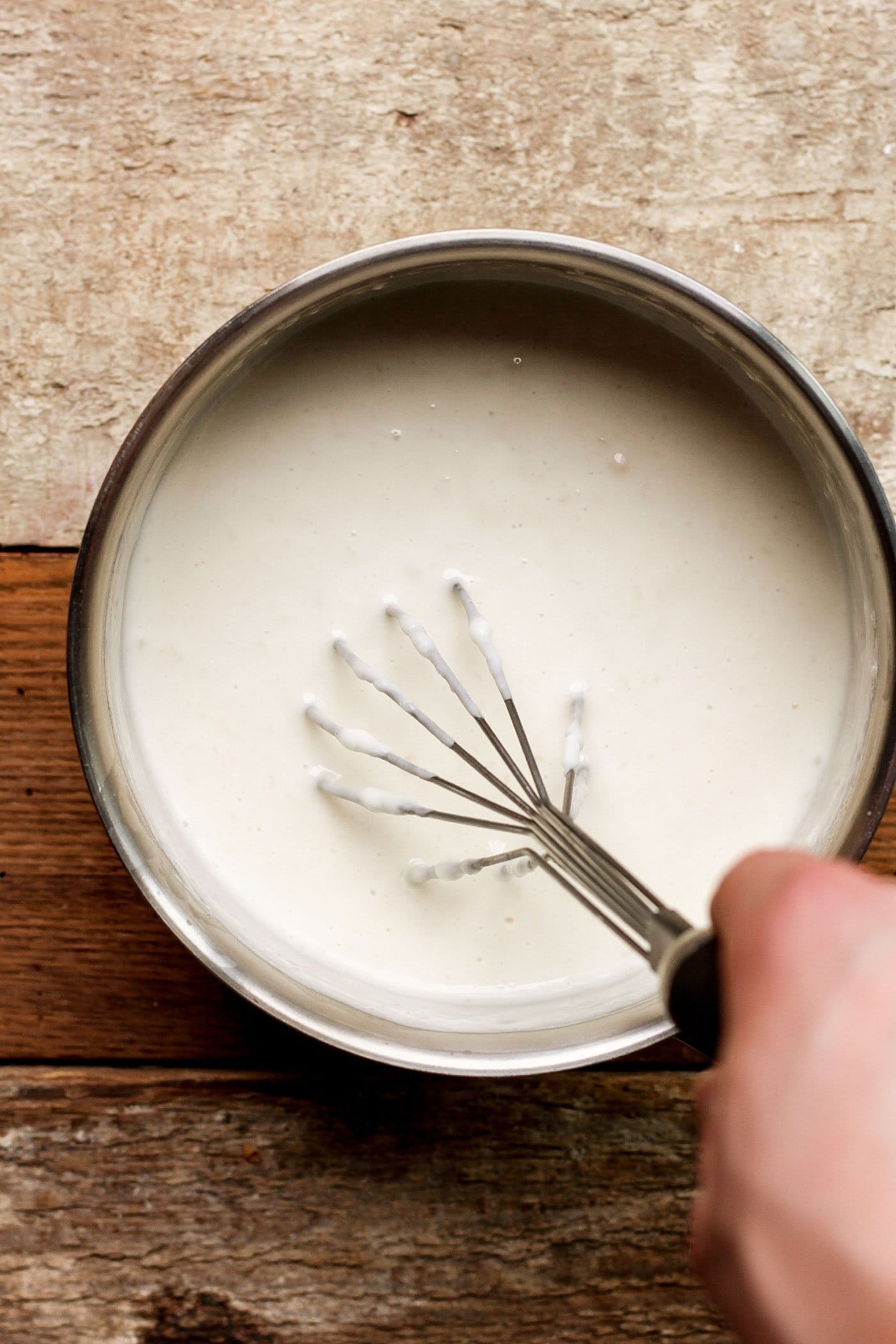 Combine your freshly made almond milk with the locust bean gum, xanthan gum and agar agar in a saucepan and whisk until everything is well combined. Then heat to 185°F (85°C) to activate the gums and agar. Remove from heat and let cool.
Once it reaches 110°F (43°C), stir in the yogurt starter, or 3 tablespoon non-dairy yogurt and whisk. I used only half a packet of this starter since one packet is given for 4 cups milk. Be aware the almond milk will need to be churned as it will have already thickened a bit, this is normal. So whisk well to break any possible lumps and make the texture smooth again.
You can now pour into glass jars and let the yogurts culture for 5-6 hours at 105-115°F (40-45°C). If you don't have a yogurt maker, you can use your oven. Place the jars in a dish filled with warm water and put in the oven with the light on, or set at 105°F for 5 hours. It's the technique I used and it worked great!
After 6 hours, place the yogurts in the refrigerator for at least 8 hours. Your yogurts are now ready! These make a tasty and fresh breakfast. Top with granola, fresh fruits, a drizzle of maple syrup and some nut butter for healthy fats!
If you plan to make these regularly, make sure to save 3 tablespoon of yogurt for the next batch.
GREEK-STYLE
This yogurt is already thick, but if you want an even thicker yogurt, you can get a Greek-style yogurt consistency by draining the whey from the yogurts. To do that, line a fine mesh strainer with cheesecloth, pour the yogurt into it. Let the strainer rest on top of a bowl to catch excess liquid and place in the refrigerator for 1-2 hours. After one hour, your yogurt should already be thicker, let it rest longer for a thicker texture.
FLAVORS
Now for those of you who don't like plain yogurt, I'm sharing 7 variants (not all pictured) to flavor your yogurts. Commercial yogurts almost always contain added flavorings and a lot of sugar, by making your own you know exactly what's in there.
Blueberry: Mix ½ cup yogurt with ¼ cup homemade blueberry jam. I recommend checking Bakerita's Blueberry Chia Jam recipe for a low sugar version.
Peach: Purée 1 large peach with 2 teaspoon maple syrup. Mix ½ cup yogurt with the peach purée.
Salted Caramel Crunch: In a small bowl, mix 1 tablespoon almond butter with 1 tablespoon maple syrup and ⅛ teaspoon salt. Stir the caramel into ½ cup yogurt and top with roasted pecans.
Amaretto: Mix ½ cup yogurt with ¼ cup cherry jam and ⅛ teaspoon almond extract.
Nutella: Mix ½ cup yogurt with 2 tablespoon hazelnut butter, 2 tablespoon cocoa powder, and 2 tablespoon maple syrup.
Key Lime: Mix ½ cup yogurt with 2 tablespoon lime juice. Sweeten to taste.
Double Chocolate: Mix ½ cup yogurt with 2 tablespoon cocoa powder, 1 tablespoon maple syrup (or more, to taste) and 1 tablespoon chocolate chips.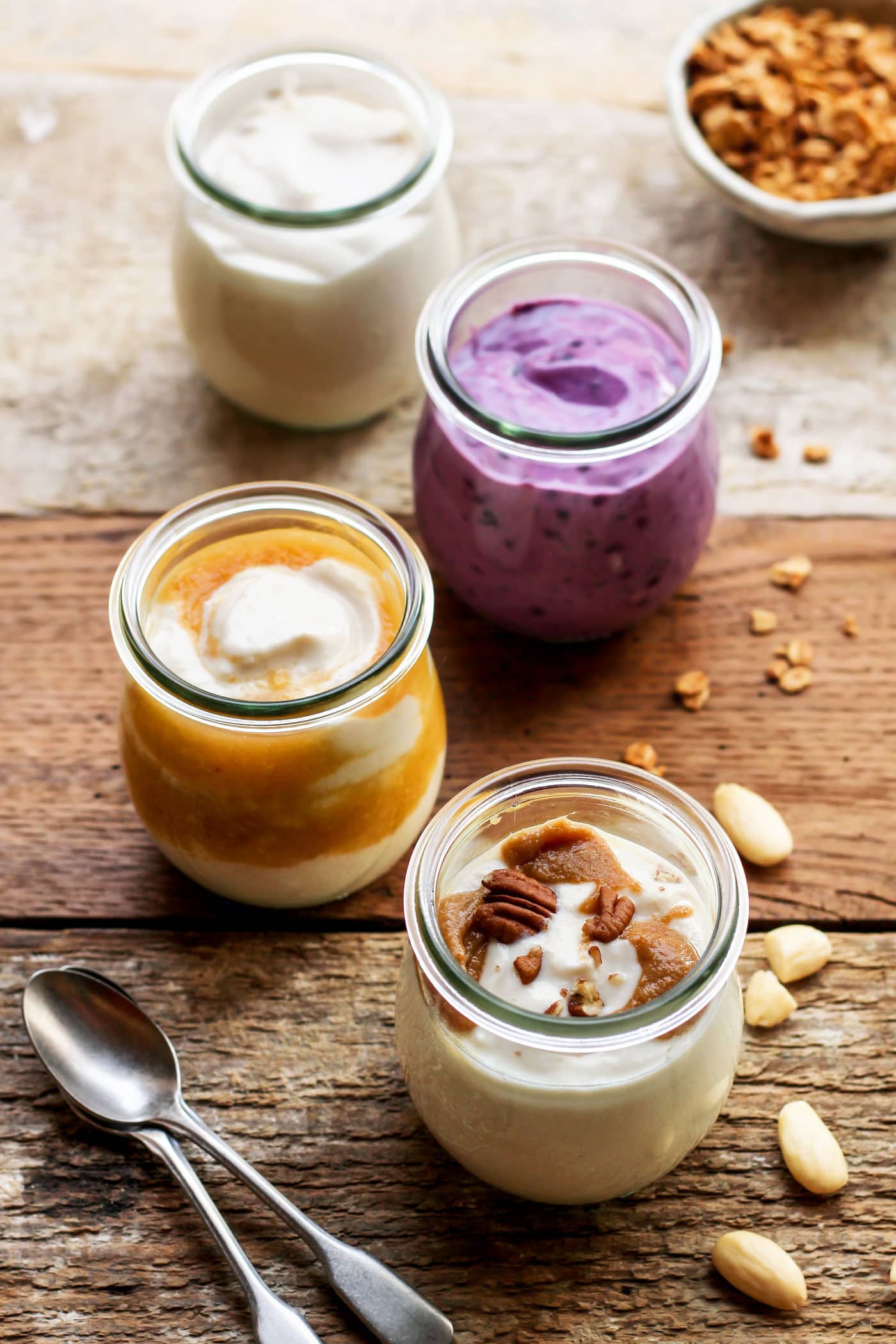 For those of you who prefer it plain, you can simply sweeten it with a drizzle of maple syrup, coconut nectar or even stevia.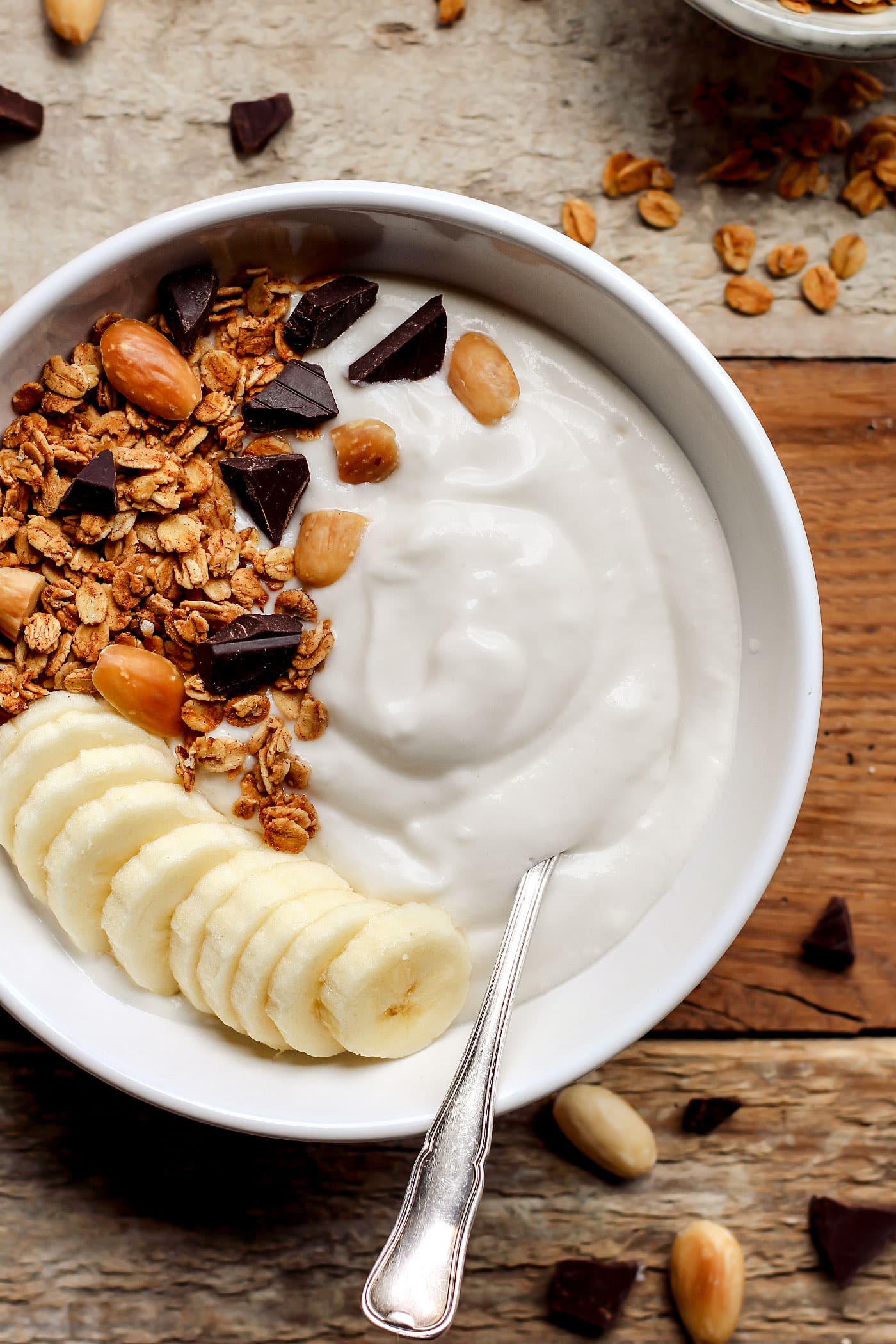 If you are looking for a soy-free, coconut-free yogurt, this is it. It's creamy, smooth and has the perfect texture! Let me know in the comments if you try this recipe and what is your favorite flavor!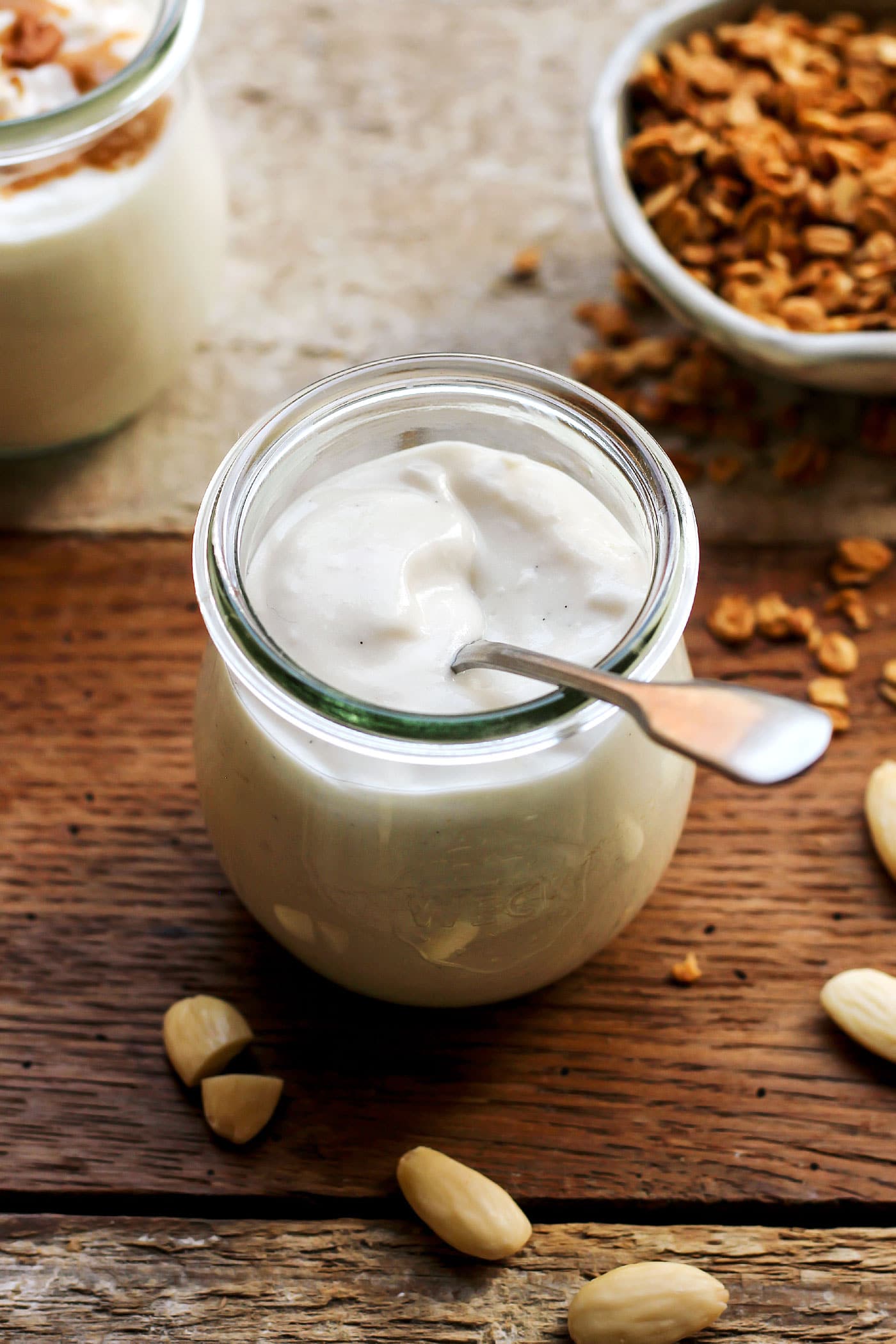 Vegan Almond Milk Yogurt
Smooth and creamy homemade yogurt made from almond milk. Healthy, packed with good bacterias and easy to make!
Ingredients
Almond Milk
1

cup

raw almonds

3

cups

filtered water
Yogurts
2 and ½

cup

homemade almond milk

1

teaspoon

locust bean gum

¼

teaspoon

xanthan gum

1/32

teaspoon

agar agar

see notes

1

yogurt starter

or 2 tablespoon non-dairy yogurt I used half a packet of this starter.

Optional: 2 teaspoon maple syrup

seeds from ½ vanilla bean (or ¼ teaspoon vanilla extract)
Instructions
Almond Milk
Soak the almonds for at least 6 hours, or overnight. Drain and add to a blender with the 3 cups of water. Blend on high-speed for 30-40 seconds, until smooth.

Place a nut milk bag over a large glass bowl. Pour the almond milk into the bag and twist to close. Using your hands, squeeze to extract as much almond milk as possible. You should end up with about 2 and ½ cup of almond milk.
Yogurts
Combine the almond milk (2 and ½ cups), locust bean gum, xanthan gum, and agar in a medium saucepan. If you want to make a sweetened yogurt, also add the maple syrup and vanilla seeds. Heat over medium heat until it reaches 185°F (85°C), whisking constantly to make sure all the gums are fully dissolved and don't stay at the bottom. Remove from heat at soon as it reaches 185°F, just before it boils. Transfer to a large glass bowl and let sit for about 20 minutes, or until the temperature reaches 110°F (43°c). This is important, if the milk is too hot it will kill the cultures. Using a thermometer is strongly recommended.

Once the milk is at the right temperature, stir in the yogurt starter. At this step, the almond milk will have already thickened and may appear gelatinous, don't worry this is totally normal. Give it a good whisk to break any "lumps", and make it fully smooth again. Pour into glass jars and close the lid, or use plastic wrap to cover.

Place the jars in a baking dish filled with warm water, they should be half immersed. If you have a yogurt maker, skip this step and just put the jars into your machine.

Place the baking dish with the jars in a 105°F preheated oven for 6-10 hours depending on how sour you like your yogurts. Personally, I prefer them with a milder flavor so I let them culture for only 6 hours.

Transfer the yogurts to the refrigerator and let cool for at least 8 hours.

Enjoy for breakfast or dessert, sweetened with some maple syrup and topped with granola, fresh fruits, jam or nut butter. Always give the yogurts a good stir before eating!

The yogurts will keep for up to 4 days in the refrigerator.
Notes
Agar agar is very powerful so only 1/32 teaspoon is enough for about 3 cups almond milk. To measure 1/32 tsp, fill one-half of a ⅛ tsp. Using the tip of a knife, remove half of it to get 1/32 tsp.
This recipe might work with store-bought almond milk but I haven't tried yet.
If you don't have yogurt starter or non-dairy yogurt, you can also use probiotics. For this recipe, use 3 capsules vegan probiotics.
If you plan to use this yogurt for savory dishes, omit the maple syrup and vanilla.
Nutritional information is just an estimate and may not be accurate.
Nutrition
Serving:
5.3
oz (150g)
Calories:
72
kcal
Carbohydrates:
2.2
g
Protein:
2.35
g
Fat:
6.6
g
Fiber:
1.95
g
DID YOU MAKE THIS RECIPE?
Tag @fullofplants on Instagram and hashtag it #fullofplants