This perfectly tangy and creamy cashew cream cheese is naturally cultured with probiotics! Just 2 ingredients required to make the best vegan cream cheese!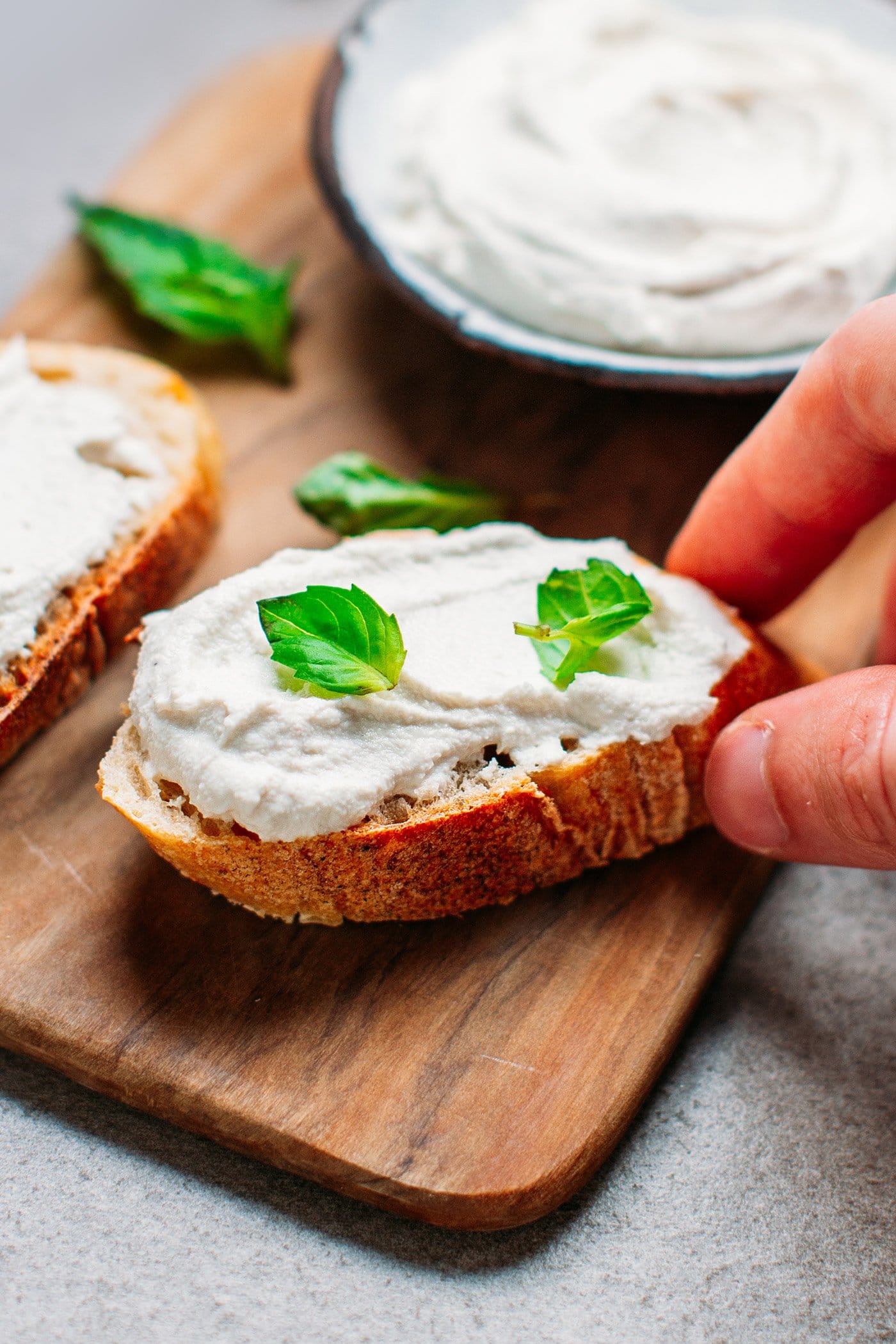 Jump to:
This cashew cream cheese is by far one of the recipes I have been making the most. It is super simple, rich and tangy, and incredibly versatile. It can be used on toast, bagels, stirred into pasta, and more!
🥣 How to Make Cultured Vegan Cream Cheese
Vegan cream cheese requires just 2 ingredients: Cashews and probiotics! Plus an optional pinch of salt!
Making the cream
First, soak raw cashews overnight, or for at least 6 hours. This step softens the cashews and helps get a super creamy texture.
Once cashews are soaked, drain them and transfer to a high-speed blender. Add water and blend until smooth. You should get a thick and smooth texture.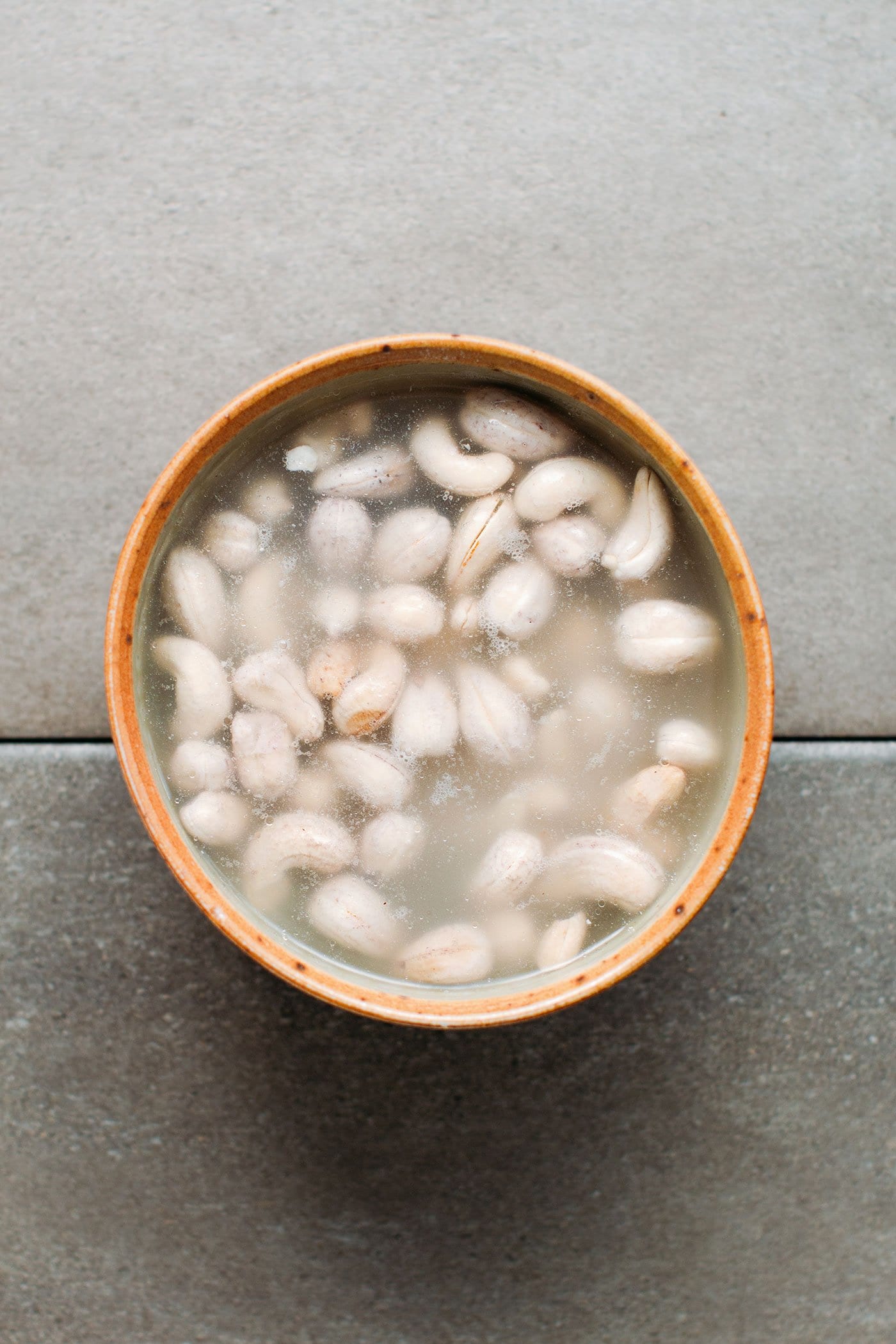 Fermentation
Next, comes the fermentation. Transfer the cashew cream to a clean jar or bowl and stir in two capsules of probiotics. Simply open the capsules and add the powder to the cashew cream. If you have probiotics in powdered form, use about ⅛ of a teaspoon.
For information: the probiotics capsules I use here are the Advanced Acidophilus Plus and contain 500M microorganisms. You don't have to use this specific strain, but if your probiotics are stronger than that, use less.
Finally, cover the jar or bowl with plastic film to touch (the plastic film should be in contact of the cashew cream to prevent it from drying on top) and let ferment at room temperature for 12-48H.
During summer, 12 hours is enough for the cream to get a tangy flavor. During winter, it might take up to 48 hours. You know the cashew cream is done when it has a light texture with small air bubbles and a tangy flavor.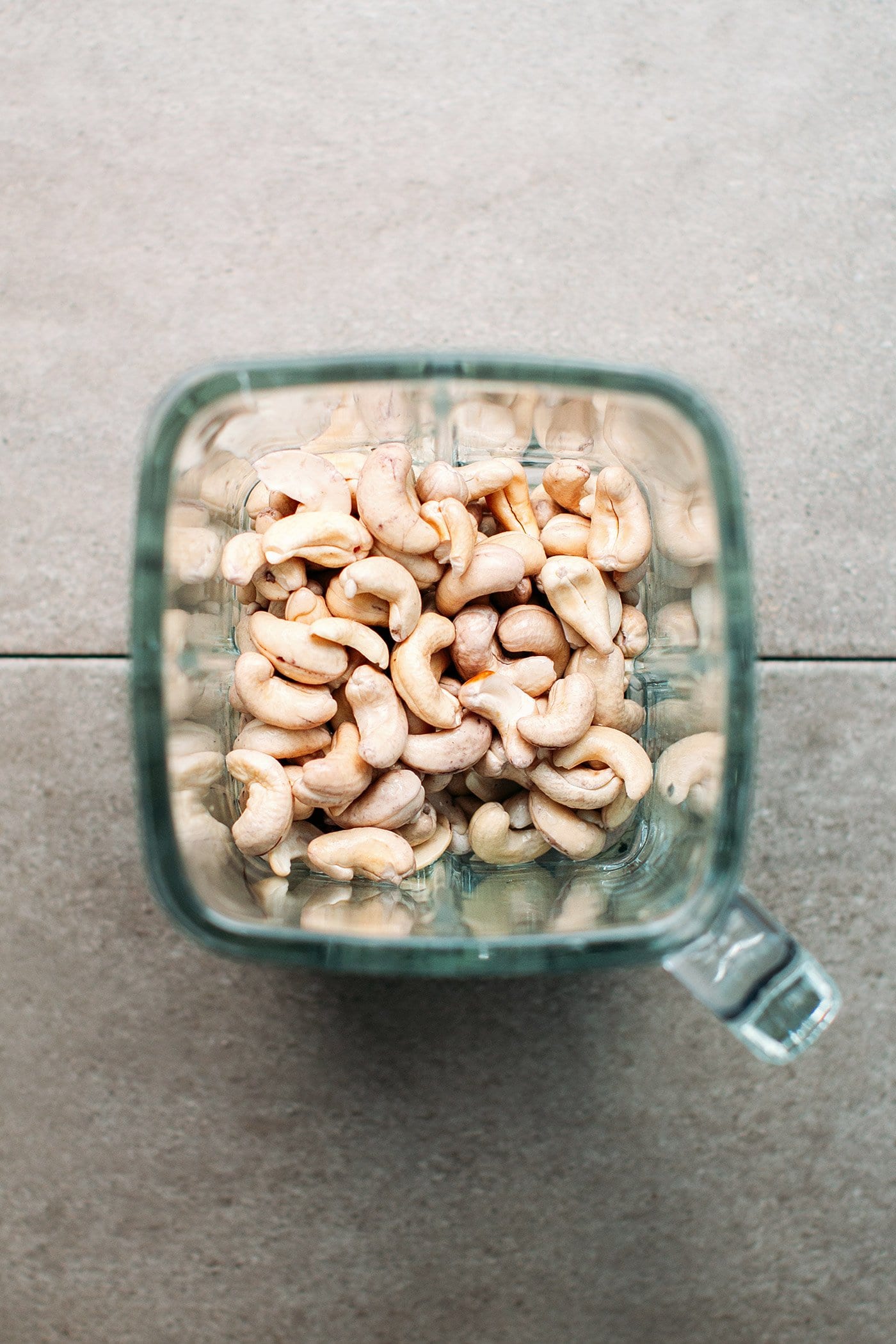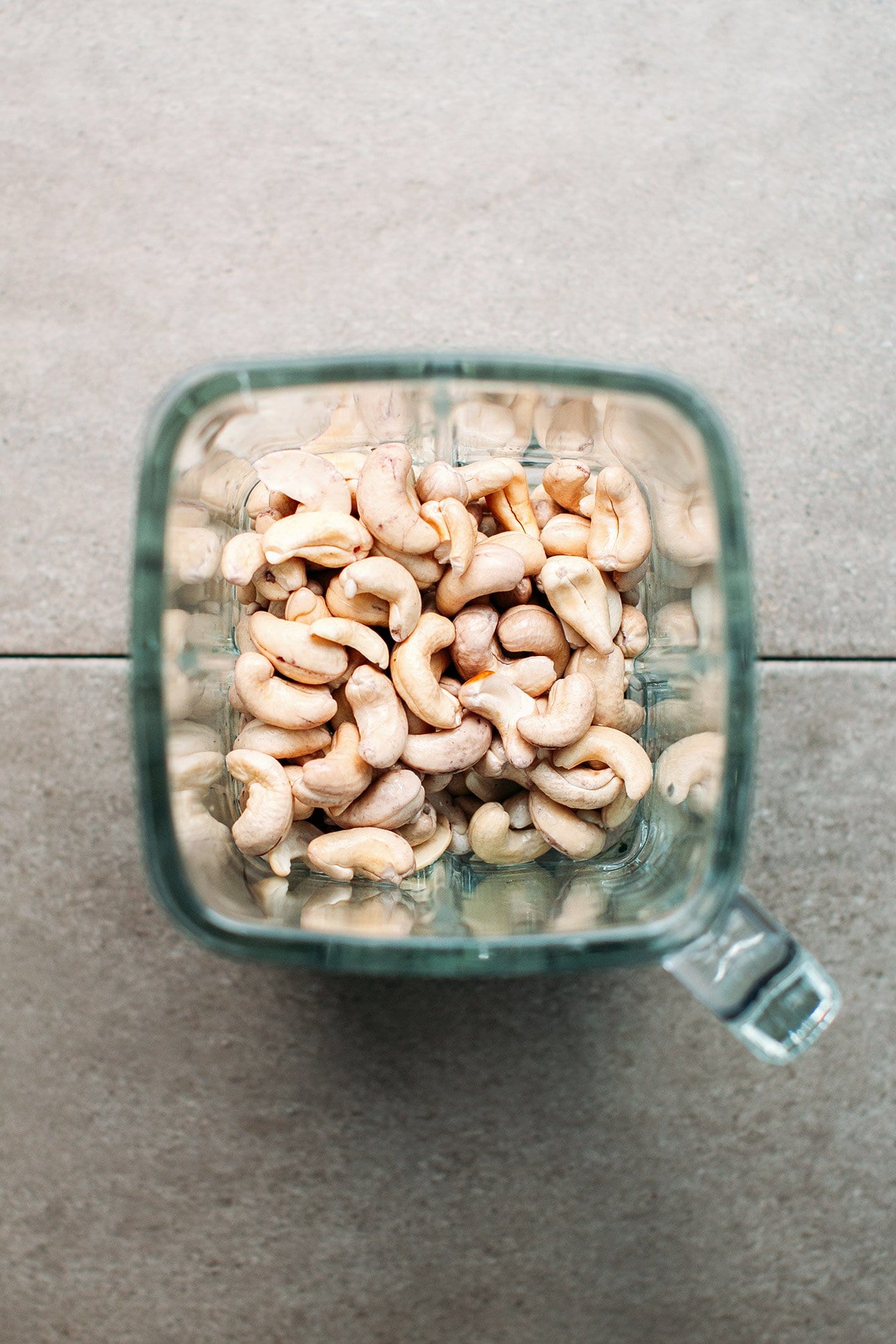 CONSISTENCY
You can easily adjust the consistency of your cashew cream by increasing or decreasing the amount of water.
For a thick and spreadable cream cheese: use the recommended amount in the recipe. This yields a cream cheese that can be used in sandwiches, on toast, etc.
For a slightly softer texture: add an extra ¼ cup of water. This will give you a cashew cream that is perfect to use as a dip.
🥯 Where to Use Vegan Cream Cheese
This cultured cashew cream cheese is so versatile! It can be used in:
Sandwiches
Toasts: For example in this Cream Cheese & Roasted Pumpkin Toast.
Bagels
Burgers
It can also be incorporated into mashed potatoes for extra creaminess. You can flavor it with fresh herbs, black pepper, pesto, or even cumin for a delicious cream cheese spread!
🥬 How to Flavor Vegan Cream Cheese
Now comes the fun part, flavoring the cream cheese! You can opt for:
Original: Simply season with salt for a plain version.
Chives & Garlic: Stir in ⅓ cup of finely chopped chives and minced garlic.
Smoky: Add ½ teaspoon of smoked paprika and ¼ teaspoon ground cumin.
Seaweed: Stir in 3 tablespoons of finely chopped rehydrated seaweed.
Be creative: You could also make a sweet version by adding cacao powder, cinnamon, or raisins!
💬 FAQ
I do not have probiotics, what can I use? While we highly recommend using probiotics, you can substitute the probiotics for 1 teaspoon of vegan yogurt.
My cream cheese is too tangy, what happened? You probably let it ferment for too long, or at a too warm temperature.
My cream cheese is not tangy after 24 hours, what can I do? The room temperature is probably too cold, let it ferment for another day.
Can I use this vegan cream cheese to make cheesecake? Unfortunately no, we didn't get good results with it.
How long does vegan cream cheese keep? This vegan cream cheese will keep for up to 1 week in the refrigerator.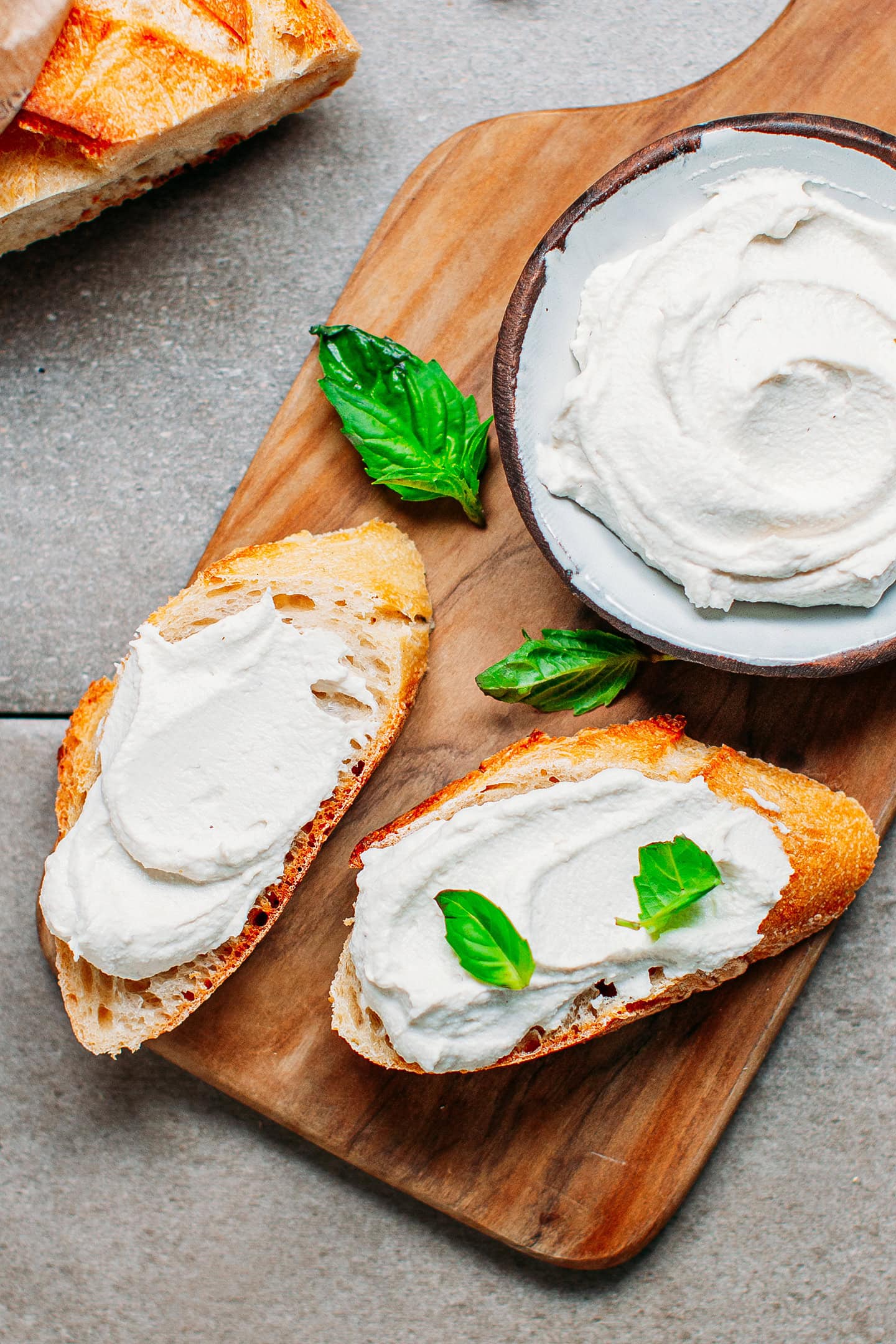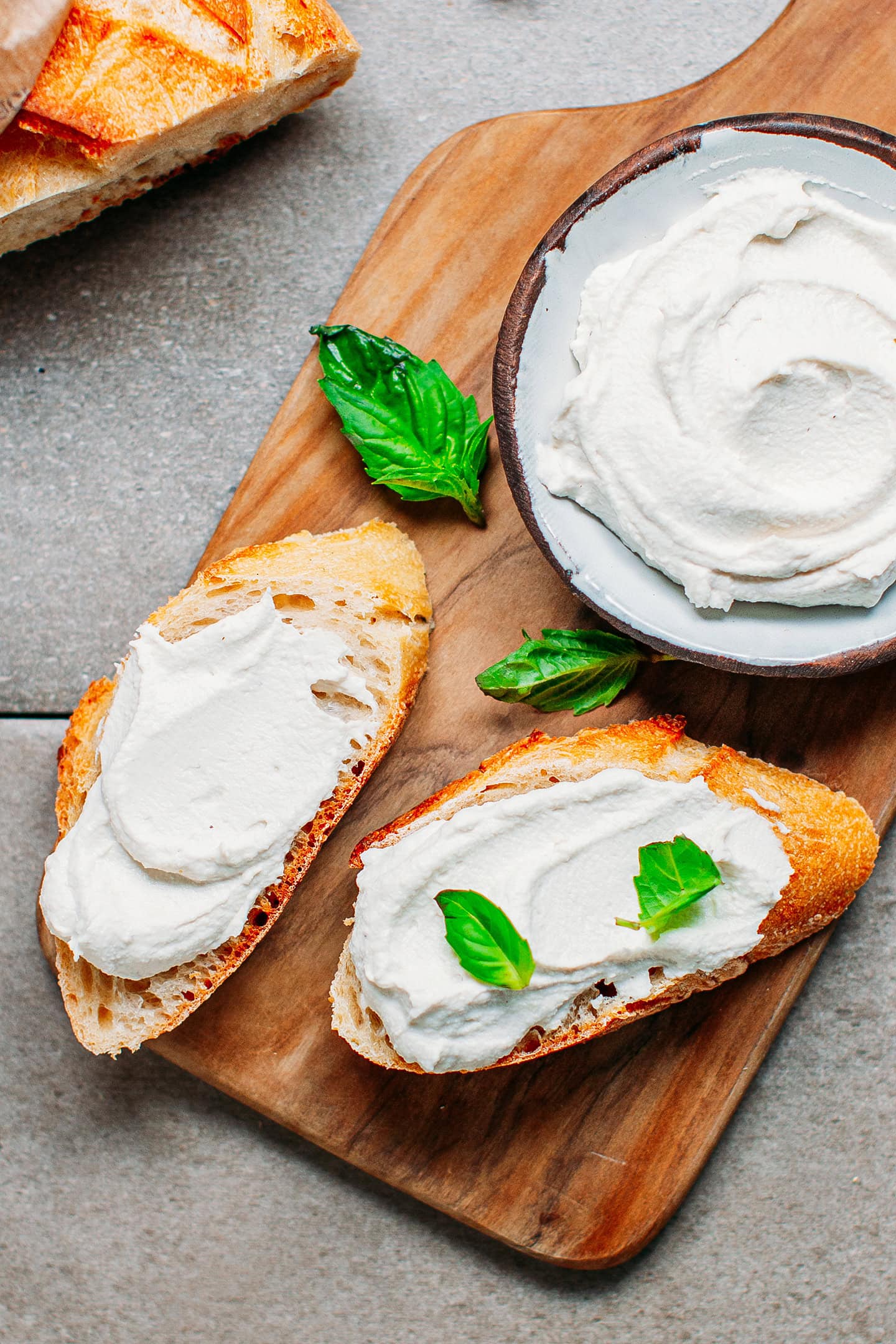 More Cultured Vegan Recipes
Let me know in the comments if you try this recipe!
📖 Recipe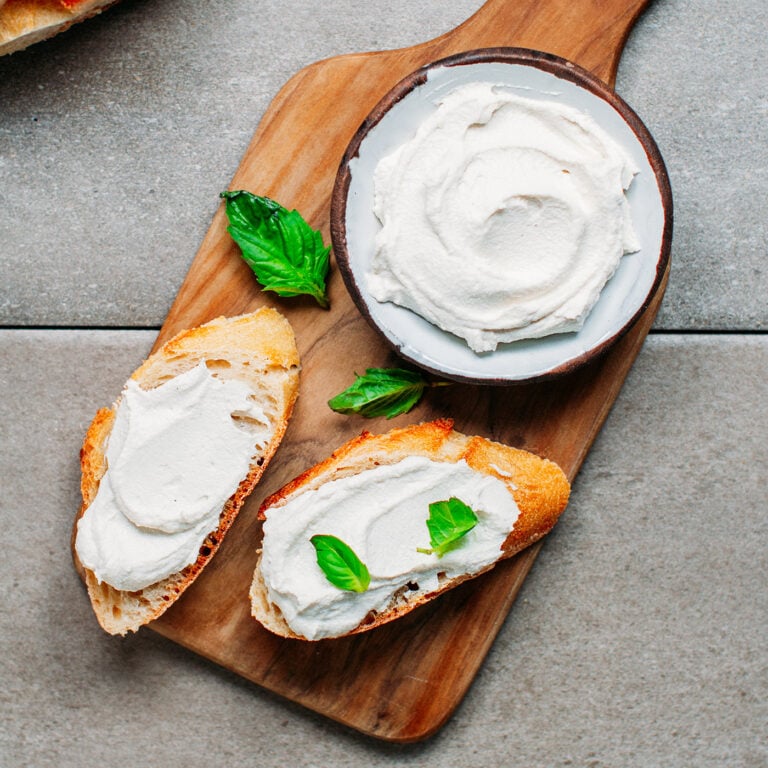 The Best Vegan Cream Cheese
Rich and perfectly tangy cashew cream cheese that is naturally fermented! Delicious in sandwiches, toasts, or stirred into curries, soups, and more!
Ingredients
2

cups

raw cashews

soaked overnight

½

cup

water

2

capsules

probiotics

I used Solgar's Advanced Acidophilus Plus

salt to taste
Instructions
Drain the cashews and transfer to a high-speed blender. Add the water and blend on high-speed for about 30 seconds, or until the cashew cream is very smooth.

Next, transfer the cashew cream to a clean jar or glass bowl. Open the probiotics capsules and add the powder to the cashew cream. Use a wooden spoon to stir.

Cover the cashew cream with plastic film to touch and let ferment in a dark place, at room temperature, for 12-48 hours. During warm months, the cashew cream just needs about 12 hours to ferment, while in the winter it can take up to 48 hours. You know the cashew cream is ready when you see small air bubbles have formed. It should have a tangy flavor but should not taste sour.

Once fermented, refrigerate the cashew cream for at least 2 hours before using as it tastes better chilled. Add salt to taste and use in sandwiches, toasts, bagels, etc.

This fermented cashew cream cheese will keep for up to 1 week in the refrigerator.
Nutrition
Serving:
0.25
cup
Calories:
197
kcal
Carbohydrates:
11.2
g
Protein:
5.2
g
Fat:
15.9
g
Fiber:
1
g
Sugar:
1.7
g
DID YOU MAKE THIS RECIPE?
Tag @fullofplants on Instagram and hashtag it #fullofplants