Dairy-free 5-ingredient yogurt that is just as thick as Greek yogurt! Perfectly tangy, insanely creamy, and super easy to make. You are going to love this vegan yogurt prepared from cashew and almond milk!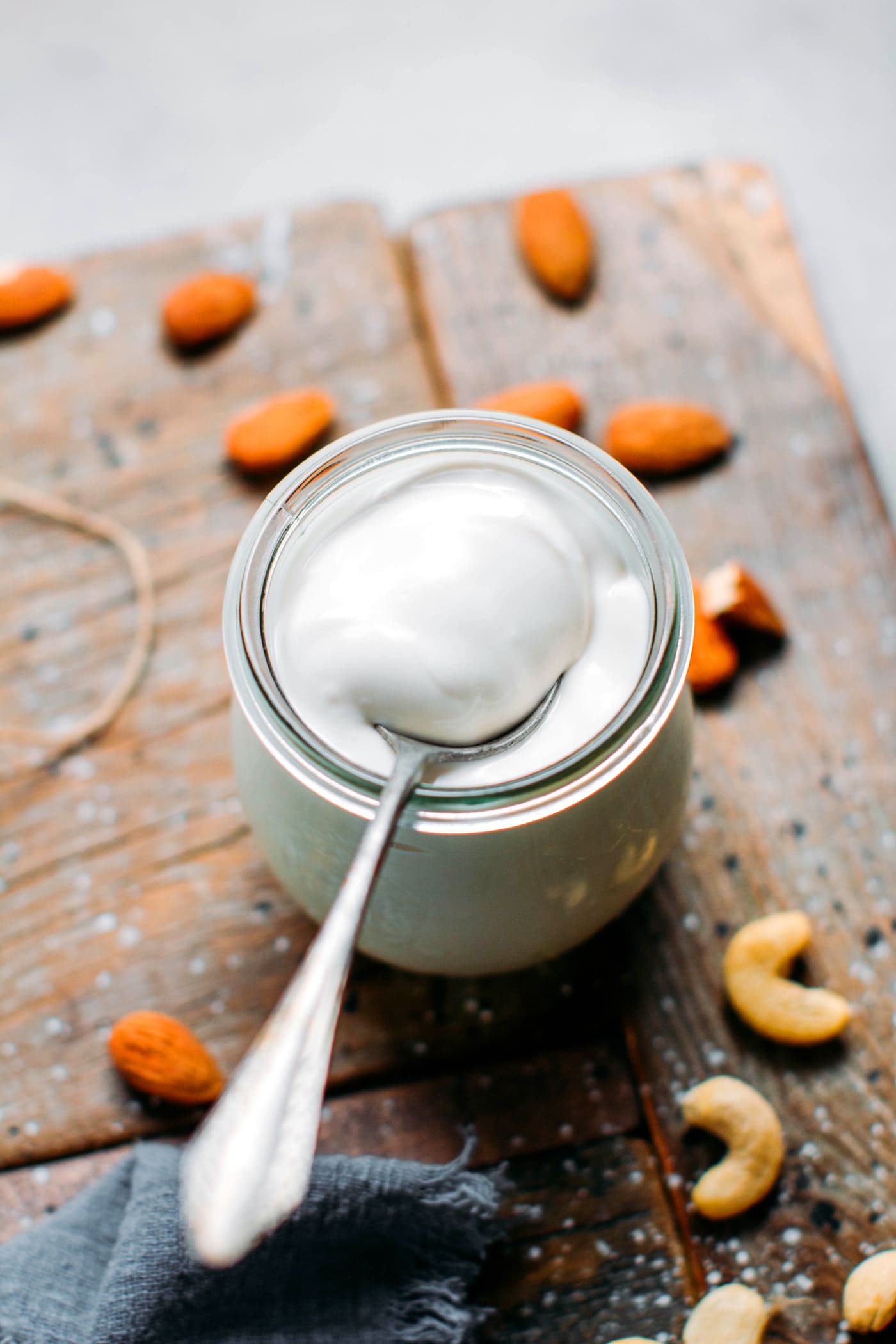 You guys are loving this Vegan Almond Milk Yogurt, but some of you had trouble getting your hands on the gums used to thicken it.
So I went back to the drawing board and created a brand new vegan yogurt that is thick (think Greek-style), super creamy, gum-free, agar-free, coconut-free, and that requires just 4 ingredients! It's thick, rich, perfectly tangy, and so easy to make!
⭐️ Why You Should Try This Recipe
Few ingredients. No gums or agar, this recipe relies only on raw cashews, almonds, and some cornstarch. Basic ingredients you can find very easily.
Creamier and thicker than ever. While my almond milk yogurt was already thick, this one has an even more pleasant texture and a richer mouthfeel.
Mild yogurt flavor. I tweaked a bit more the amount of starter used, as well as the incubation time. Now, it relies only on yogurt from a previous batch (or store-bought), which is much easier to find than vegan yogurt starter or probiotics.
Three ways to make it. 1) With an Instant Pot. 2) With a Yogurt Maker. 3) In the oven. I'm giving directions for each method in the recipe.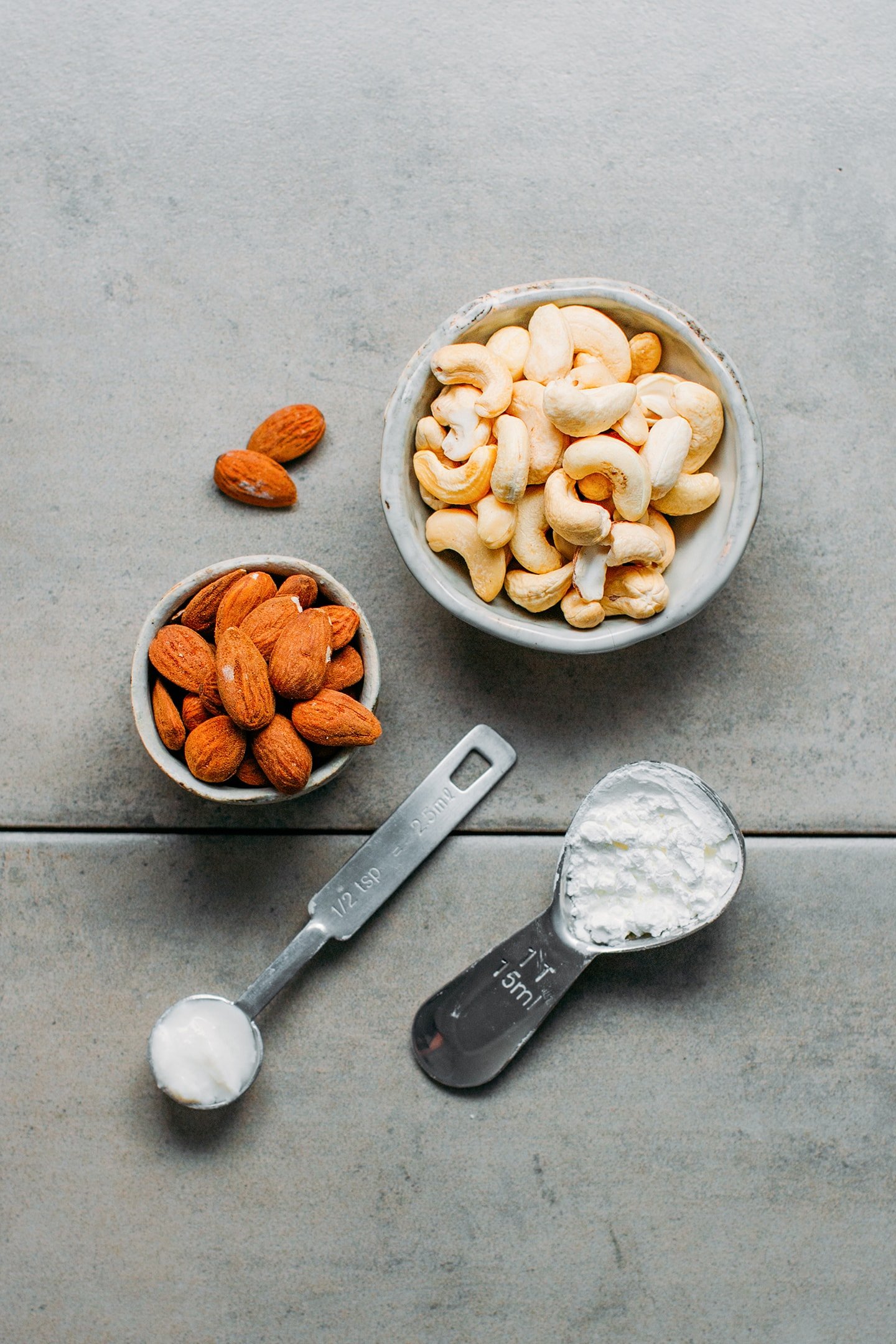 🥣 How to Make Vegan Cashew Yogurt
To achieve a thick consistency without using gums, I relied on cashews that add a lot of body to the texture, almonds, and just a little bit of cornstarch. If you are worried this yogurt tastes like raw cashews, don't worry! The flavor is very subtle.
Preparing the milk
Start by blending soaked cashews and almonds with water to make a rich nut milk. Then, strain through a nut milk bag. This step is essential to achieve a silky smooth texture.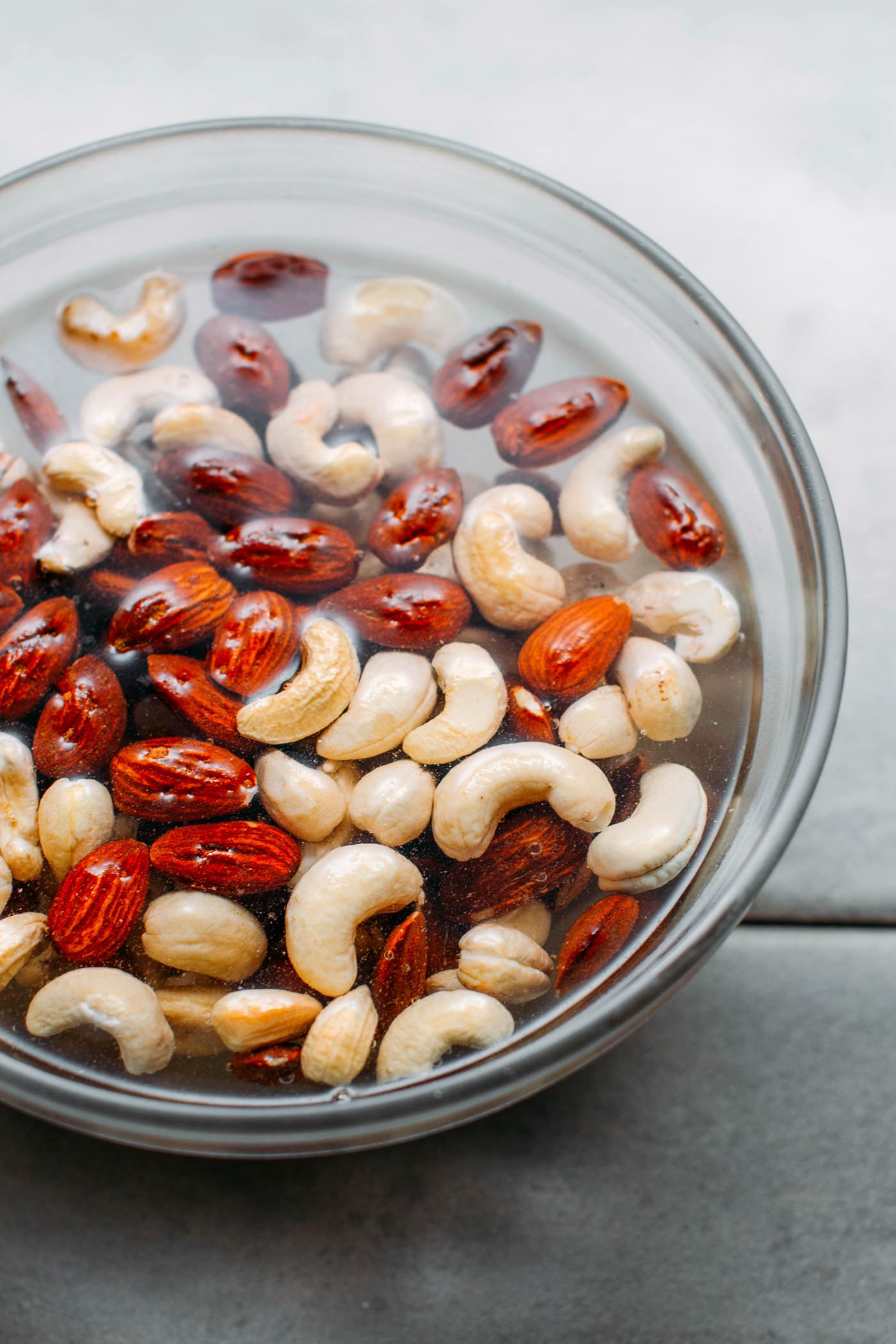 Thickening
Once the milk is ready, dissolve a tablespoon of cornstarch in a couple of tablespoons of milk and pour it back into the milk. Transfer to a saucepan and heat over medium heat until it thickens, whisking regularly.
Remove the milk from the heat and transfer it to a glass bowl.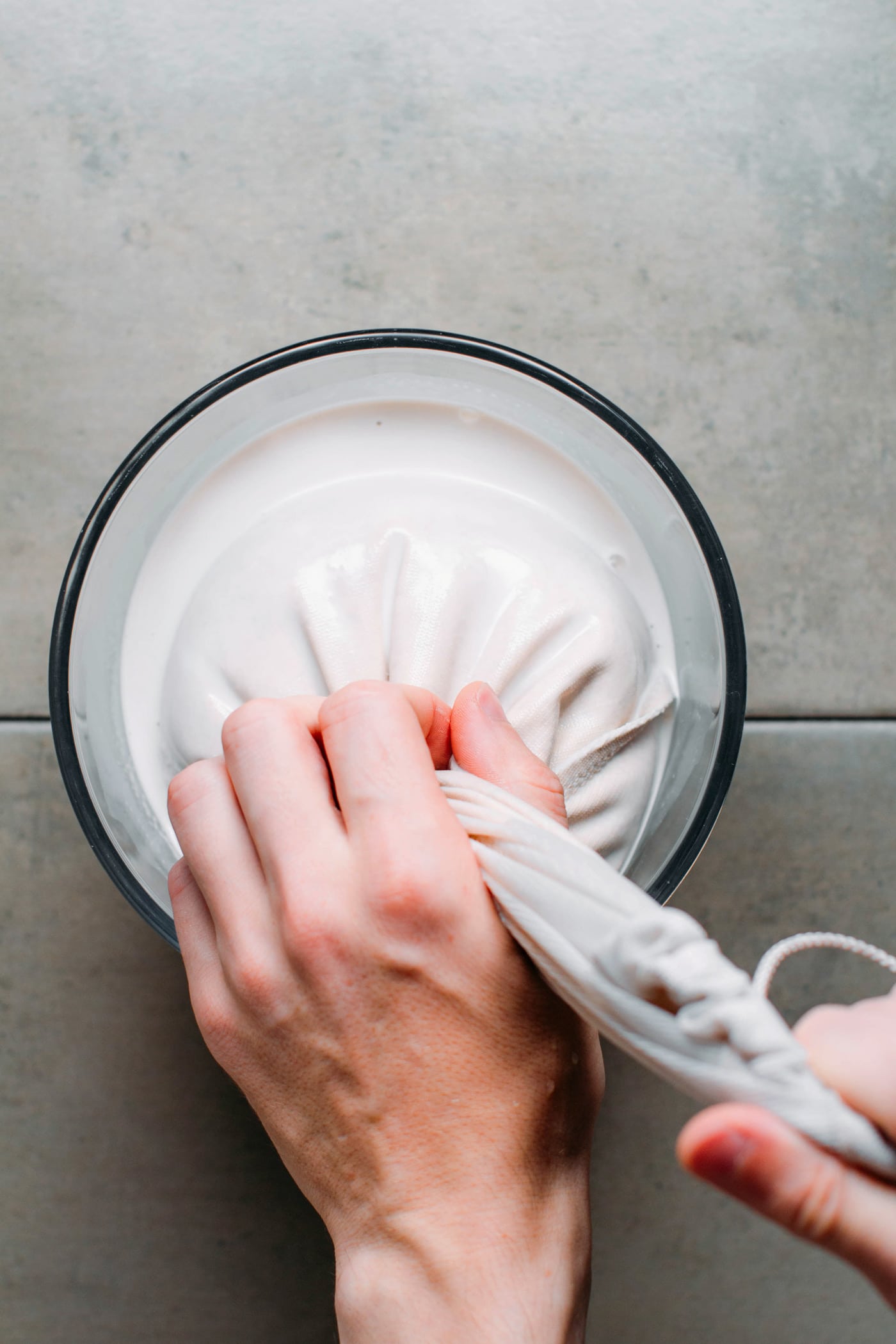 Now, you want to cover the thickened milk with plastic paper to touch to prevent a skin from appearing on top. Let it cool until it's not hot anymore before stirring in a teaspoon of non-dairy yogurt.
Culturing
To ferment, you can use a yogurt maker or an Instant Pot. I went with the Instant Pot, set on Yogurt mode for 7 hours. Finally, refrigerate for a few hours before enjoying! Check out the recipe to learn how to make it in an oven or yogurt maker.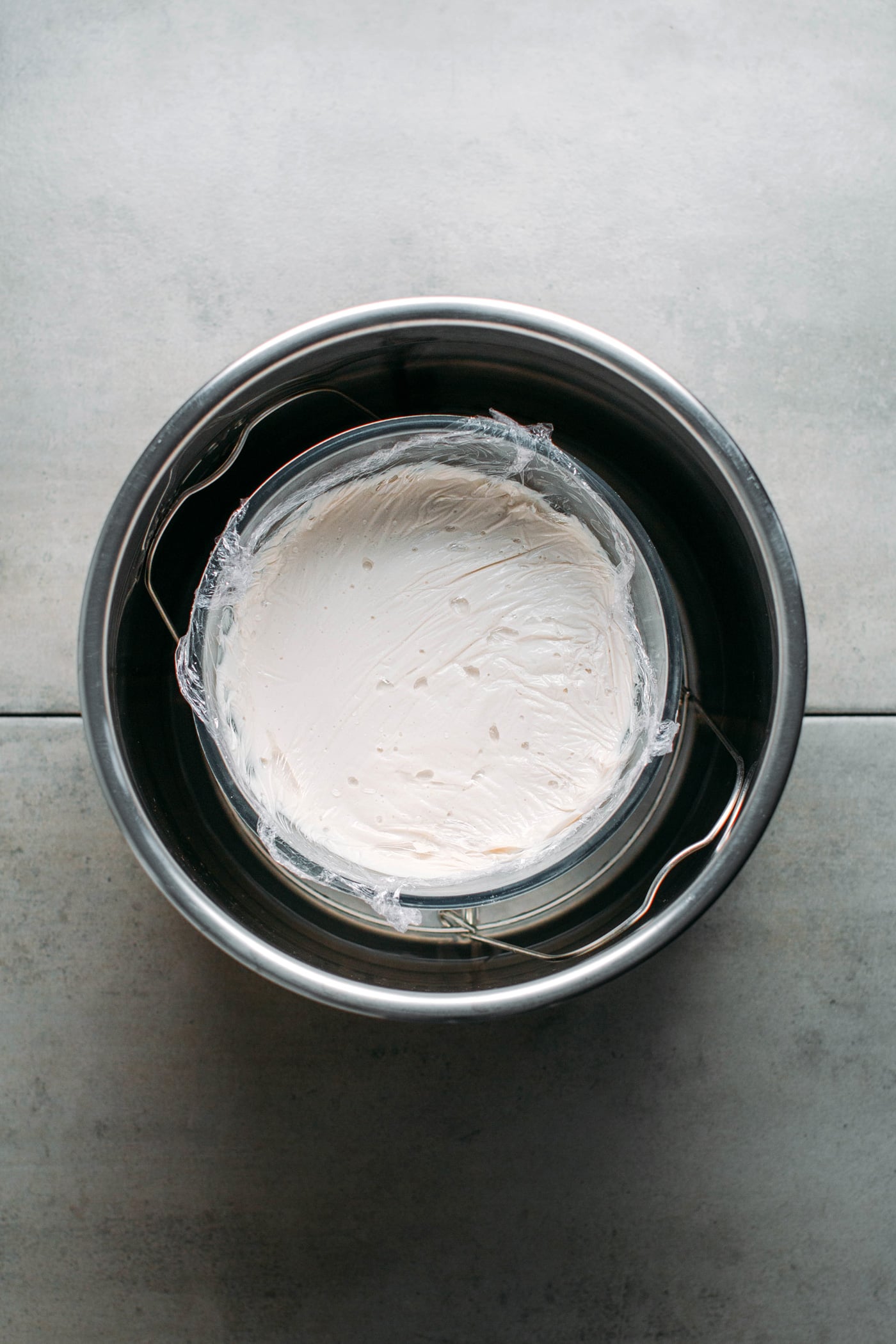 🍓 How to Flavor Yogurt
Not a fan of plain yogurt? Here are a few ideas to add more flavor to it! These are for one serving (add to already-made yogurt).
Strawberry Jam: Add a couple tablespoons of your favorite jam and stir.
Mango: Make some mango purée in a blender, add a squeeze of lime or passion fruit juice, and mix.
Maple Coffee: Stir in about 1/8 tsp of coffee extract and maple syrup to taste.
Vanilla: 1/8 tsp of vanilla extract is just enough to add a delicate flavor to your yogurt.
Nutella: Stir in a tablespoon of hazelnut butter and a spoon of cacao powder and mix!
Pumpkin Spice: Add 1 tablespoon of pumpkin purée, 1/8 tsp of pumpkin spice, and maple syrup to taste.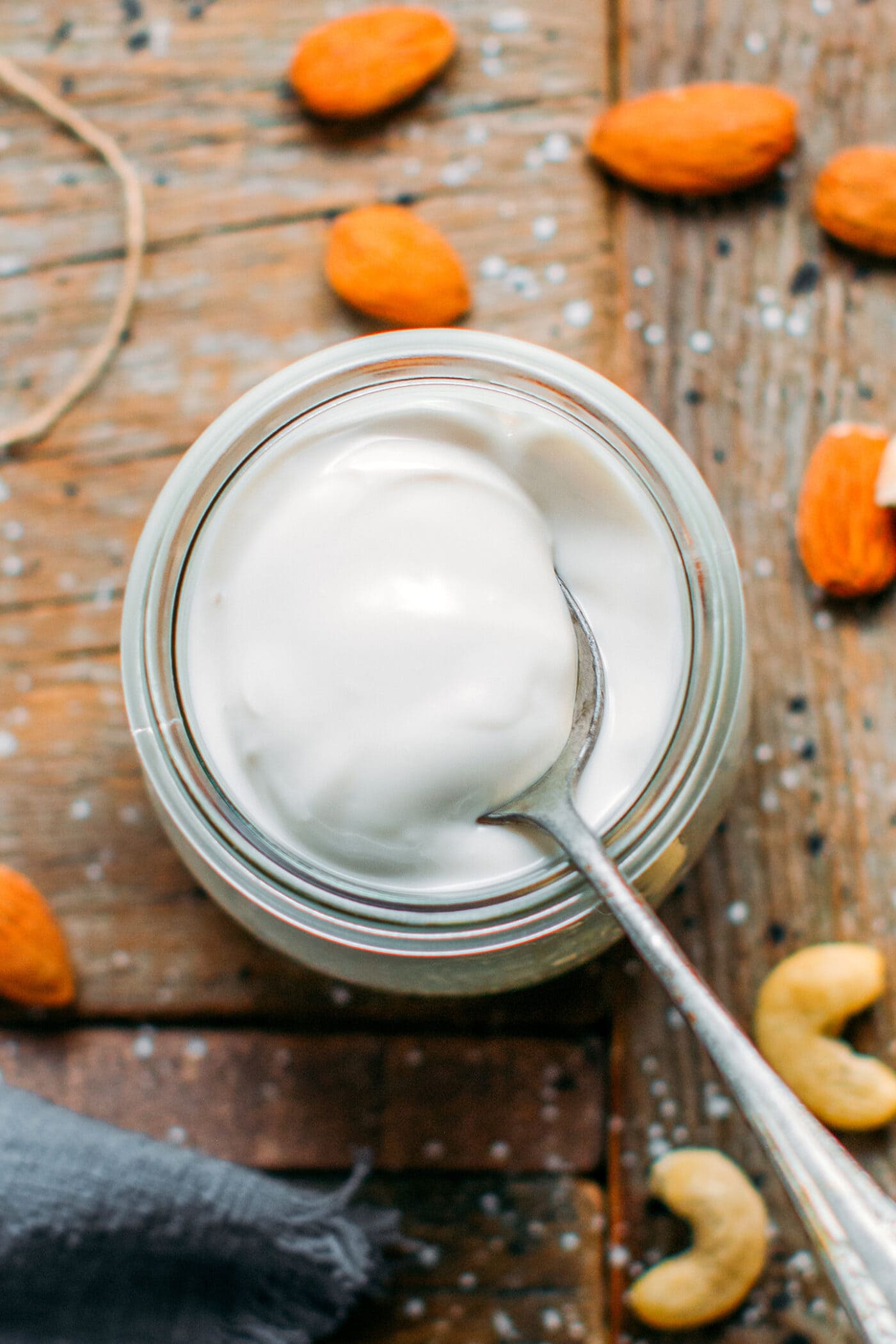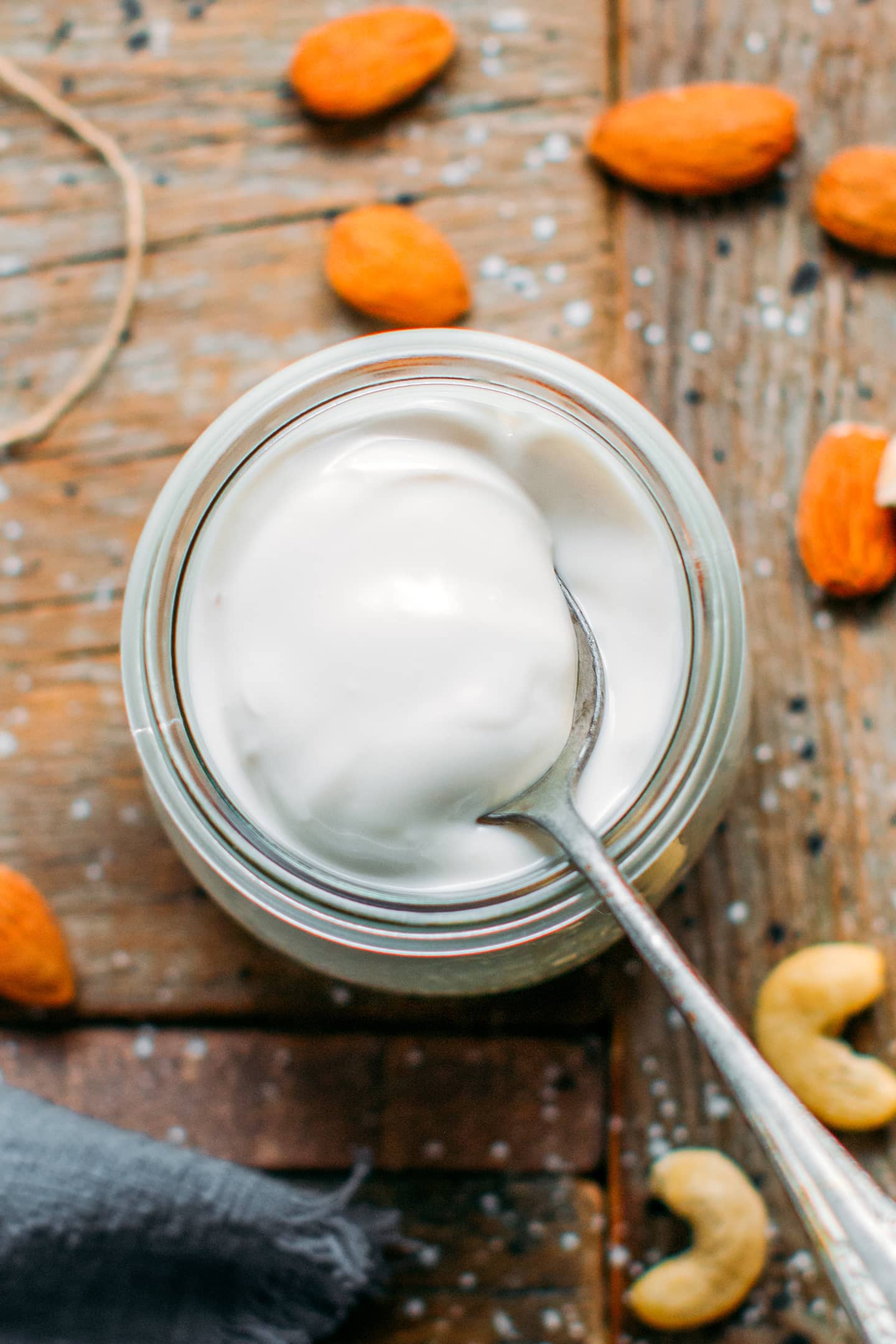 🍫 Toppings
Granola: I'm thinking vanilla, chocolate granola, or this Lime, Coconut & Macadamia Granola!
Bars: Your favorite energy bars cut into chunks. Or even Protein Bars for extra protein!
Nut Butters: Peanut butter, almond butter, or Vanilla Chocolate Spread!
Chocolate Chips: It's just too good and adds crunchiness.
Crushed Cookies: When I'm out of granola but have leftover cookies, you can be sure they will be crumbled on top of yogurt.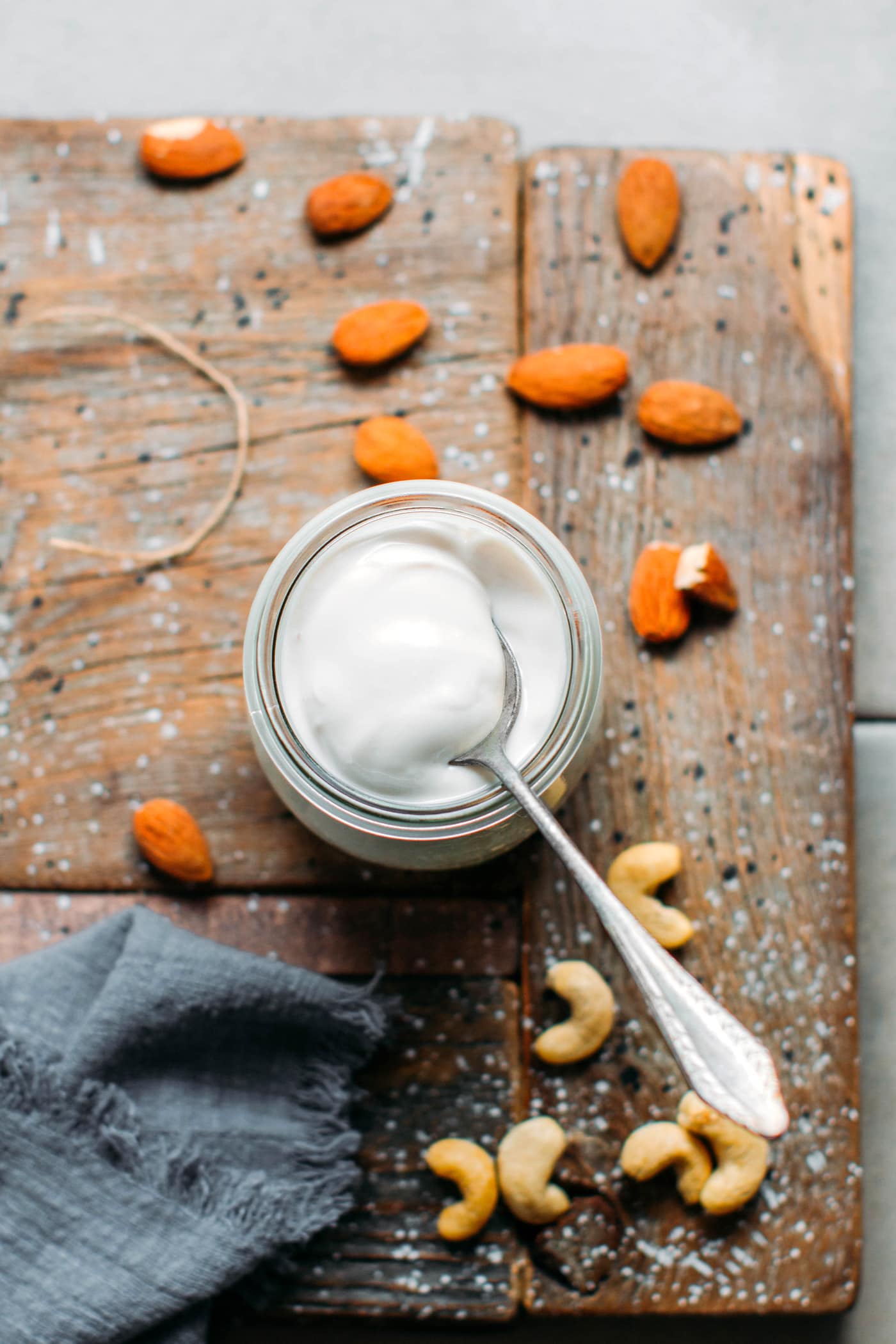 I hope you will love this vegan yogurt! It's delicious on its own but also great to make sauces, dips, or use in baked goods!
📔 More Vegan Yogurt Recipes
Let me know in the comments if you try this recipe!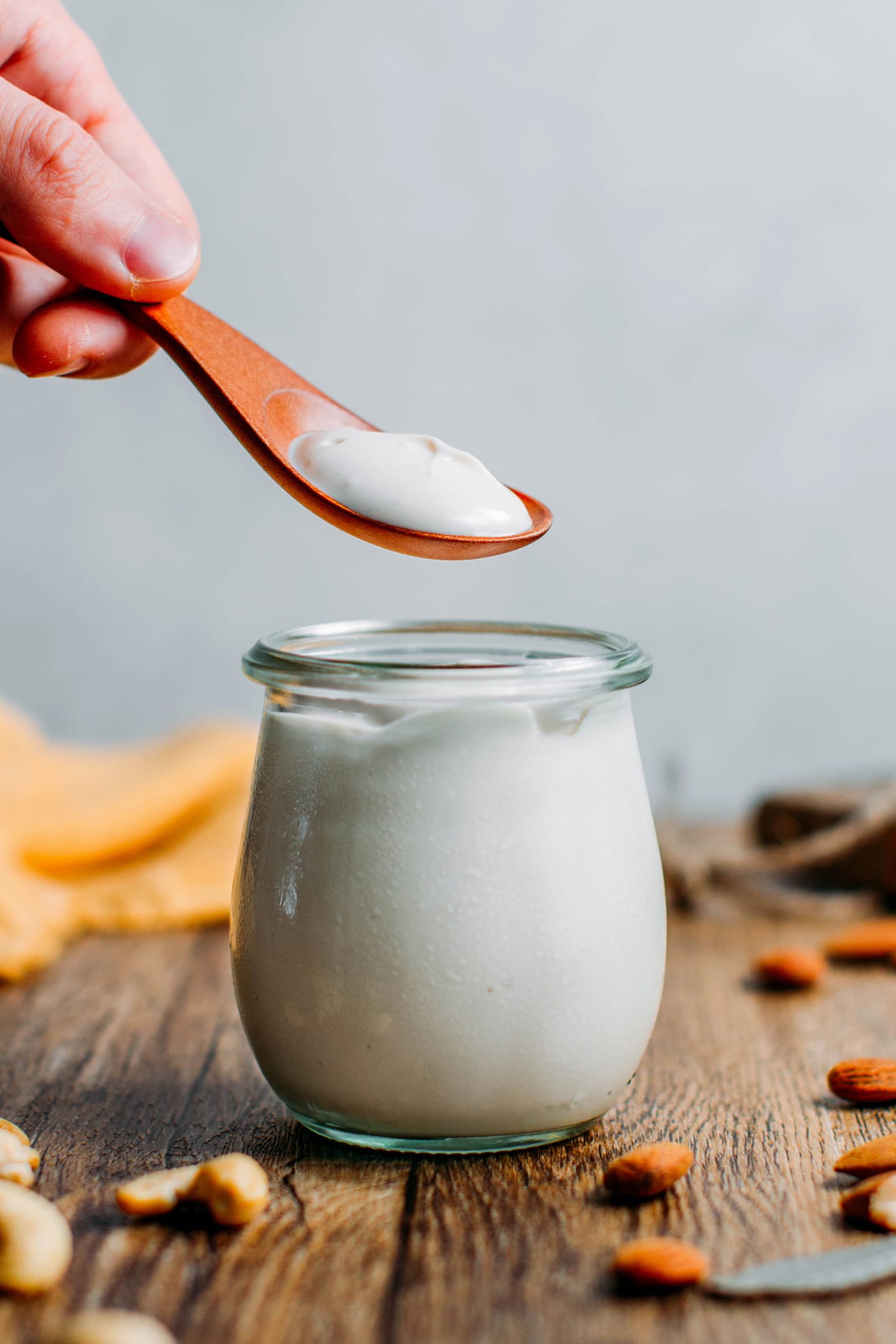 Recipe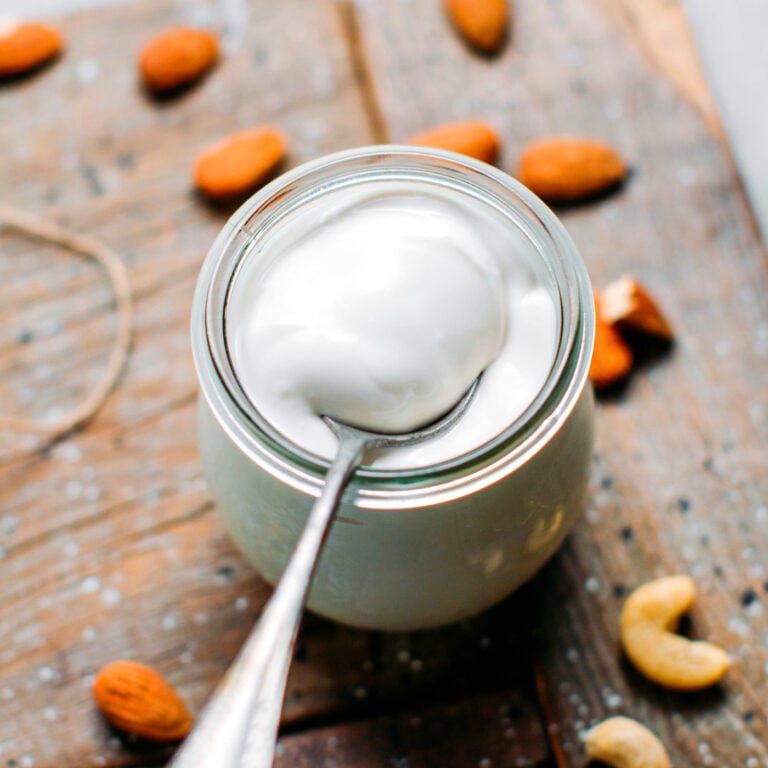 Cashew & Almond Yogurt (Greek-Style!)
SO creamy, perfectly tangy, and thick vegan yogurt made from just 5 ingredients! Gum-free, agar-free, coconut-free, and super easy to make!
Instructions
Soak the cashews and almonds overnight. Drain and transfer to a high-speed blender. Add the water and blend on high for about 30 seconds.

Transfer the cashew and almond milk to a nut milk bag and squeeze it over a large bowl to strain the milk. Try straining as much milk as possible. Discard the pulp or use in cookies, cakes, etc.

Dissolve the cornstarch in 3 tbsp of the cashew/almond milk. Add it back to the milk.

Transfer the cashew/almond milk to a medium sauce pan, add the sugar, and heat over medium heat. Whisk constantly until it comes to a boil and starts to thicken. As soon as it as thickened, remove from heat, pour into a small glass bowl and cover with plastic film to touch (to prevent a skin from forming on top). Let it cool for about 1 hour, or until it's at room temperature.

Add the teaspoon of non-dairy yogurt and stir using a wooden spoon to mix with the milk. Cover again with plastic film to touch.

If using an Instant Pot: Place 1 cup of water in the pot. Add the steam rack and place the bowl of yogurt on top. Close the lid and set on Yogurt mode for 7 hours for a mild yogurt.

If using a Yogurt Maker: Divide the yogurt into small jars. Set the maker for 7 hours.

If using an Oven: Turn on the oven and set it to the lowest temperature (mine is 50°C). Preheat for about 20 minutes. Next, turn it off but leave the light on. Place your bowl of yogurt in the oven and let it incubate for 7-8 hours with the light on.

Once your yogurt is ready, refrigerate for at least 3 hours, or until cold before enjoying. Yogurt will keep for up to 5 days in the refrigerator.
Notes
To calculate the nutritional value, I counted 1/3 of the amount of calories from the nuts since we strain them. It's just a guess and this value may not be accurate.
Nutrition
Serving:
0.5
cup
|
Calories:
155
kcal
|
Carbohydrates:
9.6
g
|
Protein:
4.7
g
|
Fat:
11.3
g
|
Fiber:
1.6
g
|
Sugar:
1
g
Did you make this recipe?
Tag @fullofplants on Instagram and hashtag it #fullofplants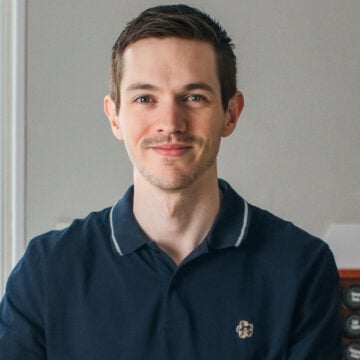 About the Author
Thomas Pagot is the founder, photographer, and recipe developer behind Full of Plants. He created the blog in 2016 as a personal cookbook for vegan recipes. Through years of recipe development, Thomas has successfully grown Full of Plants into a trusted resource for plant-based recipes.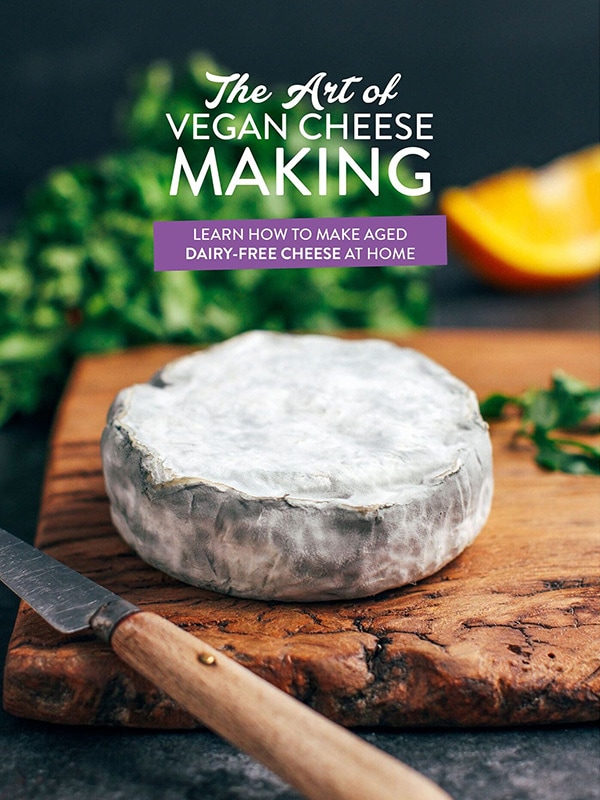 🧀 25 Mind-Blowing Vegan Cheese Recipes!
Sign up for the Full of Plants newsletter and you'll get new recipes delivered by email weekly, PLUS your FREE 100-page printable eBook!