Creamy and nutty homemade hazelnut milk prepared with just 2 ingredients! Learn how to make your own plant-based milk in just 15 minutes. It is silky smooth, creamy, and so much better than store-bought!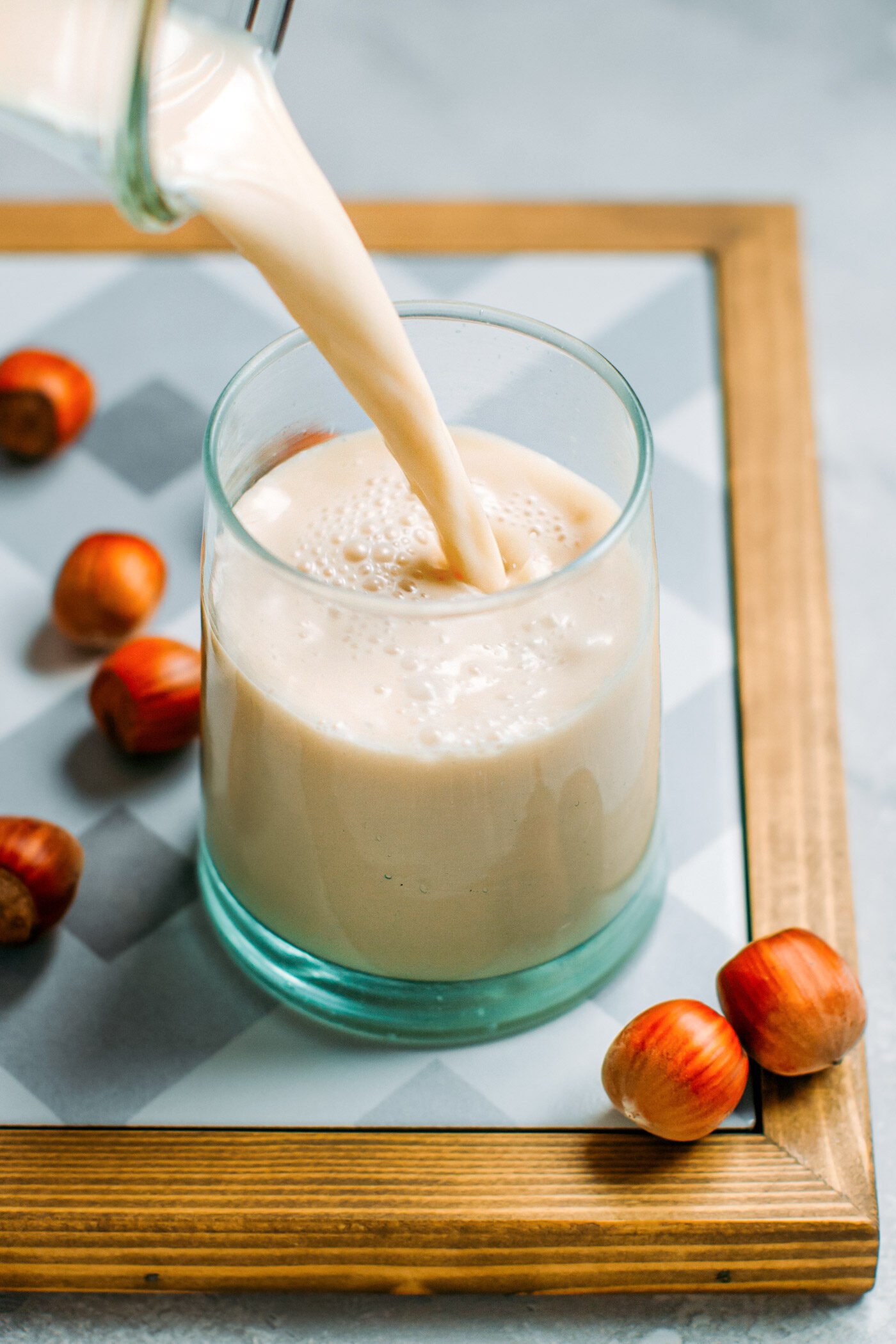 📘 What is Hazelnut Milk
It is plant-based milk prepared from hazelnuts, water, and optionally a sweetener. It is nutty, dairy-free, and takes just 15 minutes (minus soaking) to prepare!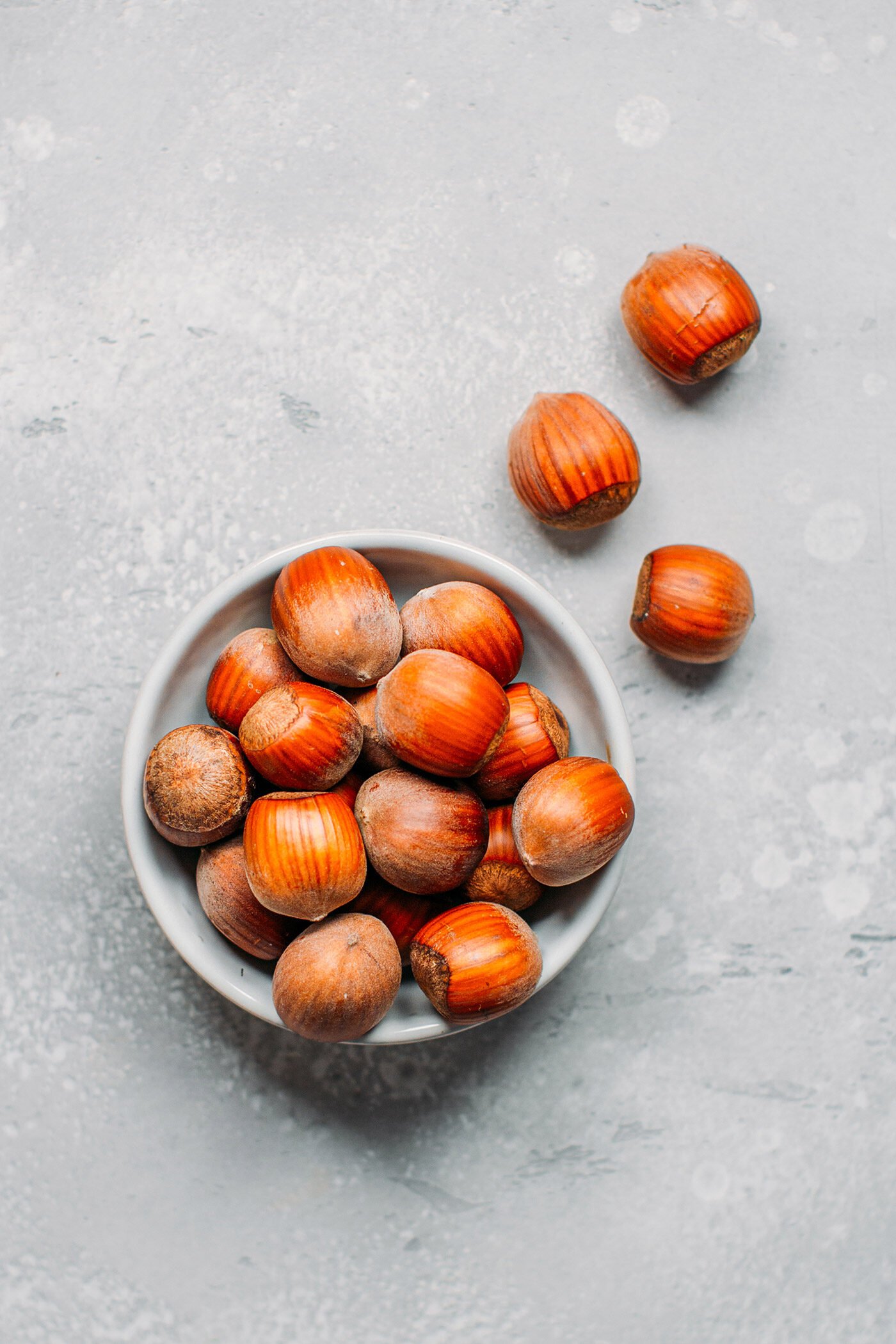 🥣 How to Make Hazelnut Milk
Making your own plant-based milk is incredibly easy, and the result is much better than the one you get at the store! Here are what you will need to make it:
Raw Hazelnuts
Water
Maple syrup or dates (optional)
A pinch of salt
Soaking
First, soak the hazelnuts overnight. This will not only allow the nuts to soften but will also make them more easily digestible.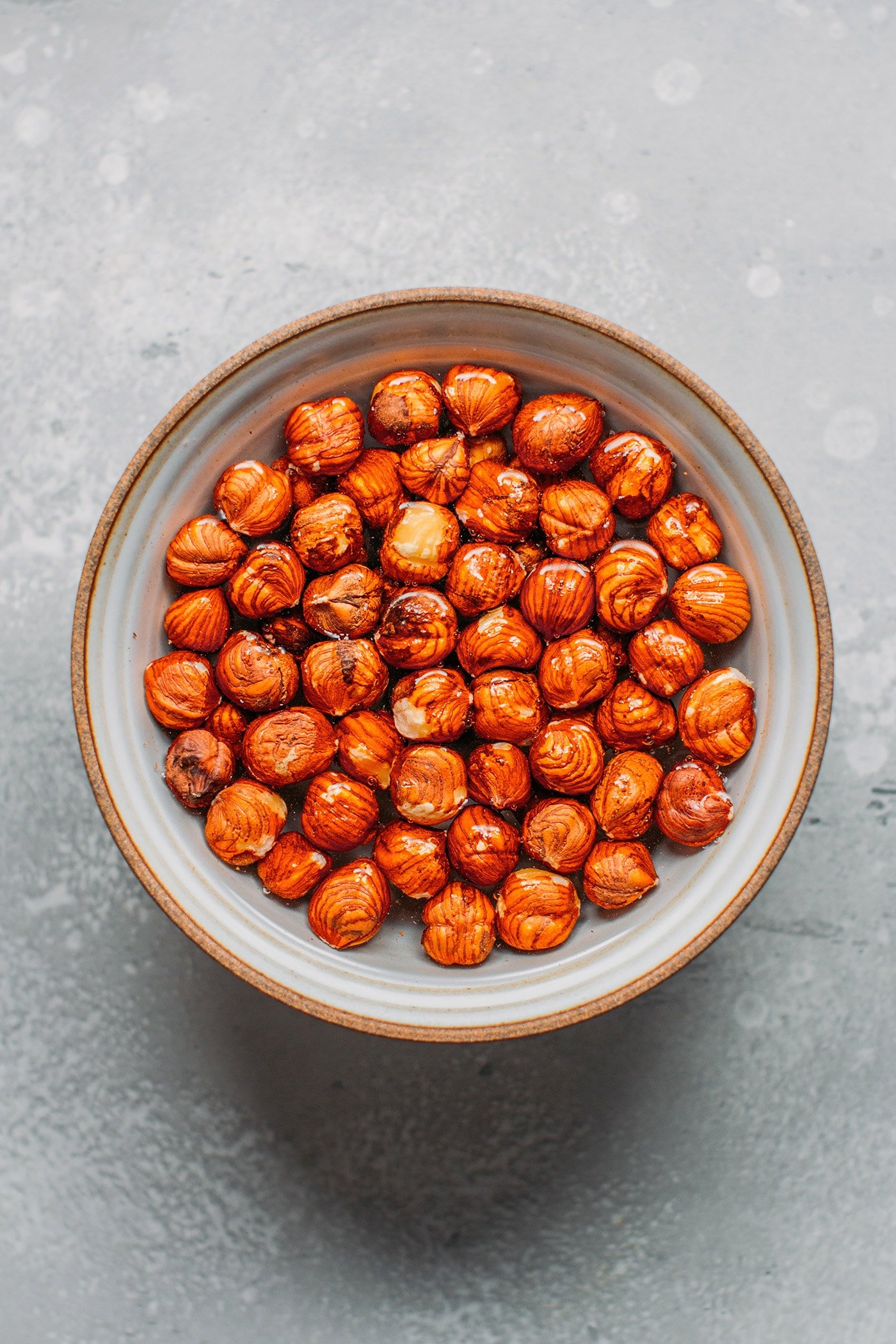 Next, drain the hazelnuts and transfer them to a high-speed blender. Add the water, a pinch of salt, and blend for about 30 seconds.
Finally, strain the blended milk through a fine nut milk bag (or a clean dish towel!) to remove the pulp and end up with silky smooth milk!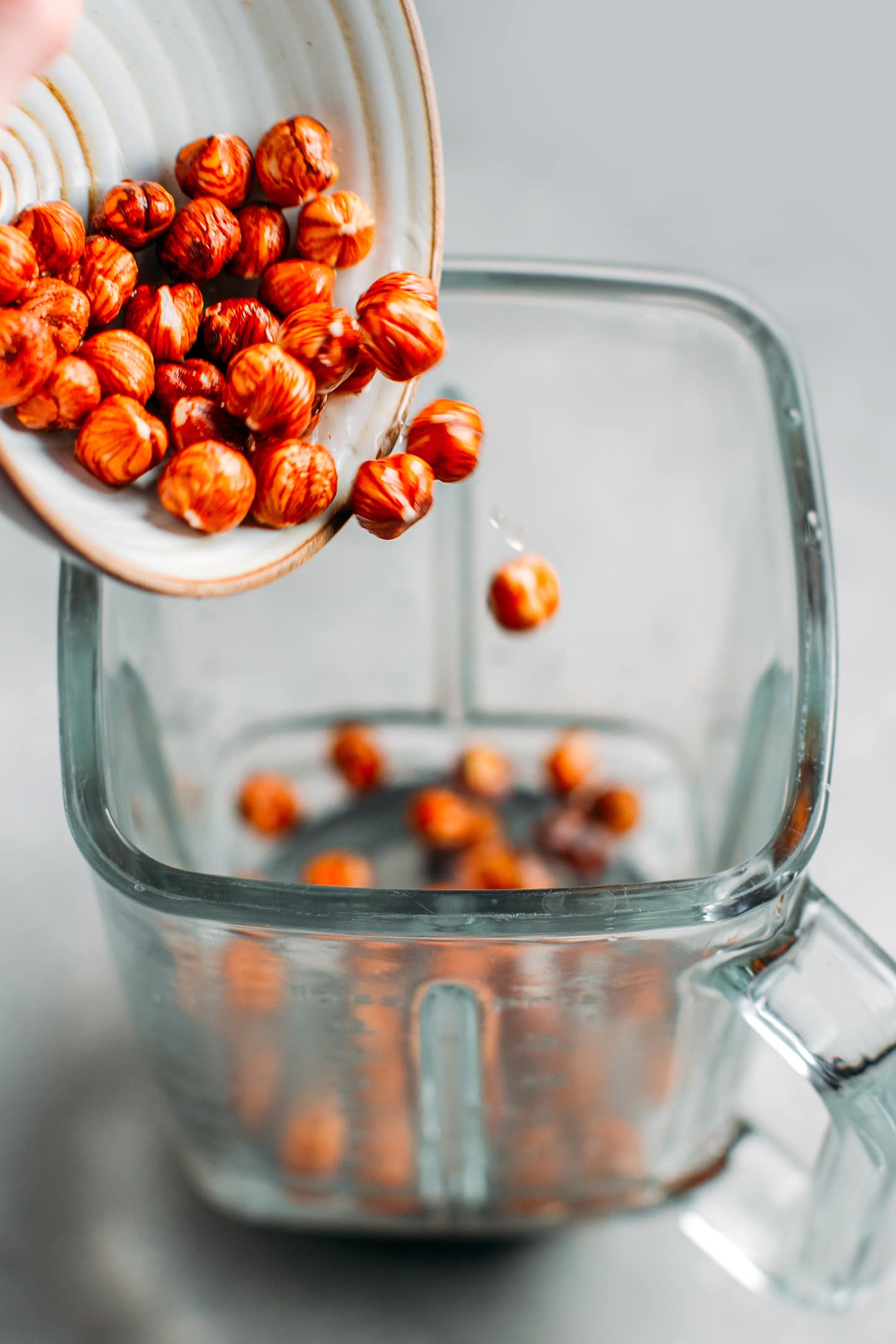 🍫 How to Flavor Hazelnut Milk
We are sharing 4 different variations:
Raw Hazelnut Milk
With a very fresh and almost herby flavor, this milk is prepared from soaked raw hazelnuts. It is the easiest and quickest version.
Simply soak raw hazelnuts for at least 6 hours, blend with water, and strain.
Roasted Hazelnut Milk
Definitely my favorite! If you are a hazelnut lover, you are going to love the roasted version. This version is best enjoyed as is or in sweet recipes, as it has a strong hazelnut flavor.
Prior to soaking the hazelnuts, roast them for 10 minutes at 350°F or until toasty. Next, rub them between your fingers to remove the skin. You can then soak the nuts and follow the rest of the process.
Mild Hazelnut Milk
This one is for the undecided. It combines half-roasted and half-raw hazelnuts. It has just a hint of toastiness but is not overpowering.
Chocolate Hazelnut Milk
Combine roasted hazelnut milk with cacao powder and vanilla extract for a delicious Nutella-like flavor!
When you are in need of a special treat, this is the one you want!
💬 FAQ + Tips
Is there a way to prevent the milk from separating?
It is possible. However, you will have to rely on lecithin to emulsify all of the ingredients. To do so, add 1 teaspoon of liquid sunflower lecithin (or soy lecithin) to the strained milk and blend again for a few seconds.
How many calories are there in a glass of hazelnut milk?
That is a tough question, as it is very difficult to calculate the amount of hazelnuts left after blending and straining.
How long does hazelnut milk keep in the refrigerator?
It will keep for up to 5 days in the refrigerator. You will have to give it a good stir or shake before using it if it separates.
Can I increase the ratio of water to hazelnuts?
Yes, however, the milk will be thinner and not as creamy.
🥛 Where to Use Hazelnut Milk?
Due to its nutty flavor, it is best used in sweet recipes like:
Oatmeal: Cooked or overnight oats.
Latte: To add a delicious hazelnut flavor to your coffee!
Hot Chocolate: As stated above, to make a hot chocolate with a Nutella flavor.
Smoothies: Hazelnut milk + banana + cacao powder? A match made in heaven.
Baked goods: It adds just a hint of nuttiness, but we didn't find it added a lot of flavor in muffins or cakes, for example.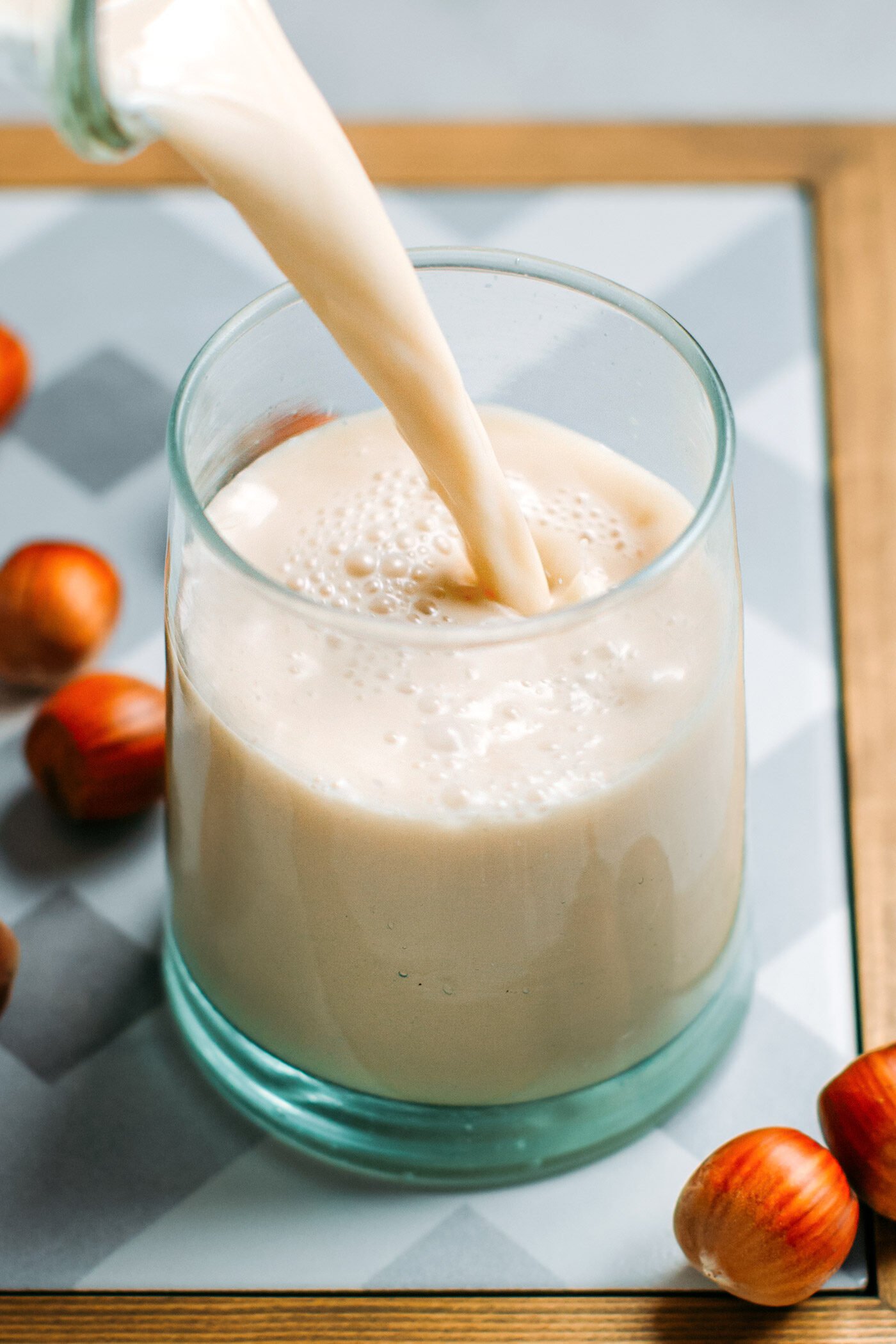 🌰 More Plant-Based Milk Recipes
Let me know in the comments if you try this recipe!
Recipe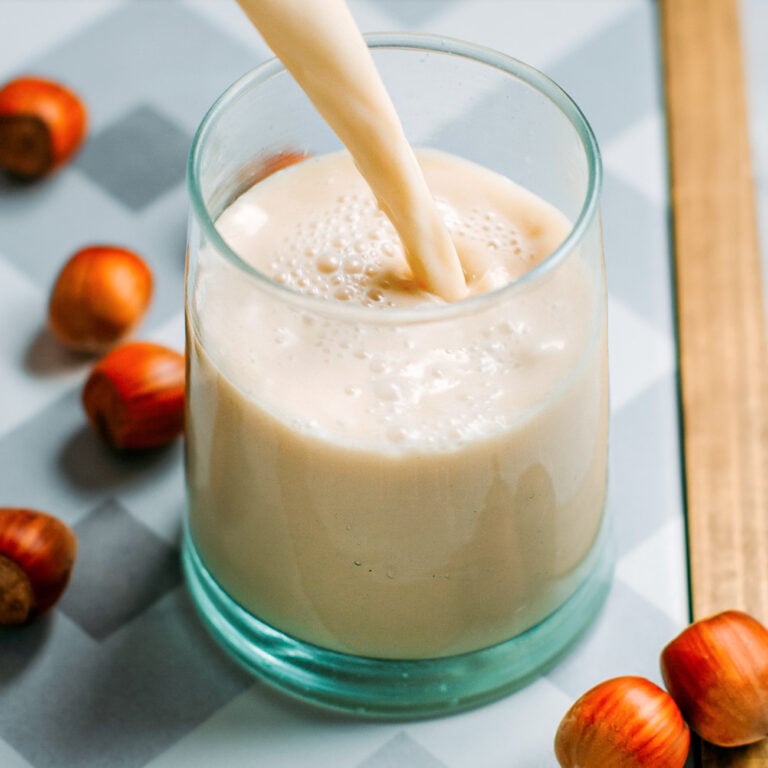 How to Make Hazelnut Milk (Raw + Roasted)
Learn how to make your own hazelnut milk at home! It is so creamy, and nutty and requires just 2 ingredients and 15 minutes!
Ingredients
1

cup

raw shelled hazelnuts

3

cups

water

1/8

tsp

salt

1

tbsp

maple syrup

optional
Instructions
For the raw version: Soak the hazelnuts in cold water for at least 6 hours or overnight.

For the roasted version: Preheat oven to 350°F (175°C) and line a baking sheet with parchment paper. Spread the hazelnuts on the baking sheet and roast for about 10 minutes. Let cool for 20 minutes before rubbing the hazelnuts between your fingers to remove their skin. Transfer the hazelnuts to a bowl and soak for at least 6 hours or overnight.

Once hazelnuts have soaked, drain and transfer to a high-speed blender. Add the 3 cups of water and the salt, and blend on high for about 30 seconds.

Place a nut milk bag (or thin cloth) in a large bowl or container. Pour in the hazelnut milk through the nut milk bag to remove the hazelnut pulp. Squeeze with your hands to remove all of the milk. Discard the hazelnut pulp or use in baked goods.

Transfer the strained milk to a clean jar or glass bottle and store it in the refrigerator for up to 5 days. Note: The milk will separate after a few hours. This is normal. Just give it a good stir.
Notes
For the mild version, roast only half of the hazelnuts. Soak roasted and raw for at least 6 hours.
For the Chocolate version, heat 1 and 1/2 cups of hazelnut milk with 1 tablespoon of cacao powder, an extra tablespoon of maple syrup, and 1/2 tsp of vanilla extract for 3-5 minutes or until hot.
Did you make this recipe?
Tag @fullofplants on Instagram and hashtag it #fullofplants