Learn how to make your own vegan sweetened condensed milk from scratch! Use it in coffee or to make custards, fudge, desserts, and more! Rich, creamy, vegan, and just 4-ingredient! Plus, it's coconut-free!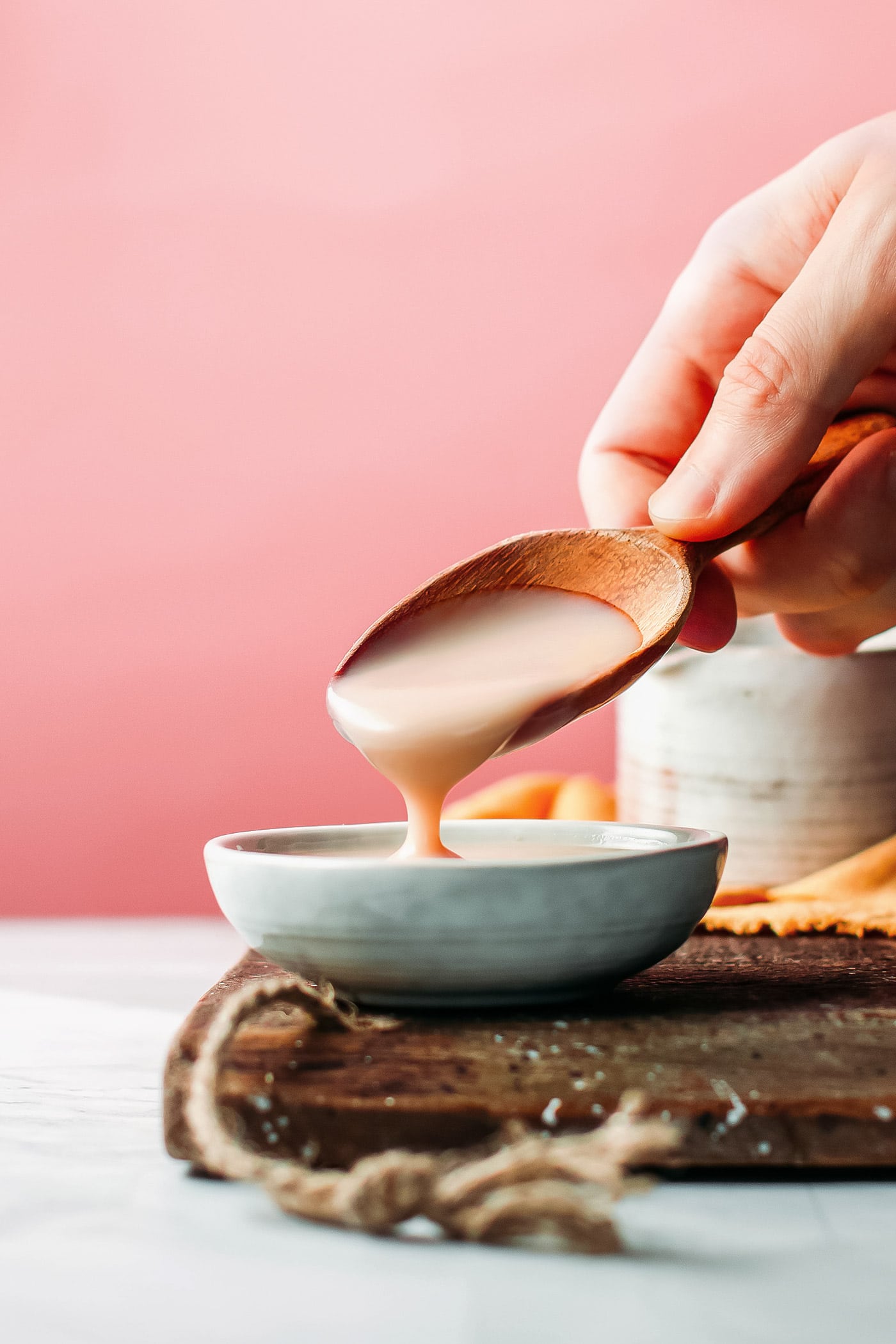 Introducing vegan condensed almond milk!
If you like Vietnamese coffee as much as I do, you probably know that one of the key ingredients is condensed milk. The thing is, vegan versions are usually made with coconut milk, and while I enjoy coconut coffee once in a while, it's not something I want all the time.
This vegan condensed milk is made with almond milk for a subtle flavor that will not cover or alter your coffee! It is sweet, rich, and super creamy! Perfect to make truffles, puddings, cakes, iced tea, coffee, and more!
📘 What is Condensed Milk
Condensed milk, or sweetened condensed milk, is milk that is been simmered down with sugar until thick. During the simmering process, about 50% of the water is removed from the milk, resulting in a dense and thick texture.
Traditionally, condensed milk is prepared from cow's milk. Here, we will be making a dairy-free version by using homemade nut milk!
🥣 How to Make Vegan Condensed Milk
Making sweetened condensed almond milk requires just 4 ingredients:
Raw almonds – For a sweet and delicate flavor. I used raw unblanched almonds here, but you can also use the blanched ones.
Raw cashews – Cashews bring the fat and make this condensed milk extra creamy! Make sure you are using raw cashews, not the roasted ones.
Sugar – White sugar works best and yields a very mild flavor. If you want a refined sugar-free version, take a look at the note below.
Vanilla extract – Optional, but it adds a fresh and delicate aroma.
Salt – To balance with the sweetness.
Here is a quick note about the sugar: I tried making this condensed milk in two different ways, one with white sugar and another one with maple syrup, to keep it refined sugar-free. Both thickened perfectly and were delicious, but I had a preference for the one made with white sugar as it didn't alter the flavor too much. The one made with maple syrup had a strong maple flavor, and it's not something I necessarily want in my coffee. I think agave might make a good substitute, too, for a healthier version.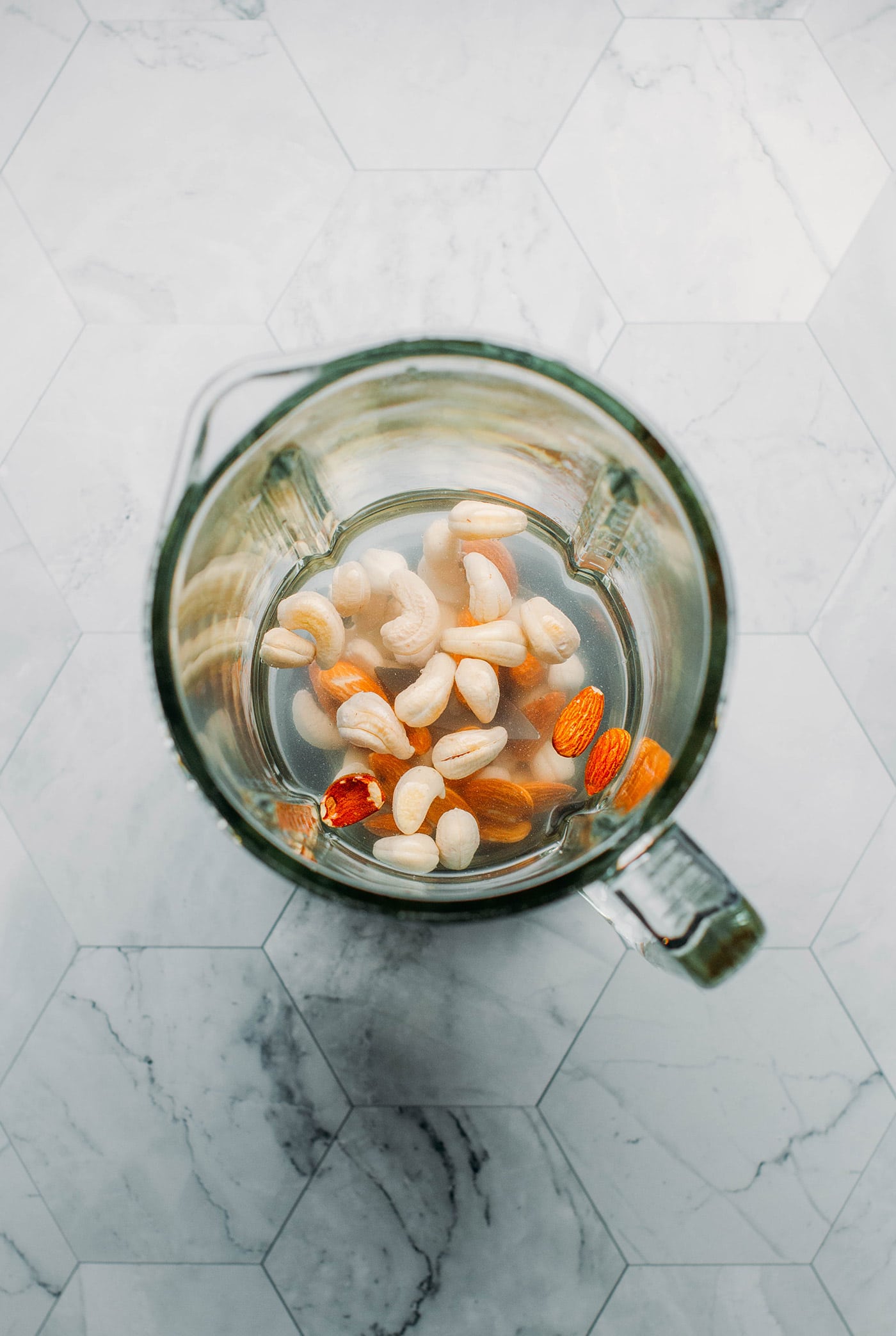 Steps to Prepare Vegan Condensed Milk
Start by preparing plant-based milk by blending the soaked almonds and cashews with water. Next, strain through a nut milk bag, and your milk is ready!
It's now time to condense it. Pour the milk into a saucepan along with the sugar, a pinch of salt, and, optionally, some vanilla extract.
Let the milk simmer for about 30 minutes or until it has reduced by about half and is thicker. Just be aware that it will thicken even more as it cools, so don't reduce it for too long; otherwise, it will be too thick.
☕️ Where to Use Vegan Condensed Milk
Coffee and tea: It's perfect to sweeten and add creaminess to your iced coffee or tea!
Puddings: Substitute some of the sugar for this condensed milk for a richer pudding. You can also use it to prepare caramel flan!
Cakes: Condensed milk will act not only as a sweetener but as a binder, too.
Truffles, fudge, ganache, and more!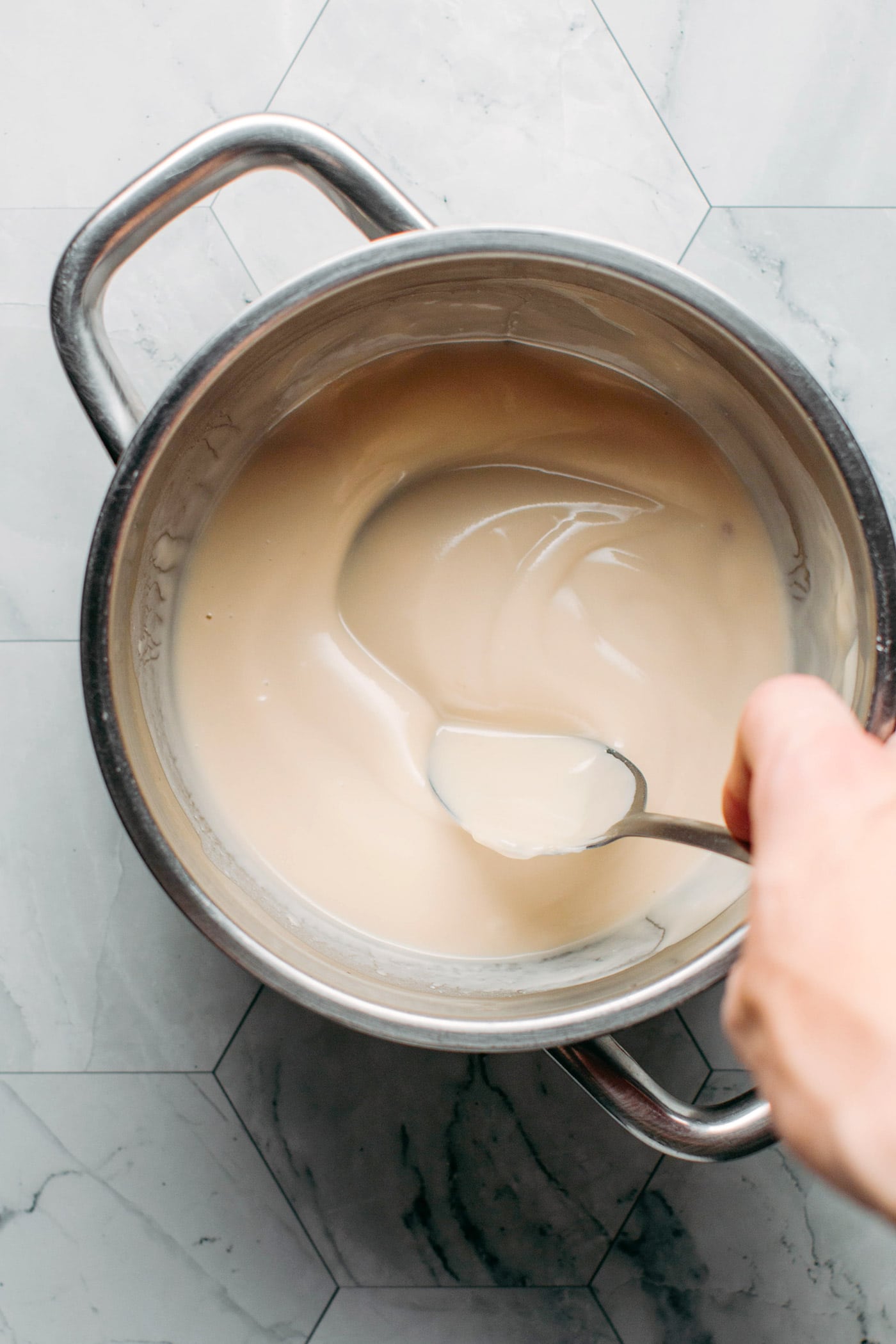 💬 FAQ
Can I use store-bought cashew or almond milk for this recipe?
It will probably work, but you won't get the same texture, as store-bought plant-based milk is not as rich.
Can I make caramel from this condensed milk?
Unfortunately, no, it won't work to make dulce de leche.
How long can I keep this sweet condensed milk?
It will keep for up to 7 days in the refrigerator.
This sweetened condensed milk will take your coffee to the next level by bringing creaminess and sweetness. It can also be used in desserts, poured over berries, or as a base for sweet dipping sauces!
🥛 More Vegan Basics
Let me know in the comments if you try this recipe!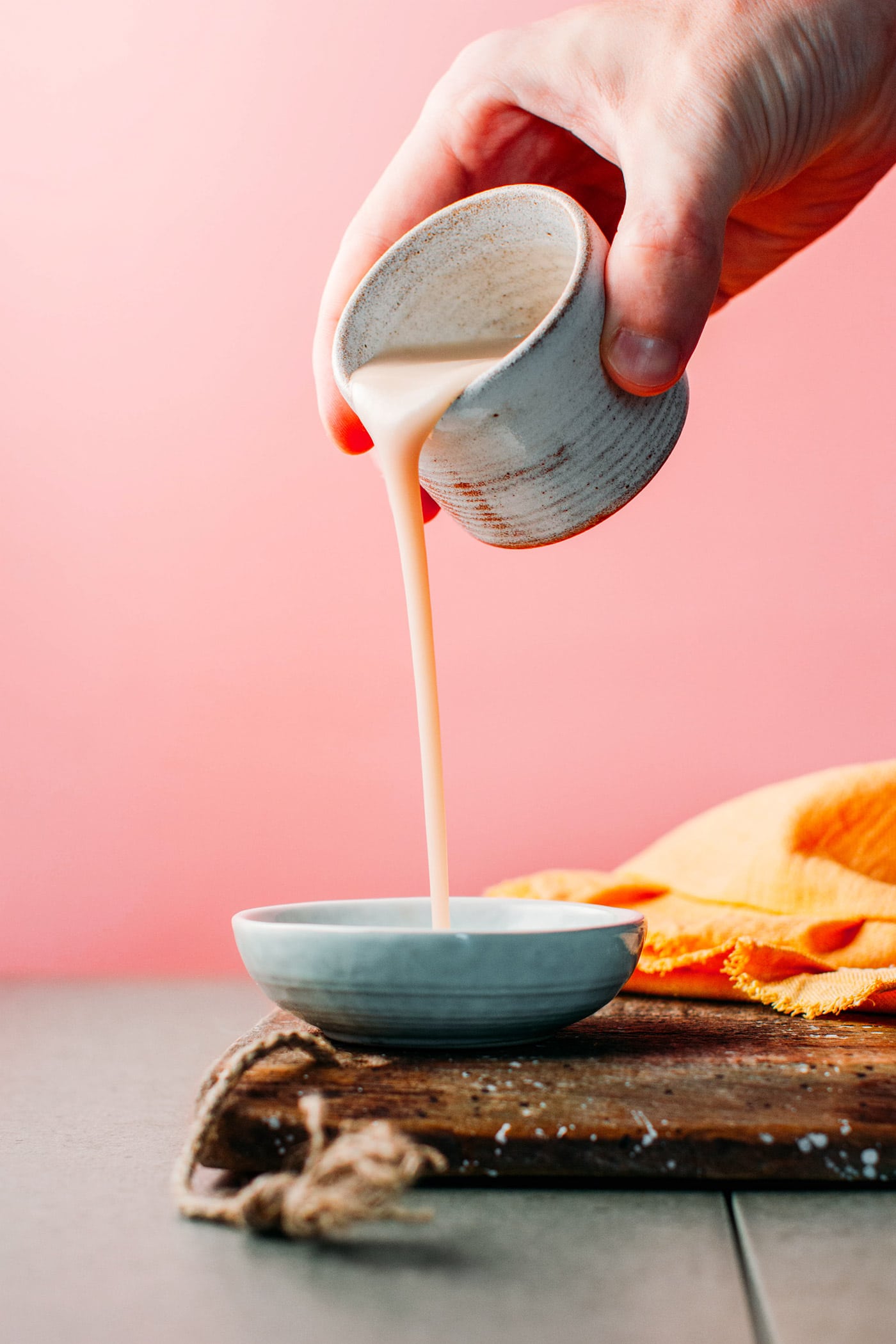 Recipe
Vegan Condensed Milk (From Almond Milk!)
Learn how to make your own vegan condensed milk from scratch! Perfect to take your coffee to the next level! Dairy-free, coconut-free, and vegan!
Instructions
Prepare the milk: drain the soaked almonds and cashews and transfer them to a high-speed blender. Add the water and blend for about 30 seconds. Filter the mixture through a nut milk bag and save the pulp for other uses (cookies, bread, etc.).

Pour the nut milk into a medium saucepan. Add the sugar, vanilla extract, and salt. Bring to a boil, reduce the heat to a low-medium, and let simmer for about 30 minutes, stirring from time to time, until the milk has reduced by about half and has started to thicken. It will thicken even more once cold, so be careful not to reduce it too much, or you will end up with a cream consistency.

Remove from heat, transfer to a clean jar, and let cool completely before storing in the refrigerator. Use in coffee, lattes, desserts, or as a base for sweet dipping sauces!

Sweetened condensed almond milk will keep for up to 7 days in the refrigerator.
Notes
If you want to make this recipe refined sugar-free, use maple syrup. Be aware that the condensed milk will have a maple flavor though.
Nutritional information is an estimate.
Nutrition
Serving:
1
tbsp
|
Calories:
41
kcal
|
Carbohydrates:
7.2
g
|
Protein:
0.5
g
|
Fat:
1.4
g
|
Fiber:
0.2
g
|
Sugar:
6.4
g
Did you make this recipe?
Tag @fullofplants on Instagram and hashtag it #fullofplants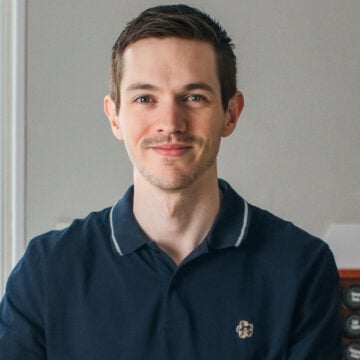 About the Author
Thomas Pagot is the founder, photographer, and recipe developer behind Full of Plants. He created the blog in 2016 as a personal cookbook for vegan recipes. Through years of recipe development, Thomas has successfully grown Full of Plants into a trusted resource for plant-based recipes.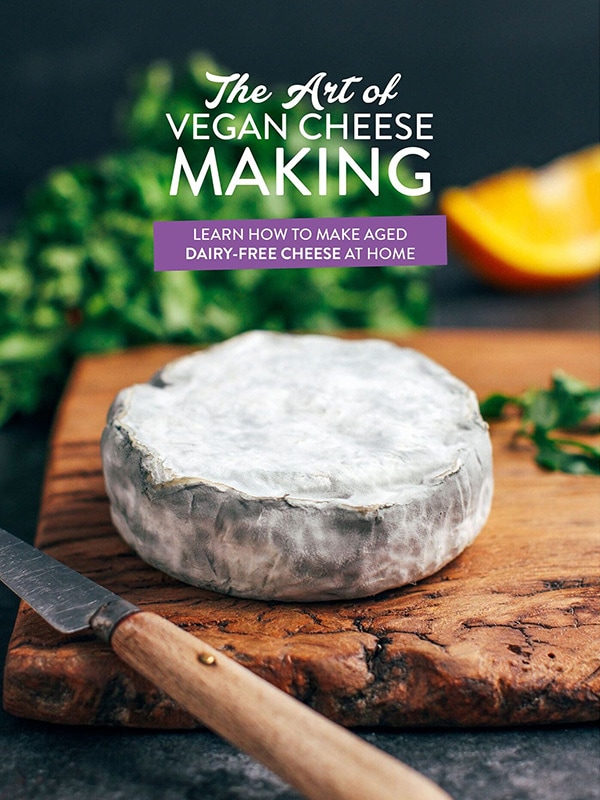 🧀 25 Mind-Blowing Vegan Cheese Recipes!
Sign up for the Full of Plants newsletter and you'll get new recipes delivered by email weekly, PLUS your FREE 100-page printable eBook!