Learn how to make Vietnamese coffee at home! This iced coffee is prepared from condensed milk and robusta coffee for a perfectly sweet, creamy, and refreshing drink!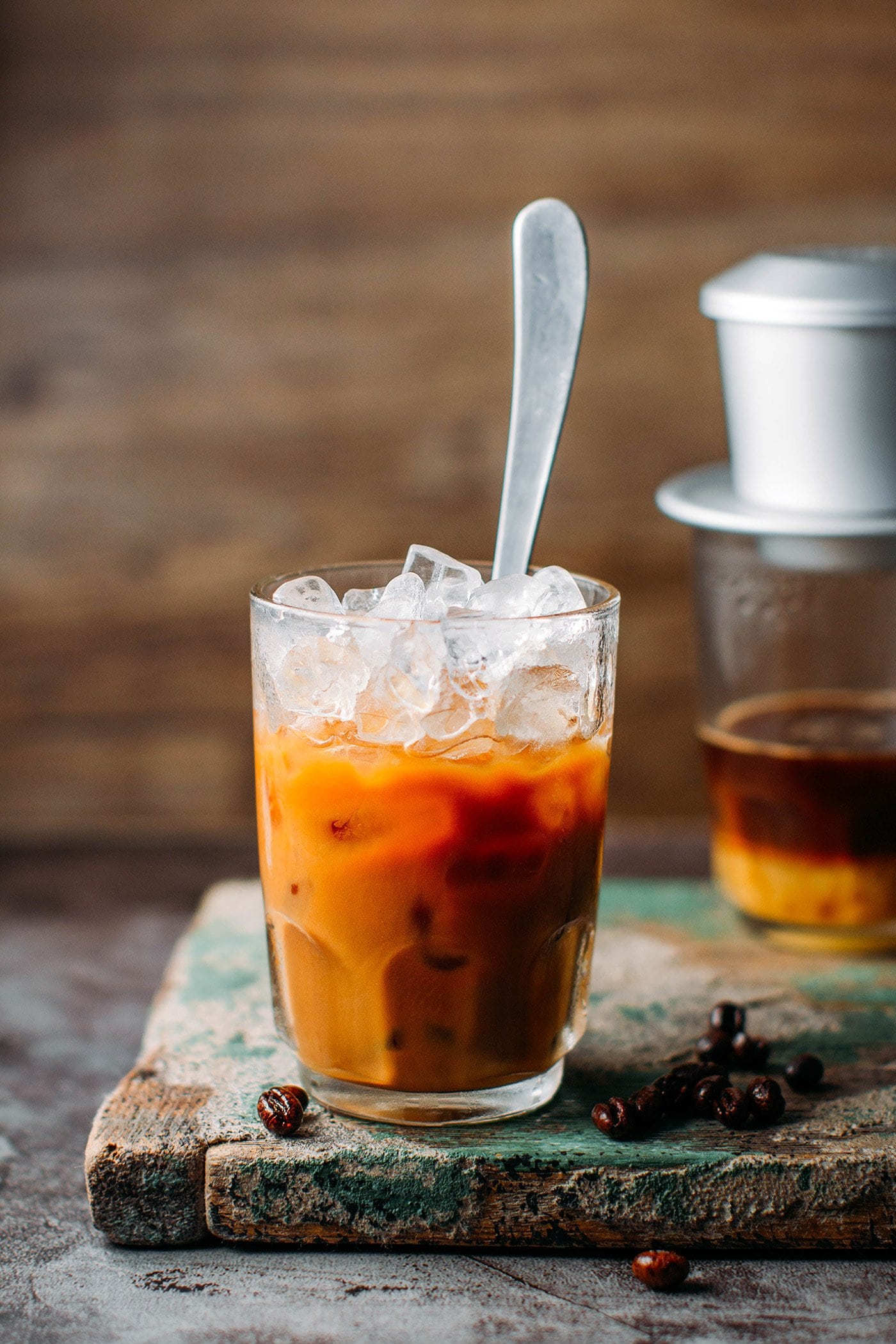 Now that we know how to make vegan sweet condensed milk, it's time to make coffee and not any coffee!
This ultra-creamy, rich, and perfectly sweet iced coffee will be your new favorite afternoon (or morning) drink! Let's do it!
📘 What is Vietnamese Coffee?
Called "cà phê sữa đá" in Vietnamese, this coffee consists of just two ingredients: coffee and sweet condensed milk. The addition of condensed milk balances with the bitterness of the coffee and gives the drink a rich mouthfeel.
It is said that coffee was introduced by the French in Viet Nam during the 19th century. Later, Vietnam started to produce coffee beans and quickly became one of the largest exporters of coffee after Brazil.
Because of the climate, Vietnam produces mostly Robusta beans, which grow at a lower altitude and are cheaper to produce compared to Arabica. The downside of Robusta is that it's usually strong in flavor and more bitter. Hence the use of condensed milk to balance the bitterness.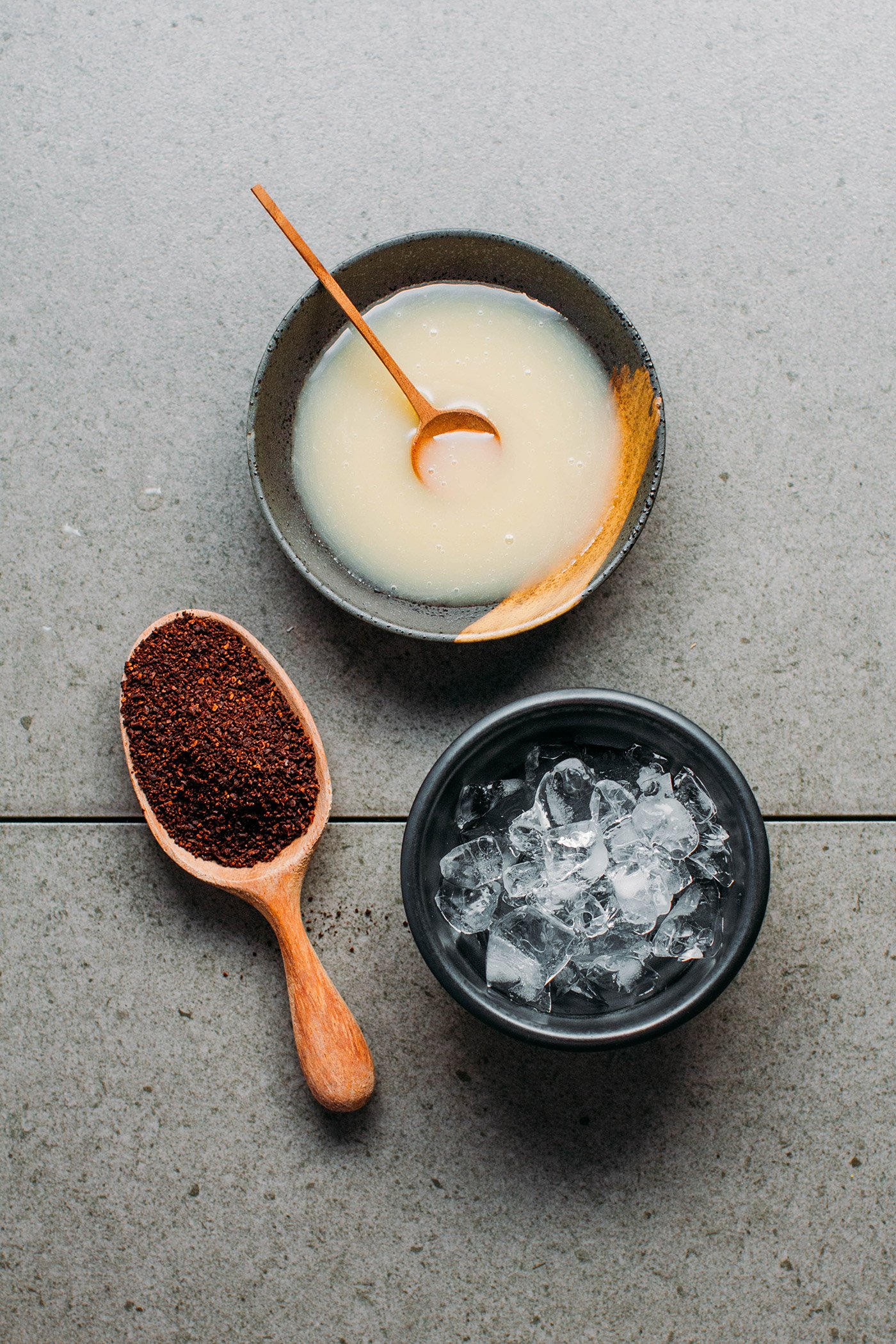 ☕️ How to Make Vietnamese Coffee
To prepare this iced coffee the traditional way, you will need a Vietnamese coffee filter. Called "cà phê phin" in Vietnamese, this filter is a small metal cup that you place on top of a glass. Here is how to prepare Vietnamese coffee:
Start by adding a few tablespoons of sweetened condensed milk to a glass. This will bring creaminess and sweetness.
Next, place the Vietnamese coffee filter on top of the glass.
Add coarse ground coffee to the filter, place the press on top, and pour boiling water into the cup. Cover with the filter lid.
Coffee will start dripping directly into the glass. This step will take about 5 minutes.
Once the coffee has stopped dripping, remove the filter and stir to mix the condensed milk with the coffee.
Add ice, and enjoy!
📔 Ratio of Condensed Milk to Coffee
The amount of condensed milk to use depends on a couple of things:
How sweet you want it: If you have a sweet tooth, you may add an extra tablespoon of condensed milk.
How strong your coffee is: This one is important. The stronger your coffee, the more condensed milk you will need to balance with the bitterness.
Personally, I usually go with about 3 tablespoons of condensed milk for 1/2 cup of coffee. Here, I used Vietnamese coffee and brew it through the filter, which leads to a dark and strong coffee. If you use espresso made with Arabica beans, you might want to lower the amount of condensed milk.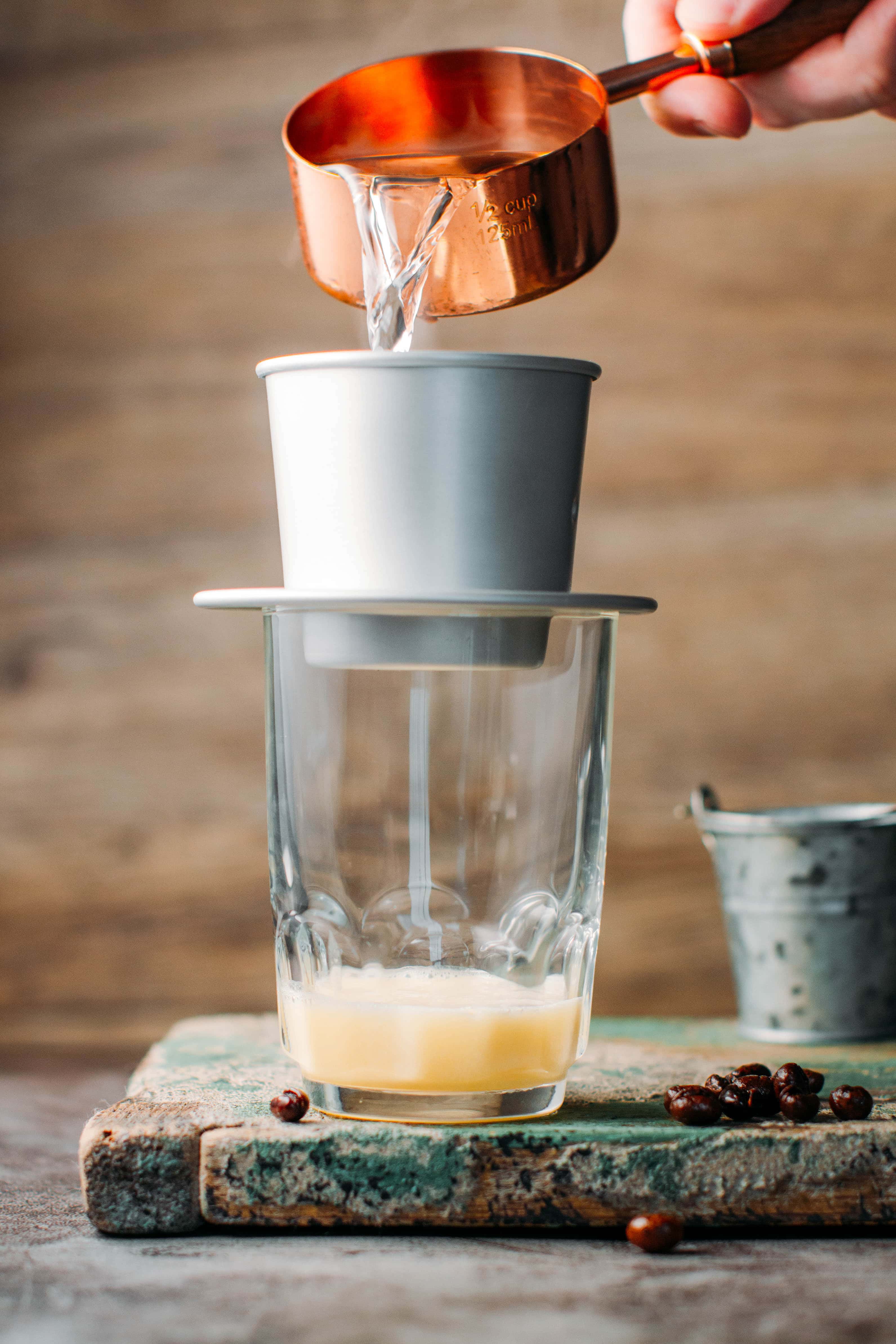 Quick fact: Vietnamese coffee is usually made from Robusta beans. This type of bean is stronger than Arabica and contains about twice the amount of caffeine. It is quite bitter when enjoyed dark, but once combined with sweet condensed milk, it becomes delicious and perfectly balanced!
Also, be aware that once you add the crushed ice, the coffee will lose a bit of sweetness.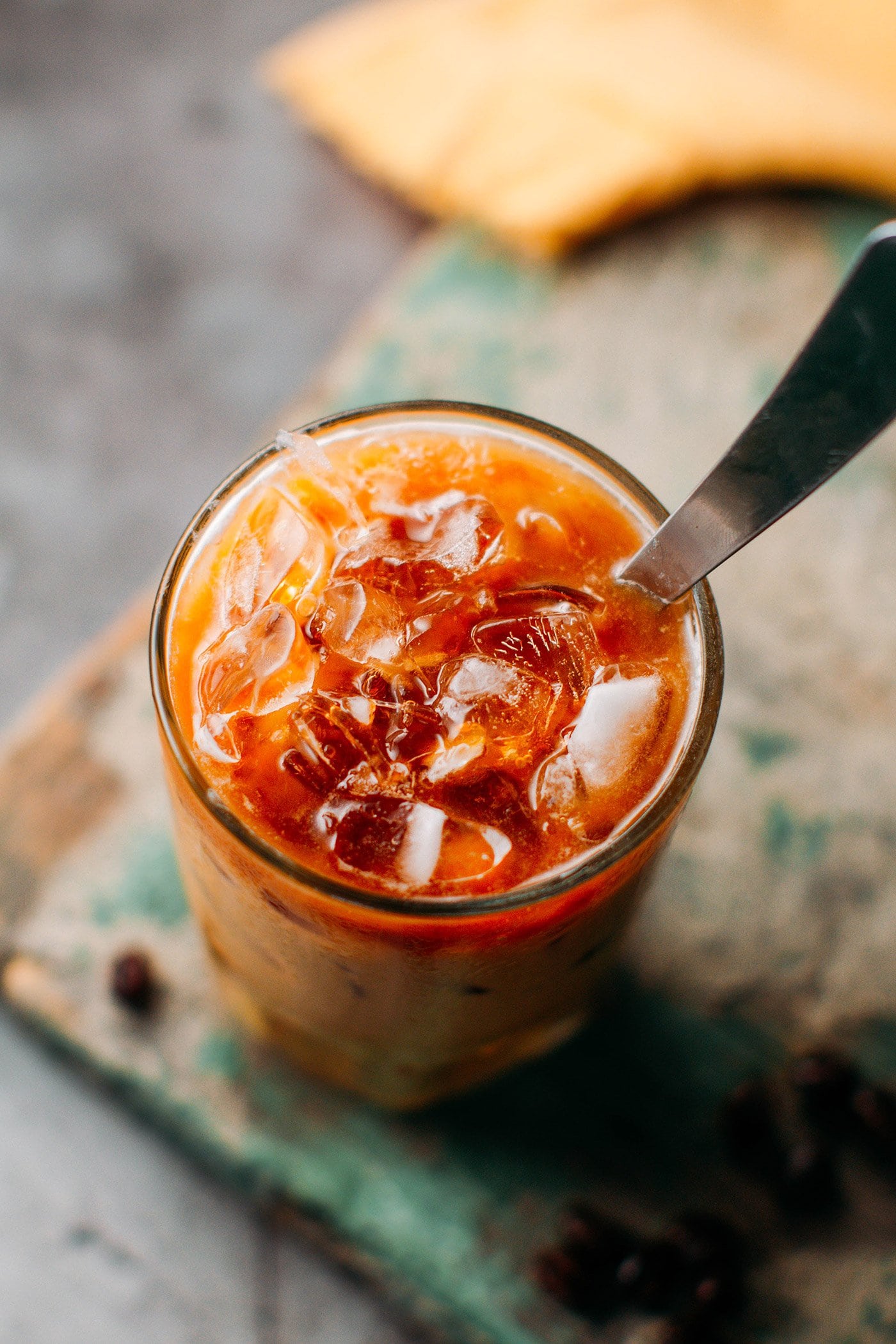 This Vietnamese-inspired iced coffee is a real treat! It is creamy, perfectly sweet, and so easy to prepare. Plus, it's way better than Starbucks! This iced coffee is a favorite here, and I have been having one almost every afternoon!
🧋 More Vietnamese-Inspired Drinks
Let me know in the comments if you try this recipe!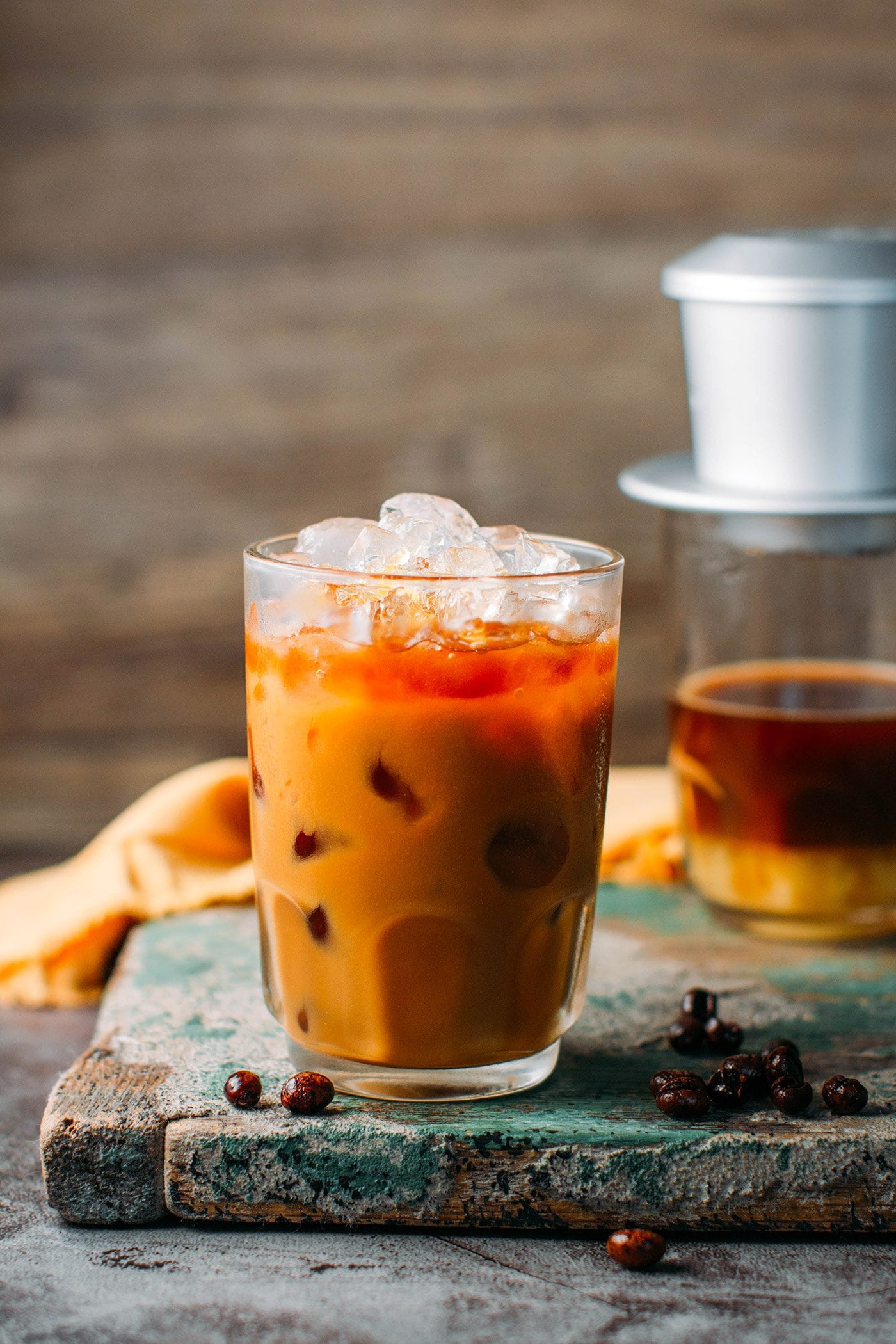 Recipe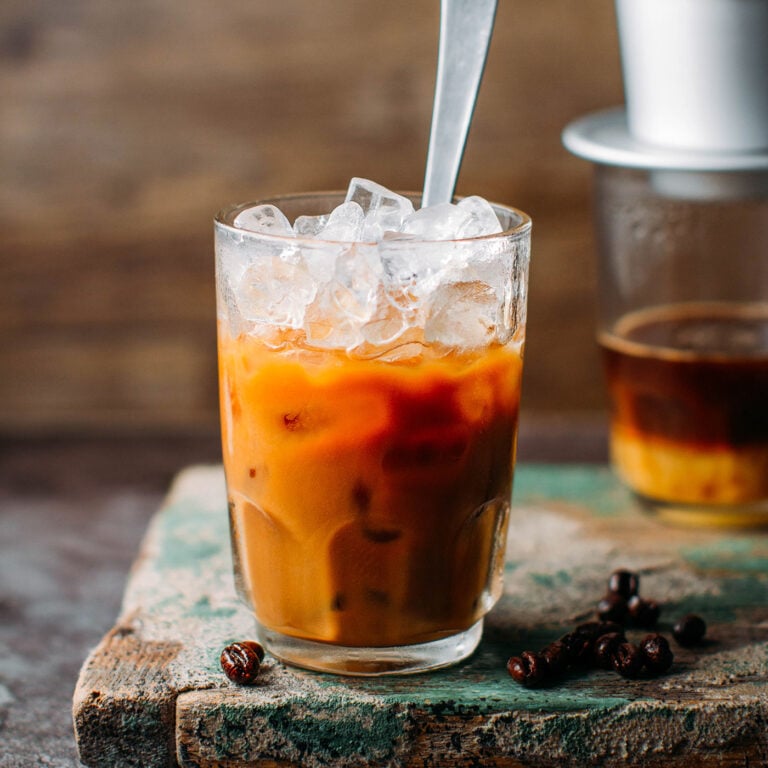 How to Make Vietnamese Coffee (Vegan)
Learn how to make vegan Vietnamese iced coffee at home! Incredibly rich and creamy, thanks to the addition of vegan condensed milk, this coffee will be your new favorite afternoon drink!
Ingredients
3

tbsp

vegan sweet condensed milk

2 and 1/2

tbsp

ground coffee

(preferably a strong coffee)

1/2

cup

boiling water

1/4 to 1/3

cup

slightly crushed ice
Instructions
Pour the sweetened condensed milk into a tall glass.

Bring about 1/2 cup of water to a boil. In the meantime, place the

Vietnamese coffee filter

on top of the glass. Add the ground coffee to the filter, and place the small press that goes inside on top of the ground coffee. Pour about 2 tbsp of boiling water into the filter and wait for about 20 seconds.

Next, pour in the rest of the water to fill the filter cup to the top. Cover with the lid and let it drip for about 5 minutes or until the coffee is not dripping anymore.

Remove the coffee filter from the top of the glass and use a spoon to mix the condensed milk with the coffee. Add the ice and serve immediately!
Notes
If you don't have a Vietnamese coffee filter, use about 1/2 cup of espresso.
Nutrition
Serving:
1
glass
|
Calories:
123
kcal
|
Carbohydrates:
22.5
g
|
Protein:
1.5
g
|
Fat:
1.4
g
|
Fiber:
0.6
g
|
Sugar:
19.2
g
Did you make this recipe?
Tag @fullofplants on Instagram and hashtag it #fullofplants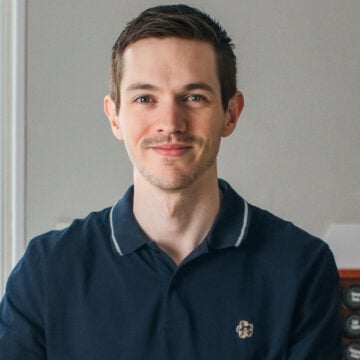 About the Author
Thomas Pagot is the founder, photographer, and recipe developer behind Full of Plants. He created the blog in 2016 as a personal cookbook for vegan recipes. Through years of recipe development, Thomas has successfully grown Full of Plants into a trusted resource for plant-based recipes.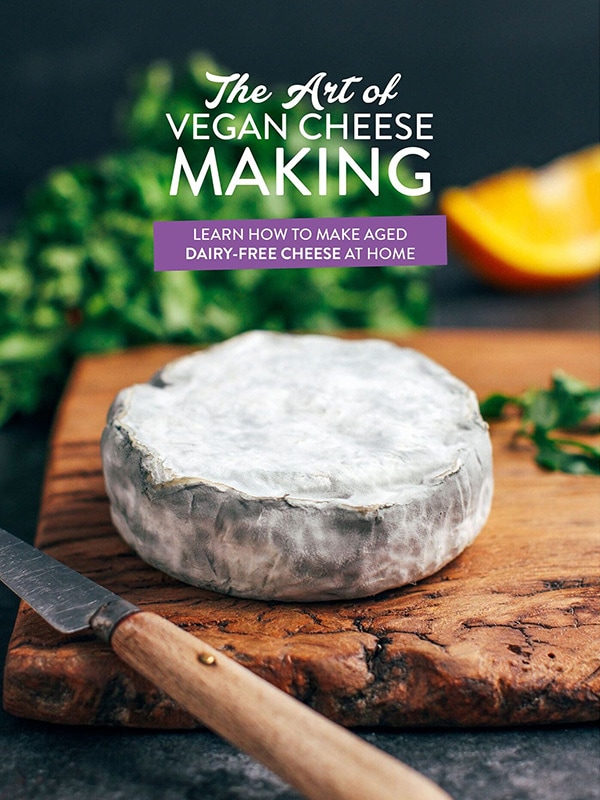 🧀 25 Mind-Blowing Vegan Cheese Recipes!
Sign up for the Full of Plants newsletter and you'll get new recipes delivered by email weekly, PLUS your FREE 100-page printable eBook!