Make your own taro milk tea at home from scratch! Prepared from taro roots, this creamy and nutty drink is 100% natural, with no artificial coloring or flavoring! Nutty, refreshing, and vegan!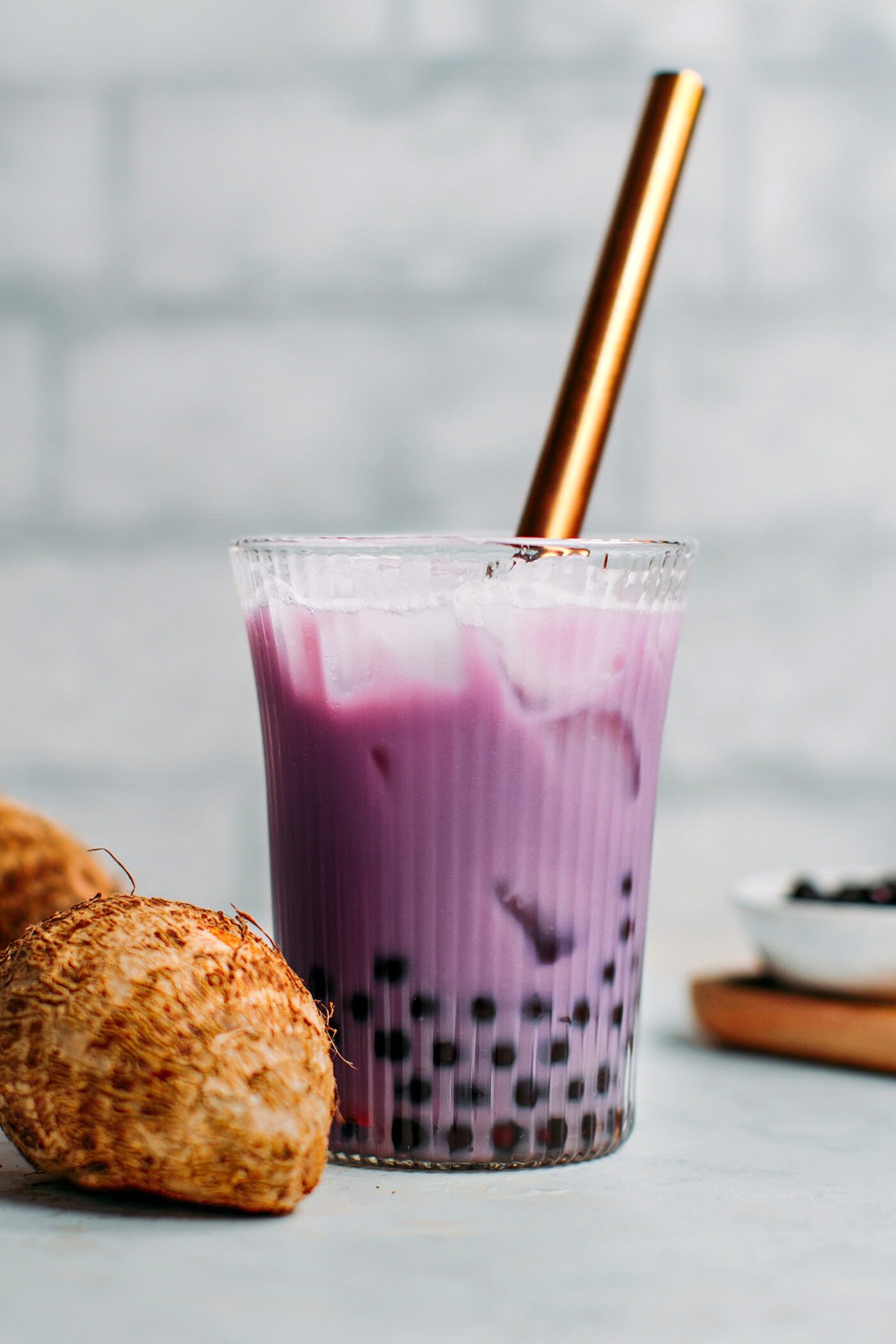 🧋 What is Taro Milk Tea
Taro milk tea is a type of bubble tea that is prepared with taro root, tapioca pearls, milk, and jasmine tea.
It has a subtle nutty flavor with notes of toasted cereals! It's actually quite hard to describe its flavor, but I would say it tastes like milk infused with cornflakes, vanilla, and nuts, with a floral aroma coming from the green jasmine tea. It's unique and so delicious!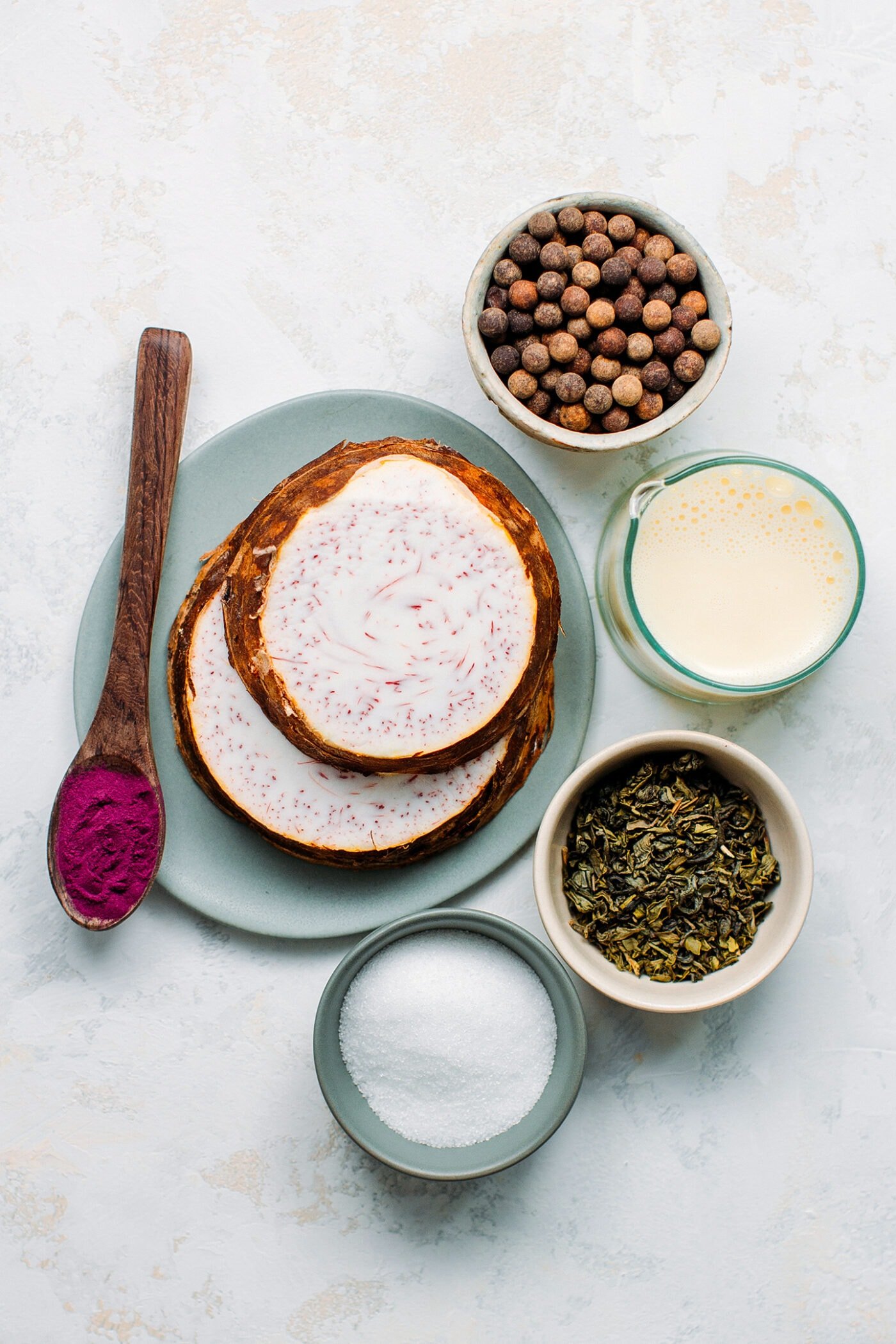 🥣 How to Make Taro Milk Tea
Preparing this milk tea is very easy, and we are only using natural ingredients here. You will need the following:
Taro – This root vegetable makes the base of the drink. I highly recommend using the larger roots for a slightly sweeter flavor. You can find fresh taro roots in produce markets or frozen in some Asian stores.
Boba – Also called tapioca pearls, these add some chewiness and make the tea more exciting to drink! Boba has a gummy-like texture. It is totally optional, so feel free to omit if you want a lighter drink.
Taro powder – Also sold under the name "ube powder" or "purple potato powder." Actually, this purple powder is not made from taro but from purple yam, which is the sister of taro root. It is sweet, has a deep purple color, and has a subtle nutty, almost fruity flavor. Purple sweet potato powder is essential to add color and flavor to this taro milk tea. Make sure you are using 100% sweet potato powder, not artificial taro powder that contains sugar, creamer, and flavorings.
Jasmine tea – You can also use regular green tea. Jasmine tea has more floral notes, though.
Almond milk – Or your favorite plant-based milk.
Sugar – To sweeten, you can also use agave syrup, maple syrup, or coconut sugar for a naturally-sweetened version.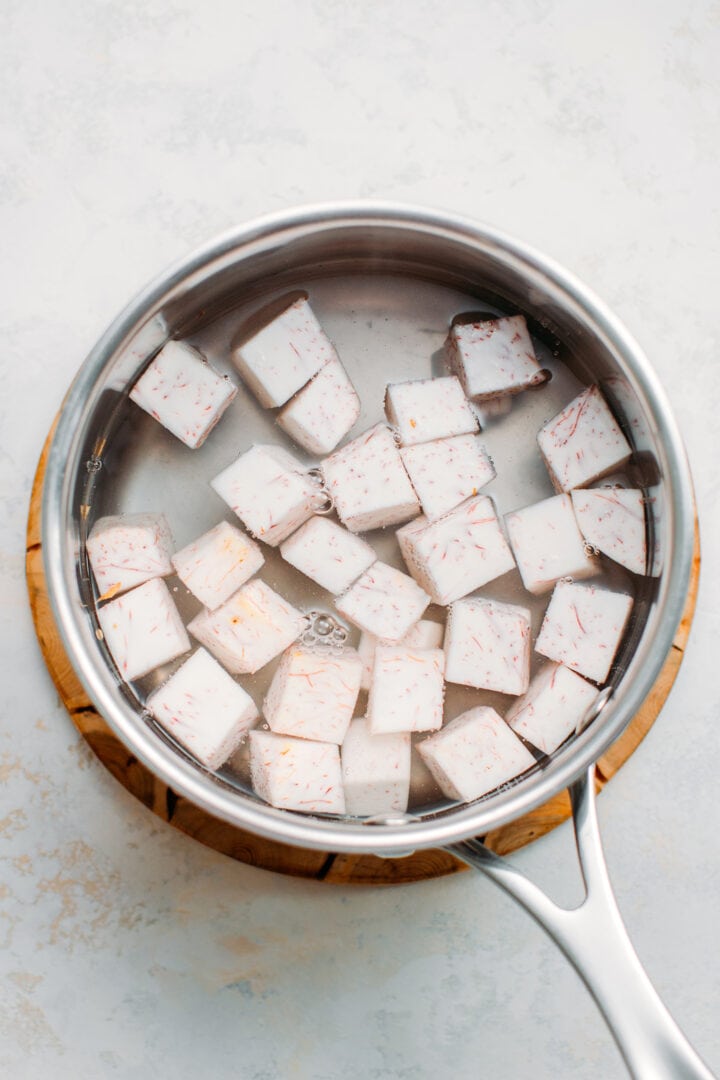 Cooking the Taro
It starts with the taro roots that must be boiled for about 10 minutes or until fork tender. Once the taro is soft, drain and mash it into a paste using a spoon or potato masher.
Brewing the Tea
While the taro is cooking, prepare the tea. This way, it will have time to cool down.
To make the Jasmine tea, bring the water to a boil. Let it cool down for 1-2 minutes and transfer to a large mug. Add 1 and 1/2 tablespoons of loose jasmine tea and let it steep for about 3 minutes. Finally, strain the tea leaves.
Tip: Do not let the tea steep for more than 3 minutes. Otherwise, it will become bitter.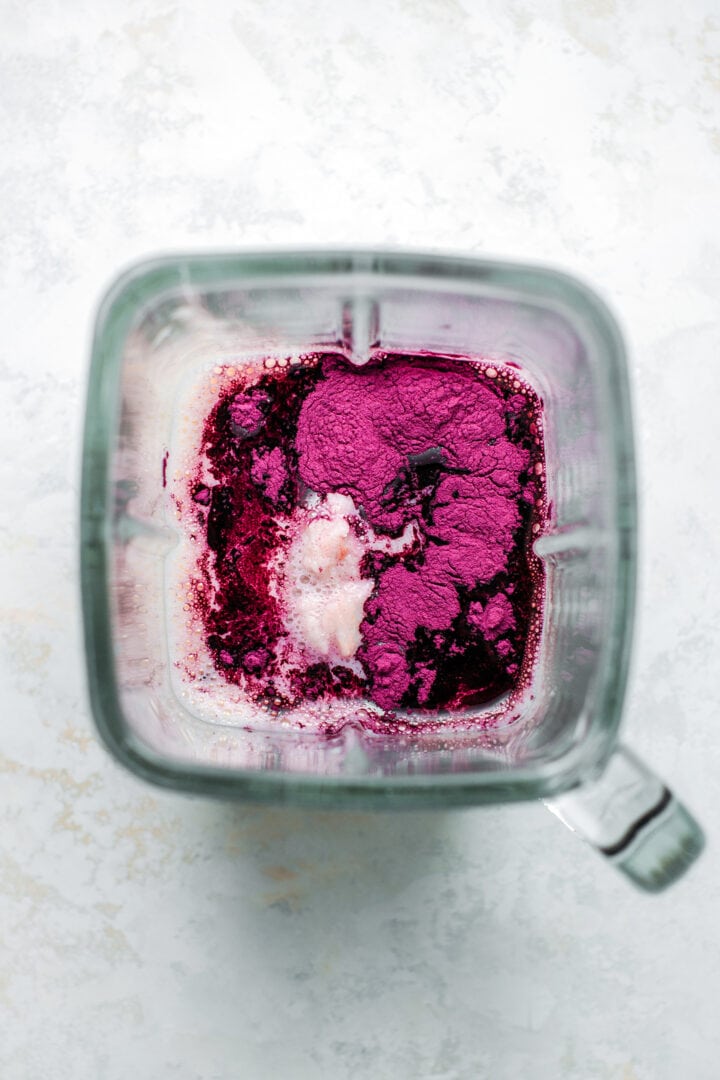 Blending
Finally comes the fun part, combining everything! Add the mashed taro, brewed jasmine tea, almond milk, purple sweet potato powder, and sugar to a blender.
Blend for a few seconds or until smooth. You want the consistency to be creamy but not too thick. It should have the same consistency as whole milk. If it's too thick, add a little bit more almond milk.
Boba
Boba is totally optional, but it makes this drink more fun! Who doesn't like something to chew on with their drink?
To cook boba, or tapioca pearls, bring a large pot of water to a boil. Once boiling, add the boba and let it simmer for about 30 minutes. Let it rest for another 30 minutes before draining. If you are impatient, feel free to use quick-cooking tapioca pearls.
Not into boba? Why not try this aloe vera jelly? It's healthier and adds freshness as well as chewiness!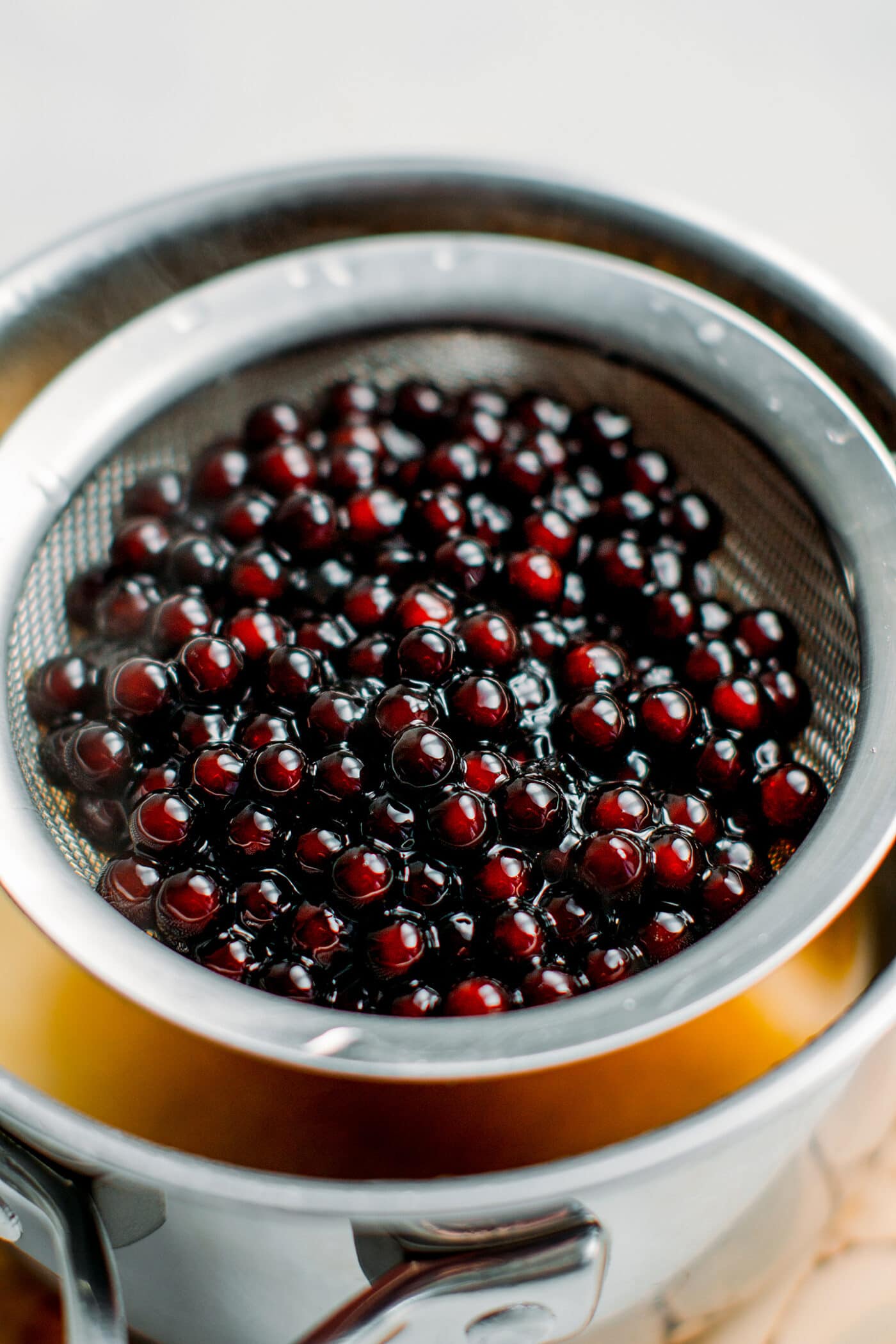 💬 FAQ
What can I substitute for the purple sweet potato powder?
You can use half taro root and half purple sweet potato. Both must be boiled together for about the same amount of time.
How long does this taro milk tea keep?
It will keep for up to 2 days in the refrigerator. Store it without the boba.
Can I use small taro roots for this recipe?
I would not recommend it for two reasons: first, it will be a little bit more slimy, and secondly, it won't have the same natural sweetness.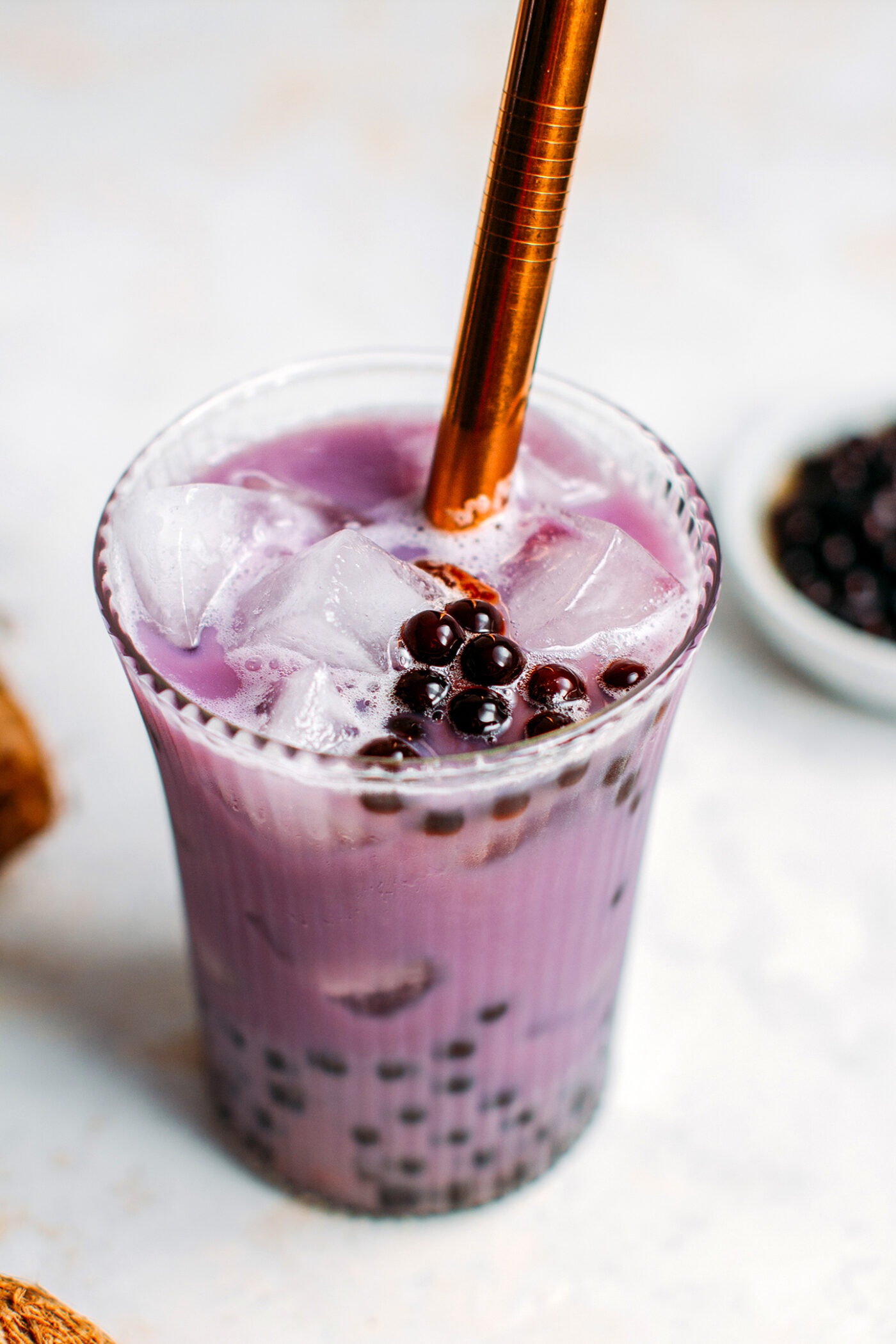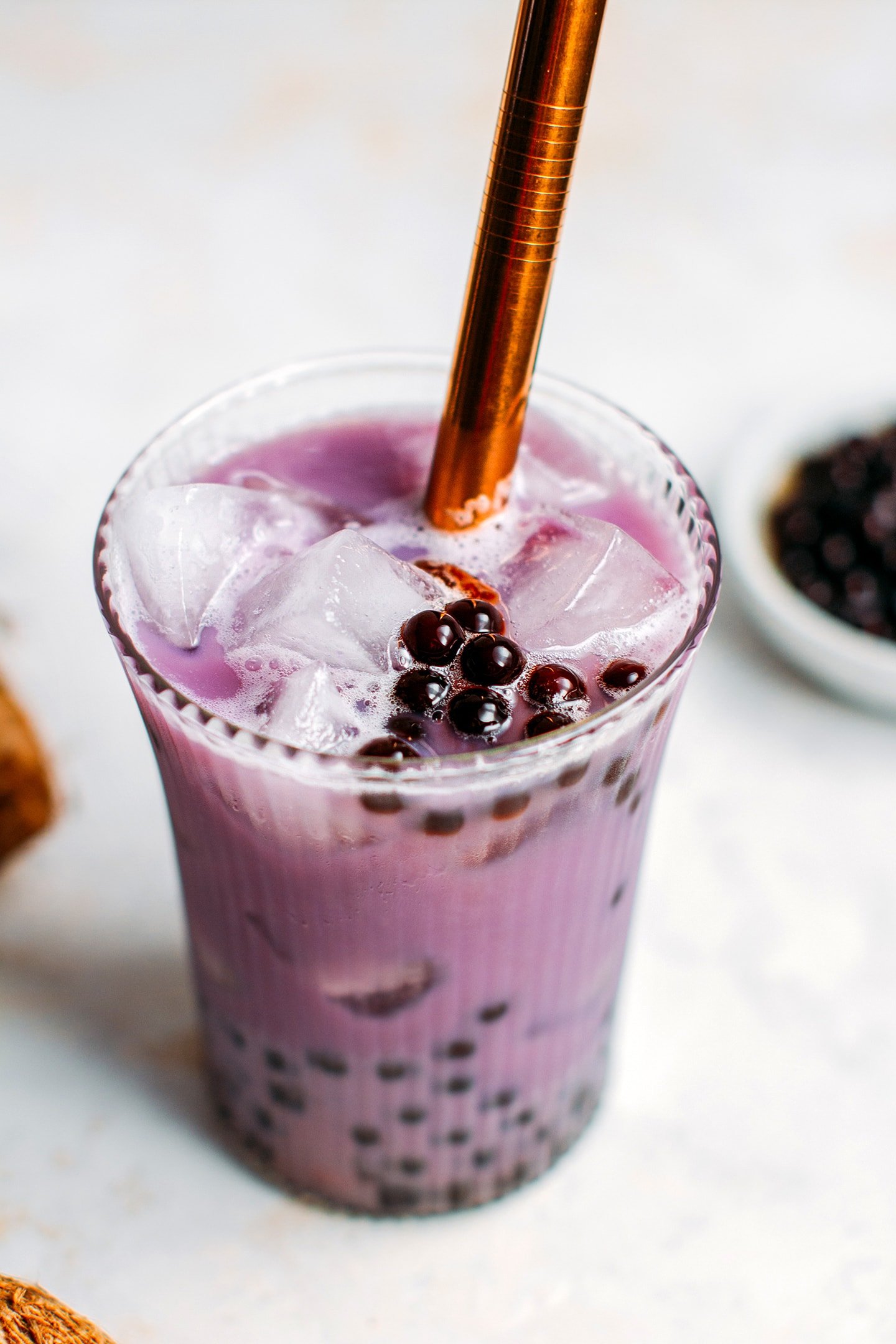 I hope you are going to love this taro milk tea! It's incredibly creamy, nutty, and has a very unique toasty flavor! Plus, it's healthier than the ones from bubble tea shops!
📔 More Drink Recipes
Let me know in the comments if you try this recipe!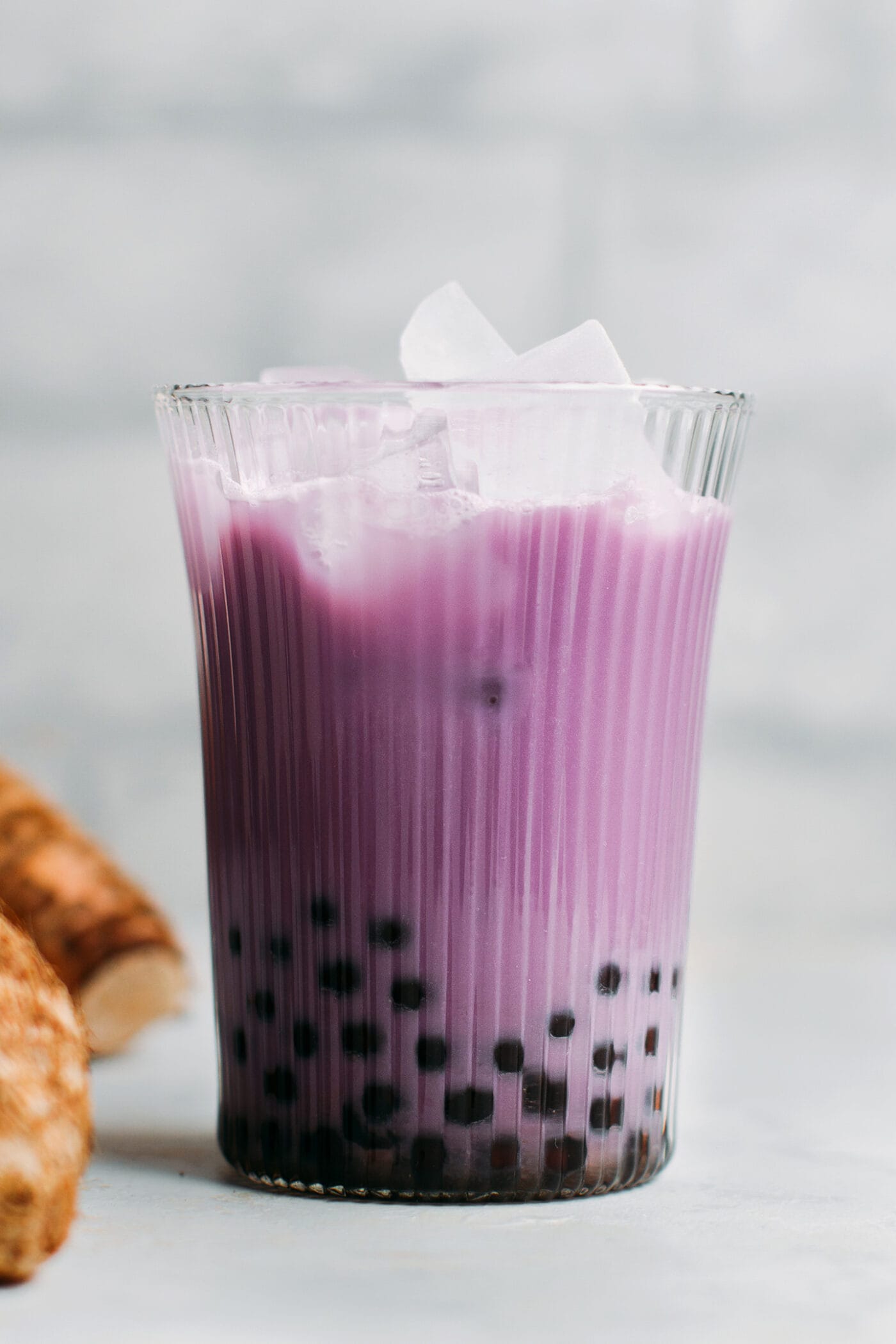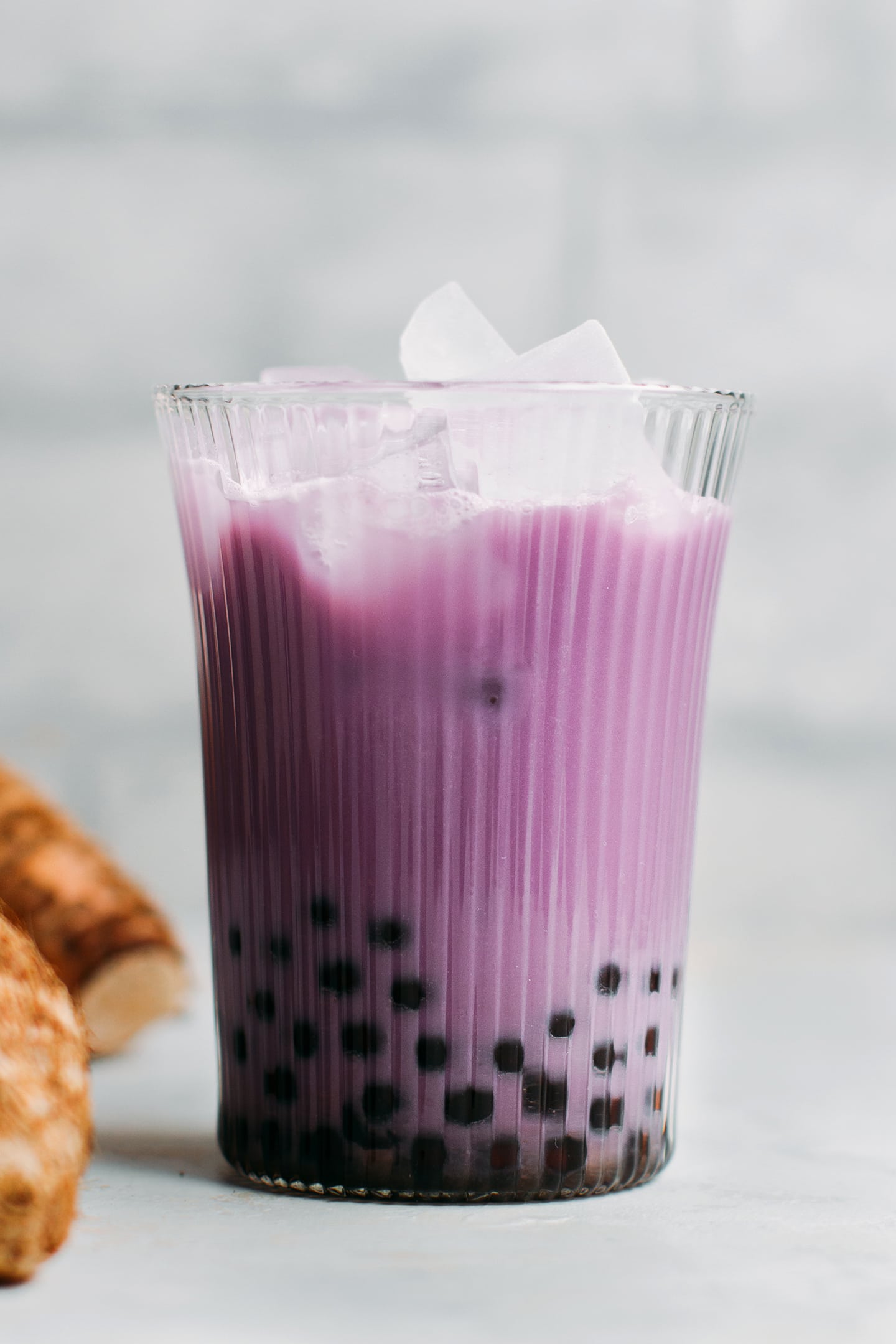 Recipe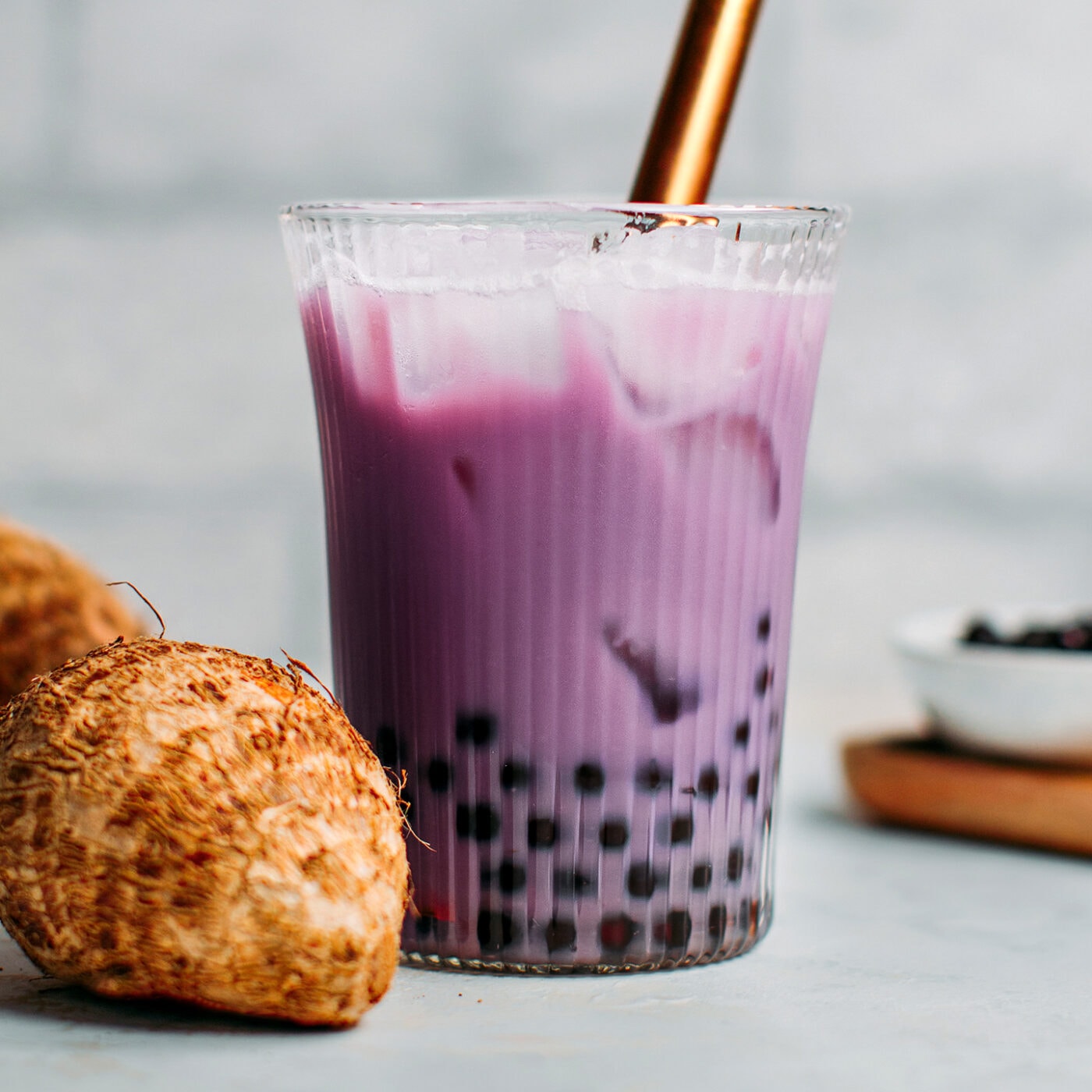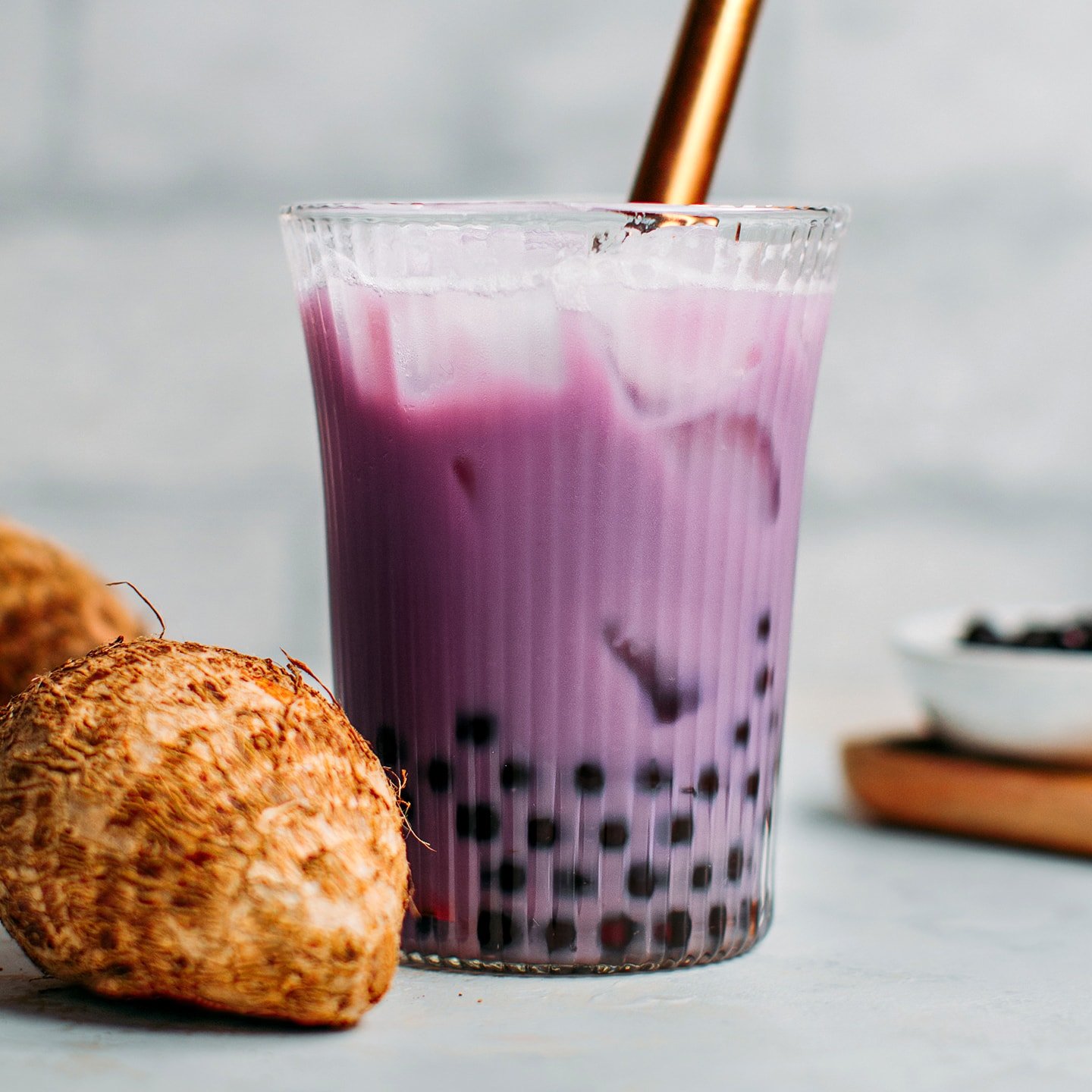 Creamy Taro Milk Tea
Learn how to make delicious taro milk tea at home! Prepared from scratch with just 5 ingredients, this nutty and creamy drink is vegan and 100% natural!
Ingredients
Taro Milk Tea
4.5

ounces

raw taro root

1 and 1/2

cup

brewed jasmine tea

1

cup

unsweetened almond milk

or other plant-based milk

3-4

tbsp

sugar

to taste

1

tbsp

purple sweet potato powder
Boba (optional)
1/3

cup

dried boba (tapioca pearls)

5

cups

water

2

tbsp

maple syrup
Instructions
Taro Milk Tea
If you are planning to serve this drink with boba, start by preparing the boba.

Peel the taro root and dice it into 1-inch cubes. Add the diced taro to a medium saucepan and cover with water. Bring to a boil and let simmer for about 10 minutes or until the taro is fork-tender.

Drain the taro and transfer it to a bowl. Let it cool for a few minutes before mashing it with a spoon or a potato masher. You should end up with about 1/2 cup of mashed taro.

To a blender, add the mashed taro, brewed jasmine tea, almond milk, sugar, and purple sweet potato powder. Blend on high speed for 30-40 seconds or until fully smooth.

Divide between two glasses, add the boba and a handful of ice cubes. Serve immediately!
Boba
Bring the water to a boil in a large saucepan. Once boiling, add the boba (tapioca pearls) and lower the heat to a simmer. Let simmer for about 30 minutes uncovered.

Next, remove from heat and cover with a lid. Let it rest for another 30 minutes.

Drain the boba and quickly rinse them under water. Transfer the cooked boba to a bowl and add the maple syrup. Stir to coat.

Your boba is now ready to use. Boba is best served the same day, as it tends to harden if stored in the refrigerator.
Nutrition
Serving:
1
serving (without boba)
|
Calories:
161
kcal
|
Carbohydrates:
37.2
g
|
Protein:
1.3
g
|
Fat:
1.8
g
|
Fiber:
2.7
g
|
Sugar:
20.7
g
Did you make this recipe?
Tag @fullofplants on Instagram and hashtag it #fullofplants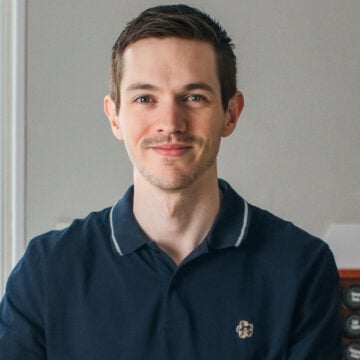 About the Author
Thomas Pagot is the founder, photographer, and recipe developer behind Full of Plants. He created the blog in 2016 as a personal cookbook for vegan recipes. Through years of recipe development, Thomas has successfully grown Full of Plants into a trusted resource for plant-based recipes.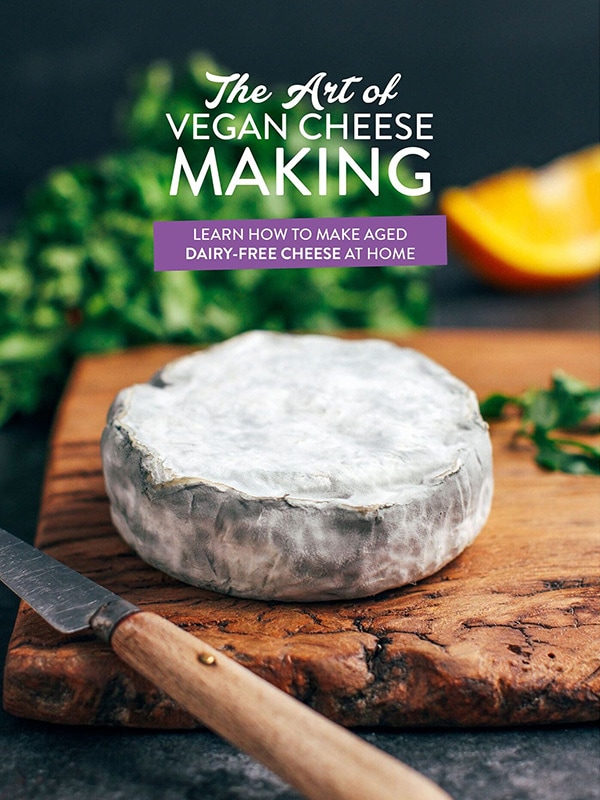 🧀 25 Mind-Blowing Vegan Cheese Recipes!
Sign up for the Full of Plants newsletter and you'll get new recipes delivered by email weekly, PLUS your FREE 100-page printable eBook!