If you're missing a splash of cream in your morning coffee, I have something for you.
This 2-ingredient coffee creamer, or half and half if you prefer, is rich, silky smooth and super easy to make! Ready?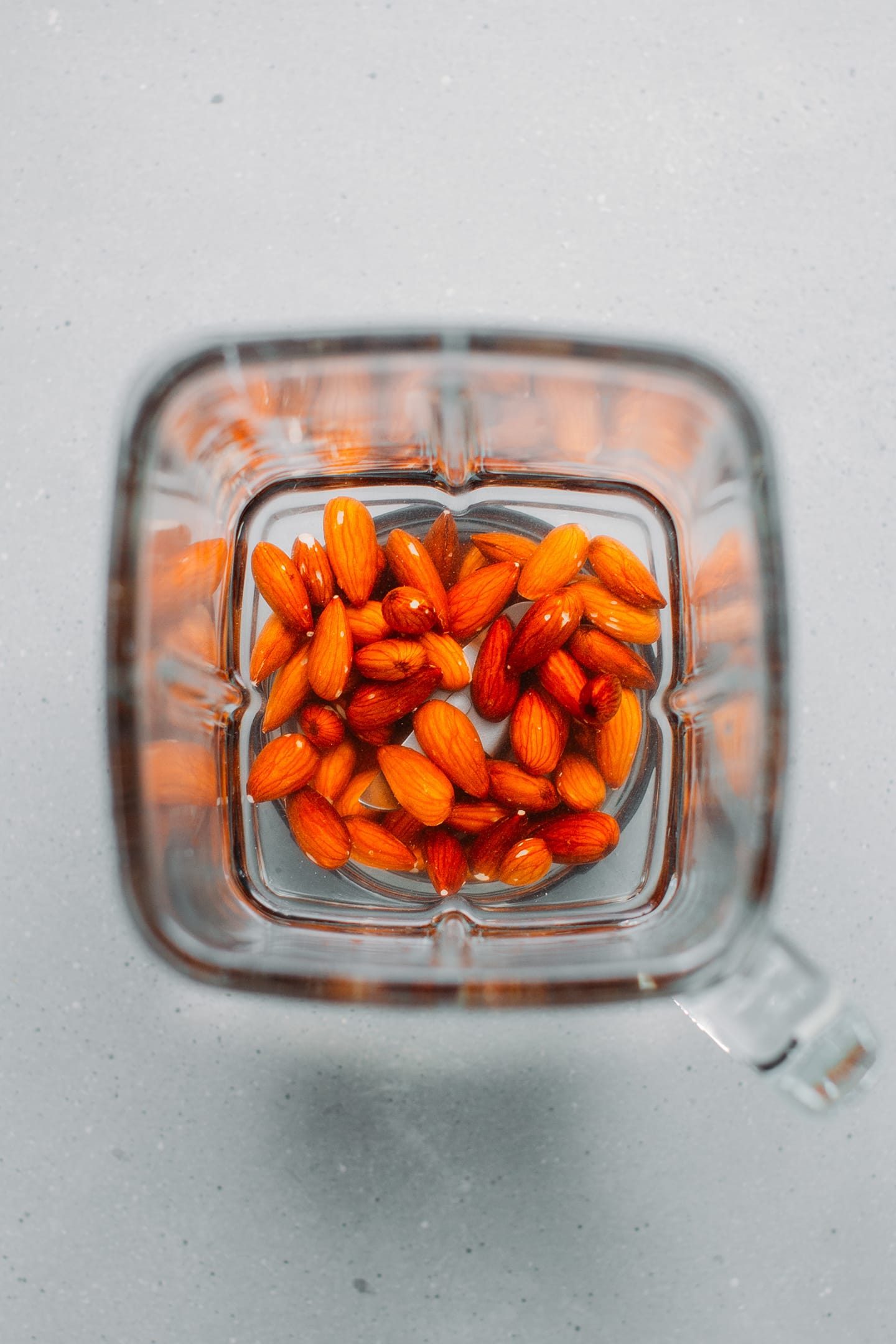 The base of this creamer is homemade almond milk, combined with some coconut cream for a creamier and thicker texture. I used to stir coconut cream in my coffee but the downside is that it tastes too much like coconut and the cream becomes very hard if stored in the fridge. By using a mix of almond milk and coconut cream, this creamer has a more subtle flavor and stays liquid in the fridge. Plus it's lower in calories and fat.
You probably know by now how to make your own almond milk, just soak some almonds overnight, blend with water and strain. The recommended ratio is usually 1:3, but I went with a ratio of one part almonds for two parts water to get a richer milk.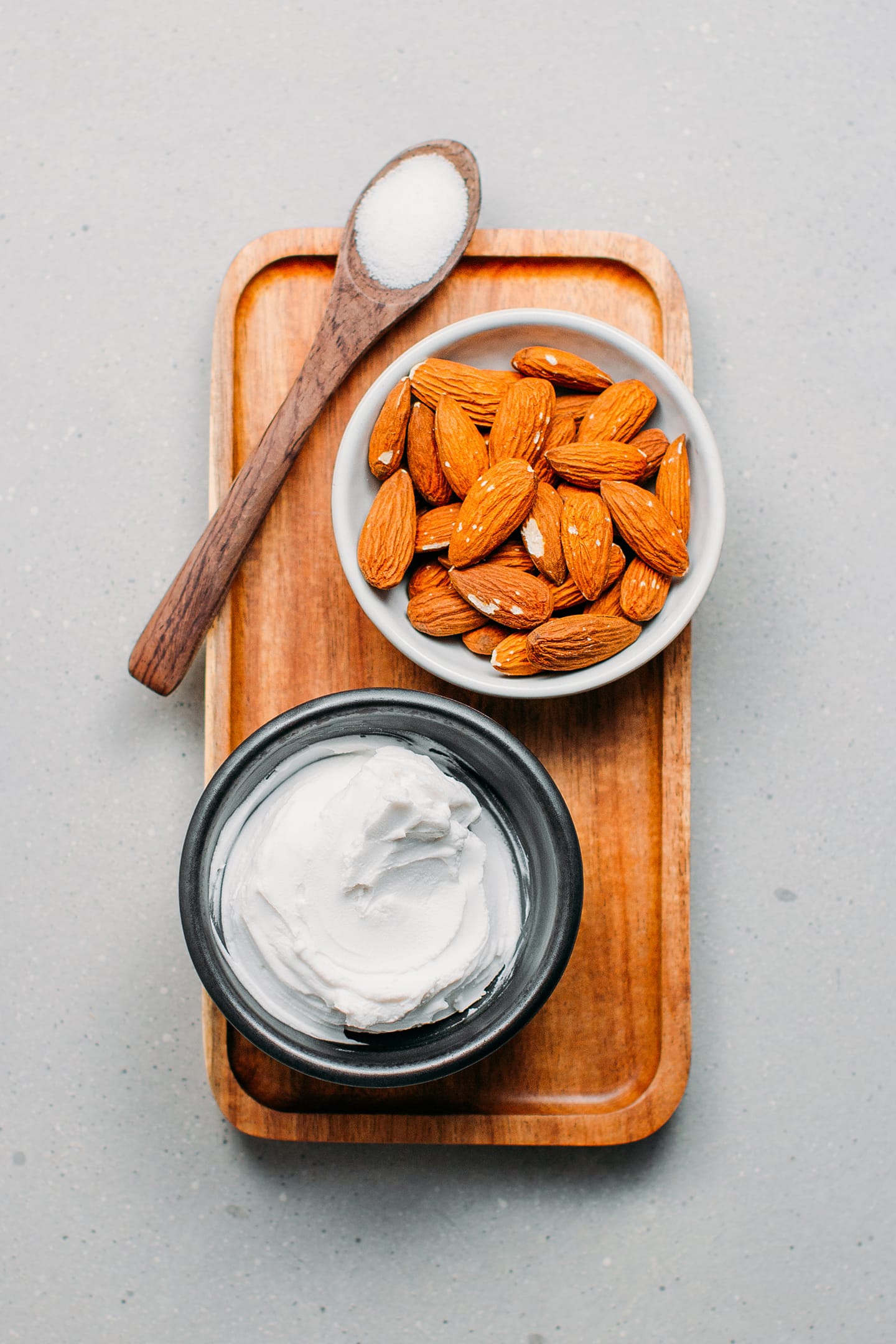 Once your almond milk is ready, all you need to do is stir in the coconut cream and mix well. At this point, you can add your favorite flavorings: vanilla, cinnamon, cardamom, almond extract, etc. I usually prefer to keep mine unflavored so it doesn't cover the taste of coffee, but it's up to you.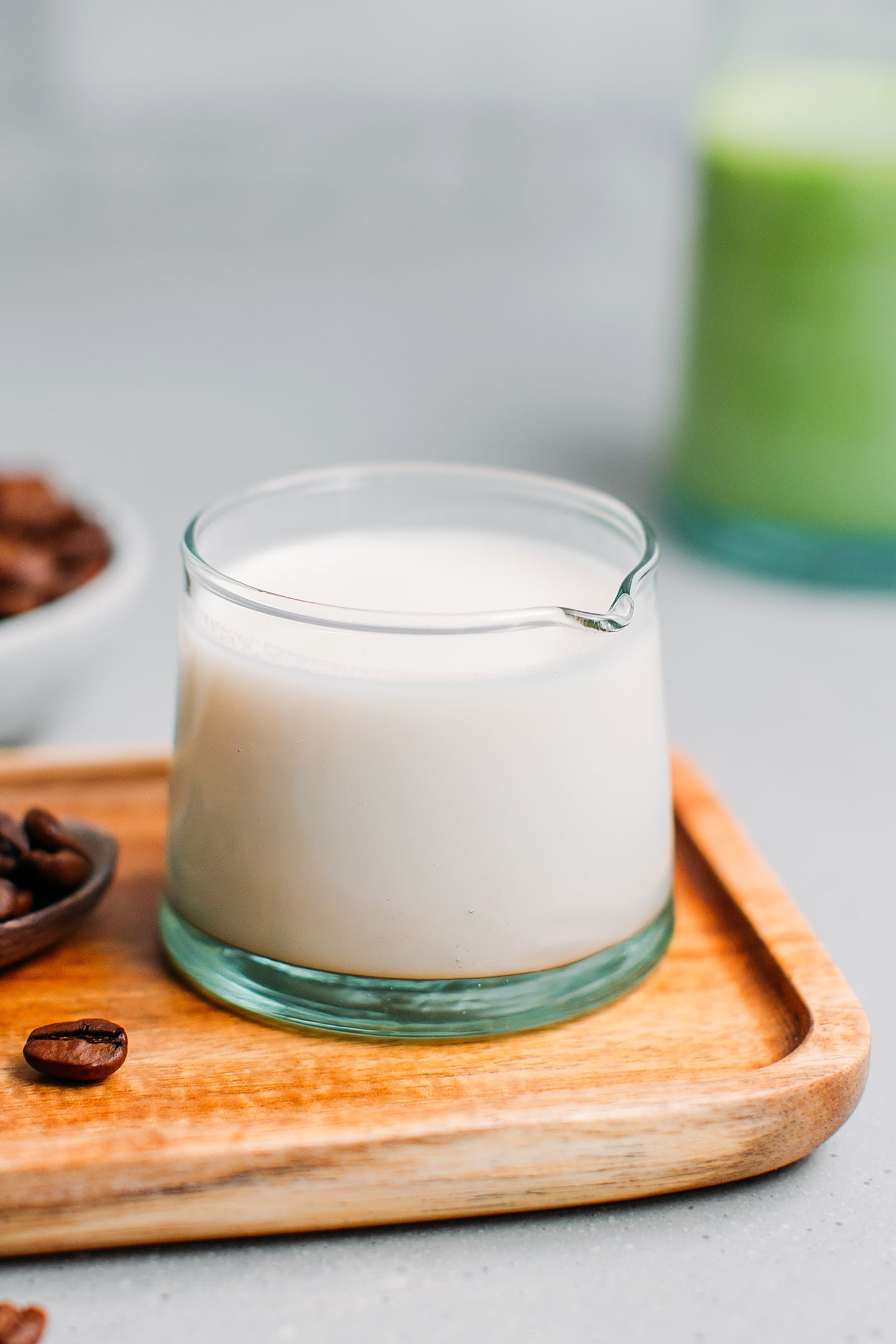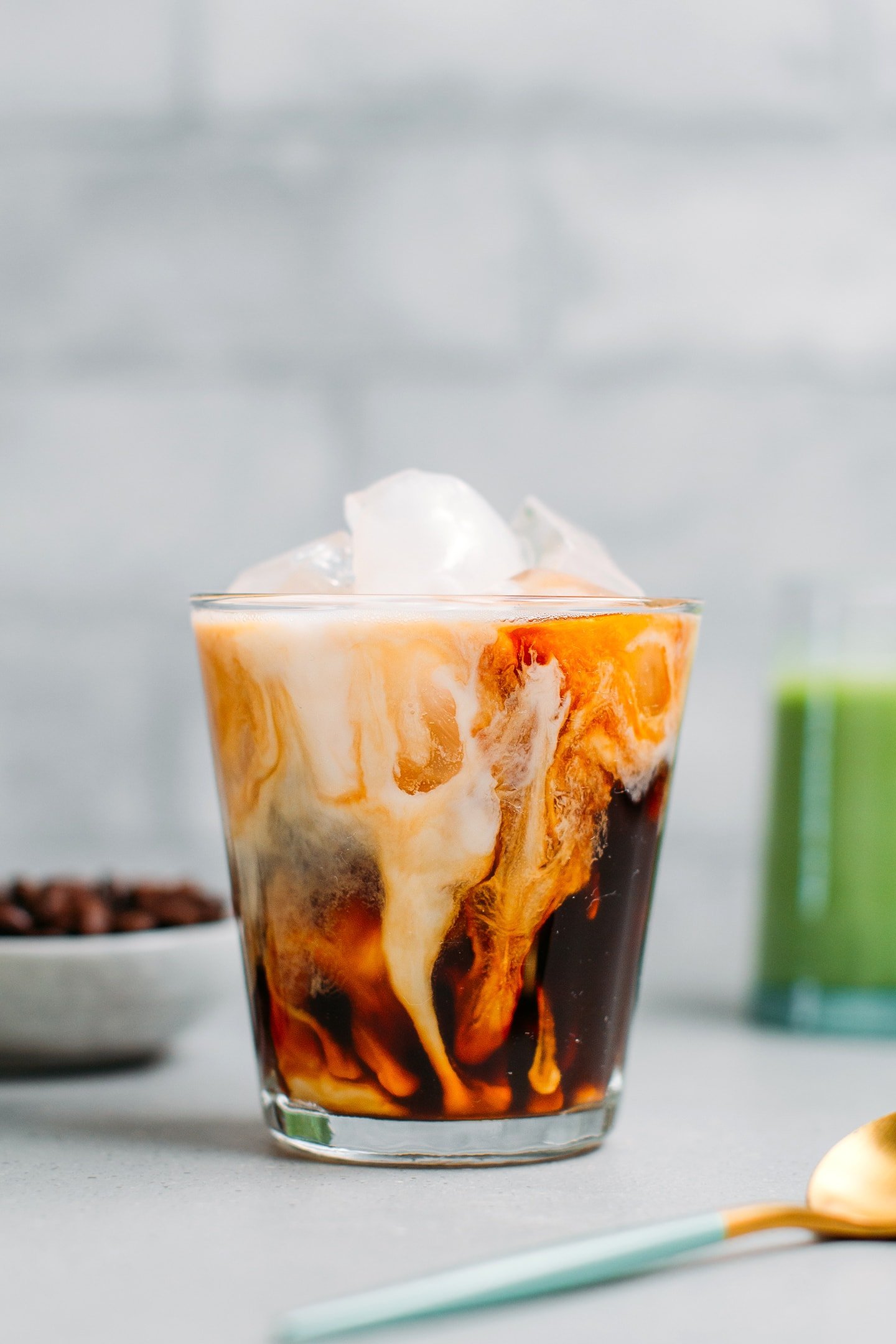 Just a tablespoon of creamer in your cup of coffee will take it to the next level. It has the perfect texture: incredibly smooth, thick but pourable, and it mixes very well in coffee. I love to stir it in iced coffee or cold brew.
Let me know in the comments if you try this recipe!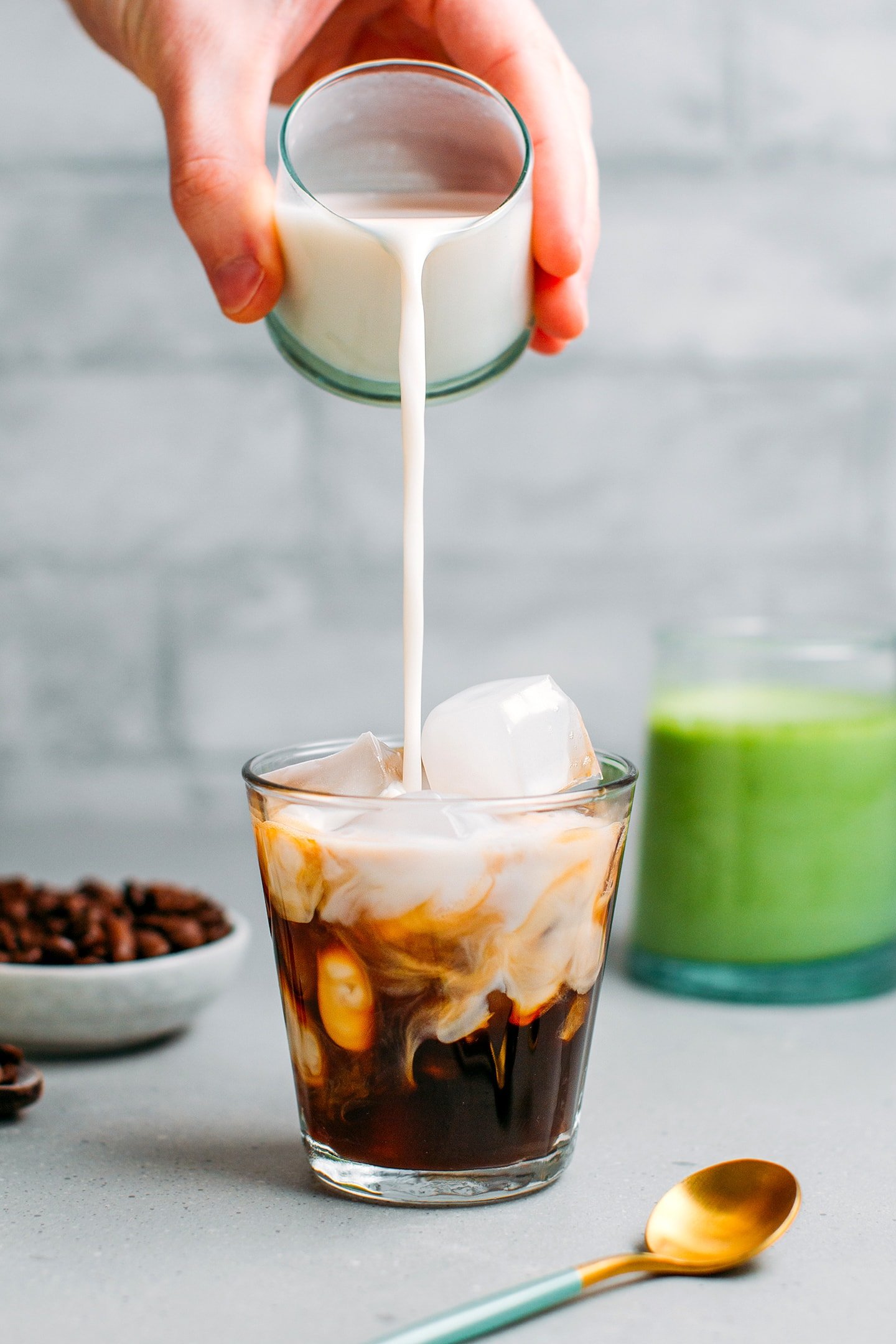 Print
Easy Almond Milk Creamer
Rich and smooth 2-ingredient almond milk creamer. Perfect to enhance your cup of coffee or tea!
1 cup

(

140g

) raw almonds

2 cups

(500ml) water

½ cup

(

100g

) coconut cream (from one can coconut milk)
optional: ¼ teaspoon vanilla extract, 2 tablespoon maple syrup, a pinch of salt
Instructions
Place the almonds in a large bowl and cover with cold water. Soak the almonds overnight, or at least 6 hours.
Rinse the almonds and drain. Place them into a blender with the 2 cups water. Blend on high-speed for about 1 minute.
Place a nut milk bag over a large bowl. Pour the almond milk into the bag and gently squeeze to release the almond milk. Discard the almond pulp, or keep for other uses.
Transfer the almond milk to a saucepan, set aside. Open a refrigerated can of full-fat coconut milk and scoop out ½ cup of solid coconut cream, leaving out the coconut water. Add it to the saucepan. At this point, you can add a pinch of salt, some maple syrup, vanilla extract, cinnamon, or your favorite spices.
Heat over low-medium heat, whisking constantly until the coconut cream has melted. Do not heat too much or bring to a boil, you just want the coconut cream to melt.
Transfer to a clean glass bottle, or small bowl and refrigerate. Stir into coffee, tea, or even cold brew. The creamer will keep for up to 5 days in the refrigerator.
Notes
Creamer might separate in the refrigerator, just give it a good shake before using.
Nutrition
Serving Size:

2 tablespoons

Calories:

15

Sugar:

0g

Fat:

1.4g

Carbohydrates:

0g

Fiber:

0.2g

Protein:

0.2g