Praline is the most amazing sweet condiment one can have on hand. It's basically caramelized nuts processed into a paste. It's dangerously addictive and requires just 4 ingredients! Learn how to make praline paste with this simple recipe!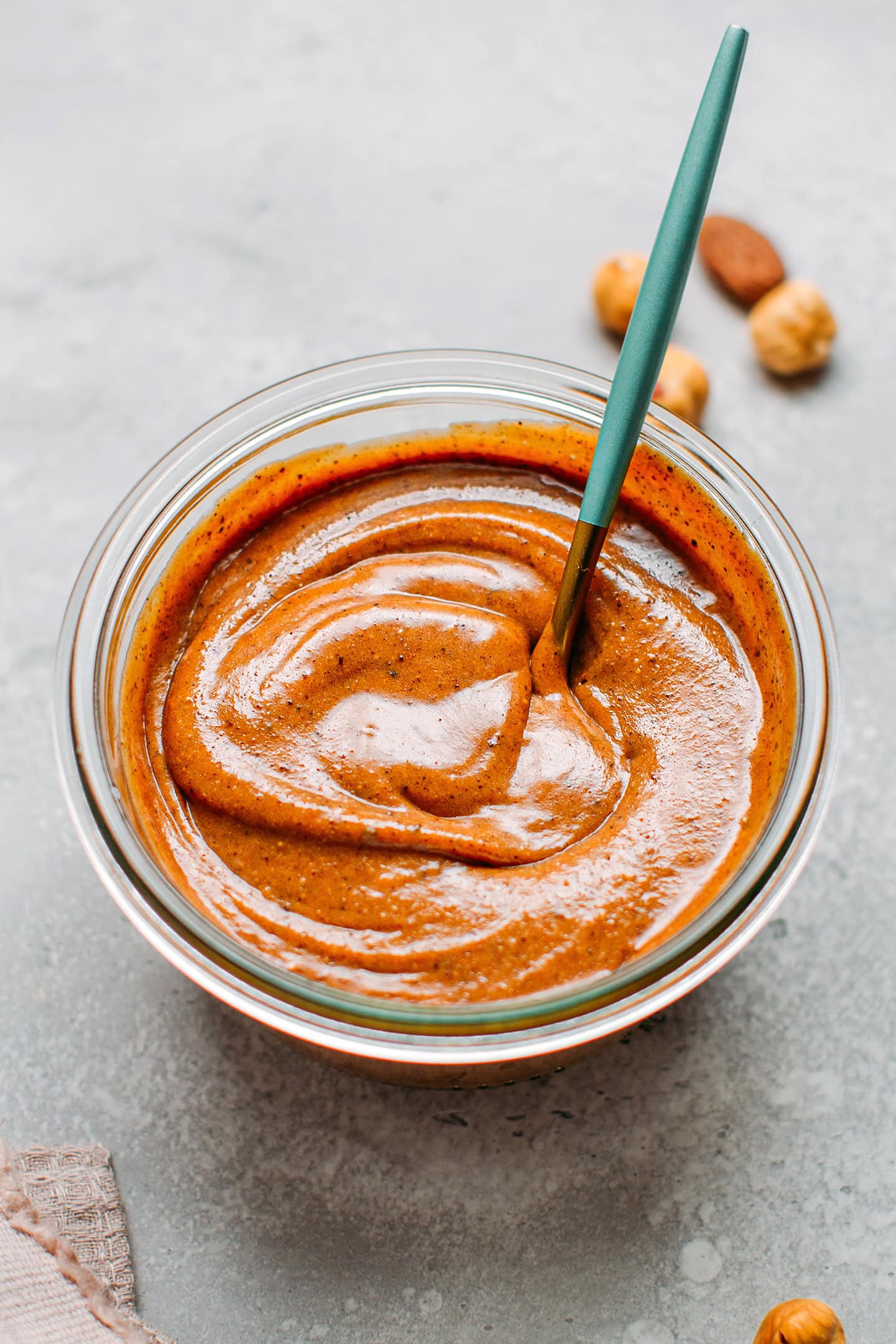 Jump to:
📔 What is Praline?
Praline first appeared in France around 1600. It consists of nuts, usually almonds and/or hazelnuts coated with caramelized sugar. It results in sweet and crunchy nuts.
Pralines is the name of the whole caramelized nuts, but also the name of the paste, prepared from ground nuts. Here, we will prepare the paste that can be used in a multitude of desserts!
🌰 How to Make Praline
You will need just 4 ingredients to make praline:
Almonds - Use unblanched raw almonds. Make sure the almonds are not already roasted.
Hazelnuts - Go with raw hazelnuts as well. You can use blanched hazelnuts, or the ones with the skin on. If using hazelnuts that still have the skin on, rub them in a clean towel after roasting to remove the skin.
Sugar - White sugar works best for this recipe, coconut sugar or brown sugar would burn when making a caramel.
Vanilla - While you could use vanilla extract, I truly believe using a real vanilla bean brings the flavor to another level.
Making praline is a 3-step process: roasting the nuts, making the caramel, and blending.
First, you want to roast the nuts. To do so, place raw hazelnuts and raw almonds on a baking sheet and roast for 17-18 minutes.
Note: I went with half hazelnuts, half almonds for a more traditional praline, but you can use just hazelnuts, almonds, or other nuts like pecans, cashews, or peanuts!
Next, melt sugar with water and heat until it turns into a golden brown caramel. As as soon as the sugar has turned brown, add the roasted nuts, half of a vanilla bean, and stir to coat. The caramel will harden and coat the nuts.
Transfer the nuts and the remaining caramel to a baking sheet lined with parchment paper or a Silpat and let it cool completely. Be careful, it will be very hot!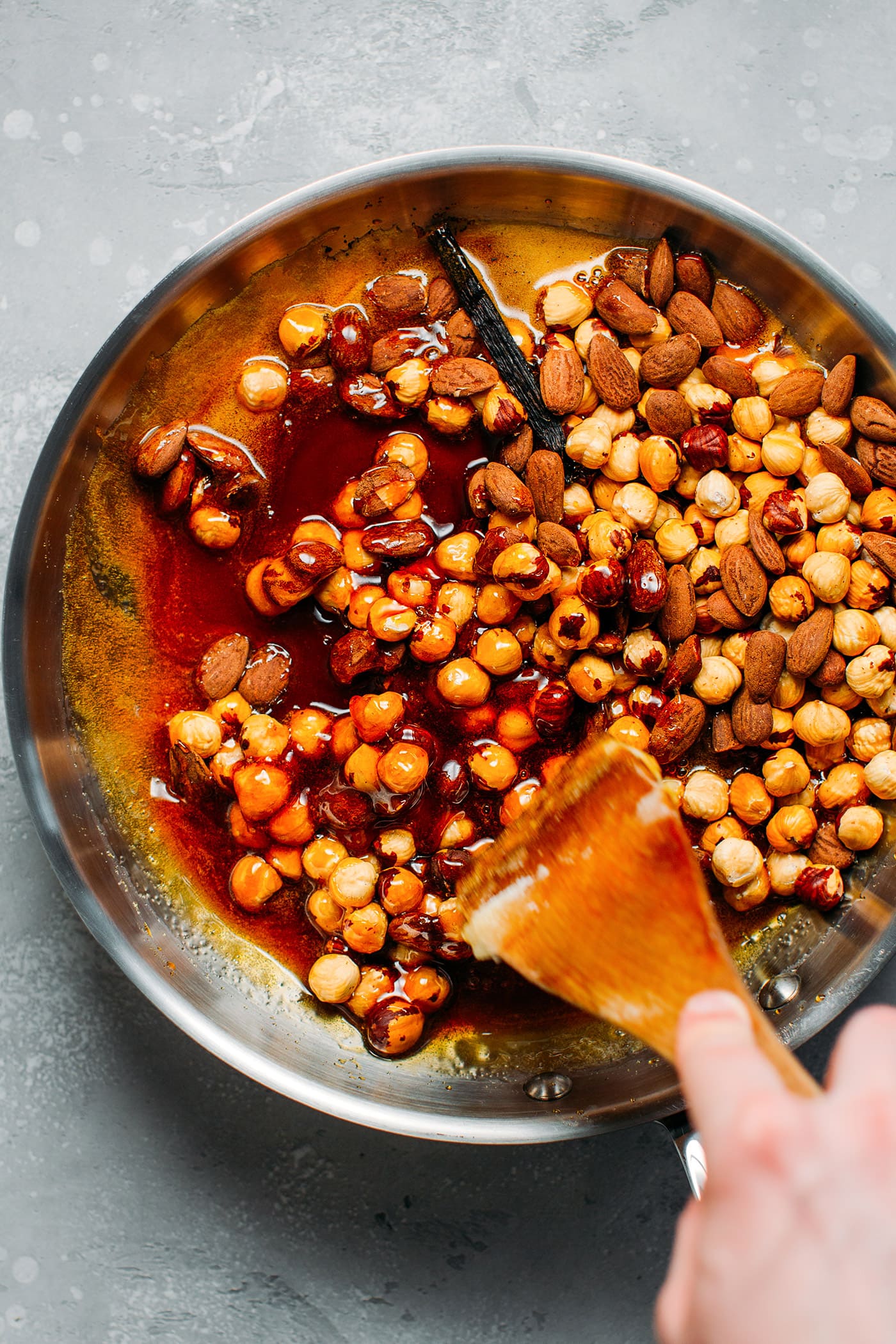 Finally, transfer the caramelized nuts to a food processor or blender and process until it forms a paste. Your praline is now done!
🧁 Where to Use Praline
Praline paste is extremely versatile, it can be used in:
Tarts: Spread some praline in the bottom of your pear, banana or chocolate tarts.
Yule log: Combined with chocolate cream, it makes a rich and nutty filling.
Chocolate cakes: For extra sweetness and to add a delicious caramel flavor.
Truffles: Replace half of the cream for praline paste to take your truffles to the next level!
Chocolate Spread: Combine praline paste with melted chocolate for an amazing chocolate spread. We recommend using 1 part of melted chocolate for 3 parts of praline.
Cookies: Either mixed into the batter, or simply swirled, both are equally delicious!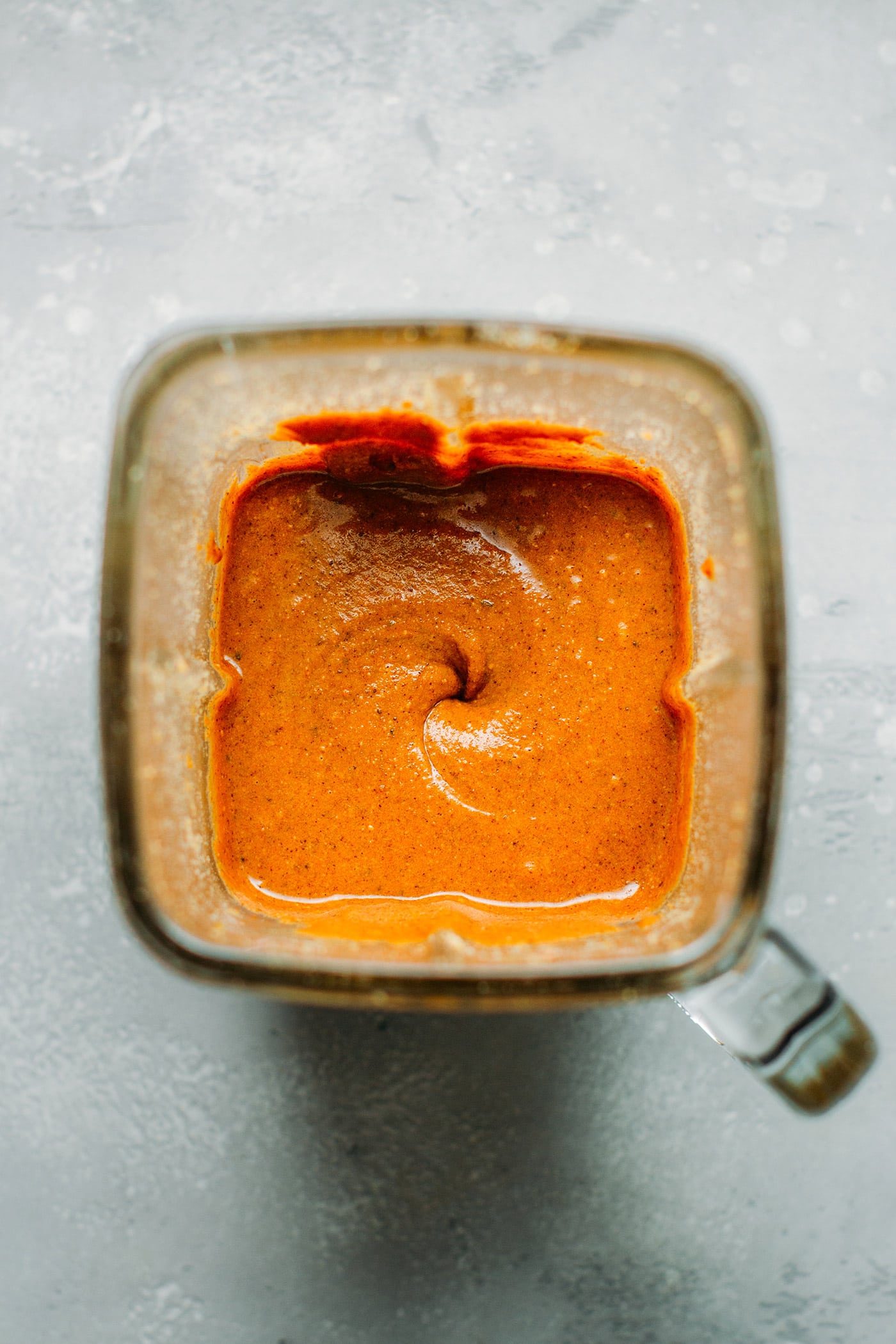 💬 FAQ
Can I make praline paste refined sugar-free? It is possible but a little bit more tricky. I have a recipe for maple praline paste here.
Which one is best, a food processor or a blender? Both work great, however I find that a blender processes the nuts faster.
Can I make praline paste with other nuts? Yes! Pecan praline, peanut praline, or even pistachio praline are delicious as well!
Should the texture be smooth or crunchy? That is up to you! Crunchy praline ("Praliné à l'ancienne" in French, meaning old-fashioned) is great if you want to add texture and crunchiness to your desserts. A very smooth praline is best to make chocolate spreads, yule logs, or entremets.
How long does praline paste keep? Praline paste will keep for months at room temperature. It might separate after a while so make sure to give it a good stir.
The flavor of this praline paste is simply amazing, it's a magical blend of caramel, roasted nuts, and fresh vanilla!
I do not recommend dipping a spoon into the praline as you might not be able to stop once you have started!
🍫 More Praline Recipes
Let me know in the comments if you try this recipe!
📖 Recipe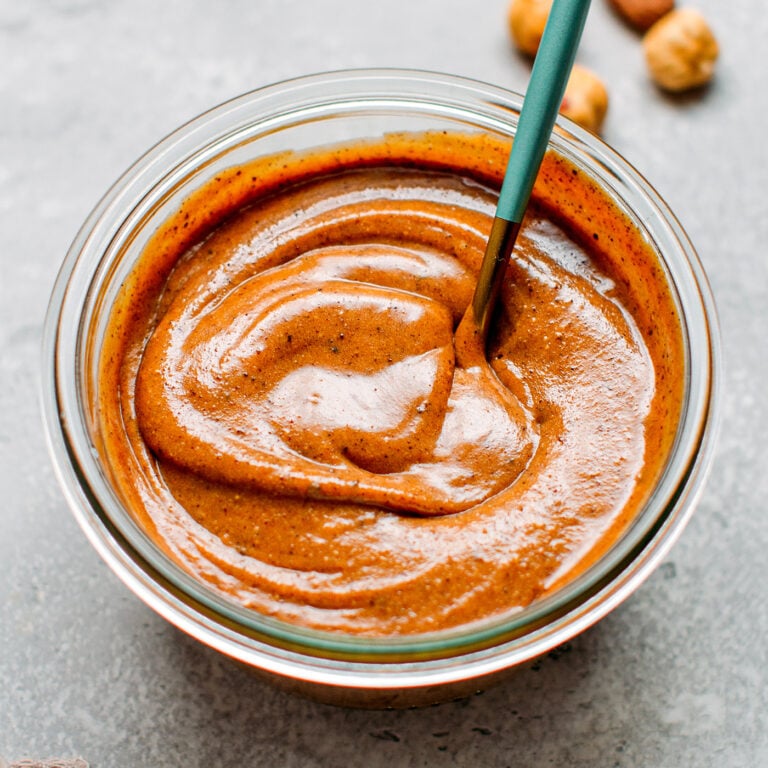 How to Make Praline Paste
Caramelized almonds and hazelnuts turned into the most delicious paste! Use in desserts, chocolate spread, cookies, and more!
Ingredients
1 and ⅔

cup

raw hazelnuts

1 and ½

cup

raw almonds

2

cups

white sugar

¼

cup

water

½

vanilla bean
Instructions
Pre-heat oven to 350°F (175°C) and line a baking sheet with parchment paper.

Spread the almonds and hazelnuts into a single layer on the baking sheet and roast the nuts for 17-18 minutes. Remove from the oven and let cool for at least 10 minutes.

If using hazelnuts that are not blanched, transfer to a clean towel and rub them to remove most of the skins.

Add the white sugar and water to a large skillet or saucepan (preferably with a light bottom to see the color of the caramel). Heat over medium heat to melt the sugar. Once it starts to bubble, keep heating until it turns golden brown. You can use a wooden spatula to stir from time to time until the caramel has a light brown color.

Add the roasted nuts and the vanilla bean to the caramel and stir to coat. Heat for another minute, stirring frequently to coat the nuts with the caramel.

Transfer to a baking sheet lined with parchment paper, or a slipat, and use a spatula to spread it into an even layer. If there is still melted caramel in the skillet, transfer it over the nuts as well.

Let cool completely, about 1 hour. Next, break the praline into small chunks to fit it into a food processor or blender. Be careful not to cut yourself with the hard caramel.

Process for 3-5 minutes, or until the praline nuts turn into a smooth and almost liquid paste. Scrape down the sides if needed. You can stop once it has turned liquid but still has a crunchy texture, or process longer for a very smooth paste.

Transfer to a clean jar and store at room temperature. Praline will keep for months. If it separates, give it a good stir.
Nutrition
Serving:
1
tablespoon
Calories:
104
kcal
Carbohydrates:
11.4
g
Protein:
2
g
Fat:
6.3
g
Fiber:
1.3
g
Sugar:
9.7
g
DID YOU MAKE THIS RECIPE?
Tag @fullofplants on Instagram and hashtag it #fullofplants