I have always been a fan of crunchy things. Crunchy peanut butter, raw carrots, rice crisps, cereals, and I could go on and on. So when you combine nuts, chocolate, caramel, and crunchiness it becomes magical.
If you have never heard of praline, it's basically a paste made with caramelized hazelnuts, almonds or a mix of both that is processed until you get a peanut butter consistency.
This chocolate spread has a really rustic vibe to it. I'm not sure why, maybe because of the crispy and grainy texture but I feel this would be the nutella of our ancestors. The kind of spread you would find on the table of a little farm in the highlands on the 15th century or something. Okay, stop dreaming! Let's focus again...
I voluntary kept the texture grainy because in my opinion, it's what makes this spread so addictive: small and crispy bits of caramelized nuts with each spoonful!
It all starts with the nuts that you roast in the oven for about 15 minutes. I like to use a mix of almonds and hazelnuts but feel free to try with cashews, pistachios, or pine nuts.
Once the nuts are perfectly roasted you make a caramel in a large saucepan until it turns golden brown and smell like...well caramel. When your caramel is ready you can add the nuts and stir until they are fully coated with the caramel. I tried to make this recipe refined-sugar free by using coconut sugar, but unfortunately it didn't work at all. Coconut sugar doesn't caramelize the way cane sugar does, and you end up with a big mess.
Once your nuts and caramel are completely cool you break it into pieces and place them in a food processor. I can't stress this enough, be very careful when breaking it into pieces, the caramel is very hard and can be sharp. I cut myself a few times, but it doesn't matter because in the end chocolate heals all wounds right?
The nuts and caramel are then processed until you get a paste with the consistency of nut butter. You can use it as is if you want a chocolate-free spread, or melt the dark chocolate over a double boiler and mix it with the praline paste. The latter is the best, just my opinion.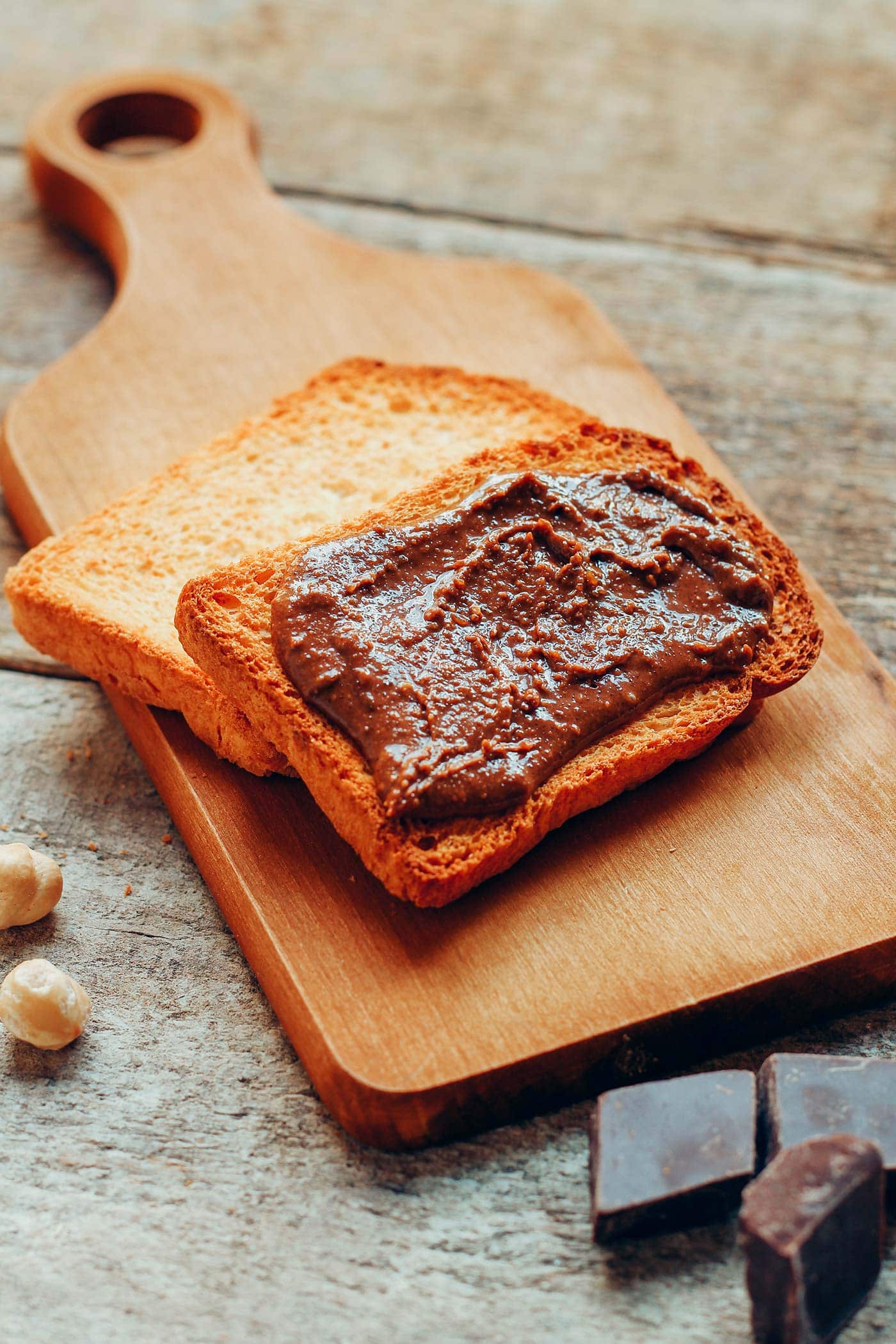 I'm sure you will all love this praline chocolate spread, it's sweet, chocolatey and has a strong caramel flavor. Use it on toast for breakfast, on top of oatmeal (it melts!), on pancakes, or eat it by the spoonful.
Let me know in the comments if you try this recipe!
Crunchy Praline Chocolate Spread
Chocolate spread with a strong nutty flavor and crunchy caramelized nut pieces.
Ingredients
1

cup

raw almonds

1

cup

raw hazelnuts

1

cup

cane sugar

2

tablespoon

water

½

vanilla pod

2

ounces

dark chocolate
Instructions
Preheat the oven to 325°F.

Line a baking sheet with parchment paper and spread out the almonds and hazelnuts in an even layer. I recommend you separate the almonds from the hazelnuts so it will be easier to remove the skin from the hazelnuts later.

Roast the nuts for about 17-18 minutes, or until the hazelnuts are golden brown.

Remove from the oven, place the hazelnuts in a kitchen towel and rub with your hands to remove their skins. You only want to remove the skin from the hazelnuts, not from the almonds. Let cool.

Combine the sugar and water in a large saucepan. Heat on medium heat for about 5-6 minutes, the sugar will dissolve and the water will start to boil. Once there is no more water the sugar will start to caramelize. Do not stir. When the sugar has a nice caramel color, stir in the nuts and vanilla pod to the pot and stir quickly using a wood spatula to make sure all nuts are coated with caramel. The caramel will harden very quickly, this is okay. Pour the caramel and nuts onto a baking sheet or silpat. Let cool completely.

Once the caramel is hard, carefully break it into large pieces. Be very careful, the caramel is so hard that it can be sharp.

Place the praline pieces in the bowl of a food processor and pulse a few times until you get smaller pieces. Continue to process until it turns into a paste, about 5-7 minutes depending on your food processor. I like to keep a crispy texture with very small bits of caramelized nuts, if you prefer a smoother texture, process for another 10 minutes and strain through a fine-mesh sieve.

Melt the dark chocolate over a double boiler.

In a large bowl, combine the praline paste and dark chocolate. Stir well using a whisk or a spoon until well combined. Transfer to a clean jar and store at room temperature. The spread will thicken a little bit after a few hours.

This chocolate spread will keep for over 3 weeks at room temperature, if it's too cold in your house you might have to place it in a warmer place to get a spreadable consistency.

Use as a topping for oatmeal, spread on toast, or just eat by the spoonful!
Notes
If you want a softer/runny spread you can decrease a little bit the dark chocolate amount.
Nutrition
Serving:
1
tablespoon
Calories:
90
kcal
Carbohydrates:
11.6
g
Protein:
1.5
g
Fat:
4.8
g
Fiber:
1
g
Sugar:
10.3
g
DID YOU MAKE THIS RECIPE?
Tag @fullofplants on Instagram and hashtag it #fullofplants