4 words. Heaven. In. A. Jar. Introducing Maple Praline Butter!
If you don't know what praline butter or paste is, it's basically some nuts, usually hazelnuts and/or almonds, that are caramelized and then ground to a smooth paste. This stuff is crazy good. It makes a base for many desserts or chocolate candies. I previously released two recipes that feature praline paste, but both used white sugar. So, I went back to testing with healthier sweeteners.
First, I went with coconut sugar. It didn't work. Why? Because coconut sugar burns at a lower temperature than most sugars. It's okay for baked goods, but not to make caramel. Then I tried it with maple syrup, and it worked! I can honestly say I taste no difference in flavor between the one made with white sugar and the one made with maple syrup.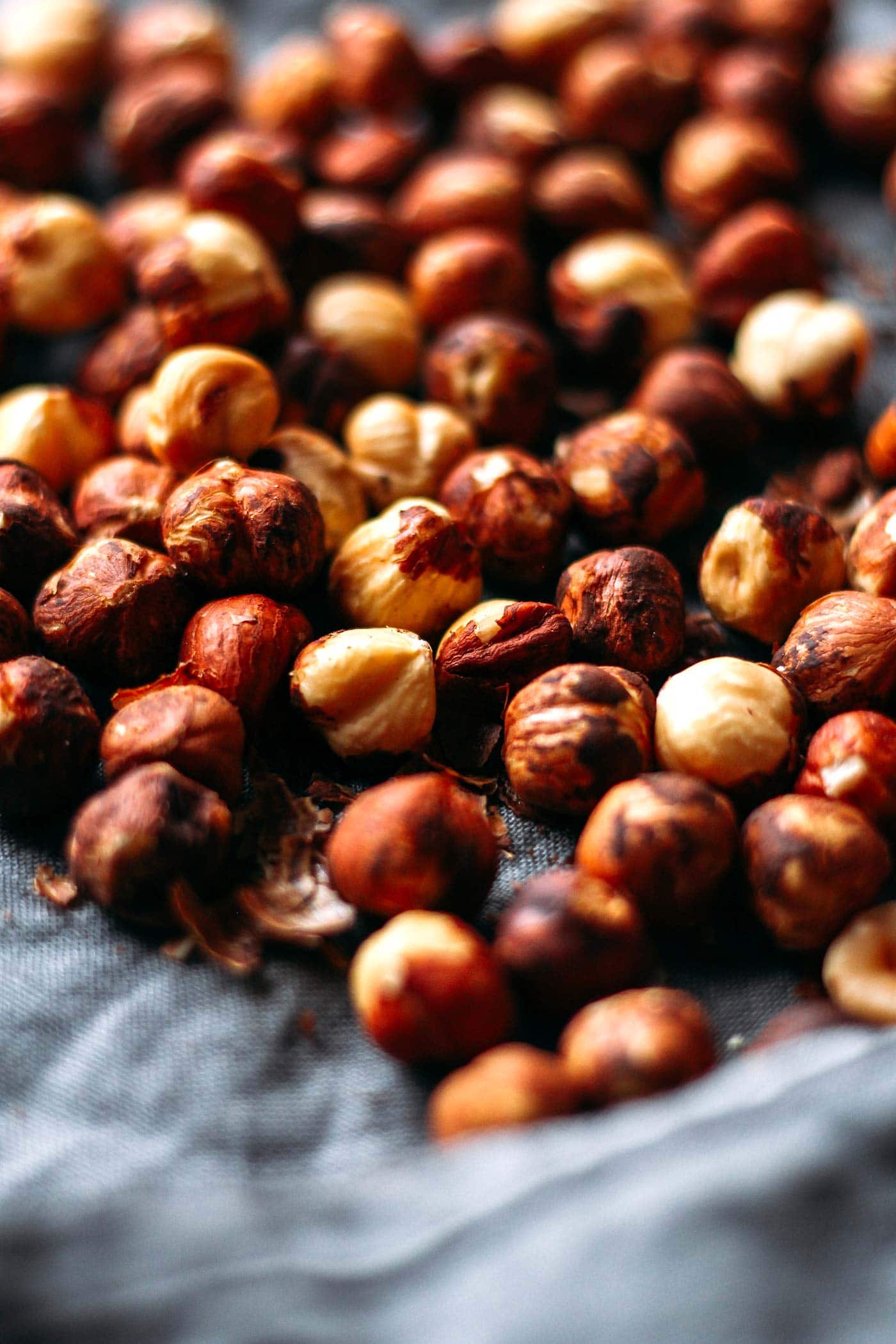 It starts with the nuts that you roast in the oven for about 12 minutes. What's great about this recipe is that you can customize it to your liking. For a classic praline flavor, I used half almonds and half hazelnuts, but you can use other nuts: pistachios, peanuts, pecans, cashews, or even pine nuts!
Then, let the nuts cool and heat the maple syrup in a large saucepan over medium heat. As soon as it starts to bubble, add the nuts and keep stirring using a wooden spoon until the sugar crystallizes. This step will take about 7-10 minutes. First, the maple syrup will reduce and then crystallize. The nuts will be coated with maple sugar and will be crispy. If you are like me, you probably won't resist eating a handful of caramelized nuts once they are cool.
Once the caramelized nuts are cool, it's time to transfer them to a food processor and transform them into a paste. You have three options here:
1) Make a very thick paste. Don't process too long. About 1 minute is enough. You will get a very thick praline paste that still has bits of caramelized nuts. It's perfect to spread on toast.
2) Make a thinner paste that has the texture of peanut butter with very small bits of nuts. This is the consistency I like the most. It's smooth and creamy but still has some crispiness to it. It's great to use on top of oatmeal, in cakes, chocolates, etc.
3) Make a super smooth, very thin butter. If you want it super smooth I would recommend using a blender instead of the food processor. A very smooth praline butter is best used in pastry creams.
In the end, it all comes down to your taste. It's like the crunchy vs. smooth peanut butter debate. Some people like to have some crunchiness, while others want it super smooth. If you plan to use it in desserts or in other recipes, I would recommend processing it until it has the texture of natural peanut butter.
My secret to taking this maple praline butter to the next level is to blend one WHOLE vanilla bean with the caramelized nuts. The flavor it adds to the praline is unbelievable. I guess you could use a teaspoon of vanilla extract if you don't have vanilla beans, but I haven't tried it yet.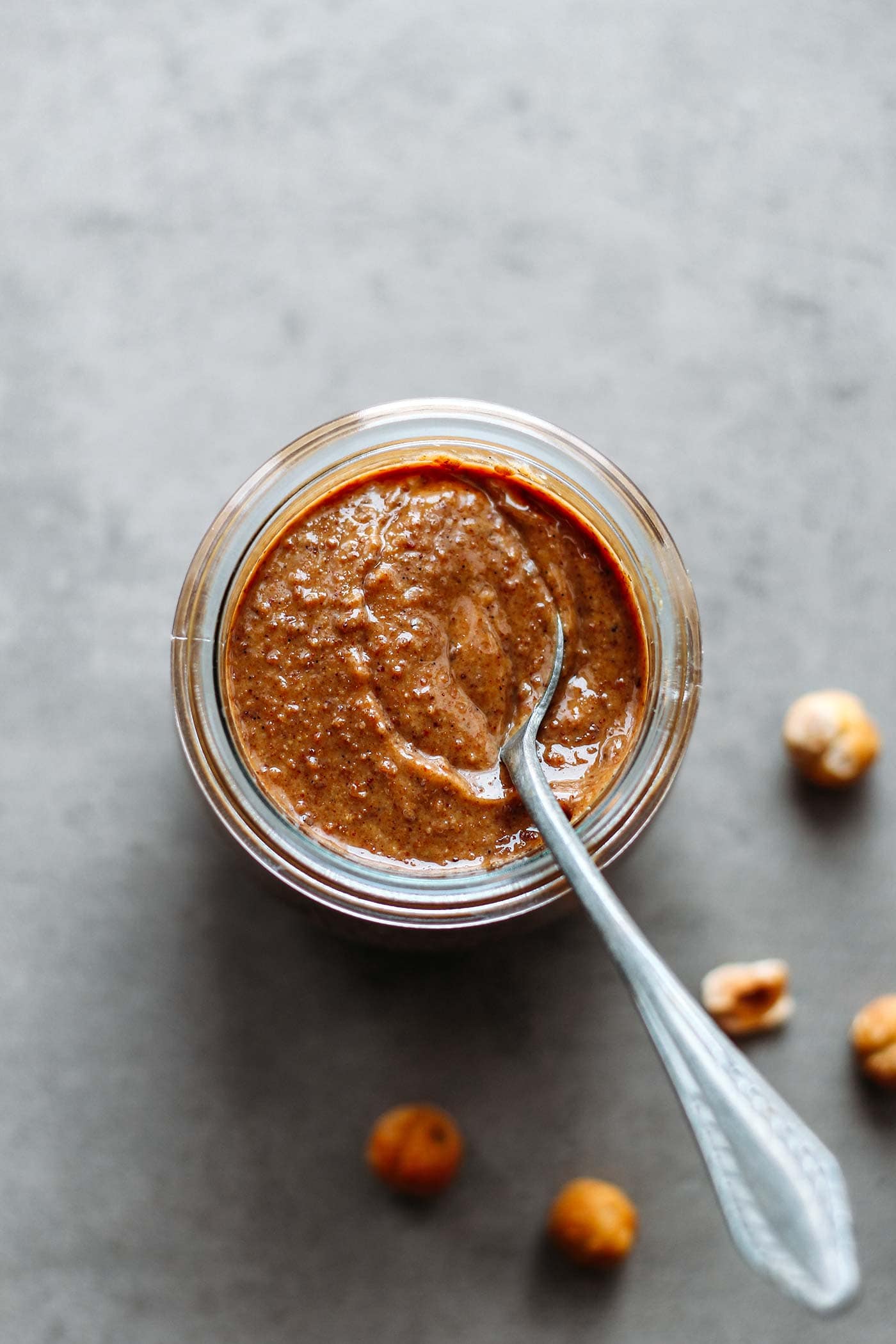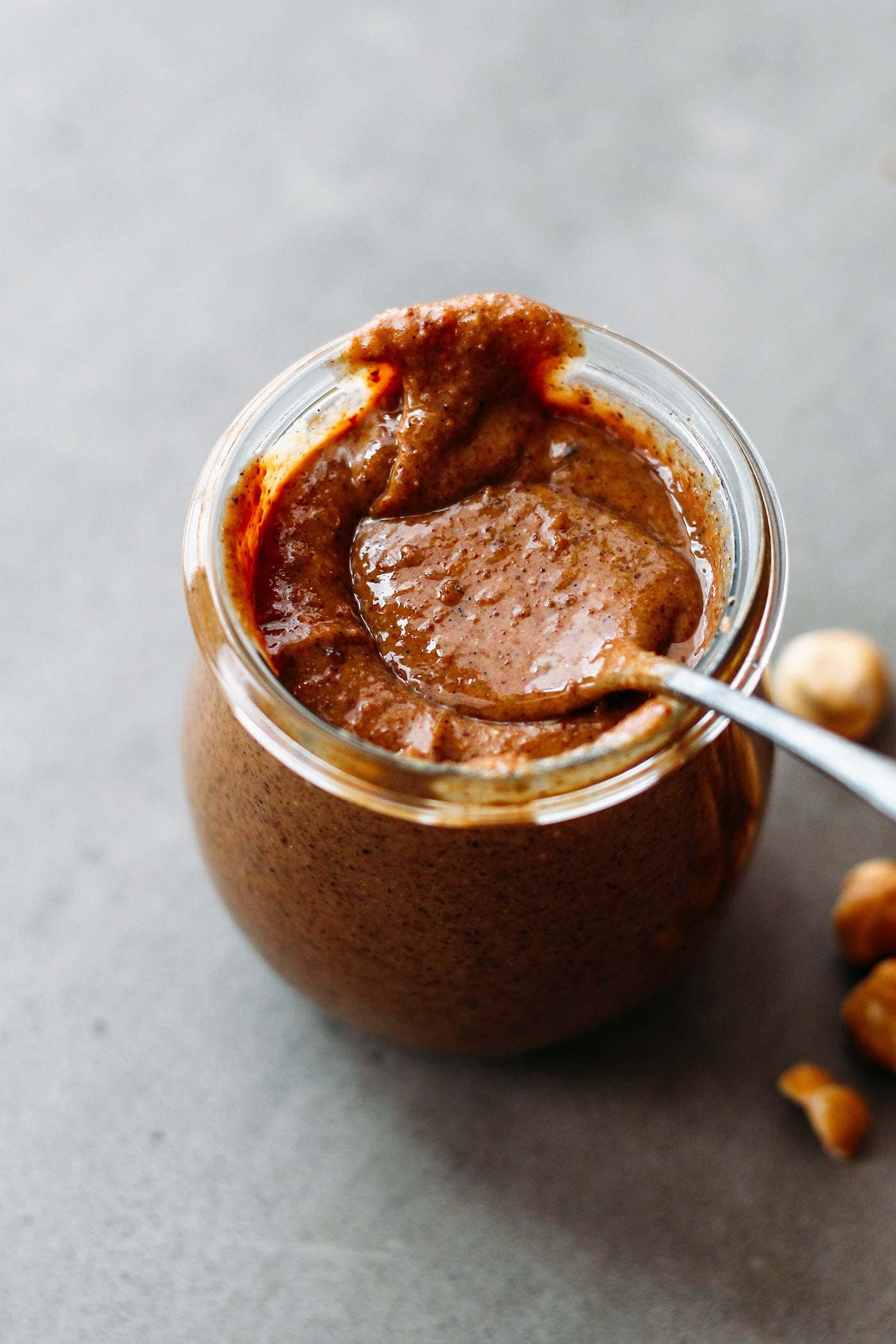 This praline paste is delicious on top of oatmeal, pancakes, or toasted bread, but it also makes a great base for many desserts. Stay tuned for more recipes!
Let me know in the comments if you try this recipe!
Recipe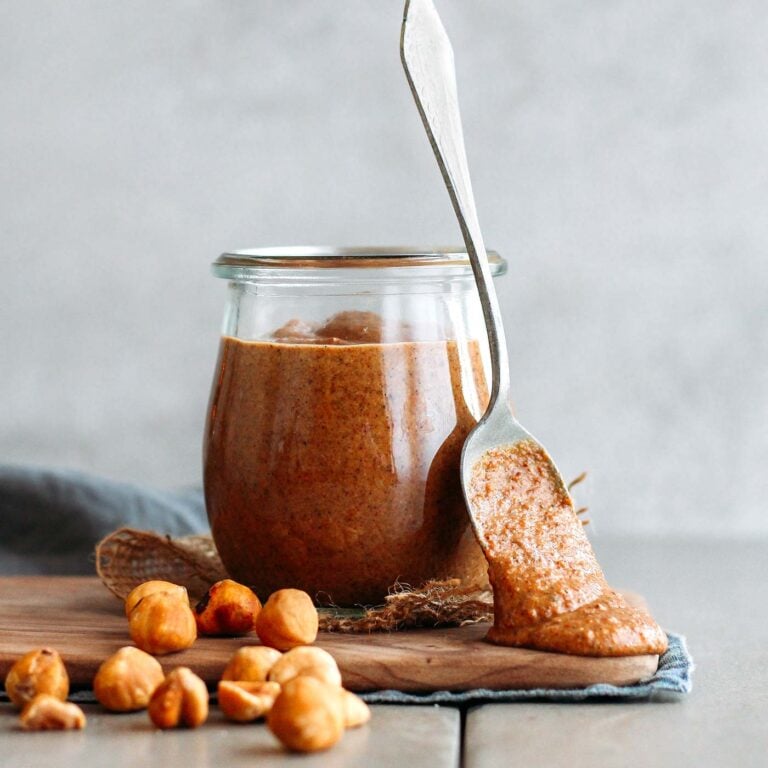 Maple Praline Paste
4-Ingredient refined sugar-free praline paste! With caramel undertones, this hazelnut and almond butter is delicious on top of oatmeal/pancakes or spread on toast. It can also be used in many desserts.
Instructions
Preheat oven to 325°F (170°C). Line a baking sheet with parchment paper and spread the almonds on one half of the baking sheet and the hazelnuts on the other half.

Roast for about 12 minutes. Transfer the hazelnuts to a clean kitchen towel and let cool for 5 minutes. Once the hazelnuts are a bit cooler, rub them in the kitchen towel to remove the skin. It's okay if you don't remove all the skins. Transfer the peeled hazelnuts and the almonds to a bowl. Set aside.

Pour the maple syrup into a large saucepan and heat over medium heat.

Once it starts to bubble and some foam appears, add the nuts. Continue cooking over medium heat, stirring constantly to prevent the nuts from burning. The maple syrup will reduce and after about 5-7 minutes you won't have much liquid left.

Keep cooking until the maple syrup crystallizes and coats the nuts. At this point, there will be no liquid left and you will have some maple sugar coating the nuts. Lower the heat to low-medium and cook for another 2 minutes, stirring constantly until the remaining sugar melts.

Transfer to a silpat or baking sheet line with parchment paper and let cool completely.

Once cool, transfer the caramelized nuts to a food processor. Add the whole vanilla bean and process until you get the texture of peanut butter. First, it will look like almond meal, then it will turn into a paste, and finally, it will have the consistency of a nut butter.

Transfer to a clean jar. Enjoy on top of pancakes, oatmeal, or use in desserts. The praline butter will keep for months at room temperature.
Notes
If you plan to make praline paste with pine nuts: start by toasting the pine nuts in a skillet until golden brown and only add them to the maple syrup once it has reduced by half. Otherwise, the pine nuts might burn.
Nutrition
Serving:
1
tbsp
|
Calories:
127
kcal
|
Carbohydrates:
11
g
|
Protein:
2.9
g
|
Fat:
8.9
g
|
Fiber:
1.8
g
|
Sugar:
7.7
g
Did you make this recipe?
Tag @fullofplants on Instagram and hashtag it #fullofplants