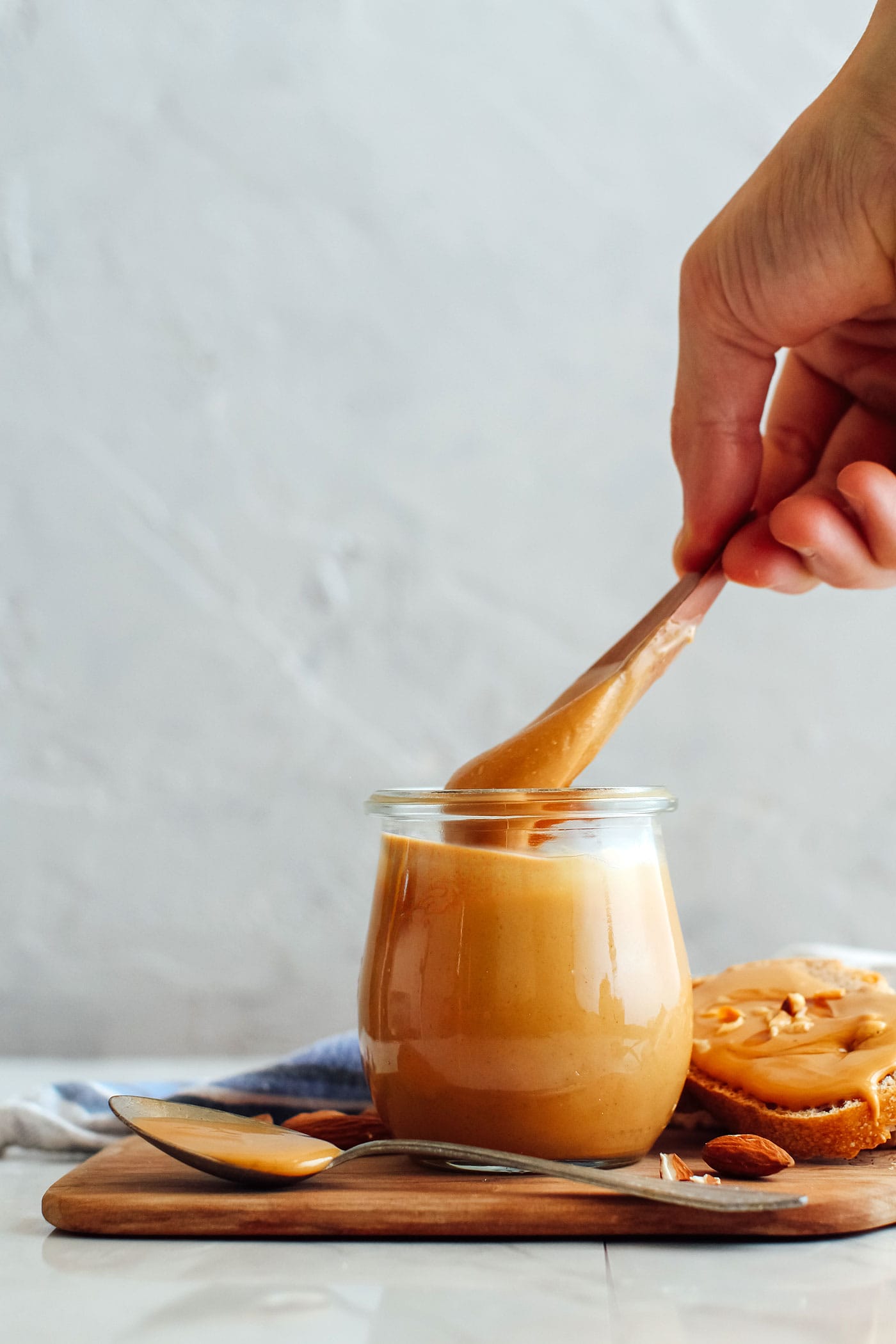 Do we really need a guide on how to make almond butter? Absolutely! So many things can have an impact on the end result, read texture and flavor.
I have been improving my almond butter recipe each and every time until I made the best batch I ever made.
The difference between this recipe and your basic almond butter lies in the ingredients and process. Here, we use blanched Marcona almonds that are slow-roasted for almost 2 hours with some maple syrup and salt. It results in the smoothest and tastiest almond butter. Ever.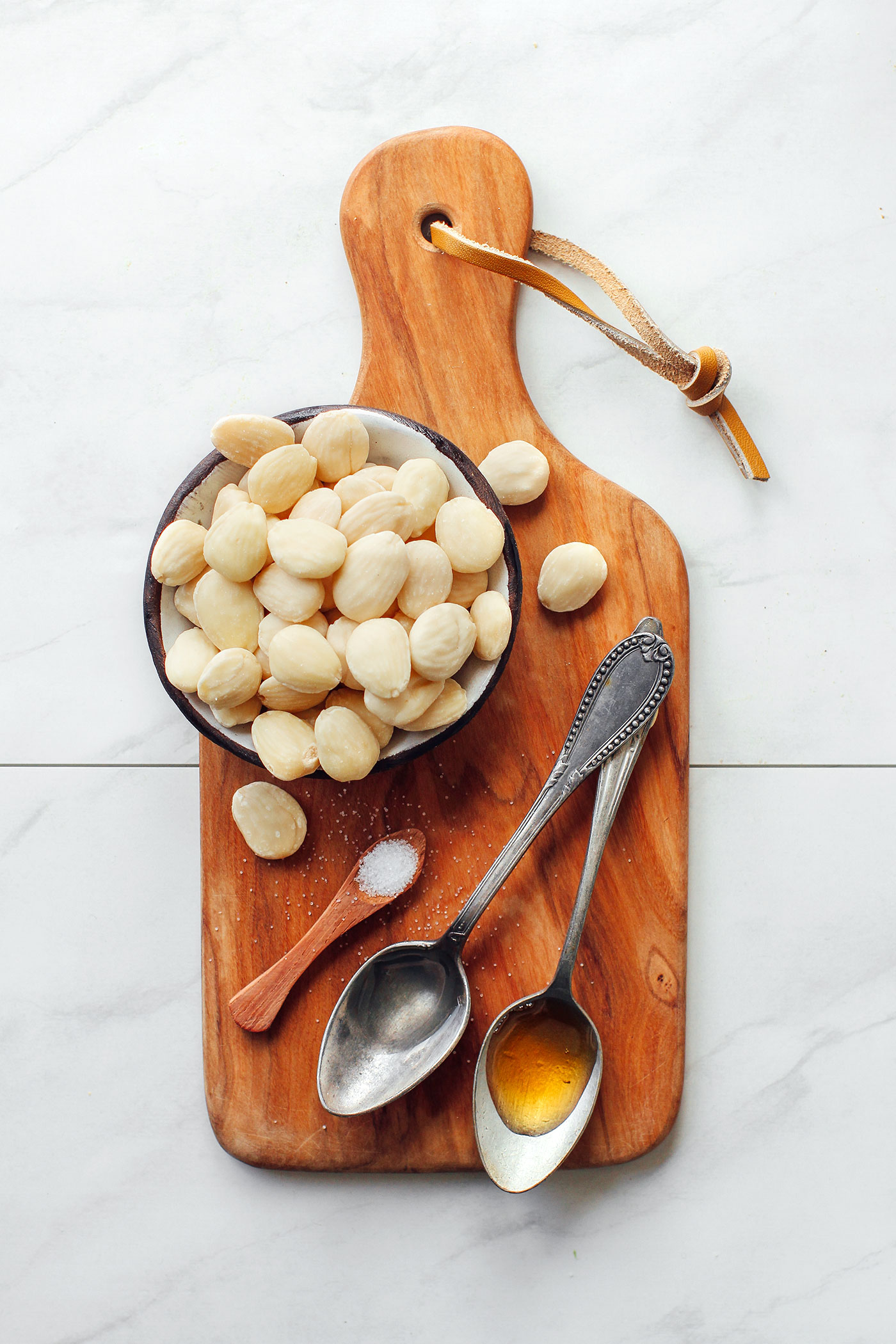 If you have ever tried Barney's almond butter, this one is very similar but a bit thinner, and contains no palm oil or refined sugar.
This recipe is easy and requires only 4 ingredients: raw almonds, maple syrup, oil, and sea salt.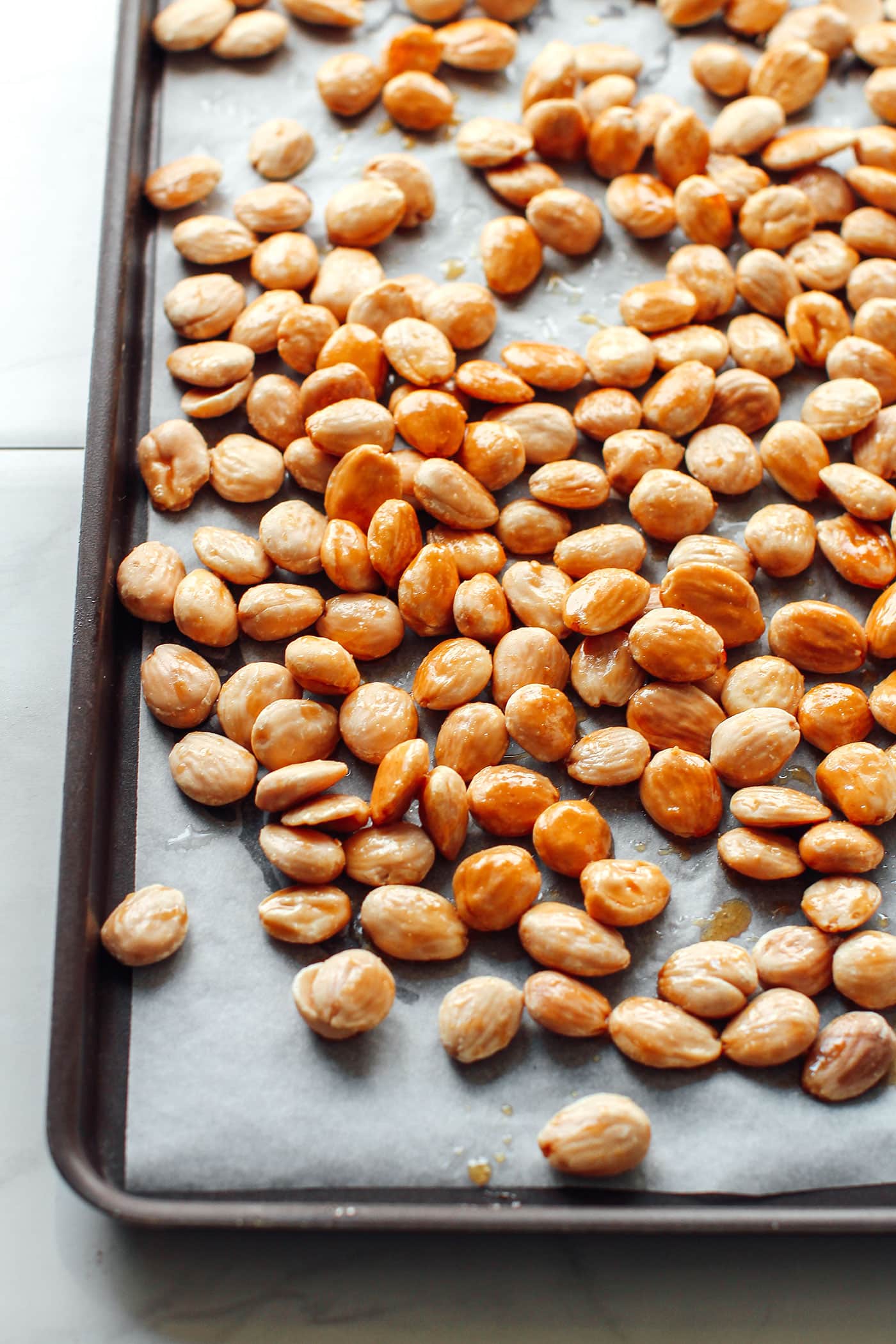 The "secret" to get super smooth and delicious almond butter is to start from blanched almonds. Leaving the skin out yields a creamier consistency (bye grittiness!) and a better flavor. When I can, I try to use Marcona almonds, which are rounder and a bit sweeter than regular almonds. Don't worry if you can't get your hands on it, this recipe works great with regular blanched almonds!
I used to blanch almonds by myself and trust me, it's very time-consuming so I highly recommend you get blanched almonds directly.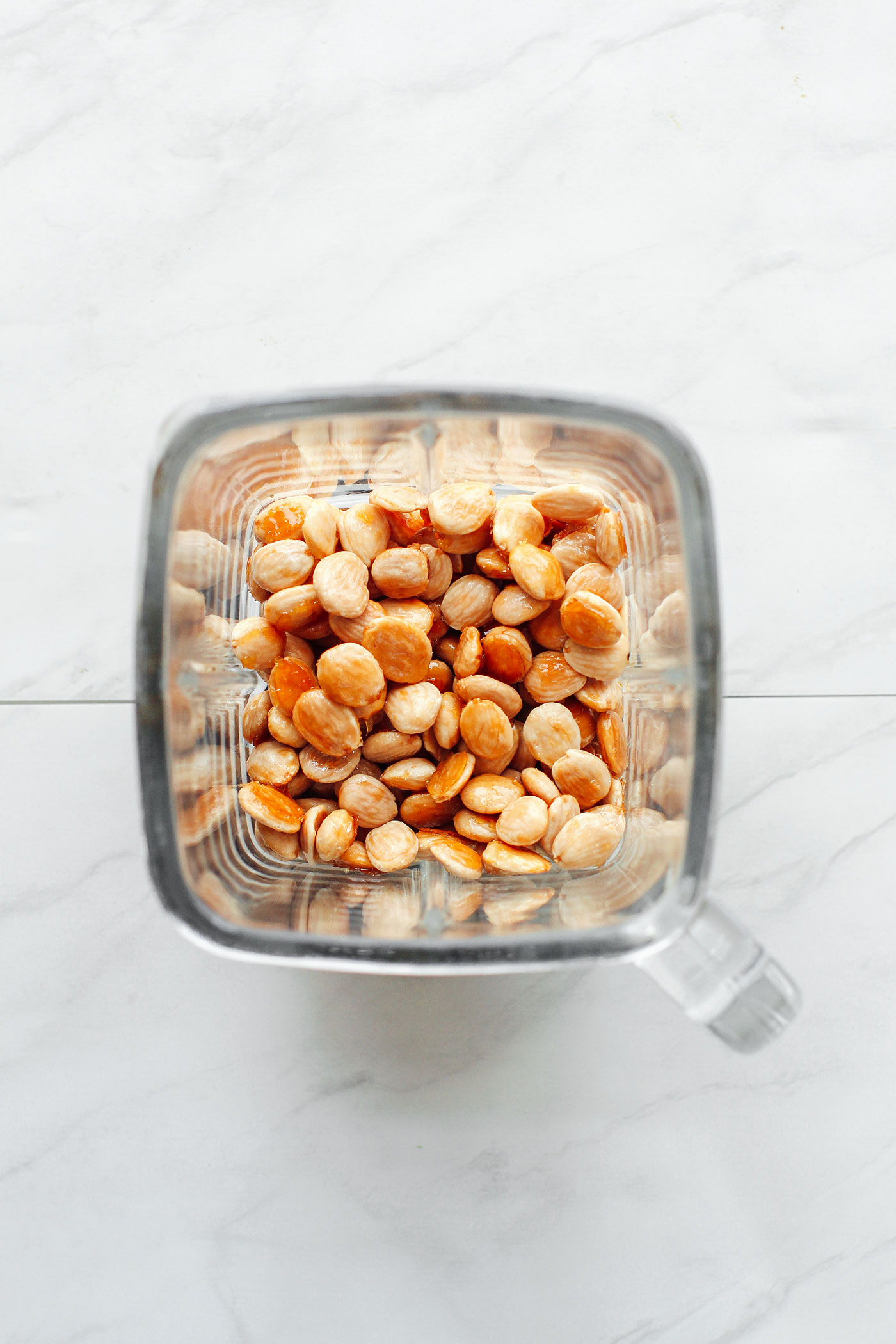 You start by coating the almonds with maple syrup, oil, and salt. As you can guess this butter is sweet and salty!
Then transfer to a baking sheet lined with parchment paper and roast for a bit less than 2 hours. Roasting time and temperature have a major impact on the flavor of your almond butter, a short roast and it will taste bland, too much and it will have an unpleasant bitter aftertaste. I had the best results by slow-roasting the almonds. By using this technique, almonds are evenly roasted from the outside to the inside. Plus you have fewer chances of burning them.
To make sure your almonds are perfectly roasted, remove one from the oven, let it cool 3-5 minutes and try breaking it. If it snaps and the inside is slightly golden brown, your almonds are ready.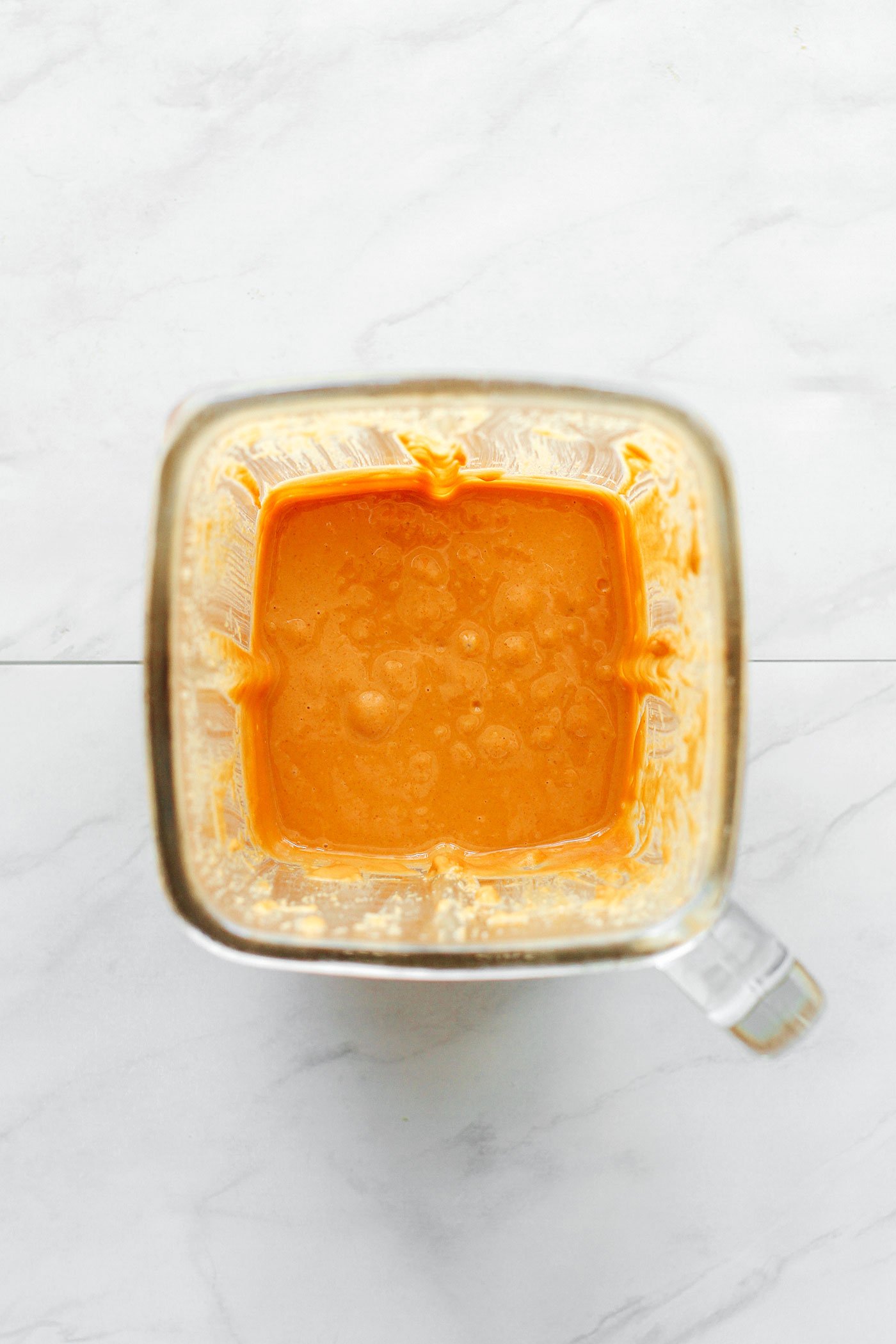 Once your almonds have cooled a bit, transfer to a blender and blend on high speed for 5-10 minutes. The longer you blend, the smoother the almond butter! A food processor can be used but it won't give you a very smooth consistency.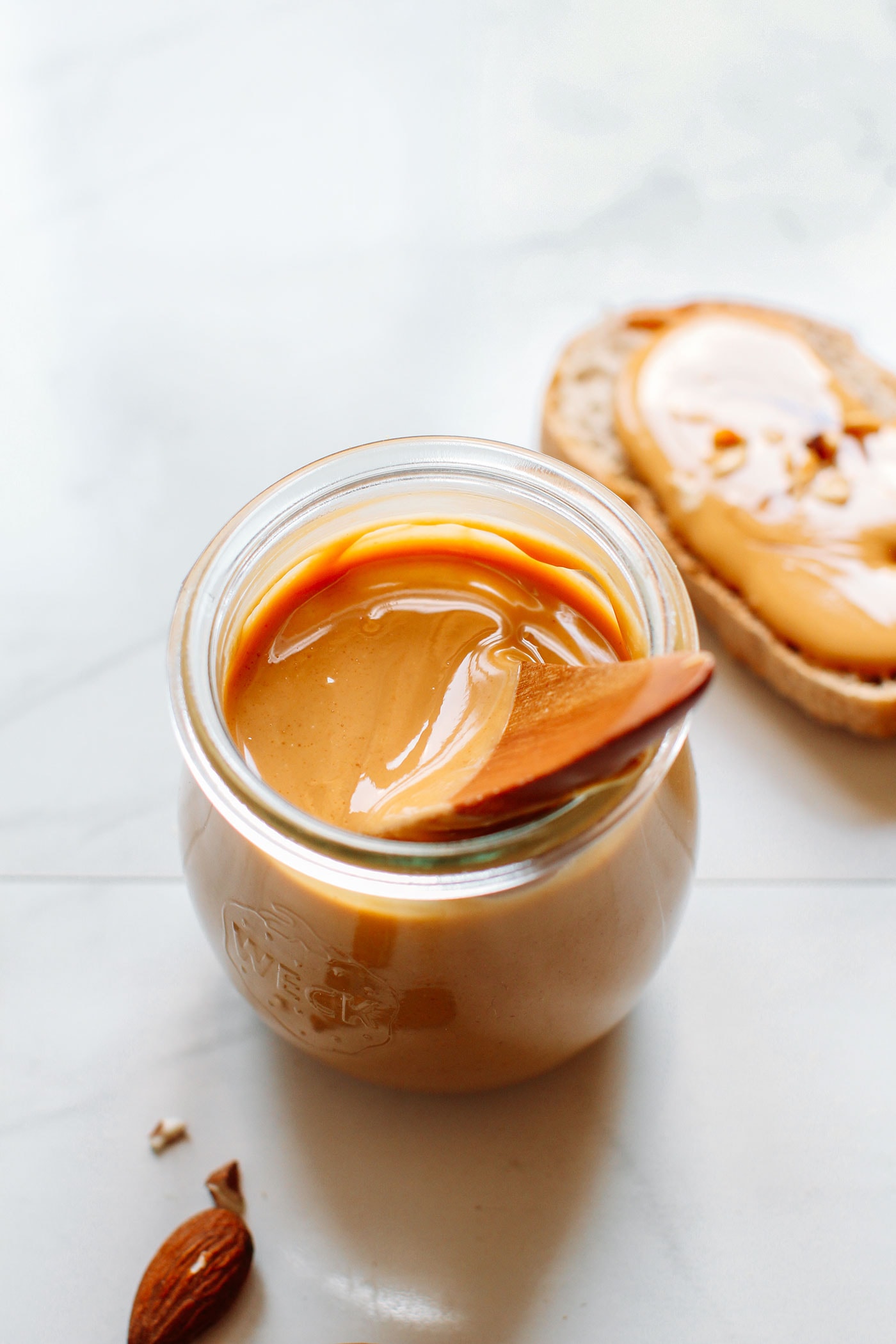 Use this almond butter on top of oatmeal, toast, or in recipes like these Chocolate & Almond Butter Mousses, Chewy Almond Butter Snickerdoodle Bars, or for a savory recipe, these Almond Butter Sweet Potato Noodle Bowls!
Let me know in the comments if you try this recipe!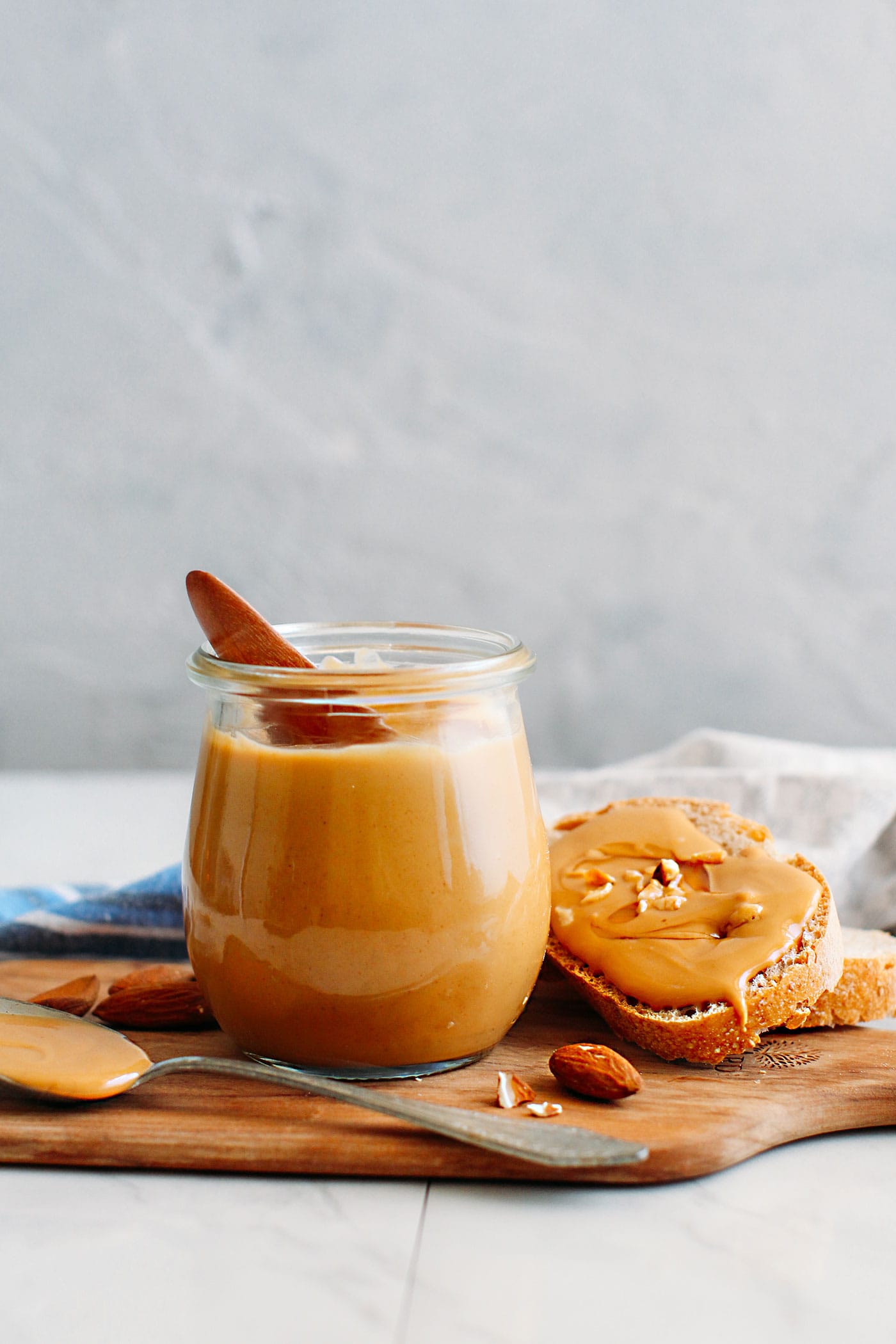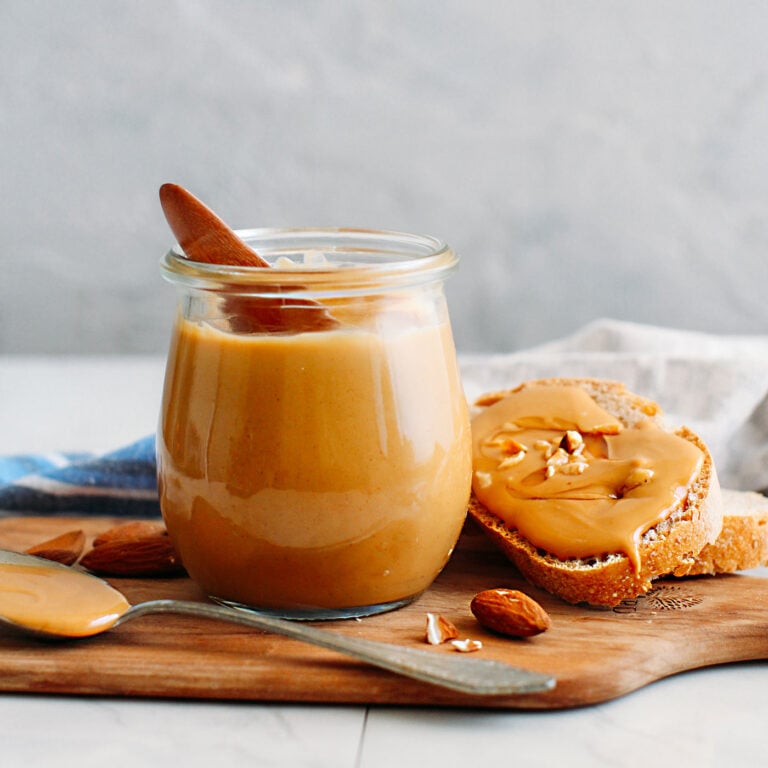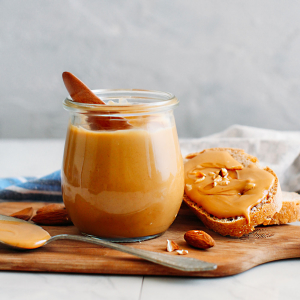 How to Make the Best Almond Butter
Silky smooth roasted almond butter made with slow-roasted blanched almonds. Slightly sweet and salty, it's delicious on top of oatmeal, spread of toast or crepes, or used in sauces!
Ingredients
2

cup

raw blanched almonds

(Marcona if possible)

3

tablespoon

maple syrup

1

tablespoon

oil

¼

teaspoon

sea salt
Instructions
Preheat oven to 240°F (115°C). Line a baking sheet with parchment paper and set aside.

In a large mixing bowl, combine the almonds, maple syrup, oil, and salt. Stir to coat and transfer to the prepared baking sheet. Spread the almonds evenly.

Roast for 1 hour and 50 minutes, stirring halfway through baking. After almost 2 hours, the almonds should be golden brown. To test if the almonds are evenly roasted, remove one from the oven and let it cool 2-3 minutes. Break the almond into two pieces, it should snap and the inside should be golden brown too.

Let cool the almonds 10-15 minutes before transferring to a blender. Blend on high-speed for 5-8 minutes, scraping down the sides if needed, until very smooth. The longer your blend, the smoother the almond butter.

Transfer to a clean jar and store at room temperature for a few months.
Nutrition
Serving:
1
tablespoon
|
Calories:
90
kcal
|
Carbohydrates:
7.7
g
|
Protein:
6
g
|
Fat:
15
g
|
Fiber:
3.1
g
|
Sugar:
2.8
g
DID YOU MAKE THIS RECIPE?
Tag @fullofplants on Instagram and hashtag it #fullofplants