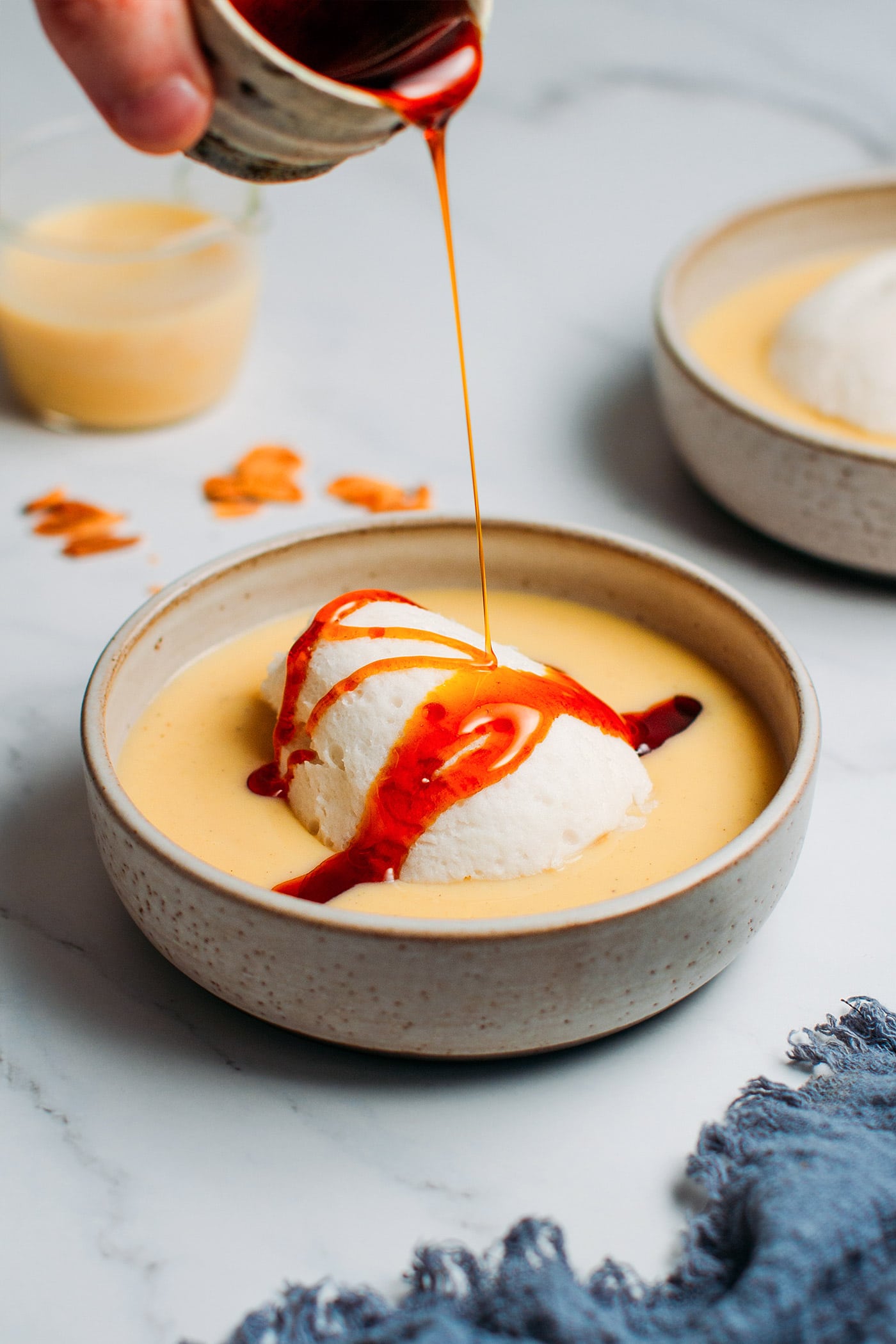 Have you ever heard of îles flottantes?
This delicious dessert consists of a light meringue floating on a rich vanilla cream and topped with a drizzle of salted caramel!
I'm super excited to finally release this recipe! It's AH-mazing tastewise, dairy-free, and egg-free! Definitely a dessert like no other!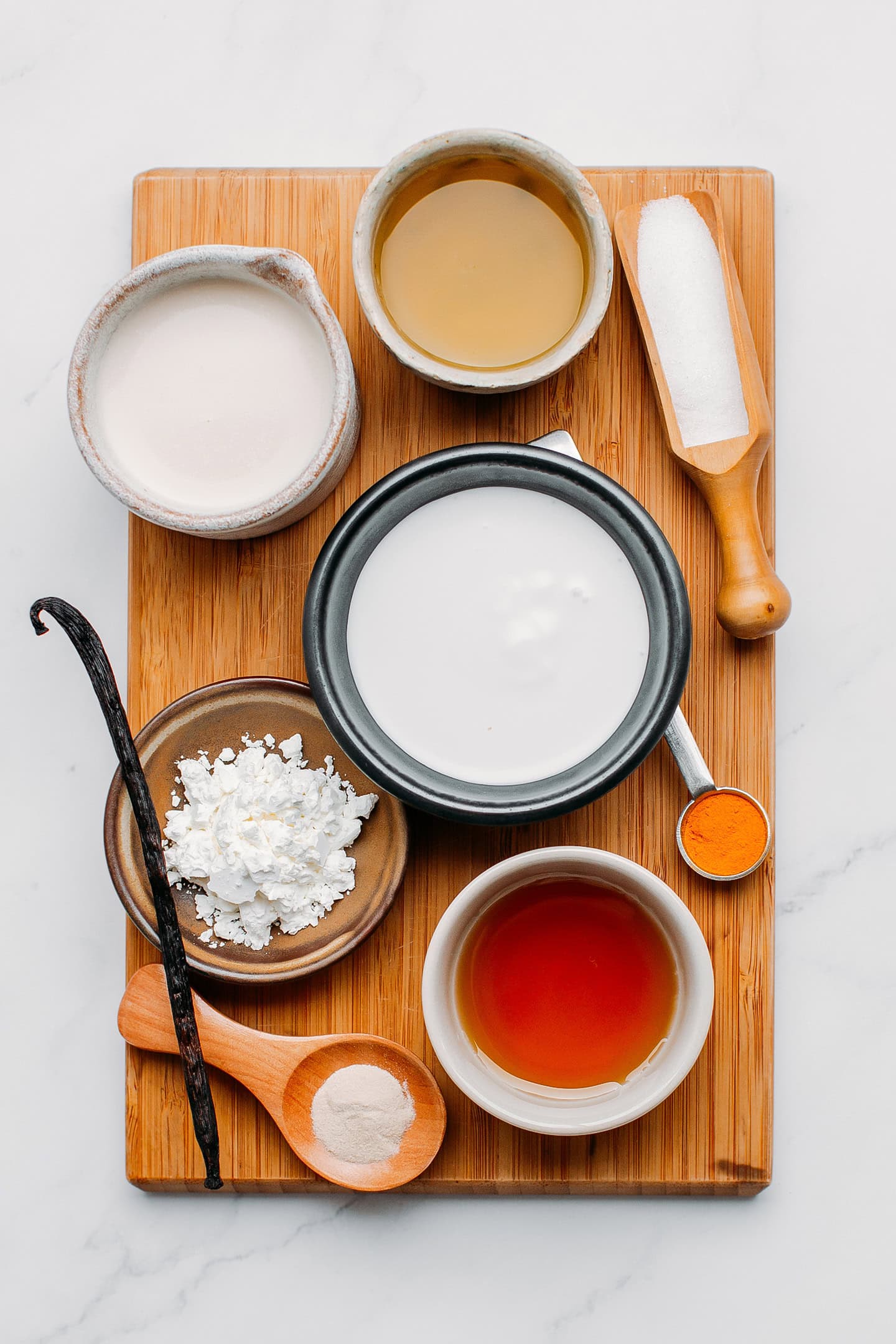 WHAT IS AN ILE FLOTTANTE
Île Flottante, also called "Oeufs à la neige" (Eggs in snow) is probably one of the most popular French desserts!
This dessert is quite simple and consists of a rich vanilla-infused cream topped with whipped egg whites and drizzled with a salty caramel sauce. The whipped egg whites float on top of the vanilla cream, hence the name "Île Flottante", which translates to floating island. It's a light, airy, and not overly sweet dessert.
While not mandatory, îles flottantes are also often topped with toasted slivered almonds. With that being said, let's make a vegan version!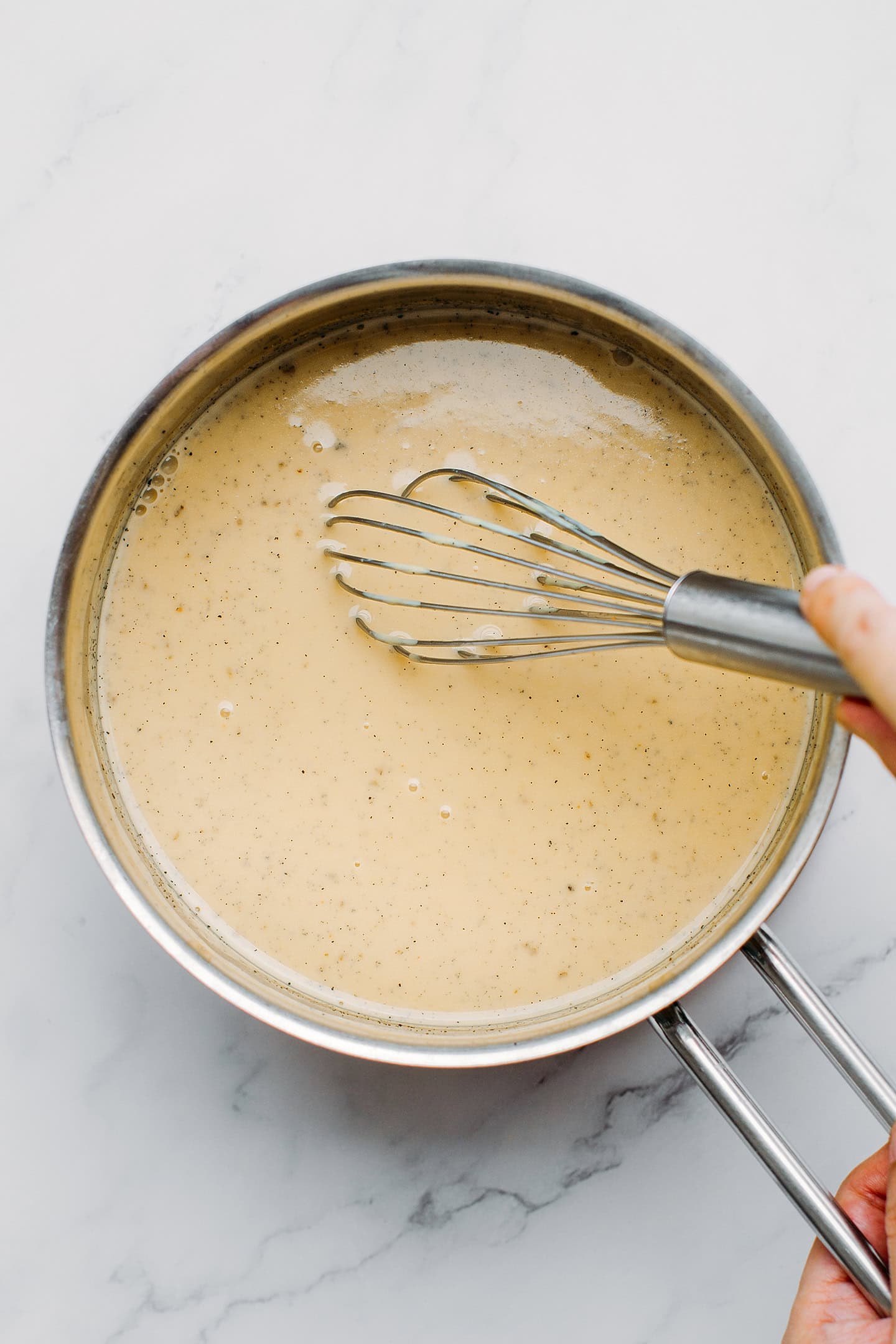 HOW TO MAKE AN ILE FLOTTANTE
Perfecting this recipe took a while but the results are definitely worth it! The whole recipe is easy and requires basic ingredients. There are 3 different preparations, each one can be made one day ahead with no issue.
VANILLA CREAM (Crème anglaise)
It starts with the vanilla cream that is prepared with plant-based milk, vanilla, maple syrup (or agave), and cornstarch to thicken it just slightly. This dessert is served cold, that's why you want to refrigerate the vanilla cream for at least 6 hours before serving.
CARAMEL SYRUP
Sugar is heated until it turns golden brown and then deglazed with a couple of tablespoons of water. This will create a thick caramel syrup that we will then drizzle over the whipped aquafaba.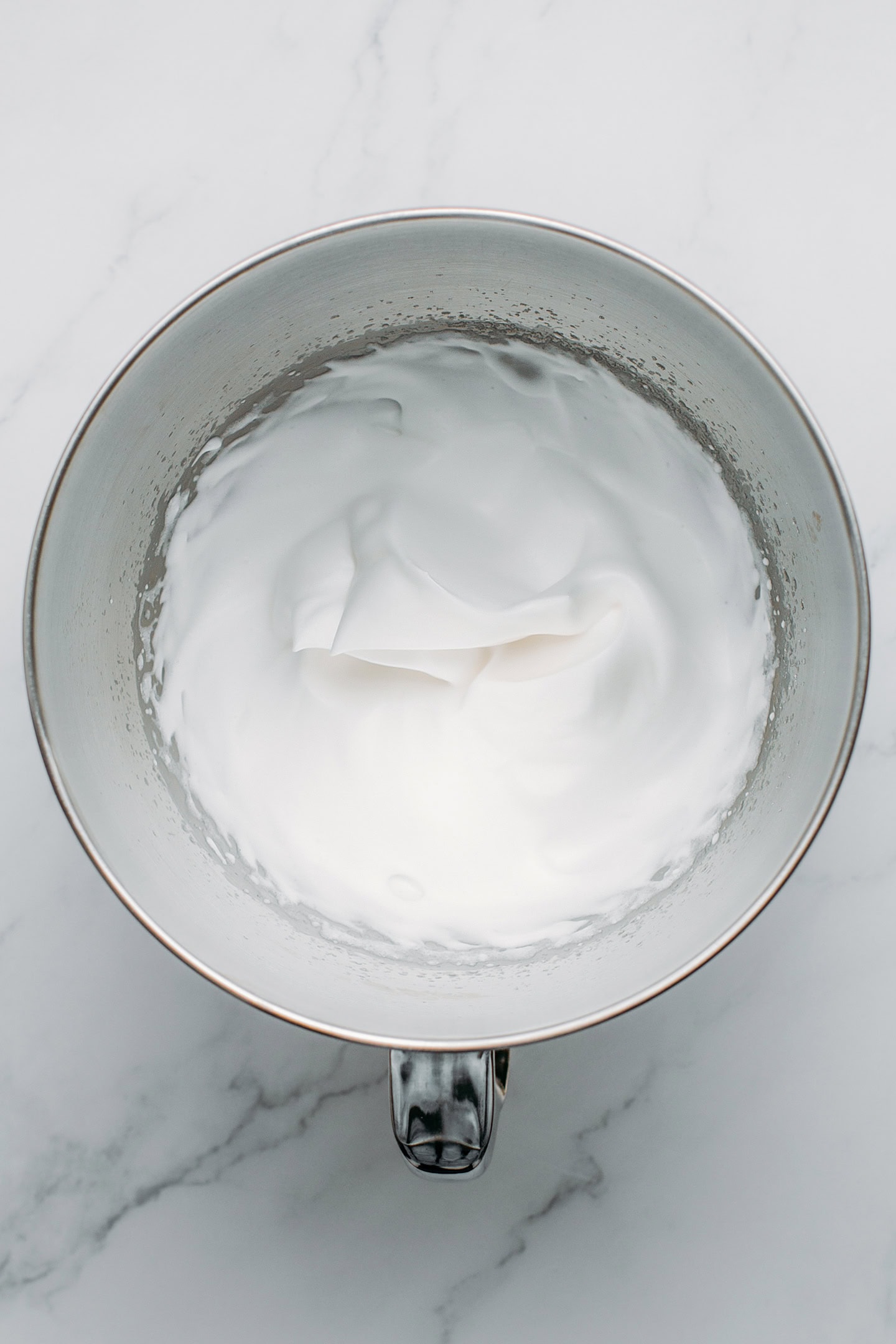 "EGG WHITES"
Traditionally, the whipped egg whites are steamed or microwave until cooked but still very light. Unfortunately, this technique doesn't work with aquafaba, it disintegrated when steamed and doesn't firm up when baked. After several unsuccessful tests, I finally reached the perfect texture!
The secret lies in a combination of coconut cream and agar that is added to the whipped aquafaba. It helps firm up the aquafaba just enough and yields the perfect texture (and yes, it floats)! The result is incredibly close to the real thing!
Once combined, transfer to ramekins or a larger bowl and let it set in the refrigetator. Magic! We have slightly firm but still super light iles flottantes!
Note: in the video, the agar coconut cream liquid is folded into the aquafaba using a spatula. I actually recommend whipping with the stand mixer for 10-15 seconds instead, for a better and more even result.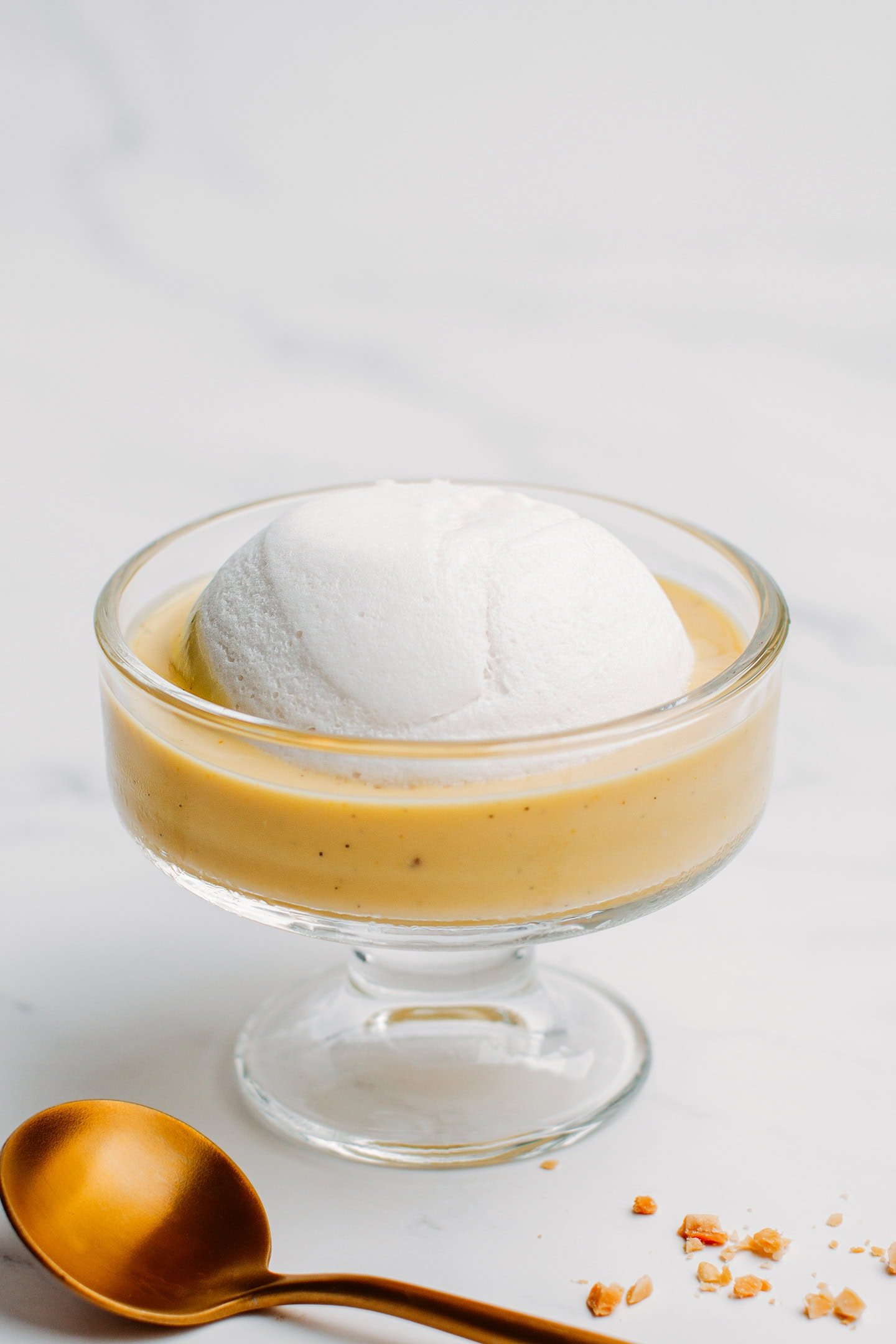 Can you make this dessert refined sugar-free? The short answer is yes. You could use either coconut sugar or maple syrup to sweeten the whipped aquafaba, the only issue is that it will change a little bit the flavor and the color. You won't get a perfectly white "island".
Regarding the caramel, it's also possible to make it refined sugar-free using a combination of maple syrup and coconut sugar. You can check out how to make vegan caramel in this Vegan Creme Caramel recipe. Another alternative for the caramel is to use coconut syrup, the taste will be different but it's still delicious!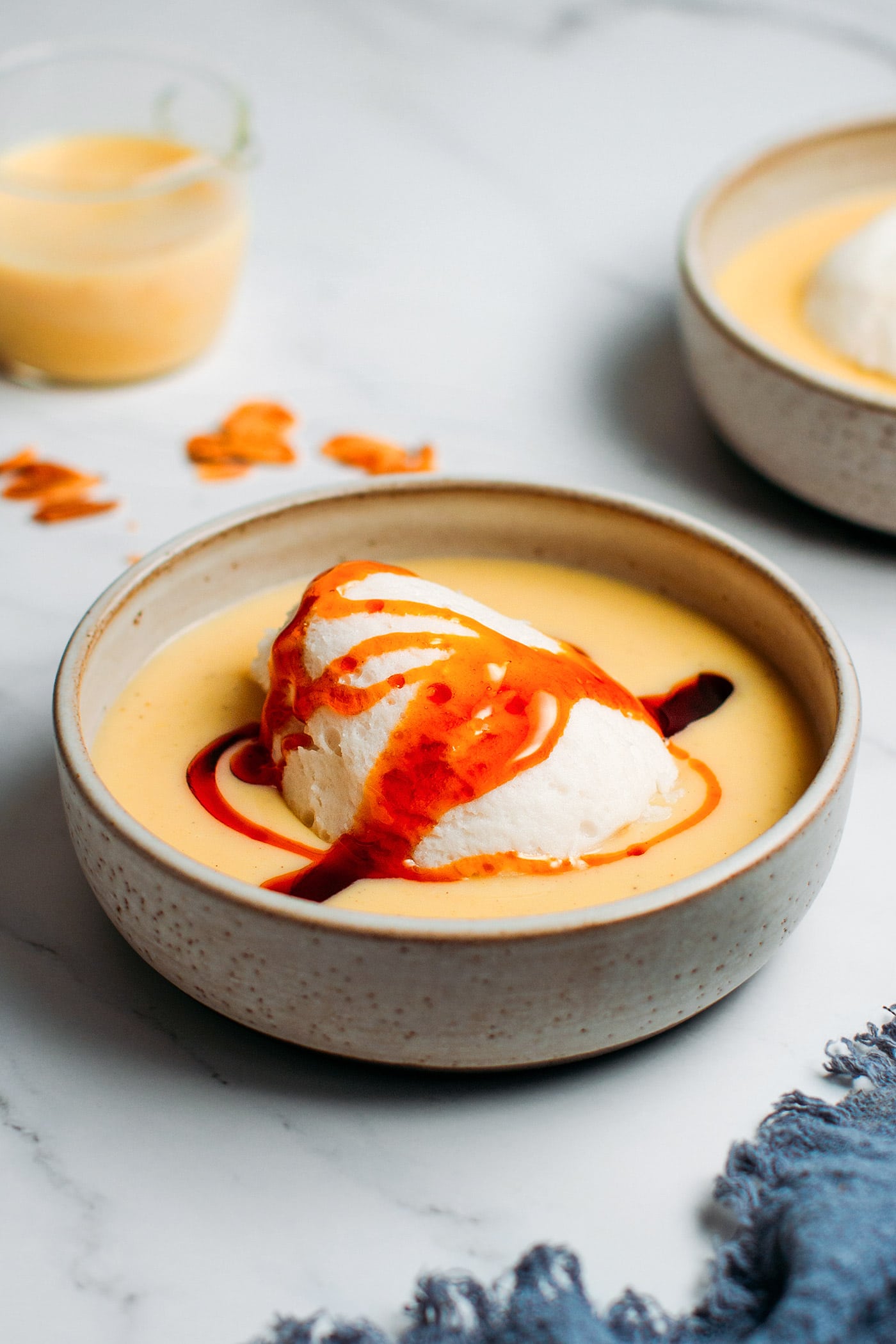 To dress this dessert, divide the vanilla cream between serving bowls, add scooped aquafaba, drizzle with the caramel syrup, and top with toasted slivered almonds!
It is light, sweet and salty, and the combination of caramel and vanilla? Dreamy!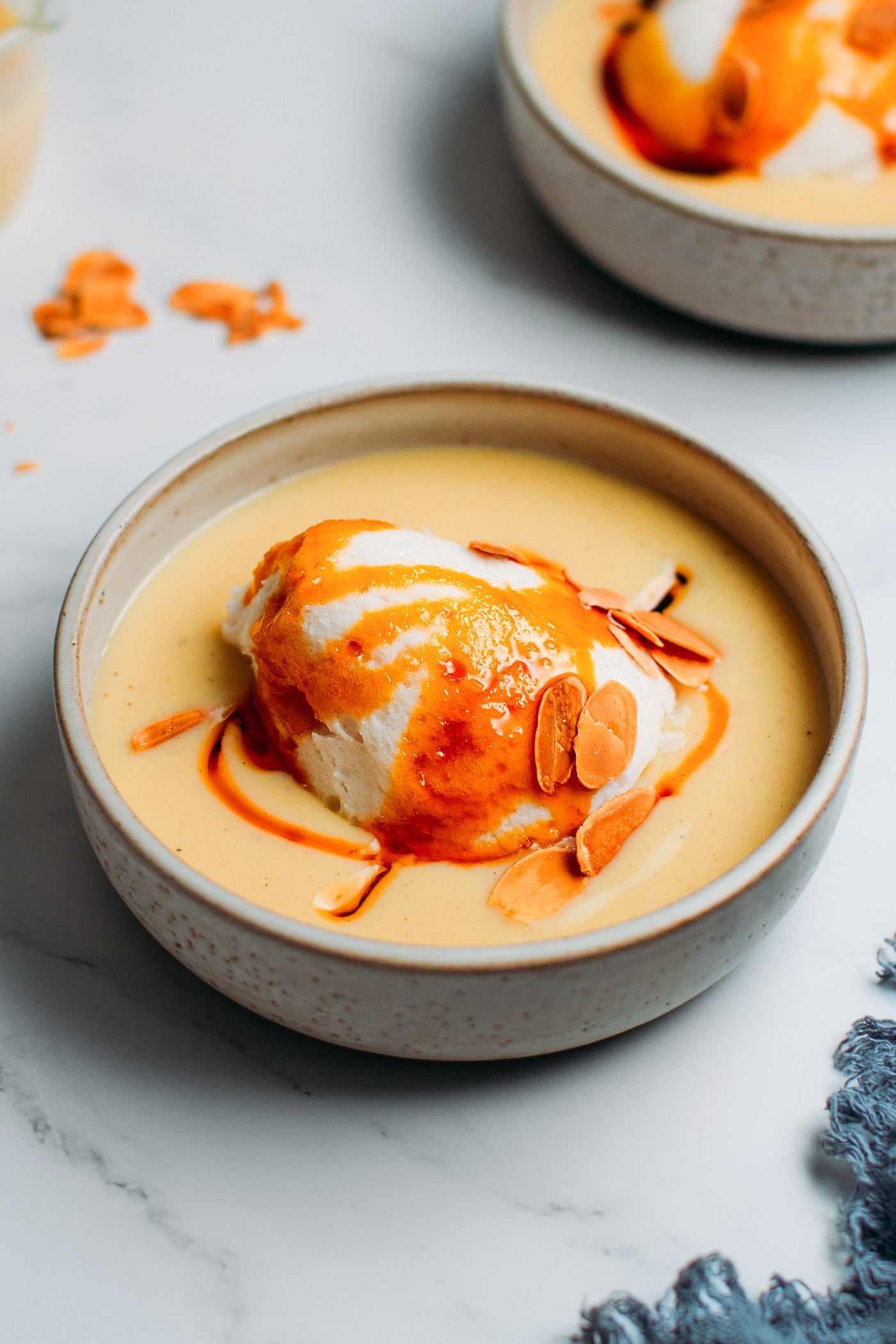 I hope you will love this French-inspired dessert! It's very unique and surprisingly close to the authentic version! The balance of the smooth vanilla cream with the airy aquafaba and the salty caramel it just magical!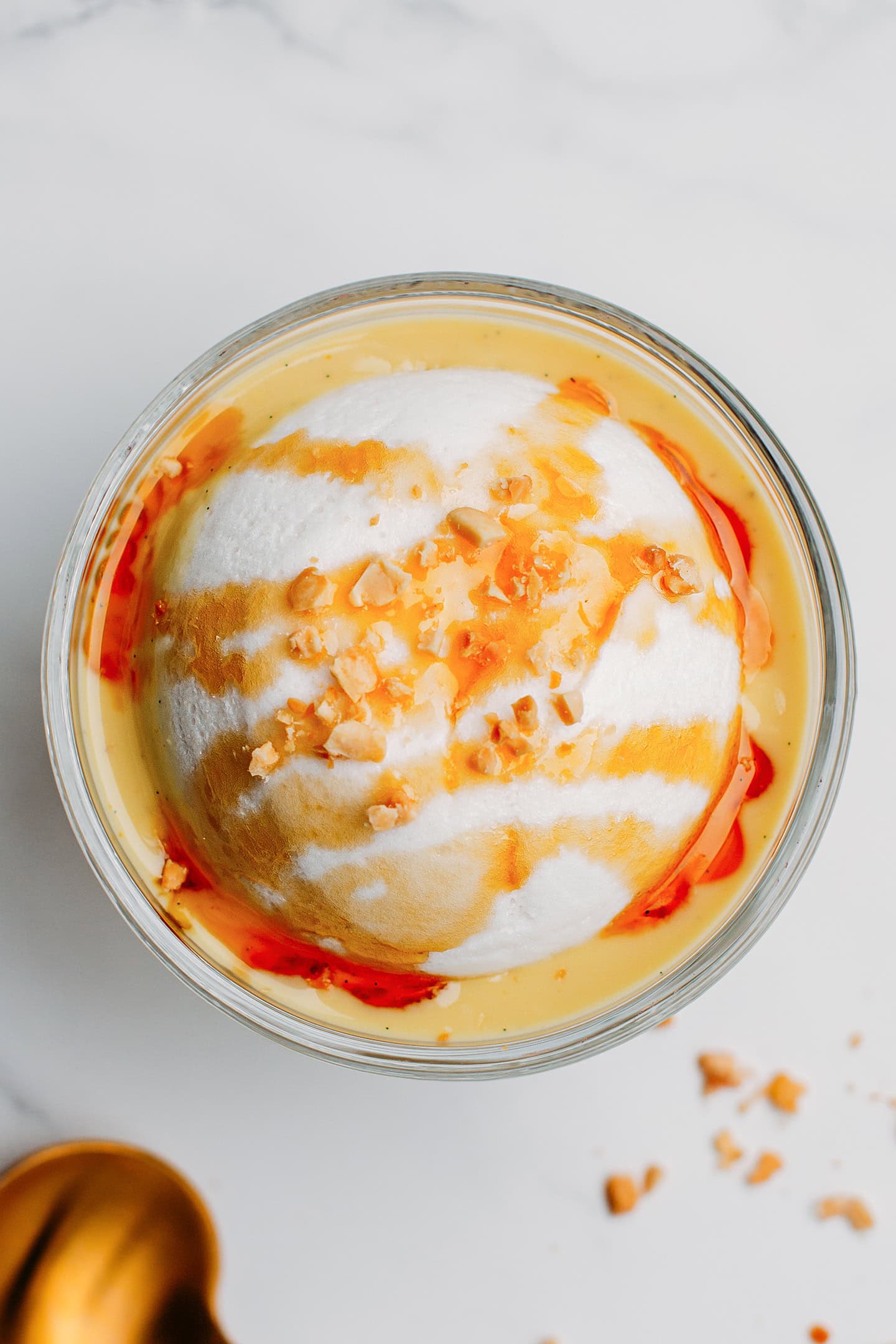 Looking for more French-inspired desserts? Check out this delicious Vegan Creme Caramel, Mango, Coconut & Praline Millefeuille, or this Vegan King Cake!
Let me know in the comments if you try this recipe!
📖 Recipe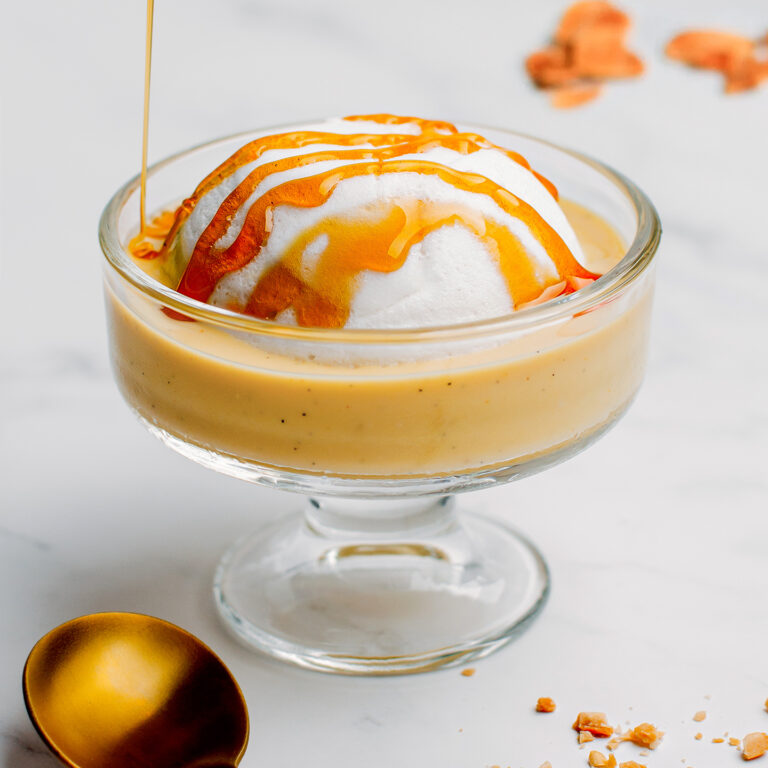 Vegan Île Flottante
Light and pillowy aquafaba meringues floating on a rich vanilla-infused custard, and topped with a salted caramel syrup! This French-inspired dessert is like no-other! Dairy-free, egg-free, and vegan!
Ingredients
Vanilla Cream (Crème Anglaise)
1 and ½

cup

unsweetened almond milk

or other plant-based milk

3

tablespoon

maple syrup

more to taste

2

teaspoon

vanilla extract

or the seeds from 1 vanilla bean

1 and ½

tablespoon

cornstarch

1

teaspoon

vegan butter

optional

a

pinch

of turmeric

for color
Caramel Syrup
¼

cup

white sugar

⅛

teaspoon

salt

2

tablespoon

water
Aquafaba "Meringue"
⅓

cup

aquafaba

(the liquid from a can of cooked chickpeas)

2

tablespoon

white sugar

1

teaspoon

agar powder

3

tablespoon

water

⅓

cup

coconut cream

¼

cup

toasted slivered almonds

optional
Instructions
Vanilla Cream (Crème Anglaise)
Add the almond milk, maple syrup, vanilla extract (or seeds from a vanilla bean), cornstarch, and vegan butter if using, to a saucepan. Whisk to dissolve the cornstarch.

Heat over medium heat, whisking constantly, until it comes to a boil and starts to thicken, about 5 minutes. The cream will just slightly thicken, that is normal. You still want it pourable and liquid.

Remove from heat, transfer to a bowl and let it cool at room temperature before transferring to the refrigerator. Refrigerate for at least 6 hours. Note: if a skin forms on top, remove using a spoon or strain the cream through a fine mesh sieve.
Caramel Syrup
Add the sugar, salt, and one tablespoon of water to a medium saucepan. Heat over medium heat and stir until the sugar is dissolved.

Continue cooking and let it boil for 1-2 minutes without stirring, until it gets a golden brown color. Keep an eye on it as you don't want the caramel to burn, it should have the color of a dark amber maple syrup.

As soon as it gets a golden brown color, remove from heat and immediately pour in 2 tablespoons of water into the saucepan. Be careful and stand back a little bit as it will steam and sputter.

Next, place the saucepan back over the stove, and cook for about 30 seconds, or until the caramel has fully dissolved into the water. Remove from heat and let it cool completely, the caramel will thicken as it cools down.
Aquafaba "Meringue"
Place the aquafaba in a large mixing bowl, or the bowl of a stand mixer.

Whip the aquafaba to soft peaks, it will take about 3-5 minutes. Add the sugar and whip for another 2-3 minutes, or until it reaches stiff peaks.

Add the agar agar and water to a saucepan and whisk to dissolve it.

Add the coconut cream and heat over medium heat, whisking constantly, until it start to boil. Remove from heat and let it cool 2 minutes.

Pour the warm coconut cream into the whipped aquafaba and whip for another 10-15 seconds, or until combined. The aquafaba will lose its fluffiness and become more liquid, that's totally normal.

Transfer the aquafaba mixture to a deep bowl and refrigerate for 2-4 hours, or until it has set.

To assemble: divide the vanilla cream between 3 serving bowls. Scoop out about ½ cup of the aquafaba meringue using a spoon and place it on top of the vanilla cream. Drizzle with the caramel syrup and top with slivered almonds!

Each preparation (vanilla cream, caramel syrup, and aquafaba meringue) will keep for up to 2 days in the refrigerator. Assemble just before serving.
Nutrition
Serving:
1
serving
|
Calories:
235
kcal
|
Carbohydrates:
40.3
g
|
Protein:
1.1
g
|
Fat:
8.3
g
|
Saturated Fat:
5.9
g
|
Sodium:
215
mg
|
Potassium:
215
mg
|
Fiber:
1.3
g
|
Sugar:
33.4
g
|
Calcium:
173
mg
|
Iron:
1
mg
Did you make this recipe?
Tag @fullofplants on Instagram and hashtag it #fullofplants