Super light and fluffy strawberry mousse made vegan! This airy strawberry mousse is prepared from just 7 ingredients and is naturally sweetened! The perfect summer dessert!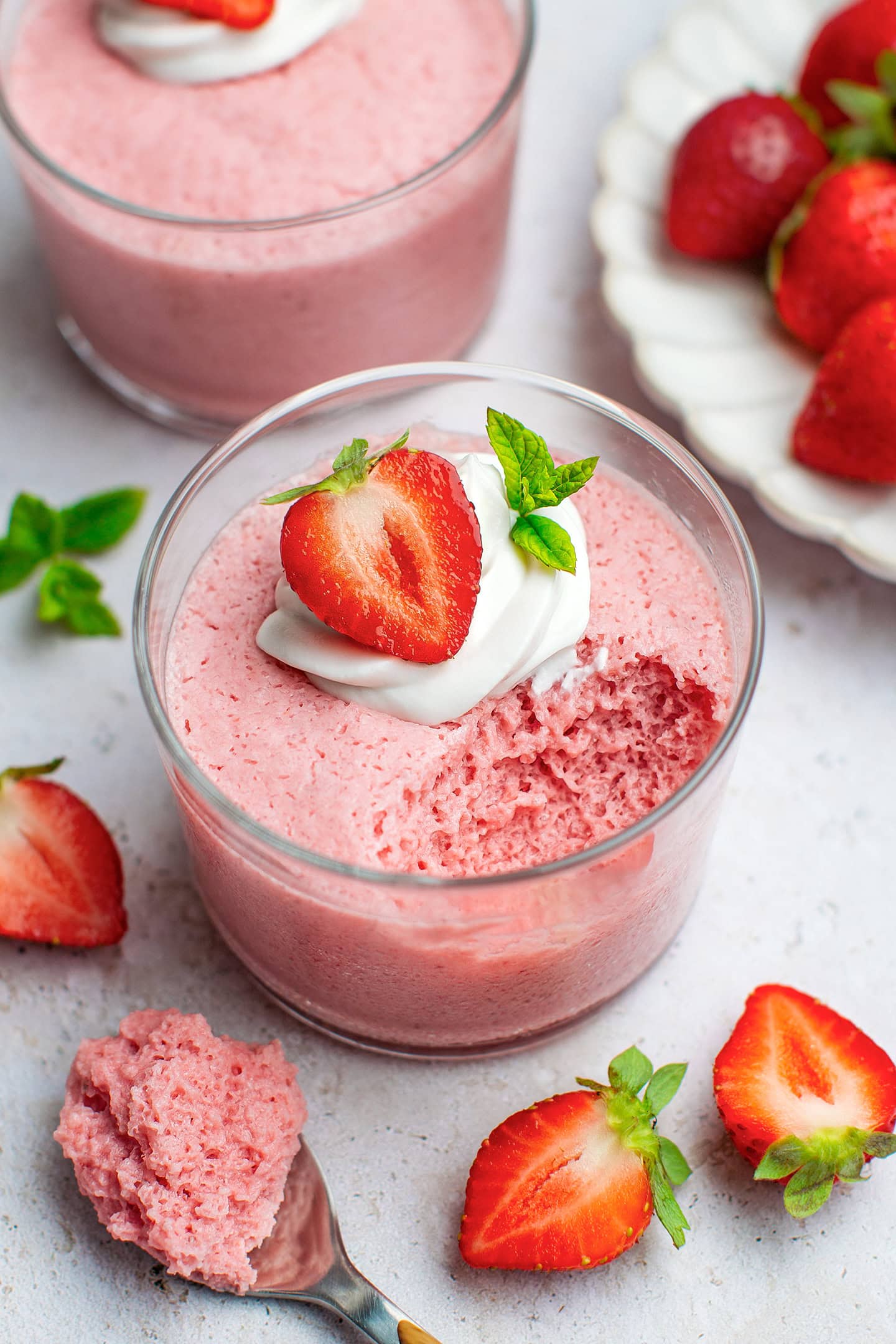 Jump to:
I can't tell you how many strawberries went into the making of this recipe!
A LOT. But it was worth it because the result is a super light and fluffy strawberry mousse that tastes just like cotton candy! It's not too sweet, full of strawberry flavor, and makes the perfect summer dessert! Plus, it requires only 7 ingredients and is naturally sweetened and gluten-free! You guys have to try this recipe!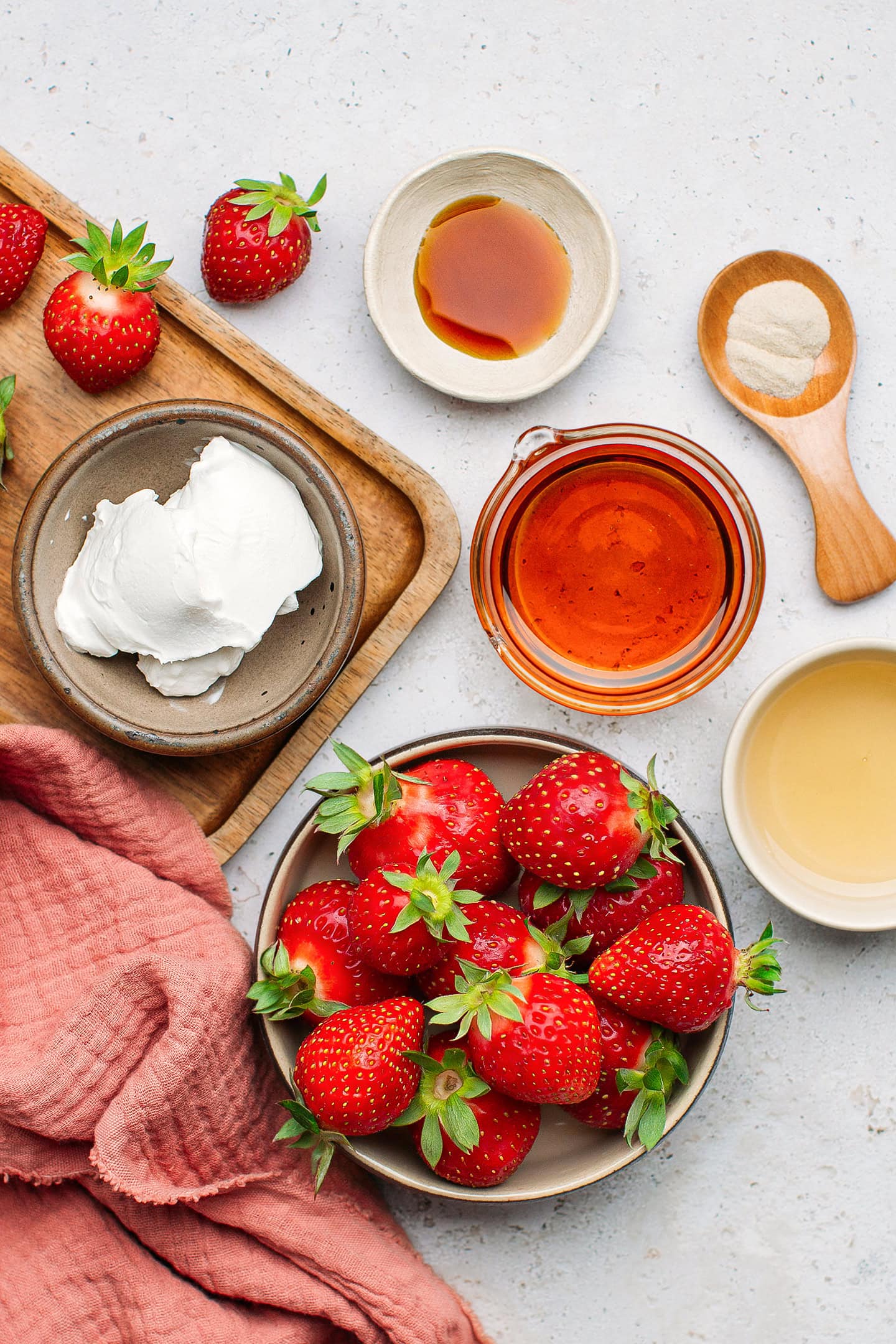 🍓 How to Make Vegan Strawberry Mousse
The base is strawberries (obviously!), maple syrup to sweeten, and vanilla extract. You can use seeds from one vanilla bean if you prefer; the mousse will pack even more vanilla flavor.
Important tip: Use the best strawberries you can find. Their sweetness and flavor will affect A LOT the end result. It can go from meh to delicious. I haven't tried frozen ones, so let me know if you do! I did try with (frozen) raspberries though, and it was just as delicious! So if you are more of a fan of raspberries, use them instead of strawberries.
You start by making a simple strawberry juice by blending the ingredients together until smooth. Then set aside while you prepare the rest.
The not-so-secret ingredient that gives the mousses their light and fluffy texture is aquafaba. You know, that yellowish liquid that comes in cans of cooked chickpeas. I told you I used a lot of strawberries while testing this recipe. Well, I also used a lot of aquafaba. Meaning I have enough chickpeas to make hummus for the rest of the year.
Anyway, the problem with aquafaba is that it tends to collapse very quickly if you don't add something to harden it. When you are making chocolate mousse, the chocolate helps firm up everything, but to make fruit mousse, it's a different story. I had to rely on coconut cream + agar to get a light and fluffy texture that is perfectly soft yet keeps its shape well.
Do not omit the agar. It's an essential ingredient to this recipe as it hardens the mousse and prevents the strawberry juice from separating from the aquafaba. I don't have any substitute to recommend for the agar, maybe pectin would work, but I haven't tried it yet.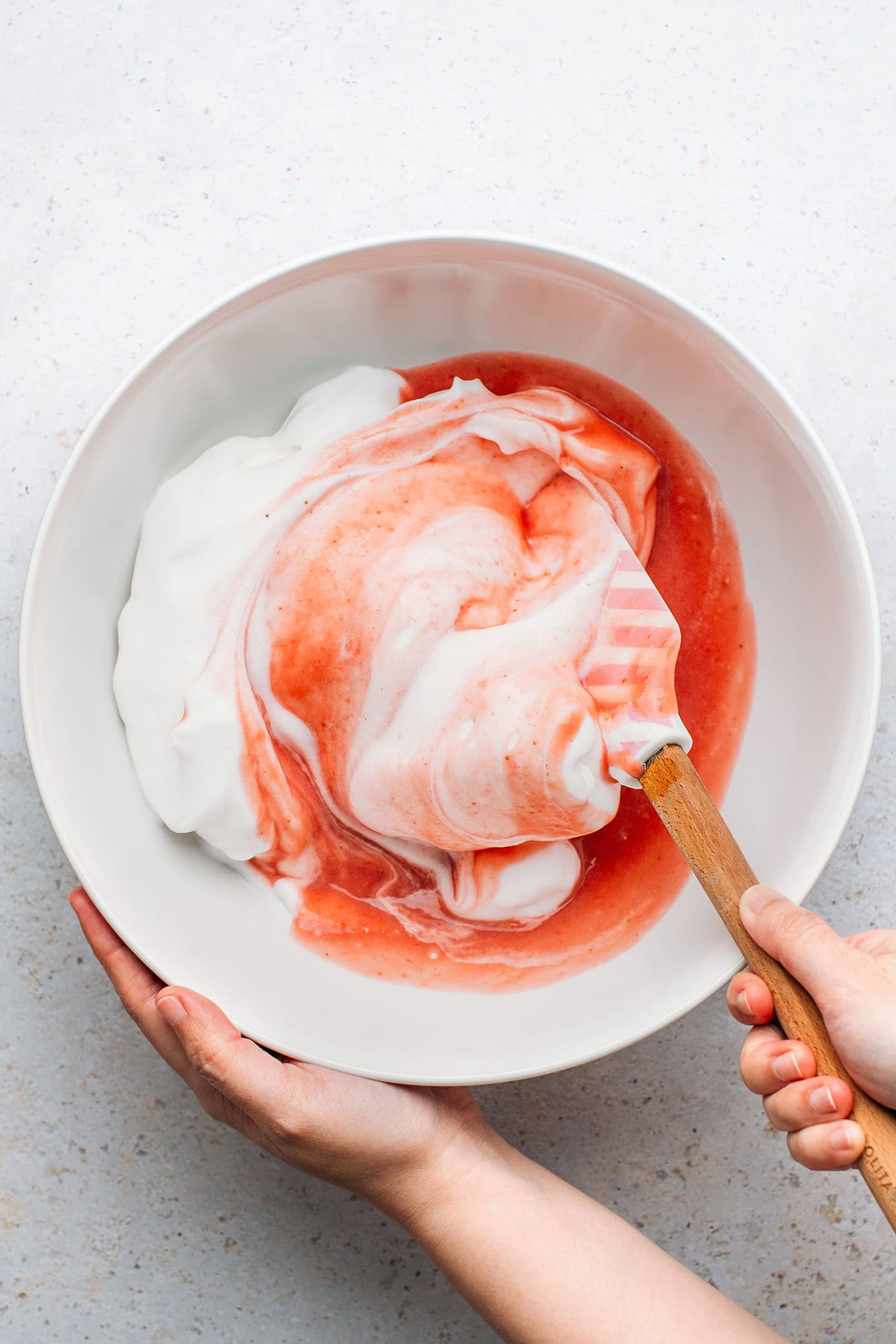 To activate the agar, you will heat it with the coconut cream until it reaches a boil. Next, stir in the strawberry juice and mix until well combined. I don't heat the strawberry juice with the coconut cream because I found out strawberries lose some flavor when heated. Then you will have to let it cool for about 20 minutes, you don't want it to be too hot, or it will make the aquafaba collapse.
While the coconut strawberry juice is cooling down, whip the aquafaba to firm peaks using an electric whisker. This step can take up to 5 minutes.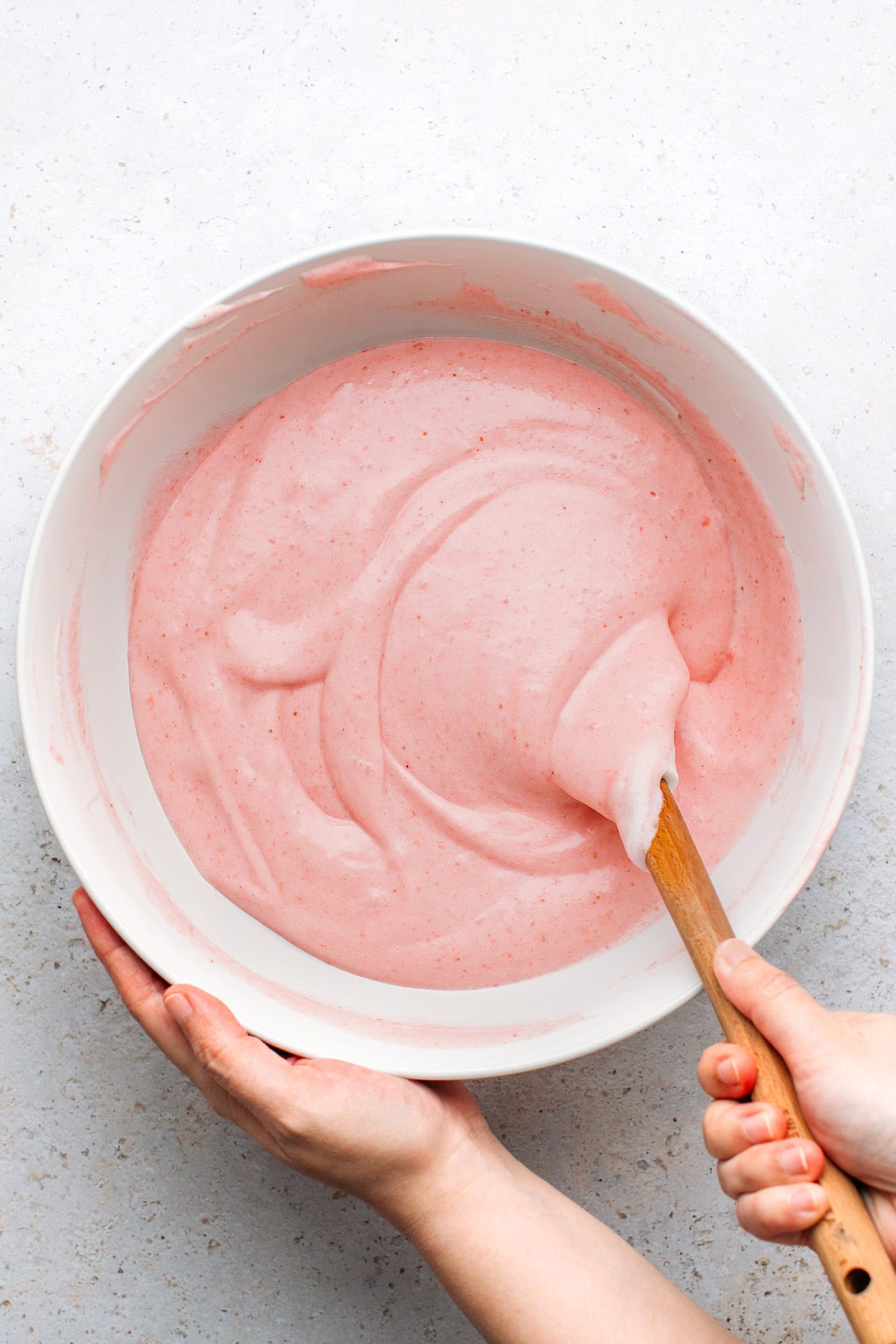 Finally, fold in half of the coconut strawberry syrup into the aquafaba and carefully mix with a spatula. Once fully combined, pour in the rest of the juice and fold again until combined. Transfer to jars and place in the refrigerator for at least 3 hours. The mousse will firm up as it cools.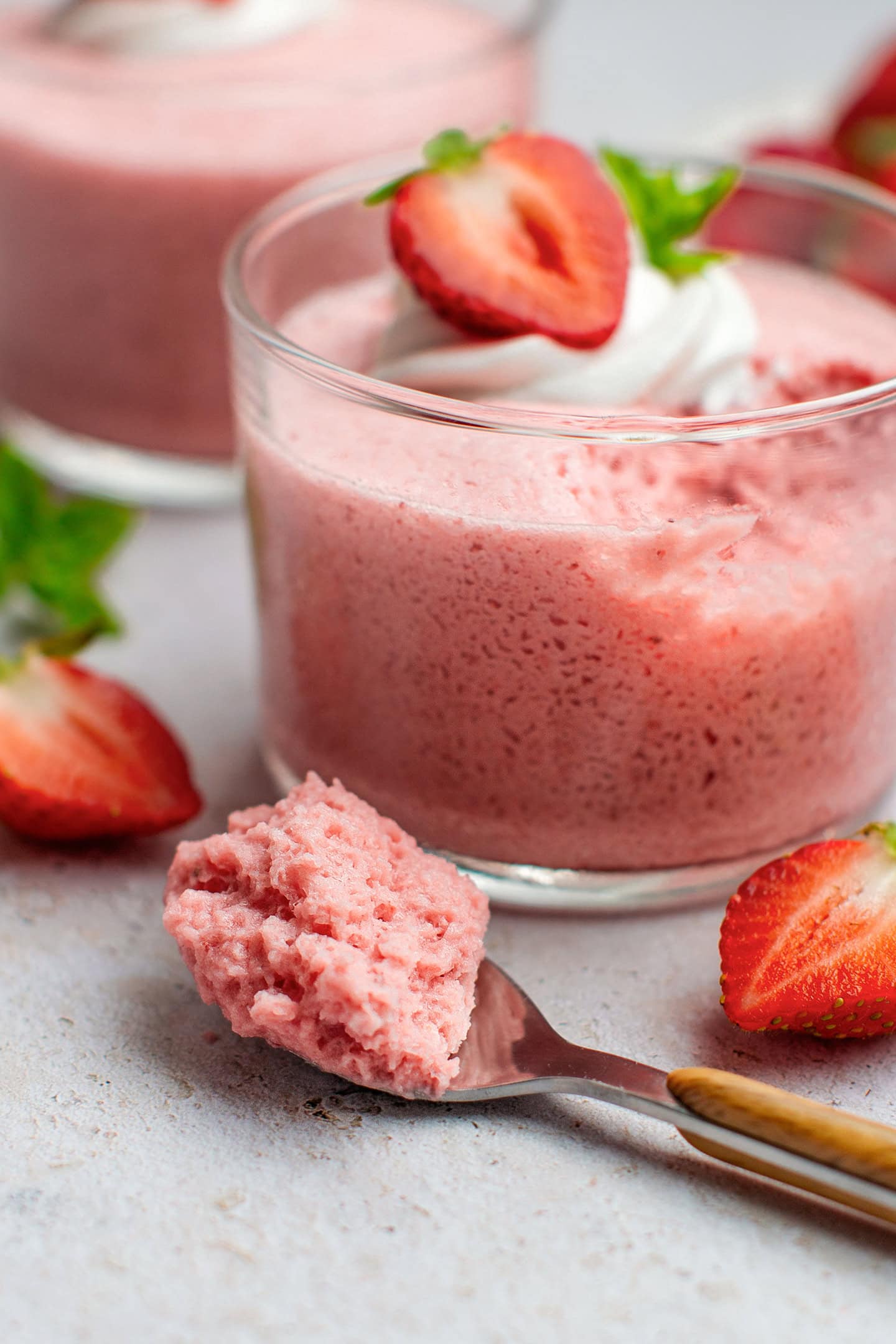 These mousses have a very light pink color. If you want them to be more colorful, I guess you could stir in half a teaspoon of beetroot powder when blending the strawberries. I didn't use any as I thought it looked more natural this way. You could also use half strawberries and half raspberries, I tried it, and the color was a bit pinker.
💬 FAQ
Can I use other berries to make this recipe? Of course! I'm sure raspberries, blueberries, or even cherries would taste delicious!
Can I omit the coconut cream? Unfortunately not, the coconut cream not only helps the mousse firm up once chilled, but it also brings some creaminess.
How long do these strawberry mousses keep? These mousses will keep for up to 3 days in the refrigerator.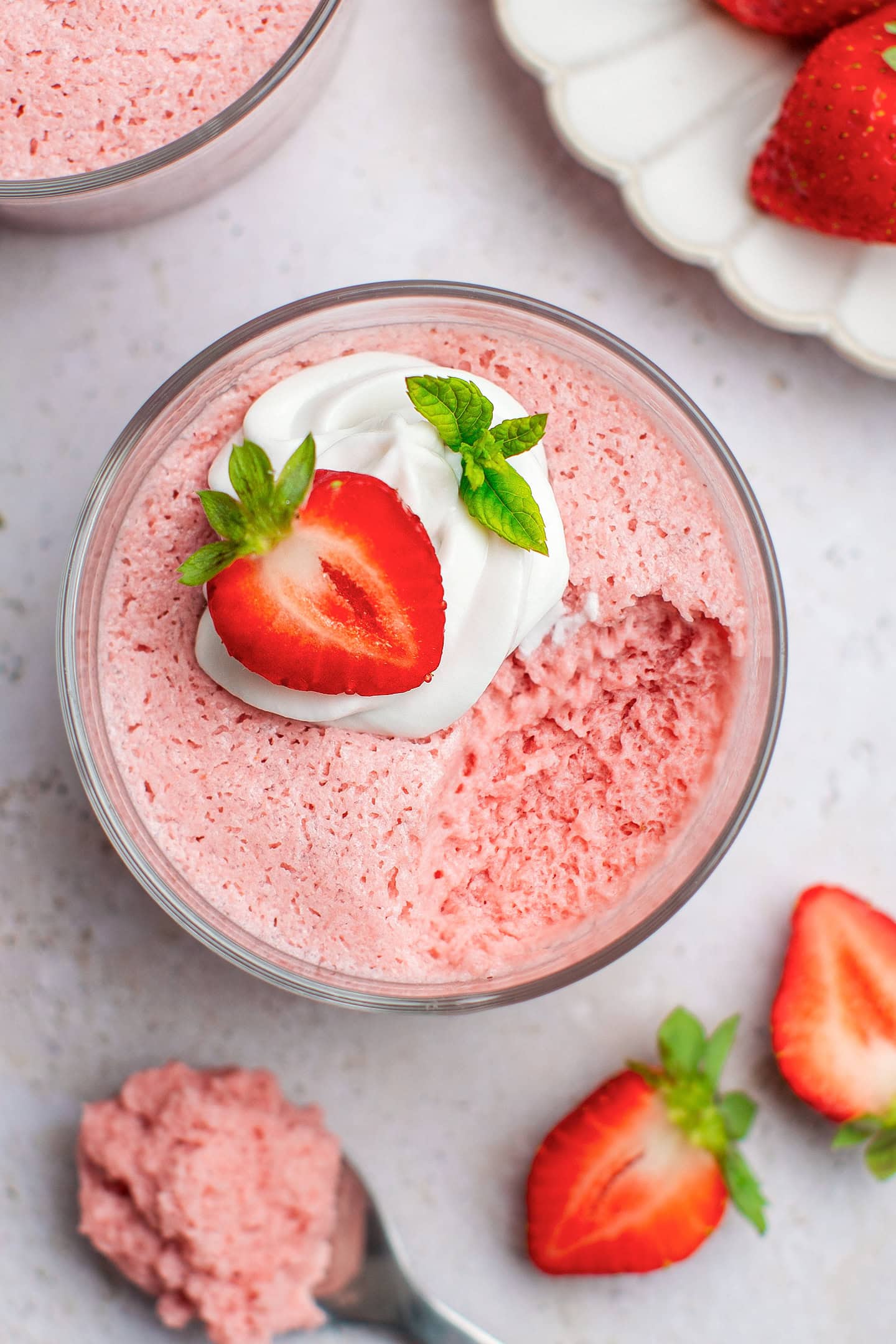 These aquafaba mousses are fluffy, light, and not too sweet. It makes the perfect summer dessert, plus it's very low in calories! Yep, it's good for your waistline!
🍫 More Vegan Mousse Recipes
Let me know in the comments if you try this recipe!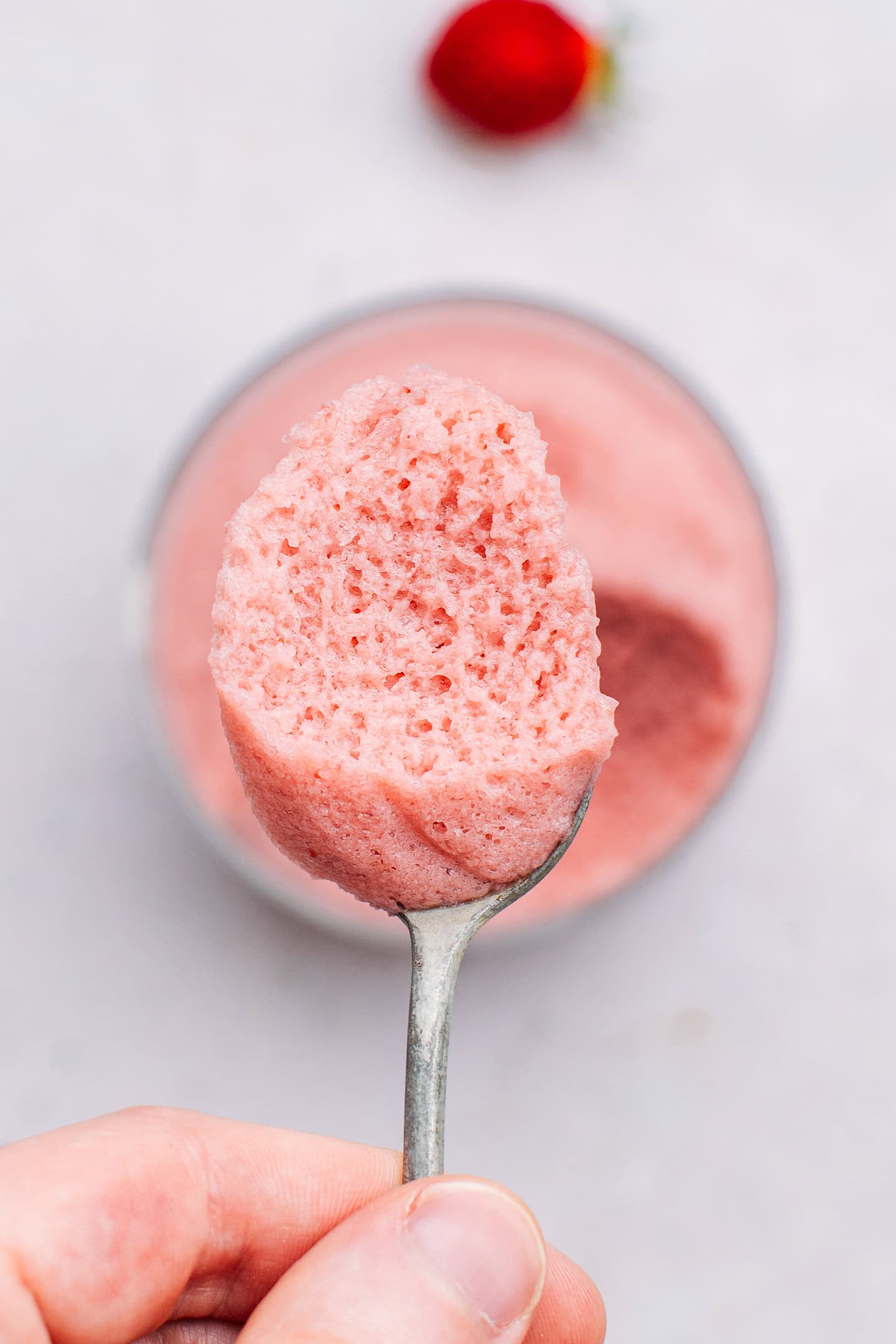 📖 Recipe
Strawberry Aquafaba Mousse
7-ingredient strawberry mousses that are light and fluffy! Naturally sweetened and gluten-free, it's the perfect summer dessert!
Ingredients
7

ounces

fresh strawberries

(the sweetest you can find)

¼

cup

maple syrup

½

teaspoon

vanilla extract

or seeds from one vanilla bean

⅔

cup

coconut cream*

1

tablespoon

water

¾

teaspoon

agar powder

⅓

cup

aquafaba

(from one 15-ounce can chickpeas)

toppings: coconut cream, chocolate shavings, fresh strawberries
Instructions
Place the strawberries, maple syrup, and vanilla extract in a blender. Blend on high speed until smooth. You should get a thin juice. Transfer to a mixing bowl and set aside.

Add the coconut cream to a medium size saucepan. In a small bowl, dissolve the agar with the water and add to the saucepan. Heat over medium heat, whisking regularly until it just starts to boil. Remove from heat as soon as it starts boiling.

Pour the hot coconut cream into the bowl containing the strawberry juice and stir to combine. Let cool for 20-25 minutes or until just warm. It should not be hot.

If you haven't already, drain the chickpeas from the can and reserve the juice (aquafaba). Place the aquafaba into a large mixing bowl. Using an electric whisk, whip the aquafaba on high speed until firm peak forms, about 5 minutes. You should be able to turn the bowl upside down without the aquafaba losing its shape. Don't be scared to whip for at least 5 minutes.

Pour half of the coconut strawberry juice into the bowl and carefully fold it into the aquafaba using a spatula. Once fully combined, pour the rest of the strawberry juice and fold again until the juice is completely integrated into the aquafaba. Try not to overmix. Stop as soon as it's combined and no juice remains at the bottom of the bowl. The batter should be very light and fluffy.

Use a spoon to transfer the strawberry mousse to jars. Cover with plastic film and refrigerate for at least 3 hours.

Before serving, top with a dollop of coconut cream and chocolate shavings! The mousses will keep for up to 3 days in the refrigerator.
Notes
*The top and hard part from a can of chilled coconut milk.
I also tried this recipe with raspberries only, and half strawberries and half raspberries, both worked great. If making raspberry mousses, I recommend straining the juice to remove the seeds. Make sure you have 7 ounces of juice after straining.
These mousses are not too sweet, so if you have a sweet tooth I would recommend adding 1-2 tablespoon of sugar, not maple syrup as more liquid might change the texture of the mousses.
Nutrition
Serving:
1
Jar
|
Calories:
114
kcal
|
Carbohydrates:
12.9
g
|
Protein:
1
g
|
Fat:
7.3
g
|
Fiber:
1.5
g
|
Sugar:
10.2
g
Did you make this recipe?
Tag @fullofplants on Instagram and hashtag it #fullofplants