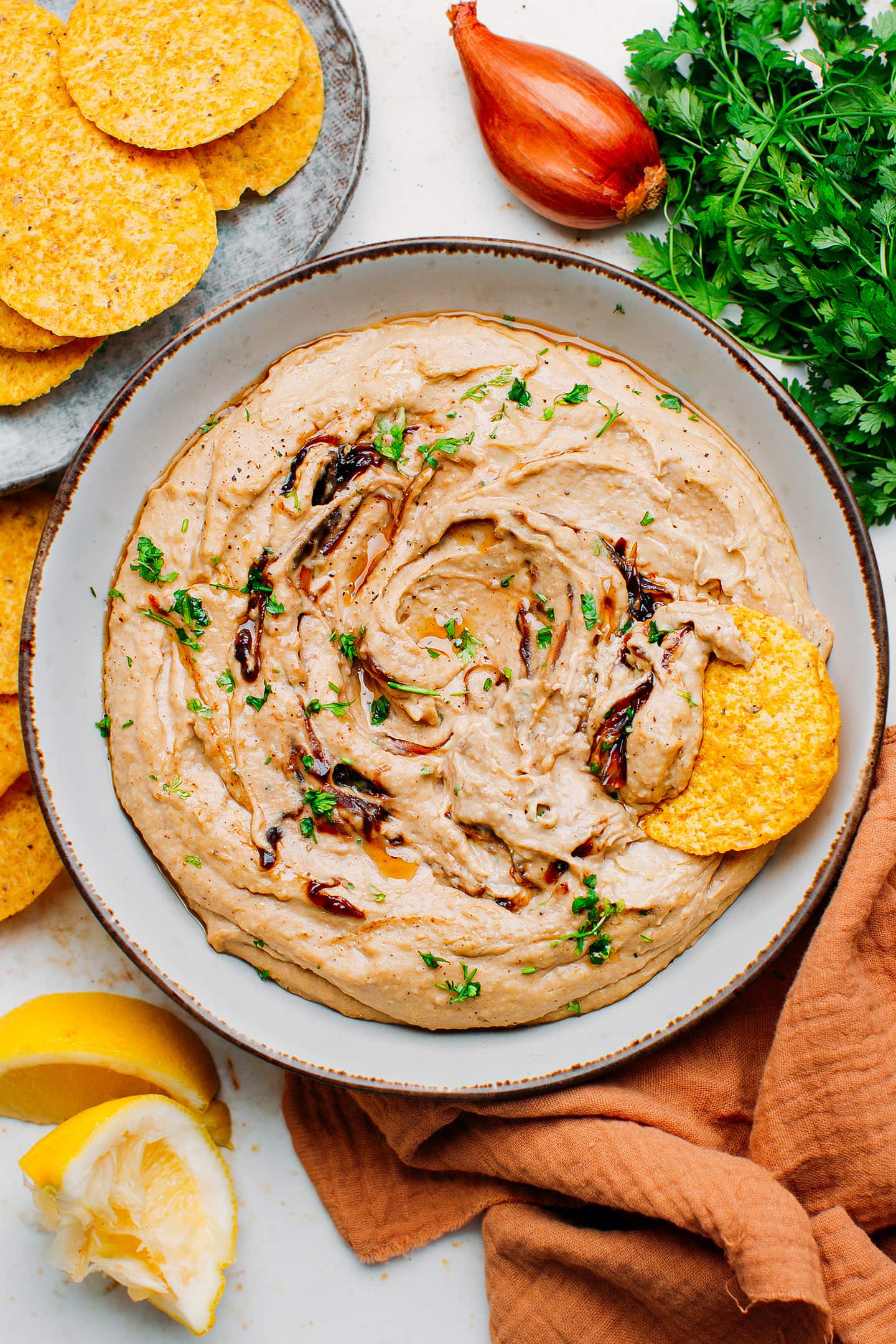 Caramelized shallots make the best hummus I ever tasted, believe me.
When combined with tahini, chickpeas, lemon juice and garlic, caramelized shallots add a deeper, more complex flavor, as well as a subtle sweetness. Just to prove you this hummus is seriously addicting: my father eats it by the spoonful, no carrot sticks, no chips, no pita bread. The hardcore way.
Making hummus from scratch is really worth it, when I say from scratch I mean by cooking the garbanzo beans yourself. I used to make hummus from canned chickpeas and I still do when I don't have much time, but by starting with dried chickpeas, the hummus has a nuttier and more pleasant taste.
I try to always have hummus in my fridge, it's great for a light dinner, a quick snack or just as an appetizer. It can also be used as a replacement for mayonnaise, delicious in sandwiches or with roasted vegetables. You got it, hummus is very versatile.
Hummus is also really heathy, it is loaded with protein and healthy fats. That makes it, in my opinion, the king of dips.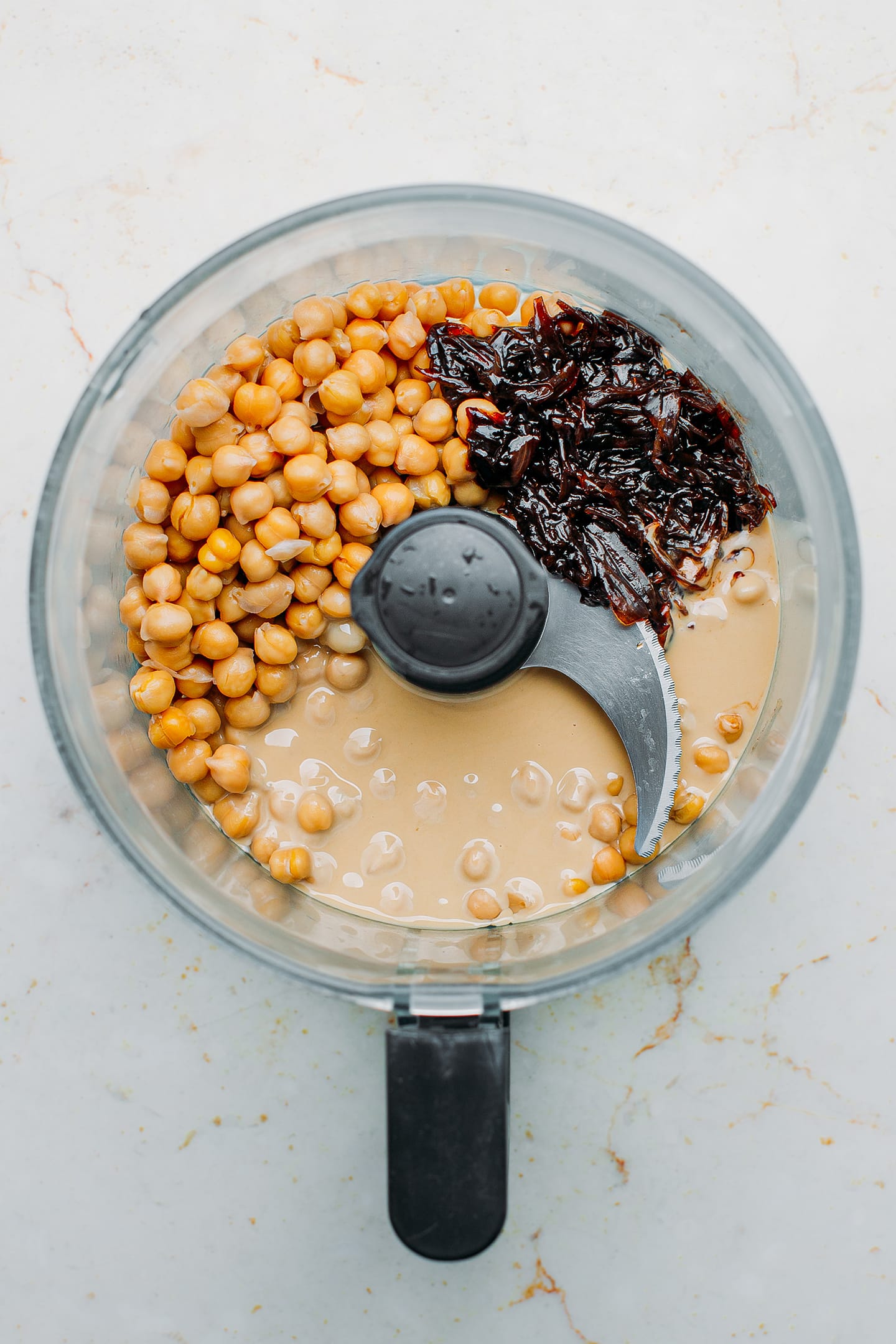 The recipe is really simple, you soak the chickpeas overnight and cook them in the morning. While the chickpeas are cooking, you mince the shallots and let them cook really slowly for about 40 minutes. Then all you have to do is put everything in the food processor and you're done! I recommend you peel the chickpeas, it's not mandatory but this extra step makes the hummus a lot smoother and easier to digest.
You can serve it at room temperature but I prefer it cold. It tastes even better after 1 or 2 days in the fridge.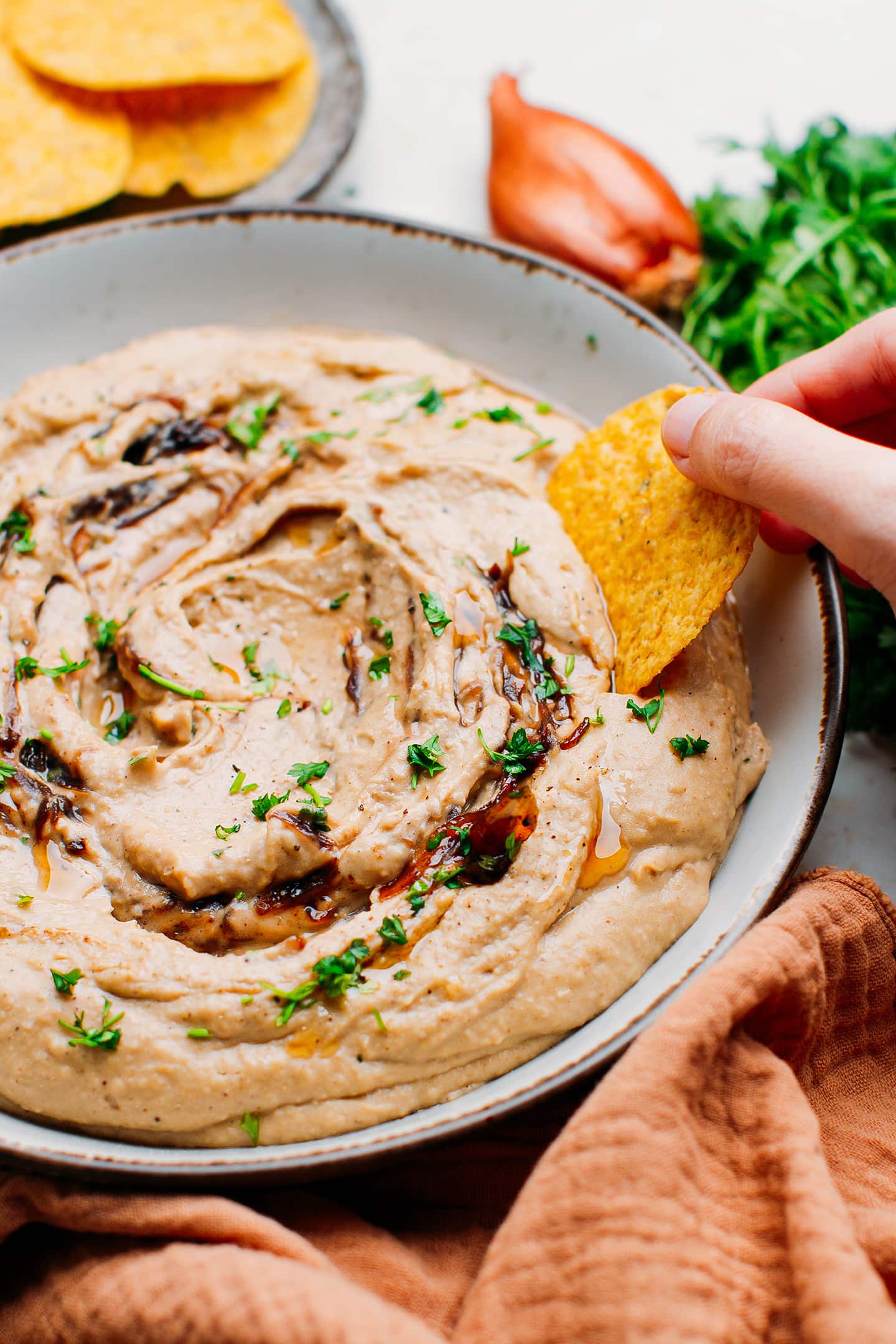 Serve with tortilla chips, carrot sticks, celery, cucumber or sweet potato chips (my favorite!). This hummus will be without a doubt a crowd-pleasing dip.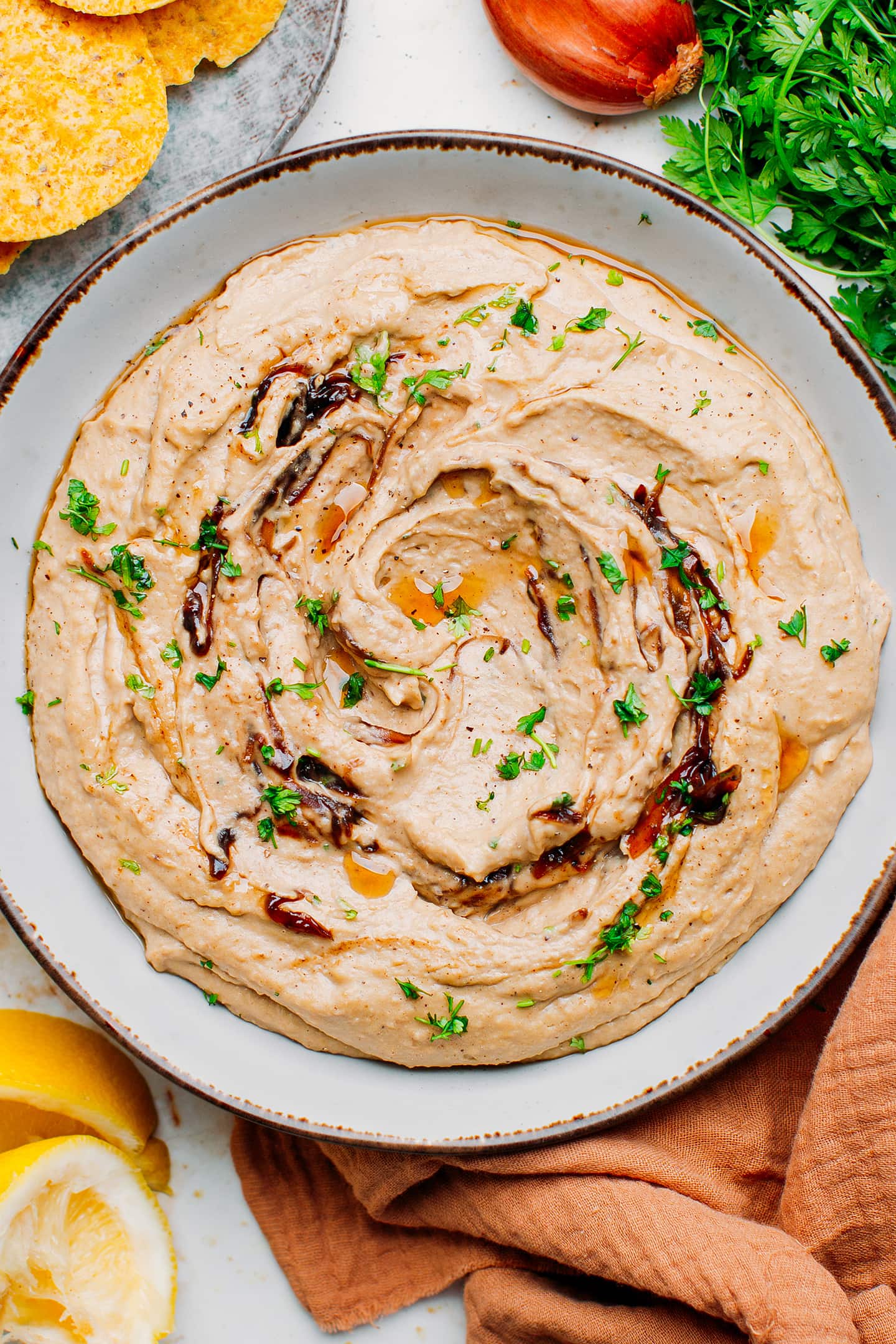 Caramelized Shallots Hummus
Sightly sweet, this hummus has a rich caramelized flavor. A flavorful dip you can serve as an appetizer.
Ingredients
Caramelized Shallots
6-8

shallots

finely minced

¼

cup

white wine

2

tablespoon

maple syrup

2

tablespoon

balsamic vinegar

¼

teaspoon

cinnamon

¼

teaspoon

ginger

¼

teaspoon

nutmeg

¼

teaspoon

sea salt

⅛

teaspoon

ground black pepper

1

tablespoon

coconut oil
Hummus
1

cup

dried chickpeas

1 and ¼

teaspoon

baking soda

½

cup

tahini

3

tablespoon

lemon juice

1

clove

garlic

3

tablespoon

water
Instructions
Caramelized Shallots
Heat the coconut oil in a small pan over low-medium heat.

Add the minced shallots, salt and maple syrup and cook for about 10 minutes, stirring occasionally.

When shallots are softened, add white wine, spices and balsamic vinegar.

Cover, lower the heat to low. Cook for about 45 minutes, or until no liquid remains.

Remove from heat and set aside.
Hummus
Soak the dried chickpeas with ¼ teaspoon baking soda in cold water for at least 8 hours.

Rinse with fresh water.

Add the chickpeas and ½ teaspoon baking soda to a cooking pot. Cover with water (about 2-3 times the volume of chickpeas).

Bring to a boil on high heat and let simmer cover over medium-low heat for about 1 hour and a half.

Try crushing a chickpea between your fingers, it should be soft and smooth.

At this stage, you can peel the chickpeas if you want to get a smoother hummus. Just rub the chickpeas between your fingers, the skin should come off easily.

Place tahini, lemon juice and garlic in the bowl of a food processor. Process for 30 seconds.

Add the chickpeas and caramelized shallots. Process for about 1 minute.

Add the water and process for another 30 seconds until smooth and creamy. Add more water if needed.

Top with roasted sesame seeds and enjoy with pita bread, tortillas chips, carrot slices, etc.

Store in a airtight container in the refrigerator for up to one week.
Nutrition
Serving:
1
serving
Calories:
445
kcal
Carbohydrates:
47
g
Protein:
15.3
g
Fat:
22.7
g
Fiber:
11.6
g
Sugar:
11.9
g
DID YOU MAKE THIS RECIPE?
Tag @fullofplants on Instagram and hashtag it #fullofplants