Masala chickpeas with black quinoa, sautéed spinach, and crushed cashews, can it get any better?
I'm a huge fan of buddha bowls, what I love the most is the fact that it's never the same, you can change the toppings, the dressing, add nuts or crunchy veggies, it's incredibly versatile. The masala sauce is inspired by my veggie balls in masala sauce recipe, super creamy, lightly sweet and spicy without being too hot!
I didn't add a ton of toppings to these bowls because 1) There is already enough flavor and texture going on with the masala chickpeas, cashews and spinach, and 2) I wanted the recipe to be easy and ready quickly so I can make this at the last minute (well, almost).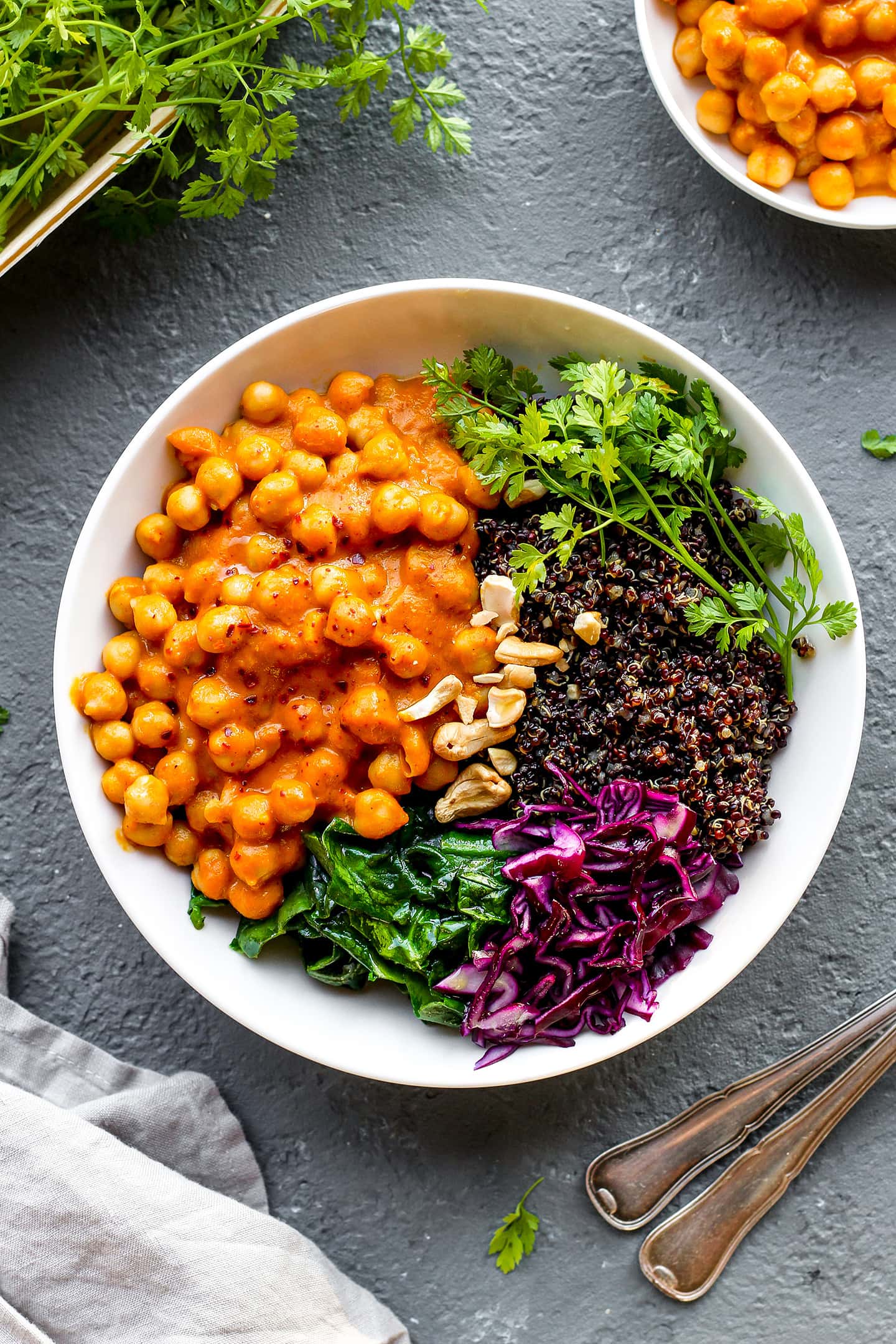 The process to make the sauce is about the same as making a soup, you sauté the onions with garlic and ginger, then add the veggies, spices and cover with water. When the vegetables are soft it's time to blend everything into a thick and creamy sauce.
Chickpeas are then added to the skillet and coated with the sauce.
For the grains, I used black quinoa, which is a little bit crunchier than white quinoa and has an earthier taste. If you prefer you can use white quinoa, brown rice or even buckwheat groats.
I topped these bowls with crushed cashews and red cabbage to add crunchiness.
These bowls are very easy to make, it takes about 45 minutes from start to finish to prepare and they make a filling, nutritious and (obviously) delicious main dish. It is spicy, so creamy, and delicious!
If you are into Indian food, you might like these Veggie Balls in Creamy Masala Sauce, Instant Pot Smoky Tofu Biryani, or this Fire Roasted Eggplant Dal!
As always, let me know in the comments if you try this recipe!
Print
Masala Chickpea Buddha Bowl
Chickpeas in a delightful masala sauce with garlic sautéed spinach and quinoa. Quick, healthy and packed with protein.
Masala Chickpeas
2 tbsp

coconut oil (or olive oil)

2

onions, sliced

1

clove of garlic, minced

1

medium carrot, chopped into

2

-inch pieces

1

red bell pepper, chopped

1 tsp

grated ginger

1 tsp

salt

1 tsp

of each: garam masala, turmeric, cumin, coriander, paprika

2

and ½ cup water

1

15-oz can cooked chickpeas, drained and rinced
Quinoa
½ cup

quinoa (I used black quinoa)

1

and ¼ cup water

1 tbsp

soy sauce
Spinach
3 cups

chopped spinach (rinsed)

1

clove of garlic
salt, pepper
Toppings (optional)
1 cup

red cabbage, finely shredded

¼ cup

slightly crushed roasted cashews
fresh parsley, or coriander if you like it
crushed red pepper
Instructions
Masala chickpeas
Heat the coconut oil in a large skillet over medium heat.
Once the oil is hot, add the onions, garlic and grated ginger and cook on medium heat until the onions are soft and translucent, about 5-7 minutes.
Add the carrot and red bell pepper, continue to cook for another 2 minutes. Add spices and salt and cover with the water.
Bring to a boil, cover and reduce heat. Let simmer for about 35 minutes, or until vegetables are tender. In the meantime you can start the quinoa.
Remove from heat and process in a blender until silky smooth. Pour the sauce back into the skillet and stir in the chickpeas. Cover to keep warm.
Quinoa
Combine the quinoa with the water and soy sauce in a medium saucepan. Bring to a boil, reduce heat and let simmer for about 25 minutes, or until the quinoa is cooked and almost no liquid remains.
Spinach
Heat some olive oil in a skillet, add the garlic and sauté for 2-3 minutes. Add spinach and cook for 5-7 minutes until the spinach is wilted. Season with salt and pepper.
Bowls
Divide the quinoa into 3 serving bowls, add spinach and masala chickpeas on top. Top with crushed cashews, red cabbage and fresh herbs.
Notes
You can substitute chickpeas for black or navy beans, or even lentils.
Red cabbage is optional, if using you can blanch it in boiling water for about 2 minutes to make it more tender.
Black quinoa can be sub for white quinoa or brown rice.
Nutrition
Serving Size:

1

Calories:

355

Sugar:

9.6g

Fat:

12.9g

Carbohydrates:

50.5g

Fiber:

10.6g

Protein:

12.5g