Fire-roasted eggplants and red lentils are the foundation of this flavorful dal infused with ginger, garlic, and spices. This Indian-inspired roasted eggplant dal is vegan, gluten-free, and easy to make! Serve with white rice, naan, or bread!
There are two dishes I love 1) Baba ganoush and 2) Red lentil dal. One is from the Eastern Mediterranean, while the other is from India.
I figured, why not mix them together to create a smoky eggplant red lentil soup?!
📘 What is a Dal
A dal is an Indian soup made with pulses like lentils, chickpeas, or beans and flavored with spices. Dal also refers to the pulses themselves.
This dal recipe is actually a combination of Baingan Bharta, which is a mashed eggplant dish, and Masoor Daal, which is a red lentil soup. While this recipe is not authentic or traditional, it's definitely a must-try!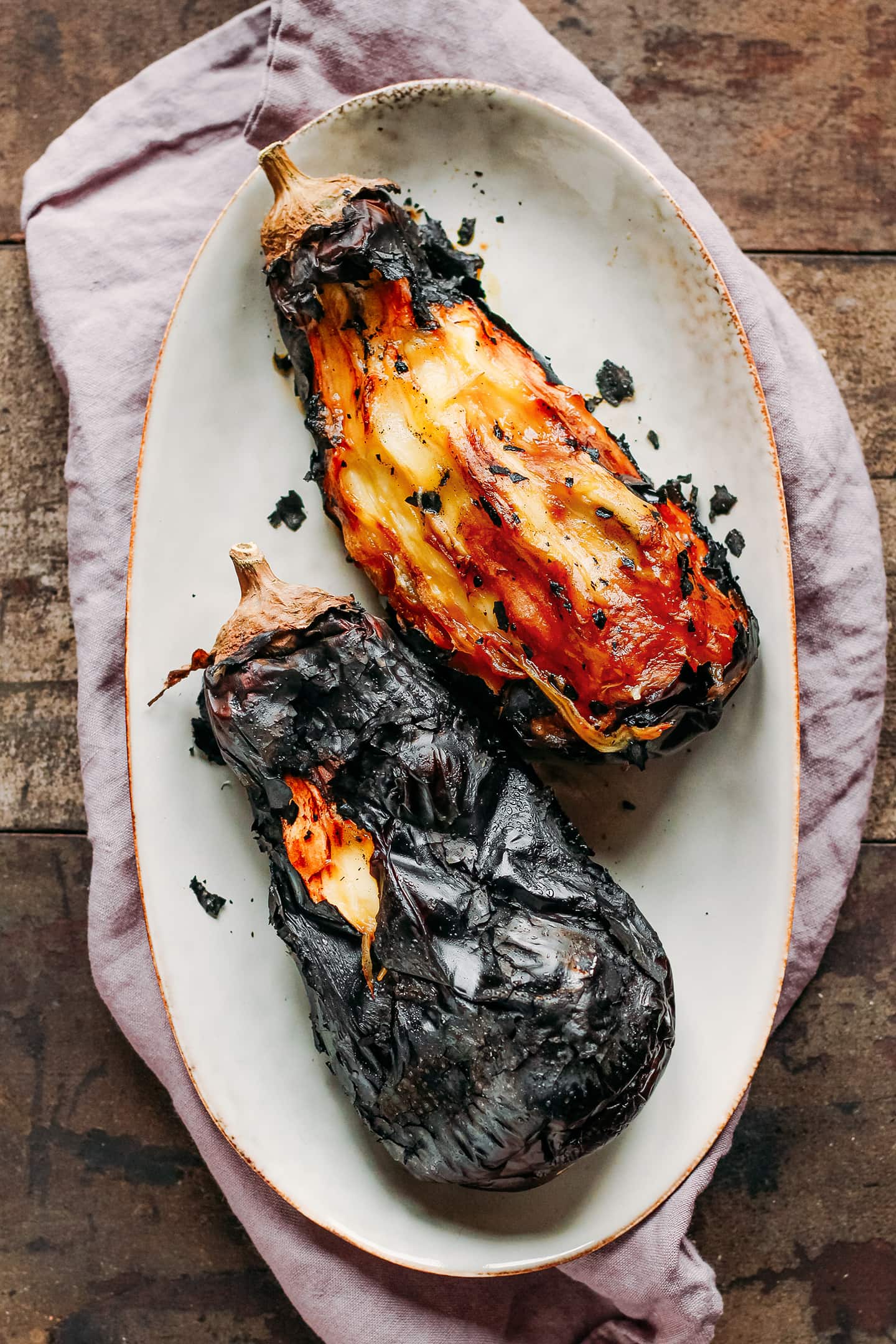 🥣 How to Make Roasted Eggplant Dal
Eggplants
Preparing the eggplants can be done in two ways: on a gas burner or in the oven. My preference goes for the first method; cooking the eggplants directly over the open flame brings a deep smoky flavor you don't get by baking in an oven. But since I know many of you don't have access to a gas burner or grill, I'm also sharing the recipe to prepare the eggplants in the oven. It's not as smoky, but still delicious!
The gas burner method consists of grilling the eggplants until they become charred, almost burnt on the outside. The smoke will penetrate the flesh and bring a ton of flavor.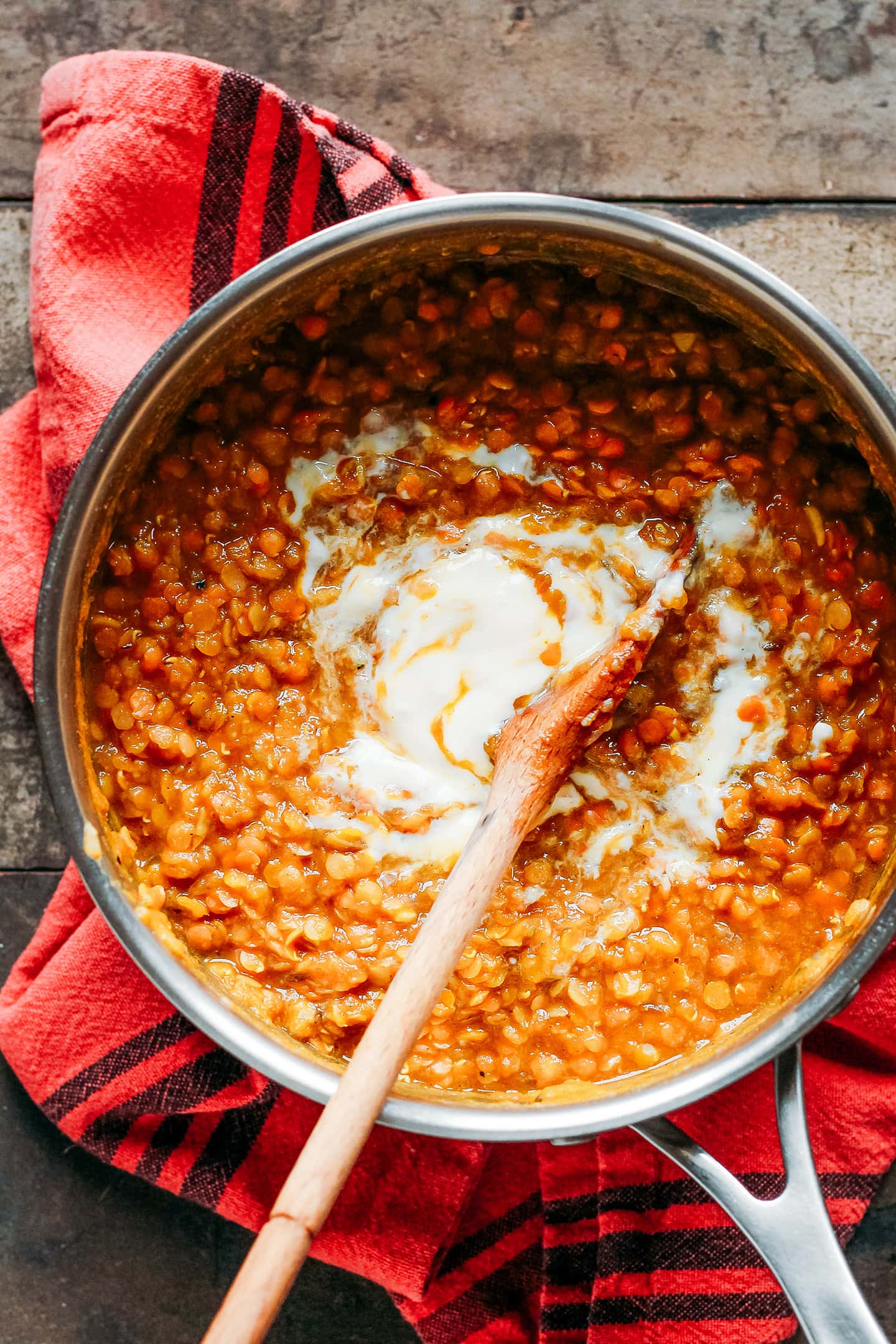 How to Roast Eggplants in the Oven
If you don't have a gas burner, preheat your oven to 400°F. Place the eggplants on a baking sheet lined with parchment paper and bake for about 45 minutes. Turn on the grill and bake for another 7-10 minutes, or until the eggplants are shrunken and look almost burnt. Then, let them cool until just warm before peeling them.
Once your eggplants are charred, let them cool before peeling them. It's okay if there is still a piece of skin here and there; you won't taste it. Once this is done, you can mash them using a fork until you get a purée, or if you are lazy, just purée in a food processor.
Lentil Dal
For the dal, I went with red lentils. They cook very quickly, about 20 minutes, and become very soft and creamy as opposed to green or brown lentils.
Before cooking the lentil, we make a tadka. It's an Indian technique where garlic, ginger, and spices are fried in some oil to release their flavors. Then add the lentils, eggplant purée, and water and cook for 20-25 minutes uncovered. The eggplant purée will infuse the red lentils with a nice smoky flavor.
This roasted eggplant dal is smoky, flavorsome, and super creamy. Plus, it's healthy and loaded with protein. Each serving packs 16g of protein for less than 300 calories!
🍆 More Eggplant Recipes
Let me know in the comments if you try this recipe!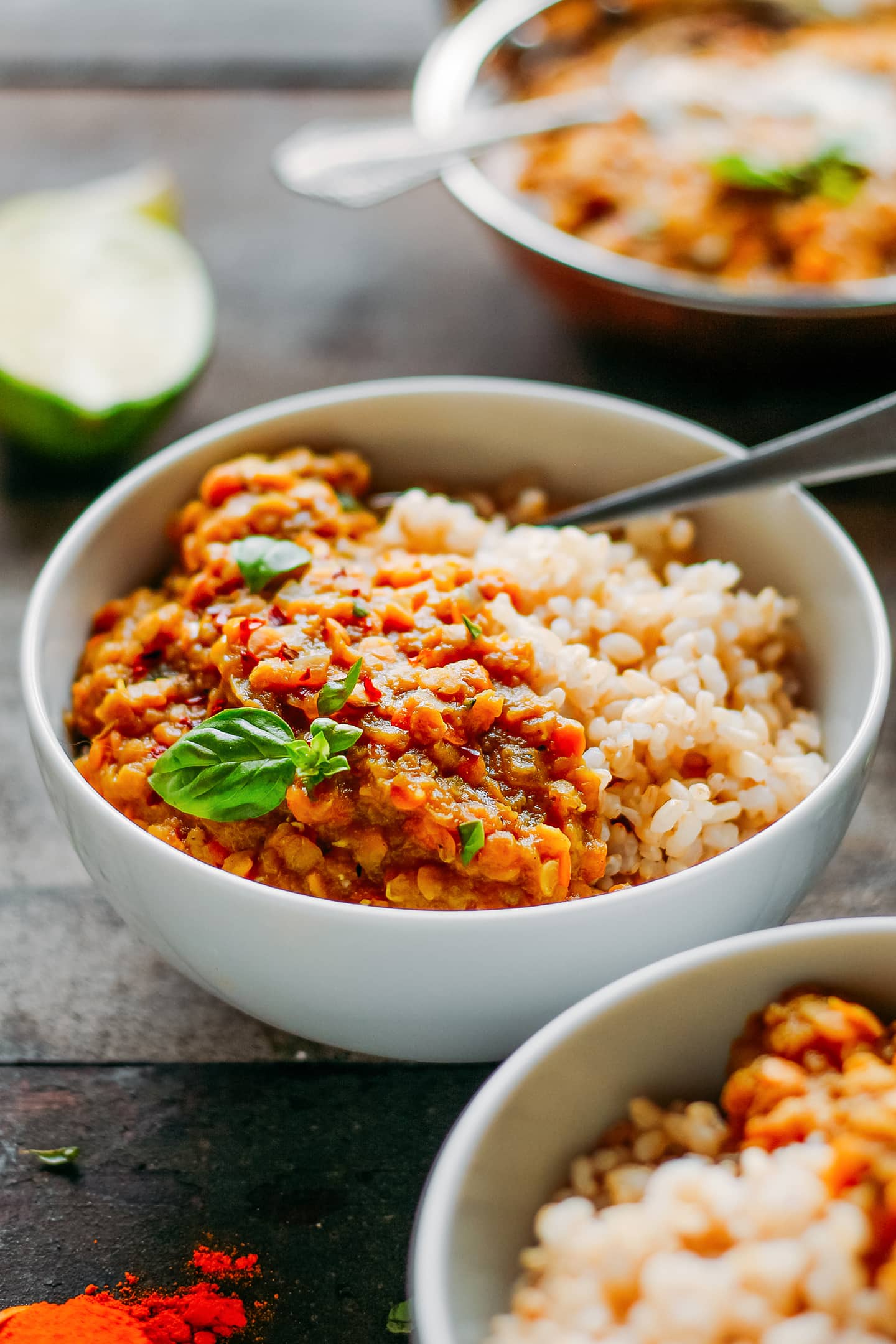 Recipe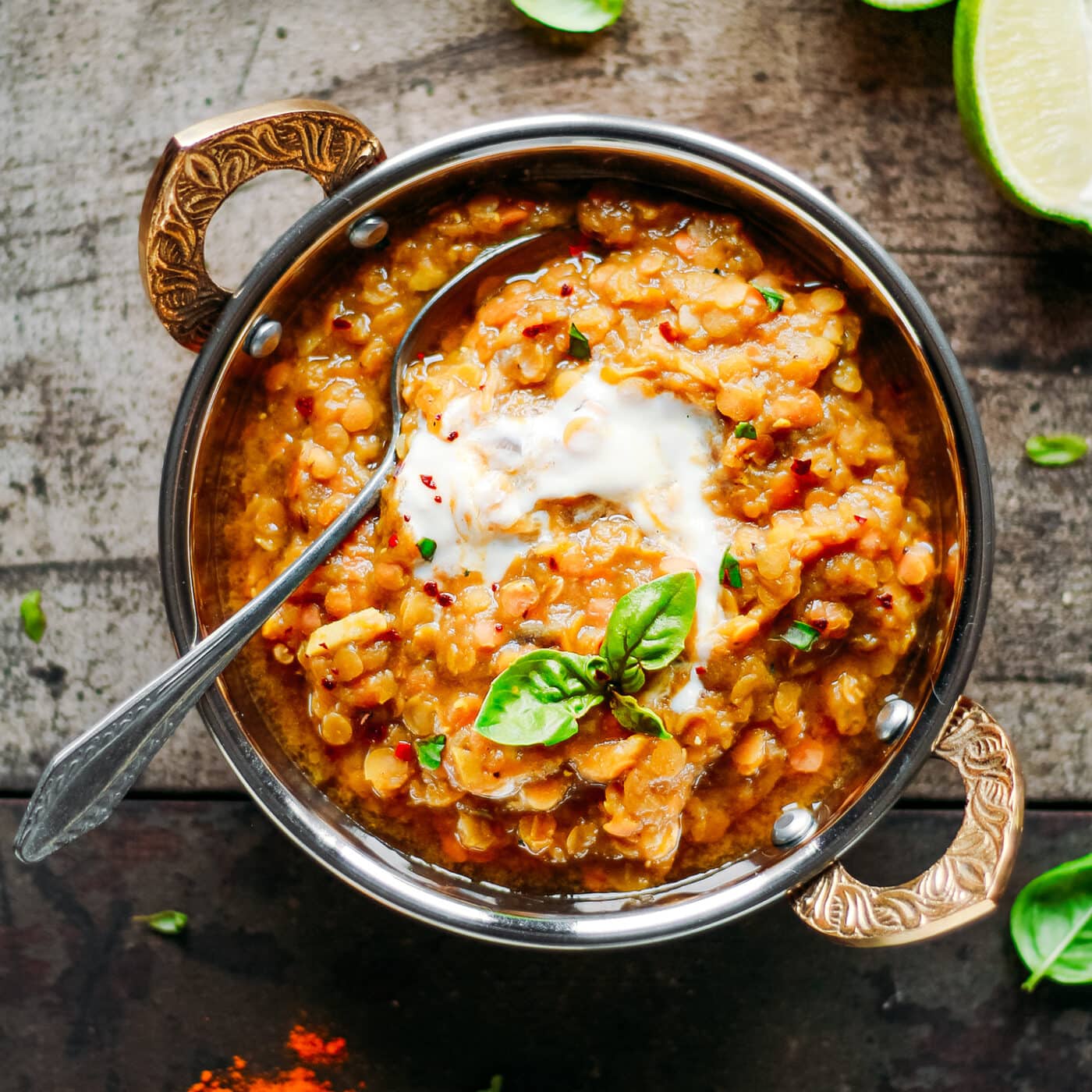 Fire Roasted Eggplant Dal
Smoky lentil dal with fire-roasted eggplants, garlic, ginger, and spices. Nutritious, healthy, and flavorsome!
Ingredients
2

large eggplants

1

tbsp

oil

1

onion

diced

2

cloves of

garlic

minced

1

tsp

freshly grated ginger

1

tsp

salt

1

tsp

ground coriander

1/2

tsp

cumin seeds

1/2

tsp

ground fenugreek

1/2

tsp

smoked paprika

1/2

tsp

ground chili

1/4

tsp

turmeric

1

tbsp

tomato paste

1

cup

red lentils

3

cups

water

for topping: dairy-free yogurt or coconut cream
Instructions
Start by preparing the eggplants: Wash the eggplants and prick them several times with a thin knife; this step is essential to let the smoke pass through the flesh. Heat two gas burners to medium-high heat. Place the eggplants directly over the open flame, and cook for 5-6 minutes. Turn the eggplants using spoons or gloves (be careful not to burn yourself), and cook for another 5-6 minutes.

Continue cooking, turning occasionally until the eggplants look burnt, the skin should appear dried and cracked, and the flesh should be very soft (see photos). This step took me about 25 minutes.

Transfer the charred eggplants to a baking dish and cover with foil. Let cool for 20 minutes or until cool enough to handle. Peel the eggplants and discard the black skin; it's okay if there are still a few pieces of skin here and there.

Place the eggplant flesh in a food processor and process until you get a purée. Alternatively, you can use a fork to mash the eggplant flesh. Set the eggplant purée aside.

Heat the oil in a large saucepan over medium heat. Once hot, add onion, garlic, and ginger. Cook until the onions are soft. Add salt, coriander, cumin, fenugreek, smoked paprika, chili, and turmeric. Stir and cook for 2-3 minutes.

Add the tomato paste, red lentils, water, and eggplant purée to the saucepan. Bring to a boil, then lower the heat and let simmer partially covered for about 25 minutes or until lentils are cooked. Taste and adjust seasonings if needed.

Serve over a bed of rice, quinoa, or with naan. Before serving, you can stir in a tablespoon of coconut cream, or dairy-free yogurt and top with fresh basil.
Notes
If you don't have a gas burner, preheat oven to 400°F. Place the eggplants on a baking sheet lined with parchment paper and bake for about 45 minutes. Turn on the grill and bake for another 7-10 minutes, or until the eggplants are shrunken and look almost burnt. Then, follow step 2.
Nutrition
Serving:
1
serving
|
Calories:
291
kcal
|
Carbohydrates:
50.1
g
|
Protein:
16.2
g
|
Fat:
4.6
g
|
Fiber:
22.7
g
|
Sugar:
12.2
g
Did you make this recipe?
Tag @fullofplants on Instagram and hashtag it #fullofplants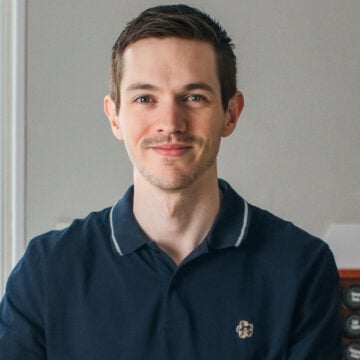 About the Author
Thomas Pagot is the founder, photographer, and recipe developer behind Full of Plants. He created the blog in 2016 as a personal cookbook for vegan recipes. Through years of recipe development, Thomas has successfully grown Full of Plants into a trusted resource for plant-based recipes.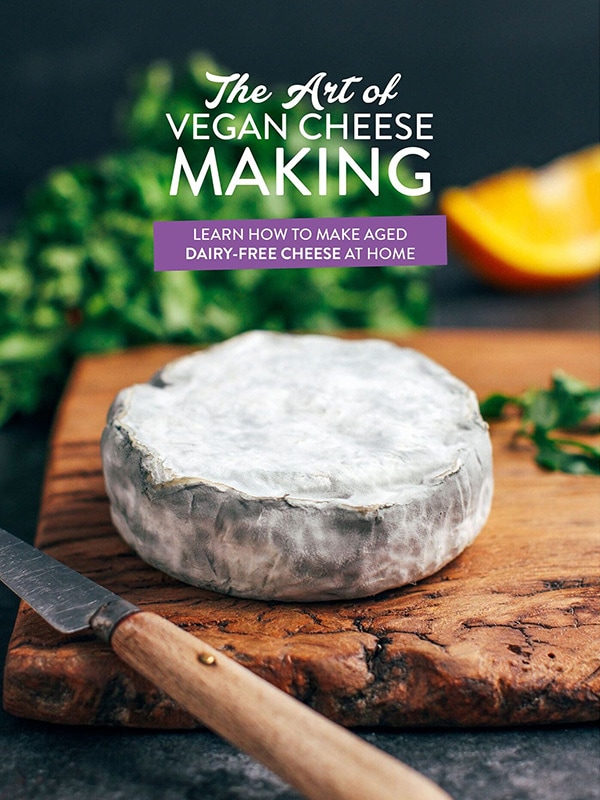 🧀 25 Mind-Blowing Vegan Cheese Recipes!
Sign up for the Full of Plants newsletter and you'll get new recipes delivered by email weekly, PLUS your FREE 100-page printable eBook!