These fire-roasted eggplants are incredibly rich and smoky! Served with a garlicky sauce and sautéed green onions. This grilled eggplant recipe will quickly become your favorite way to cook eggplants! Serve as a dip with bread or as a side with steamed white rice!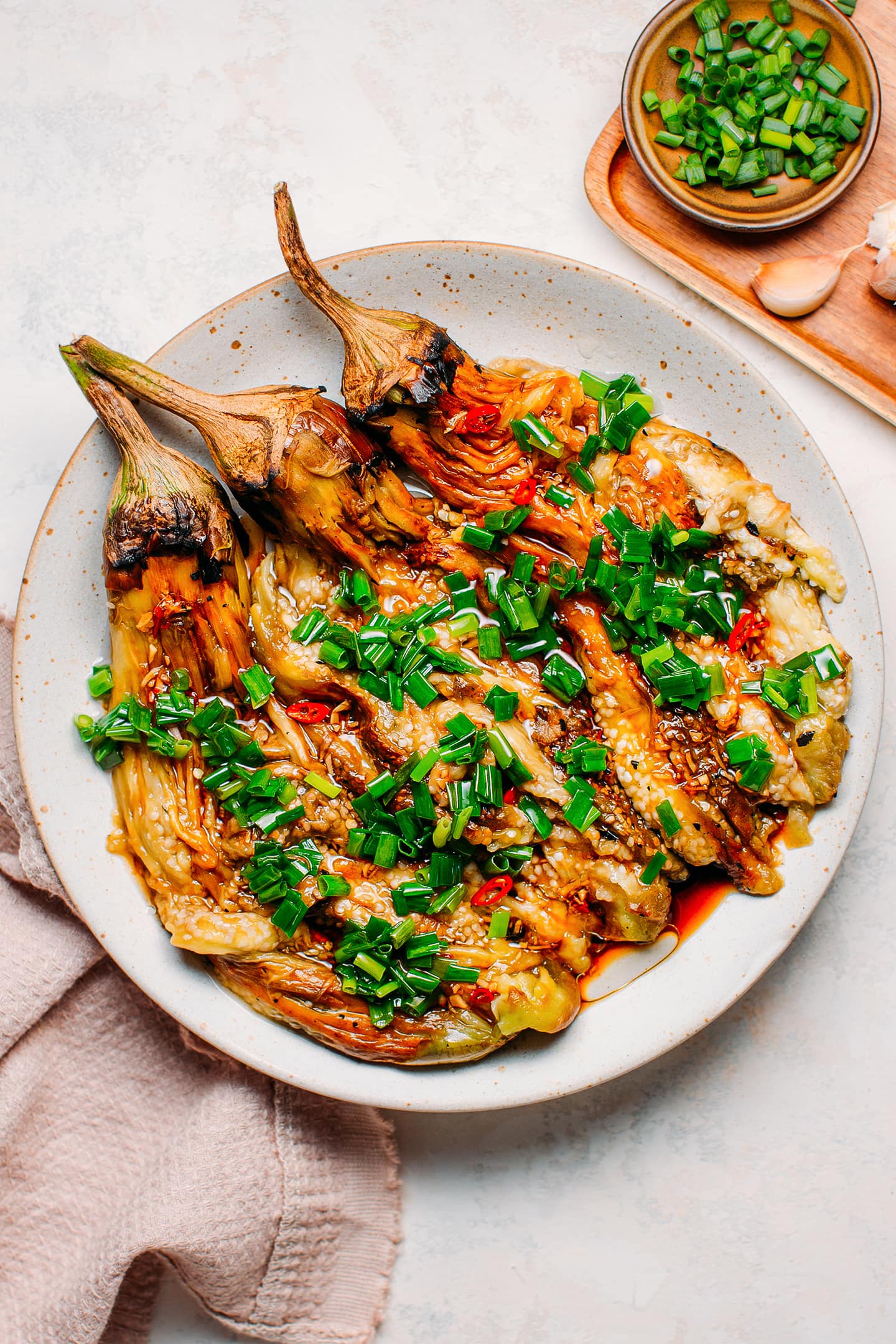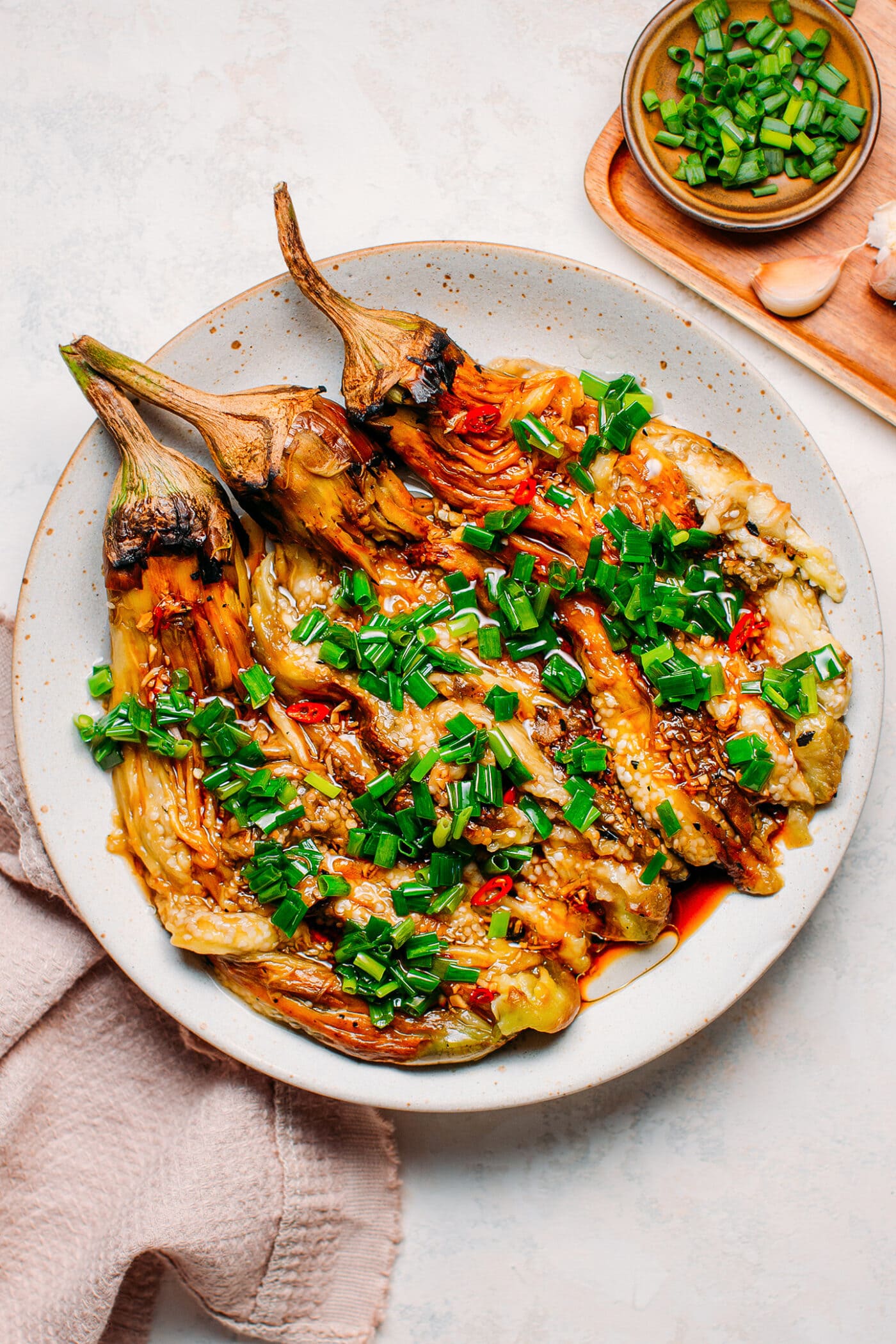 ⭐️ Why You Should Try This Recipe
It's incredibly smoky: Fire roasting the eggplants over an open flame yields an unmatched flavor! It's comforting with a rich smoky aroma.
It can be made indoors: There is no need to do the grilling outdoors! I am sharing in this post how to grill eggplants directly on the stove.
This side dish is versatile: You can serve it with crusty bread as an appetizer, as a dip with crackers, or as a side with steamed rice. You can even use it as a filling for savory crêpes, wraps, and more!
🍆 How to Grill Eggplants
Start by rinsing the eggplants under cold water. Next, prick each eggplant a few times using a fork or a knife. This step will allow the smoke to penetrate the flesh and infuse it with a delicate smoky aroma!
Tip: Before grilling the eggplants, I highly recommend lining your gas range with aluminum foil. Grilling indoors can be a bit messy, so covering your gas range will make the cleaning process much quicker and easier.
Arrange your eggplants on a grilling basket and grill them over an open flame for 25 to 30 minutes or until their skin is dark and flaky. You will have to flip the eggplants every 5-7 minutes to ensure they are evenly grilled.
Once the eggplants are fully dark and have a tender flesh, remove them from heat and let them cool for a few minutes. Peel the eggplants using your hands and discard their black skin. Don't worry if there are small pieces of skin left. You won't be able to taste it.
Transfer the peeled eggplants to a serving plate and slightly mash the eggplant flesh using a fork.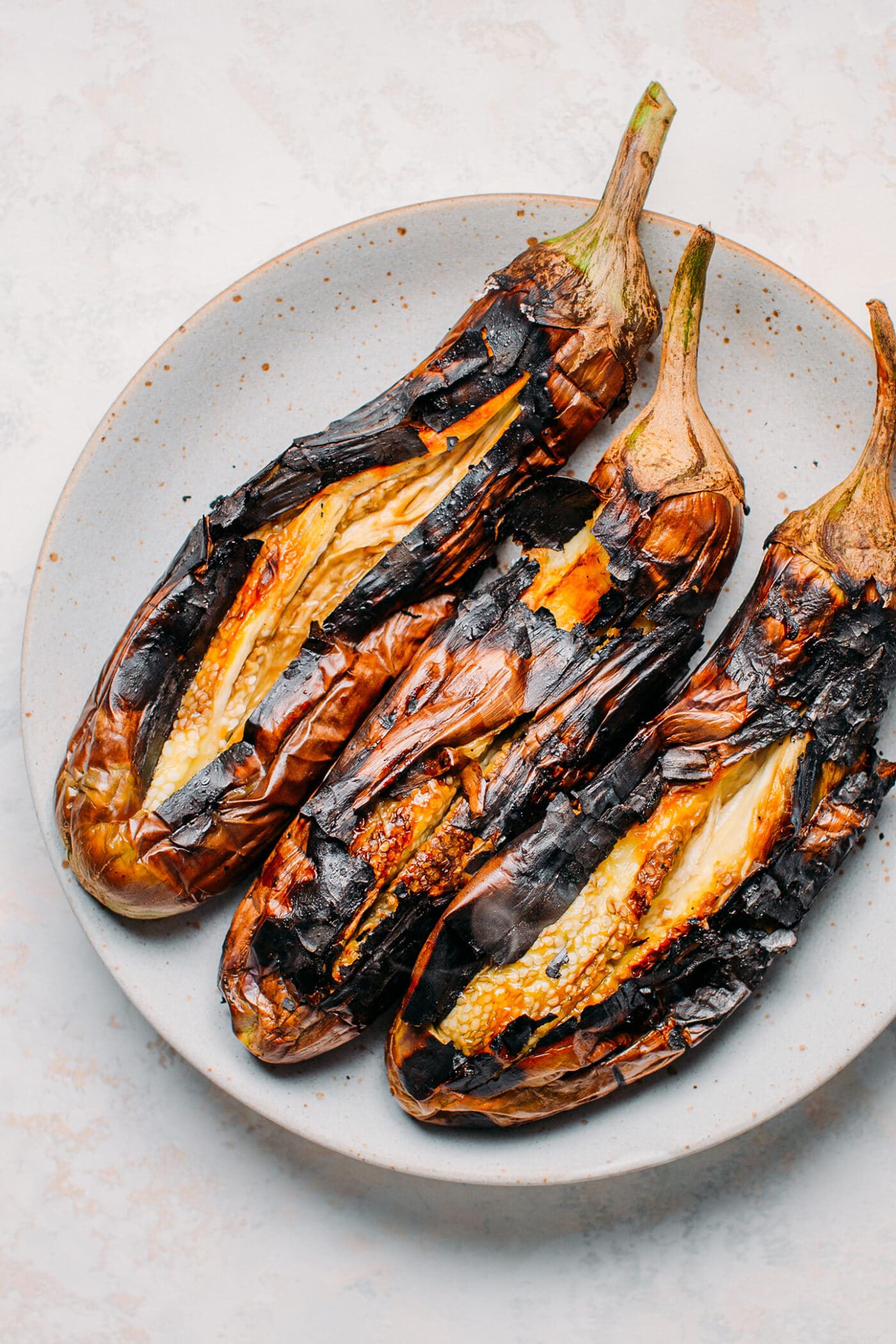 Next comes the sauce that consists of soy sauce, garlic, chili, salt, and sugar. Stir together in a small bowl and drizzle over the eggplants.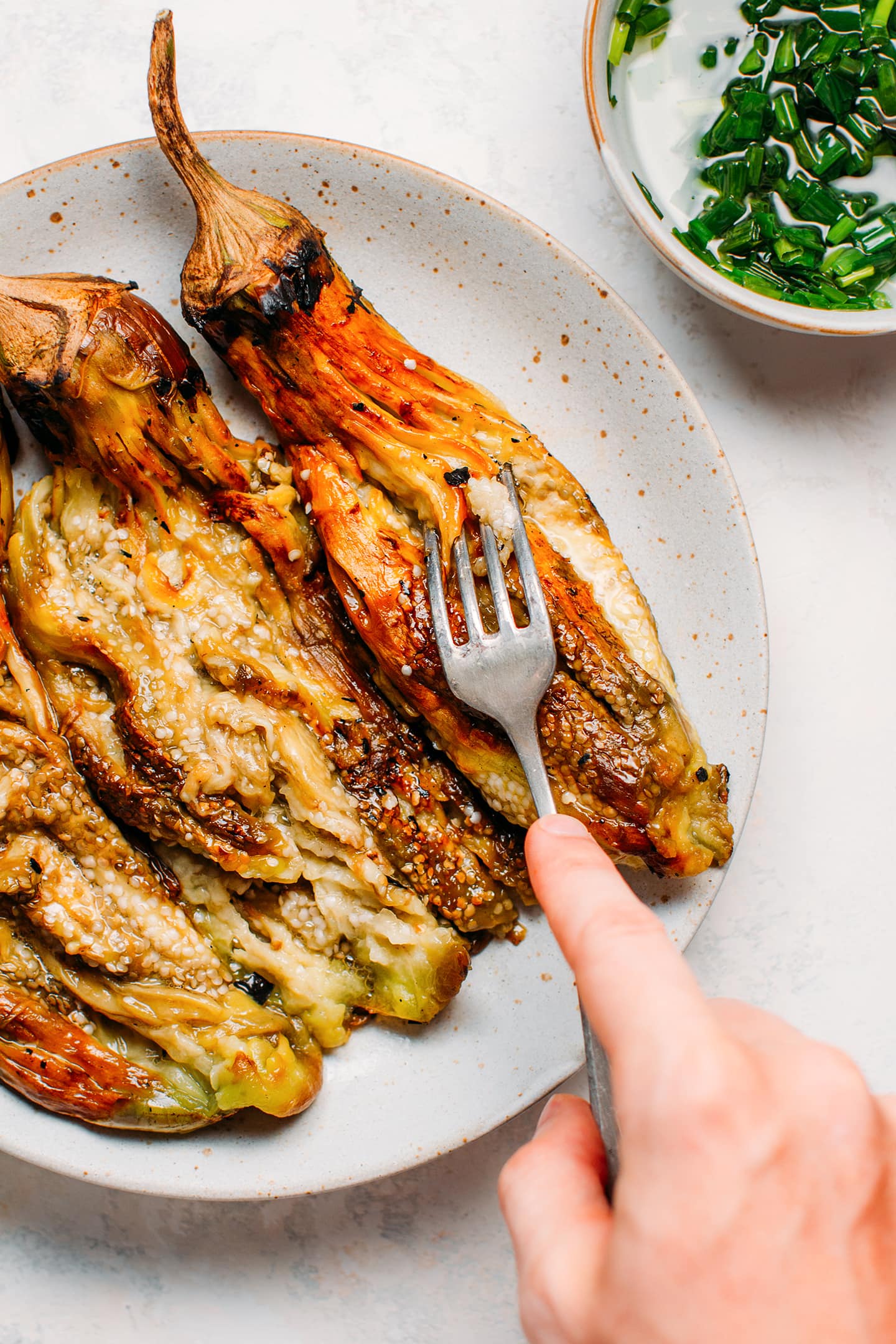 Finally, garnish with sautéed green onions! Note: Do not omit to drizzle with the cooking oil as well. It brings richness and extra flavor!
🍚 What to Serve with This Dish
You can serve these fire-roasted eggplants as a savory spread with crusty bread or toast or as a topping with steamed white rice or quinoa!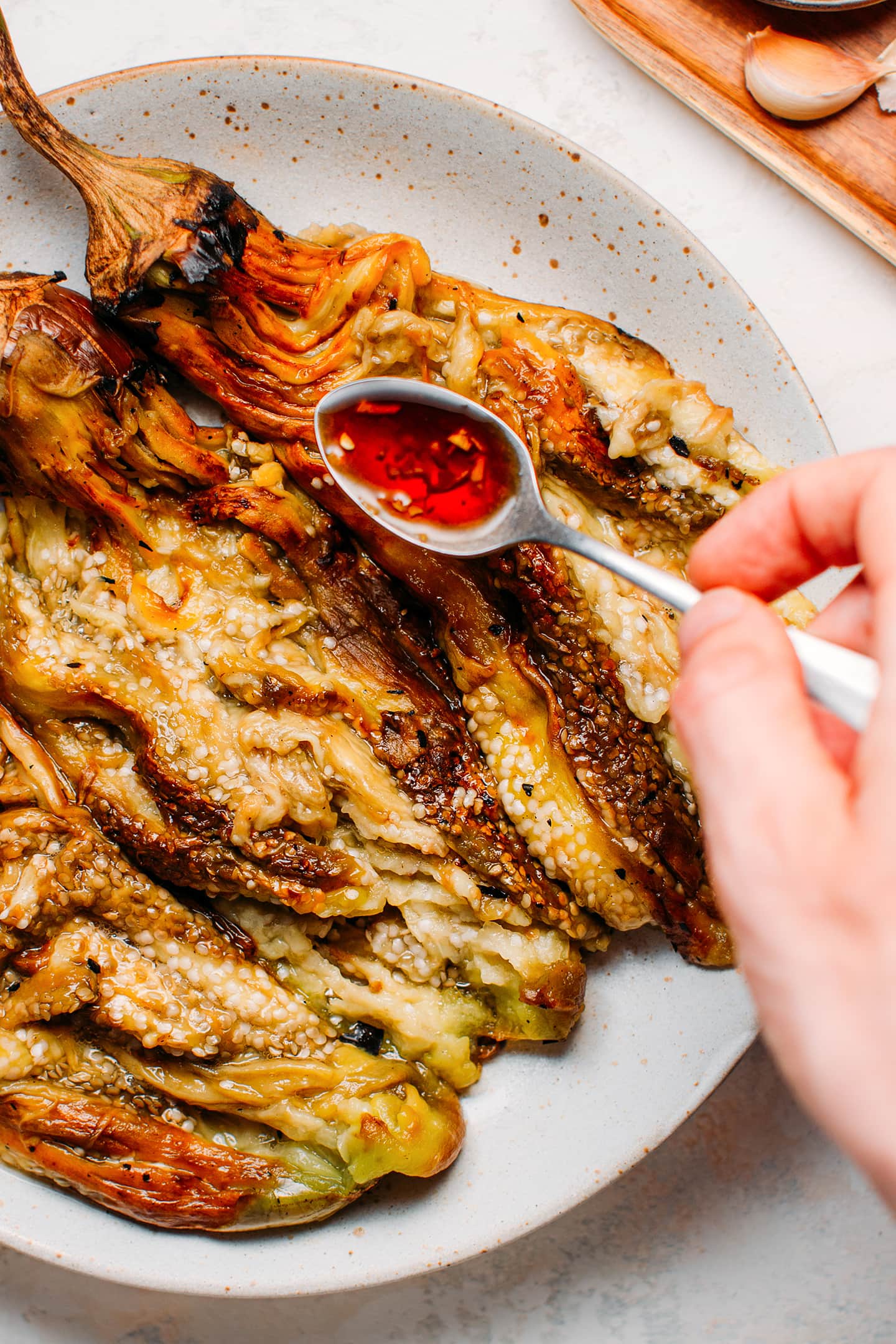 💬 FAQ
Can I roast the eggplants in the oven instead of grilling?
Yes, you can, but you will be missing out on that amazing smoky flavor. If you want to roast eggplants in the oven: prick the eggplants all over using a fork. Arrange the eggplants on a baking sheet and bake in a 400°F (200°C) pre-heated oven for 50-60 minutes, flipping them a few times during baking.
Can I use regular eggplants for this recipe?
Definitely! Just be aware that depending on the size of your eggplants, it might take a bit longer to grill.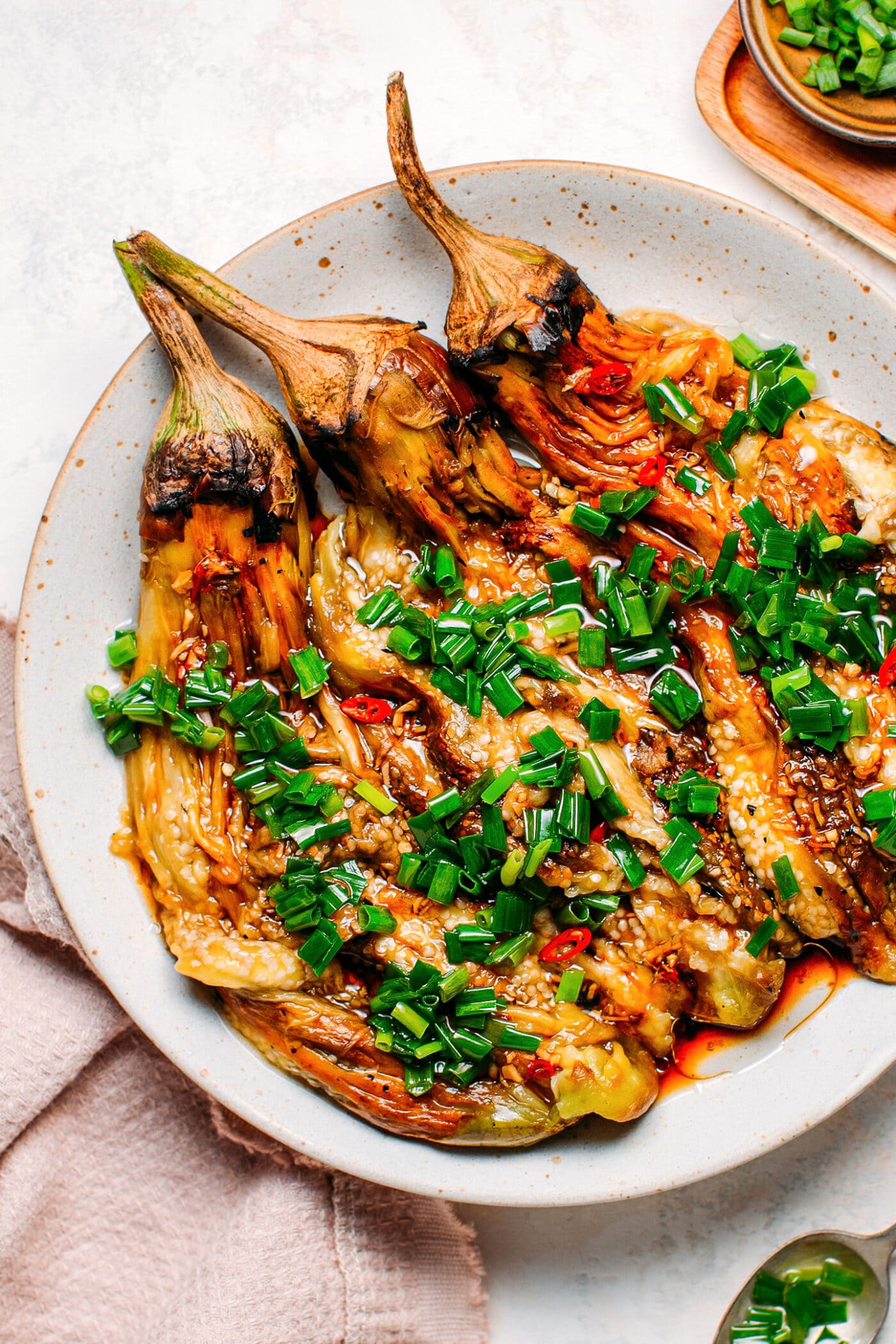 This grilled eggplant dish is SO GOOD! It has a rich and smoky aroma. Plus, it's perfectly seasoned, easy to prepare, and delicious over white rice!
📔 More Eggplant Recipes
Let me know in the comments if you try this grilled eggplant recipe!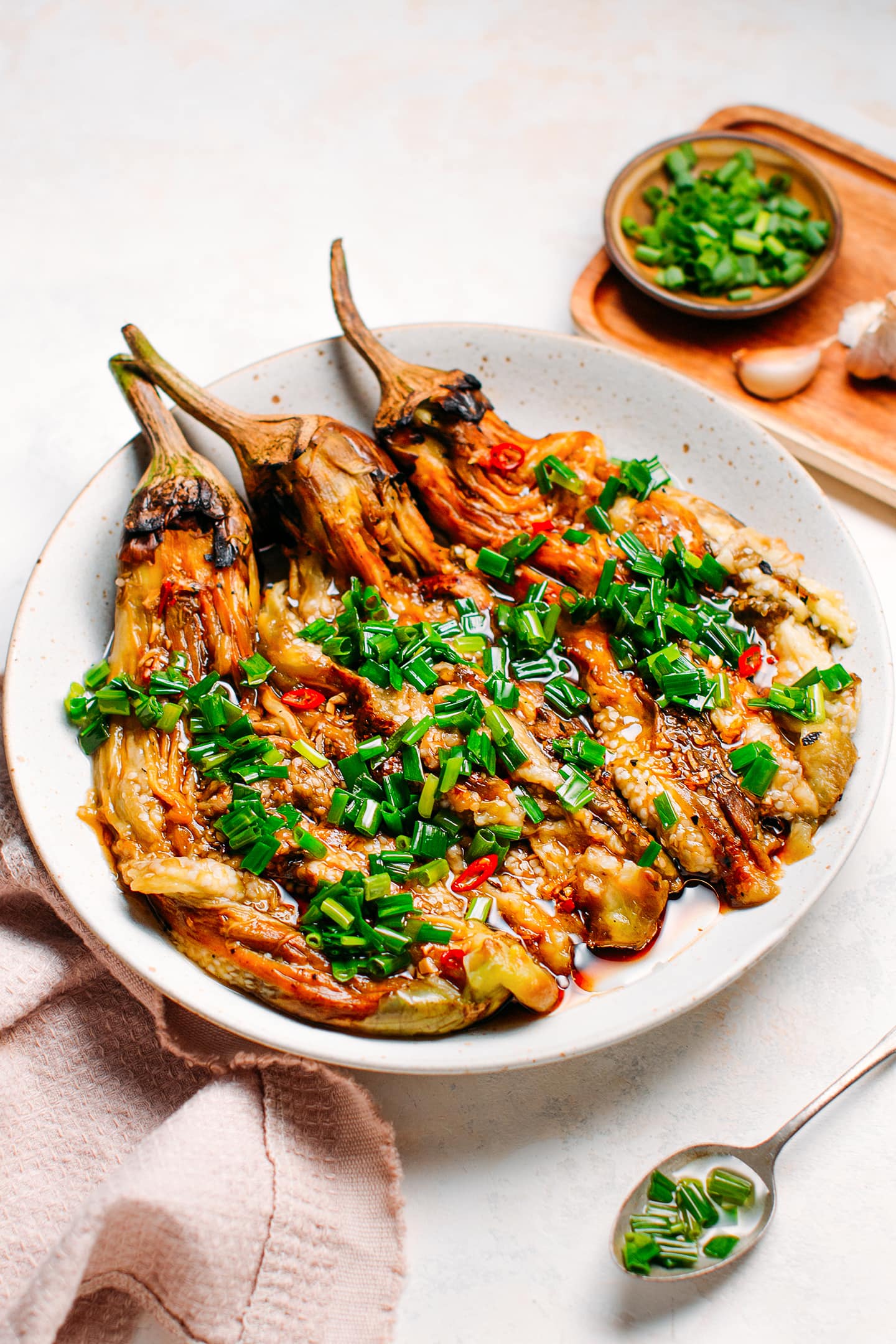 Recipe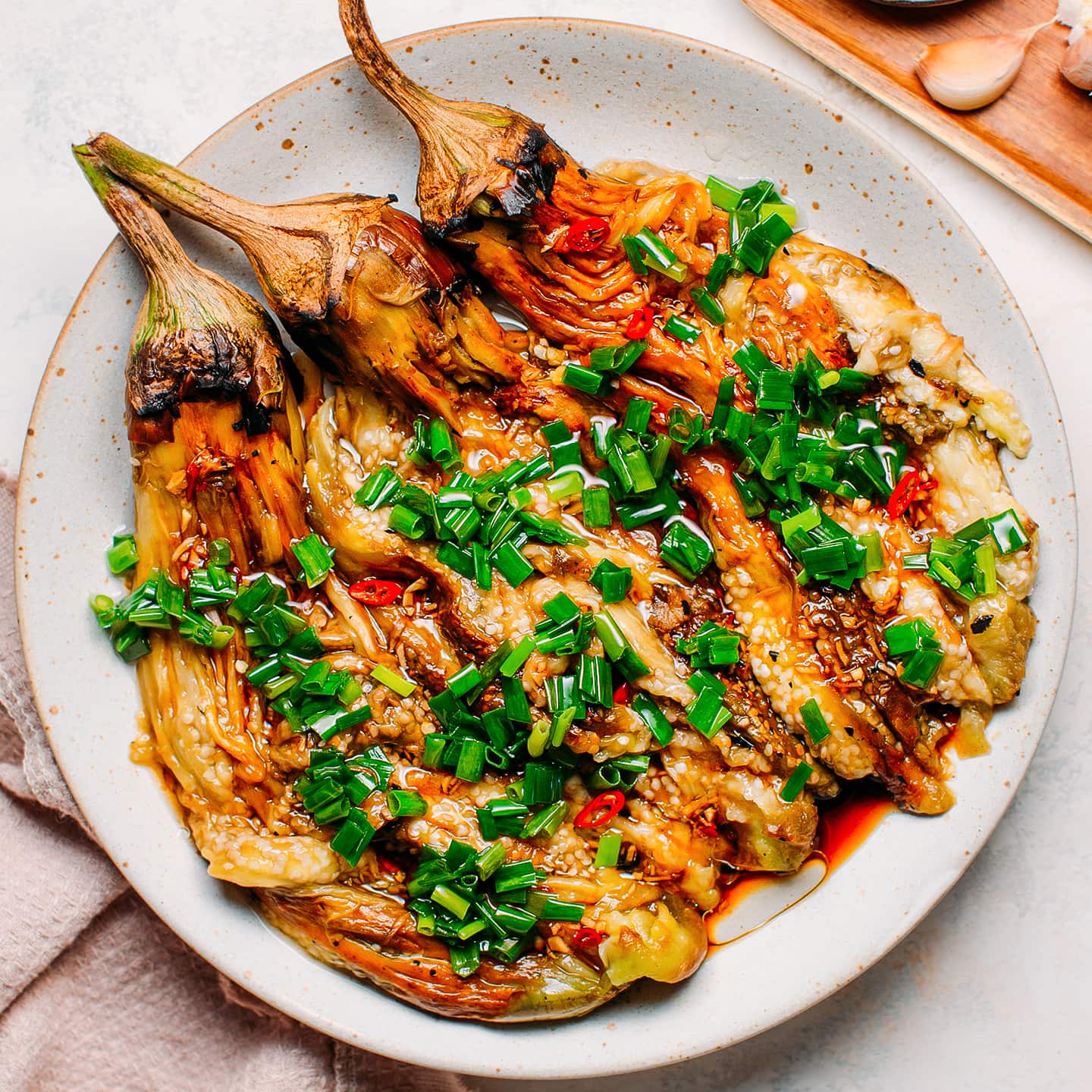 Grilled Eggplant with Green Onions
Smoky fire-roasted eggplants served with sautéed green onions, garlic, and chili. Delicious with bread, crackers, or with steamed white rice!
Equipment
Ingredients
3

medium Chinese eggplants

1/2

cup

chopped green onions

2

tbsp

oil
Sauce
1

tsp

soy sauce

1

tsp

water

1

clove of

garlic

minced

1/2

Thai chili

minced, optional

1

tsp

sugar

1/4

tsp

salt
Instructions
Grilling the Eggplants
Rinse and dry the eggplants. Using a thin knife or a fork, prick each eggplant 6-8 times all over. This will ensure the steam will escape. It will also help the flesh get a smokier aroma.

Line your gas range with aluminum foil, keeping the burners exposed. This step will make the cleaning process easier and faster.

Place the eggplants on a grilling basket over a gas stove with an open flame. Turn the burner on medium heat.

Grill the eggplants for 25-30 minutes, flipping and rotating each eggplant from time to time to ensure they are cooked evenly. The eggplants should be completely black with a flaky skin and a very tender flesh.

Remove from heat and transfer to a plate. Let it cool for 20-30 minutes.

In the meantime, heat 2 tablespoons of oil in a non-stick skillet over medium heat. Once hot, add the chopped green onions and cook for one minute. Transfer the cooked green onions as well as the cooking oil to a small bowl.

Prepare the sauce: in a small bowl, stir together the soy sauce, water, garlic, chili, sugar, and salt.

Once the eggplants are cool enough to handle, peel them using your hands. Don't worry if there are still some bits of dark skin left. Arrange the peeled eggplants on a plate.

Using a fork, slightly mash the flesh. Drizzle with the sauce and top with the green onions (and the oil). Serve with crusty bread or with steamed white rice!
Notes
Feel free to taste and adjust the saltiness. Depending on the size of your eggplants, you might have to add an extra pinch of salt.
If preparing this recipe during summer, you can definitely grill the eggplants outdoors with a barbecue.
Nutrition
Serving:
1
serving
|
Calories:
214
kcal
|
Carbohydrates:
22.2
g
|
Protein:
3.7
g
|
Fat:
14.2
g
|
Fiber:
11.3
g
|
Sugar:
11.7
g
Did you make this recipe?
Tag @fullofplants on Instagram and hashtag it #fullofplants