It's finally here, vegan chicken! If you love Tofurky, you are going to love this recipe! The result is a super tender "Chicken" with a very meaty and fibrous texture, this plant-based chicken recipe will blow your mind! Get ready for something meaty!
Jump to:
📘 Introduction
After taking a look at the ingredients of Tofurky, I found out they were using tofu as the second ingredient. Tofu actually does a lot, it makes the seitan less chewy, more tender, and gives it a better texture overall.
The thing with seitan is that the final texture can be completely different based on how you knead it and how you cook it. For this recipe, you absolutely want to knead it for a long time to develop a fibrous texture, and then cook it wrapped in foil, so it doesn't expand or develop a spongy texture.
There are many recipes that call for chickpeas or navy beans to add tenderness to seitan, the thing is, I didn't want to add beans because I find them a bit hard to digest sometimes. So I stick to wheat gluten + tofu + seasonings + a secret ingredient to replace the beans: jackfruit!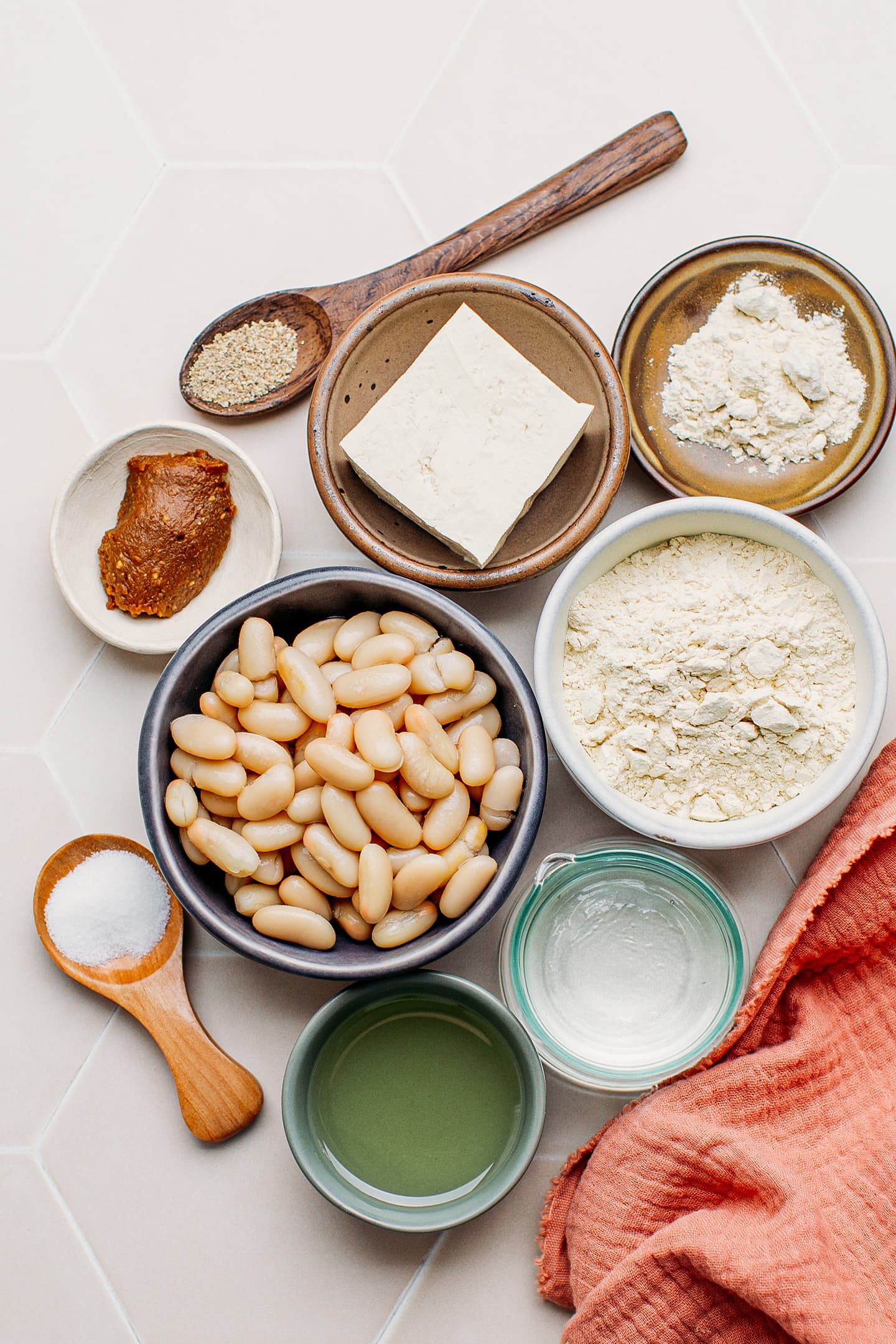 🍗 How to Make Vegan "Chicken"
This plant-based chicken recipe requires just 6 ingredients! Here is what you will need:
Tofu - It helps a lot with the texture, making the seitan slightly less elastic, and more tender.
Jackfruit - Use young green jackfruit. It is sold in cans in most Asian stores or can be found online. We are not using jackfruit for its texture here since it will be puréed with the other ingredients. Jackfruit adds tenderness to the seitan and makes it less chewy, which is usually a problem with seitan.
Vital wheat gluten - Wheat gluten is essential to get a fibrous and meaty texture!
Oil - For richness, and to prevent the dough from being too sticky.
Salt - For flavor.
Seasoning - I only went with onion powder here, but feel free to add chicken or poultry seasoning.
Preparing the dough
The first step is to blend the tofu with the water, jackfruit, salt, and a couple of tablespoons of oil until very smooth.
Next, transfer the mixture to a stand mixer and add the vital wheat gluten. You want to knead the seitan for at least 20 minutes for it to develop a fibrous texture. If you don't knead enough, the seitan won't have that meaty texture.
Note: I highly recommend using a stand mixer, do not use a food processor, please! I broke the blade of mine when testing this recipe. The dough is very elastic, so it won't work well in a food processor.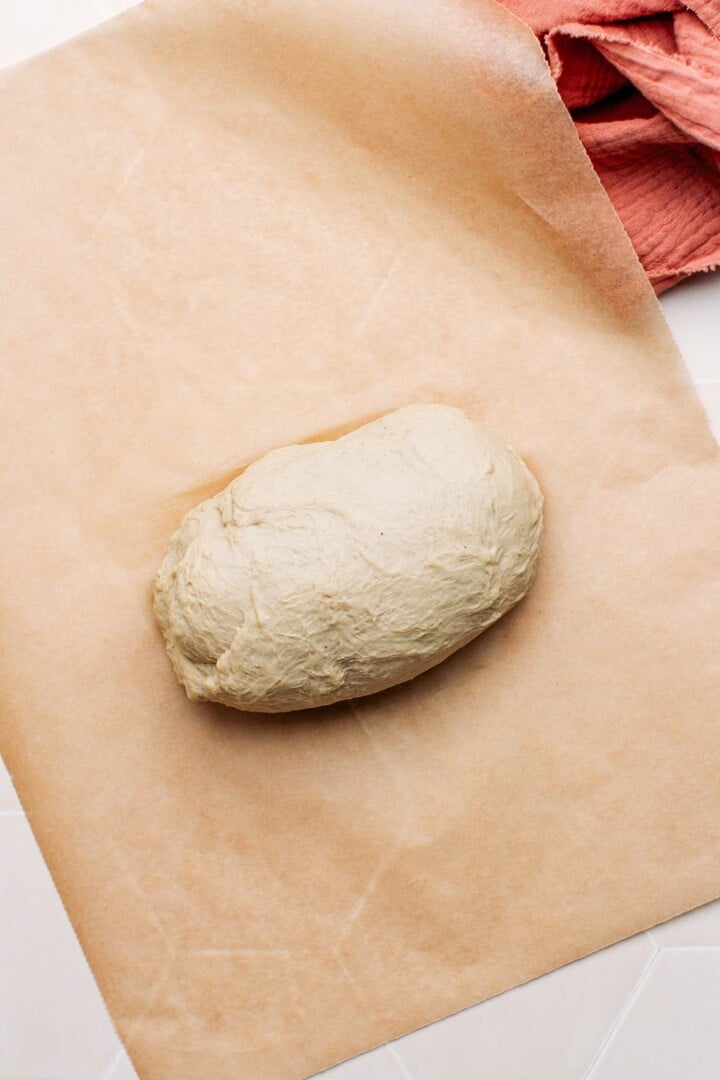 Cooking the Seitan
Once your dough has developed a nice texture, it's time to cook it. I'm sharing two ways to do so: in a pressure cooker or in the Instant Pot. Wrap the dough tightly in two sheets of aluminum foil and pressure cook for about 30 minutes. A quick note: the seitan is pressure cooked in water, not steamed.
Once your seitan chicken is cooked, let it cool completely before shredding it, or cutting into the desired shape. I highly recommend letting the seitan cool in the refrigerator for at least 4 hours before shredding it.
You can shred the chicken by simply pulling the seitan with your hands, cutting it into pieces, or making "chicken breasts" if you prefer!
Look at that fibrous and meaty texture!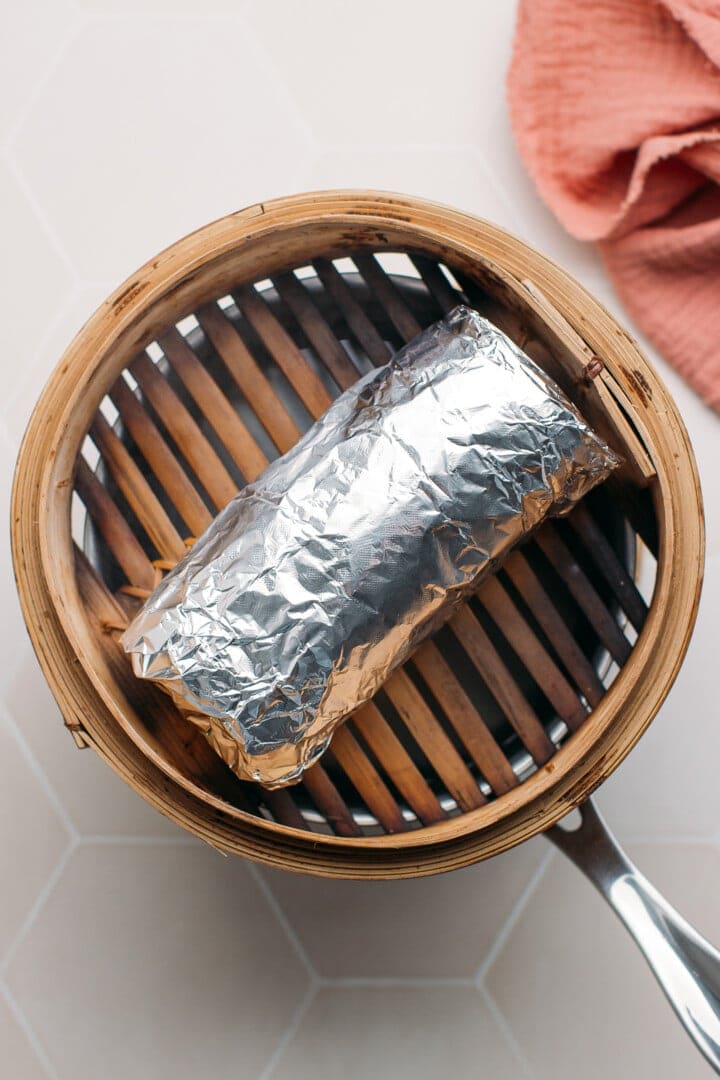 At this point, the chicken is not flavored, so you will need to add flavor with a marinade. I'm sharing 6 marinades in the notes, but feel free to experiment!
This chicken is super tender, very meaty, and has that fibrous texture that is so similar to chicken! Thanks to the tofu and seitan, it is also very high in protein (28g per serving!).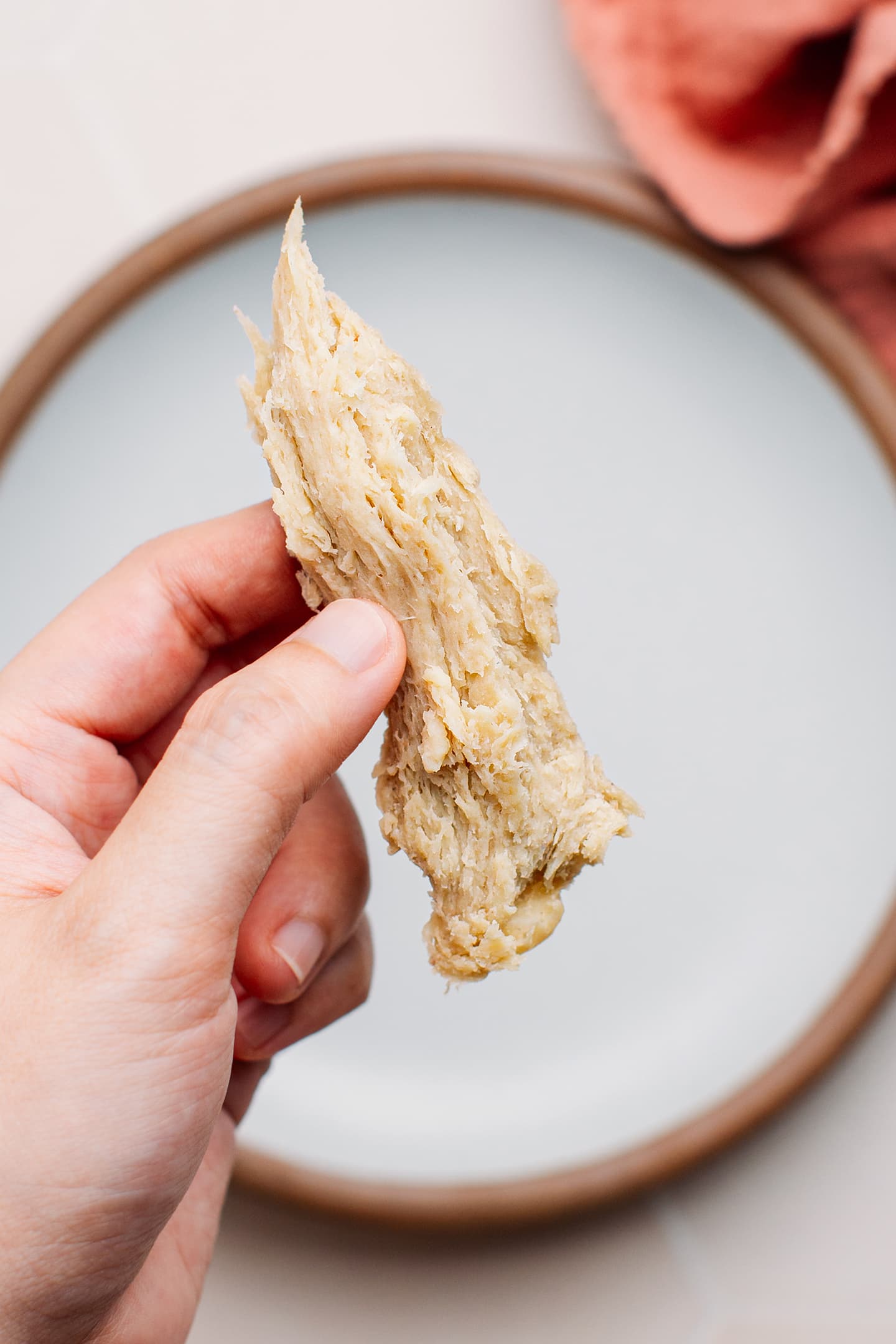 🥪 Where to Use Vegan Chicken
This vegan chicken is extremely versatile, it can be baked, sautéed, or grilled. You can use it:
In salads: Simply shred it and add it to your favorite salads.
In curries: Add shredded chicken at the beginning of cooking if you want it to soak up the flavors of the sauce and become very tender. Add at the end if you want a slightly firmer texture. It would be perfect in this Vietnamese Curry!
In pasta dishes: Finely shredded, sautéed, and added to spicy noodles, yum!
In stir-fries: Marinade your chicken before adding it to stir-fried vegetables.
In sandwich: Thinly slice, and combine with lettuce, vegan mayo, or paté.
To make vegan chicken nuggets: Feel free to check out our Vegan Chicken Nuggets recipe.
In soups (hey vegan chicken noodle soup!), bakes, and so much more!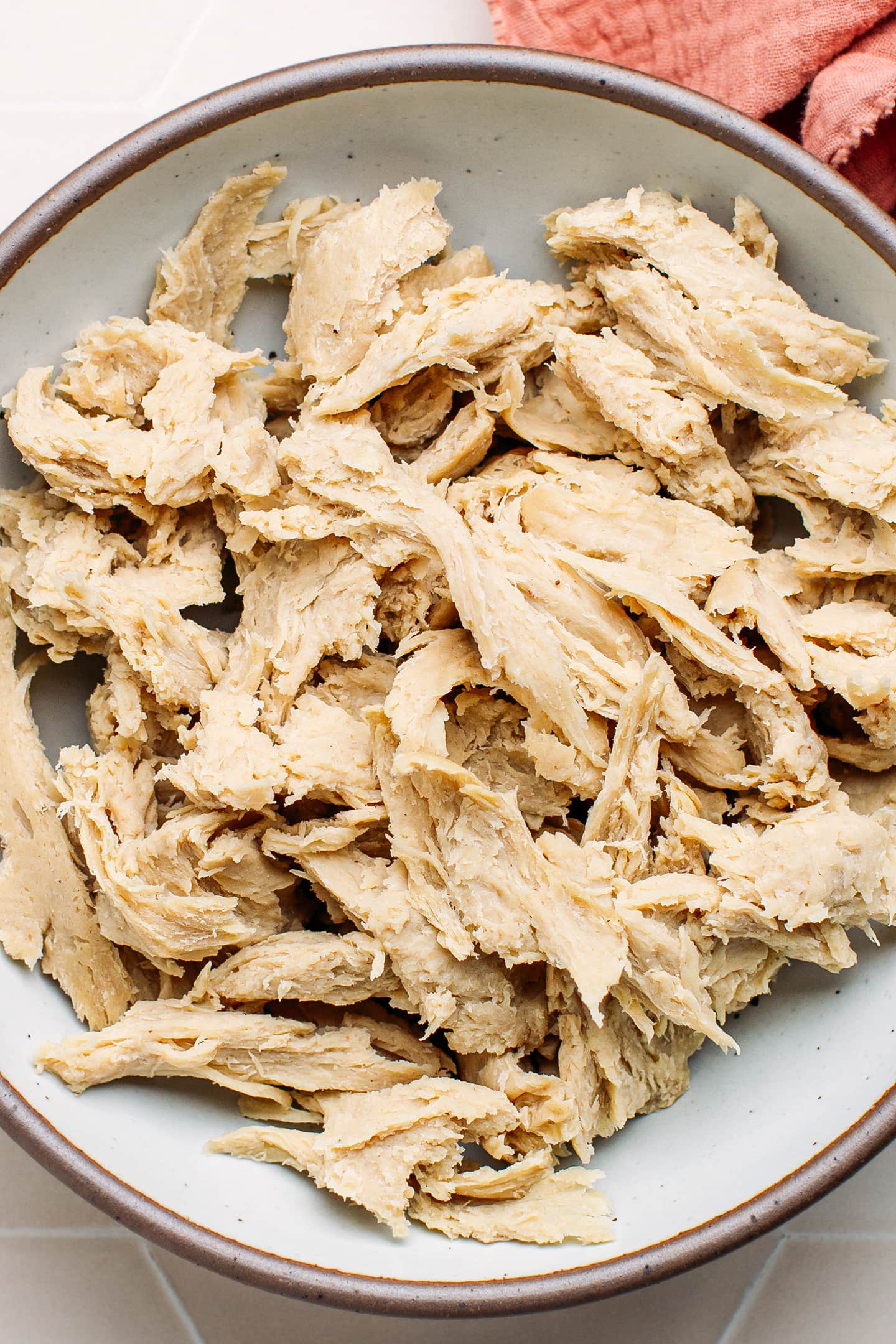 💬 FAQ
Which type of tofu should I use for this recipe? For the best results, you want to use medium tofu.
Can I substitute the jackfruit? Some readers had success using drained cooked navy beans (use about 7 ounces of drained beans).
Can I add more flavorings to the dough? Yes! This recipe gives you a base, and the result has a very mild flavor, allowing you to marinade and season it afterward. However, if you want to add chicken or poultry seasoning directly to the dough, feel free to do so!
Can I use this vegan chicken to make nuggets? Of course! Check out our Vegan Chick'N Nuggets recipe here.
Is the aluminum foil essential? If you don't want the aluminum to touch the dough, you can first wrap the dough in parchment paper.
How long does vegan chicken keep? Vegan chicken will keep for up to 3 days in the refrigerator.
More Plant-Based Meat Substitutes
I hope you will love this vegan chicken! It's SO meaty, versatile, and would even surprise meat-eaters! It's definitely the best vegan chicken recipe!
Let me know in the comments, and leave a rating if you try this recipe!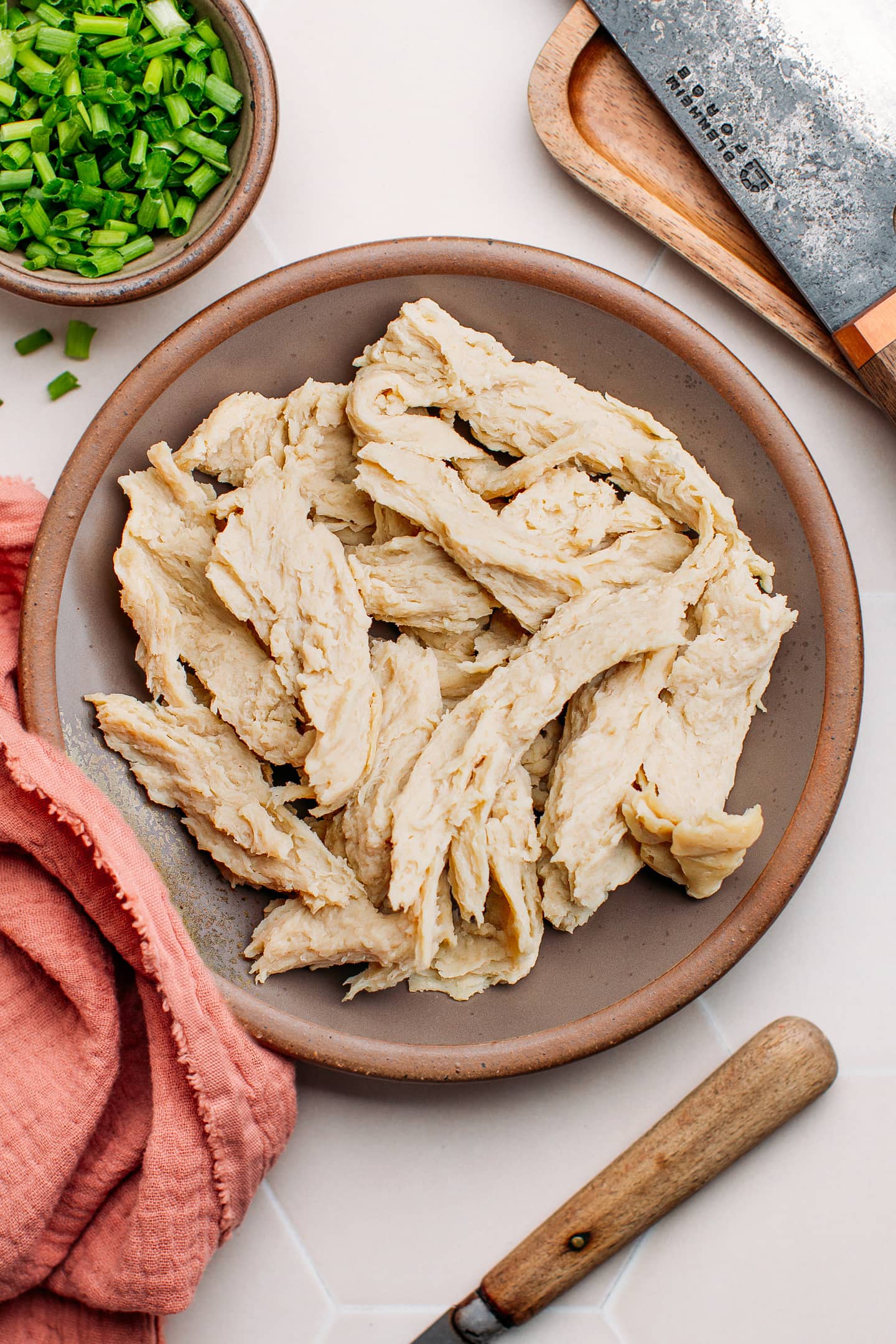 📖 Recipe
The Best Vegan Chicken
Amazing vegan chicken that has an incredible meaty texture! You will never believe it's vegan! Plus, it's high in protein!
Instructions
Drain and rinse the tofu. Pat it dry very well with kitchen paper towels. Add it to a high-speed blender. Drain and rinse the young jackfruit, remove the hardcore parts, and discard. Add the jackfruit to the blender. Note: after removing the hardcore parts of the jackfruit, you should end up with about 7 ounces (200g) of jackfruit.

Add the water, oil, salt, and onion powder to the blender and blend on high speed for about 30 seconds, or until very smooth.

Transfer the wet mixture to the bowl of a stand mixer fitted with the flat beater/paddle. Add the vital wheat gluten and all-purpose flour. Knead on speed 2 for about 5 minutes.

At first, it will look very wet, which is normal. Keep kneading. Once it's starting to turn into a dough, replace the flat beater with the dough hook and keep kneading on speed 2 for at least 20 minutes. This may seem like a long time, but it's essential to get a very fibrous texture. Make sure you stay near the stand mixer, as it will probably move. The dough will be soft and slightly sticky. Again, this is normal, you don't want the dough to be too firm.

Once the dough has a fibrous texture, divide it into two balls. Shape each balls into a log and wrap tightly in aluminum foil. Wrap in a second layer of foil.

Fill a pressure cooker (or Instant Pot) with cold water to the ⅔ (about 3 liters). Place the seitan logs in the pressure cooker. The logs will be submerged in water.

If using a pressure cooker: heat over medium heat, once it is under pressure, cook for 30 minutes. If using an Instant Pot: set to Manual Pressure Cook and set the time to 30 minutes.

After 30 minutes, release the pressure. Carefully remove the seitan rolls from the cooker and let them cool completely.

Once cold, remove the rolls from the aluminum foil, transfer them to a plate, and cover with plastic film. Refrigerate for at least 4 hours. I found out that chilling in the refrigerator for a few hours gives it a more fibrous, meatier texture.

Next, using your hands, shred/pull the seitan chicken into bite-size pieces (or larger pieces!). You can now use it in any recipe! I recommend preparing a marinade before stir-frying or baking to add more flavor.

The chicken will keep in the refrigerator for up to 3 days.
Notes
Marinades (For about 1 and ½ cup of shredded chicken:
Olive oil & Thyme: Combine 2 tablespoon olive oil, 1 tablespoon lemon juice, 1 teaspoon dried thyme, 1 teaspoon dried rosemary, ¼ teaspoon salt, and 1 minced clove of garlic in a bowl.
Coconut Yogurt Curry: Combine ¼ cup coconut yogurt, 1 tablespoon lime juice, 2 teaspoon maple syrup, 1 teaspoon curry powder, ¼ teaspoon chili, and ¼ teaspoon salt in a bowl.
Teriyaki: Combine 2 tablespoon soy sauce, 2 tablespoon maple syrup, 1 tablespoon white rice vinegar, 1 minced clove of garlic, and 1 teaspoon toasted sesame oil in a bowl.
Sesame & Peanut: Combine ¼ cup crunchy peanut butter, 3 tablespoon coconut milk, 1 tablespoon toasted sesame oil, 1 tablespoon lime juice, and 1 teaspoon maple syrup in a bowl.
Five-Spice: Combine 3 tablespoon soy sauce, 1 tablespoon water, 1 tablespoon coconut sugar, ½ teaspoon five-spice powder, ½ teaspoon Korean chili flakes, and 1 teaspoon oil in a bowl.
Smoky BBQ: Combine 3 tablespoon ketchup, 1 tablespoon coconut sugar, 2 tablespoon maple syrup, 1 teaspoon smoked paprika, 1 teaspoon white vinegar, ½ teaspoon vegan Worcestershire sauce, and 1 minced clove of garlic in a bowl.
I recommend you let the chicken marinate for at least 1 hour, and up to 24 hours.
Recipe adapted from K.O Rasoi and Cususu.
Nutrition
Serving:
3.5
ounces (about 100g)
|
Calories:
244
kcal
|
Carbohydrates:
12
g
|
Protein:
28.6
g
|
Fat:
11.2
g
|
Fiber:
5.1
g
Did you make this recipe?
Tag @fullofplants on Instagram and hashtag it #fullofplants