Fluffy and creamy vegan mayo made with just 5 ingredients in 5 minutes! Use it in sandwiches, salads, sauces, or as a dip! Plant-based, easy, and so versatile!
I recently realized I didn't have a single recipe for vegan mayonnaise here, although I use it in many recipes. Let's fix that with this super creamy and tangy vegan mayo!
⭐️ Why You Should Try This Recipe
Just 5 ingredients, 5 minutes, and one bowl!
A classic staple recipe.
Versatile: Use in sandwiches, salads, to make sauces and dressings, to use as dipping, and more!
It's cheaper than store-bought: This recipe makes use of inexpensive ingredients that you most probably already have on hand.
📘 What is Mayo
Mayonnaise, or mayo, is a cold condiment prepared by emulsifying oil with egg yolks and vinegar. It yields a thick and creamy spread that is commonly used in salads, sandwiches, burgers, or as a dip for French fries, roasted vegetables, etc.
This vegan version tastes exactly the same as regular mayonnaise, without the eggs!
🥣 How to Make Vegan Mayo
You will need the following:
Soy milk – Use the unsweetened kind. Thanks to its natural emulsifiers, soy milk helps bind everything together.
Yellow mustard – Dijon mustard yields the best flavor, but yellow mustard will work as well. It brings a subtle spiciness.
Vinegar – For a sharp and tangy flavor. I went with white vinegar here, but you can use rice vinegar, apple cider vinegar, or lemon juice.
Salt – If you want a subtle egg-like flavor, use kala namak salt instead of regular salt.
Sugar – To balance with the tanginess. Traditional mayonnaise contains eggs that have natural sugars. Since we are not using any here, we are replacing it with a generous pinch of sugar. You can use maple syrup or agave for a refined sugar-free option.
Oil – Essential to bring the fat and creaminess. You want to use a neutral oil like sunflower, avocado, canola, or grape seed oil.
To make vegan mayo:
Place the soy milk, mustard, white vinegar, sugar, and salt in the immersion blender cup.
Use an immersion blender to blend all the ingredients together for a few seconds.
Add half of the oil and blend again until it thickens.
Pour in the remaining oil and blend for another 10-15 seconds or until incorporated.
Use immediately, or refrigerate for 2-3 hours.
Which appliance works best for making vegan mayo?
I tried this recipe with both: a food processor and an immersion blender. Both worked perfectly and yielded the exact same texture. I have, however, a preference for the immersion blender. It is the quickest (just 1-2 minutes!) and it is much easier to clean up!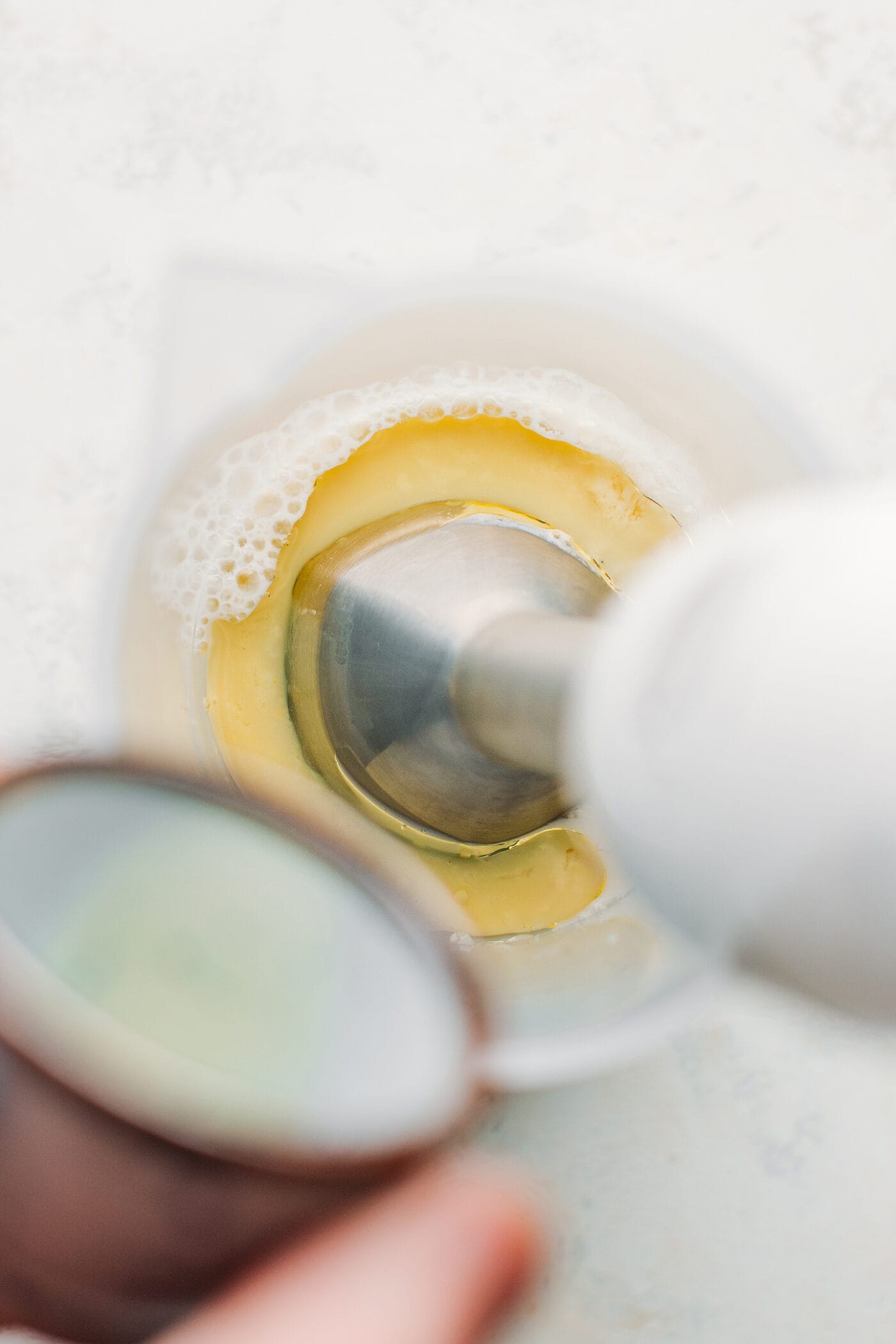 🥪 Where to Use Vegan Mayo
Sandwiches and burgers – Whether you want to use it in simple sandwiches, vegan burgers, or banh mi, this mayo makes a delicious base layer!
Salads – For potato or macaroni salads or even coleslaw.
As a dip – For French fries (like these delicious Taro Fries), falafels, mushroom tempura, or vegan chicken nuggets! Feel free to flavor the mayo with sriracha, caramelized onions, or wasabi for extra flavor.
Sauces – Use this vegan mayo as a base to make tartar sauce, remoulade, aioli, etc!
📔 Tips
Make sure all of the ingredients are at room temperature. This way, they will emulsify much better and quicker.
If you want a subtle egg flavor like real mayonnaise, use kala namak salt instead of regular salt.
If you want your mayo to be very white in color, simply omit the mustard.
This vegan mayo has the best texture after chilling for 2-3 hours in the refrigerator. After one day, the mayo tends to lose its shininess, but it's still delicious!
💬 FAQ
Which oil works best for making mayonnaise?
Any neutral oil will work. I use sunflower oil, but avocado or grapeseed oil will work as well.
Can I replace soy milk with another plant-based milk?
Unfortunately, I didn't get any success when using almond or cashew milk. You can, however, use aquafaba as a substitute for soy milk.
How can I get a yellow mayo, similar to traditional mayonnaise?
If you want to give your mayonnaise the same color as mayonnaise that contains egg yolks, simply add a tablespoon of annatto oil when blending the mayo. It will give it the perfect yellow color!
How long does mayonnaise keep?
Vegan mayo will keep for up to 2 weeks in the refrigerator.
🧈 More Vegan Condiments
Let me know in the comments if you try this recipe!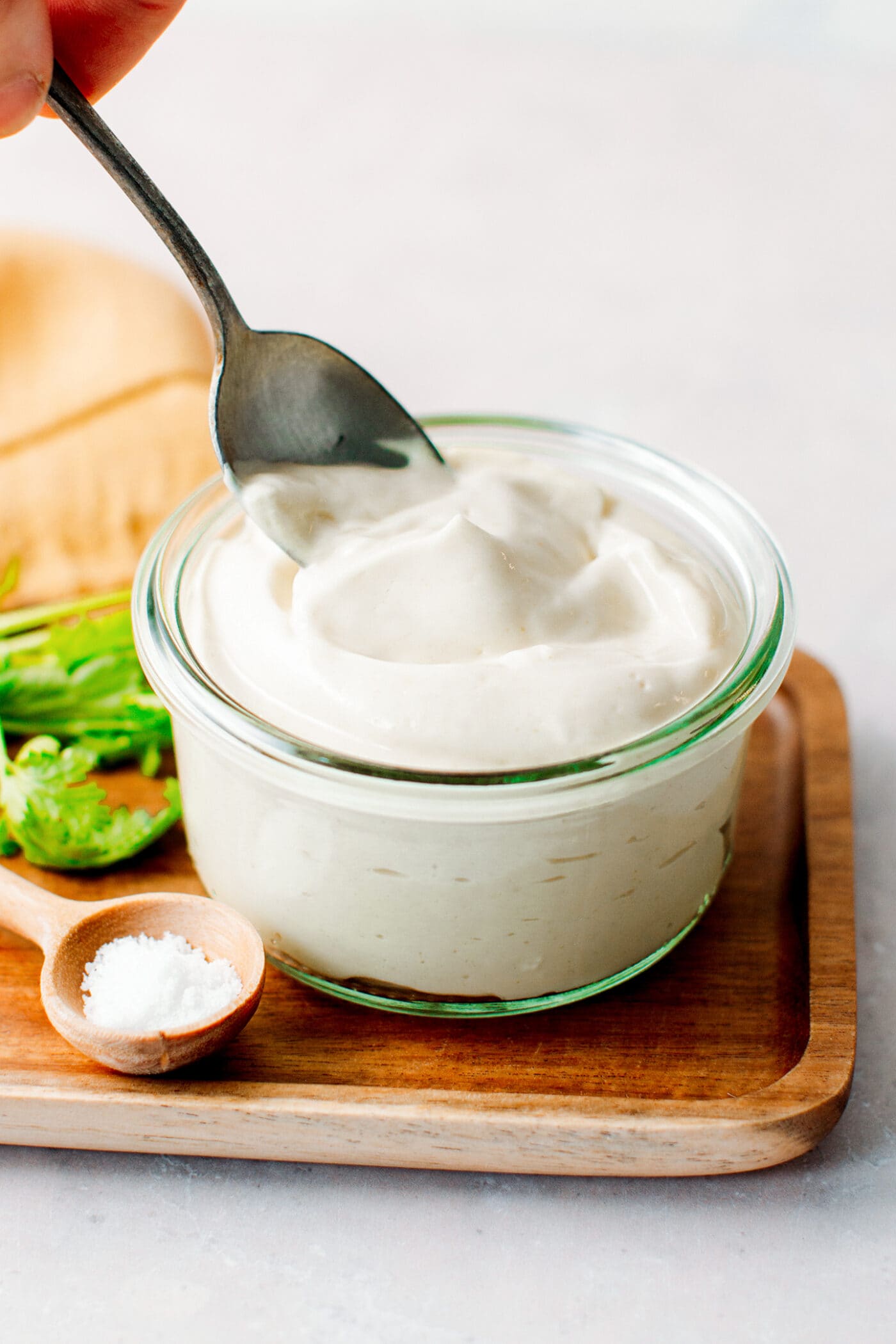 Recipe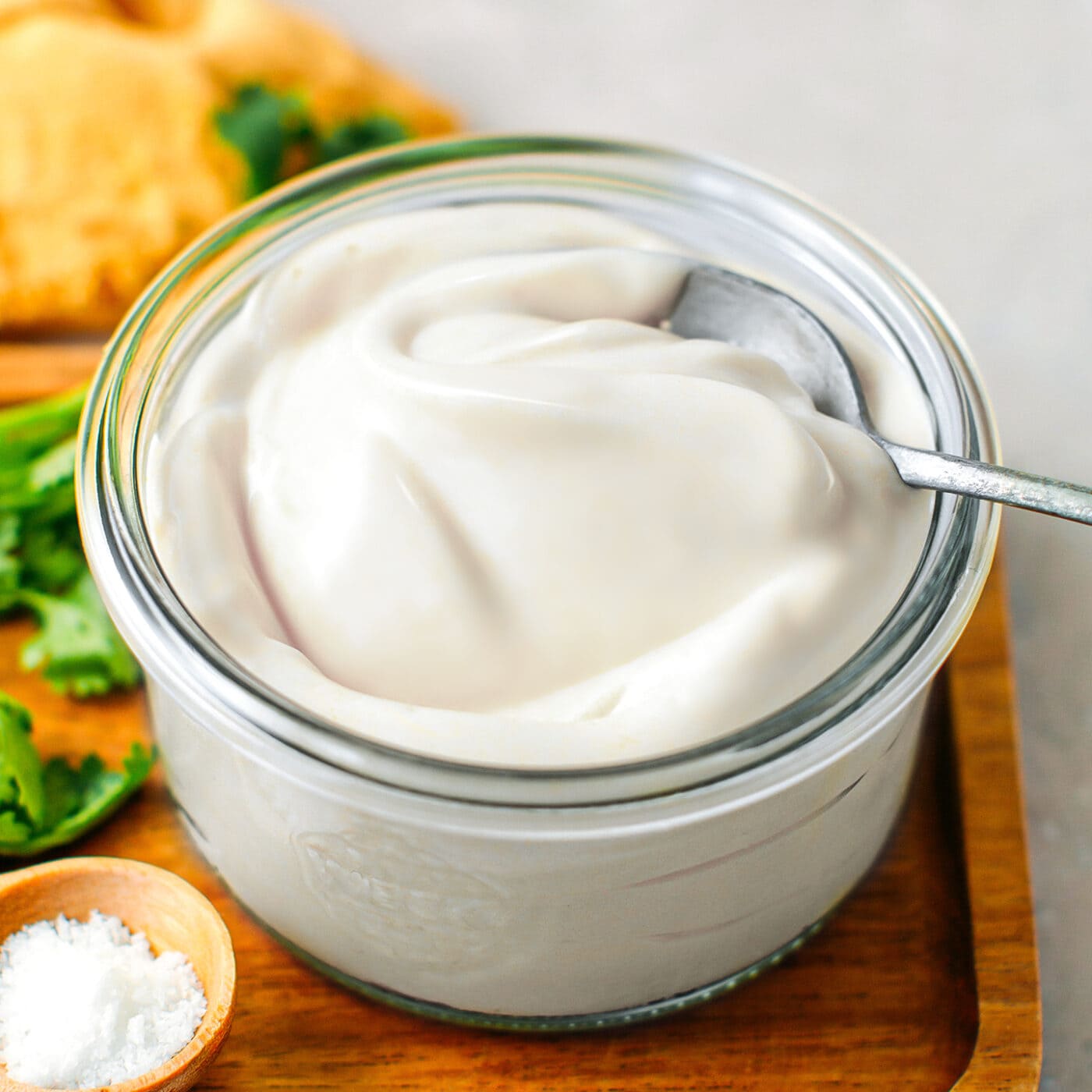 5-Minute Vegan Mayonnaise
Delicious and creamy vegan mayo that tastes like the real thing! Just 5 ingredients and 5 minutes are required. Use in sandwiches, salads, or as a base for sauces!
Ingredients
1/3

cup

soy milk

1

tbsp

yellow mustard

1

tbsp

white vinegar

or lemon juice

1/4

tsp

salt

1

tsp

sugar

3/4

cup

oil
Instructions
To an immersion blender cup (or tall container), add the soy milk, mustard, white vinegar, salt, and sugar. Blend using an immersion blender for 5-10 seconds or until combined.

Add half of the oil and blend again, for about 15-30 seconds, or until the mixture has thickened and emulsified. Pour in the remaining oil and blend for another 10-15 seconds. Taste and adjust the saltiness to your taste.

Use immediately or refrigerate for 2-3 hours if you want a thicker texture. This vegan mayo will keep for up to 2 weeks in an airtight container or jar in the refrigerator.
Notes
Make sure all of your ingredients are at room temperature.
If you don't have soy milk, feel free to use aquafaba (the brine from a can of cooked chickpeas).
The mayo will thicken after a day in the fridge. This is normal. Simply give it a good stir and let it sit at room temperature for about 20 minutes to make it softer.
You can easily flavor this mayo by adding fresh herbs, garlic, horseradish, sriracha, etc.
Nutrition
Serving:
1
tbsp
|
Calories:
63
kcal
|
Carbohydrates:
0.4
g
|
Protein:
0.1
g
|
Fat:
6.9
g
|
Sugar:
0.3
g
Did you make this recipe?
Tag @fullofplants on Instagram and hashtag it #fullofplants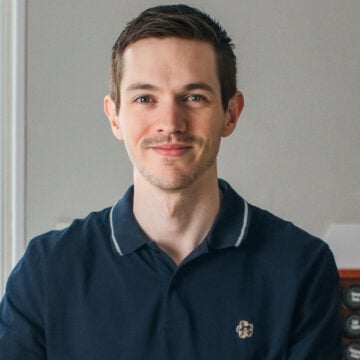 About the Author
Thomas Pagot is the founder, photographer, and recipe developer behind Full of Plants. He created the blog in 2016 as a personal cookbook for vegan recipes. Through years of recipe development, Thomas has successfully grown Full of Plants into a trusted resource for plant-based recipes.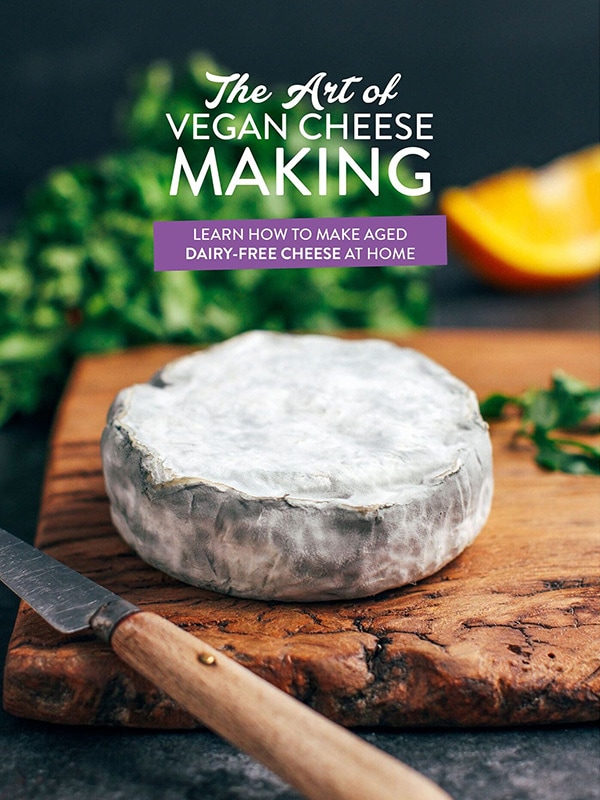 🧀 25 Mind-Blowing Vegan Cheese Recipes!
Sign up for the Full of Plants newsletter and you'll get new recipes delivered by email weekly, PLUS your FREE 100-page printable eBook!