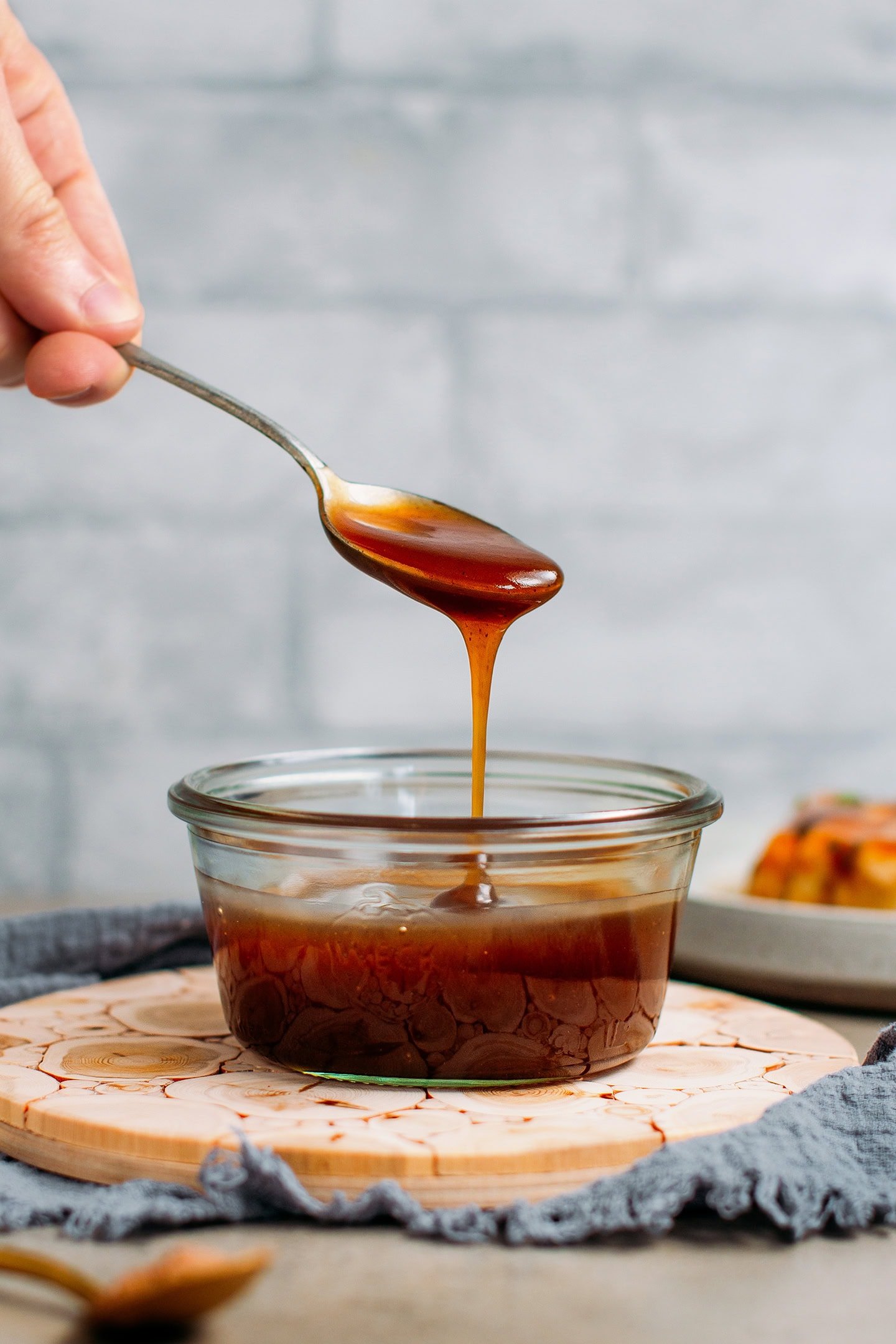 Learn how to make your own Char Siu sauce!
This Chinese-inspired condiment has the perfect balance of sweet and salty, with garlic and five-spice flavors! It's naturally-sweetened, vegan, and delicious used as a glaze or marinade!
WHAT IS CHAR SIU SAUCE?
Char Siu sauce (叉烧酱), also called Chinese barbecue marinade, is a popular condiment commonly used in Chinese cooking. It is thick, sweet, quite salty, and is flavored with five-spice powder. It is often used to glaze braised or grilled meats, but can also be used as a marinade or to add flavor to noodle dishes, stir-fries, etc.
The most popular brand of Char Siu sauce is Lee Kum Kee, unfortunately I recently discovered this sauce is not vegan as it contains honey. Let's make our own! It's not only healthier, but also cheaper!
HOW TO MAKE CHAR SIU SAUCE
Preparing the sauce takes just 10 minutes and requires only 7 ingredients!
First, we blend all the ingredients together: water, agave syrup (to replace the honey in the authentic version), hoisin sauce, soy sauce, five-spice powder, garlic, and cornstarch.
I tried to make this sauce as close as possible to the Lee Kum Kee one: quite sweet, salty, with notes of garlic and five-spice. If you want it less sweet, use brown rice syrup, or dilute the sauce with water when using it as a marinade for example.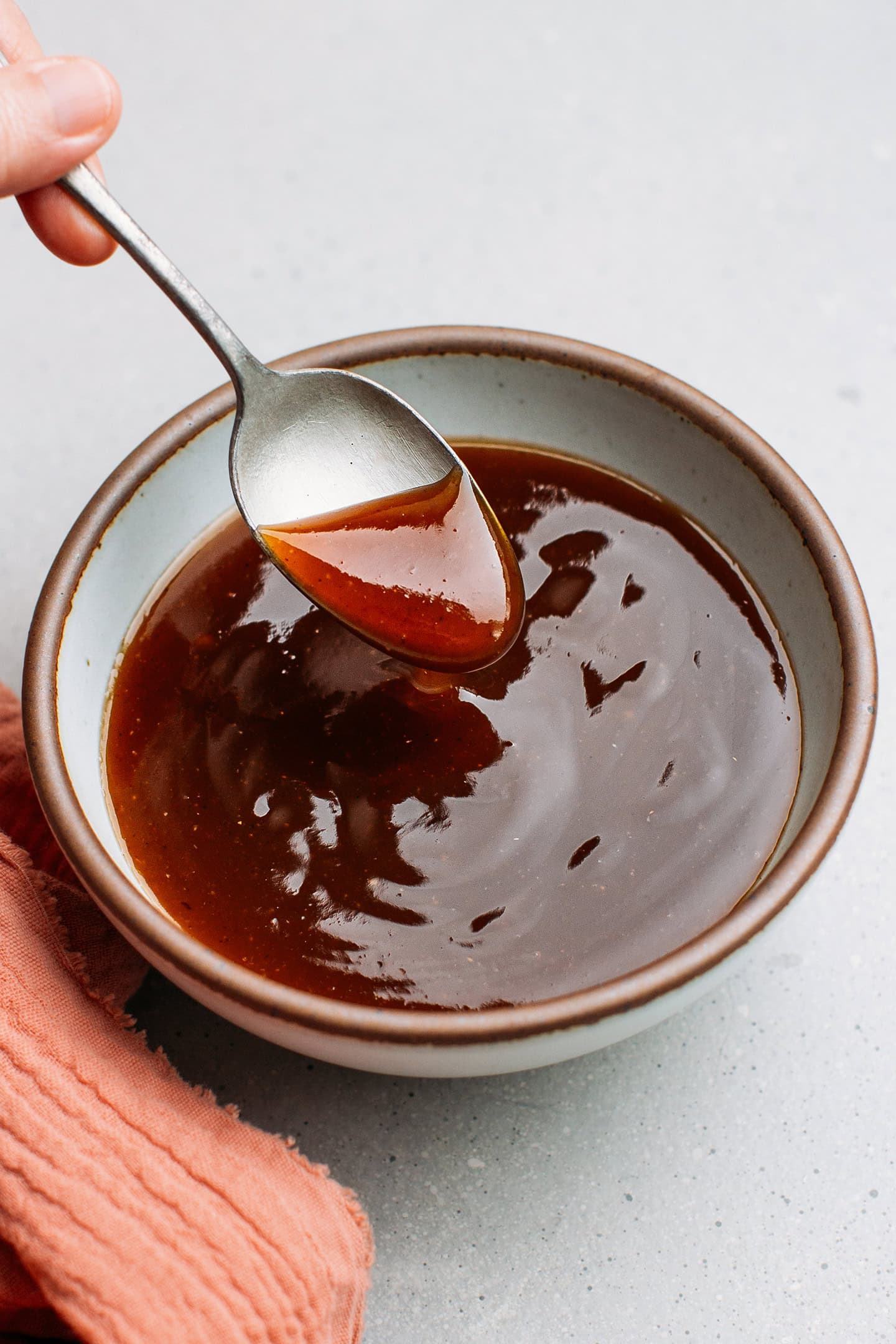 Once blended, transfer to a saucepan and heat over medium-heat until the sauce thickens. Let it cool and transfer to a clean jar. The sauce is now ready to use!
HOW TO USE CHAR SIU SAUCE
Char siu sauce can be used in many different ways, here are some of my favorites:
As a glaze: Brush the sauce over baked tofu, seitan, or burgers!
As a marinade: for tempeh, jackfruit, vegan chick'n, and more.
In stir-fries: Stir in a tablespoon of the sauce at the end of cooking for a sweet and salty dish.
In noodle dishes: Dilute a couple tablespoons of the sauce with a tablespoon of the noodles cooking water. Add some chopped chili and coat the noodles with the sauce!
This Char Siu sauce is so good! It is garlicky and packed with five-spice powder, giving it hints of cinnamon, anise, and sichuan pepper!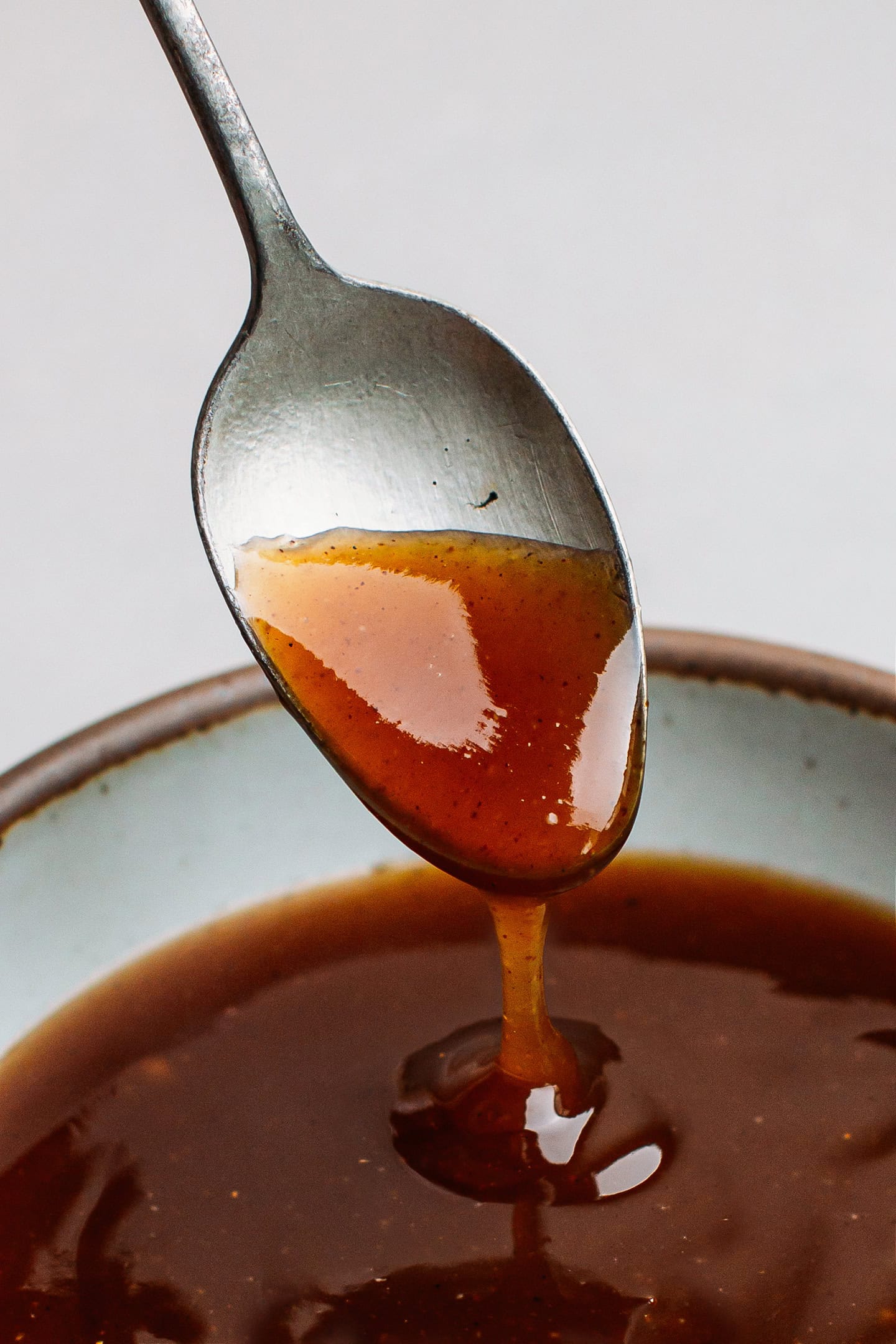 Looking for more Asian-inspired condiments? Check out How to Make Saté, Easy Hoisin Sauce, Vegan Oyster Sauce, or this Sweet Chili Sauce!
Let me know in the comments if you try this recipe!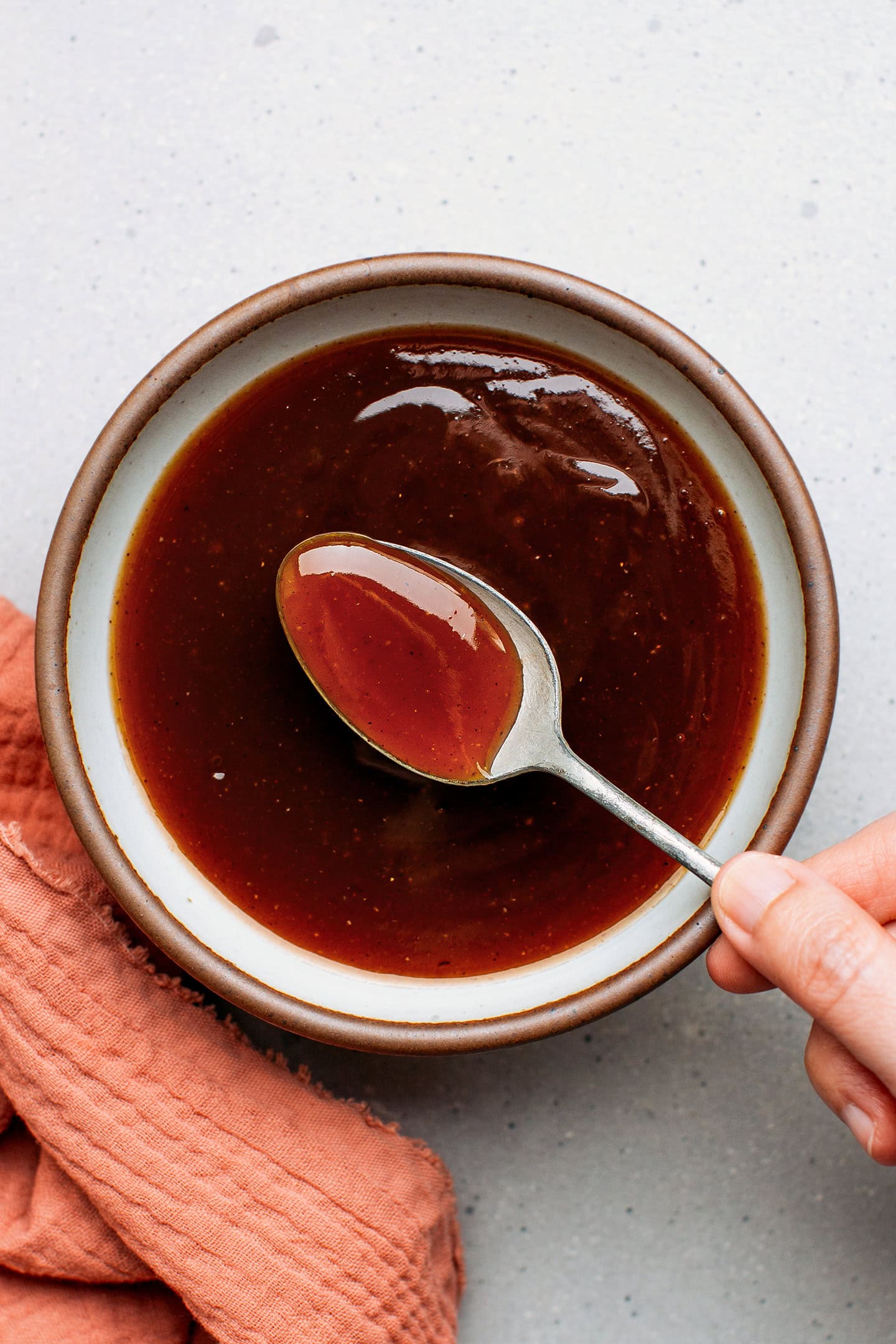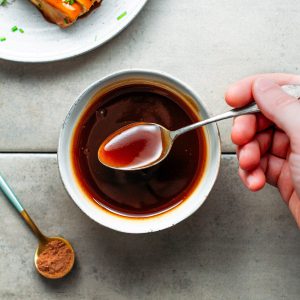 Homemade Char Siu Sauce
Make your own Char Siu sauce! It's naturally sweetened, vegan, and take just 10 minutes. It's rich, sweet, salty, and garlicky!
Ingredients
½

cup

water

½

cup

agave syrup*

2

tablespoon

hoisin sauce

1

teaspoon

soy sauce

¾

teaspoon

salt

½

teaspoon

five-spice powder

1

clove of garlic

1 and ½

tablespoon

cornstarch
Instructions
Add all of the ingredients to a blender and blend for 5-10 seconds, or until fully combined.

Transfer to a medium sauce pan and heat over medium heat. Whisk constantly until it starts to thicken, about 5 minutes.

Once the sauce has thickened, transfer to a clean jar and let it cool completely at room temperature before storing in the refrigerator. The sauce will thicken a bit more as it cools down.

Use as a glaze for tofu, tempeh, seitan, burgers, or stir in noodles, stir-fries, etc! Char siu sauce will keep for up to 2 weeks in the refrigerator.
Notes
*You can probably substitute the agave syrup for brown rice syrup, just be aware the sauce won't be as sweet. I do not recommend using maple syrup, which would affect the flavor of the sauce.
DID YOU MAKE THIS RECIPE?
Tag @fullofplants on Instagram and hashtag it #fullofplants