This homemade hoisin sauce is loaded with flavor and has the perfect balance of sweet, salty, and tangy! Hoisin sauce is a must-have in Asian cuisine, perfect for stir-fries, marinades, and glazes. This version is naturally sweetened, vegan, and ready in less than 10 minutes!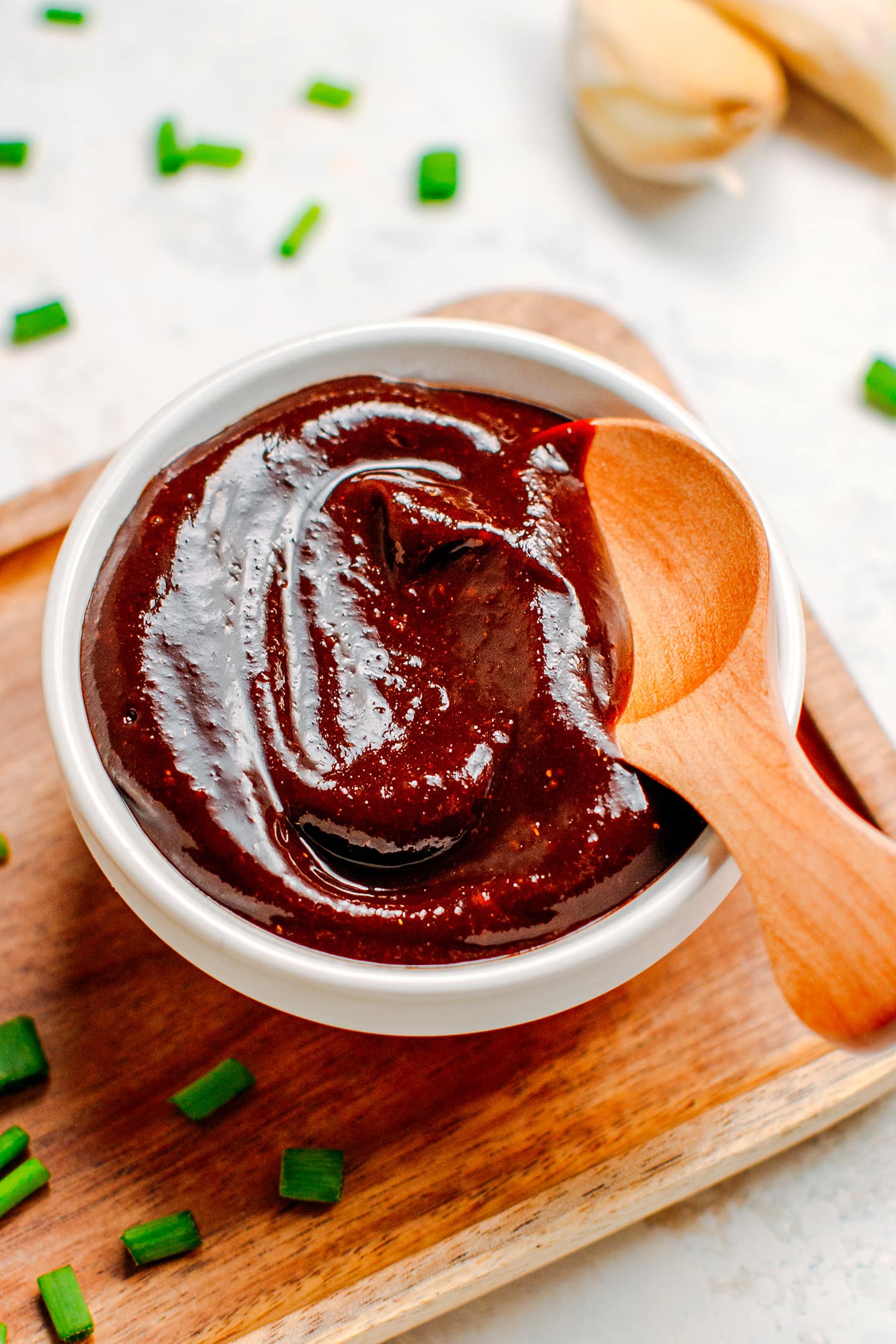 I love Hoisin sauce. The thing is, most sauces available at the store are loaded with white sugar, preservatives, and colorings. So I decided to make my own version, and let me tell you: it tastes even better!
📘 What is Hoisin Sauce
Hoisin sauce (海鲜酱) is a thick black sauce used in Asian cuisine and, more particularly, Chinese dishes. It is used as a glaze, in stir-fries, or even as a dipping sauce.
This sweet, salty, and slightly tangy sauce could be described as the Chinese version of barbecue sauce.
⭐️ Why this is the Best Hoisin Sauce Recipe
It tastes like the original: If you are familiar with the store-bought version, this recipe tastes incredibly similar to it! Plus, it has the same thick consistency.
Healthier: This recipe is refined sugar-free and doesn't contain any additives, as opposed to the store-bought one.
Quick and easy: It takes just 10 minutes from start to finish to prepare and requires only 7 ingredients + a few spices.
It keeps well: This recipe only makes use of shelf-stable ingredients, meaning you will be able to keep the sauce at room temperature for up to 1 month!
The reviews speak for themselves: Emilia said, "I will NEVER buy hoisin sauce again – trust me. This recipe is AWESOME".
This sauce is so good you will want to use it everywhere! Let's do it!
🥣 How to Make Hoisin Sauce
This recipe requires only 7 ingredients that you probably already have in your pantry. Here are the ingredients you will need:
Maple syrup – To keep the sauce refined sugar-free.
Soybean paste – Also called Doenjang, this dark paste is prepared from fermented soybeans. As opposed to miso, it doesn't contain rice and has a more pungent flavor. It's a key ingredient in this sauce. It can be found in almost every Asian store, or you can get Doenjang online.
Soy sauce – For extra umami and saltiness.
Rice vinegar – For acidity and to create the perfect balance of sweet/salty/tangy. Use regular rice vinegar, not the seasoned kind.
Dates – In addition to bringing sweetness, dates help thicken the sauce.
Garlic – While you could use garlic powder, I recommend going with fresh garlic.
Spices – Ground anise, cinnamon, and coriander. If you have five-spice powder on hand, feel free to substitute the spices with 1/4 tsp of five-spice powder.
Toasted sesame oil – Just a drizzle to finish the sauce with a delicious nutty flavor.
Chili sauce – Or sriracha, for a hint of spiciness.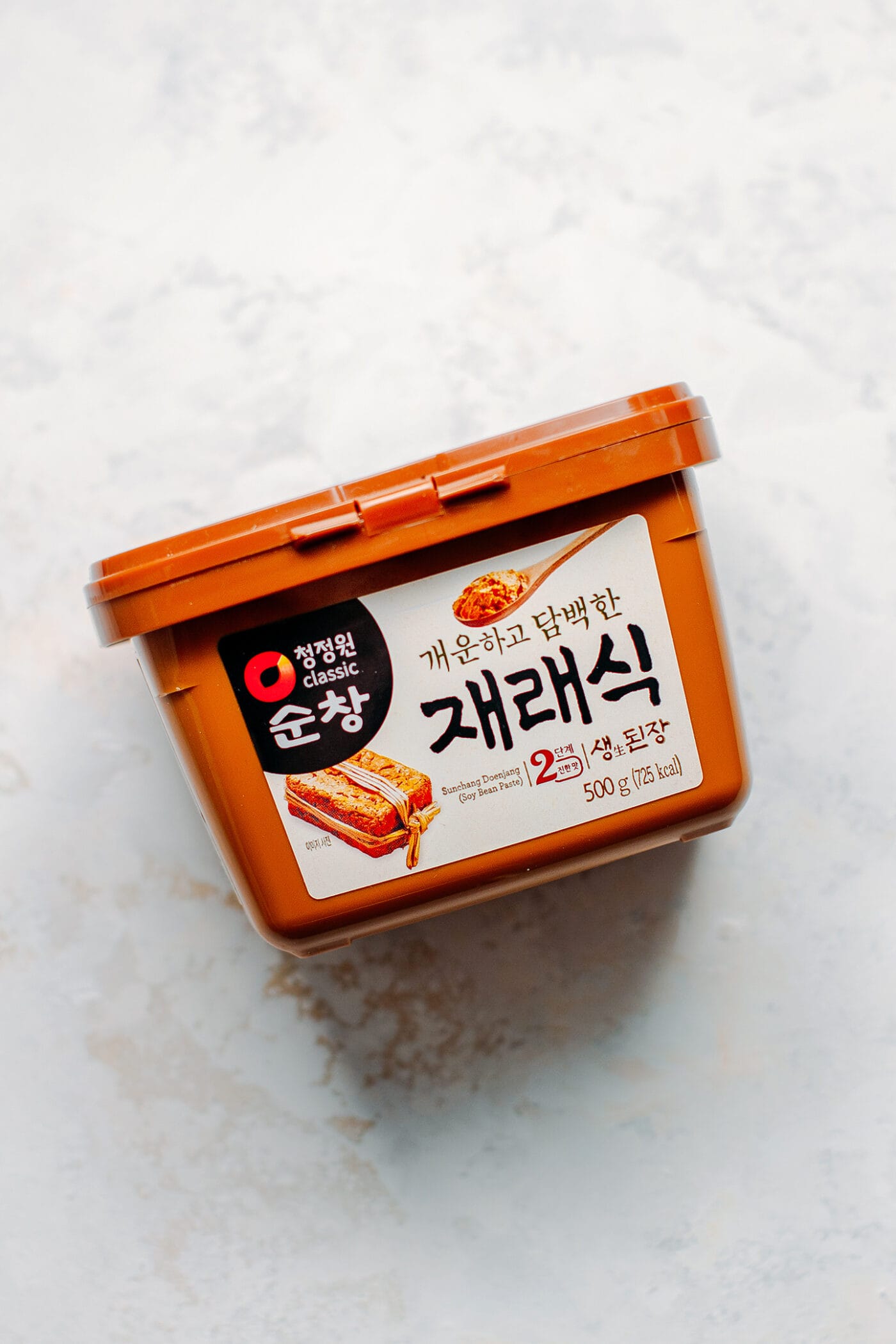 Making the sauce couldn't be easier:
Add all the ingredients to a food processor or blender.
Process for 20-30 seconds or until smooth.
Transfer to a clean jar. Your sauce is now ready to use!
🍜 Where to Use It
Hoisin sauce is incredibly versatile! It can be used:
In stir-fries: Stir in a tablespoon of hoisin sauce at the end of cooking. It also makes a great base for noodle sauces.
As a glaze: For seitan, tempeh, or tofu.
As a dipping sauce: For tofu nuggets, roasted vegetables, spring rolls, egg rolls, and more!
Added to soups: Hoisin sauce is sometimes stirred in Vietnamese Phở.
To make a marinade: Dilute with soy sauce, and add lime juice, oil, ginger, and scallions for a fresh and flavorful marinade!
If you are looking to use this sauce right away, check out these Sesame Crusted Hoisin Tofu Bowls!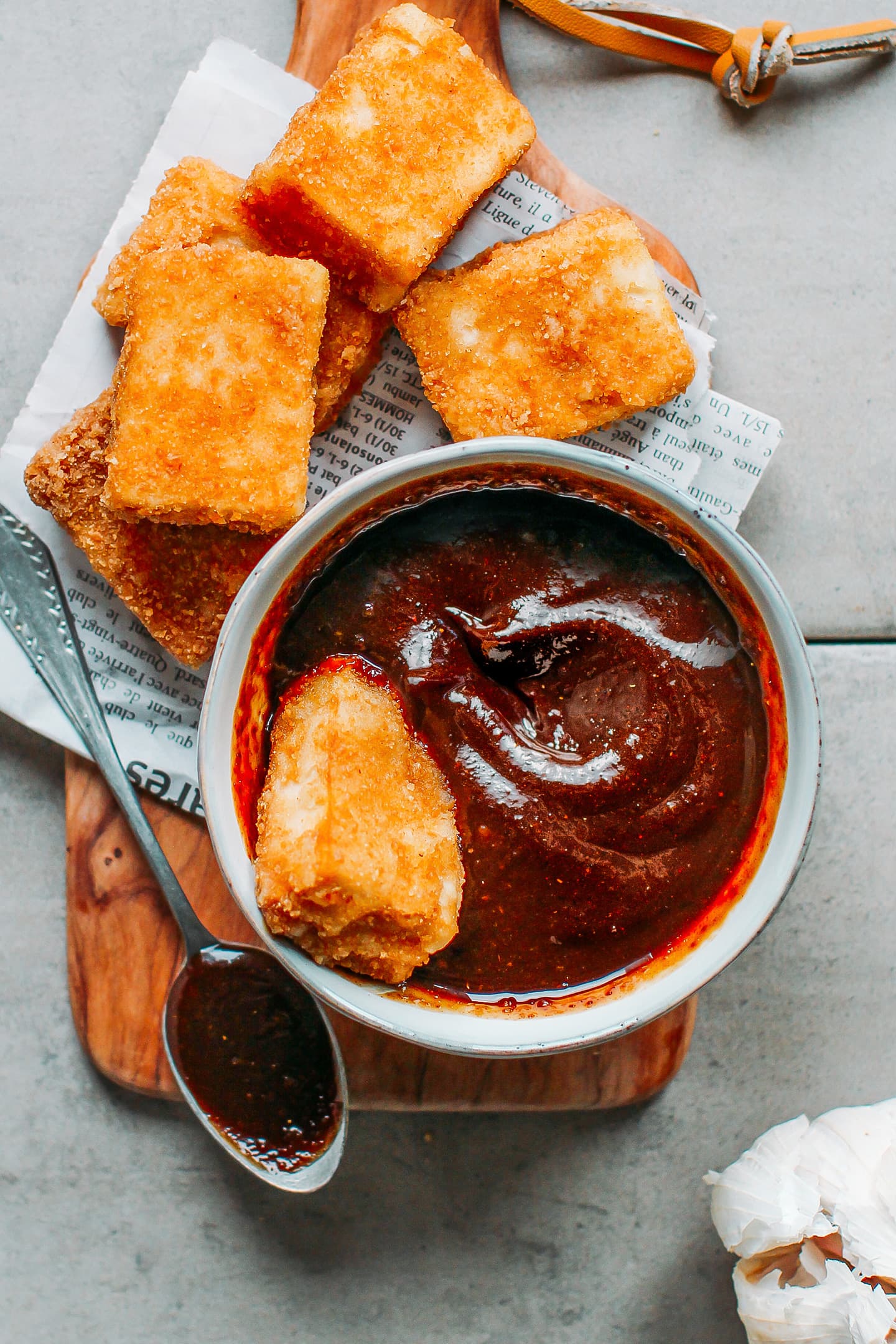 💬 FAQ
Should I use a blender or a food processor?
It's up to you! If you prefer a slightly chunkier sauce, use a food processor. However, if you want a very smooth sauce, use a blender.
Can I substitute the soybean paste for miso?
You can use light brown miso, but the flavor will be different. Soybean paste works best here.
Is there peanut butter in hoisin sauce?
No, there is no peanut butter used in authentic hoisin sauce.
How to store homemade hoisin sauce?
This sauce keeps perfectly at room temperature, stored in a clean jar.
How long does hoisin sauce keep?
Since this recipe only contains shelf-stable ingredients, it will keep for up to 1 month at room temperature or 2 months in the refrigerator!
This easy homemade hoisin sauce is simply said, amazing! It's quick to prepare and flavor-packed. You will never want to buy it at the store again!
🥢 More Asian-Inspired Sauces
Let me know in the comments, and feel free to leave a rating if you try this recipe!
Recipe
Easy Hoisin Sauce
Homemade Hoisin sauce that is sweet, salty, and refined sugar-free! So much better than store-bought! Use it as a dipping sauce, glaze, or as a marinade.
Instructions
Combine all the ingredients in the bowl of a food processor, or blender. Process for 10-15 seconds, or until smooth.

Transfer to a jar and store in the refrigerator. Hoisin sauce will keep for up to 2 months in the refrigerator.
Nutrition
Serving:
1
tbsp
|
Calories:
50
kcal
|
Carbohydrates:
9.8
g
|
Protein:
0.9
g
|
Fat:
1.1
g
|
Fiber:
0.5
g
|
Sugar:
7.6
g
Did you make this recipe?
Tag @fullofplants on Instagram and hashtag it #fullofplants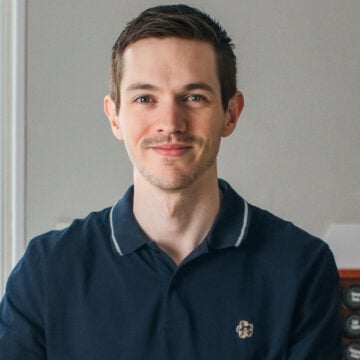 About the Author
Thomas Pagot is the founder, photographer, and recipe developer behind Full of Plants. He created the blog in 2016 as a personal cookbook for vegan recipes. Through years of recipe development, Thomas has successfully grown Full of Plants into a trusted resource for plant-based recipes.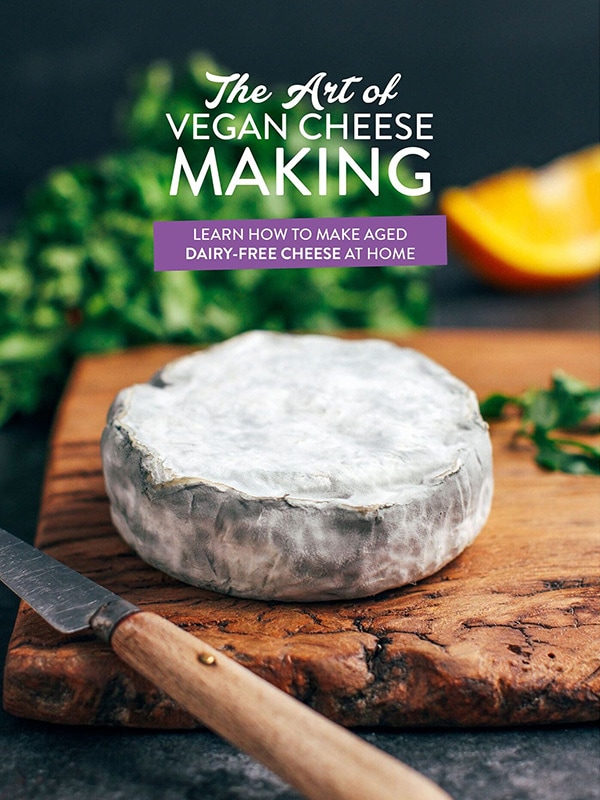 🧀 25 Mind-Blowing Vegan Cheese Recipes!
Sign up for the Full of Plants newsletter and you'll get new recipes delivered by email weekly, PLUS your FREE 100-page printable eBook!