Introducing vegan paté!
A tender, meaty, and buttery savory spread that you will want to use everywhere! Spread of crusty bread, toasts, or use in your favorite sandwiches!
The base for this paté is sautéed mushrooms and caramelized onions. Both are responsible for the main flavor. We start by cooking garlic and onions until they start to brown. Then add sliced mushrooms and cook until tender.
Next, you want to deglaze the pan with soy sauce, and season with ground black pepper, rosemary, and thyme.
For texture, we have raw cashews that add a subtle nuttiness as well as richness. Blend the cashews until you get cashew flour. It's okay if some larger pieces remain, it will only add to the texture of the paté.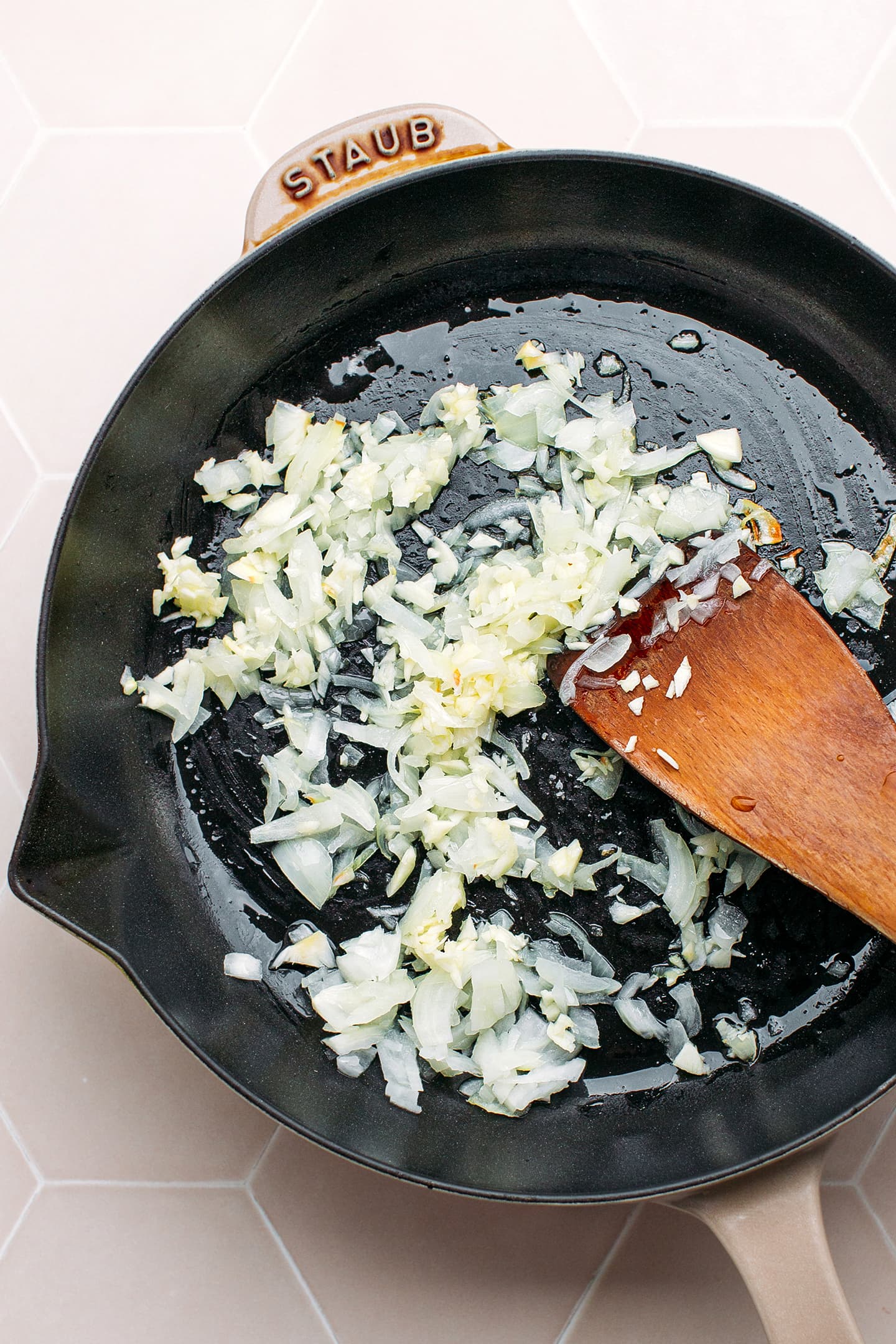 Once you have cashew flour, add the sautéed mushrooms, melted vegan butter, rosemary, thyme, and salt to the blender. I also added a couple of slices of sandwich bread. The addition of bread to the mixture gives this paté a meatier texture and a better mouthfeel in my opinion.
Once you have blended everything into a very slightly chunky texture, transfer to clean jars and bake for about 20 minutes.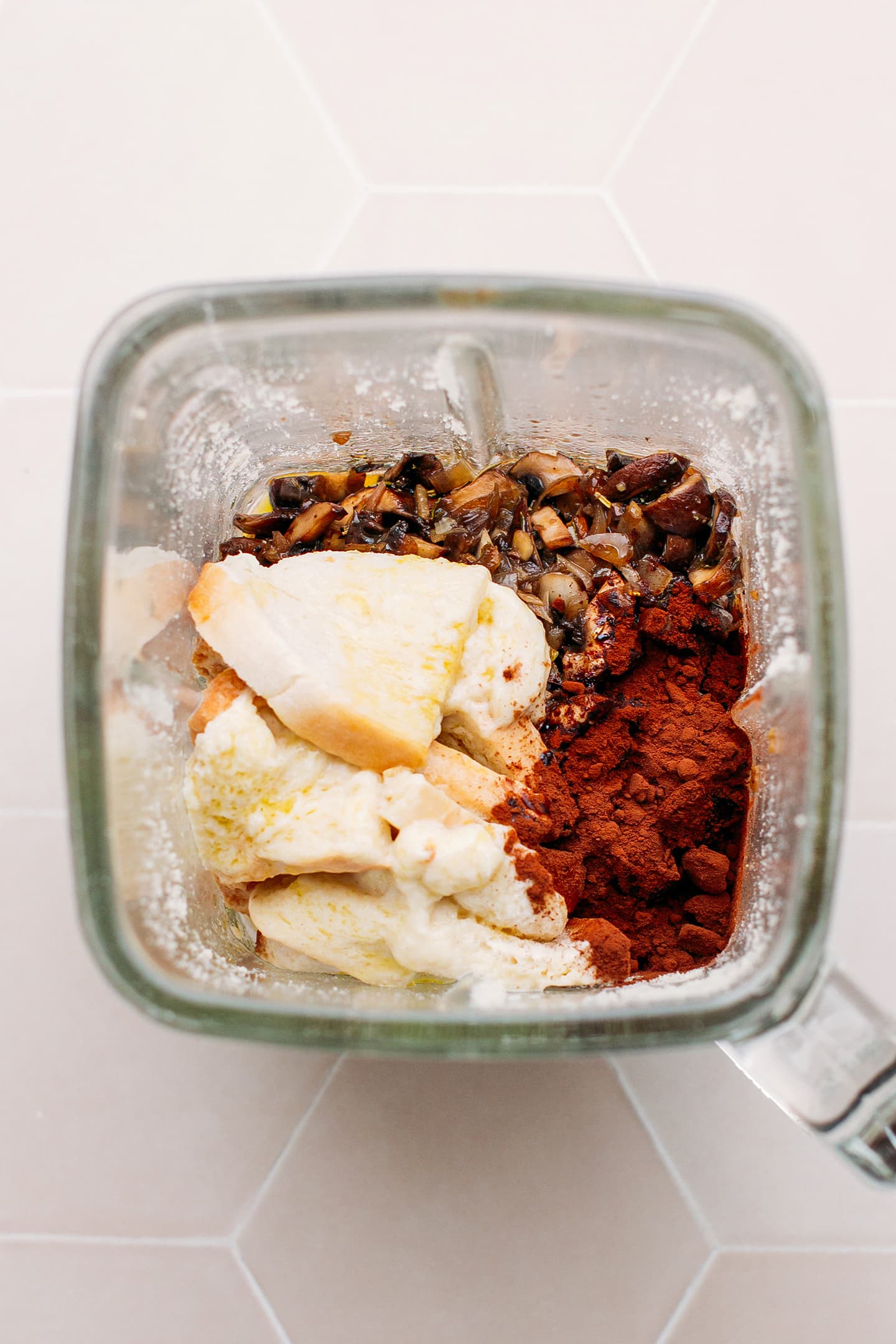 For a quick, fresh, and flavorful sandwich, spread a generous spoonful (or two) of paté, top with fresh tomato slices, salad, a few slices of your favorite vegan cheese, and you're ready to go!
This paté is best eaten chilled, although you can let it sit at room temperature for 20 minutes if you want it to soften a bit. Spread this paté on toasted bread for a delicious appetizer, or use in sandwiches or bánh mì!
Let me know in the comments if you try this recipe!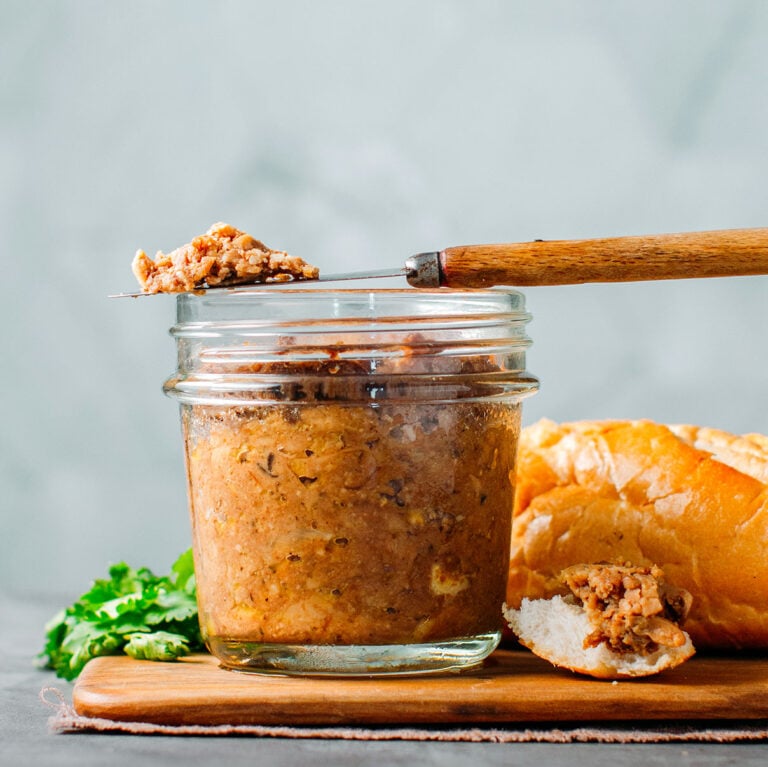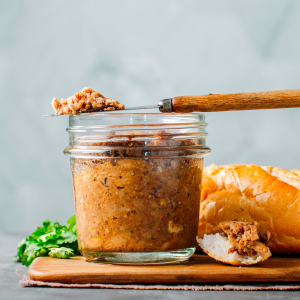 Vegan Paté
Meaty and buttery vegan paté that is perfect to add flavor to your sandwiches! It's also great with toasted bread or crackers!
Ingredients
2

slices

of sandwich bread

¼

cup

almond milk

1

tablespoon

oil

2

medium onions

thinly sliced

4

cloves

of garlic

minced

4

cups

chopped mushrooms (of your choice)

2

tablespoon

soy sauce

1

teaspoon

ground black pepper

¾

cup

raw cashews (or almonds)

¼

cup

melted vegan butter

1 and ½

teaspoon

cacao powder

optional, for color

½

teaspoon

maple syrup

¼

teaspoon

each: rosemary

thyme

⅛

teaspoon

salt
Instructions
Preheat oven to 350°F (175°C).

Roughly chop the two slices of sandwich bread and place it in a bowl. Add the almond milk (or water) and mix to combine. This step will soften the bread. Set aside.

Heat the oil in a large non-stick skillet over medium heat. Once hot, add the onions and garlic, and cook until onions start to brown. Next, add the mushrooms and cook for another 5-7 minutes.

Pour in the soy sauce and stir to coat the mushrooms with the sauce. Add the ground black pepper, and cook for one more minute. Remove from heat and set aside.

Add the raw cashews to a blender and blend until you get a coarse flour. Add the sautéed mushrooms, bread, melted vegan butter, cacao powder, maple syrup, rosemary, thyme, and salt. Blend, scraping down the sides from time to time, until you get a very slightly chunky texture. If you want your paté to be smoother, blend longer.

Transfer the paté mixture to two small jars, or one larger, and bake for about 20 minutes.*

Remove from the oven and let cool completely at room temperature before transferring to the refrigerator.

This paté is delicious eaten chilled with toasted bread, or spread on bagels, sandwiches, etc! Paté will keep for up to 4 days in the refrigerator.
Notes
*If you want a moister and softer paté, steam it in a bamboo basket for 20 minutes instead of baking.
DID YOU MAKE THIS RECIPE?
Tag @fullofplants on Instagram and hashtag it #fullofplants