Since I nailed the foie gras recipe I thought it would be a breeze to make a vegan version of rillettes. But I was wrong, achieving the good texture and getting the flavors on point required a lot more tests than I thought. Anyway, I didn't give up and I'm finally delivering the recipe with you folks!
The result is a tender, flavorful pâté that is delicious spread on bread, toast, or crackers. It's savory, creamy, and slightly crumbly like real rillettes!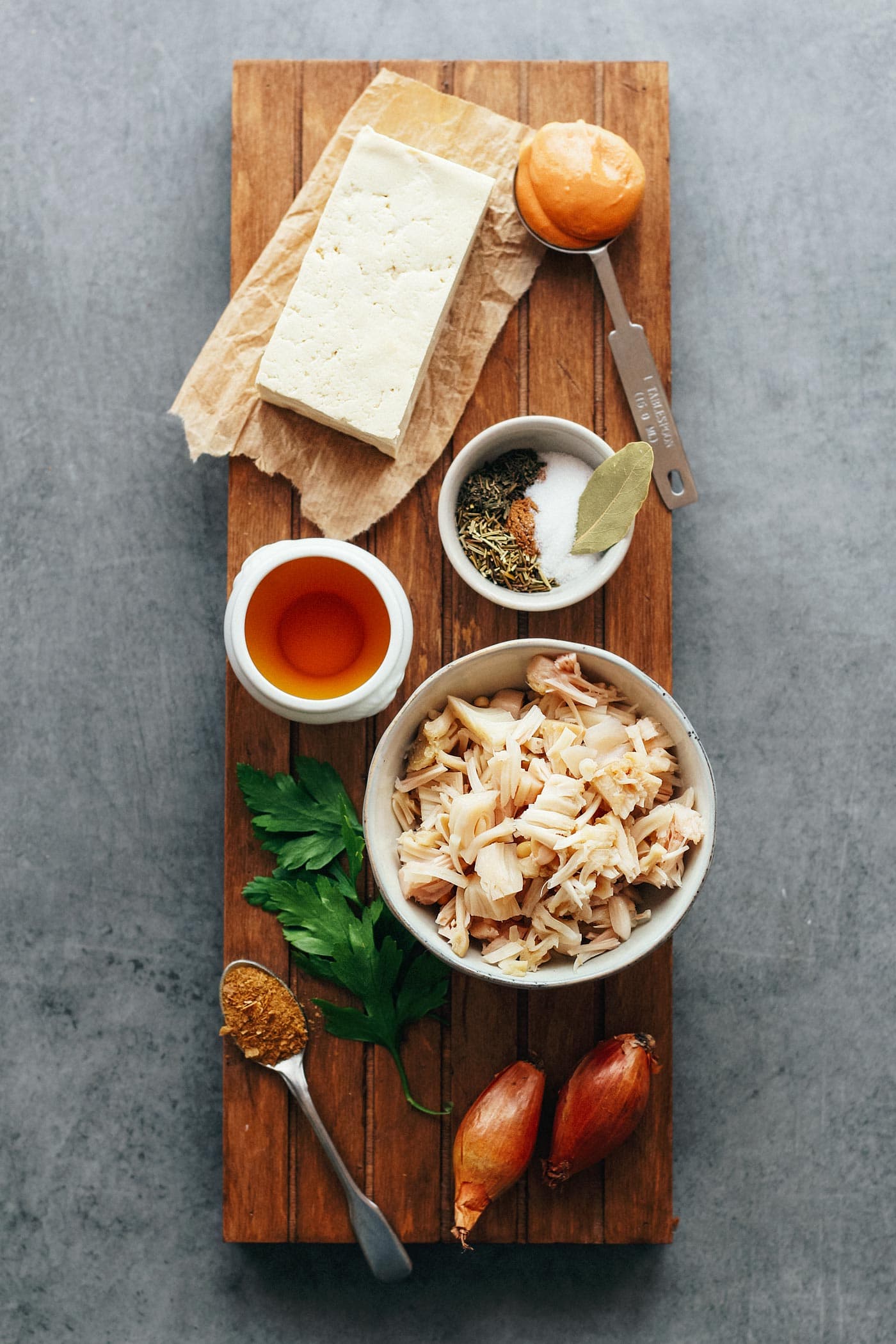 This recipe relies on tofu mixed with pulled jackfruit, and cashew butter. Tofu makes the base, jackfruit adds up by bringing a meaty texture, and cashew butter helps make the whole pâté creamier and spreadable. It also adds a fattier mouthfeel, just what you want for rillettes!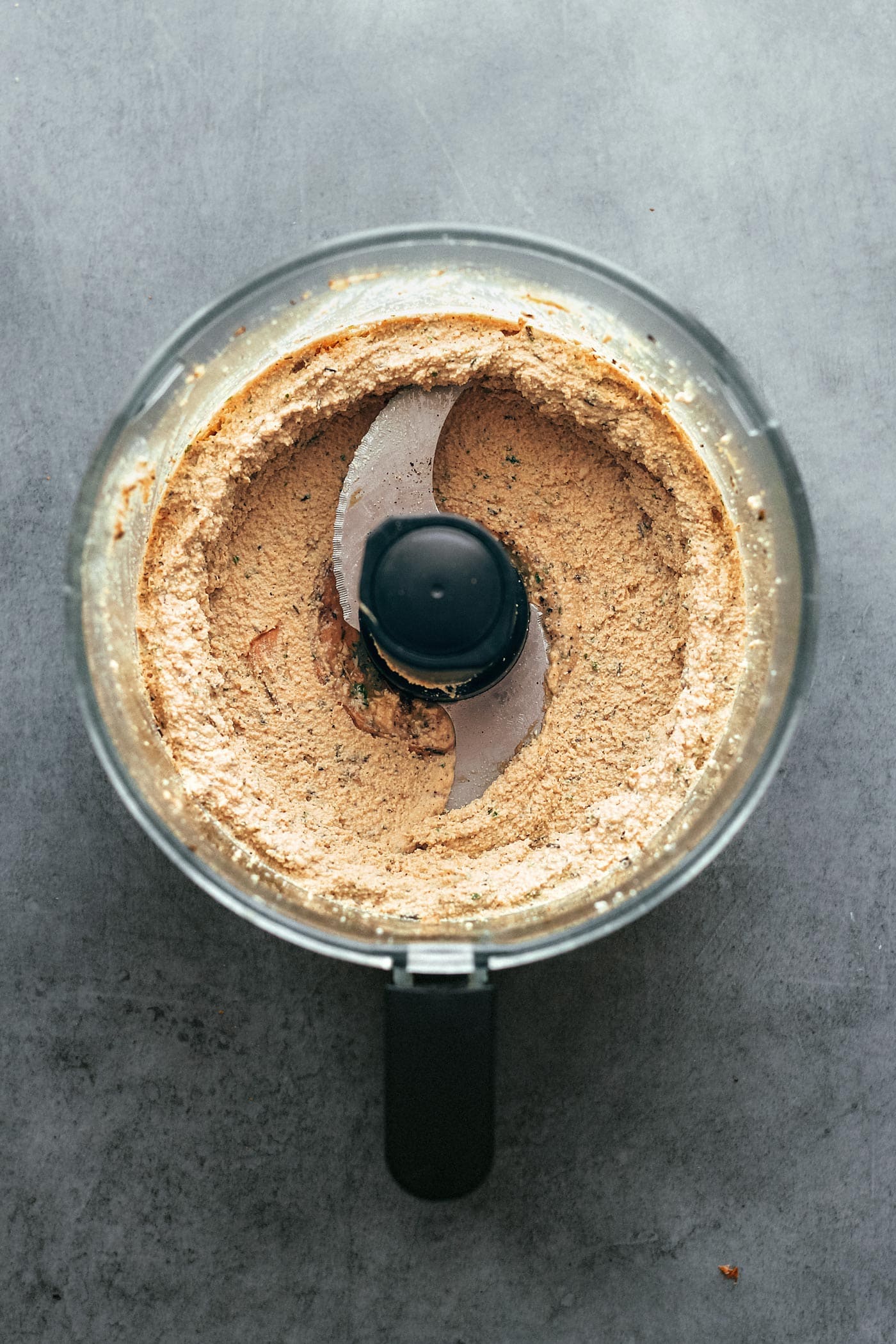 To make it taste like the real deal, I used a mix of different seasonings. First, we have some shallots that add a subtle sweetness. Then cognac that is responsible for that "country-style pâté" flavor, it's very important in this recipe so do not omit it. If you don't have cognac on hand, you can also use porto.
It took me a few batches to figure out the perfect combination of spices and herbs. It's a mix of rosemary, thyme, bay leaf, and parsley combined with french four-spice mix and a pinch of nutmeg. Try to use the exact measurements for the spices and herbs, it's the mix of these aromatics that make it taste like rillettes.
Now back to the recipe, you start by processing all the ingredients together in a food processor, except the jackfruit. Once your mixture is almost smooth and creamy, transfer it to a bowl. Then you can stir in the chopped and mashed jackfruit. We are adding jackfruit after processing the other ingredients to keep its "meaty" texture.
Once this is done you press it into a small baking dish, or glass terrine jar, and bake for about 40 minutes. Let cool completely, and refrigerate at least 2 hours before eating.
These vegan rillettes make a great appetizer and would pair well with some vegan foie gras on a charcuterie board! You can also use it in sandwiches with some mayo, or camembert, for a healthy lunch!
Let me know in the comments if you try this recipe!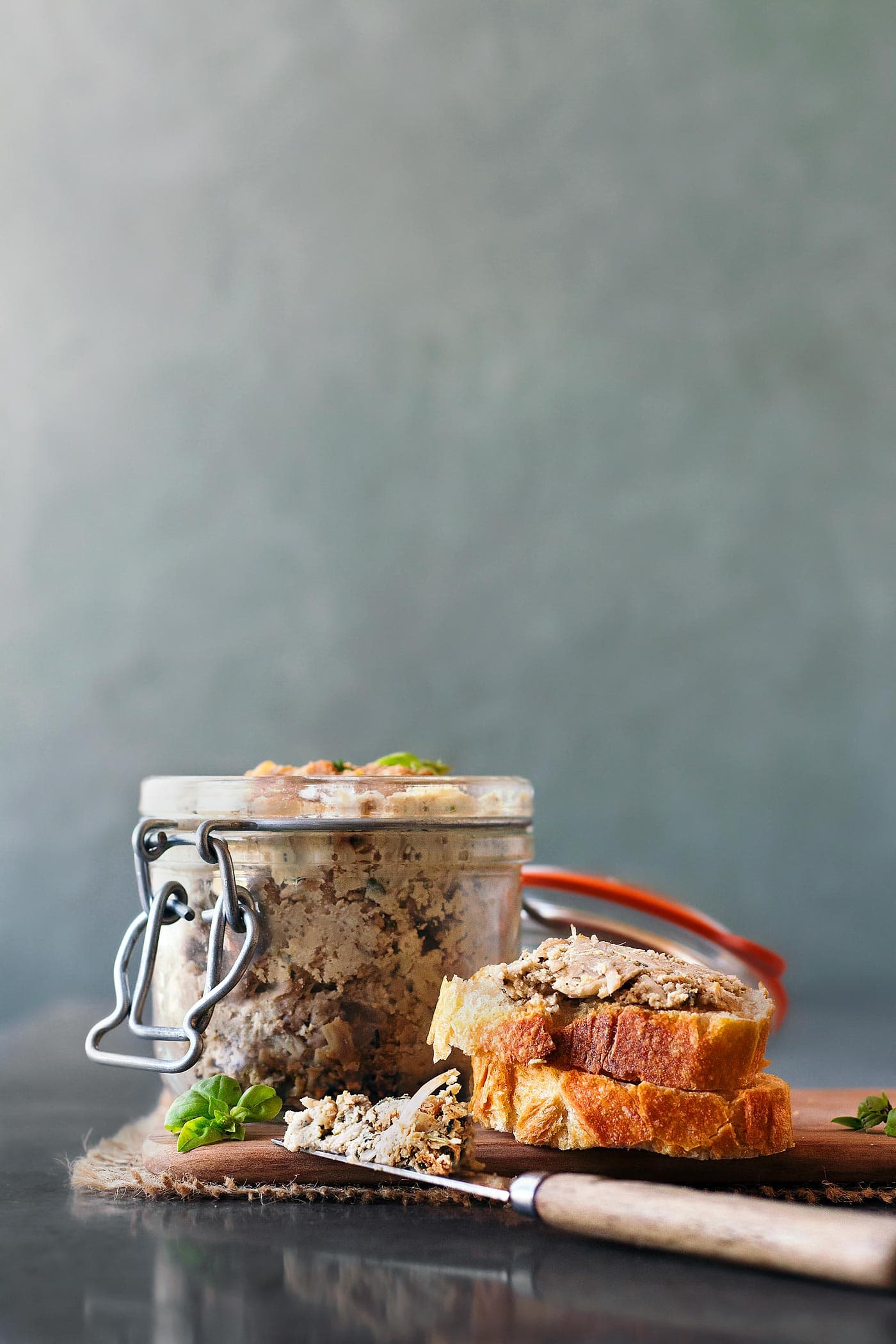 📖 Recipe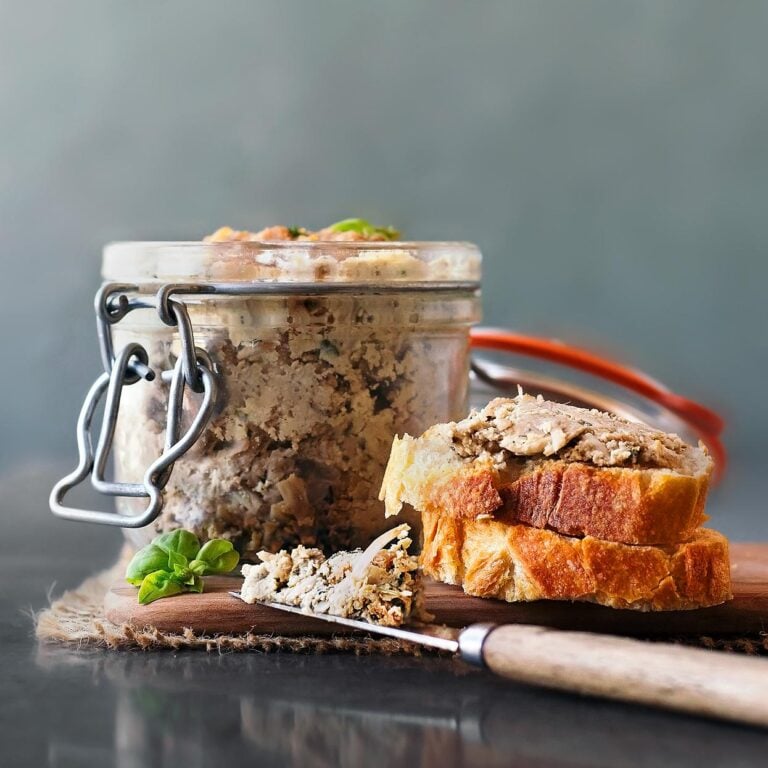 Vegan Rillettes
Tender and flavorful vegan rillettes that taste like the real thing! Delicious spread on crackers or toasted bread!
Ingredients
7

ounces

firm tofu

¼

cup

cashew butter

or almond butter

3

tablespoon

cognac

2

tablespoon

melted coconut oil

1

teaspoon

maple syrup

2

shallots

¾

teaspoon

thyme

¾

teaspoon

rosemary

1

bay leaf

1

tablespoon

freshly chopped parsley

1

teaspoon

onion powder

1

teaspoon

nutritional yeast

½

+

⅛

teaspoon salt

¼

+

⅛

teaspoon four spice

¼

teaspoon

ground black pepper

⅛

teaspoon

nutmeg

1

20-ounce can

young green jackfruit
Instructions
Preheat oven to 350°F (180°C).

Add the tofu, cashew butter, cognac, melted coconut oil, maple syrup, and shallots to the bowl of a food processor. Process until you get a paste and all ingredients are well combined, about 10-15 seconds.

Add thyme, rosemary, bay leaf, chopped parsley, onion powder, nutritional yeast, salt, spices and black pepper. Process for another 3-5 seconds. Transfer the paste to a large mixing bowl and set aside.

Drain and rinse the jackfruit. Chop off the hard, core part of the jackfruit and discard it. Cut each piece of jackfruit in half, then mash them using a fork until you get a "pulled pork" kind of texture.

Add the pulled jackfruit to the tofu mixture bowl. Using a spatula, mix until the jackfruit is well incorporated.

Transfer the mixture to a small deep baking dish, or glass terrine jars. Press down firmly to pack the mixture. I filled two terrine glass jars.

Cover with aluminum foil and bake for 40 minutes. Uncover and bake for another 7-10 minutes. Let cool completely before placing in the refrigerator.

These rillettes are best served cold, or at room temperature. It will keep in the refrigerator for up to 5 days. Delicious spread on toast with a glass of red wine on the side! It makes a great appetizer, but can also be used in sandwiches, tortillas, etc.
Notes
If you don't have four-spice blend you can make your own. Mix together ¼ teaspoon ground white pepper, ¼ teaspoon ginger, ¼ teaspoon cinnamon, ¼ teaspoon nutmeg, and ¼ teaspoon ground cloves.
Did you make this recipe?
Tag @fullofplants on Instagram and hashtag it #fullofplants