Learn more about taro roots! What it is, how to cook it, its health benefits, plus a round up of recipes that make use of this uncommon root vegetable!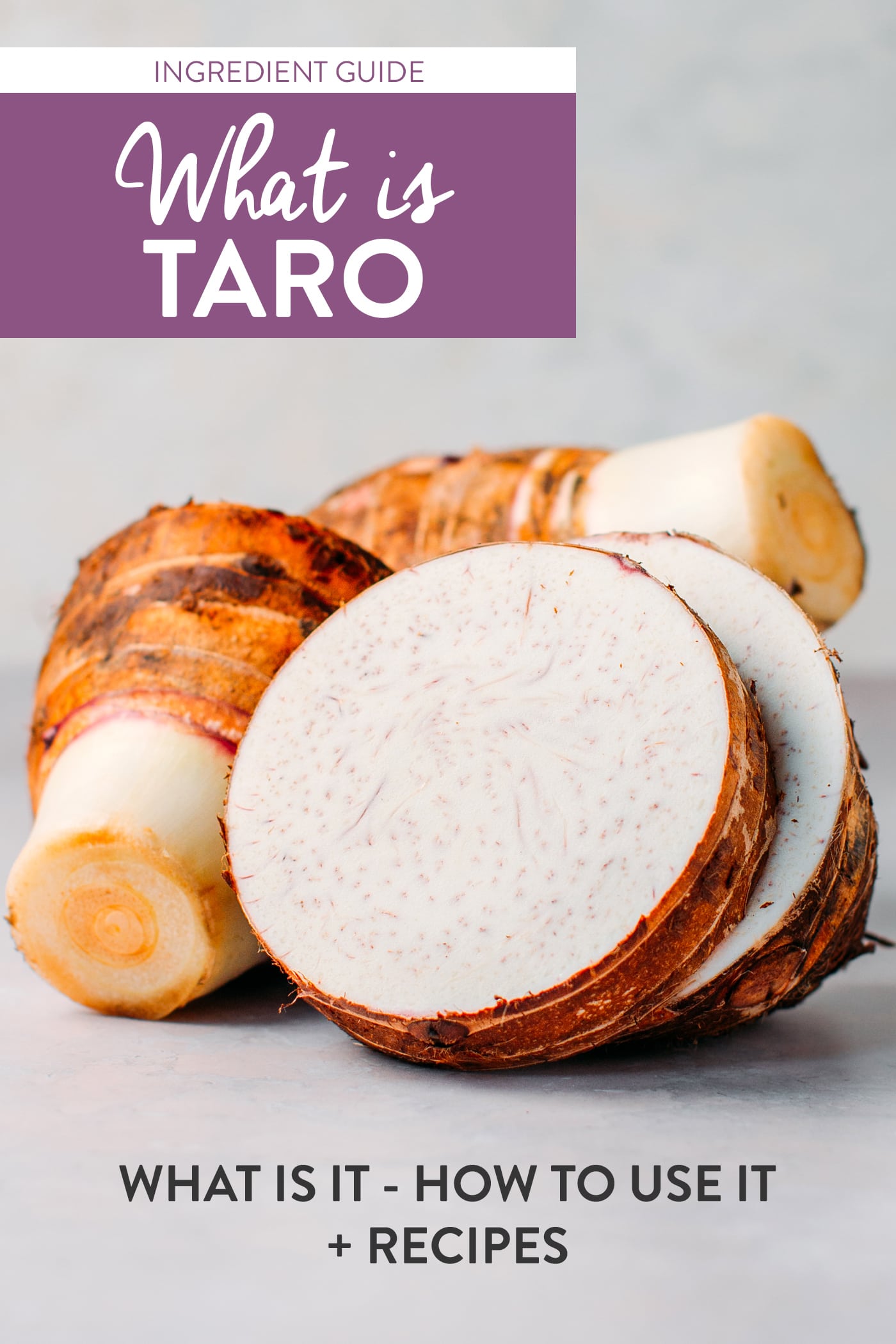 Jump to:
If you ever feel intimidated by this vegetable, don't worry! We are teaching all about it here, plus share a few recipe ideas!
📘 What is Taro?
Taro, scientifically known as Colocasia esculenta, is a tropical plant that is grown mainly for its edible tubers in Africa, Oceania and South Asia (just like sweet potatoes and yams). While its corms are primarily used for cooking, its leaves are also edible. Moreover, taro is said to be one of the earliest cultivated plants on Earth!
This starchy root vegetable was originally grown in Asia but now has become popular in many countries around the world. It has a brown outer skin and a white flesh with purple spots. Once cooked, it tastes mildly sweet and has a texture similar to that of a potato.
📓 Types of Taro
There are many varieties of taro, but only two very different types:
Small Taro Roots - Also called Eddoe, this variety consists of small tubers of about 150-300 grams. Its skin is light brown with some kind of threads, resembling the shell of a coconut. It has a white flesh and an earthy flavor.
Large Taro Roots - This type of taro is usually more elongated and heavier (1-2 kg) compared to Eddoe. Its flesh is white as well but with light purple specks. It is sweeter and nuttier. I personally have a preference for this variety.
Are eddoe and taro interchangeable? Overall yes, Eddoe and taro can be used interchangeably in most recipes. However, when used in dessert recipes, I would recommend going with the larger taro roots, which are sweeter, more buttery, and less starchy.
🥔 How to Pick a Good Taro?
1. Overall Appearance
It can be difficult to judge whether a taro is fresh or not. However, you can check the outer skin. If there is a lot of wet soil, it means it has just been dug up. I also recommend paying attention to the outer skin to see if there are any spots of mold.
2. Weight
Weighting 2 taro roots of the same size by holding one on each hand is also an effective way to pick a good taro. If the taro root is heavy, it means it has a lot of water inside. Therefore, once cooked, it will usually be tasteless. A good taro will have a buttery and nutty flavor once cooked.
3. Flesh
Taro can also be found cut in halves in grocery stores, especially when the roots are very large. If this is the case, look at its flesh. If the specks have a light purple color (see the image below), it means that the taro is good. If the specks are brown, the taro is usually not good.
🥣 How to Cook Taro
Taro can be used the same way you would use regular white potatoes. It can be sautéed, steamed, boiled, or deep-fried.
Washing and Preparing Taro
If your taro has a lot of soil around it, run it under cold water to wash it. Drain well and pat it dry.
Next, cut it: I recommend starting by slicing the taro crosswise into 1-inch wedges, and then peeling the skin using a sharp knife. I find this way easier compared to peeling it whole.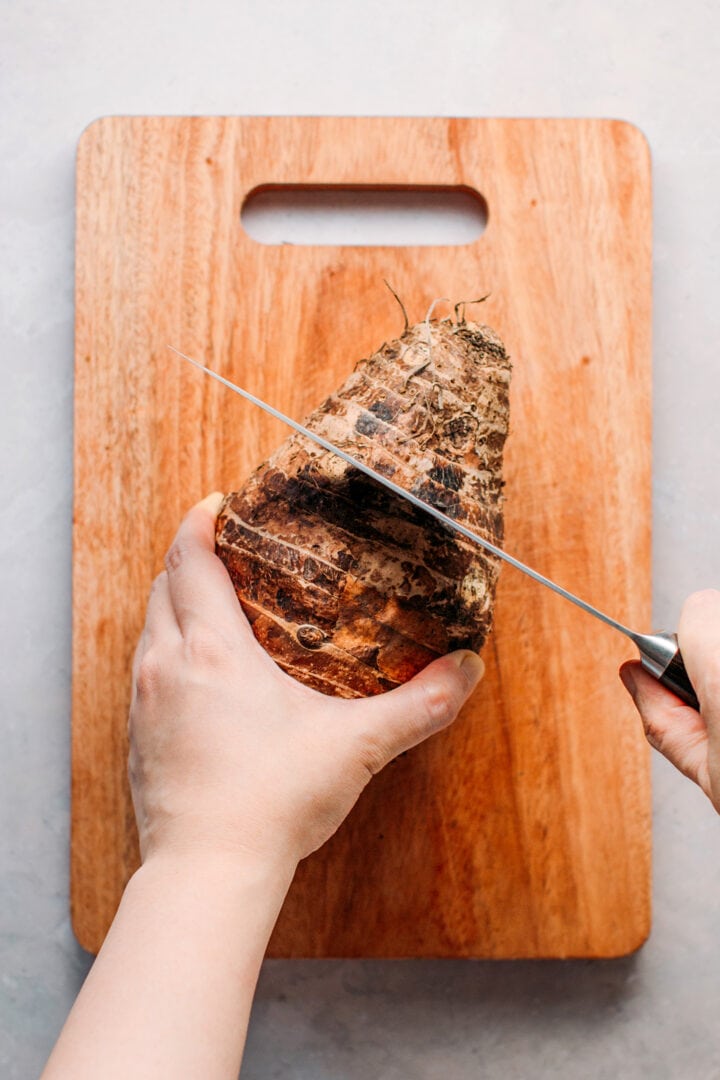 Once your taro is peeled and cut into the desired shape, soak it in salted water for about 15 minutes, and then drain. This step will help remove some of the starch.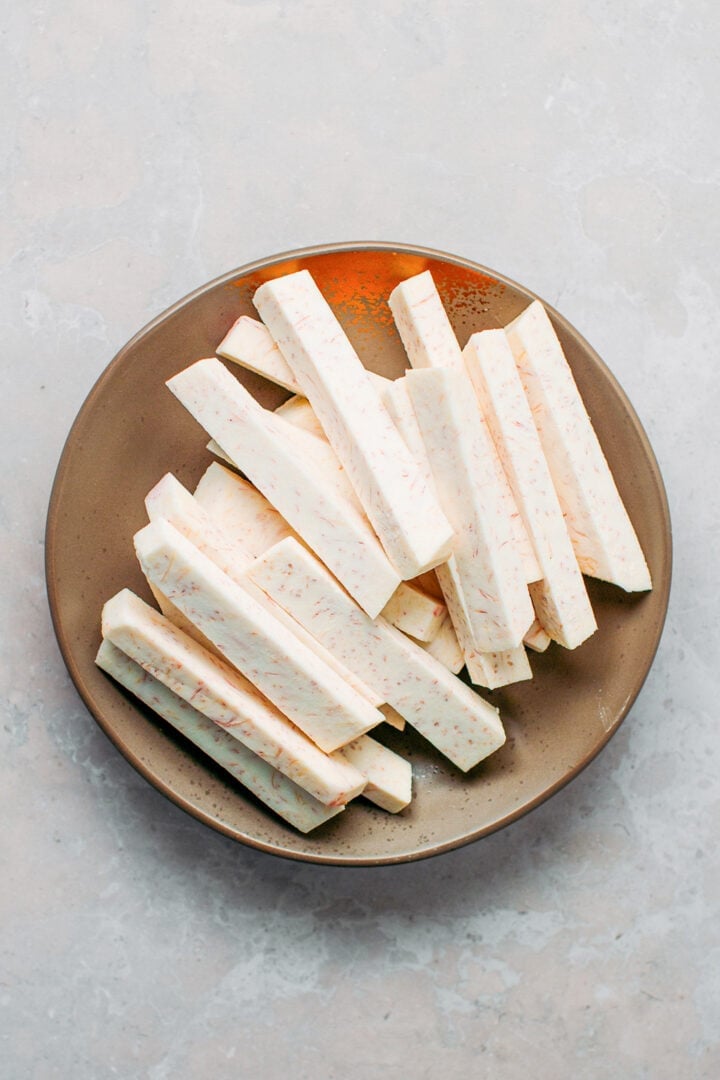 Steaming
Once your taro is peeled and has soaked, drain it and place it in a bamboo steamer basket, or regular steamer. You can then steam it for about 15 minutes, or until its flesh is tender.
Boiling
Put the diced taro in a large pot and cover with water to fully submerge it. Bring to a boil and let simmer for 15-20 minutes, or until the taro is soft. Keep an eye on it as you don't want to overcook it, it would become too soft and watery.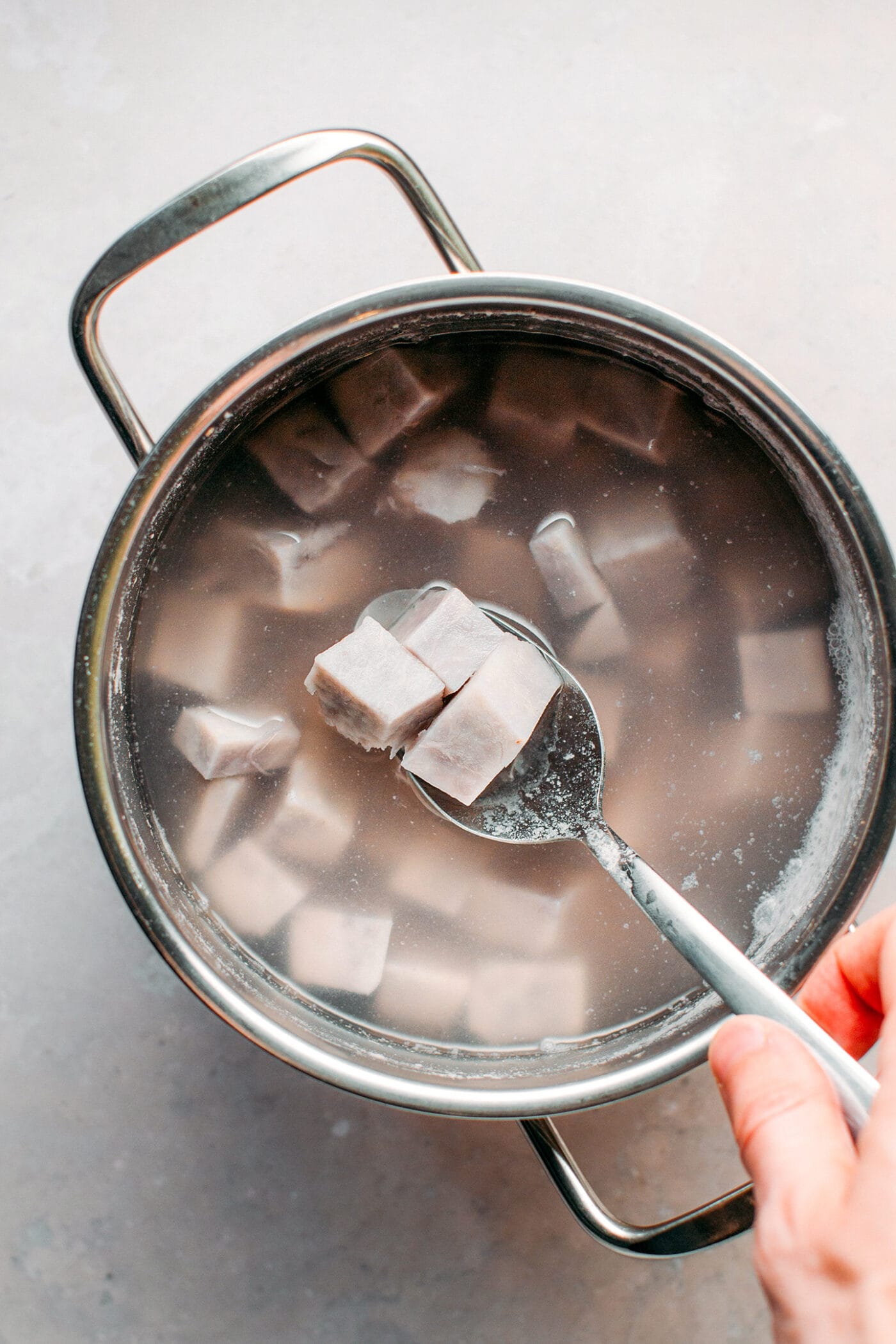 Frying
If you want crispy on the outside and tender on the inside taro, frying is the way to go! To make taro fries:
Peel, wash, and cut taros into about 3-inch (6-8 cm) long strips with about ½-inch (1 cm) in width. Soak them in a bowl of cold water mixed with a generous pinch of salt and a squeeze of lemon juice for about 15 minutes. Then rinse several times and drain well.
Heat a sufficient amount of cooking oil in a deep pan. Once the oil is hot, put the taros into the pan and fry on medium heat. If the oil is too hot, your fries might burn before the inside is fully cooked.
When the taro fries are golden brown on all sides, remove from oil using a slotted spoon and place them on a plate lined with kitchen paper towels. Enjoy immediately otherwise the fries will get softer after a few hours.
Feel free to check out this more in-depth recipe on how to make taro fries.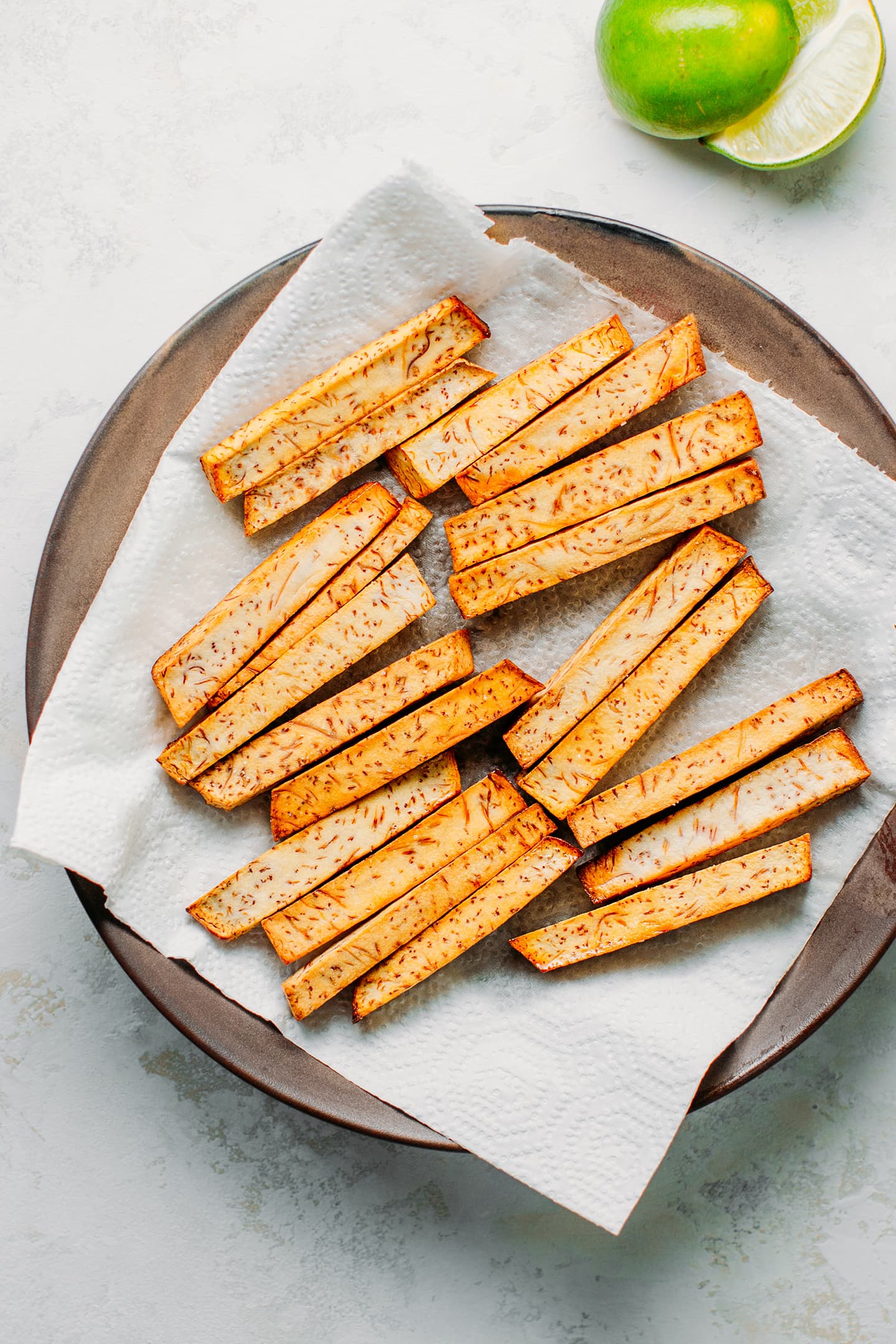 📙 Nutritional Value of Taro
Compared to white potatoes, taro is a little bit higher in calories as it has a denser texture. Per 100g of cooked taro:
142 calories
0.1g of fat
34.6g of carbohydrates
5.1g of fiber
0.5g of protein
🩺 Health Benefits of Taro
Taro is very rich in nutrients. One portion of taro provides ⅓ of your daily recommended amount of manganese, which is good for metabolism, bones, and for preventing blood clotting.
Taro also contains many vitamins that are good for eyes, skin, circulatory, and immune system.
Moreover, taro roots also bring other health benefits such as: improving digestion, stabilizing blood sugar, reducing your risk of diabetes, preventing your risk of heart disease, preventing cramps, etc.
📔 How to Store Taro
The best way to store whole taro roots is to keep them in a cool and dry place (just like potatoes). Do not put taro in the refrigerator or it will soften and quickly rot because of the humidity.
For Peeled and Diced Taro
Simply transfer diced taro to an airtight container and store it in the refrigerator. Taro will keep for 3-4 days in the refrigerator. In the freezer, they can be stored for even longer, about 10 days.
🍲 Taro Recipes
Taro can be used to make both salty and sweet recipes. Here is a selection of plant-based taro recipes: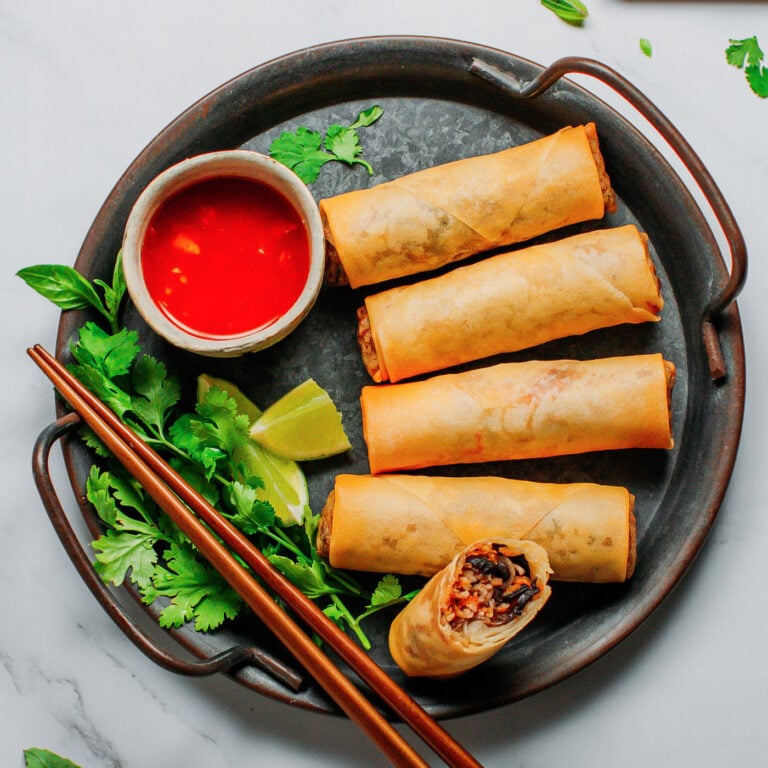 Easy Vegan Egg Rolls
Easy vegan egg rolls that are super crispy on the outside and tender on the inside. Served with a spicy and garlicky dipping sauce! Better than takeout!
These egg rolls are prepared from taro, mushrooms, and carrots!
Make This Recipe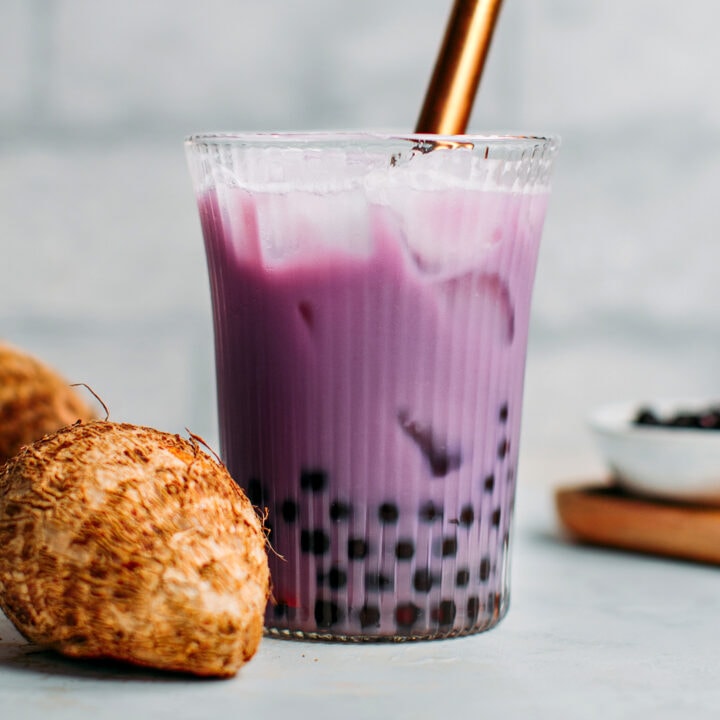 Creamy Taro Milk Tea
Learn how to make delicious taro milk tea at home! Prepared from scratch with just 5 ingredients, this nutty and creamy drink is vegan and 100% natural!
Make This Recipe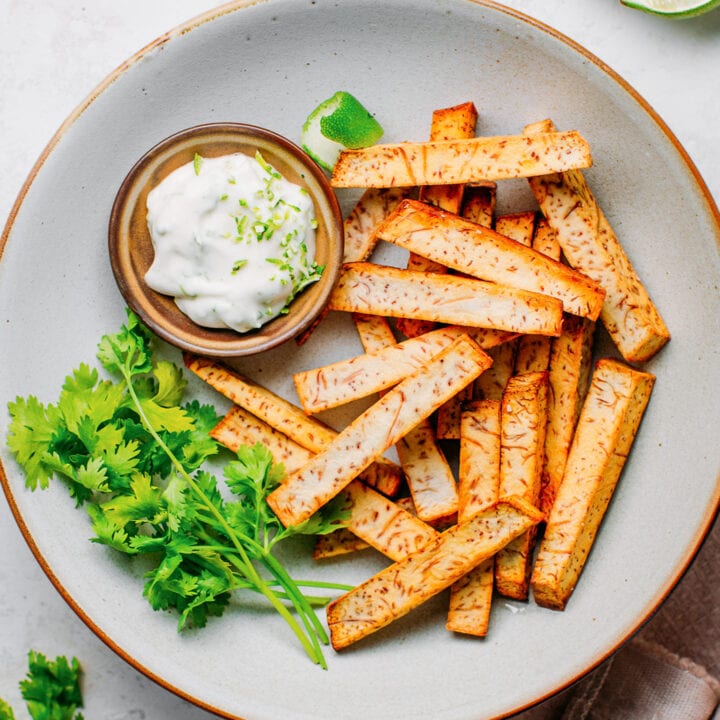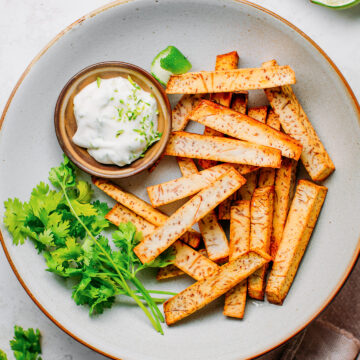 Taro Fries with Cilantro Mayo
Learn how to make taro fries! Crispy on the outside, tender on the inside, these taro fries come with a zesty cilantro mayo. Only 5 ingredients and 45 minutes required!
Make This Recipe
Easy Vegan Vietnamese Curry
Hearty and flavorful one-pot Vietnamese curry! Infused with aromatics like lemongrass, ginger, and garlic, and loaded with eggplant, taro, carrots, tofu, and mushrooms!
Make This Recipe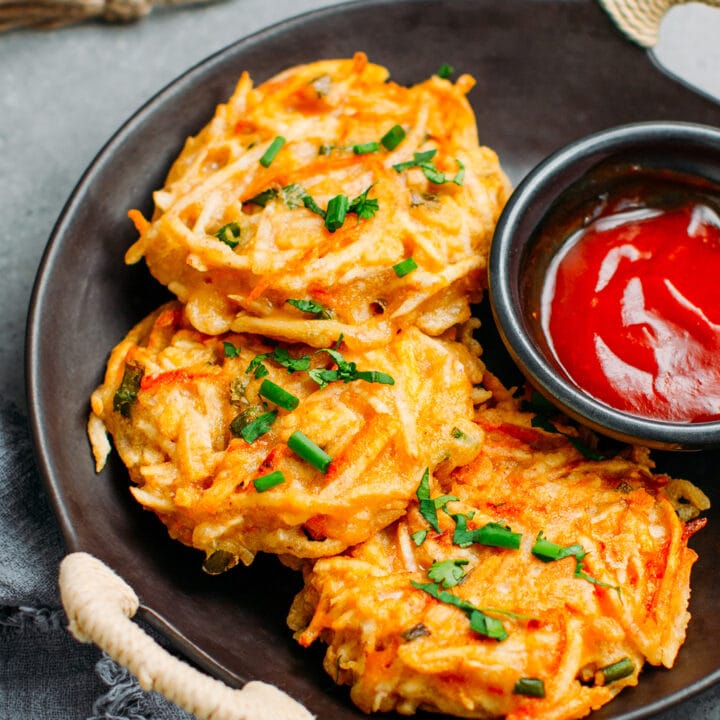 Taro Fritters
Perfectly crispy fritters made with taro roots, carrots, garlic, and green onions. Served with a sweet chili sauce!
Make This Recipe
You can also use taro in stews and soups, it will soak up the flavors of the broth!
💬 FAQ
Does taro have a purple color?
As you can see on the photos, taro just has a very light and subtle purple color with some darker specks. It gets a darker shade of purple once cooked, especially when steamed.
What is taro powder?
Taro powder refers to cooked taro that has been dried and ground into a powder. Do not confuse natural taro powder with taro milk powder, which contains flavorings, sugar, and colorings. Sometimes, ube powder which has a deep purple color is sold as "taro powder", however ube powder is made from a variety of purple yams.
When is taro season?
Taro can be grown all year round in frost-free weather conditions and can be found year-round as well in most produce stores.
Can taro be eaten raw?
Taro should never be eaten raw as it would be toxic. It contains a chemical compound known as calcium oxalate which can damage kidneys. Worry not, once cooked, taro is completely safe to eat!
Does taro tastes like white potatoes?
Taro has a milder flavor compared to potatoes, it is just slightly sweeter and a bit more earthy.
Are taro and ube the same?
While taro and ube are both root vegetables, they are very different. Ube is a type of purple sweet potato. It is much sweeter and has a very bright purple flesh.
I hope you enjoyed this guide on taro and that you will give this root vegetable a try if you haven't yet!