This classic Vietnamese Bánh Tráng Nướng, often called Vietnamese pizza, consists of a crispy grilled rice paper sheet topped with vegan egg, sausage, corn, and plenty of green onions! It is then generously drizzled with mayo and sweet chili sauce!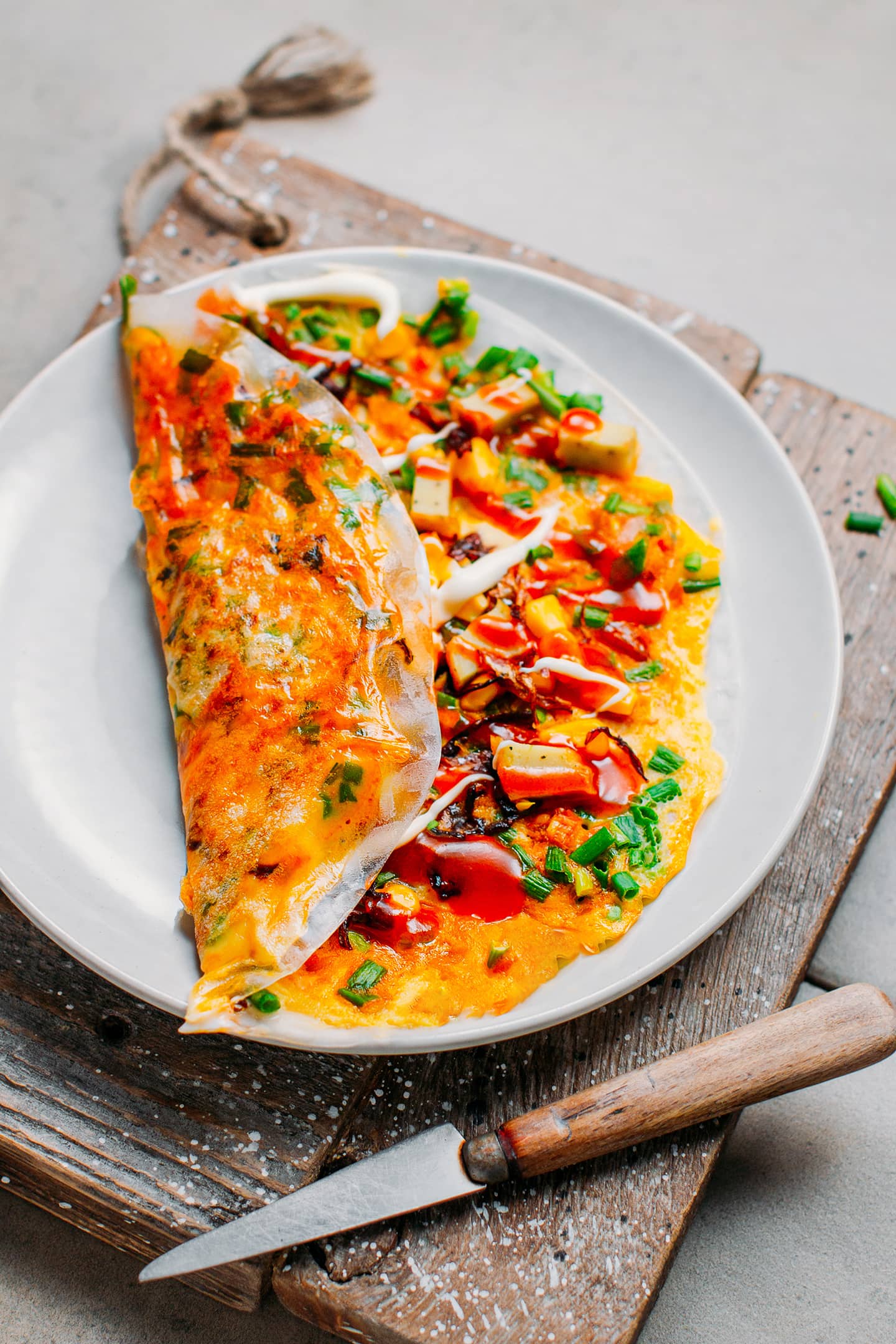 Rice paper is taken to a whole new level!
These crispy rice paper sheets are stuffed with chickpea omelet, vegan sausage, green onions, fried shallots and drizzled with mayo and spicy chili sauce. It's easy and quick to prepare and insanely delicious! Try this recipe; I swear you won't regret it!
It's probably one of my favorite uses of rice paper!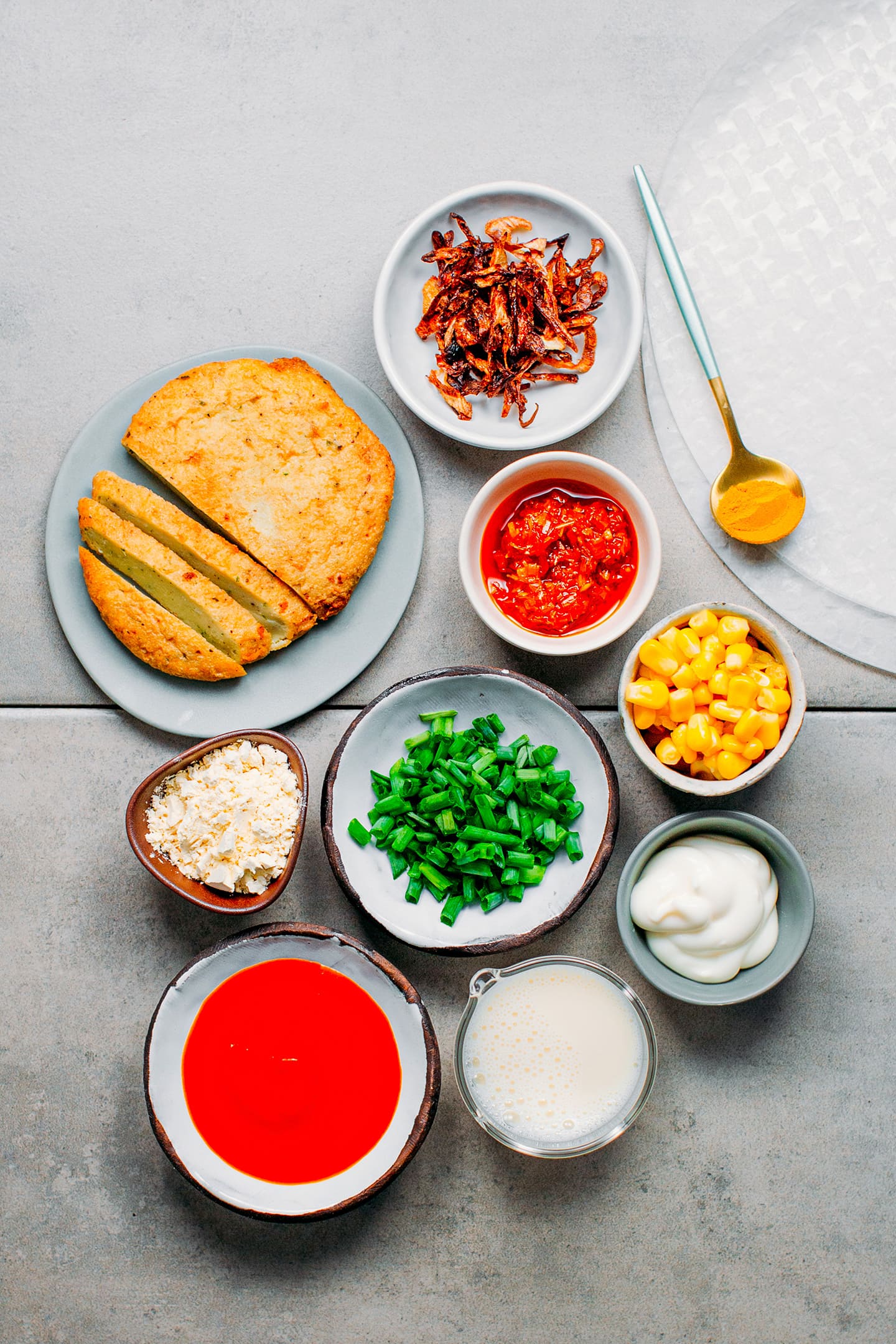 📘 What is Bánh Tráng Nướng
Often called Vietnamese pizza, bánh tráng nướng is a Vietnamese snack that appeared about 20 years ago. Bánh tráng is the name of rice paper, and nướng means grilled, so we could translate it to grilled rice paper.
It is very popular in Đà Lạt, a city in the center of Vietnam, where it is usually sold in the evening in the street. Rice paper is put on a grill; then they add green onions, saté, crack an egg, and top it with sliced sausage. The whole thing is then drizzled with sweet chili sauce and mayo before being folded.
There are as many versions as there are vendors, but unfortunately, finding a vegan version there is almost mission impossible. Let's make our own!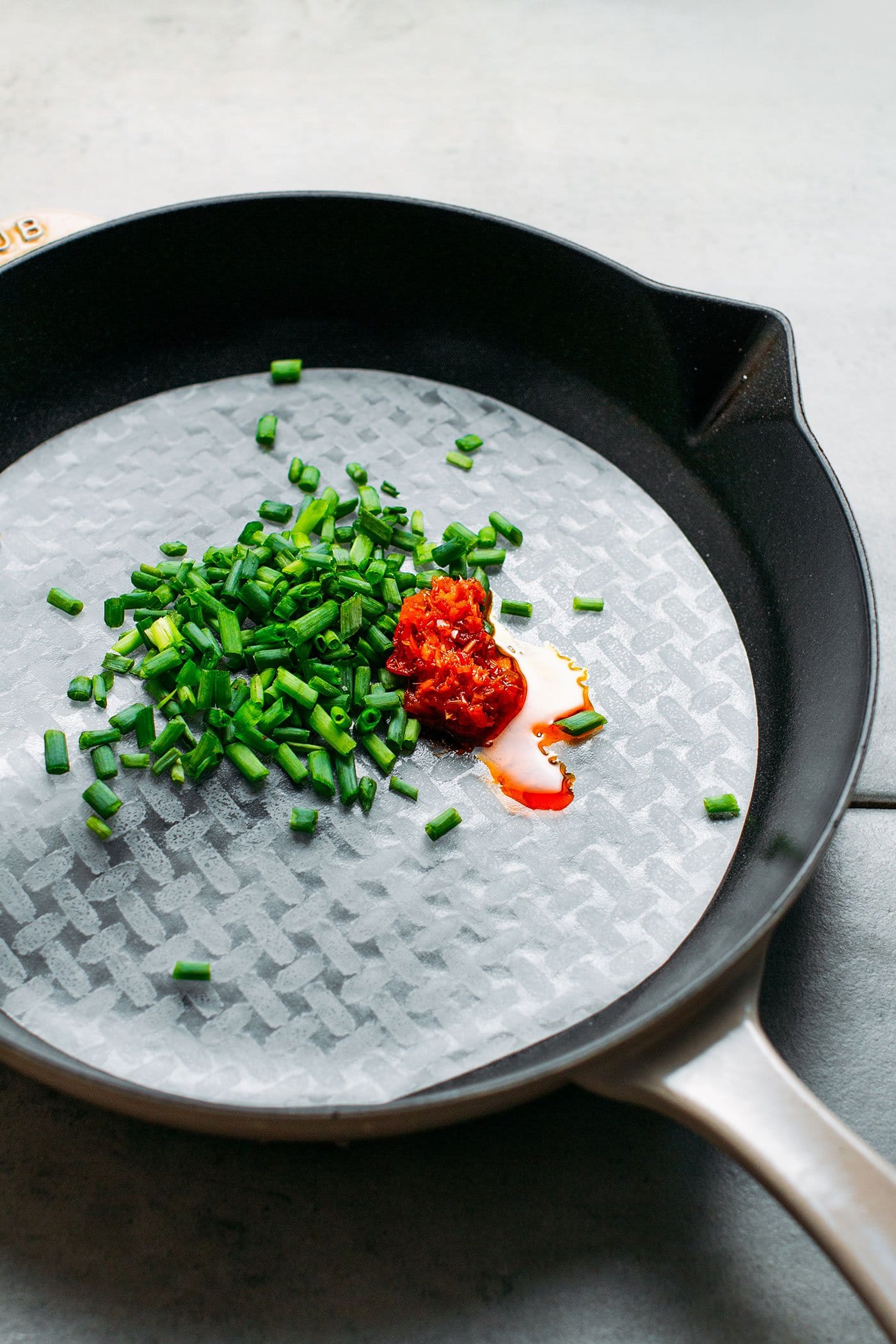 🫓 How to Make Vegan Bánh Tráng Nướng
Be aware this is not an authentic version. Actually, I have never seen any vegan version there. It is inspired, and I tried to make it as close as possible while still tweaking it to my taste. This recipe is also quite versatile, so feel free to be creative with the toppings. It won't be as authentic, but hey, why not?
Traditionally the rice paper is a bit thicker than the one used for spring rolls. Since I could not find it here, I simply went with regular rice paper, and it worked great!
Let's take a look at the components of this dish:
Batter: to replace the eggs, we are going with a chickpea omelet made of chickpea flour, almond milk, cornstarch, and a pinch of kala namak for that egg-like flavor.
Green Onions: to add freshness.
Saté: if you have never heard of saté, it's an oily paste made with lemongrass, shallots, garlic, and chili. It can be found in Asian stores, or you can make your own.
Vegan Sausage: for extra meatiness and protein. Here I used my vegan sausage patties, but check the note below on substitutes.
Corn: to add some crunch!
Fried Shallots: or fried onions! It adds another level of flavor and natural sweetness.
Sweet Chili Sauce and Mayo: Mandatory, it's the icing on the cake of this dish. I have never seen any Bánh Tráng Nướng sold on the street that was not drizzled with mayo and chili sauce. You can find sweet chili sauce online, or if you have time, make your own chili sauce.
If you don't have vegan sausage on hand, feel free to use finely chopped vegan chicken, tofu (I recommend baking or frying it before for a better texture), or store-bought vegan sausage. Basically, any plant-based "meat" will work.
First, you want to place one sheet of rice paper in a skillet (preferably non-stick).
Next, add the chopped green onions and a teaspoon of saté. Turn on the heat to medium heat and pour in a few tablespoons of the chickpea omelet batter. You want to mix it with the saté and quickly spread it evenly all over the rice paper sheet.
Add your toppings before the chickpea omelet set and keep cooking on medium-high heat for 3-5 minutes. You want the rice paper to turn super crispy!
Do not go overboard with the toppings; you are not making a wrap. Bánh tráng nướng is supposed to be quite thin so it can be folded.
Finally, drizzle with sweet chili sauce and mayo. It's almost like the signature of this dish!
The question you may ask is, how do you eat it? Well, when served on the street, it is usually folded in 3 and wrapped in a piece of paper (or newspaper) to eat on the go or as a snack. It's not considered a whole meal unless you eat a few of it.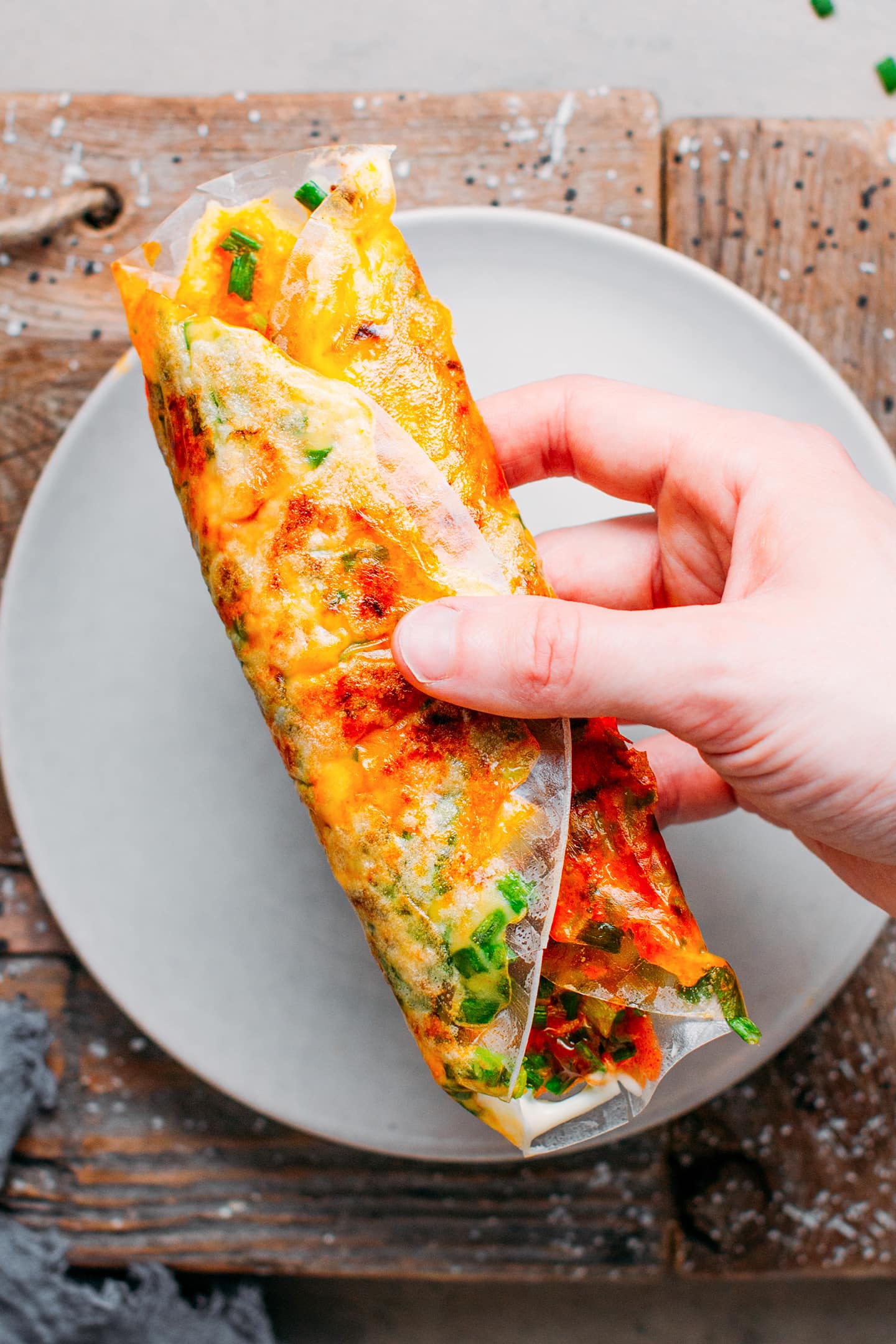 I hope you will love this snack! It's crispy on the outside and chewy–sweet–salty–juicy on the inside.
Recipe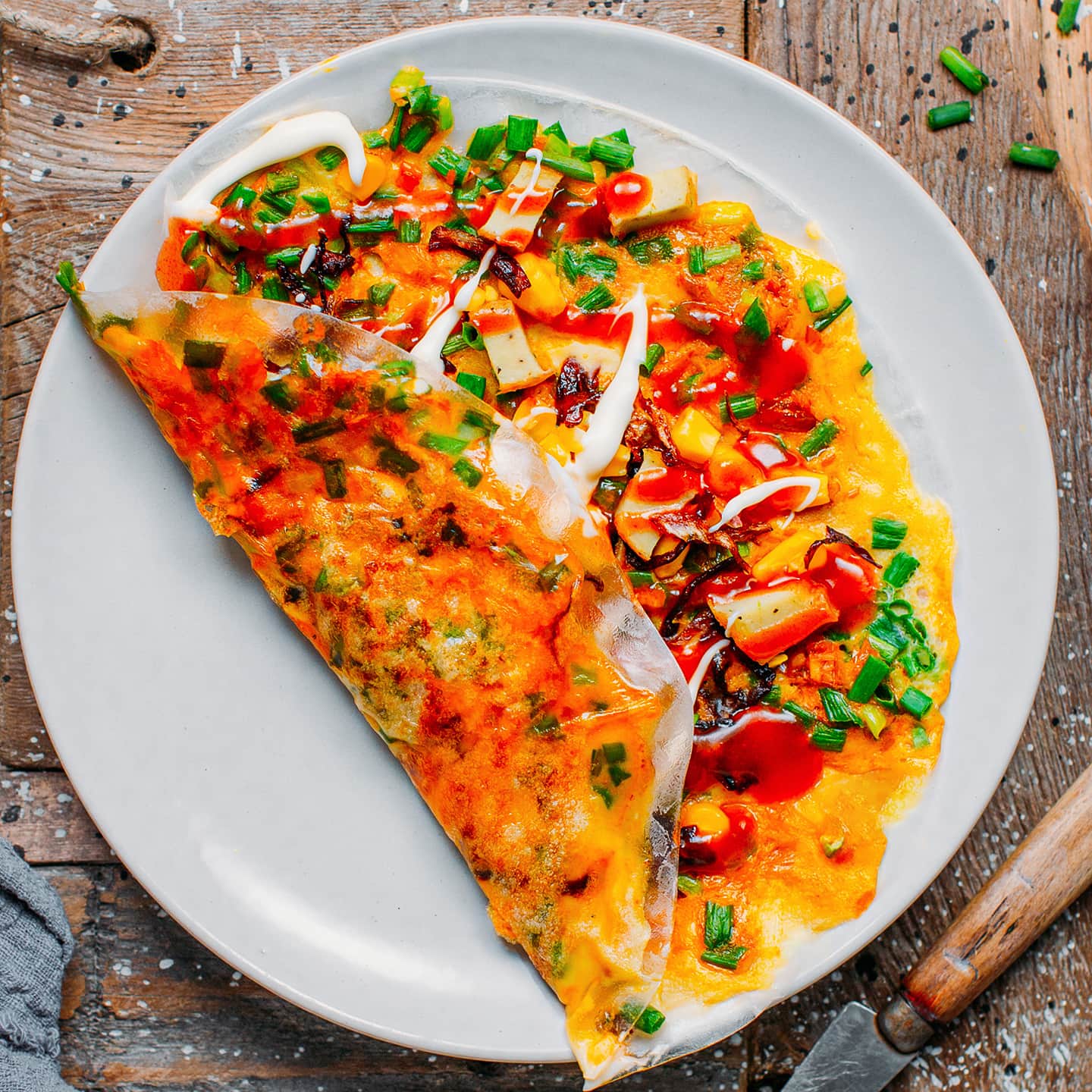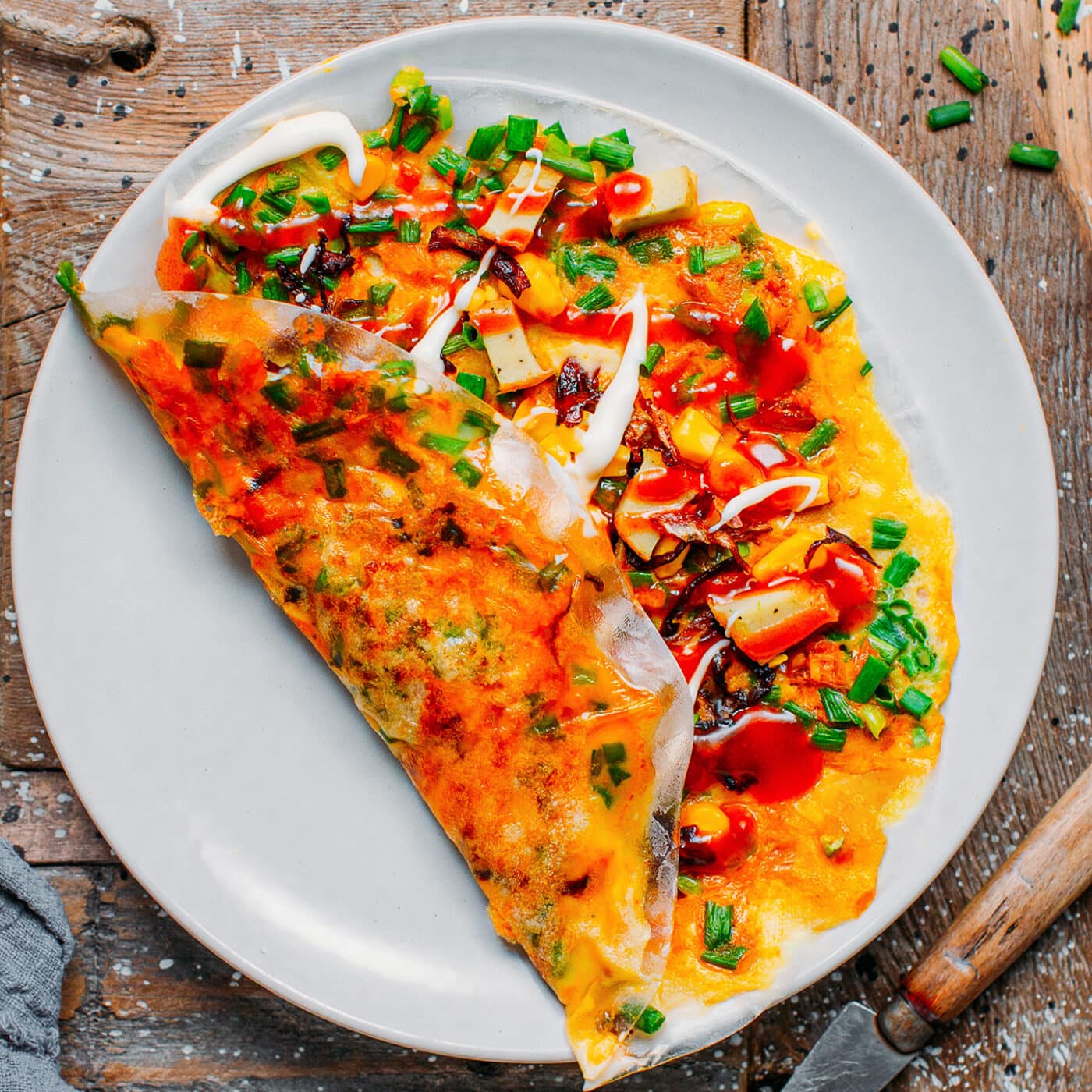 Vegan Bánh Tráng Nướng
This Vietnamese snack consists of grilled rice paper stuffed with plenty of green onions, fried shallots, vegan sausage, corn, and drizzled with sweet chili sauce and mayo!
Ingredients
Chickpea Batter
1/3

cup

unsweetened almond milk

2

tbsp

chickpea flour

1

tsp

cornstarch

1

tsp

nutritional yeast

a

pinch

of kala namak salt

(optional, it adds a subtle egg flavor)

a

pinch

of turmeric

for the color
Instructions
Before starting, make sure you have all of your toppings ready.

Prepare the batter: in a small bowl, whisk together the almond milk, chickpea flour, cornstarch, nutritional yeast, kala namak salt, and turmeric.

Place one sheet of rice paper on a non-stick skillet. Add 1 teaspoon of saté and 2 tablespoons of chopped green onions. Turn on the heat to medium.

Pour in about 3 tablespoons of the chickpea batter on the rice paper sheet and use a spoon to quickly spread it into an even layer all over the rice paper. The batter will mix with the saté and green onions.

Quickly top with half of the chopped vegan sausage, corn kernels, and fried shallots. Cook on medium-high heat for another 3-5 minutes or until the batter has set and the rice paper becomes crispy.

Drizzle with sweet chili sauce and mayo, and fold the sides to shape it into a long rectangle. Repeat with the remaining rice paper sheet and filling, and enjoy warm as a savory snack or appetizer! This is best served immediately.
Did you make this recipe?
Tag @fullofplants on Instagram and hashtag it #fullofplants