Called "đồ chua" in Vietnamese, these carrot and daikon radish pickles are super easy to prepare and pack the perfect crunch! It is slightly sweet, tangy, and delicious in bánh mì as well as salads, sandwiches, buddha bowls, and more!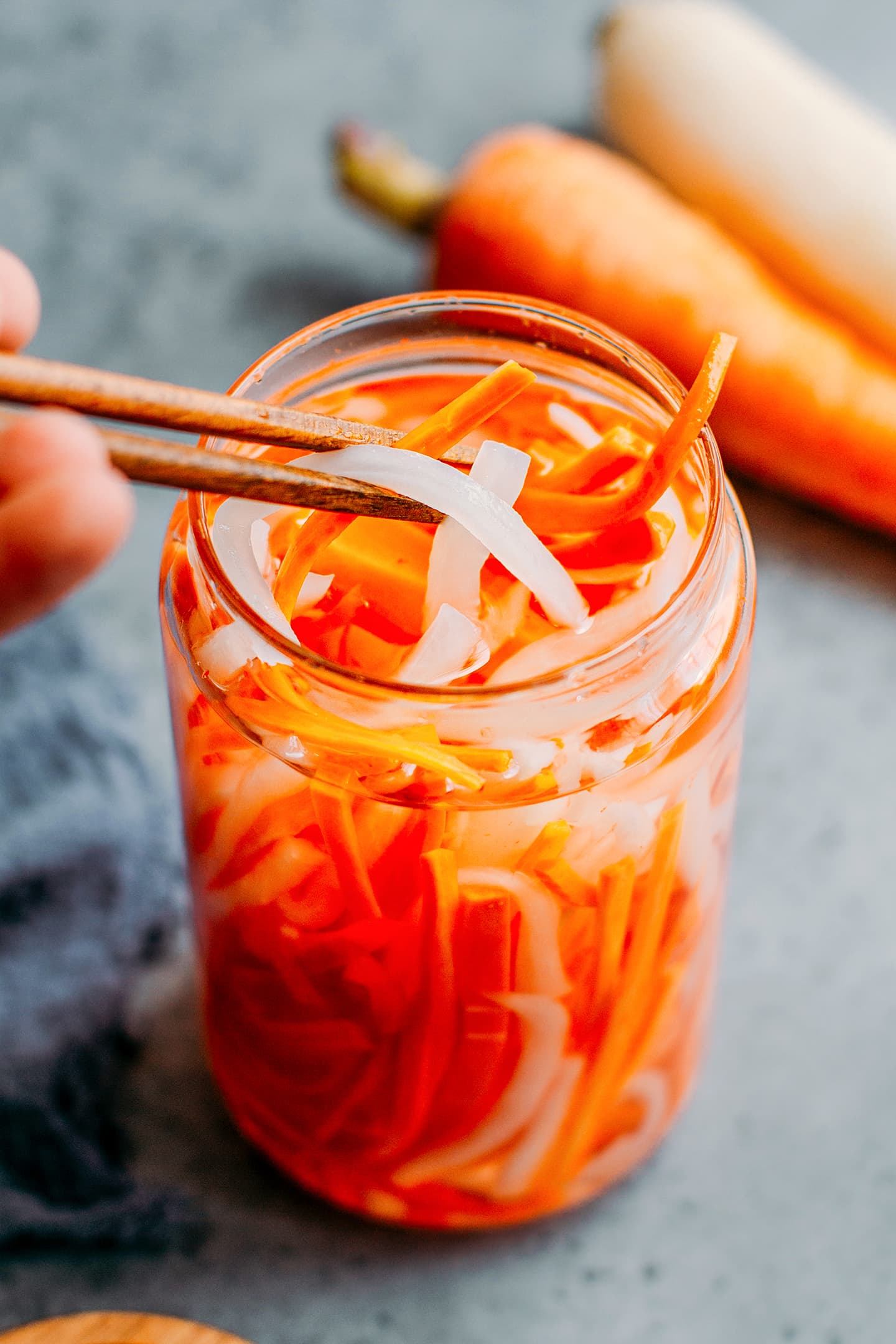 📘 What is Đồ Chua
Đồ Chua is a Vietnamese condiment that consists of carrot and daikon radish pickles. It is commonly used in bánh mì and cơm tấm (a broken rice dish).
🥕 How to Make Carrot & Daikon Pickles
These refrigerator pickles require just 5 ingredients and about 30 minutes to prepare. Here is what you will need:
Carrots – I went with one large carrot here, but if you are using smaller ones, you might have to use two. You should have about the same weight of carrots as radishes.
Daikon radish – Very commonly used in Asian cuisine, daikon radishes have a mild flavor, and a subtle sweetness and are not as piquant as red radishes. Pick radishes that are still firm.
White vinegar – You can use regular white vinegar or white rice vinegar. Vinegar will bring that fresh and tangy flavor.
Salt – Kosher salt or regular table salt. Salt will help remove moisture from the vegetables.
Sugar – Granulated white sugar works best, but you can easily substitute it with agave syrup or a sweetener.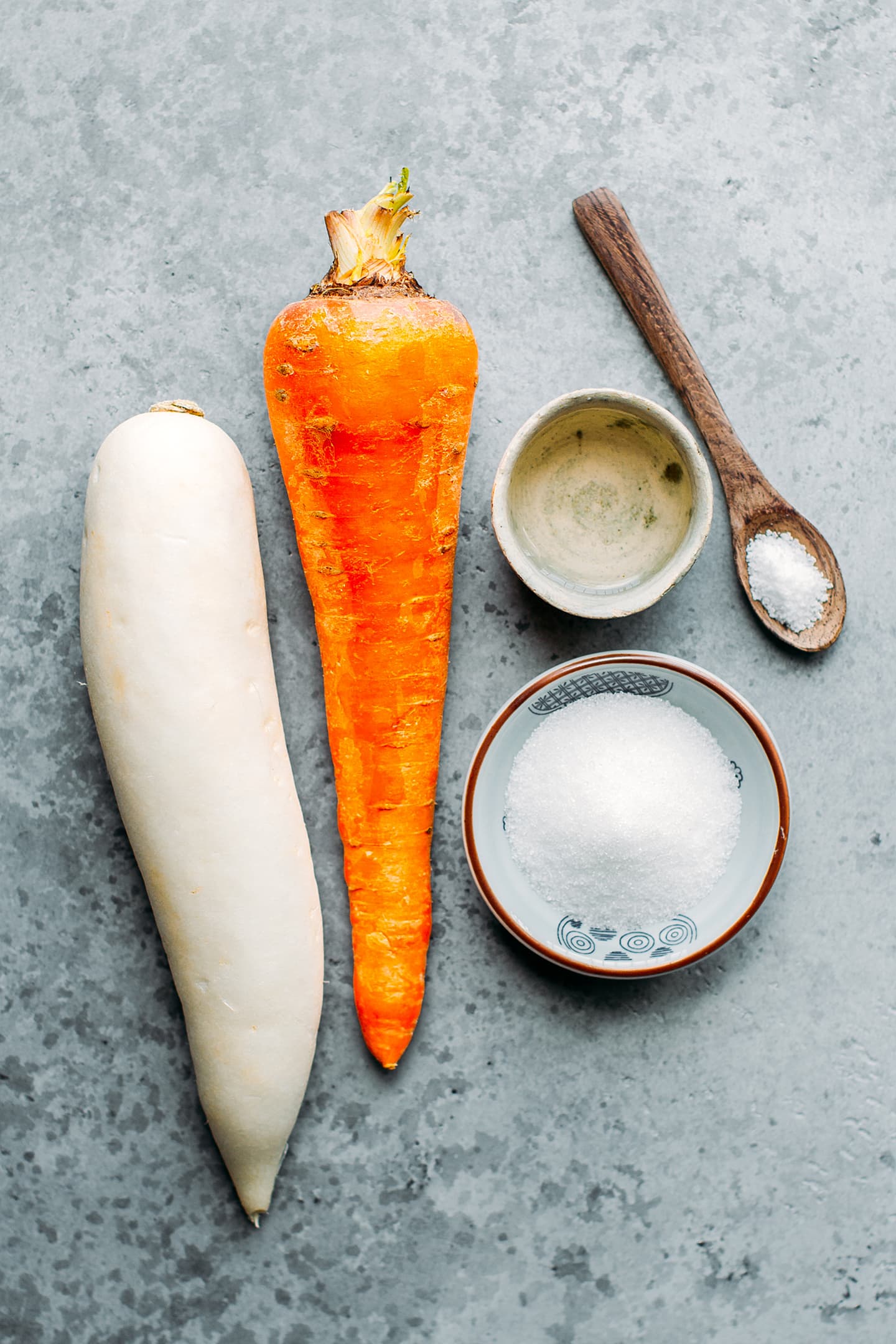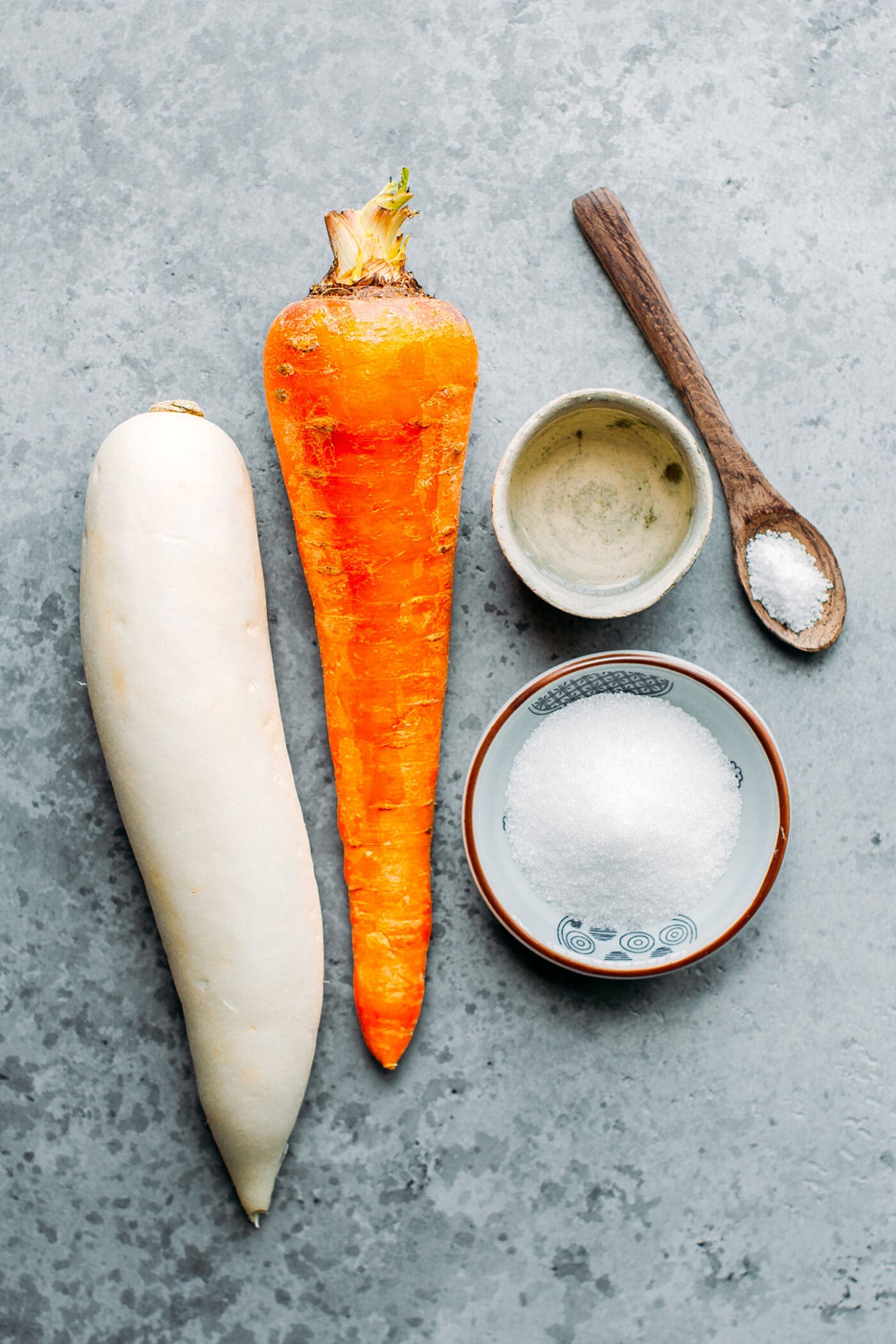 Preparing the vegetables
First, start by washing and peeling the carrot and daikon radish. Next, cut them into thin matchsticks, or grate them if you prefer thinner pickles. A box grater or food processor fitted with the grating disc work great for this step.
Which ratio of carrots to radishes should I use?
That is totally up to you! I personally like going with 50:50 of carrots to daikon radish. However, in many Vietnamese recipes, there is more radish than carrots being used.
Transfer the carrot and daikon radish to a bowl and sprinkle with salt. Once done, stir and massage the vegetables with your hands to coat them with the salt.
Let the vegetables rest for about 30 minutes. This step will allow them to release some moisture and get a softer texture. You should be able to bend a piece of radish without it breaking.
Once the vegetables are softer, rinse them well and squeeze to remove as much moisture as possible. This will ensure crunchy and perfectly tangy pickles!
Making the Brine
The brine consists of equal parts of vinegar and water plus some sugar. You can easily adjust the ratio to your preference if you prefer more or less tangy pickles.
Transfer the grated carrots and daikon radishes to a clean jar and cover with the brine, making sure they are fully submerged.
Finally, place it in the refrigerator and wait for at least 24 hours before using. These Vietnamese pickles will keep for about 3 weeks in the refrigerator and will develop a more pungent flavor as they age!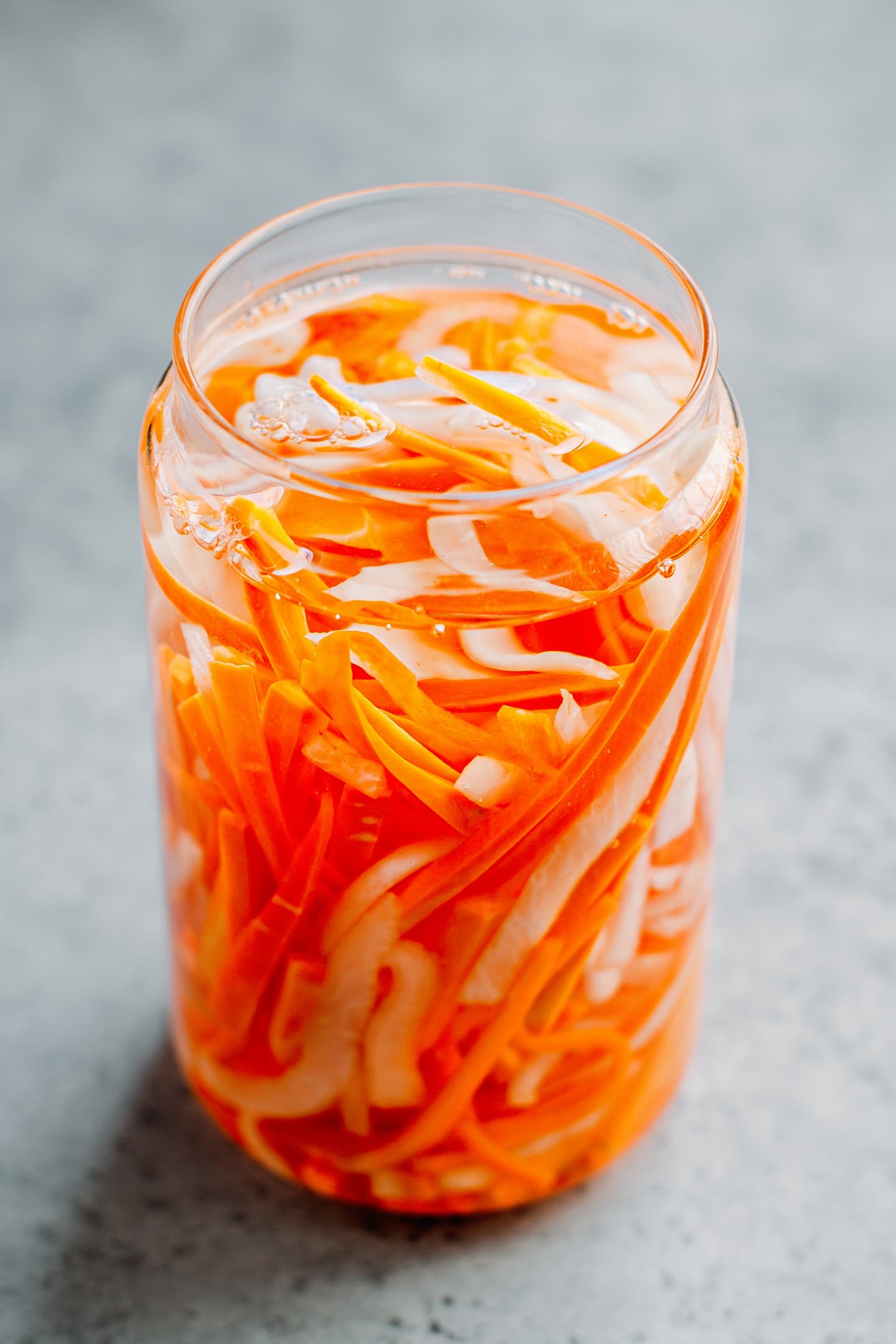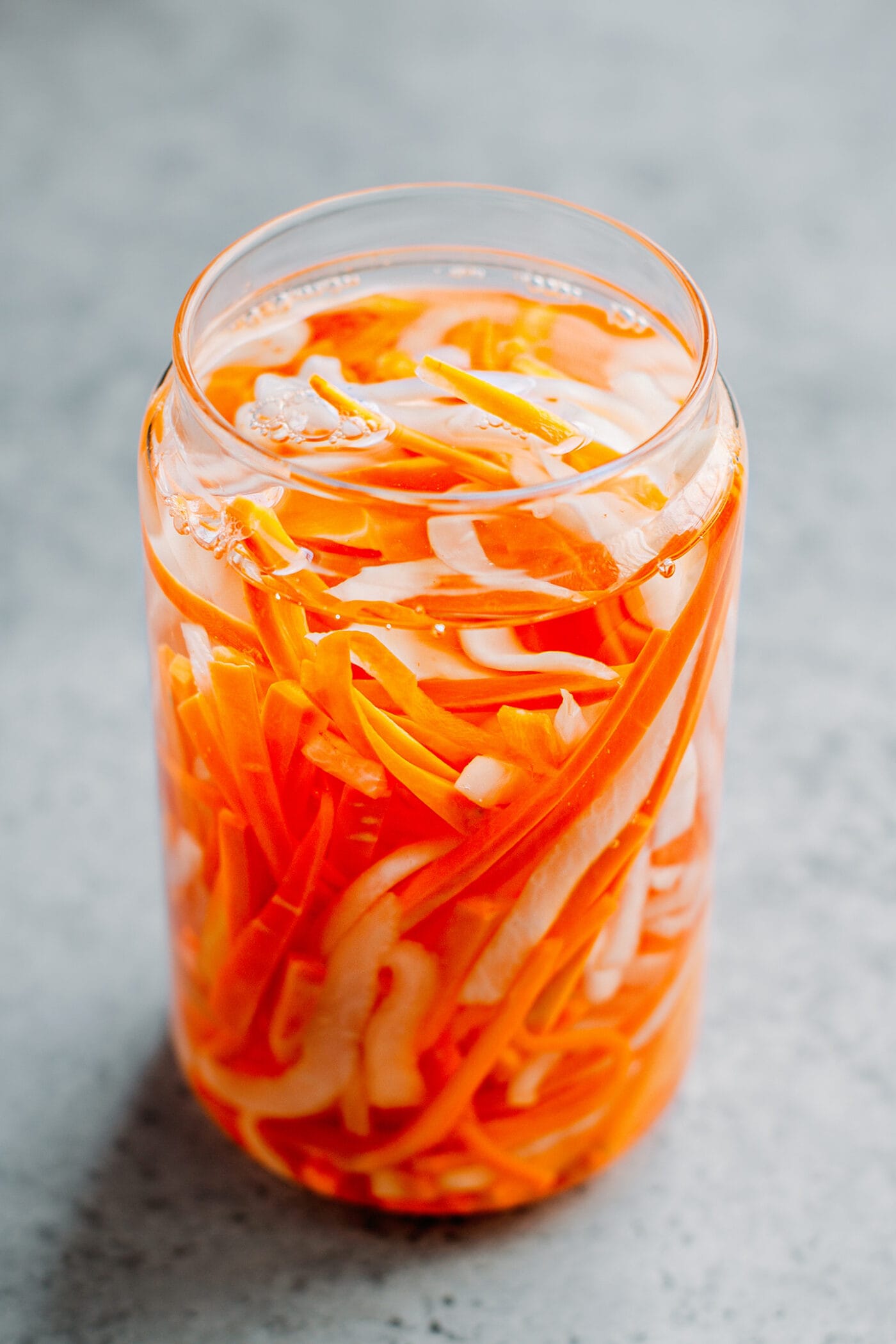 🥪 Where to Use These Pickles
Bánh mì: Carrot and daikon radish pickles are a must if you want to make bánh mì like in this Pulled Mushroom Bánh Mì! It's also delicious in regular sandwiches or burgers!
Rice: These pickles make a great topping for steamed rice, bringing some crunch and a subtle sour flavor. It is also sometimes served on top of Savory Sticky Rice called xôi mặn.
Salads: Take your salads to the next level by including some pickles! It will add texture and a fresh flavor!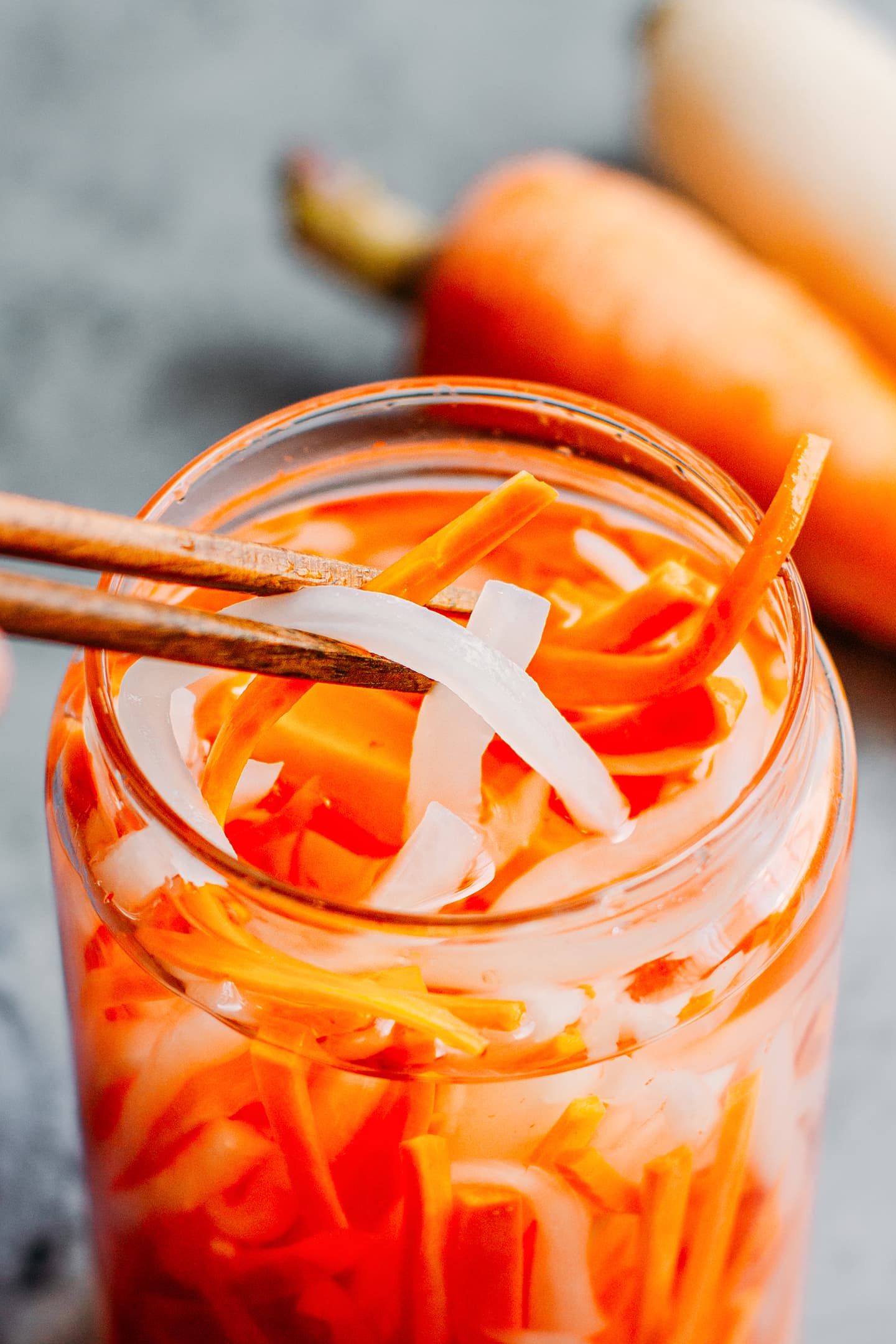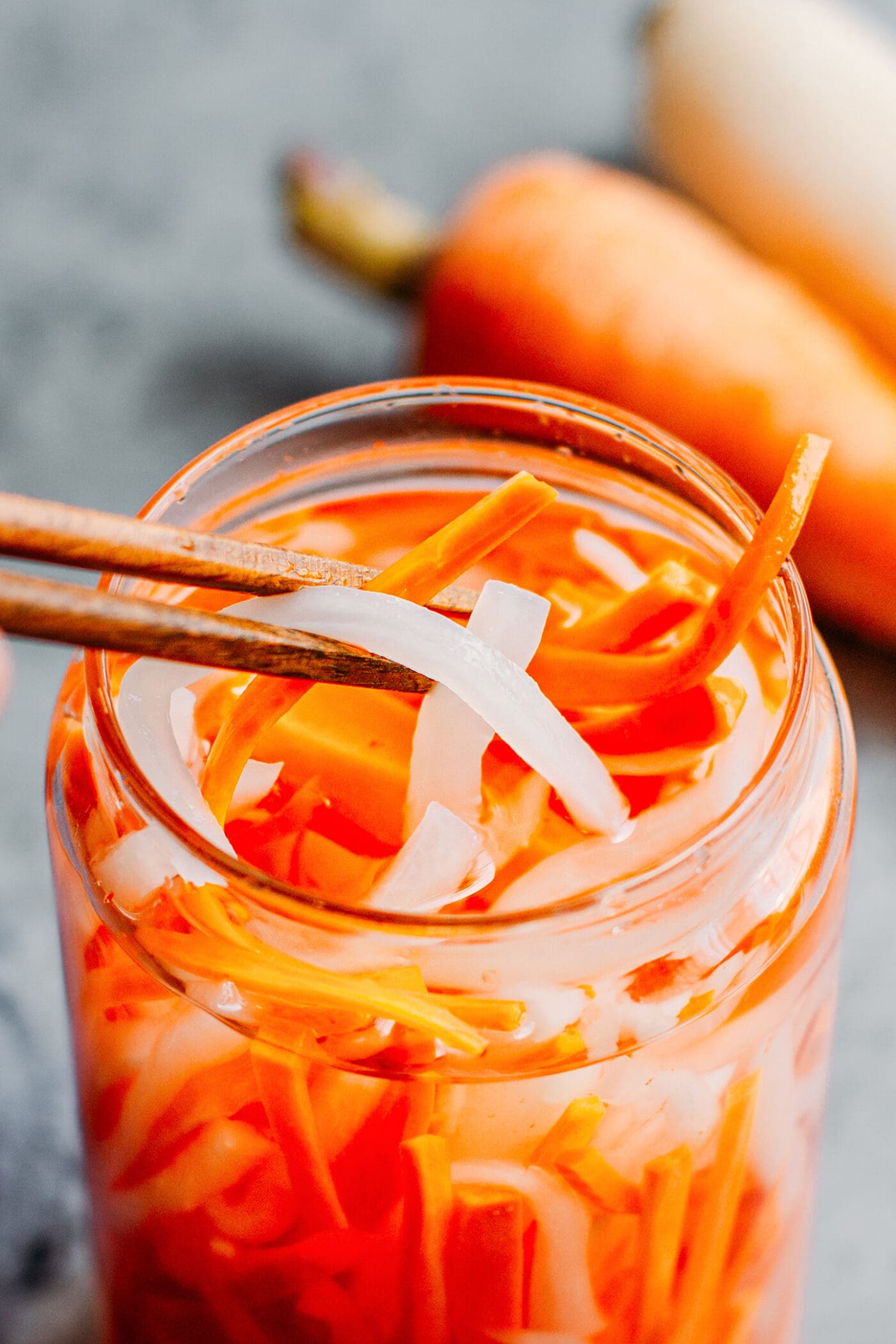 I hope you are going to love these Vietnamese-inspired pickles! They are super crunchy, slightly sweet, tangy, and so versatile! Plus, these are refrigerator pickles, so there is no canning required!
🇻🇳 More Vietnamese-Inspired Condiments
Let me know in the comments if you try this recipe!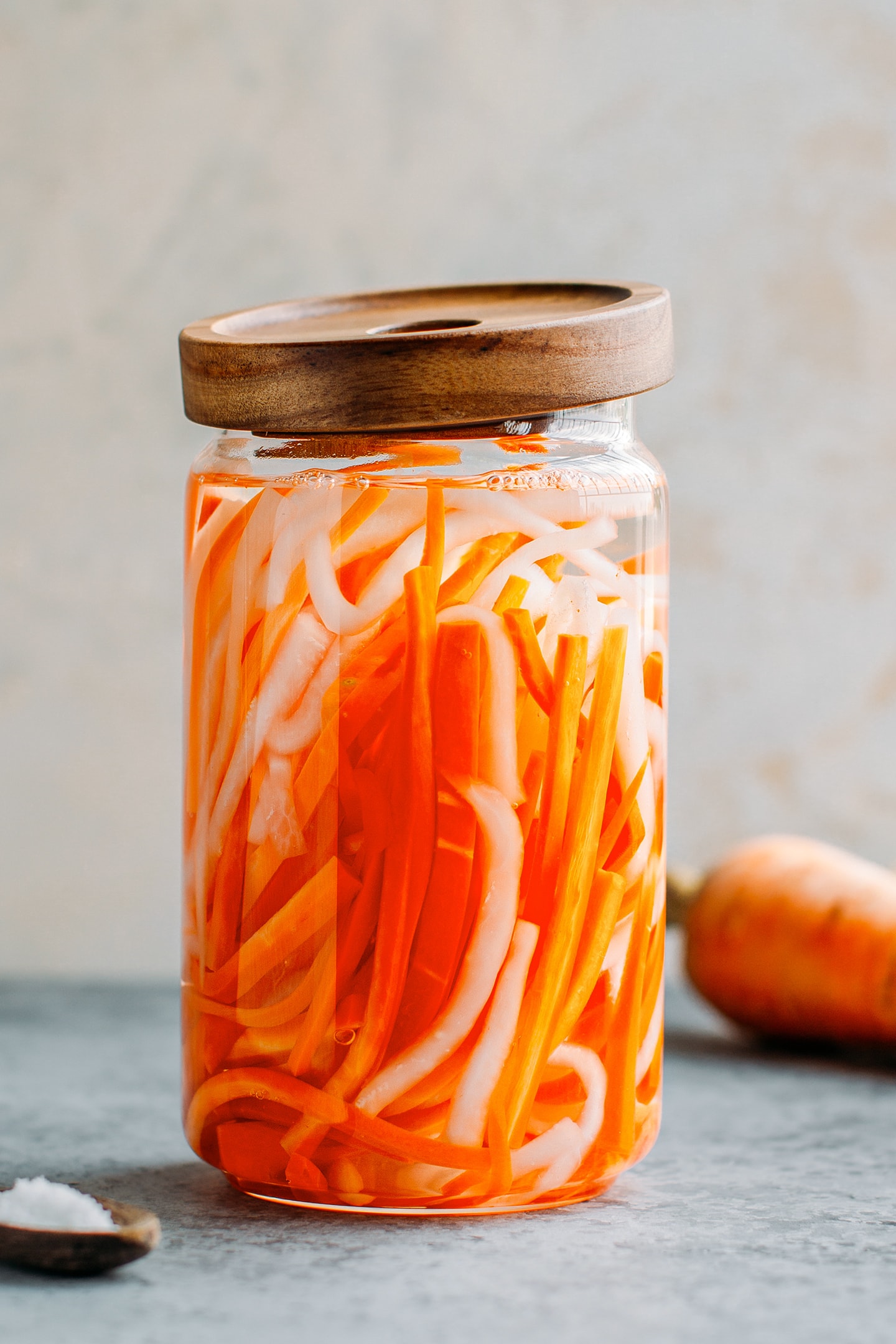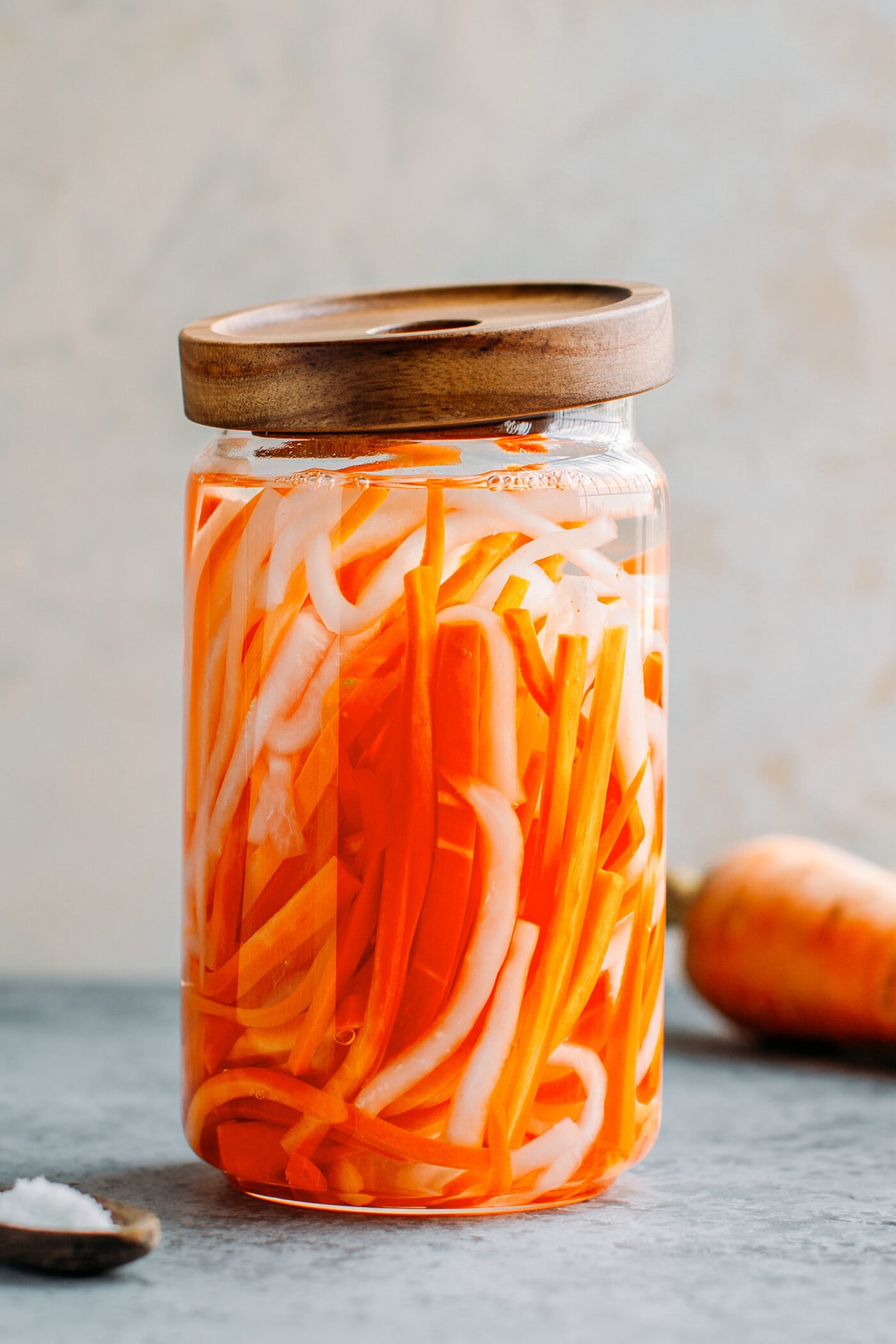 Recipe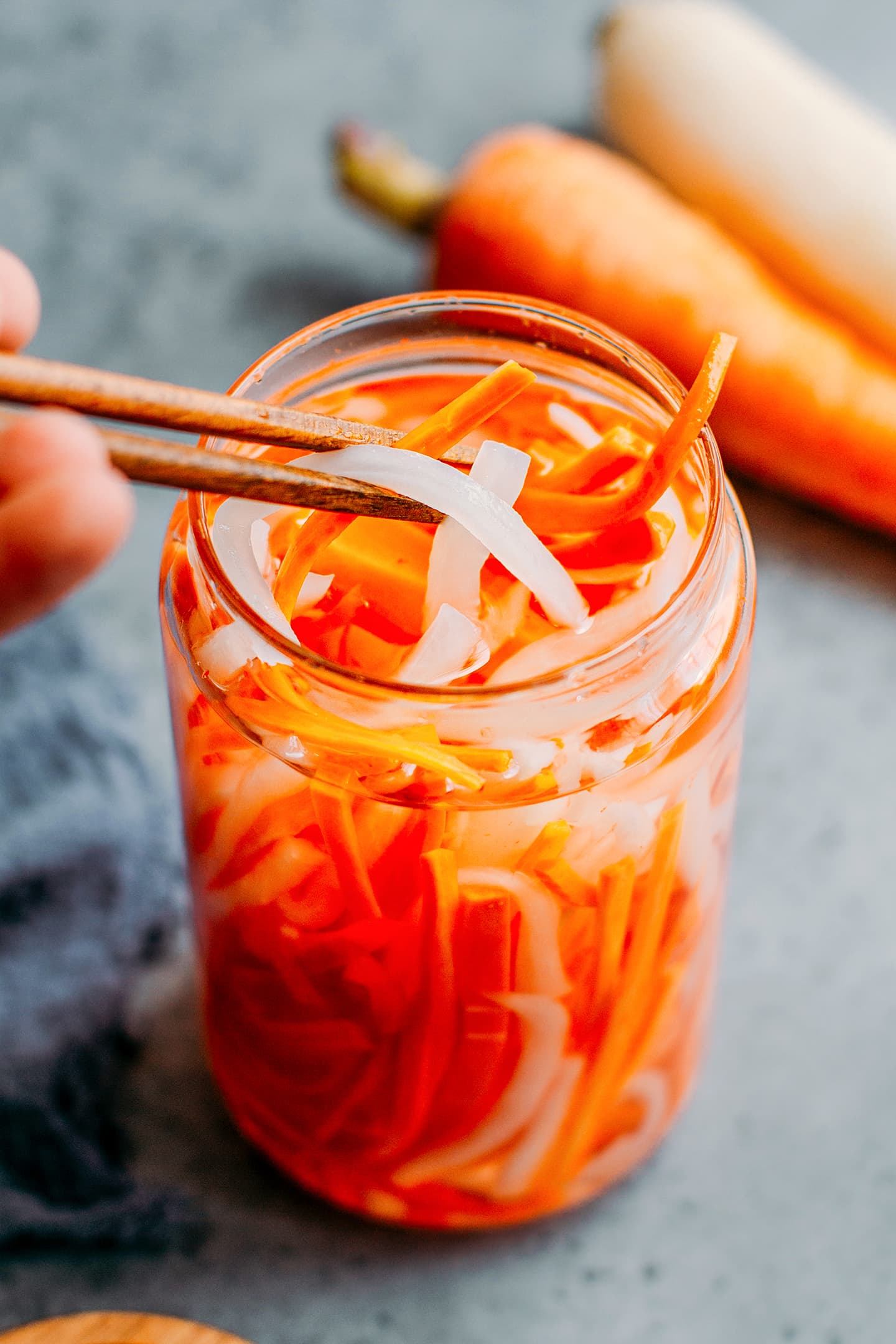 Vietnamese Carrot & Daikon Pickles
Make carrot and daikon radish pickles at home with just 5 ingredients and 30 minutes! These Vietnamese-inspired pickles are crunchy, tangy, and slightly sweet!
Ingredients
1

medium

carrot

1

medium

daikon radish

1/2

tsp

salt

1

cup

white vinegar

1

cup

water

1/4

cup

sugar
Instructions
Peel the carrot and radish, and cut them into thin matchsticks about 2.5 inches long. Alternatively, you can grate them using a grater or food processor with the grating disc attached.

Transfer the grated carrot and radish to a medium bowl and sprinkle with the salt. Using your hands, stir to coat the vegetables with the salt. Let it sit for about 30 minutes or until they are soft and you can bend them easily.

In the meantime, combine the vinegar, water, and sugar in a small saucepan. Heat over medium heat, stirring regularly until the sugar has dissolved. Do not bring it to a boil. Remove from heat and let cool to room temperature.

Rinse the carrot and radish and squeeze them to remove as much water as possible. Transfer them to a clean jar (I used a 25-oz jar) or large bowl and cover with the brine to fully submerge the vegetables.

Close the jar with the lid and refrigerate for at least 24 hours. Use in bánh mì, sandwiches, salads, and more!

Pickles will keep in the refrigerator for about 3 weeks.
Did you make this recipe?
Tag @fullofplants on Instagram and hashtag it #fullofplants