Cơm Tấm is one of the most popular dishes in Southern Vietnam! This vegan version features broken rice served with char siu "ribs", tangy pickles, tofu meatloaf, and vegan "pork skin"! A hearty, flavorful, and classic Vietnamese dish!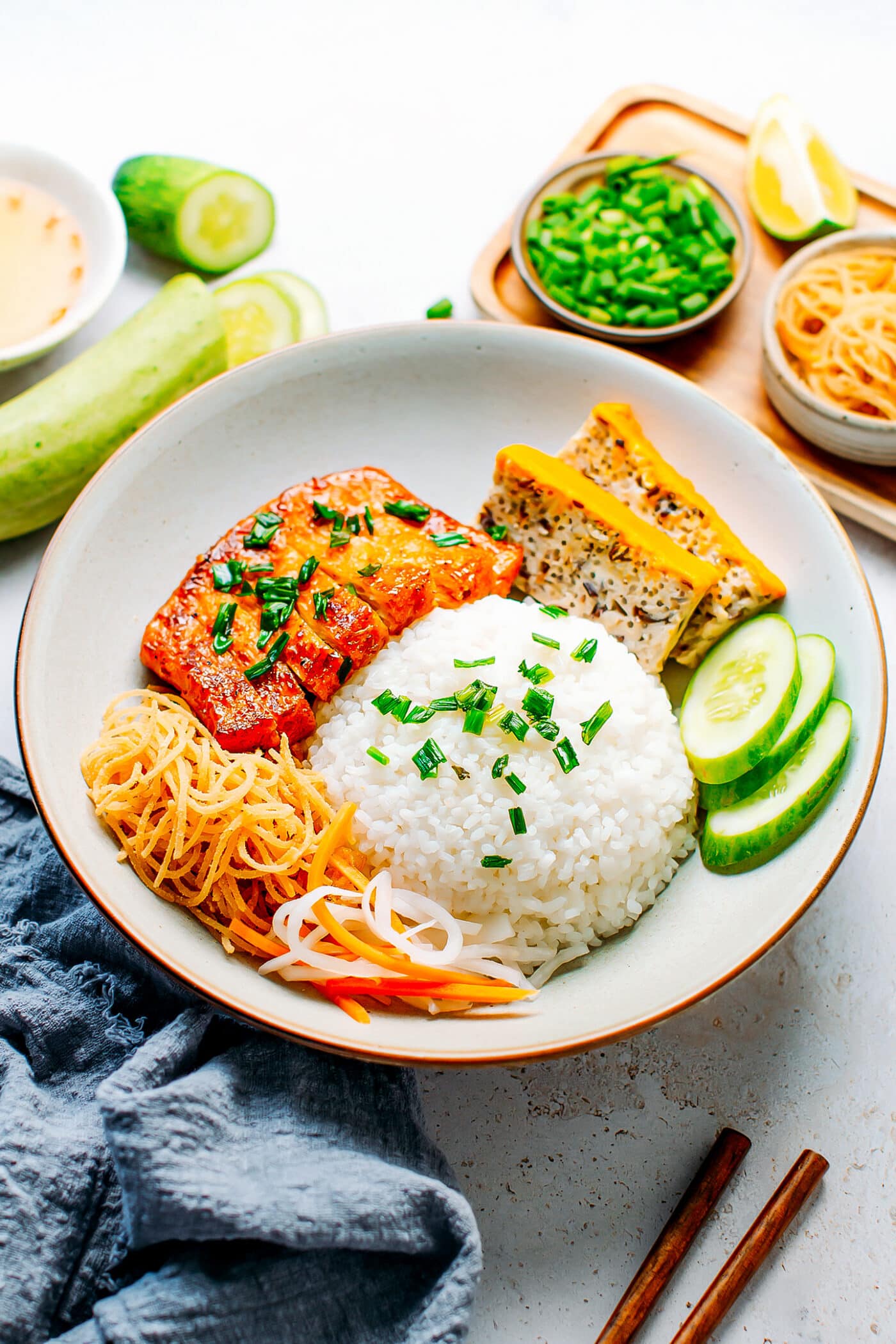 Have you ever heard of cơm tấm? If not, bear with me, I will explain all about this dish below!
Cơm tấm is the kind of dish that is comforting, flavorful, and has a stick-to-your-ribs factor. While it does require some preparation, you can easily prepare the toppings ahead of time.
📘 What is Cơm Tấm
Cơm tấm (usually referred to as "Cơm Tấm Sườn Bì Chả") is a Vietnamese dish that first appeared in the early 20th century. It consists of cooked broken rice served with grilled pork ribs, pork skin, egg meatloaf, vegetables, and a sweet and salty sauce.
Vegan versions of this dish can be found easily in Vietnam. This recipe is inspired by the ones you can find in Saigon.
🥣 How to Make Cơm Tấm
This dish consists of 4 key elements and a few extra toppings:
Rice – It makes the base of this dish. You can use any type of rice, but traditionally it is broken rice that is used. Since the grains are broken, this type of rice looks like short-grain rice.
Vegan ribs – While the non-vegan version of this dish includes grilled pork chops, we are using TVP slices here to replace them. You can check out our Vegan Char Siu Ribs recipe here.
"Pork" skin – To replace the pork skin, we are using vermicelli which we will season with roasted rice powder.
Steamed tofu loaf – Check out our Steamed Tofu Loaf recipe here.
Then, for the toppings we have:
Cucumber – I used Persian cucumbers, but any type will work.
Pickles – Carrot and radish pickles bring crunchiness and freshness. You can check out our Vietnamese Pickles recipe here.
Green onions – Sautéed green onions add a mild and earthy flavor.
Nước chấm – This sauce is basically diluted vegan fish sauce that is combined with sugar, lime juice, garlic, and chili.
Char Siu Ribs
It starts with the "ribs". Here, I went with TVP slices that are first soaked, drained, and fried, and then sautéed in a sweet and salty char siu sauce. You can easily replace the TVP with your favorite meat substitute as long as it can be cut into thick slices.
Tofu Meatloaf
For the tofu meatloaf, simply follow my recipe to make Vietnamese Tofu Loaf. You can prepare it up to 3 days ahead. Plus you can use leftovers as an appetizer!
"Pork" Skin
Next, comes the "pork" skin that brings a toasty flavor and more texture to this dish. To make the vegan pork skin:
Cook the vermicelli and drain it very well.
Transfer to a bowl and add the seasonings: soy sauce, sugar, roasted rice powder, and ground black pepper.
Stir to coat. Note: The vermicelli should not stick together. If it does, add a bit of rice powder.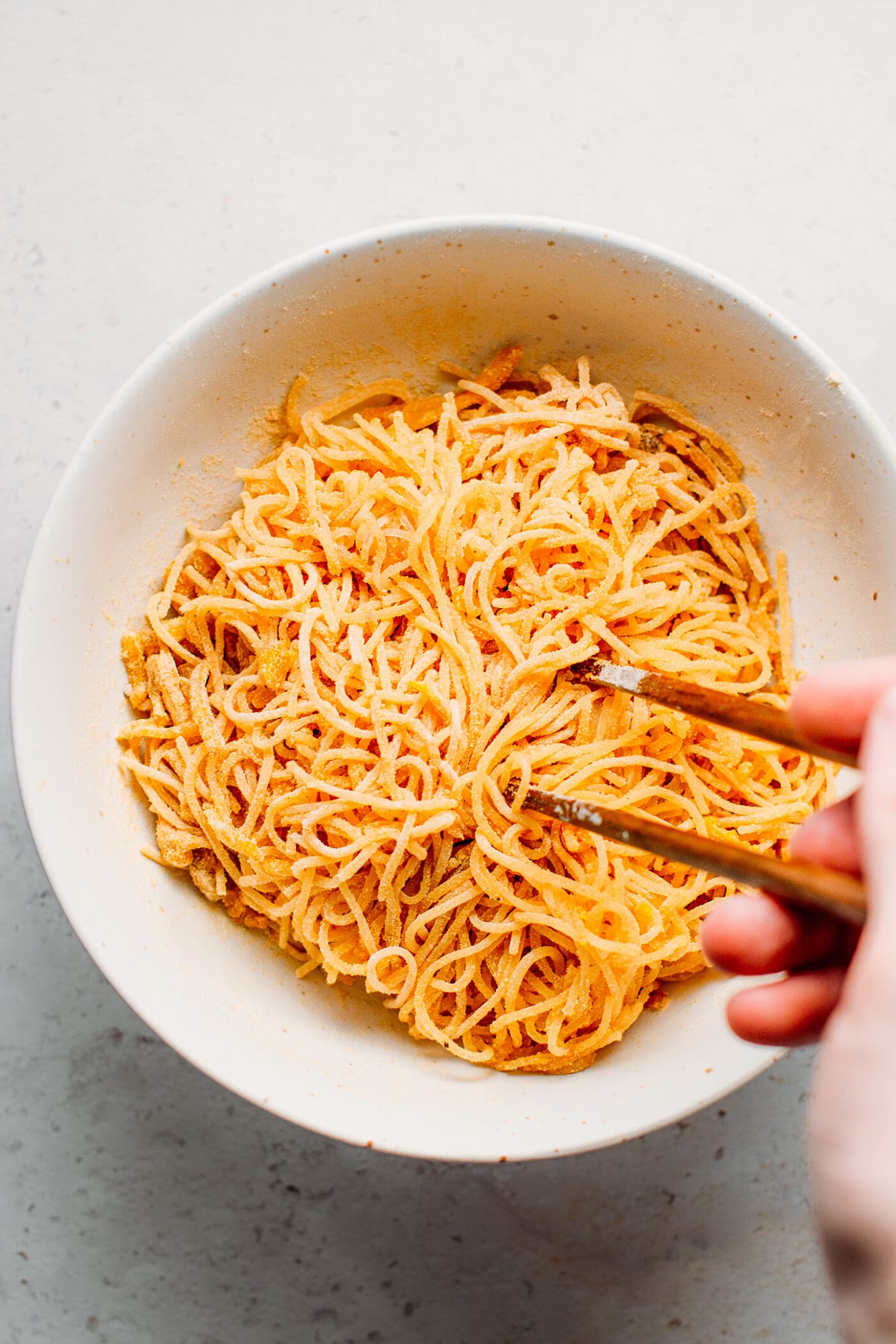 Sauce
For the sauce, combine vegan fish sauce with lime juice, sugar, minced garlic, and chili if you want some heat. If you can't find fish sauce, simply use soy sauce.
Assembling
Finally, it's time to assemble! Fill a plate with cooked broken rice and top with one piece of vegan "ribs", a few slices of tofu meatloaf, some vegan "pork" skin, and vegetables. Pour in the sauce and enjoy!
💬 FAQ
Is this recipe authentic?
It's as authentic as possible as it is based on the many versions I tried in Vietnam.
I can't find TVP slices, can I use something else?
Yes, you can use seitan, vegan chicken, or your favorite meat substitute.
Can I prepare this dish ahead of time?
You can prepare the "pork" skin, tofu meatloaf, and char siu "ribs" up to 3 days ahead. For the vegan ribs, simply reheat them in a skillet over medium heat before serving. The rice is best cooked just before serving.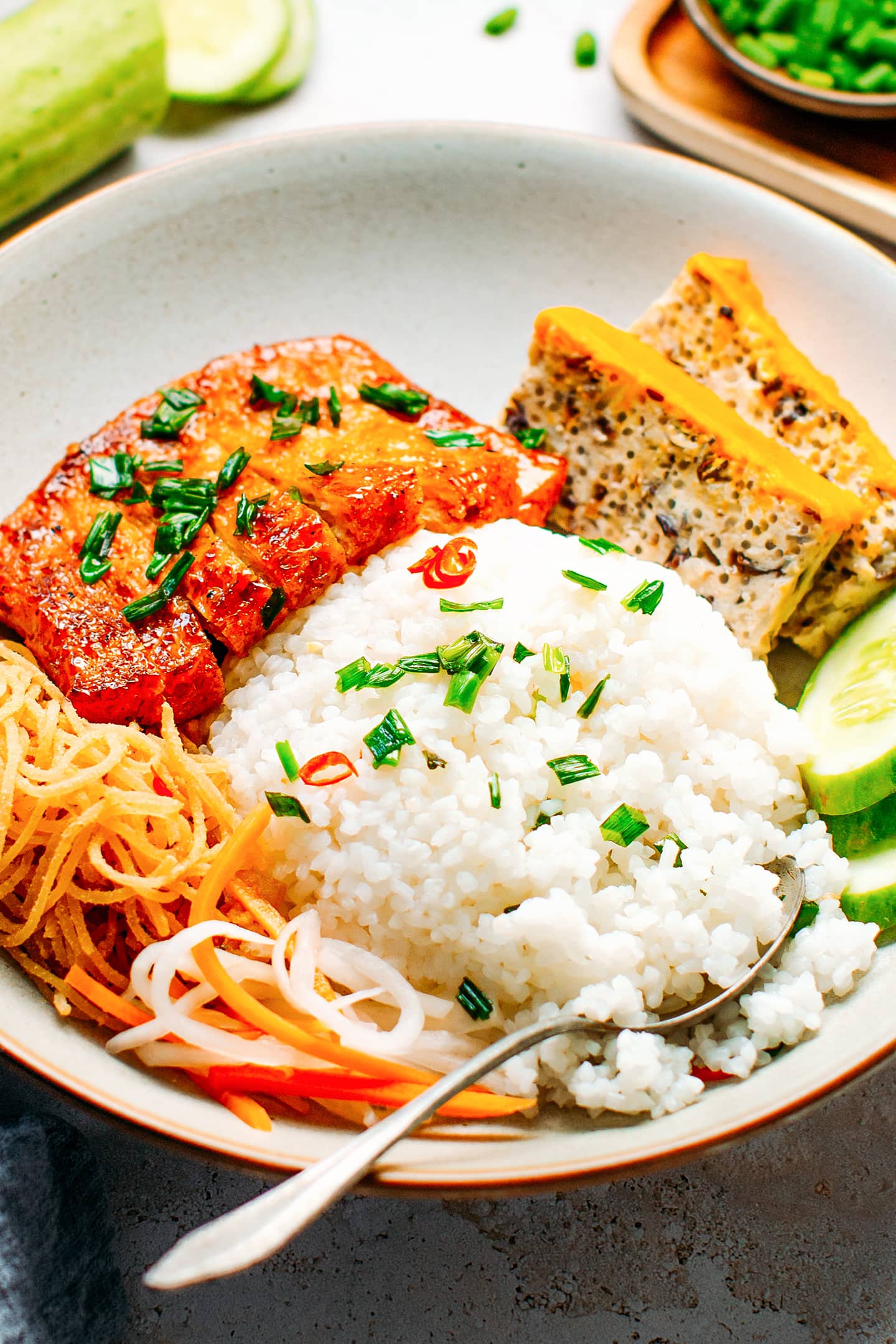 I hope you are going to love this dish as much as I do! While it is quite different from Western dishes, it's delicious and packs a ton of flavor and textures!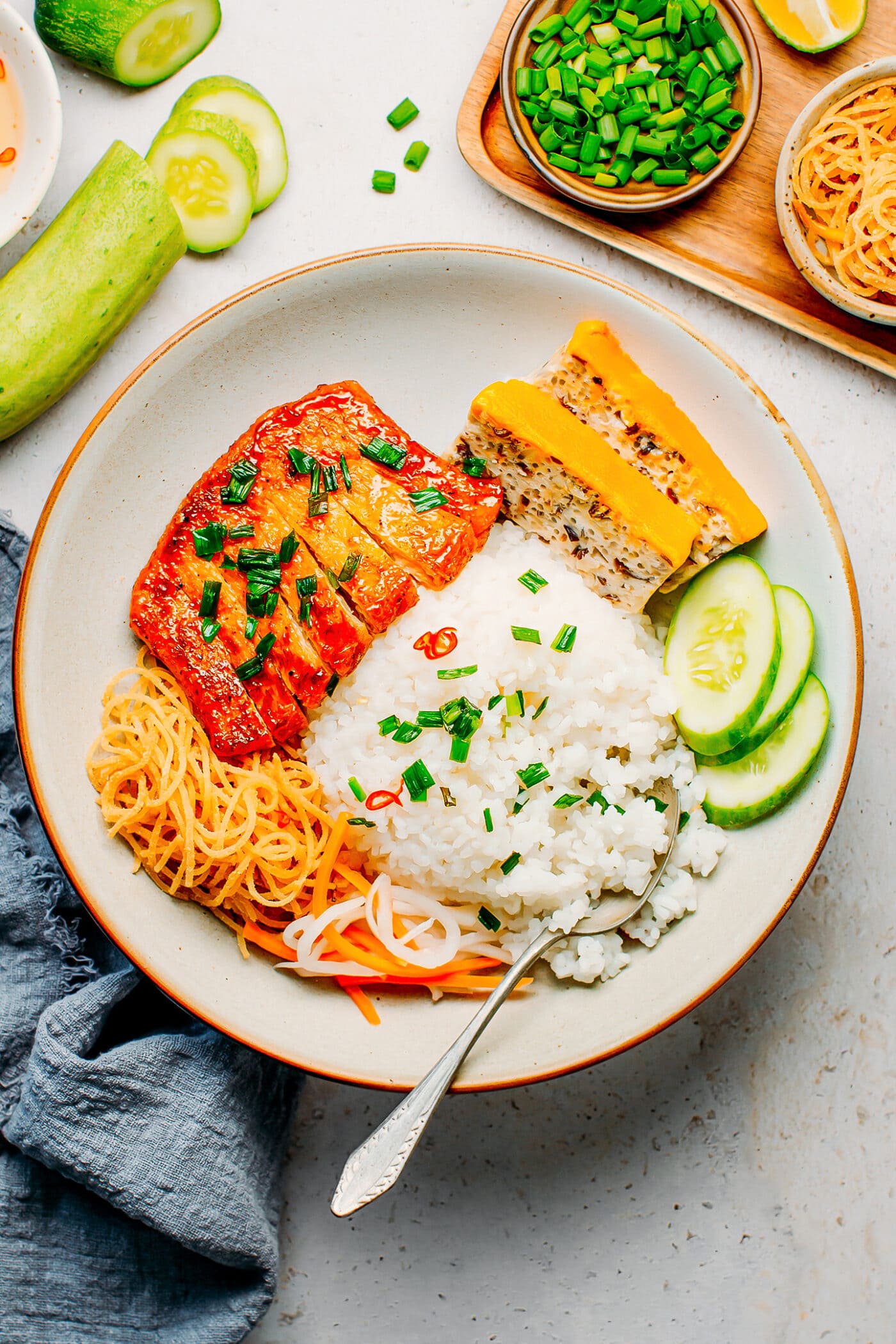 🇻🇳 More Vietnamese-Inspired Recipes
Let me know in the comments if you try this recipe!
Recipe
Vietnamese Broken Rice (Cơm Tấm Chay)
Broken rice served with vegan ribs, tofu meatloaf, pickles, and crunchy veggies! A hearty and flavorful Vietnamese dish!
Ingredients
"Pork Skin"
1.5

ounces

dry vermicelli noodles

also called glass noodles

1

tsp

soy sauce

1/2

tsp

sugar

1/4

cup

roasted rice powder

1/8

tsp

ground black pepper
Sauce
3

tbsp

vegan fish sauce

9

tbsp

water

3

tbsp

sugar

2

cloves of

garlic

minced

1

small

Thai chili

finely chopped
Broken Rice
3/4

cup

uncooked broken rice

3/4

cup

water
Instructions
Start by preparing the pickles, tofu loaf, and char siu ribs.
"Pork Skin"
Add the noodles to a bowl. Cover with boiling water and let it sit for 7-10 minutes, or until the noodles are tender. Rinse under cold water and let it drain for 2-3 minutes. The noodles must be well drained.

Transfer the noodles to a mixing bowl. Add the soy sauce and sugar, and stir well to coat. Next, add the roasted rice powder and the ground black pepper, and stir again until the noodles are coated with the powder. If the noodles still appear sticky, add more rice powder. Set aside.
Sauce
In a bowl, stir together the vegan fish sauce, water, sugar, garlic, and chili if using. Stir until the sugar has dissolved. Set aside.
Assembling
Cook the rice: Rinse the broken rice under cold water and drain. Add the rice to a saucepan and cover with the water and a pinch of salt. Bring to a boil over medium heat. Once boiling, cover the saucepan with a lid and let simmer over low-medium heat for 15-17 minutes, or until the rice is tender. Keep an eye on it as you may need to add a bit more water.

Once the rice is cooked, let it rest covered for 5-7 minutes before using a fork to fluff.

To assemble: Fill a plate with broken rice. Arrange a piece of vegan ribs, a couple of slices of tofu meatloaf, and some vegan "pork" skin next to the rice. Garnish with some pickles and cucumber slices, and drizzle with 3-4 tablespoons of the sauce!
Did you make this recipe?
Tag @fullofplants on Instagram and hashtag it #fullofplants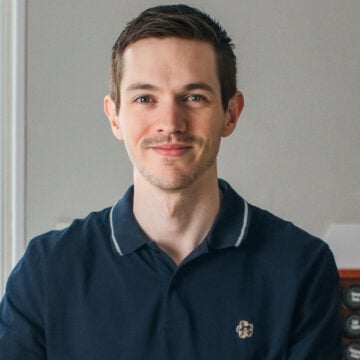 About the Author
Thomas Pagot is the founder, photographer, and recipe developer behind Full of Plants. He created the blog in 2016 as a personal cookbook for vegan recipes. Through years of recipe development, Thomas has successfully grown Full of Plants into a trusted resource for plant-based recipes.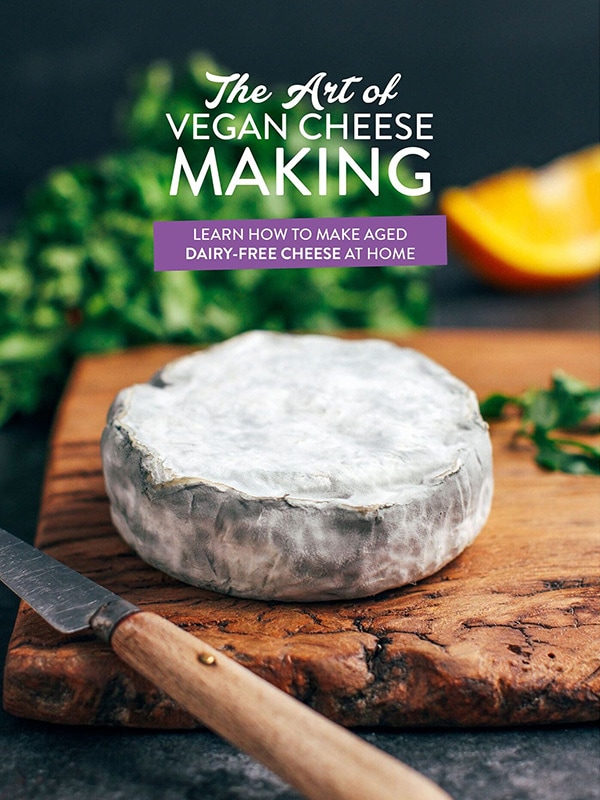 🧀 25 Mind-Blowing Vegan Cheese Recipes!
Sign up for the Full of Plants newsletter and you'll get new recipes delivered by email weekly, PLUS your FREE 100-page printable eBook!